9 Best Gas Station Hot Dogs in America
They're cheap, delicious, and available across the country.
The humble hot dog may seem like the most all-American of foods, but it was actually brought over by German immigrants in the mid-1800s. Frankfurters became a popular go-to for busy New Yorkers, who loved the convenience and price of a hot dog with toppings, straight from the cart.
These carts spread across the country, most famously in Chicago, and became synonymous with a quick bite. With the rise of car culture and the birth of the interstate highway system, the ease of a quick hot dog moved from street carts into gas stations and convenience stores. Americans everywhere had access to this simple, satisfying snack at almost anytime of the day or night.
You're either a frank lover or you're not, but many of us love seeing the rolling grill behind the counter or alongside other hot food when we head in to pay for gas or pick up a few essentials. The shiny, juicy skin, the warm buns on the counter and all the toppings to choose from for a low price? We've certainly indulged a few times!
Of course, some gas and convenience chains' dogs stand head and shoulders above the rest. Here, find our picks for the best gas station hot dogs —for the best prices—in America.
Sheetz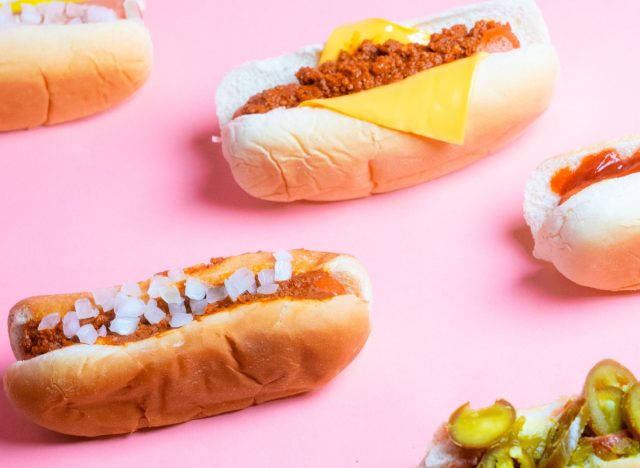 This chain, with around 700 stores located in Central and Western Pennsylvania, West Virginia, Maryland, Ohio, Virginia, and North Carolina, serves made-to-order hot dogs starting at 99 cents. But they also offer more upgrades than most convenience stores including a pretzel bun, six kinds of cheese (including nacho!), 14 different spreads (like Dr. Pepper BBQ), and 19 different toppings from caramelized onions to guacamole. Talk about a dog-a-palooza!
7-Eleven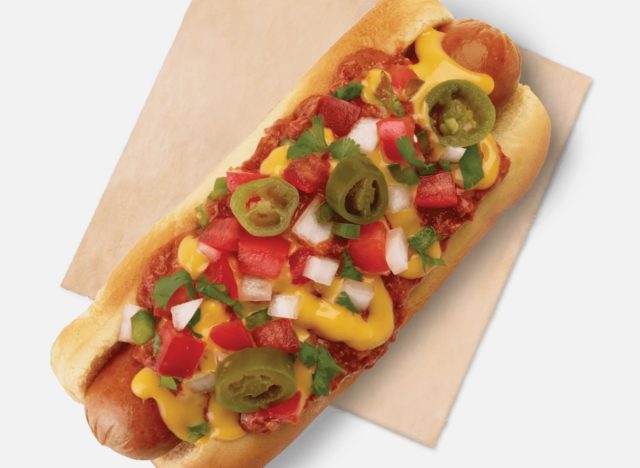 For its price, the 7-Eleven Big Bite may just be the best hot dog you can get almost anywhere in the country. Seriously, with over 13,000 locations it's getting hard to avoid the ubiquitous brand. Its locations offer gas, but you can also find them as convenience stores in many cities.
The straightforward, all-beef dog starts at around $2 and is a quarter pound of beef wrapped in a pillowy bun. Several different toppings are available but they vary by location. Speedway, which is owned by 7-Eleven, also offers the Big Bite.
Holiday Station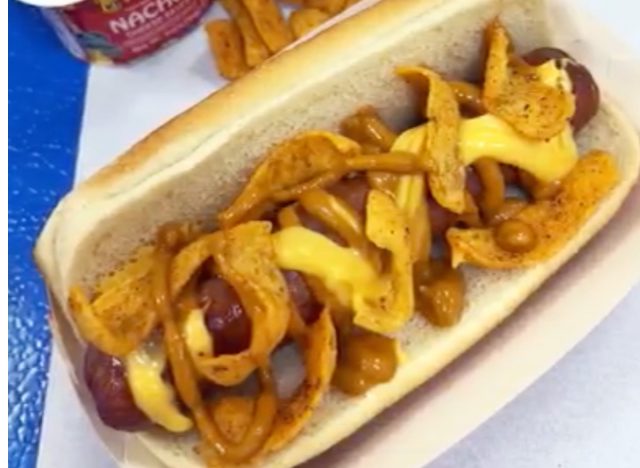 For only $1, you can get an authentic Nathan's Jr. all-beef dog at this Midwest chain, with locations in Alaska, Idaho, Michigan, Minnesota, Montana, North Dakota, South Dakota, Washington, Wisconsin, and Wyoming. They also serve full-size Nathan's hot dogs, and classic Johnsonville brats, if a long day in the car has you feeling hangry for a hot dog.
Ampm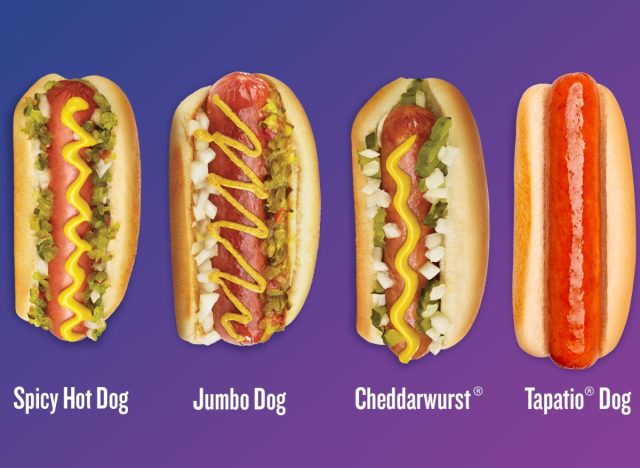 The Tapatío Hot Dogs at Ampm are spicier versions of traditional roller-grill dogs, made with Tapatío hot sauce. Ampm, a West Coast convenience store chain with locations in Arizona, California, Nevada, Oregon, and Washington, offers the spicy dogs for $1.99. The chain also offers a Cheddarwurst dog, that's packed with cheese for the same price, and if you buy one dog, the second is only $1.50.
Circle K
Almost as ubiquitous as 7-Eleven, Circle K's all-Angus beef dogs are a dependable choice for a road trip meal or a late-night snack. Prices vary, but you can usually find a dog and a drink for around $2, with no extra charge for toppings.
Kum & Go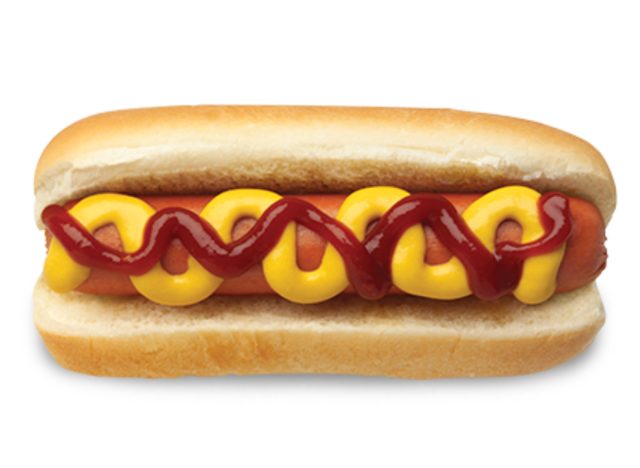 Founded in 1963, the Midwestern chain's name is a play on the phrase "come and go" using the initials of founders Krause and Gentle. With 400 stores in 11 states, it's not difficult to find their tasty hot dogs, wrapped in a soft bun. What's outstanding about the hot dogs, is that they're often on special, with two hot dogs, chips, and a drink running less than $6.
Racetrac
Founded in 1934 in St. Louis, this gas station and convenience store operates more than 550 outlets in 12 southeastern states. The store's popular roller grill includes hot, juicy hot dogs that can be topped with classic favorites like ketchup and mustard, along with premium toppings like onions, jalapeño, and nacho cheese. The shops offer an all-beef Nathan's hot dog or a jalapeño cheddar sausage on a soft bun.
Pilot Flying J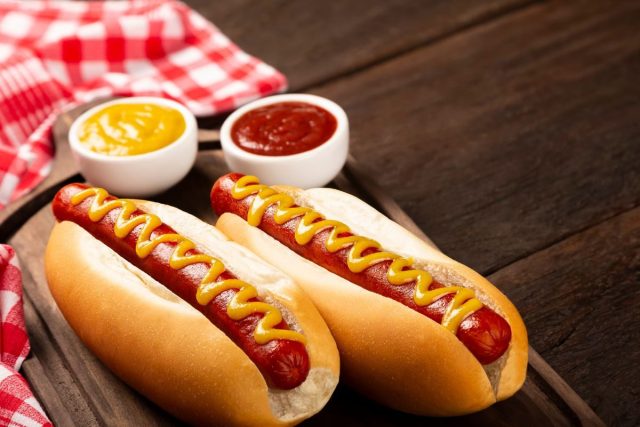 You've probably seen this gas station and truck stop while making summer road trips across the country. The company is based in Knoxville and operates truck stops across the country, making this dog about as accessible as it gets. What you'll find at Pilot Flying J are juicy Big Dogs on the roller grill, along with fresh cold toppings, ranging from sauerkraut to sliced jalapeño, and banana peppers.6254a4d1642c605c54bf1cab17d50f1e
Mapco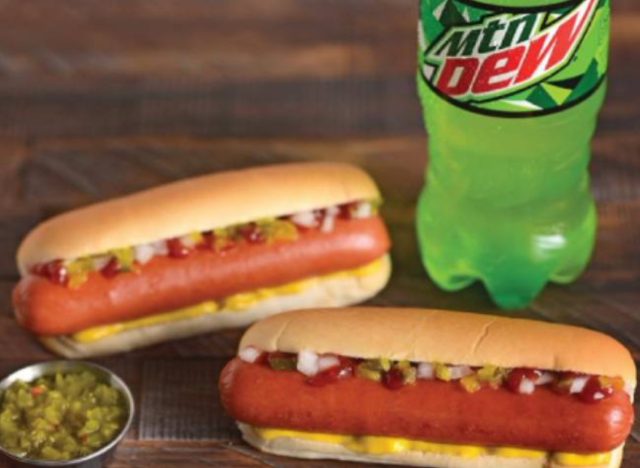 With over 345 locations throughout the Southeast United States in Tennessee, Alabama, and Georgia, and additional locations in Arkansas, Virginia, Kentucky, and Mississippi, anyone traveling or looking for a quick snack down South can find a 6-inch all-beef Johnsonville hot dog at Mapco's stores. What people love the most about Mapco is that their rewards app often offers free dogs, either with a certain number of points or often as a promotion.
Tanya Edwards
Tanya Edwards is a seasoned food and health journalist, who has held roles at Yahoo Health as Managing Editor and at Food Network as Programming Director.
Read more about Tanya