I Tried 8 Store-Bought Hot Dogs & This Is the Best One
'Tis the season of the tubesteak: find out which beefy brand should top your summer shopping list.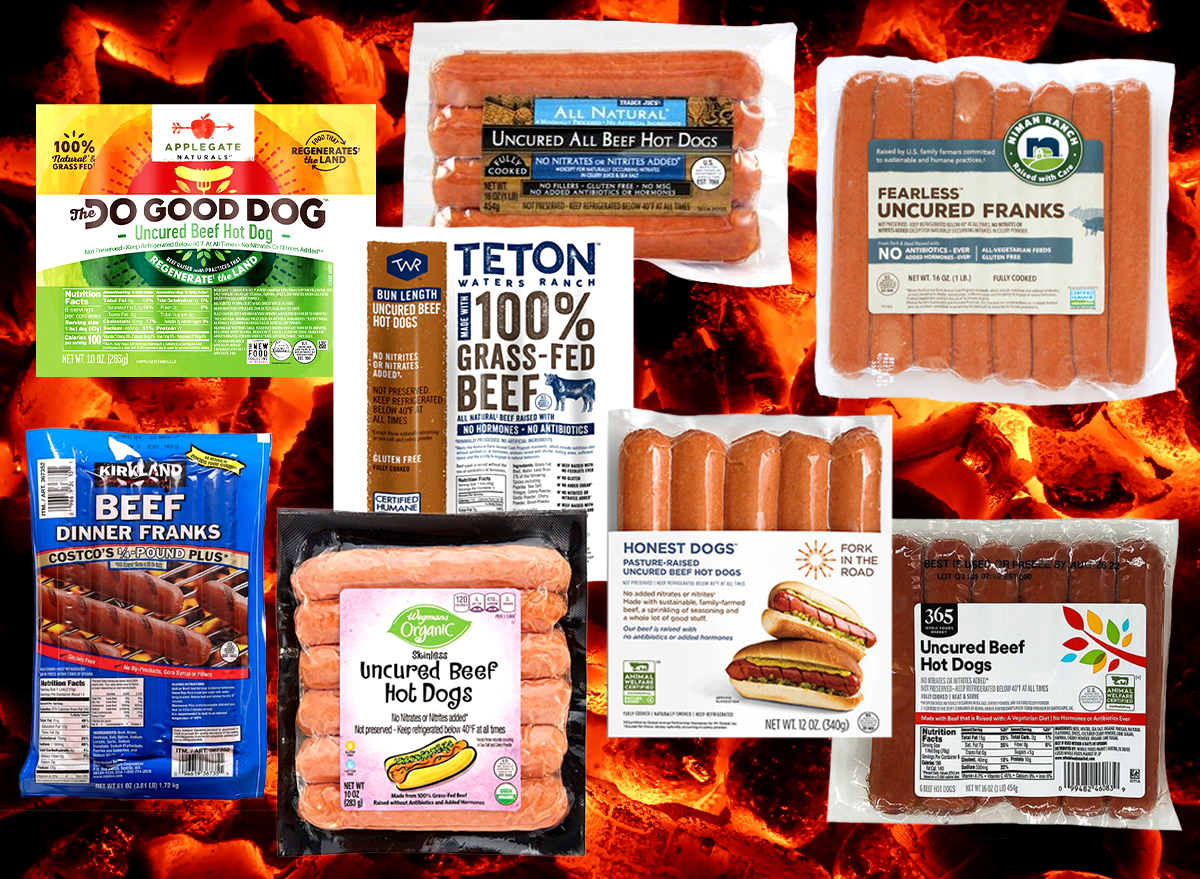 The product recommendations in this post are recommendations by the writer and/or expert(s) interviewed and do not contain affiliate links. Meaning: If you use these links to buy something, we will not earn a commission.
How do you like your hot dog? Steamed? Boiled? Microwaved? If you're like most Americans, the correct answers are no, no, and heck no!
About 75% of Americans prefer hot dogs that are cooked on the grill, with campfire-roasted weenies coming in a very distant second, according to a 2021 survey by the National Hot Dog and Sausage Council.
The outdoor cooking connection probably explains why Memorial Day not only marks the unofficial start of summer, but also another pivotal moment in American culture: hot dog season. From now until Labor Day, U.S. consumers are expected to chow down on about seven billion hot dogs—that's roughly 818 every second, the tubesteak-focused group reports.
As you prepare to dust-off your own backyard grill, you might be wondering how to improve your barbecue game this year. Choosing a top-quality hot dog is a good start.
I recently rounded-up eight packs of fine-looking franks from my favorite grocery stores—Costco, Trader Joe's, Whole Foods, and Wegmans—in search of the best-tasting one for my summertime grilling pursuits. Then I cranked up the Weber grill and tasked a group of friends to help taste-test every last one of them.
Here's how they compared, ranked in descending order from the least popular link to the literal top dog.
Costco Kirkland Signature Beef Dinner Franks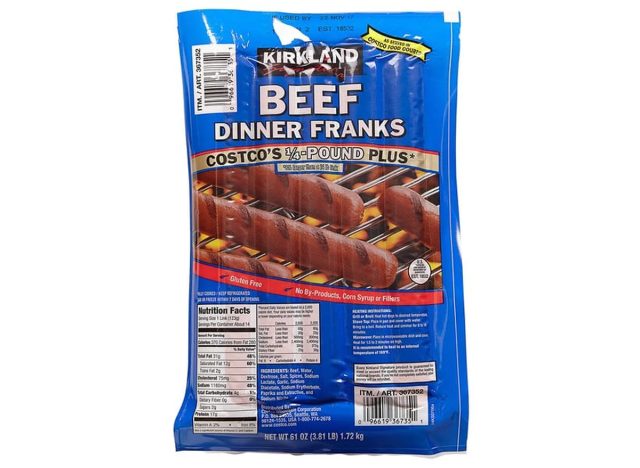 If you're a Costco member, then you're probably all too familiar with these hot dogs. They're the same ones served up in the warehouse club's popular food court for the forever-low price of $1.50 each. You can also find them in Costco's freezer section, priced at $13.99 for a pack of 14—that's even cheaper than the food court! Measuring a massive 8-inches-long, the quarter-pound Kirkland-brand dogs are far and away the biggest of my haul—about three inches longer than your standard hot dog bun. They make a stunning showpiece for your BBQ spread.
Yet, as plump and popular as they are, my tasters found them "super salty" compared to the others. They're right: 1,250 milligrams per 123 gram serving! The Costco dogs are also loaded with additives including sodium nitrate and pack a palpable aftertaste, too. Even the actual dogs (i.e. canines) in our group seemed to enjoy them less, which is why they ranked dead last on this list.
Niman Ranch Fearless Uncured Franks
Niman Ranch is a highly respected meat company that prides itself on doing things the right way. The label on its Fearless Uncured Franks, made with a mix of pork and beef, reflects these high standards: no antibiotics, no hormones, no MSG, no added nitrates.
At $8.49 for a pack of eight, they're also one of the priciest hot dogs in my haul. With all the high-minded ethics and equally high expense, I expected to like these high-quality franks a lot more. However, my tasters did not appreciate the "mushy" texture. One noted it was missing the traditional "hot dog flavor." Another quipped, "You mean the nitrates?" The slender, 6.5-inch long dogs also quickly shriveled after cooking, which lessened their visual appeal and further hurt their ranking.
The Do Good Dog Uncured Beef Hot Dog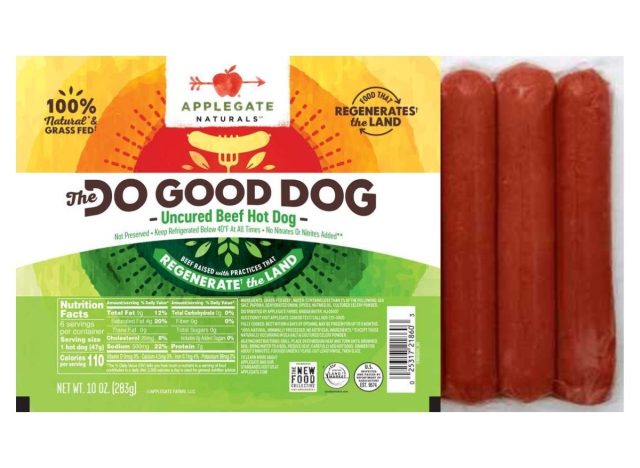 These regeneratively farmed, 100% grass-fed beef, certified-label-laden, aptly named do-gooder dogs—produced by Applegate exclusively for (where else?) Whole Foods Market, which sells them in packs of six for $7.49—produce the most enticing aroma on the grill and an elusive flavor on the palate, which left my tasters guessing as to the identity of the "weird spice" therein. Could it be… cinnamon?
Not according to its website, which reveals the unspecified "spices" on the label as mace, black pepper, coriander, ginger, and cayenne. On the downside, they're the teeniest weenies in the haul (just 1.5 ounces each) and samplers said the flavor reminded them more of a Polish-style kielbasa sausage than a traditional U.S. hot dog, hence the lower placement in these standings.
Trader Joe's All Natural Uncured Beef Hot Dogs
At just a stubby 4.5 inches long, these Trader Joe's-brand dogs are the shortest in the haul, but quite plump at nearly 2 ounces each. They came off the grill super juicy—"maybe too juicy," according to one taster, who got a little messy upon sampling.
They're also the sweetest tasting dogs we sampled. Not surprisingly, they contain the most added sugar at 2 grams per link (most of the other franks had less than a gram or none). The listed ingredients include honey and cane sugar. Though different, these saccharine sausages nonetheless failed to rank among the group's favorites, which skewed toward more savory varieties.
Whole Foods 365 Uncured Beef Hot Dogs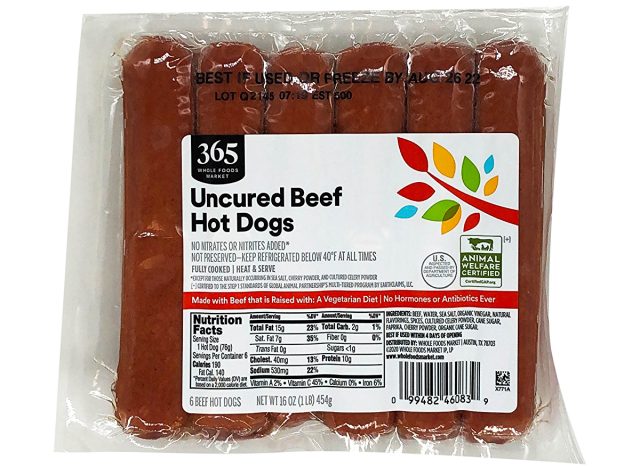 Naturally, you'd expect a Whole Foods-branded hot dog to uphold a higher standard in terms of ingredients. These humanely raised beef hot dogs, sold in six-packs for $6.99, lived up to expectations, both on the label and on the palate. Flavored with sea salt, organic vinegar and a pinch of organic cane sugar, they're a little briny, a little tangy, and just a teensy bit sweet.
They're also plumper than most, weighing in at 2.7 ounces each. The well-balanced taste and bun-appropriate 5.5-inch size puts them solidly in the top four. "It tastes like a higher-quality hot dog," one sampler said.
Honest Dogs Pasture-Raised Uncured Beef Hot Dogs
Another better-for-you option that tastes as elevated as its ethical standards, Honest Dogs turned out snappy, juicy, and complex in terms of flavors, with over a dozen listed spices, including allspice, coriander, nutmeg, red pepper, and rosemary. "That's what a hot dog should taste like," one sampler said.
They're not cheap—$7.99 for a pack of five at Whole Foods, the highest price per frank in the haul. But they're ample at 2.2 ounces each and proved popular enough among my crew to make the top three.
Wegmans Organic Skinless Uncured Beef Hot Dogs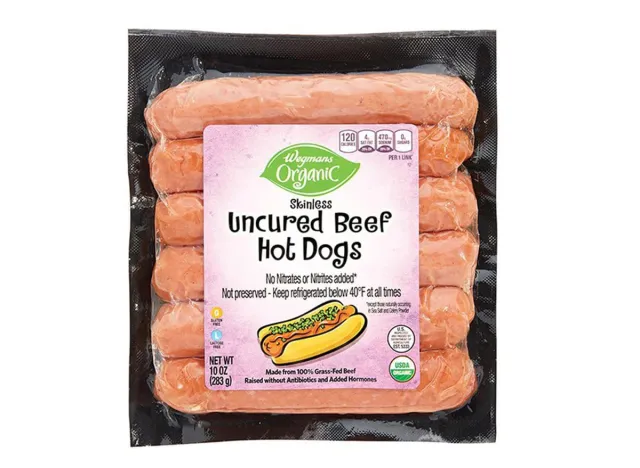 6254a4d1642c605c54bf1cab17d50f1e
Like most skinless weenies, Wegmans organic dogs don't snap like a traditional frank in its natural casing. They're pretty puny, too: measuring less than five inches and a mere 1.5 ounces each. But what they lack in snap and size, they more than make up for in terms of flavor, offering perhaps the most unique taste of the haul, with strong notes of vinegar and celery powder in the spice mix.
Tasters were torn between Wegmans' flavorful frank and the eventual winner—it's the runner-up by the narrowest of margins, coming up short in a 4-3 vote.
Teton Waters Ranch Uncured Beef Hot Dogs
Proving that good guys don't always finish last, the high-principled purveyors at Colorado's Teton Waters Ranch take the top spot with these humanely decent and downright delicious hot dogs. Tasters loved the smoky flavor of the slender, six-inch franks, made with 100% grass-fed beef and none of the nasty stuff: no hormones, no antibiotics, no nitrates. A stiff dose of paprika leads-off the winning list of spices, with sea salt, vinegar, and a potent blend of powders (celery, garlic, cherry, and onion) rounding out the mix.
They're a bit pricier than others—$6.49 for a five pack at Whole Foods, or $1.29 each—but the top-quality ingredients and crowd-pleasing tastiness make them the best dog for your dollar this summer. You can also find them at Sprouts, Albertsons, Safeway, and other retailers.