12 Healthy Holiday Cookies You'll Be Super Proud Of
What would the holidays be without cookies?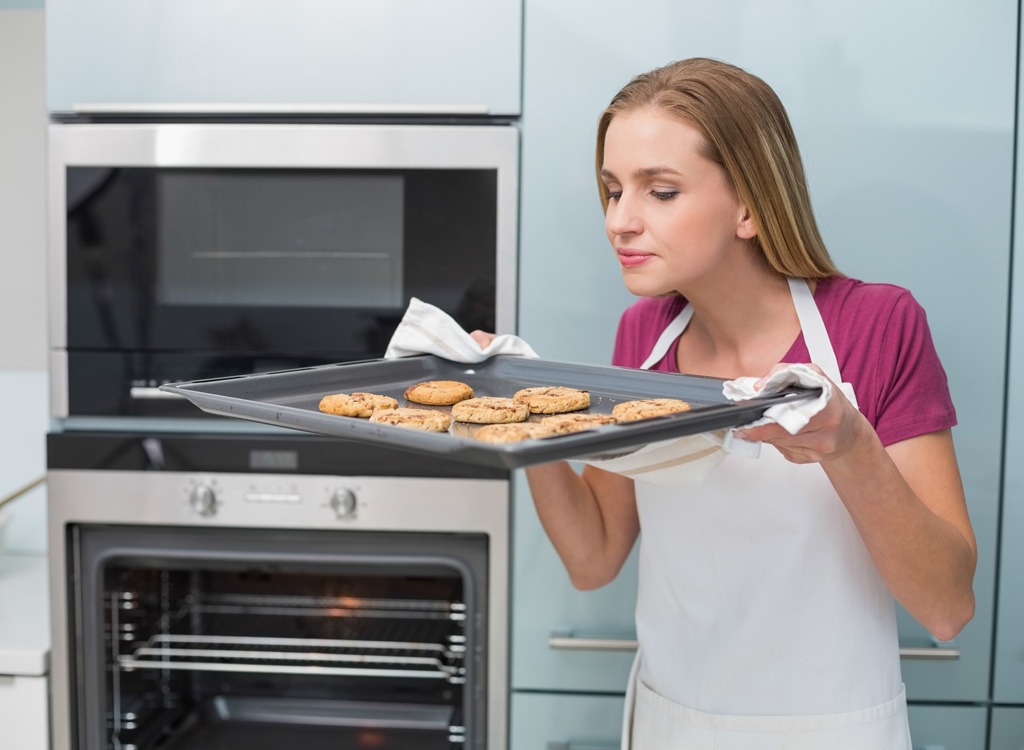 Cookies! You set them out for Santa, bake them as a fun quality family time activity, and pass them around at neighborhood holiday parties. We're not going to ask you to give them up. Really. You should be able to participate in your standing holiday traditions and cut calories, too.
We scoured the blogosphere for the best of the mouthwatering best healthy holiday cookie recipes to bring you 15 healthy cookie recipes that you'll be psyched to serve your friends and fam. These cookies are not only delicious, but they also boast some nice superfoods (like coconut oil and almonds) and cut back on the naughty ingredients like butter and white sugar. And remember: The easiest way to cut calories on the cookies this season is sharing them with friends and family. That's a holiday tradition we can all feel good about. For a warm beverage to go along with your creative treats, try green tea, one of the best weight-loss teas around!
Pumpkin Chocolate Chip Cookies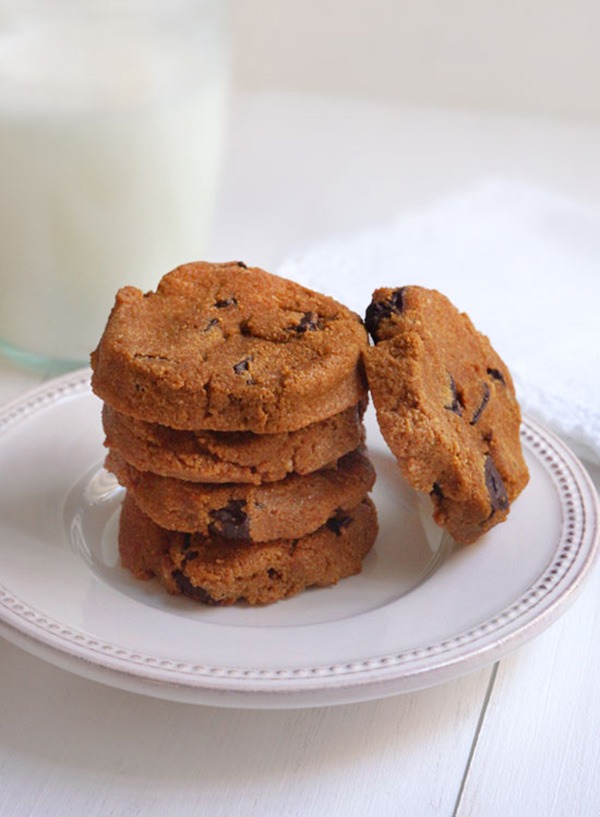 Per cookie: 108 calories, 4.7 g fat, 3.5 g saturated fat, 8 mg sodium, 1.6 g fiber, 10.9 g sugar, 1 g protein
And you thought all there was to love about pumpkin was the pie and those lattes. Well, think of this cookie as the no-fork-required version of the classic pie, with an upgrade—chocolate chips! Between the warm, winter spices and the gooey chocolate, none of your holiday guests will guess these are nut-, grain- and egg-free.
Get the recipe from The Detoxinista.
Sugar Cookie Energy Bites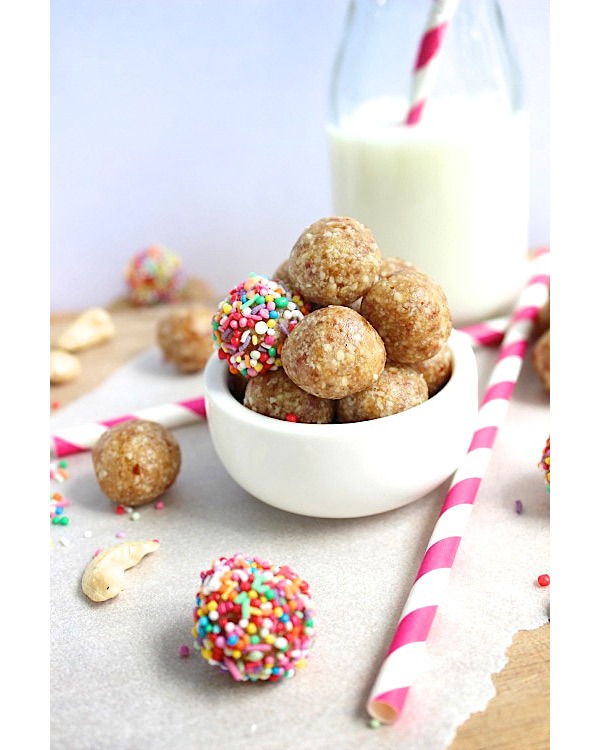 Per cookie: 23 calories, 1.6 g fat, 0 g sat fat, 1.9 g carbs, 0 g fiber, 0.9 g sugar, 0.6 g protein
Don't let the name throw you; a couple of these energy bites won't give you anywhere near the sugar high – and crash – of the classic cookies they're named after. Calling for just three ingredients and a matter of minutes, these bites can easily be prepped on the weekend for a week's worth of healthy snacking for the entire family. Cover a quarter of them in sprinkles for a low-sugar way to get kids interested in the cashew-powered treats.
Get the recipe from Better with Cake.
Almond Butter Lace Cookies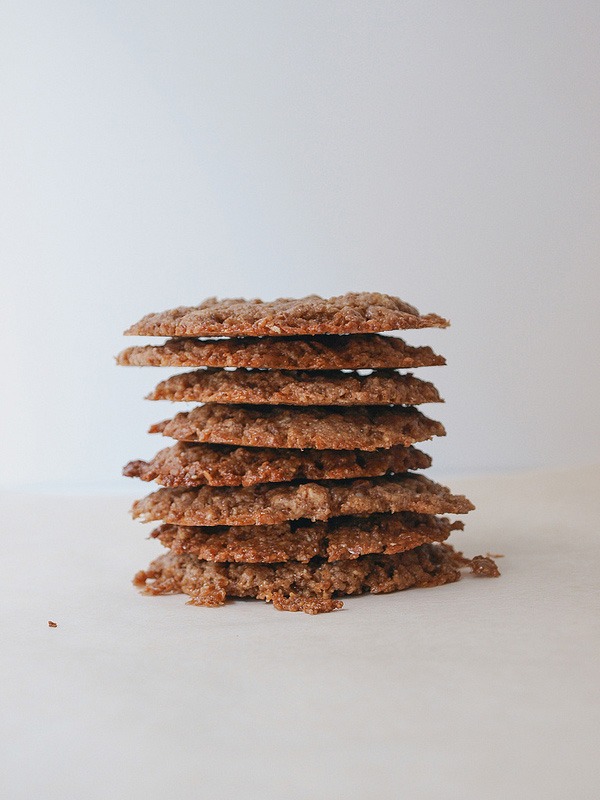 Per cookie (using unsweetened almond milk): 150 calories, 10.3 g fat, 1.0 g saturated fat, 3 mg sodium, 0.9 g fiber, 7.0 g sugar, 4.0 g protein
These classic, diaphanous cookies are usually loaded with butter to achieve that light-but-crisp texture, but this version packs them full of protein without weighing them down. You'll get a satiating dose of healthy fats from the almond butter base, but all you'll really care about is the rich, indulgent taste. Just try to remember to share!
Get the recipe from The Simple Veganista.
Gluten-Free Gingerbread Cookies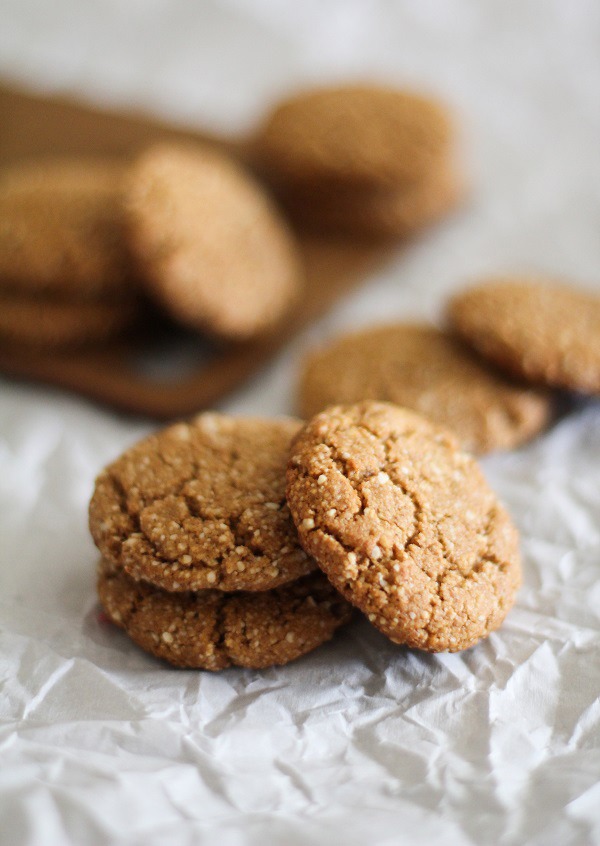 Per cookie: 89 calories, 7.3 g fat, 2.4 g saturated fat, 29 mg sodium, 1.4 g fiber, 2.3 g sugar, 2.1 g protein
We know exactly what you're thinking: grain-, dairy- and gluten-free cookies? They must be dry. Wrong! These upgraded classics are not only not crumbly, but they also crisp on the outside and chewy on the inside. That's right, the perfect cookie combo. They're so good, in fact, you won't even miss the icing.
Get the recipe from The Roasted Root.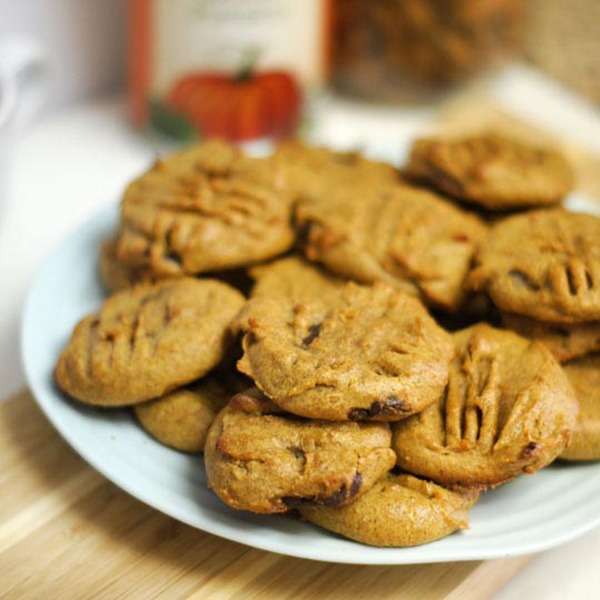 Per cookie (without chocolate chips): 68 calories, 5.4 g fat, 0 g saturated fat, 57 mg sodium, 1.5 g fiber, 2.8 g sugar, 2.4 g protein
68 calorie cookies. Read it again: 68 calorie cookies. Don't get us wrong, we love the low-calorie count, but what we love about this recipe is the list of healthy, wholesome ingredients that go into it. Nothing processed here, folks, just cookies you can feel good about passing around the holiday dinner table.
Get the recipe from The Detoxinista.
Damn Delicious Chocolate Chip Cookies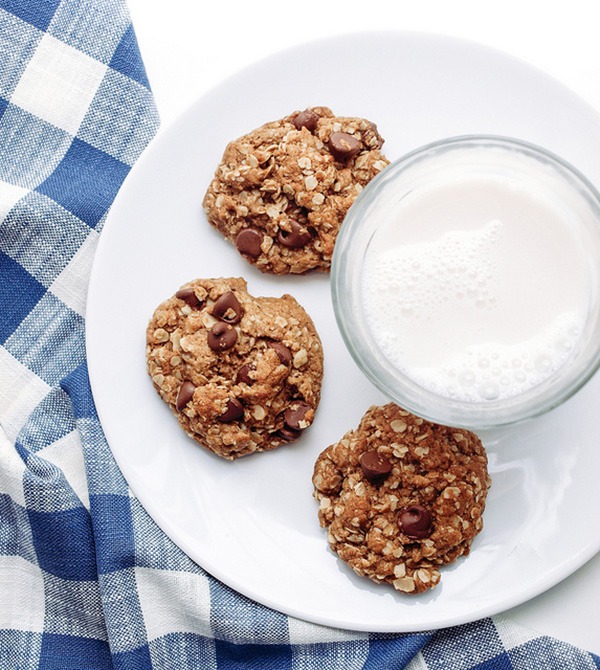 Per cookie: 161 calories, 8.3 g fat, 6.4 g saturated fat, 55 mg sodium, 2.1 g fiber, 7.8 g sugar, 2.6 g protein
(Calculated using spelt flour, unsweetened almond milk, 1/2 cup chocolate chips, and coconut sugar)
If you're used to slice-and-bake cookies, oats mixing with your chocolate chips might be a shocker — in a good way. Chewy, hearty, and satisfying, these cookies will show you that one damn delicious chocolate chip cookie is enough to satisfy even the most stubborn sugar craving. Plus, with absolutely no butter in sight, you can just nix that guilt before you take your first bite. And then check out the 17 Awesome Ways to Lose Weight With Oatmeal.
Get the recipe from The Simple Veganista.
Peppermint Chocolate Macaroons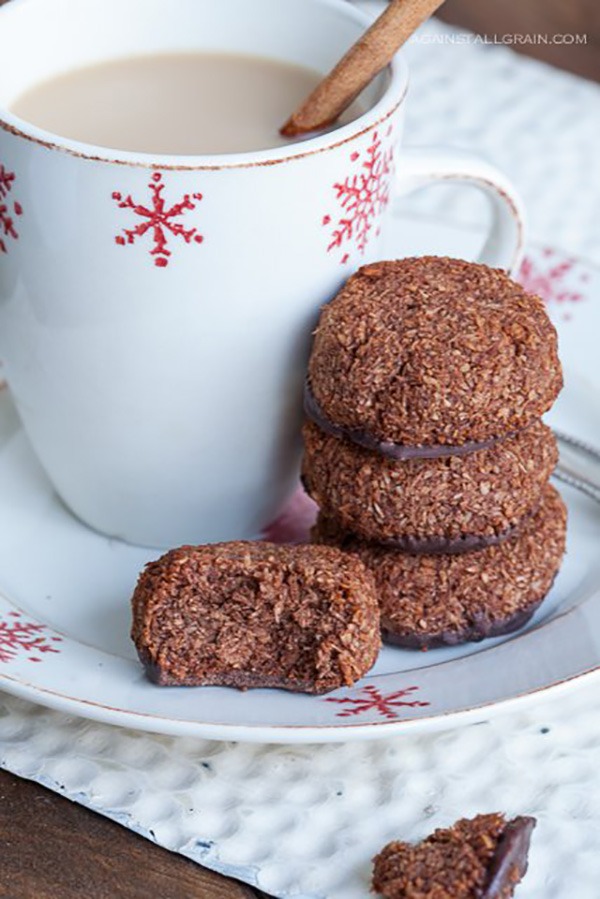 Per cookie: 74 calories, 4.9 g fat, 4.2 g saturated fat, 1.5 g fiber, 6.6 g sugar, 1.0 g protein
(Calculation based on unsweetened coconut milk and without salt or additional chocolate dip)
These sweet little indulgences take you to the tropics with a good dose of coconut before they bring you back into the winter spirit with the classic combo of chocolate and mint. And at 74 calories a pop, no one can fault you for giving them a little dunk in some melted chocolate.
Get the recipe from Against All Grain.
Quinoa and Almond Flour Cookies with Chai-Spiced Almond Butter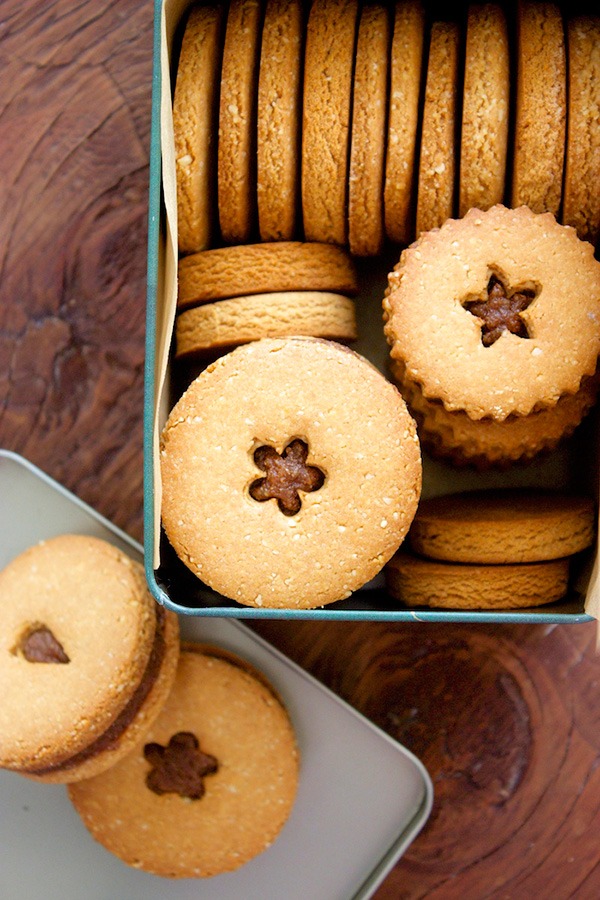 Per cookie: 159 calories, 9.6 g fat, 1.6 g saturated fat, 24 mg sodium, 1.4 g fiber, 9.1 g sugar, 2.3 g protein
These cookies combine two of our favorite things about the holiday season: cookies and warm baking spices. (Plus, we'll never turn down a dessert that manages to pack some protein.) These cookies are also a delicious introduction to the world of alternative flours. If you like almond butter, you'll love the subtle nuttiness almond flour adds to your cookies.
Get the recipe from Farm on a Plate.
Coconut Flour Chocolate Chip Cookies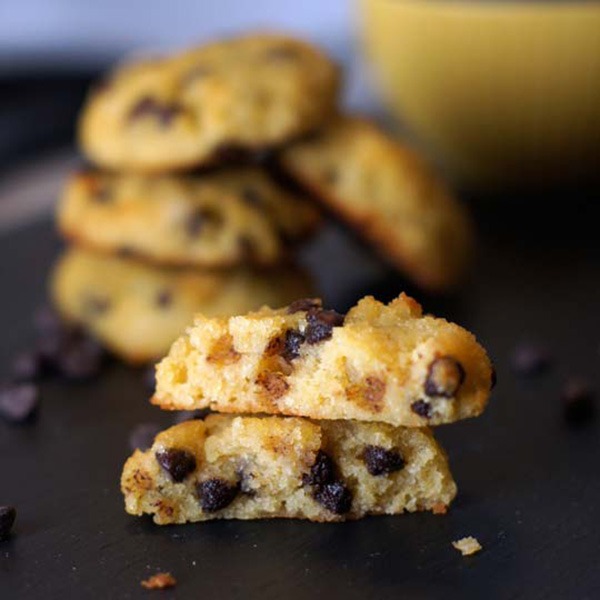 Per cookie: 97 calories, 6.5 g fat, 4.8 g saturated fat, 68 mg sodium, 1.1 g fiber, 6.0 g sugar, 1.6 g protein
Light, fluffy and cake-like, these cookies are like the top of a chocolate chip muffin—without all the unnecessary sugar, fat, or calories. Don't let the saturated fat scare you off; it comes from all-natural ingredients high in good fats, like coconut flour and coconut oil. A touch of maple syrup and some mini chocolate chips are all you need to sweeten these little indulgences.
Get the recipe from The Detoxinista.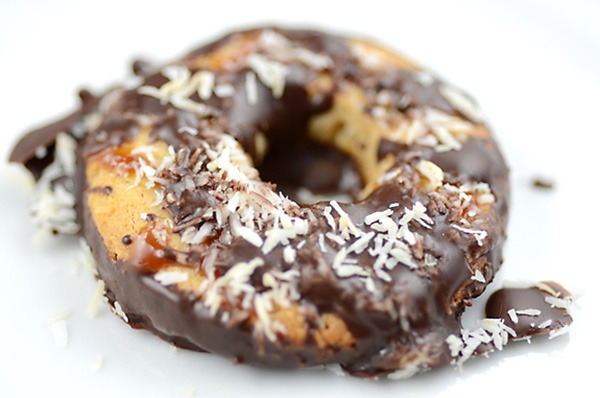 Per cookie: 142 calories, 9.0 g fat, 5.0 g saturated fat, 26 mg sodium, 1.5 g fiber, 11.7 g sugar, 1.9 g protein
Forget all about the trans fats and chemicals that are packed into typical Girl Scout cookies and make wholesome versions at home with your little ones. You'll get their hands involved in the mixing and feel good knowing exactly what they're eating. This recipe keeps all the nice ingredients (unsweetened coconut and dark chocolate) and swaps those naughty ingredients like sugar for healthier alternatives. They're sure to make the whole family happy. Not like these 40 Most Horrifying Things Found in Food.6254a4d1642c605c54bf1cab17d50f1e
Get the recipe from Elana's Pantry.
No-Bake Oatmeal Peanut Butter Bites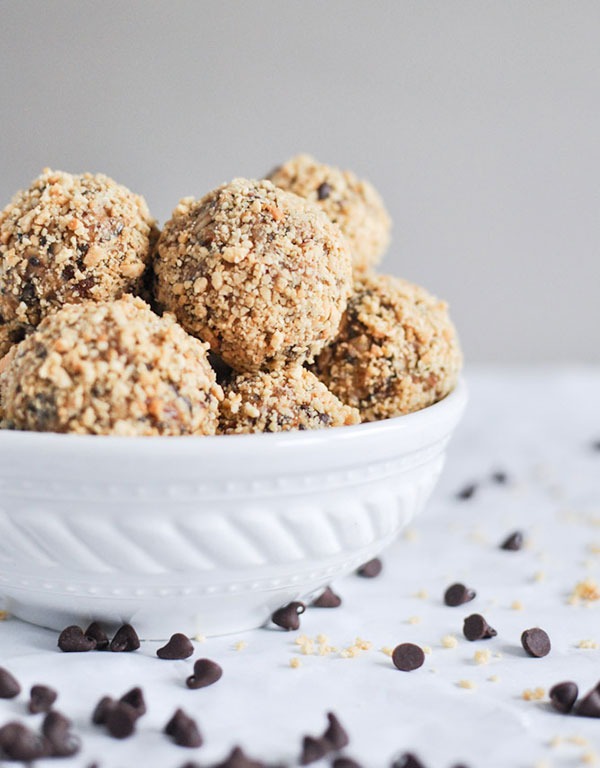 Per cookie: 123 calories, 6.7 g fat, 1.3 g saturated fat, 23 mg sodium, 13 g carbs, 2 g fiber, 7.2 g sugar, 4 g protein
Energy bites are perfect for days when you're not hungry enough to commit to an entire granola bar or when you're simply craving something sweet that won't blow your diet. Whip up this recipe and you'll be prepared for either scenario. They only take 15 minutes to make and are filled with superfoods like flaxseed, chia seeds, and almonds—oh, and of course, ooey-gooey peanut butter, too!
Get the recipe from How Sweet Eats.
Per cookie: 178 calories, 10.7 g fat, 1.4 g saturated fat, 103 mg sodium, 2.6 g fiber, 15.0 g sugar, 4.9 g protein
Using a base of walnuts and dates, these cookies are free of added sugar and are also dairy-free. Dark chocolate chips ensure they still taste decadent—after all, you are eating a cookie—but the walnuts give you a nice additional boost of protein so you'll feel satisfied with one cookie (instead of sneaking back into the kitchen for rounds two and three).
Get the recipe from The Detoxinista.
Eat This, Not That!
Inspired by The New York Times best-selling book series, Eat This, Not That! is a brand that's comprised of an award-winning team of journalists and board-certified experts, doctors, nutritionists, chefs, personal trainers, and dietitians who work together to bring you accurate, timely, informative, and actionable content on food, nutrition, dieting, weight loss, health, wellness, and more.
Read more about Eat This