7 Best Ice Cream Makers for Frozen Desserts
Skip the frozen section at your local grocery store.
This post contains affiliate links. If you use these links to buy something, we may earn a commission.
Why go to an ice cream shop when you can scoop up your own frozen creation at home? Ice cream makers are fun contraptions to have around the kitchen, especially when the temperatures start to creep up. Not only can you make your own ice cream (and control the ingredients that go into it), but you can also use your ice cream maker to make sorbet, gelato, frozen yogurt, and frozen drinks.
But, like any appliance, it's not always obvious which one is the best. When it comes to choosing an ice cream maker, you want one that freezes quickly to ensure as smooth a consistency as possible. And there are other things to consider, too. Some ice cream makers come with built-in refrigeration systems, some have electric motors, and some are hand-cranked. So, to help you narrow it down we've selected the seven best ice cream makers. Keep reading to see which ones made the cut!
Cuisinart Pure Indulgence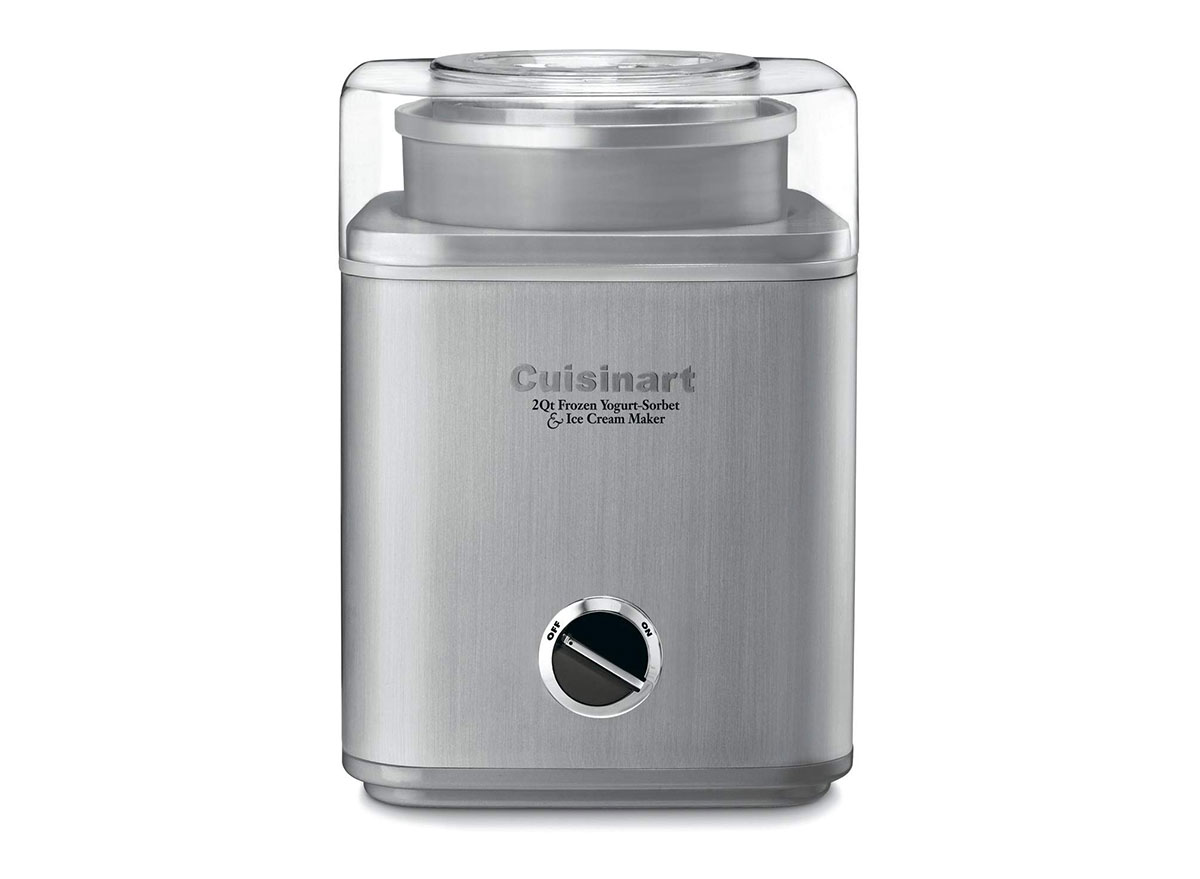 The Cuisinart ICE-30BC ice cream maker has more than 4,000 positive reviews on Amazon for a reason. Although it doesn't have a compressor, which means that you have to freeze the bowl, it has a strong motor that mixes two quarts of ice cream, sorbet, or frozen yogurt in less than 25 minutes.
Presented in a brushed stainless steel exterior, this ice cream maker is easy on the eyes and should make a nice addition to most kitchen counters. There's only one bowl and one paddle, too, so it's easy to add mix-ins of your choice and follow up with a simple clean up.
Breville Smart Scoop Ice Cream Maker
The Breville BCI600XL is a luxury option for the ice cream aficionado. At nearly $400, the price is steep. But the machine has a built-in refrigeration compressor, which cuts out the need to freeze bowl hours in advance. The maker itself is an attractive stainless steel box with a backlit LED screen, too.
Breville claims that this is the first ice cream maker that can automatically sense the hardness of the mixture based on whether you choose ice cream, frozen yogurt, gelato, or sorbet. There are 12 hardness settings in total, for all of your frozen dessert needs. There's also a "keep cool" option in case you need to buy some time between making ice cream and transferring it into its own container. Added bonus: Several reviewers say the cleanup is easy.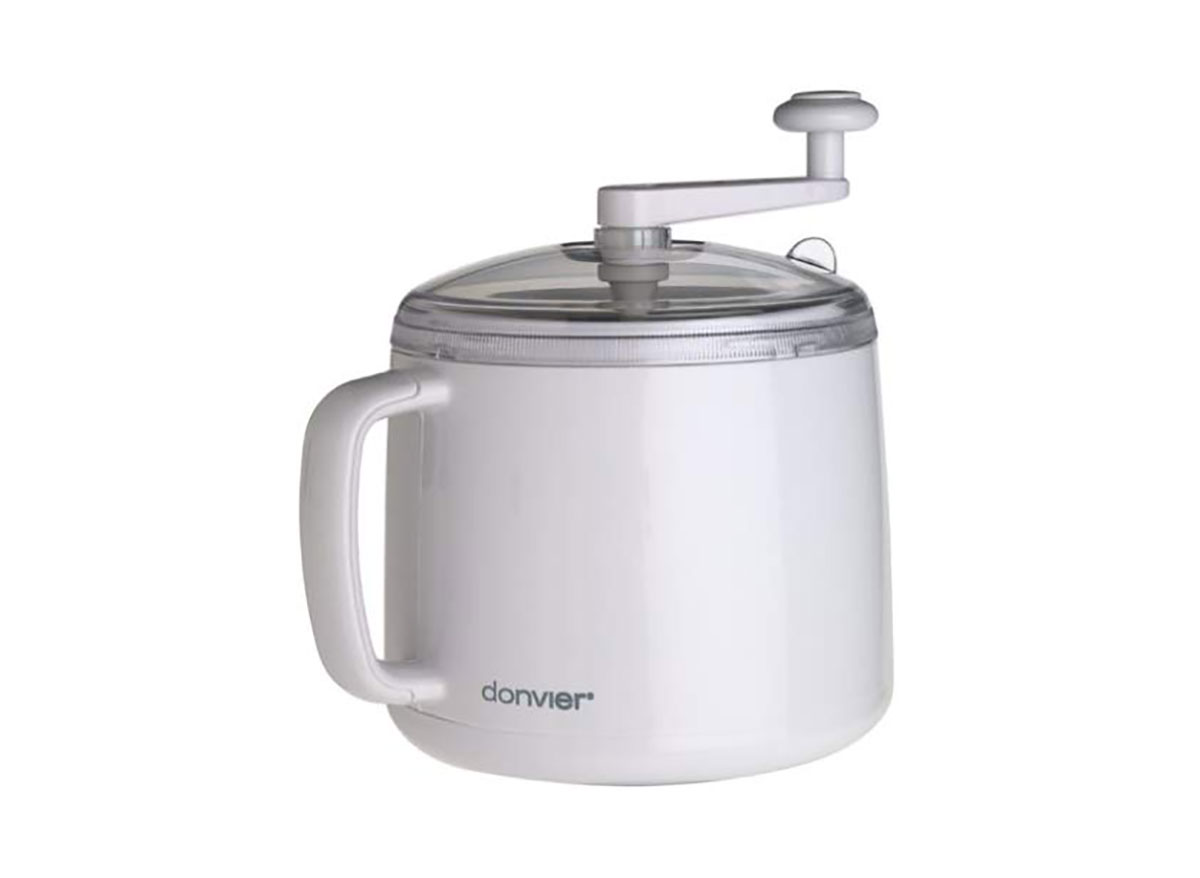 6254a4d1642c605c54bf1cab17d50f1e
While churning ice cream by hand may seem old school, it's actually the preferred method of some homemade ice cream aficionados. The Donvier is economical at around $75 and doesn't require electricity. "The fact that you turn the dasher by hand isn't a big deal. In fact, I like that I can control how much I aerate my mix," one Amazon reviewer wrote.
To make ice cream with this machine, you'll need to freeze the canister in the freezer overnight, which means that some planning is required. But if that's your speed and you like being hands-on with your ice cream making process, then this is a good way to go.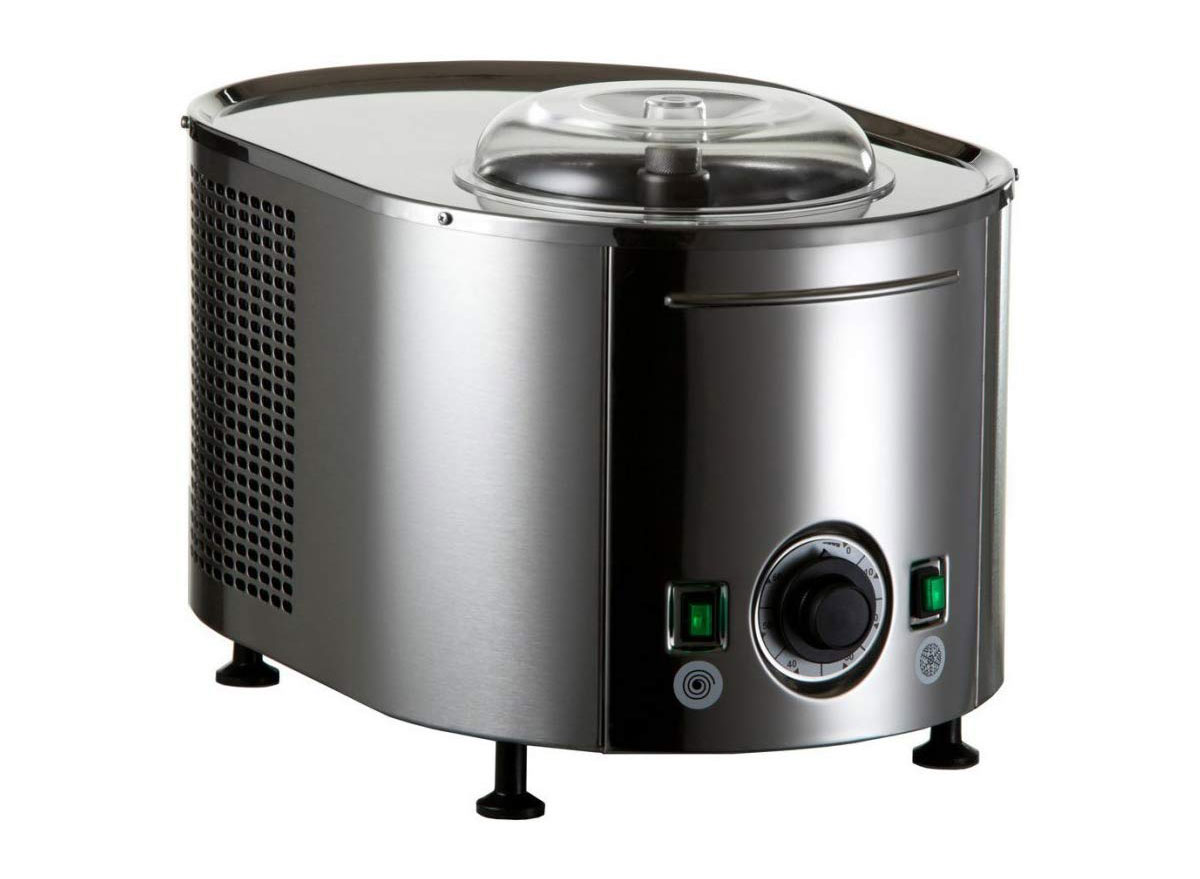 Meet the Ferrari of ice cream makers: the Lello 4080. Made in Italy, this ice cream maker rings in at $735, making it one of the most expensive ice cream makers on the market. But, it's a beast. The body of it is eye-catching shiny steel, and although the bowl holds 1.5 quarts (which is standard) it's pretty sizable and clearly lets the person making ice cream know that it means business.
With a dial timer and no LED screen—just two buttons—it's pretty industrial, which adds all the more to the no-nonsense vibe. Because it's made in Italy, it's no surprise that plenty of reviewers taut the tool's gelato-making abilities, too. It even comes with a plastic serving spatula like you'd find in Italy's gelaterias.
KitchenAid Ice Cream Maker Attachment
If you already have a KitchenAid stand mixer and can't imagine adding one more appliance to your kitchen, then consider the ice cream maker attachment. It's made specifically for KitchenAid mixers and includes a freeze bowl and paddle. You'll need to cool the bowl in the freezer for at least 15 hours and ensure that your ice cream batter is cold, but it's a great alternative to a separate ice cream maker.
Cuisinart Soft Serve Ice Cream Maker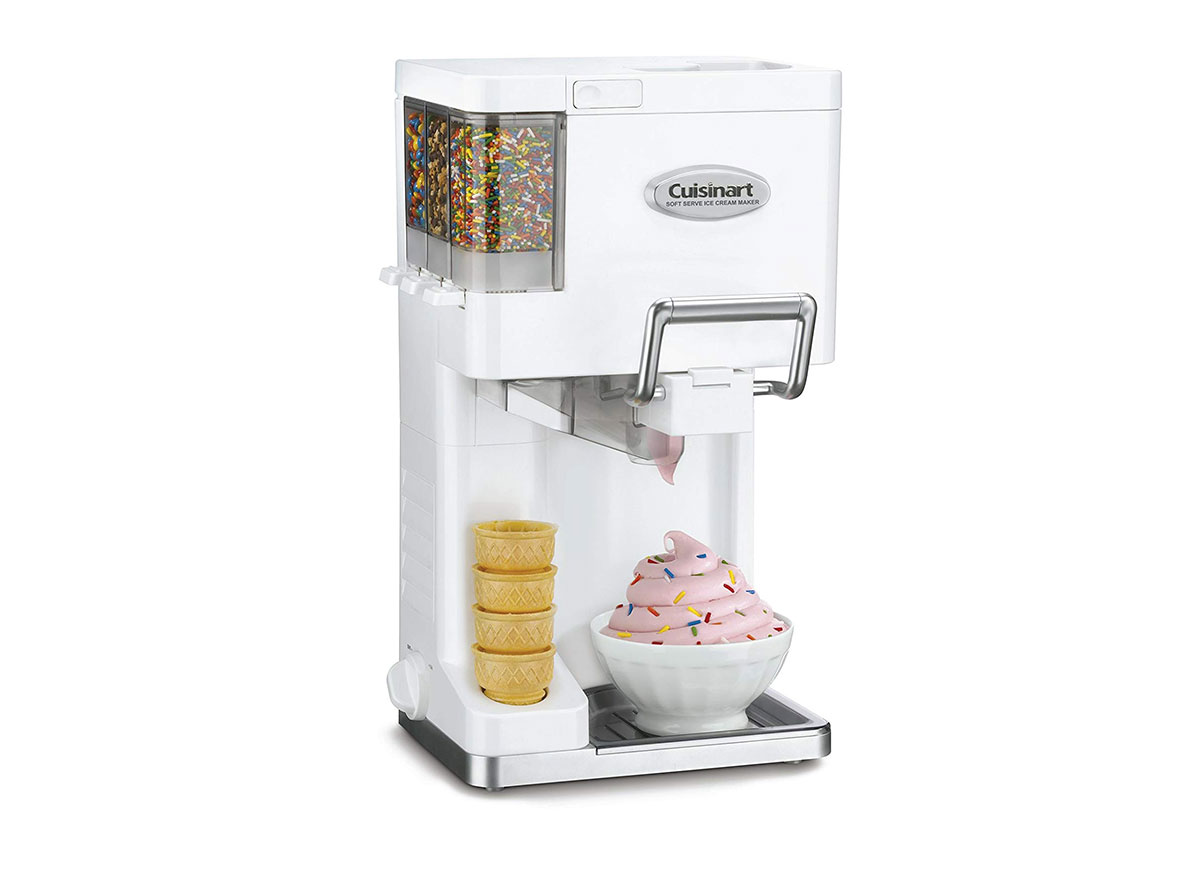 Having soft serve ice cream at home may sound like a dream, but for about $100, it can be a reality. The Cuisinart soft serve ice cream maker allows you to make 1.5 quarts of the summertime favorite in your kitchen in about 25 minutes. It's automatic, so you just have to turn the dial and let it make your treat. There are also three compartments for mix-ins that allow you to dispense the topping of choice as you serve your ice cream.
Nostalgia Electric Ice Cream Maker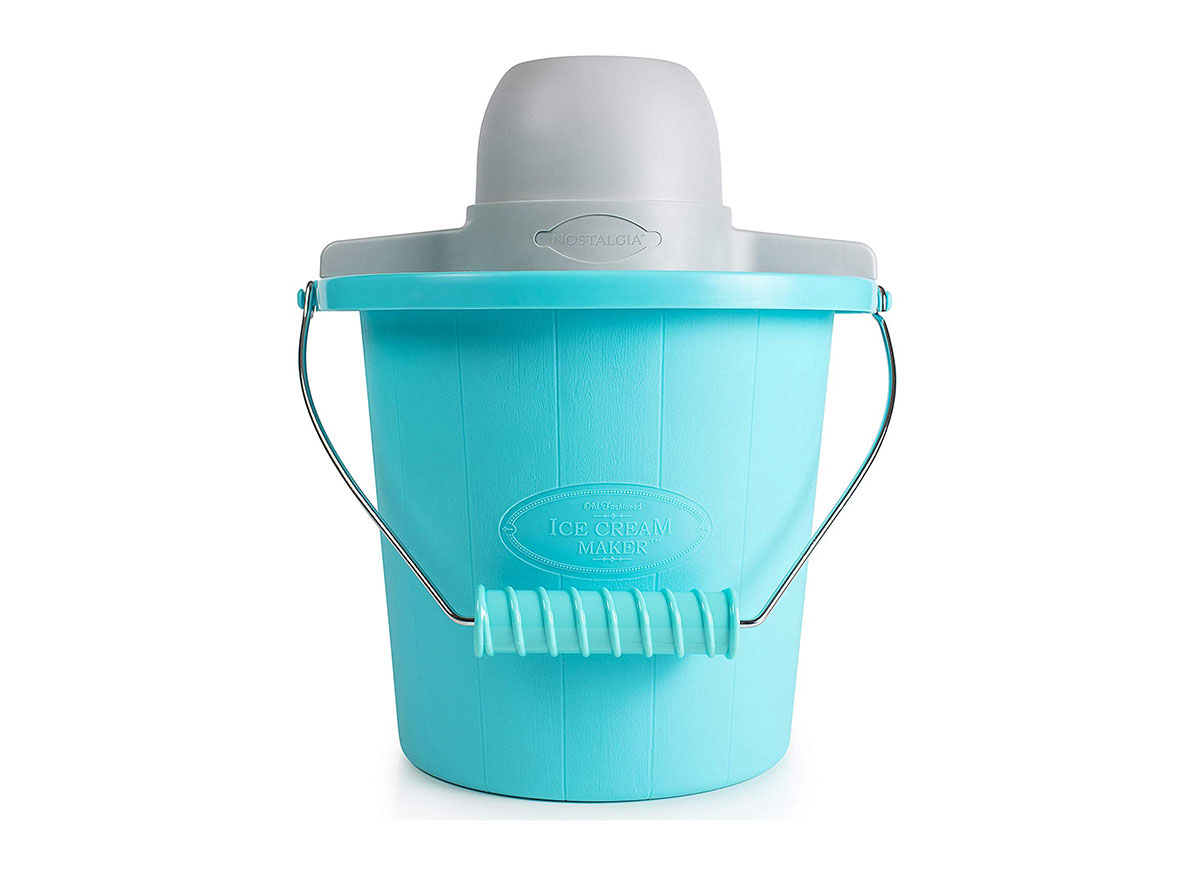 For a budget option, you can't beat the Nostalgia four-quart ice cream maker. It's a bit more labor-intensive—you need to add ice and salt to the bucket—but it's a steal at about $35.
The bucket is lightweight, and it also has a handle making it easily portable for those times when, say, you want to make ice cream by the pool. And, as an added bonus, you can store the ice cream in the same canister it was made in, as opposed to transferring it to a different container.
Lia Picard
Lia Picard lives in Atlanta where she writes about all things lifestyle.
Read more about Lia