Best Lunches for Weight Loss
Shed pounds eating pizza, burgers, chili and more!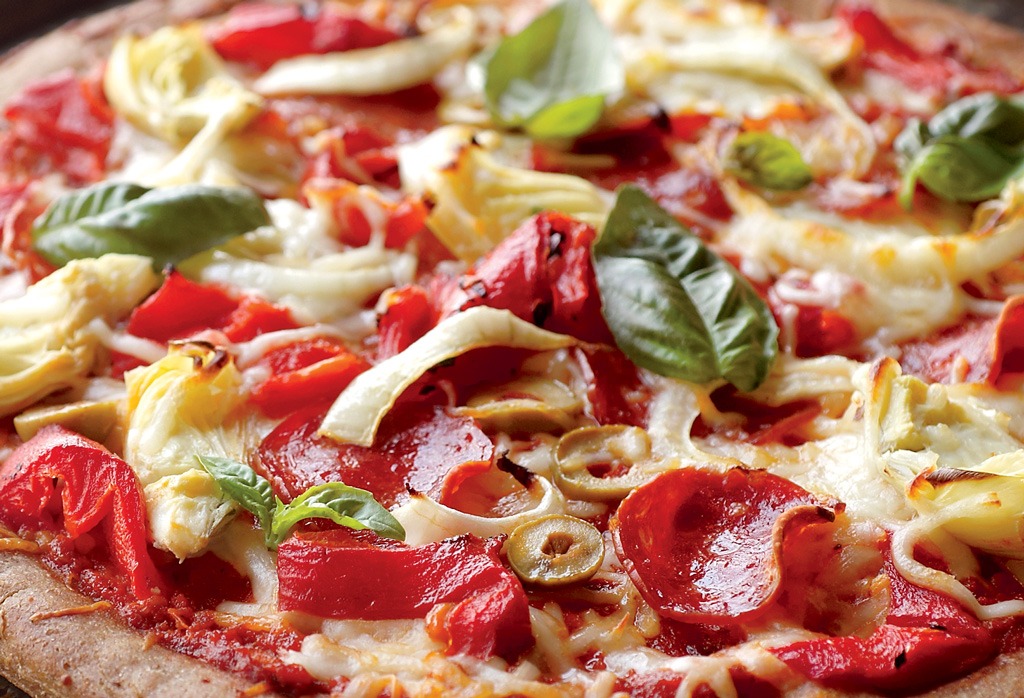 Though we've never been shy about professing our undying affection for chili, it's not without its dangers, namely soaring sodium counts and reliance on fatty ground beef. Go lean by using ground turkey and build flavor with spices, beer, and a bit of chocolate.
Ingredients
makes 6
1 Tbsp canola oil
1 large onion, chopped
1 cloves garlic, minced
1 tsp ground cumin
1⁄2 tsp dried oregano
1⁄4 cup chili powder
1⁄8 tsp ground cinnamon
2 bay leaves
2 lb lean ground turkey
2 Tbsp tomato paste
1 piece (1 oz) dark chocolate or 1 Tbsp cocoa powder
1 bottle or can (12 oz) dark beer
1 Tbsp chopped chipotle pepper
1 can (28 oz) whole peeled tomatoes
1 can (14oz) white beans, rinsed and drained
1 can (14 oz) pinto beans, rinsed and drained
Salt and black pepper to taste
Hot sauce or cayenne (optional) to taste
Raw onions, shredded cheese, chopped scallions, lime wedges, sour cream (optional)
Turkey Chili
| | |
| --- | --- |
| Calories | 330 |
| Fat | 6 g |
| Saturated Fat | 1 g |
| Sodium | 490 mg |
How to Make it
step 1
Heat the oil in a large pot over medium heat. Add the onion and garlic and cook until the onion is translucent, about 5 minutes. Add the cumin, oregano, chili powder, cinnamon, and bay leaves and cook for another 2 to 3 minutes, until the spices are very fragrant.
step 2
Add the turkey and tomato paste and stir with a wooden spoon until the turkey is no longer pink. Add the chocolate, beer, chipotle, and tomatoes, squeezing each tomato between your fingers so that it's still chunky but not whole. Turn down the heat and simmer for 45 minutes.
step 3
Add the beans and season with salt and pepper. Taste; if you like your chili hotter, add your favorite hot sauce or a few pinches of cayenne. Cook until the beans are hot. Serve topped with your choice of garnishes.
MASTER THE TECHNIQUE
Make your own chili powder
What sets competition chili cooks apart from each other isn't meat or beans (almost all of them use chuck and onions and little else), it's the spices. Premade chili powder is great in a pinch, but the fresh stuff is infinitely better. Buy a mix of dried chiles from a Mexican grocer (anchos are mild and fruity, New Mexican chiles are earthy, and chiles de arbol are fiery hot), remove the stems and seeds, toast the peppers briefly in a dry skillet, then grind into powder in a coffee grinder. Your next batch is guaranteed to be competition quality.
The Ultimate BLT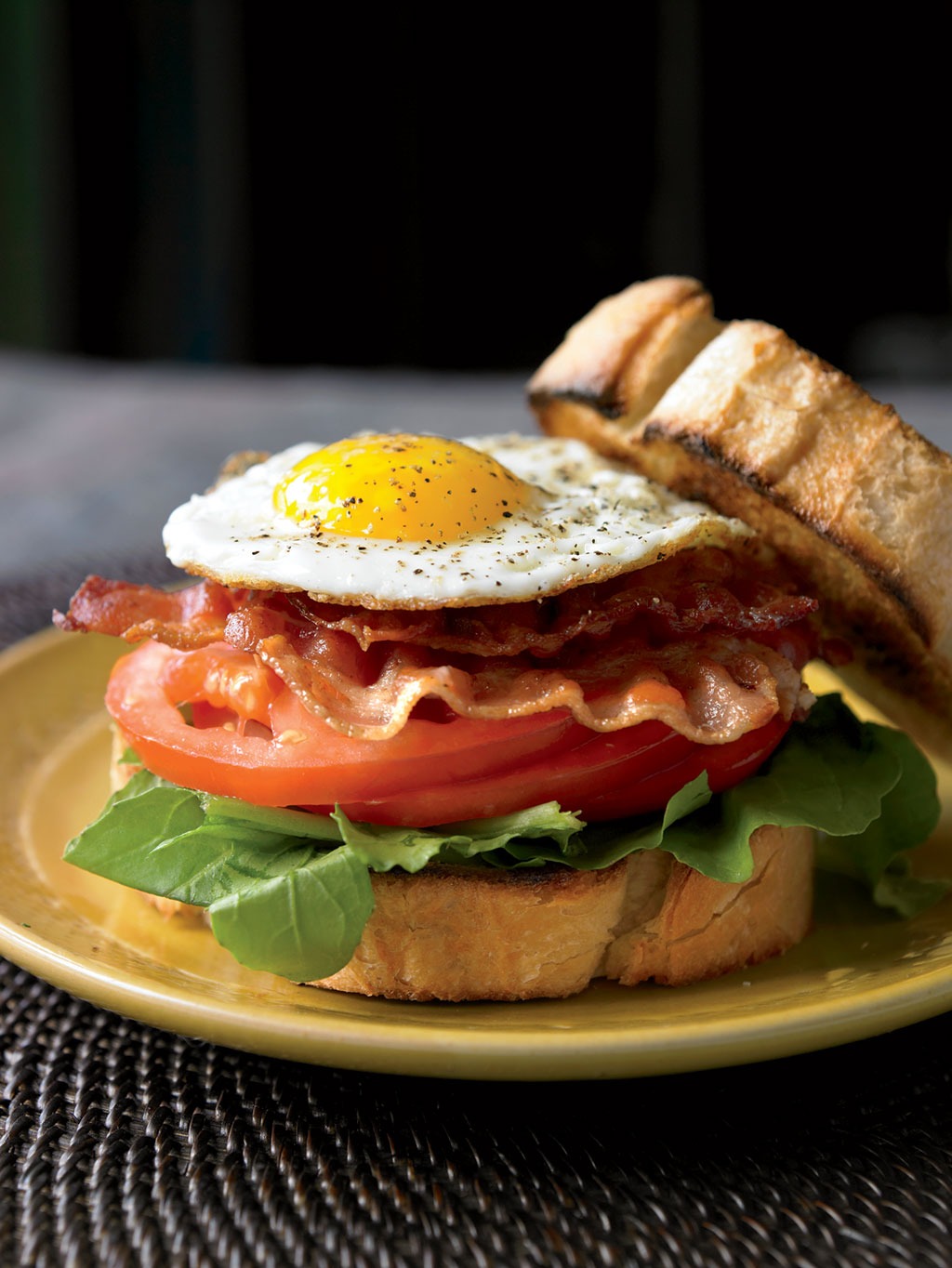 Is there any combination as rewarding and perfectly calibrated as a bacon, lettuce, and tomato sandwich? With the crispy, smoky bacon playing off the cool crunch of the lettuce and the acidic sweetness of ripe tomato, it's a top contender for Last Meal on Earth status. Bog down the BLT with bulky, sweetened bread and a sea of mayo, though, and the appeal vanishes—just as the caloric toll rises. Arby's self-proclaimed Ultimate BLT has nearly as many calories in the corn syrup–spiked bread (361) as you'll find in our entire sandwich. Plus ours is crowned with a soft, oozing fried egg—the only condiment you need.
Ingredients
Makes 1 serving
1 egg
2 slices 7-grain
or sourdough bread, lightly toasted
Handful of arugula
3 thick slices tomato
4 strips bacon, cooked
Salt and black pepper to taste
The Ultimate BLT
| | |
| --- | --- |
| Calories | 450 |
| Fat | 20 g |
| Saturated Fat | 6 g |
| Sodium | 840 mg |
Arby's Market Fresh Ultimate BLT
| | |
| --- | --- |
| Calories | 880 |
| Fat | 46 g |
| Saturated Fat | 10 g |
| Sodium | 1,740 |
YOU SAVE 430 calories and 26 g fat!
How to Make it
step 1
Heat a small nonstick skillet over medium heat. Coat with olive oil cooking spray and add the egg. Cook sunny side up until the white is set but the yolk is runny.
Line the bottom half of the bread with the arugula, followed by the tomato slices and bacon. Set the cooked egg carefully on top and season with a pinch of salt
and plenty of fresh cracked pepper. Top with the second slice of bread.
MASTER THE TECHNIQUE
Better bacon
Most people cook bacon in an over- crowded pan, which yields inconsistent results. Make life easier (and tastier) by using the oven instead. Lay bacon out in a baking dish at least 2" deep and bake in a 400°F oven for 10 to 12 minutes, until the meat just begins to brown and crisp around the edges (bacon, like other meat, will continue to cook after you remove it from the oven). Not only will the bacon be perfect every time, but the fat will also render out more thoroughly this way, meaning your bacon doesn't just taste better—it is better.
Patty Melt
This classic diner dish may be the most satisfying of all hamburger iterations: a thin, crusty patty crowned with a melting veil of cheese and plenty of sweet griddled onions, all held together between warm, crunchy slices of toasted rye. The bad news is you can't have this inspired creation, or any other restaurant-style burger, without a massive caloric investment. The good news is that our immensely satisfying 340-calorie version is never more than 15 minutes away in the comfort of your own kitchen.
Ingredients
makes 4
1 lb ground sirloin or ground turkey
1 tsp salt
1⁄2 tsp black pepper
1 Tbsp canola oil
1 large red onion, diced
4 slices Swiss cheese
8 slices rye bread, toasted
Patty Melt
| | |
| --- | --- |
| Calories | 340 |
| Fat | 12 g |
| Saturated Fat | 5 g |
| Sodium | 640 mg |
Friendly's Patty Melt
| | |
| --- | --- |
| Calories | 1,030 |
| Fat | 64 g |
| Saturated Fat | 19 g |
| Sodium | 1,250 |
YOU SAVE 6980 calories and 52 g fat!
How to Make it
step 1
Season the meat with the salt and pepper and form
into 4 large, thin patties. Heat the oil in a cast-iron skillet over medium heat. Add the patties and scatter the onion around the burgers. Stir the onion from time to time to keep it from burning.
step 2
Cook the burgers for 3 to 4 minutes, then flip and immediately cover each with a slice of Swiss. Continue cooking until the burgers are cooked all the way through, about another 3 minutes. Remove, place on top of the toasted rye, cover with the sautéed onions, and top with other slice of rye.6254a4d1642c605c54bf1cab17d50f1e
The Ultimate Burger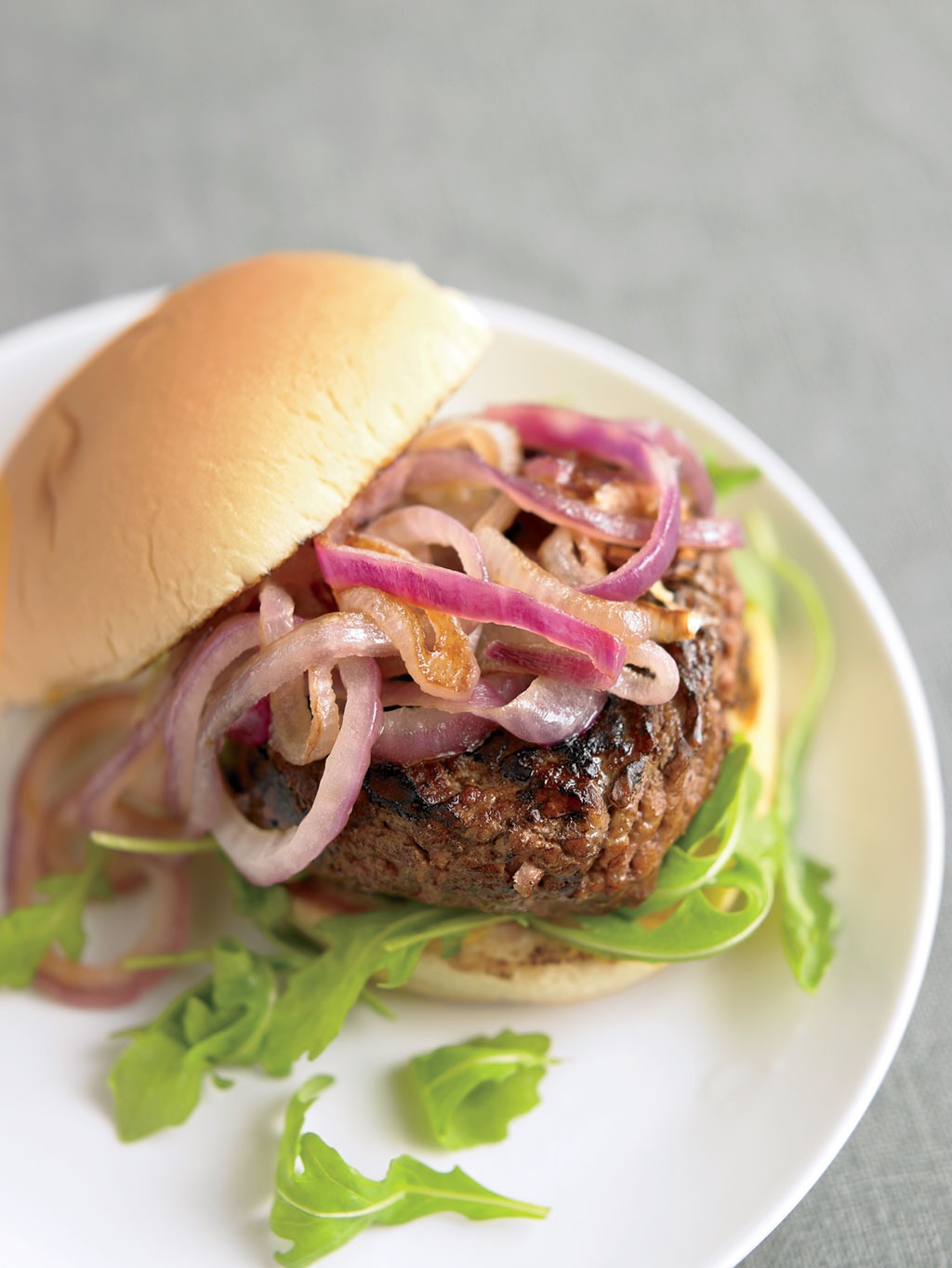 It is nearly impossible to find a burger at a sit-down restaurant with fewer than 1,000 calories. Blame the high-fat meat and heavy condiments. Here, we start with ground brisket, which is relatively lean but packed with perfect burger flavor. (The butcher at your local market should be happy to grind up a hunk for you.) We solve the condiment crisis by slowly caramelizing a red onion until it's sweet and moist. Combine that with the great beef and some peppery arugula for a first-class burger experience. If you must add cheese, a bit of crumbled blue goes well here.
Ingredients
makes 4
10 oz ground sirloin 10 oz ground brisket
1 tsp salt
1 tsp freshly cracked pepper
4 hamburger buns (preferably Martin's Potato Rolls), toasted
2 cups arugula
1⁄2 cup Caramelized Onions
The Ultimate Burger
| | |
| --- | --- |
| Calories | 320 |
| Fat | 12 g |
| Saturated | 6 g |
| Sodium | 710 mg |
Carl's Jr The Original Six Dollar Burger
| | |
| --- | --- |
| Calories | 890 |
| Fat | 54 g |
| Saturated Fat | 20 g |
| Sodium | 2,040 mg |
YOU SAVE 570 calories and 1,330 mg of sodium!
How to Make it
step 1
Heat a grill or stovetop grill pan until hot. Combine the sirloin, brisket, salt, and pepper in a bowl and gently mix. Form into 4 patties. Caution: Overworking the meat or packing your patties too tightly can make tough burgers.
step 2
Cook the burgers for 2 to 3 minutes and flip. Cook on the other side for another 2 to 3 minutes, until nicely charred on the outside but still medium-rare to medium within. (The center of the patty should be firm but easily yielding—like a Nerf football.)
step 3
After you remove the burgers, toast the buns briefly. Divide the arugula among the buns and top with the burgers and onions.
NUTRITIONAL UPGRADE
Fresh ground beef
The prepackaged trays of ground hamburger meat at supermarkets may be convenient, but it's true mystery meat, usually made from a blend of beef scraps of dubious quality and age. Instead, pick out a fresh hunk of beef and ask the butcher to grind it for you on the spot; it's the single best way to instantly improve the quality of your ham- burgers. When it comes to balancing flavor with an appropriate amount of fat, sirloin and brisket are the best picks in the meat case.
Loaded Pizza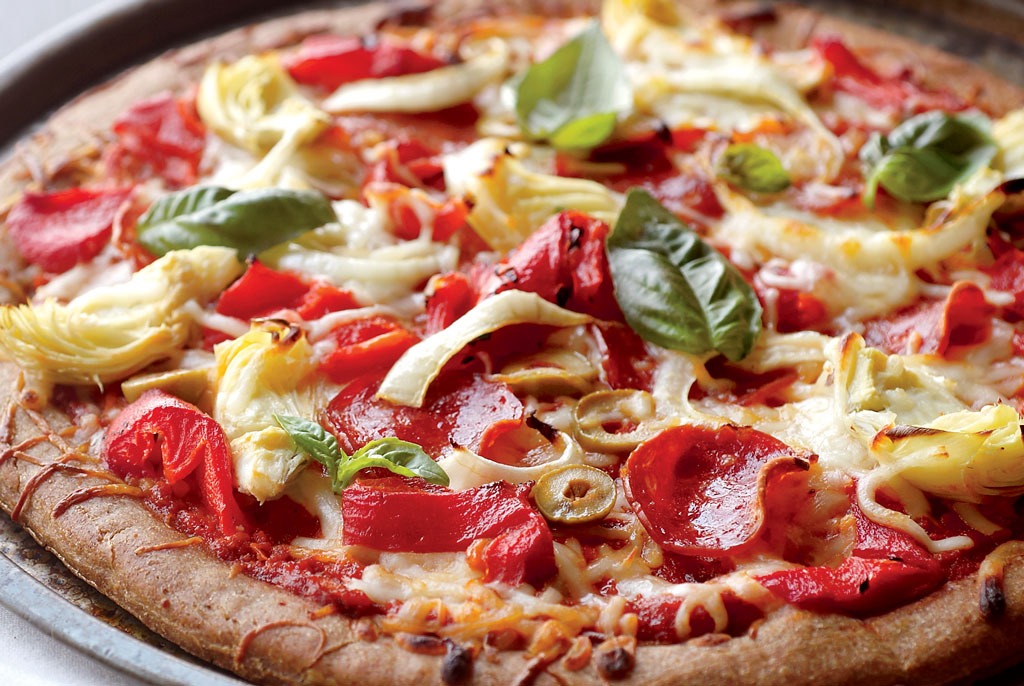 Ordering a supreme pizza for delivery is an open invitation for caloric calamity. Best-case scenario, you're looking at 250 calories a slice; worst case, 500 or more. Here, we use Boboli's whole-wheat thin crust shell as a low-cal, fiber-rich base. We then load the pizza with a team of nutritional all-stars (red peppers, artichokes, fresh basil) and a good amount of turkey pepperoni. Torn deli ham or Canadian bacon would also work great here.
Ingredients
Makes 4 servings
12" Boboli whole-wheat thin pizza crust
1 cup tomato-basil pasta sauce (we like Muir Glen)
2 cups shredded part-skim mozzarella
15 slices turkey pepperoni
1⁄2 cup sliced onion
1⁄2 cup chopped roasted red peppers
1⁄2 cup chopped green olives
2 cloves garlic, minced
1⁄2 tsp red pepper flakes
1 jar (6 oz) artichoke hearts, drained
1 cup fresh basil leaves (optional)
Loaded Pizza
| | |
| --- | --- |
| Calories | 300 |
| Fat | 14 g |
| Saturated Fat | 6 g |
| Sodium | 780 mg |
Pizza Hut Supreme Pan Pizza (2 Large Slices)
| | |
| --- | --- |
| Calories | 800 |
| Fat | 40 g |
| Saturated Fat | 16 g |
| Sodium | 1780 mg |
YOU SAVE 460 calories and 35.5 g fat!
HOW TO MAKE IT
Step 1
Preheat the oven to 400°F. Cover the crust with sauce and then cheese. Sprinkle with the pepperoni, onion, peppers, olives, garlic, pepper flakes, and artichokes.
Step 2
Bake for 12 to 15 minutes, until the cheese is melted and bubbling. Top with the basil (if using) and serve immediately.
Secret Weapon
Boboli Whole-Wheat Crust
For years, Boboli has provided time-starved Americans with an alternative to delivery pizza. Problem is, most Americans opt for Boboli's regular crust, which is thick and doughy and thus overloaded with calories and carbs. Thankfully, they offer a whole-wheat, thin-crust alternative that not only reduces calories, but also boosts fiber, maximizing the satiating effect of the pizza. If you'd rather make personal pizzas, try whole wheat English muffins or perfectly thin pita bread.
Eat This, Not That!
Inspired by The New York Times best-selling book series, Eat This, Not That! is a brand that's comprised of an award-winning team of journalists and board-certified experts, doctors, nutritionists, chefs, personal trainers, and dietitians who work together to bring you accurate, timely, informative, and actionable content on food, nutrition, dieting, weight loss, health, wellness, and more.
Read more about Eat This