The 14 Best Restaurant Meals For Diabetics
Don't let your diabetes get in the way of dining out.
Breaking news: you don't need to fret about your blood sugar spiking when you eat out! The team at Eat This, Not That! has got the 4-1-1 on the healthiest meals diabetics can order.
If you have Type 1 diabetes mellitus (DM) or Type 2 DM, eating out can be a struggle. For example, you may not be as willing to sample an appetizer, or order that bowl of pasta because you're not sure how many grams of carbs are hidden between each twirl of noodles. And dessert? Forget about it. There's probably way too much sugar for your pancreas to handle.
Enough is enough. You're allowed to indulge and order that carby dish you've been craving for since yesterday. All you need to do is a little bit of research before tackling the menu. The best news of all is you're not alone. According to the CDC, 29.1 million people have diabetes in the United States—that's 10% of the entire population. Fortunately, Type 2 DM may be reversible if you eat a variety of fruits, vegetables, grains, and lean protein while avoiding processed foods.
Until then, here are a handful of diabetic-friendly meals you can order from your favorite restaurants. And make sure to read up on the secret diabetes remedies for more helpful tips on how you can manage your Type 2 Diabetes.
Noodles and Company's Med Salad with Chicken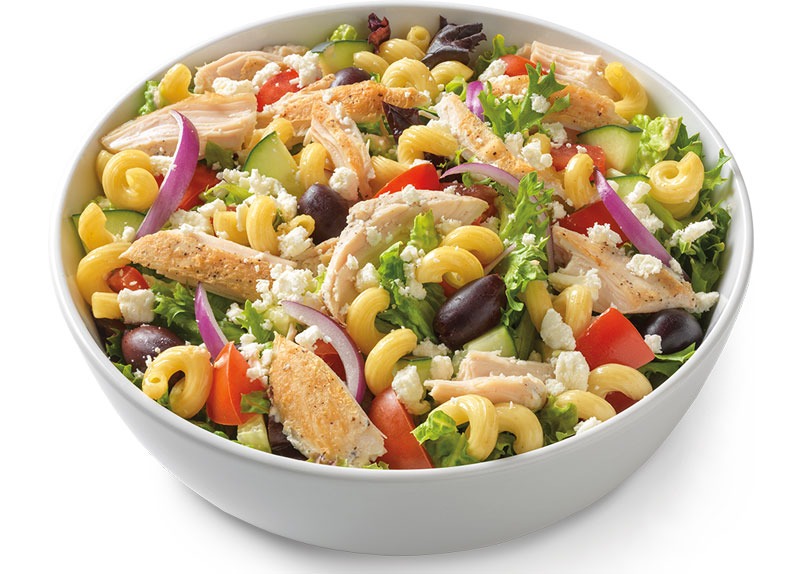 Nutrition: 370 calories, 15 g fat (5 g saturated fat), 1,460 mg sodium, 33 g carbs (4 g fiber, 6 g sugar), 27 g protein
Full disclosure here: Above are the nutrition facts for the full size dish, and this salad contains both noodles and cheese for a total of only 33 grams of carbs. Shoutout to Noodles and Company for keeping this dish low carb! One thing that could be improved is the sodium content because it's a bit high.
If you're feeling like going all out and having a bowl of pasta at Noodles (which we wouldn't blame you for) you could also opt for the Penne Rosa with either parmesan or feta and it will only cost you 360 calories, 48 grams carbs and 7 grams sugar.
Panera Bread's Pick Two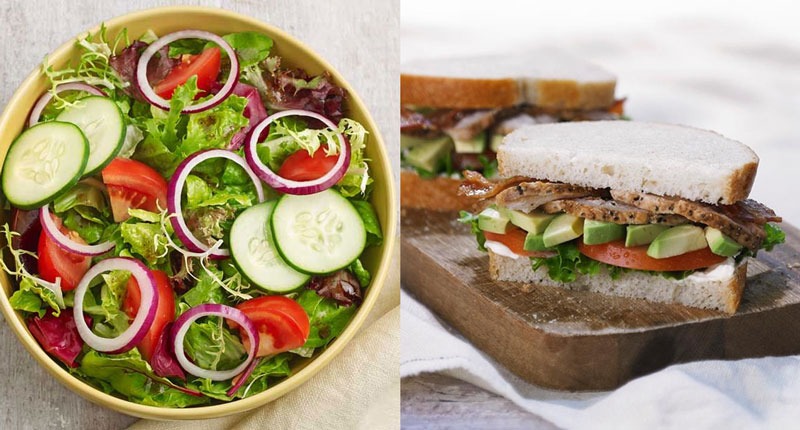 Nutrition: Half size of Seasonal Greens Salad, 90 calories, 6 g fat (1 g saturated fat), 75 mg sodium, 10 g carbs (2 g fiber, 7 g sugar), 2 g protein
Nutrition: Half size of Roasted Turkey & Avocado BLT on Sourdough, 300 calories, 14 g fat (2.5 g saturated fat), 550 mg sodium, 25 g carbs (3 g fiber, 2 g sugar), 16 g protein
It's hard to resist the You Pick Two deal at Panera. Opt for the half size of the Turkey & Avocado BLT on Sourdough, because it has the least sugar and carbs of any other sandwich on the menu. Pair with a half size seasonal greens salad for a total of 400 calories and 35 grams carbs. For perspective, Panera's classic bread bowl is 660 calories and 136 grams… and that's without the soup. If the word avocado had your tastebuds salivating, checkout avocado recipes for more delicious ideas.
Jason's Deli California Club with Fruit Cup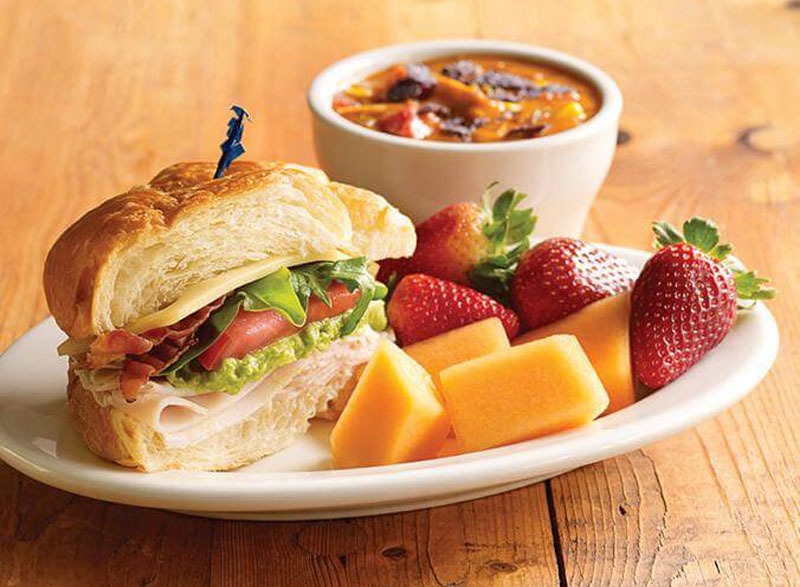 Nutrition (Half size of California Club): 300 calories, 19 g fat (7 g saturated fat), 650 mg sodium, 19 g carbs (2 g fiber, 3 g sugar), 15 g protein
Nutrition (Fruit Cup): 60 calories, 0 g fat (0 g saturated fat), 0 g sodium, 14 g carbs (2 g fiber, 11 g sugar), 0 g protein.
If you decide to ditch the salad bar at your next visit to Jason's Deli, consider ordering the half size of the California Club and pair it with a fruit cup. This way you're only consuming 33 carbs while getting a variety of nutrients. Although, both men and women with diabetes actually could afford to tack on a few more carbs with this dish. Carb choices are important for people diabetes to keep track of.
One carb choice equals 15 grams of carbs. Women with diabetes should have up to 3-4 carb choices for lunch and dinner, or 45-60 grams of carbs per meal. For men, 4-5 carb choices are recommended for both lunch and dinner, or 60-75 grams of carbs. So both parties actually have a bit of wiggle room in this meal. Add a side of steamed veggies for an additional 60 calories, 11 grams carbs, and 5 grams sugar!
California Pizza Kitchen's Shaved Mushroom and Spinach Flatbread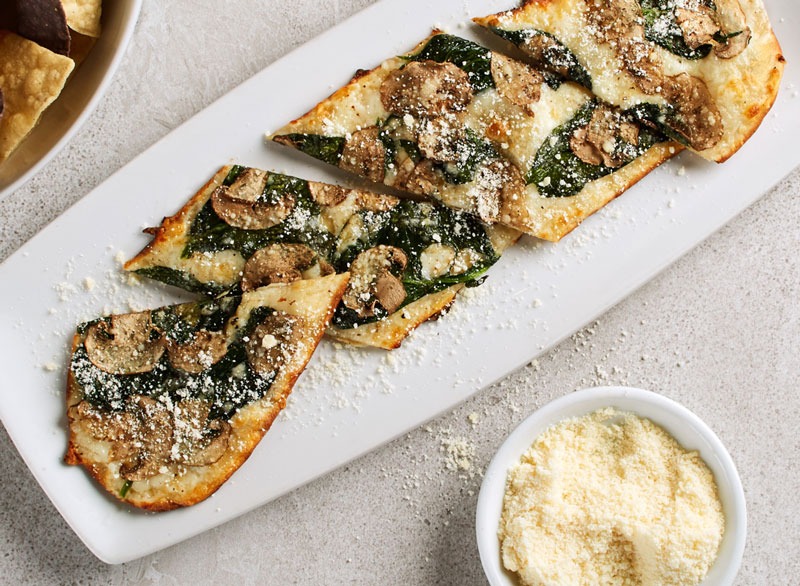 Nutrition: 400 calories, 18 g fat (8 g saturated fat), 930 mg sodium, 40 g carbs (2 g fiber, 2 g sugar), 18 g protein
If you're an advocate of pizza but also have diabetes, you may be struggling to find a happy medium between getting your fix and keeping your blood glucose levels in check. Lucky for you, CPK offers a flatbread that doesn't cost you an extraordinary amount of carbs. Unfortunately, the same cannot be said for all of CPK's pizza pies. Find out which one has the most carbs in The 15 Unhealthiest Meals for Diabetics.
Au Bon Pain's Egg Whites, Cheddar, & Avocado on Skinny Wheat Bagel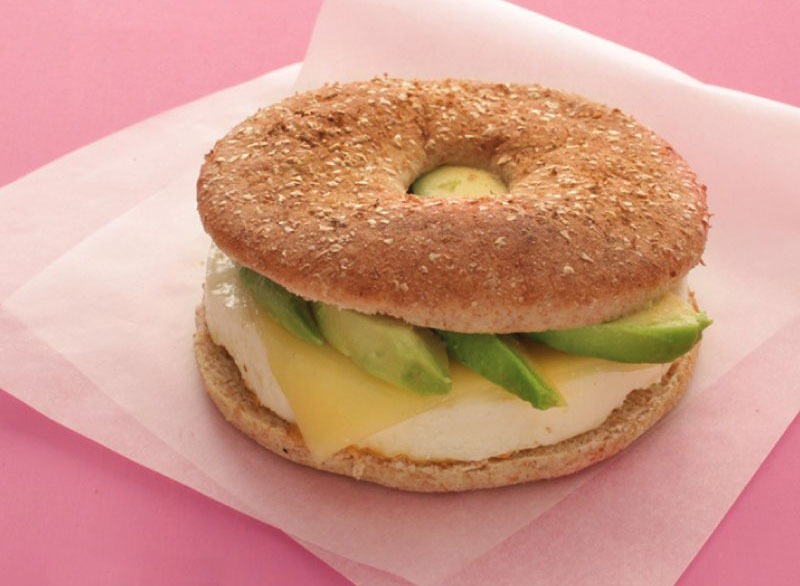 Nutrition: 360 calories, 23 g fat (12 g saturated fat), 590 mg sodium, 25 g carbs (9 g fiber, 1 g sugar), 19 g protein
Let's talk breakfast people. Breakfast is important for diabetics because it allows your blood glucose levels to exit that fasting state and gets your body ready to take on daily activities. And avocado is definitely one of The 10 Healthiest Carbs That Won't Derail Your Six-Pack so people with or without diabetes should welcome its lower abdominal, fat-blasting powers into their diet daily if possible.
Applebee's Green Goddess Wedge Salad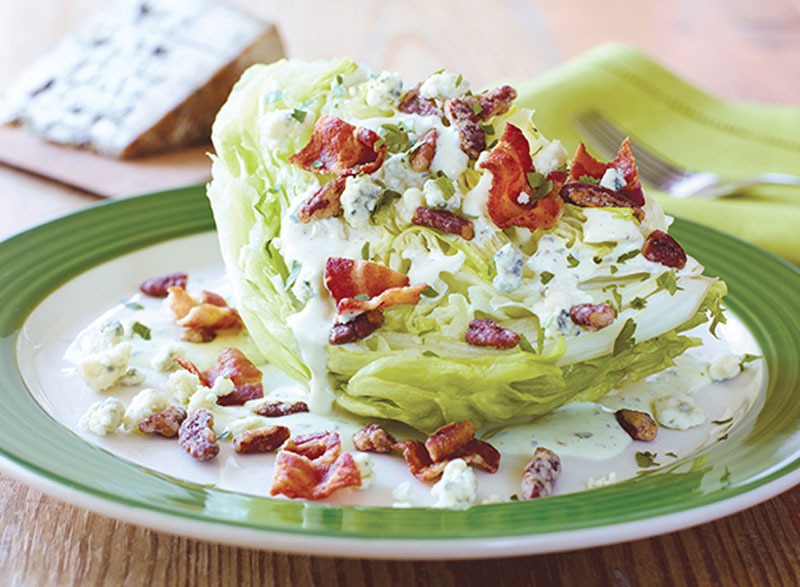 Nutrition: 550 calories, 52 g fat (11 g saturated fat), 1,230 mg sodium, 12 g carbs (3 g fiber, 7 g sugar), 9 g protein
Applebee's wedge salad is quite filling simply because you devour a hefty wedge of lettuce. Lettuce is a non-starch veggie, therefore, it has a low glycemic index. Glycemic index is a system that ranks foods on a scale from 1 to 100 based on the impact they have on your blood glucose levels. Foods that are low in glycemic index are the ones you want to have making up a significant portion of your diet. Other non-starchy veggies include produce like spinach, kale, squash, or fruit. Limit your intake of things like potatoes, meat, and dairy products. And of course, eliminate high glycemic index foods like white breads, white rice, and soda. Applebee's offers a lot of meals that have a high glycemic index in its assortment of burgers and appetizers.
Red Lobster's Lighthouse Snow Crab Legs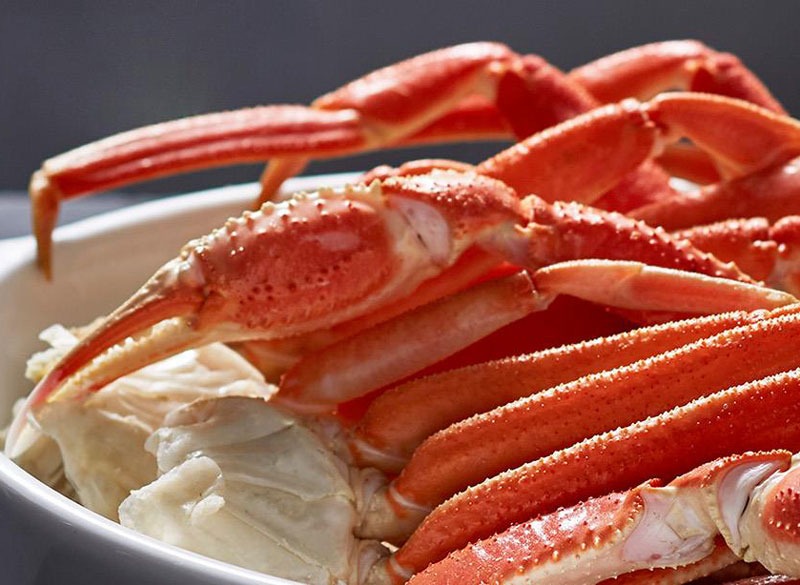 Nutrition: 480 calories, 35 g fat (21 g saturated fat), 1,820 mg sodium, 8 g carbs (3 g fiber, 2 g sugar), 35 g protein
If you're a seafood fanatic then this place is your go-to. Indulge in some lobster and put your mind at ease, because the carb and sugar content are both very low. The sodium content is a bit high, like most dishes on this list, because restaurants alike are notorious for sprinkling too much salt into their meals.
Denny's Fit-Fare Loaded Veggie Omelet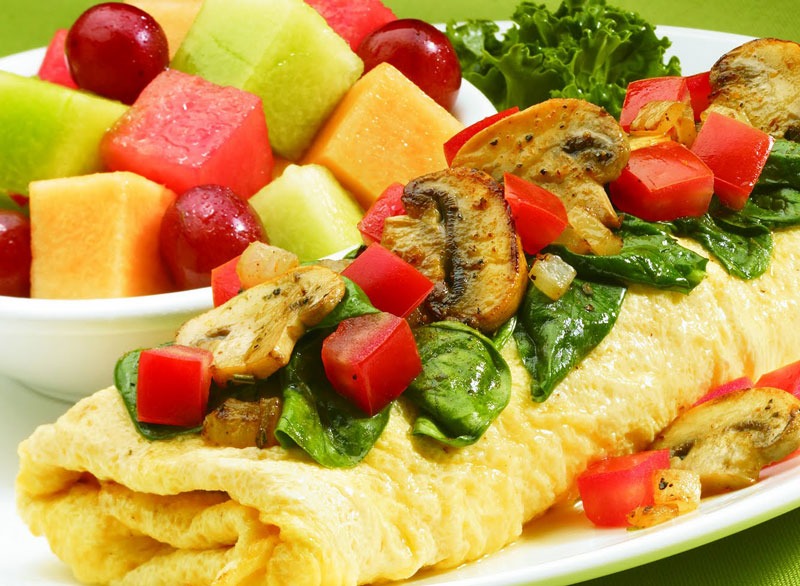 Nutrition: 470 calories, 16 g fat (7 g saturated fat), 650 mg sodium, 60 g carbs (7 g fiber, 20 g sugar), 26 g protein
In need of some new healthy breakfast ideas? Um, who isn't? And we bet Denny's wasn't the first place that came to your mind when you thought, healthy. Well think again, because this meal is balanced between all three macronutrients: Carbohydrates, fat, and protein. This meal is also diabetic-friendly, because with it doesn't exceed 60 grams of carbs. This is the perfect amount of carbohydrates for a person with diabetes to consume in one sitting.
P.F. Chang's Buddha's Feast Steamed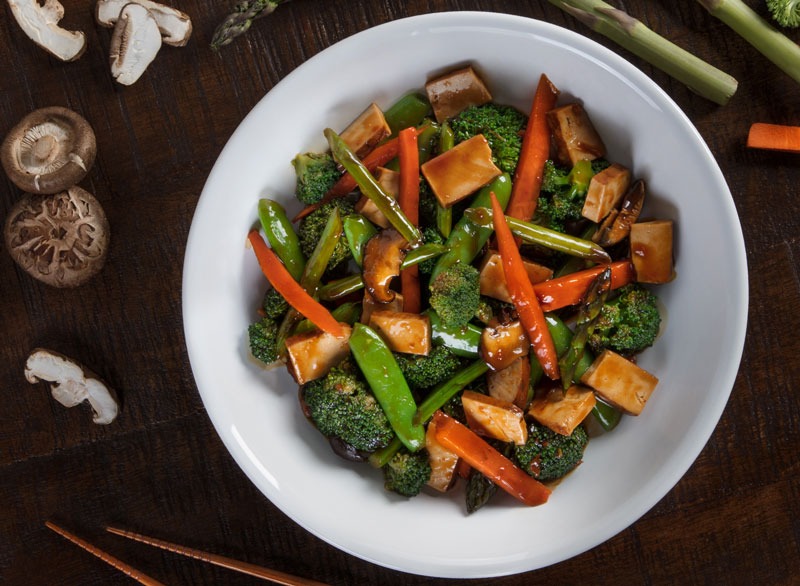 Nutrition: 250 calories, 4 g fat (0 g saturated fat), 300 mg sodium, 32 g carbs (9 g fiber, 11 g sugar), 26 g protein
If you're diabetic and vegetarian or vegan, this dish tailors to all of your dietary needs! Low sodium, a decent amount of carbs, and a spot-on protein content makes P.F. Chang's Buddha Feast a feast worthy for all.
Cheesecake Factory's Seared Tuna Tataki Salad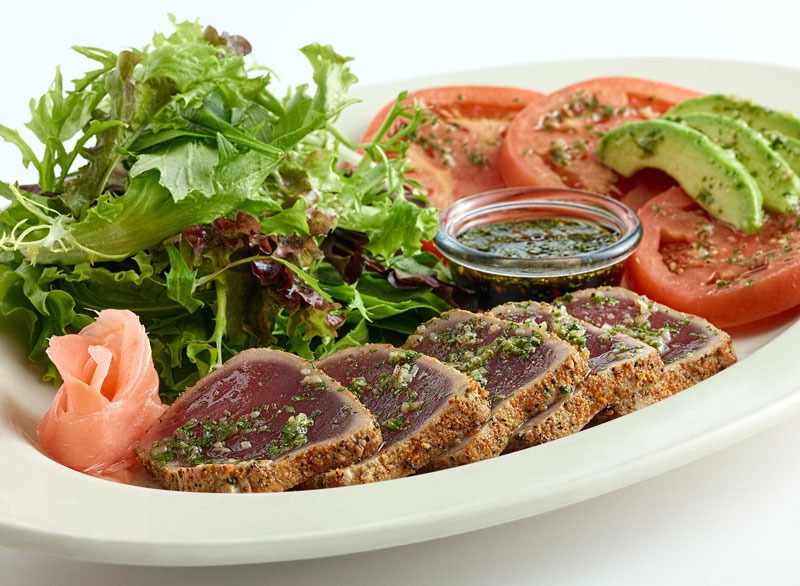 Nutrition: 440 calories, N/A g fat (3 g saturated fat), 1,390 mg sodium, 24 g carbs (N/A g fiber, N/A g sugar), N/A g protein6254a4d1642c605c54bf1cab17d50f1e
Look at this beautiful salad! Cheesecake Factory also has a SkinnyLicious menu that's worth a gander. But for a dish off of the regular menu, it's relatively low in carbs. Especially for a place that's renowned for carb-heavy cheesecake. The sodium content is a bit high, but it's not everyday you get to eat out so moderation is key. If you're looking to whip up a killer salad at home, check out 30 Salad Recipes for Weight Loss.
Bonefish Grill's Chilean Sea Bass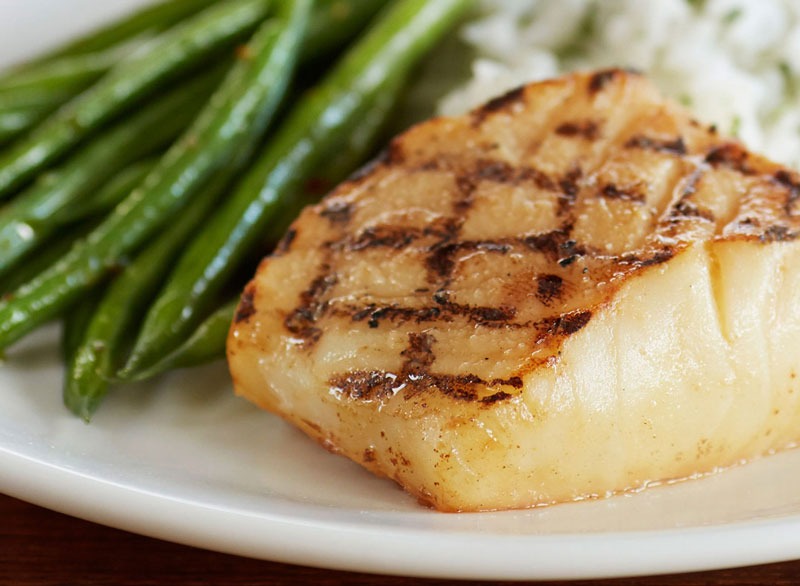 Nutrition: 480 calories, 40 g fat (8 g saturated fat), 150 mg sodium, 0 g carbs (0 g fiber, 0 g sugar), 31 g protein
Perhaps the best dish on this list for people with diabetes is Bonefish Grill's Chilean Sea Bass. Why? It has zero carbs and sugar, which means you'll have to eat an adequate amount of healthy carbs before or along with this meal. Ask for an order of steamed veggies to prevent hypoglycemia and for some additional nutrition.
Red Robin's Sear-ious Salmon
Nutrition: 450 calories, 35 g fat (7 g saturated fat), 760 mg sodium, 7 g carbs (1 g fiber, 3 g sugar), 34 g protein
Calling all salmon lovers, this dish is for you. The protein content is just a little high for those with diabetes but nothing that's overly concerning. Just make sure to limit your protein intake for the remainder of the day, or prior to ordering this omega 3-packed fish.
Olive Garden's Chicken Margarita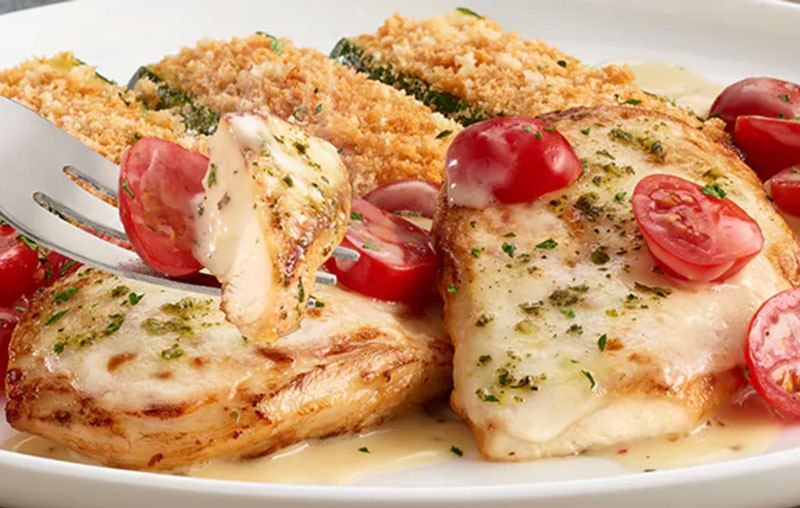 Nutrition (Lunch Portion): 370 calories, 22 g fat (7 g saturated fat), 700 mg sodium, 8 g carbs (2 g fiber, 3 g sugar), 37 g protein
When you have diabetes, not only do you need to monitor how much carbs and sugar you consume, but the amount of protein too. Why? There's a microvascular complication called nephropathy that occurs when a person with diabetes has been consuming too much protein. Nephropathy is a fancy medical term that means kidney damage or kidney disease. This condition does not happen overnight, but it's good to be mindful that over time, stressing the kidneys with high levels of protein can cause kidney failure. This dish has a lot of protein, so make sure this is the only meat-containing meal of the day!
Boston Market's Rotisserie Chicken with Fresh Steamed Veggies
Nutrition (Quarter White and Skinless Chicken): 210 calories, 5 g fat (1.5 g saturated fat), 480 mg sodium, 1 g carbs (0g fiber, 1 g sugar), 40 g protein
Nutrition (Fresh Steamed Veggies): 60 calories, 3.5 g fat, (0 g saturated fat), 40 mg sodium, 7 g carbs (3 g fiber, 3 g sugar), 2 g protein
Last but not least is Boston Market's own chicken and veggie combo. This meal is incredibly low in carbs— only 8 grams to be exact. So definitely don't shy away from that additional side of corn, which only adds 130 calories, 21 grams carbs, and 9 grams sugar. Again, though, be mindful of that protein content.
Protip: Consume 0.8 gram of protein per 1 kilogram body weight. So if you're 150lbs., for example, that translates to 68 kilograms which means you'll want to aim for consuming a maximum of 54.4 grams of protein per day. However, everyone's body is different so plus or minus a few grams of protein and you shouldn't have to worry. Avoid eating 100+ grams of protein a day and your kidneys will thank you.