The 7 Best Spiked Seltzers For a Low-Sugar Alternative to Margaritas
Your summer can still be sweet, just without all those extra calories.
There's nothing that says "summer" quite like a refreshing frosé or piña colada. It can be hard to resist those frosty, boozy favorites—until you take a look at the sugar and calorie counts. Take for example the regular frozen margarita from On the Border: It's 220 calories with 2,870 mg of sodium, 30 grams of carbs, and 26 grams of sugar. And that's the regular, not even the grande. So what's an alternative to these sky-high calorie drinks when you want to sip on something refreshing? Enter the spiked seltzer.
See, not only are these canned "cocktails" made with all-natural flavors, but they're lower in carbs than almost all beers. The light, fizzy drink will help you quench your summer-sized thirst without giving you the sugar rush.
Spiked seltzers have been making quite the splash in the past few years: A Nielsen report showed that sales of hard seltzer grew by triple digits in 2018 alone, so you'll probably find a few national and local brands at your local grocery or liquor store as more and more labels come to market.
Here are a few of the best spiked seltzer brands you'll be reaching for all summer long.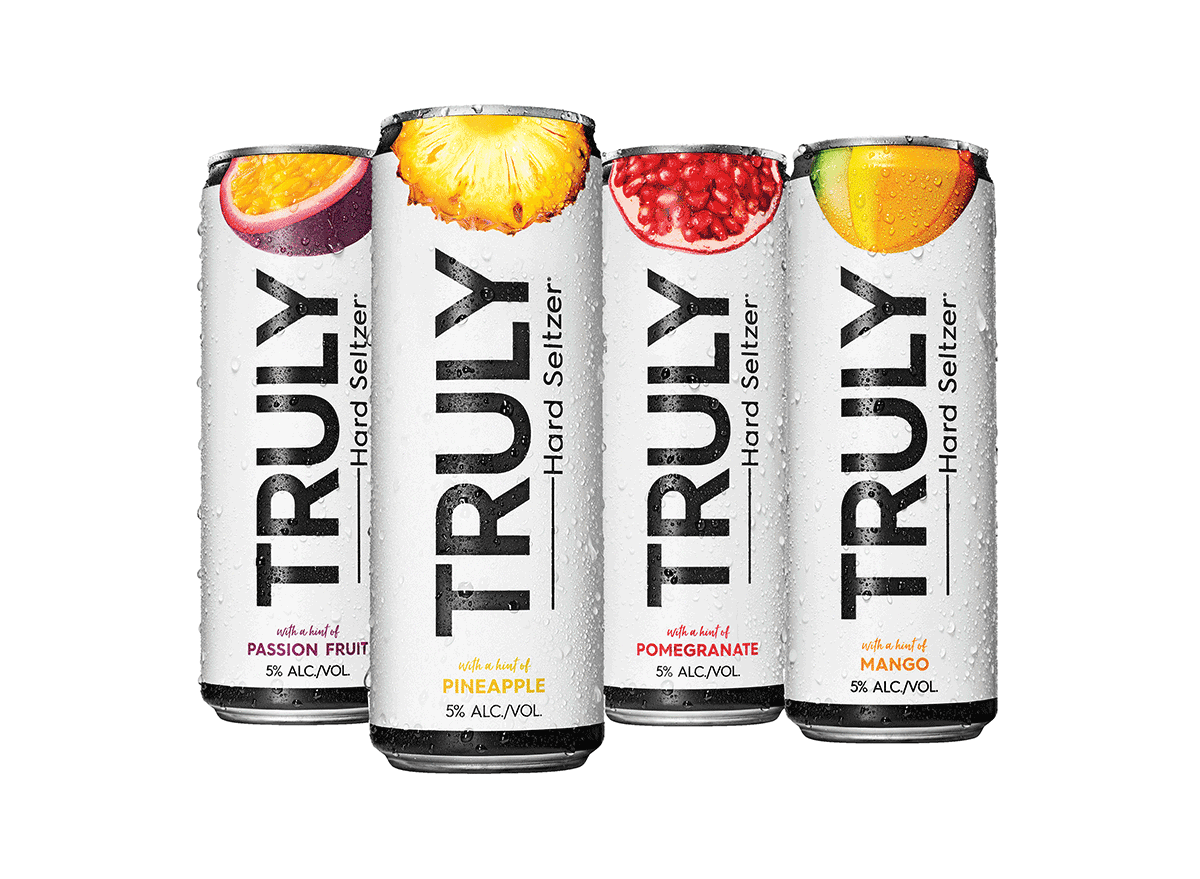 Per 1 can
: 100 calories, 2 g carbs (1 g sugar), 5% ABV
Flavors available: Black Cherry, Wild Berry, Blueberry & Acai, Raspberry Lime, Orange, Lime, Grapefruit, Lemon, Passion Fruit, Pomegranate, Pineapple, Mango, Rosé
With 13 different flavors, Truly boasts the most options in the spiked seltzer game, and at 5% ABV, it's also some of the strongest. With sippable choices such as Passion Fruit and Mango, it could be easy to knock back a few on a hot day if you aren't careful. While some flavors are sweeter than others (looking at you, Blueberry & Acai), others are completely thirst-quenching, so we recommend going for a variety pack at your next backyard BBQ.
Per 1 can
: 100 calories, 2 g carbs (2 g sugar), 5% ABV
Flavors available: Raspberry, Mango, Black Cherry, Natural Lime, Ruby Grapefruit, Pure
Also a heavy hitter at 5% ABV, White Claw offers five fruity flavors. Even though they only contain 2 grams of sugar, these canned seltzers feel much sweeter, and could easily sub in for a rum and Coke or a margarita when dining al fresco. Plus, the brand recently launched a "Pure" flavor, which tastes just like a vodka soda and has 0 grams of carbs and sugar. Making a mixed drink has never been so easy.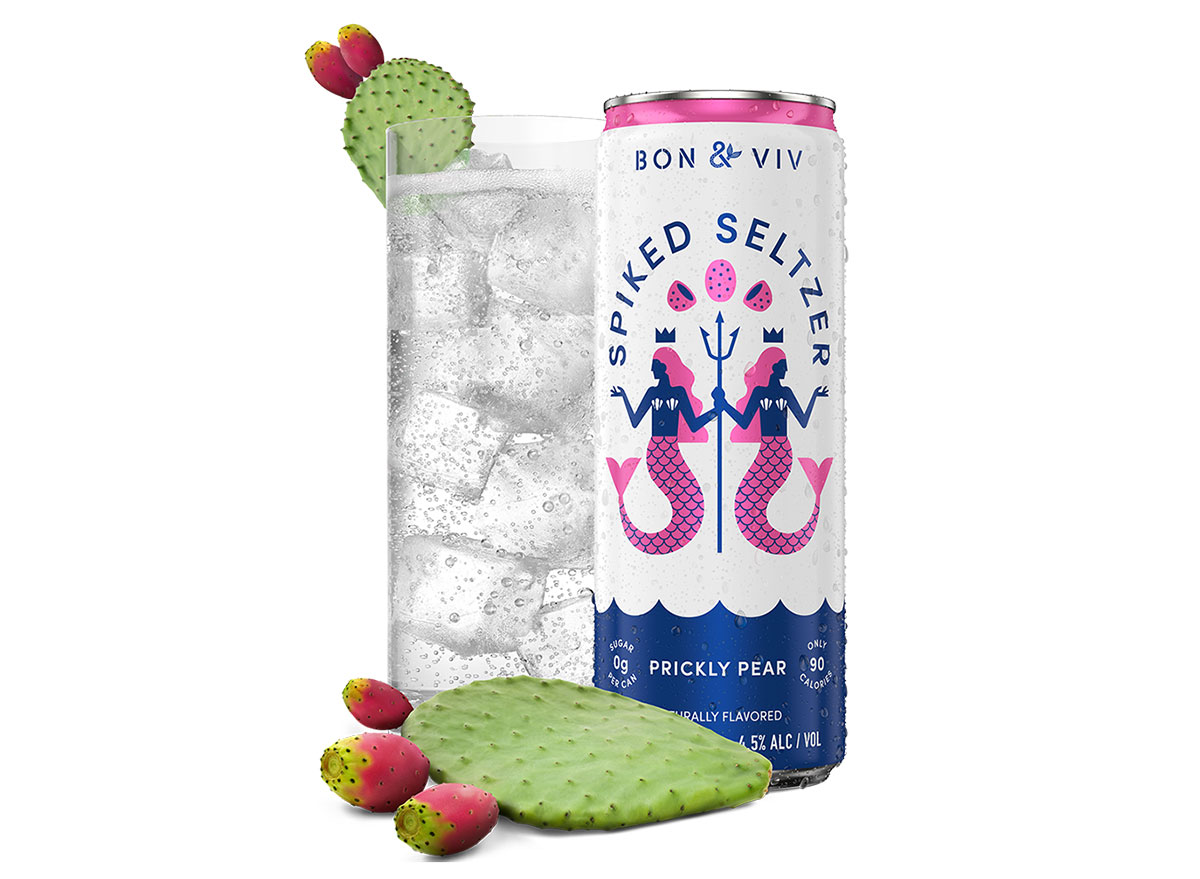 Per 1 can
: 90 calories, 1 g carbs (0 g sugar), 4.5% ABV
Flavors available: Black Cherry Rosemary, Grapefruit, Pear Elderflower, Cranberry, Clementine Hibiscus, Lemon Lime, Prickly Pear
You might recognize Bon & Viv by its mermaid-decked cans—or you might not since the brand recently went through a refresh. With a slightly updated logo came a few new botanical flavors, and while they're all perfectly balanced, not overly sweet, the Pear Elderflower and the Clementine Hibiscus are standouts. And compared to other brands, Bon & Viv feels a bit more effervescent.
Per 1 can
: 100 calories, 4 g carbs (2 g sugar), 4.5% ABV
Flavors available: Watermelon, Black Cherry, Blueberry Lemonade, Mixed Berry
Nauti Hard Seltzer may only have four flavors, but when they're all delicious, that's all you need! The brand is handcrafted in New England, and offers an incredibly mildly flavored seltzer. The Watermelon tastes a bit more like Cucumber than Watermelon—which is actually a nice surprise—and the Black Cherry is probably the best of the four. All contain 2 grams of sugar, except for the Blueberry Lemonade, which only has 1 gram.
Henry's Hard Sparkling Water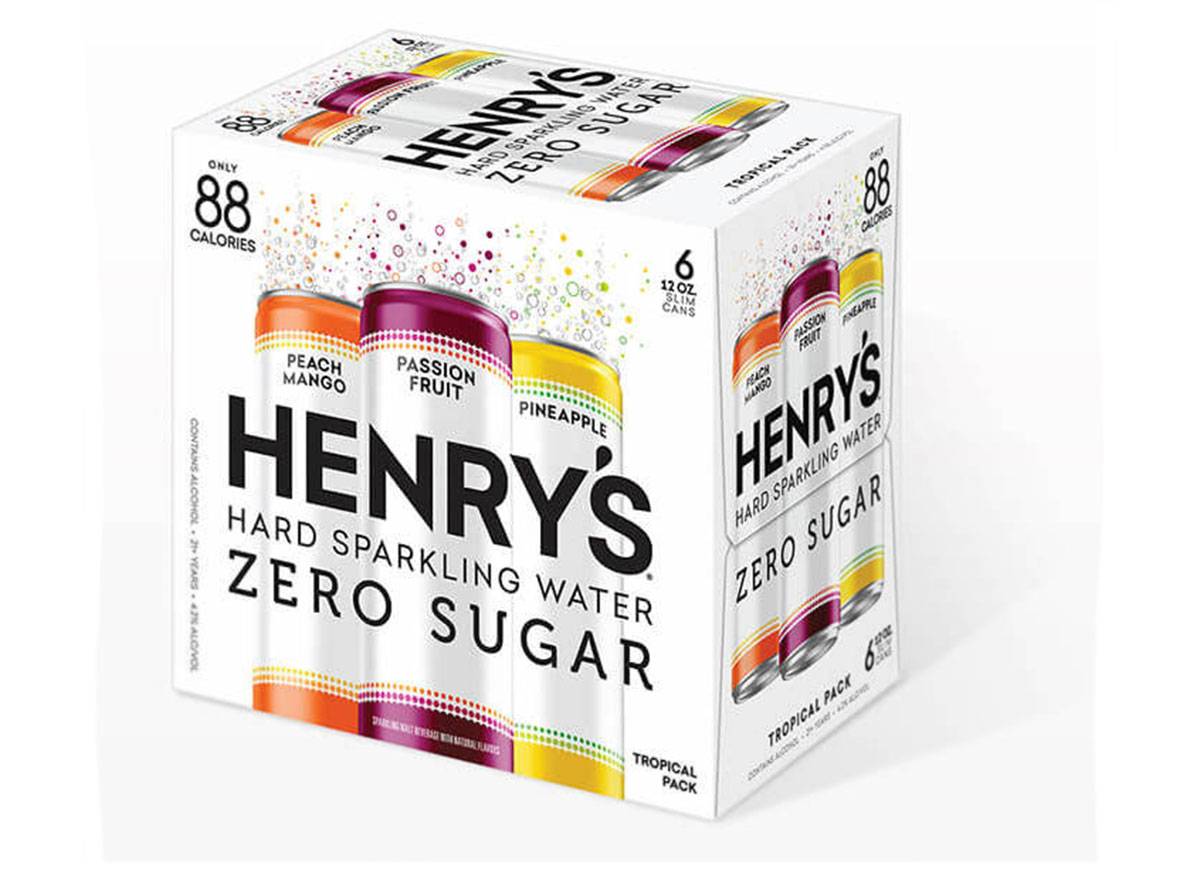 Per 1 can
: 88 calories, 1.6/1.7 g carbs (0 g sugar), 4.2% ABV
Flavors available: Blueberry Lemon, Pineapple, Lemon Lime, Strawberry Kiwi, Passion Fruit, Peach Mango
If you wrote off Henry's Hard Sparkling Water because you thought it would be similar to its sugary Hard Soda brethren, take a second look. This line of spiked seltzer contains only 88 calories per can and 0 grams of sugar. The variety of flavors—which range from 1.6 to 1.7 carbs—are perfect to quench your sweet tooth. The Peach Mango and the Strawberry Kiwi taste almost like candy.
Per 1 can
: 90 calories, 1 g carbs (0 g sugar), 4.5% ABV
Flavors available: Cranberry Lime, Watermelon, Berry Lemonade, Pina Colada, Raspberry Rosé, Strawberry Rosé, White Peach Rosé, Pink Apple Rosé
You can rosé all day with these summer staples from Smirnoff. In addition to four traditional flavors, the liquor brand also offers four rosé flavors of spiked sparkling water. While these varieties don't contain actual rosé, they're pink in color and perfectly refreshing enough that you'll think you're drinking everyone's favorite summer drink.
PRESS Premium Alcohol Seltzer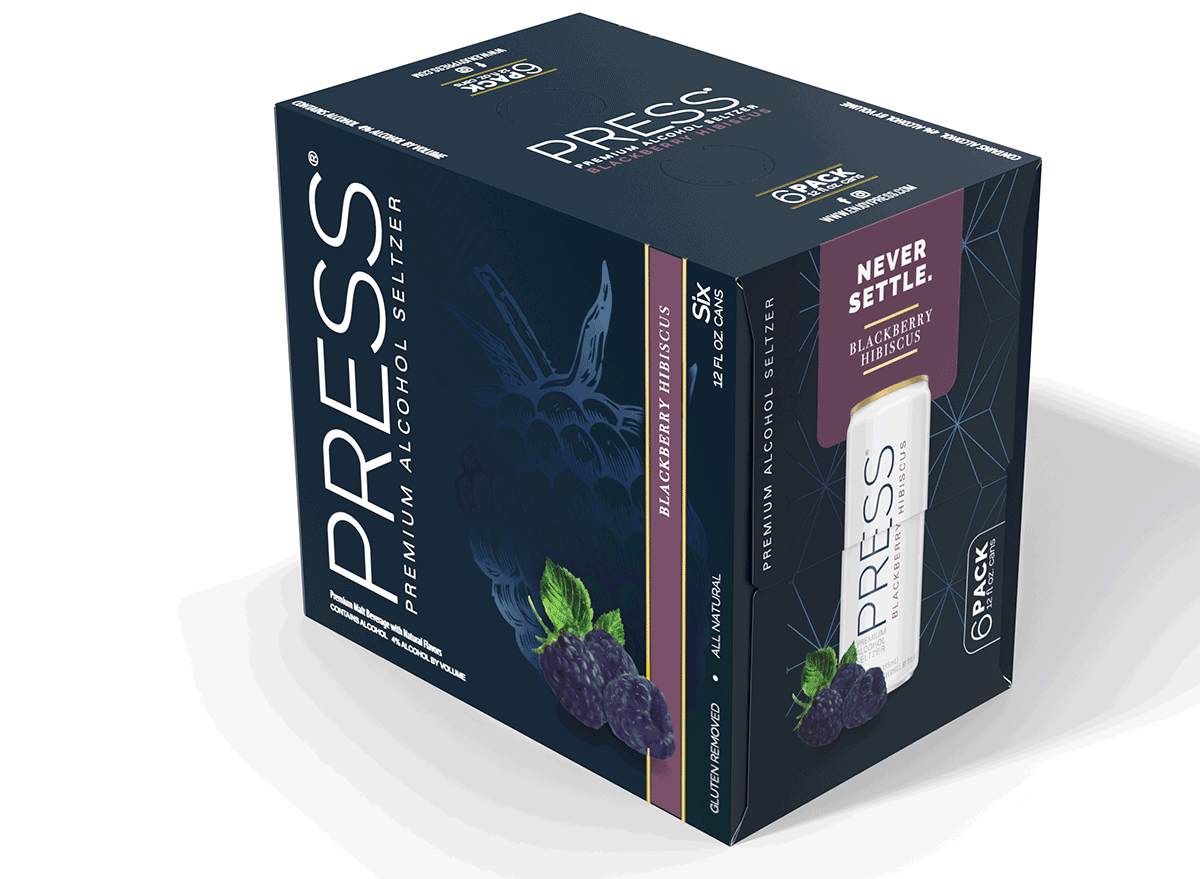 6254a4d1642c605c54bf1cab17d50f1e
Per 1 can
: 110 calories, 7 g carbs (5 g sugar), 4% ABV
Flavors available: Blackberry Hibiscus, Pomegranate Ginger, Lime Lemongrass, Grapefruit Cardamom, Pear Chamomile
Of the hard seltzers featured here, PRESS Premium Alcohol Seltzer has the lowest alcohol proof (at 4% ABV) and the highest calories (at 110)—but don't let that stop you from giving it a try. These five natural flavors taste the most like a complex cocktail. They're light and flavorful, but not overly sweet. Once you have a sip, you'll never want to sit by a pool or near the beach without one.
Dalene Rovenstine
A New York-based freelance journalist, Dalene Rovenstine often writes about food and drink and health, as well as entertainment, beauty, and other lifestyle topics.
Read more about Dalene