We Tasted 10 Hot Sauces & This Is the Best
This is the hot sauce we'd keep in our fridge at all times.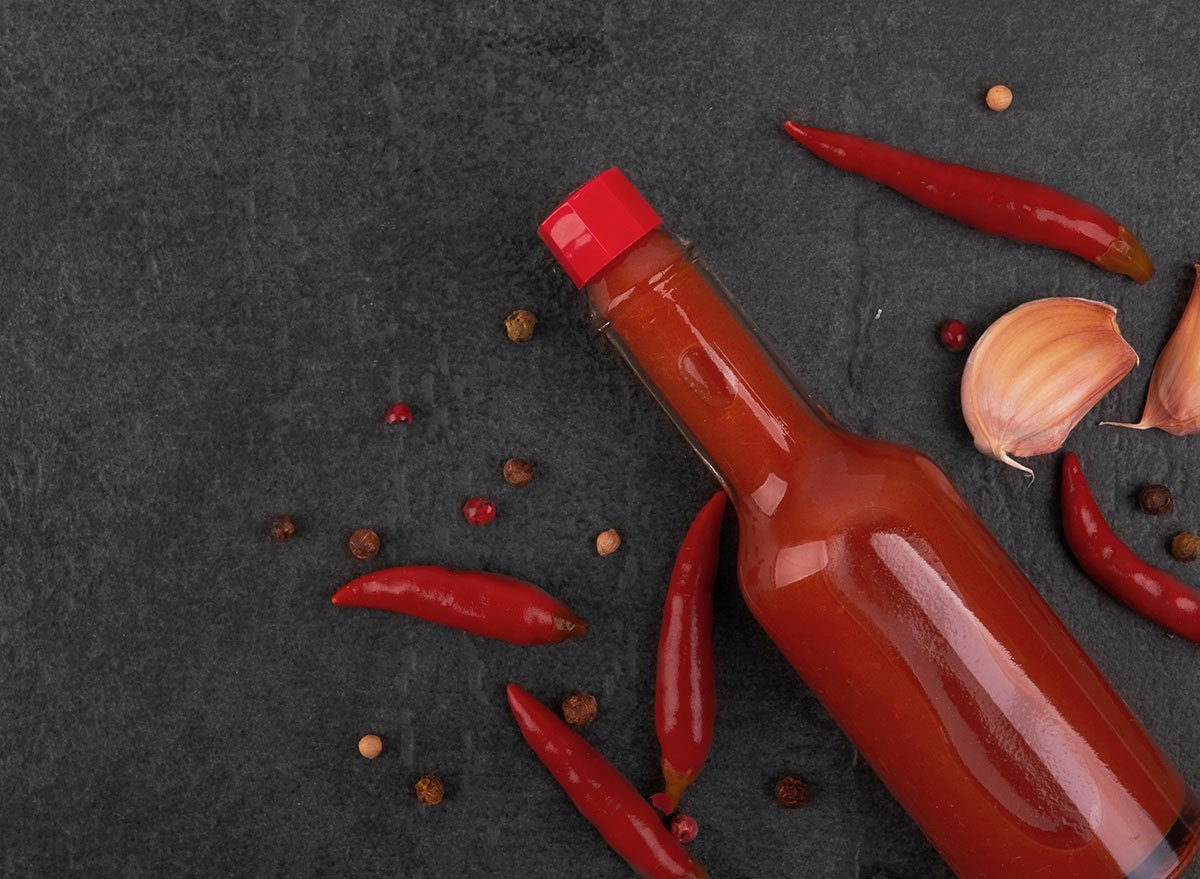 When it comes to hot sauce, everyone has a favorite, whether it's something with a heat level that will leave you burning for hours or something just to add a little kick to taco night. The only way to know what kind of hot sauce is the right one for you is by trial and error.
Before popping into the grocery store or clicking through pages of hot sauce on Amazon, you need to know what types of hot sauce you're really looking for. Are you thinking of something more vinegar-based to cut through something super savory like gumbo, or are you just looking for something spicy to add an intense heat to an omelet?
You should also think about the consistency of hot sauce; some can be really thick, like mustard, and others are more runny, like Italian dressing. And last but certainly not least to think about is: How spicy do you want to go? Is something basic like Texas Pete or Cholula enough spice, or should you look for the bottle with the little skull on it to indicate an intense heat?
All of this was on my mind as I browsed grocery stores and the internet for the best hot sauce, and should be on yours as you test different varieties.
And for more, check out these 22 Meals to Melt Belly Fat in 2022.
Trader Joe's Jalapeño Sauce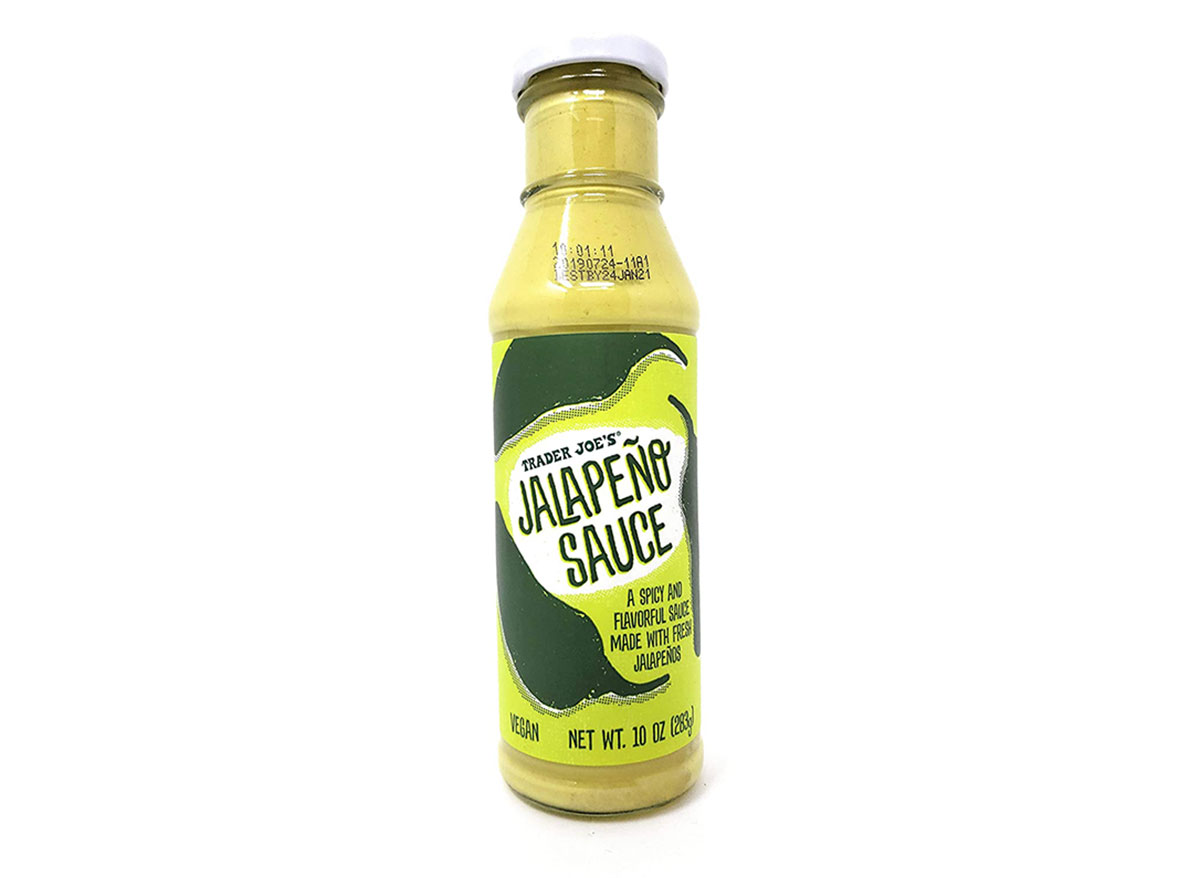 Honestly, the Trader Joe's Jalapeño Sauce was a major disappointment. It wasn't spicy and it barely had any flavor. If you just want to add something creamy to a plate of tacos, this may be worth it, but I wouldn't suggest getting this one for added heat.
Burman's Hot Sauce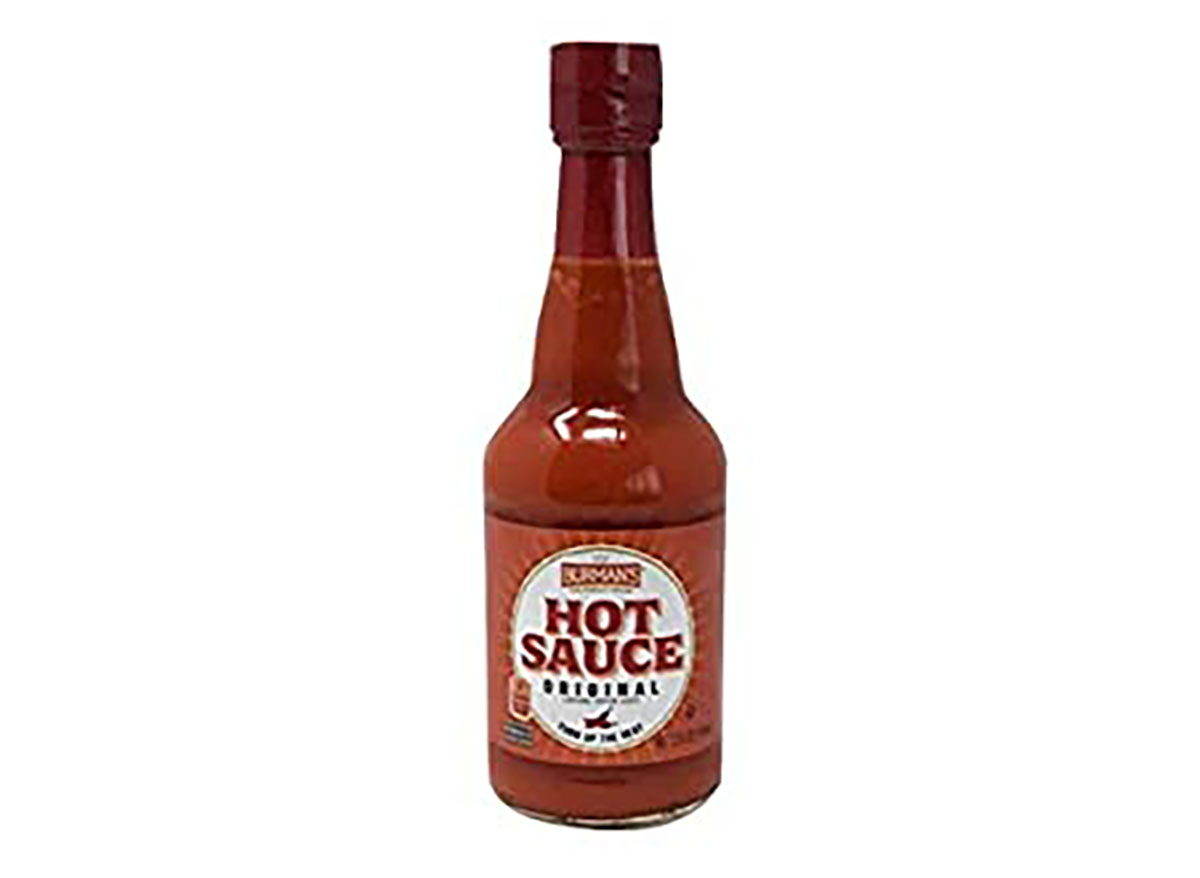 This Aldi find was decent, but it tasted like any other basic hot sauce. It was pretty mild in the heat department, with any traces of spiciness dissipating after a few seconds. The hot sauce tasted like a dupe of Louisiana Hot Sauce. If you're in a pinch, this will do the trick in the flavor and heat department.
Trader Joe's Habanero Hot Sauce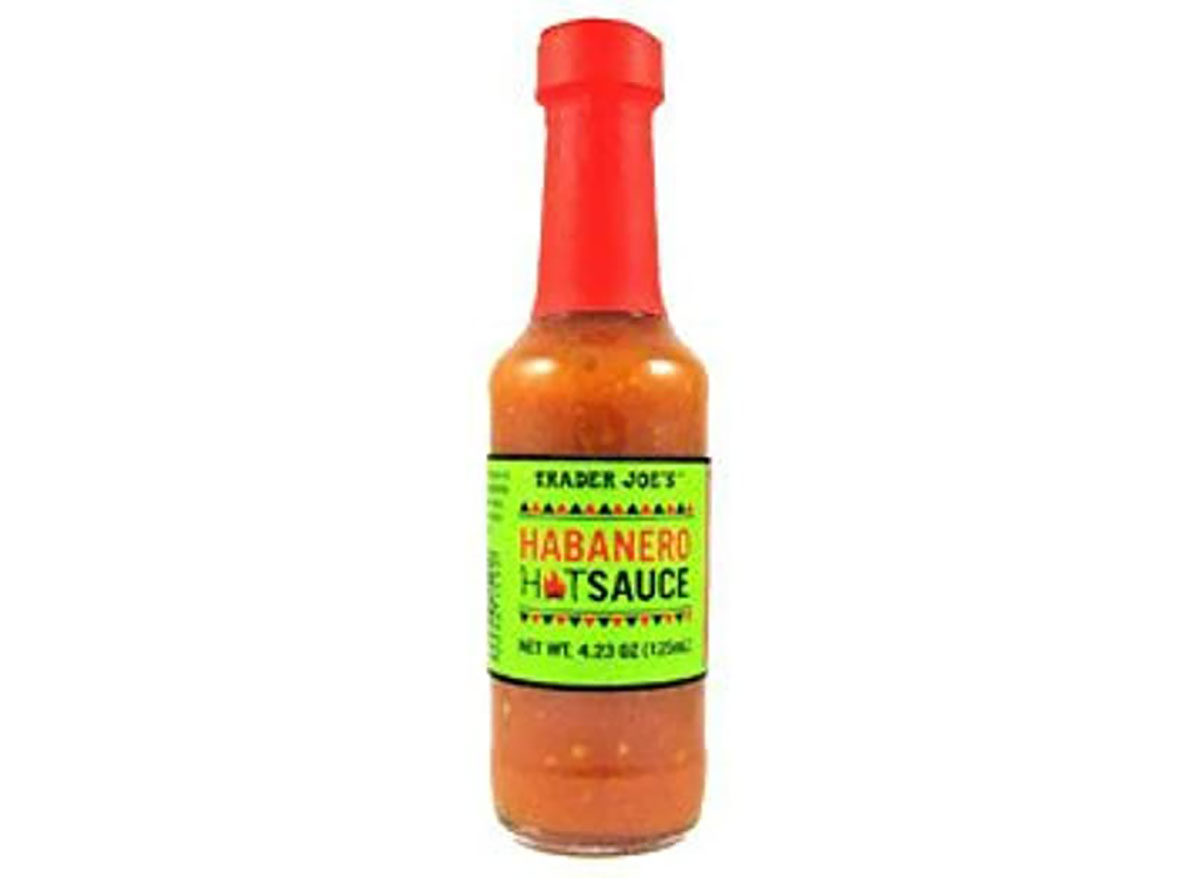 The Trader Joe's Habanero Hot Sauce is by far the spiciest sauce on this list. After taste-testing it, I had to drink a whole glass of milk and stop testing other sauces for about 30 minutes to regain full ability in my taste buds again. If you're looking for something that's just pure spice, this is it. While there should definitely be a little skull on the label, there's not, but know that habanero peppers rate at 100,000–350,000 on the Scoville Scale, which is 100 times hotter than a jalapeño.
A Frame Datil Pepper Sauce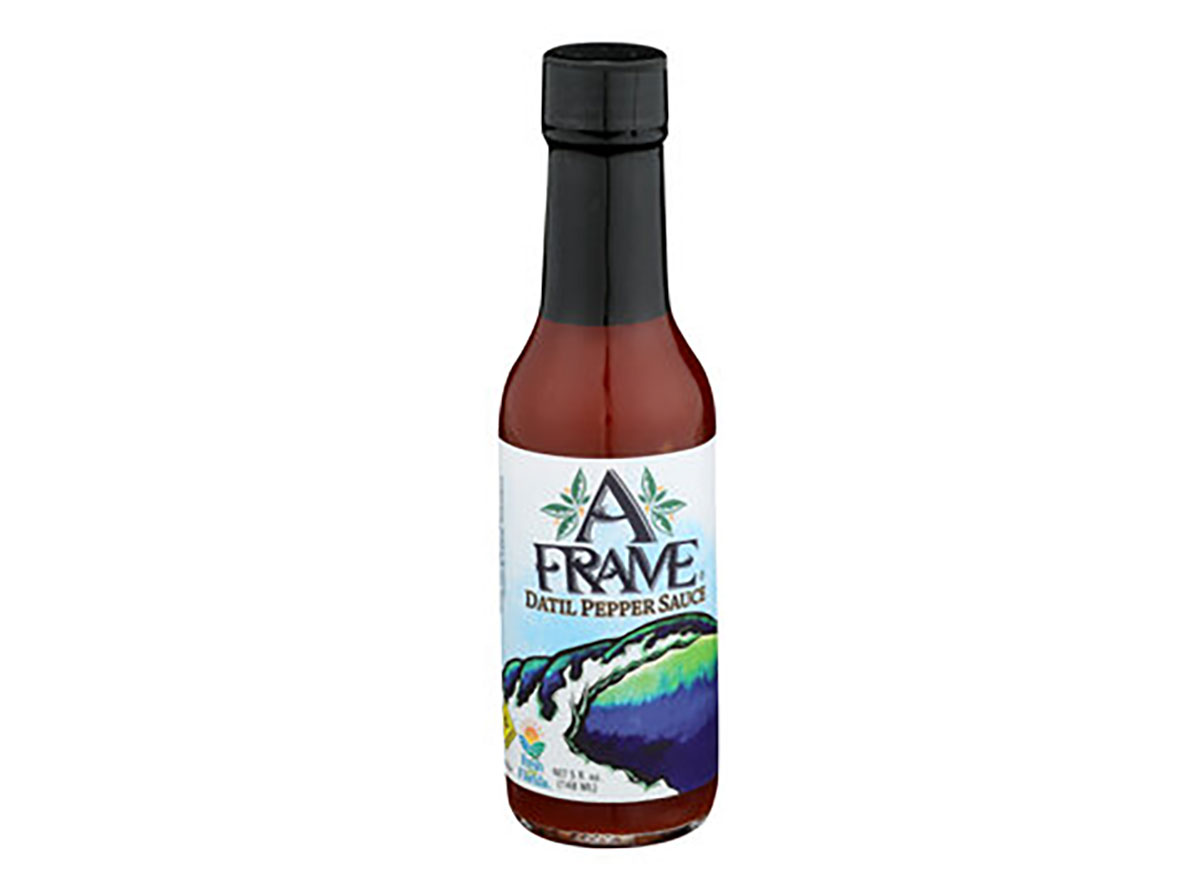 St. Augustine, Florida is home to the datil pepper, a super-spicy pepper similar to a scotch bonnet. One of my favorite hot sauces that features the datil pepper is the A Frame Datil Pepper Sauce. The sweet and spicy hot sauce can be used in a variety of ways. Think of it as an alternative to hot honey, with a thick honey-like consistency, but with little flecks of datil pepper throughout. If you think a sweet and spicy kick is what your favorite meal needs then this is the right sauce.
Yellowbird Habanero Hot Sauce
Anything with "habanero" in the sauce name is going to be spicy, and the Yellow Bird Habanero hot sauce fits the bill. The sauce packs a punch of spice without completely blowing your palette. It also has a slight sweetness from the addition of carrots and tangerine juice in the concoction. This is a must-get for anyone who likes really spicy foods.
Cholula Original Hot Sauce
Cholula is the baseline hot sauce I judged everything else around. This is a great all-around hot sauce that has a base flavor or vinegar and tomatoes and is slightly hot without being too much. This is the must-have basic hot sauce in my fridge, and I think this is a step up flavor-wise from other big-brand hot sauces like Texas Pete or Louisiana. Shake a few dashes onto tacos, jambalaya, or pizza to add some heat without compromising the flavor of the original dish.
Sriracha Hot Sauce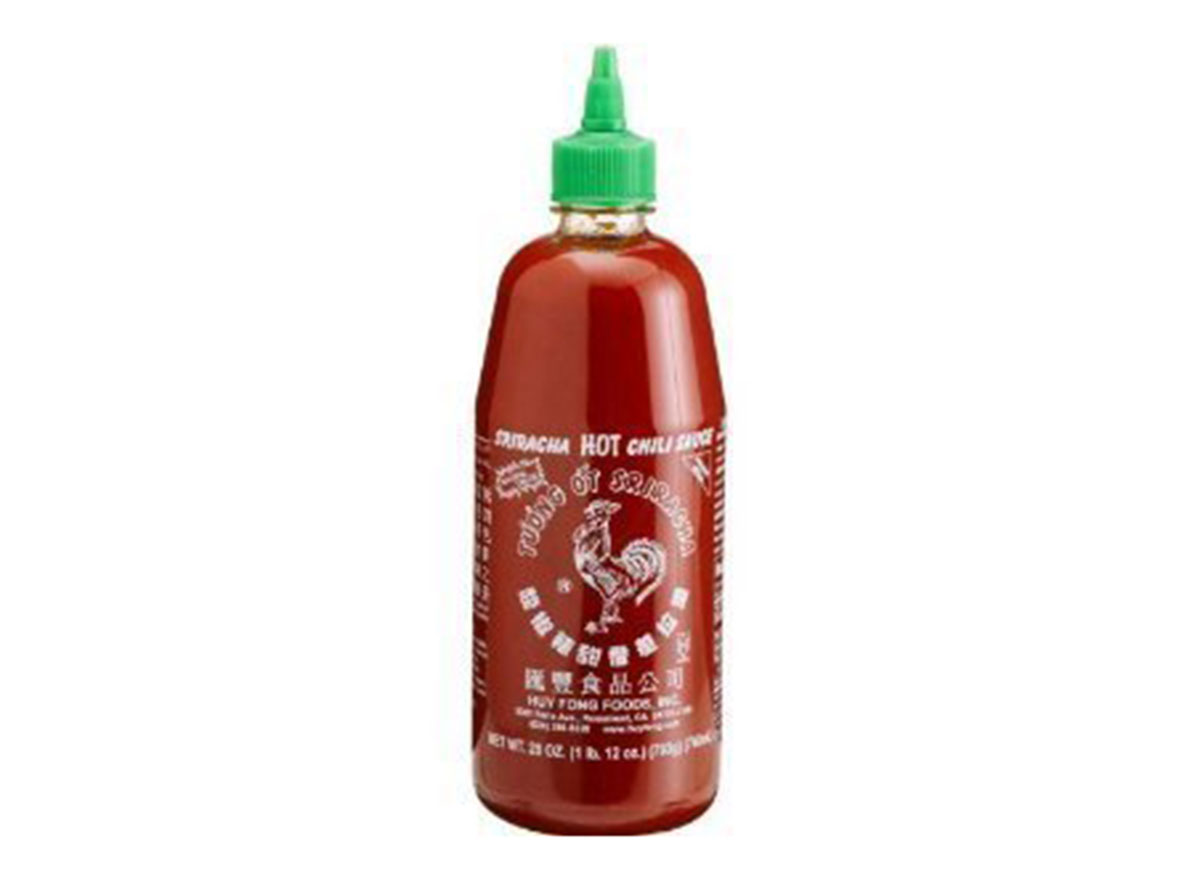 A few years ago, red Sriracha had a major moment, and since then, it has become a staple hot sauce in many kitchens. The hot chili sauce is fairly spicy and great for everything from Asian dishes to being mixed with mayo to make a sauce for fried chicken sandwiches. The one thing this hot sauce lacks is complex flavors. It's pretty one-note, and that note is spicy garlic. If you want to add more flavor to a dish, consider trying to find the yellow sriracha, which has a completely different flavor.
Torchy's Tacos Diablo Hot Sauce
The only restaurant branded hot sauce to make the cut is Torchy's Tacos Diablo Hot Sauce. The thick sauce has a medium-to-hot spice level, with flavors of tomato, garlic, and vinegar. If you don't have a Torchy's Tacos near you then you might be able to find the hot sauce online or at Whole Foods. Add this hot sauce to anything you want to jazz up with big flavors and a decent amount of spice.
Branford's Crazy Mango Hot Sauce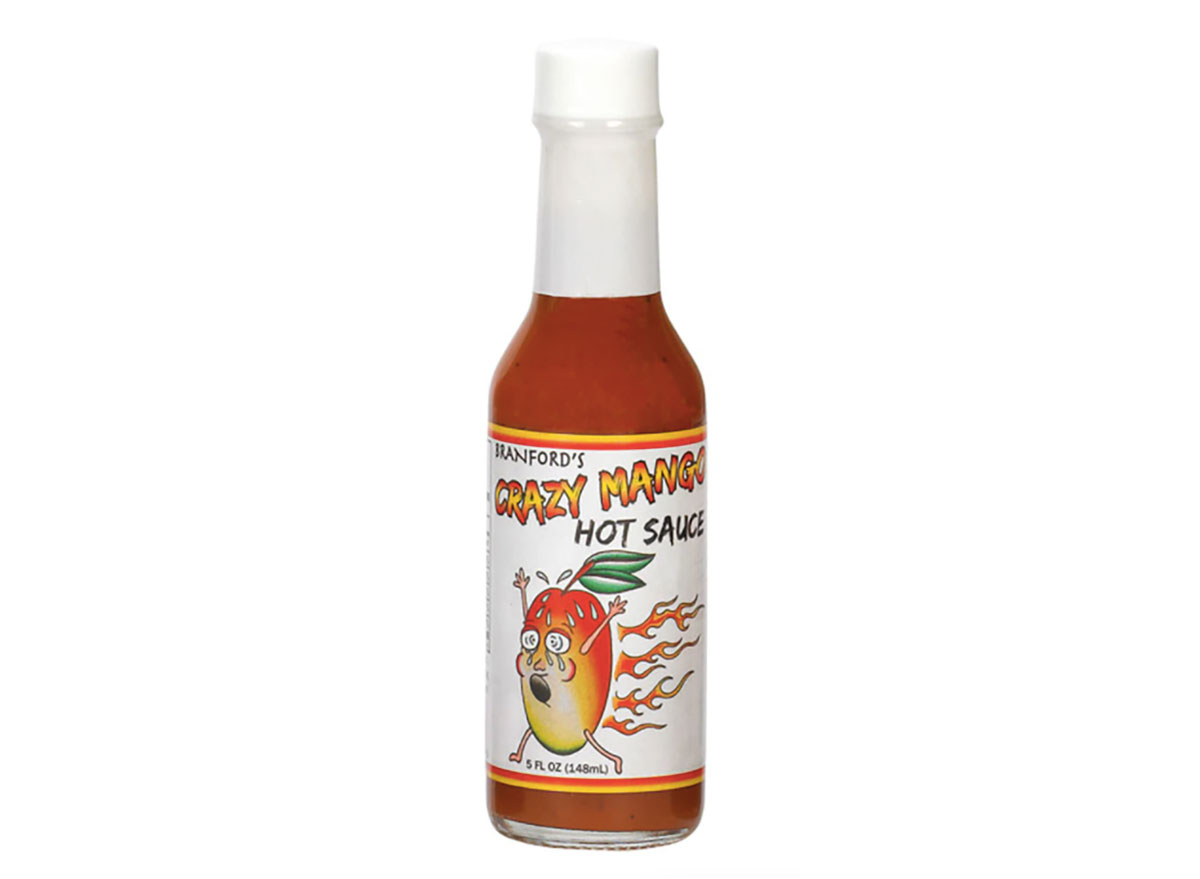 Sweet heat is the name of the game with Branford's Crazy Mango Hot Sauce. The heat level is somewhat intense at first but is quickly cooled down with the sweet mango flavors running throughout the sauce. The sauce makes the perfect addition to sandwiches and wraps to add a sweet heat punch.6254a4d1642c605c54bf1cab17d50f1e
Gator Hammock Swamp Gator Hot Sauce
The best hot sauce for something spicy and full of flavor is Gator Hammock Swamp Gator Hot Sauce. The complex flavors that make up the spicy sauce include banana, jalapeño, hammock, serrano, and habanero peppers. The vinegar-base sauce is quite spicy but doesn't completely overtake your taste buds so you can't taste anything else you're eating or drinking, which is a definite win in my book.
Plus, don't miss The 10 Best Spicy Fast-Food Sauces of All Time—Ranked!.
Megan duBois
Megan duBois is a travel and lifestyle journalist with bylines across the internet and in print at Delish, Conde Nast Traveler, Travel + Leisure, Yahoo Lifestyle, and more.
Read more about Megan