Every State's Signature Dishes—Ranked
Think you know how your home state stacks up?
Part of the fun that comes with traveling is enjoying the local cuisine. And that's true even if you're staying within the United States—every state has those specialty foods, after all. You know, the foods that happen to taste just that much better because you're in a specific state. (If you've ever had a New York bagel, then you understand why it's just not the same anywhere else!)
But when you're thinking about what to eat from a nutrition standpoint, how do classic state dishes stack up?
So whether you're going on a road trip or you're simply exploring your own state, we uncovered just how healthy each state's most cherished food is, thanks to findings from Optibac's nutritional therapists. They went ahead and did a study in which they analyzed each state's signature dish and compared them to one another, looking at a few key factors:
The most nutritionally balanced dishes (based on their micronutrients)
The most calorific dishes
The most protein-packed dishes
Sweet vs. savory dishes (Are the sweet dishes generally more nutritionally balanced than the other—or vice versa?)
Healthy alternatives for some of the less nutritional dishes
Curious how your state's go-to meal did? Here is Optibac's breakdown of every U.S. state's signature dish, ranked from the least nutritious to the most nutritious. And for more, check out The Most Popular Slow Cooker Dish in Every State.
(Plus, always be sure to skip the 8 Worst Fast-Food Burgers to Stay Away From Right Now.)
Arkansas: Fried Pickles
Arkansas is home to the dish that is fried pickles. While tasty, it scored the lowest out of all the state's dishes as it has very few of the essential micronutrients needed to keep a healthy, well-balanced diet. Plus, deep frying the pickles increases the amount of sodium and overall calories. This is definitely a food you only want to eat once in a blue moon!
Iowa: Dry-Cured Bacon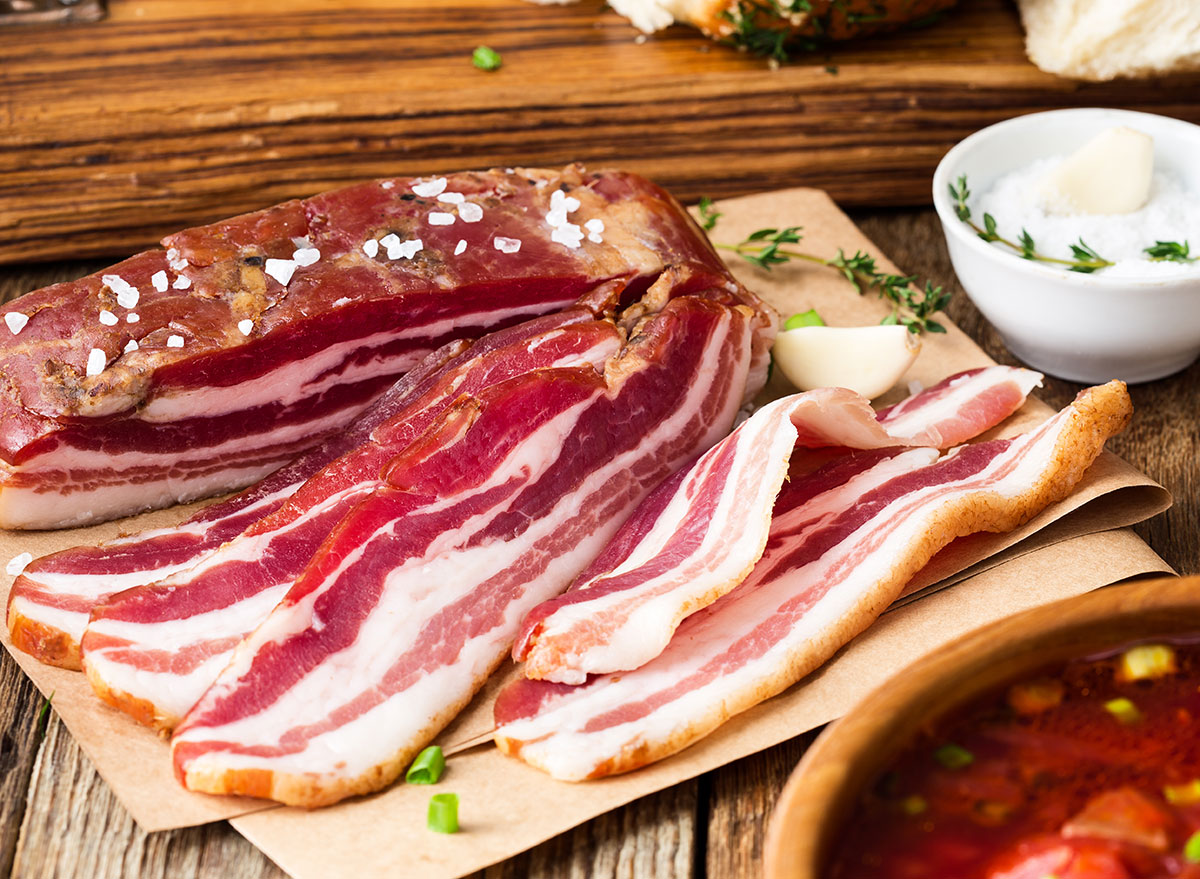 Bacon makes just about everything better, and in Iowa, they get it. While this dish is packing in protein, that doesn't necessarily make it the healthiest option.
Virginia: Smoked Ham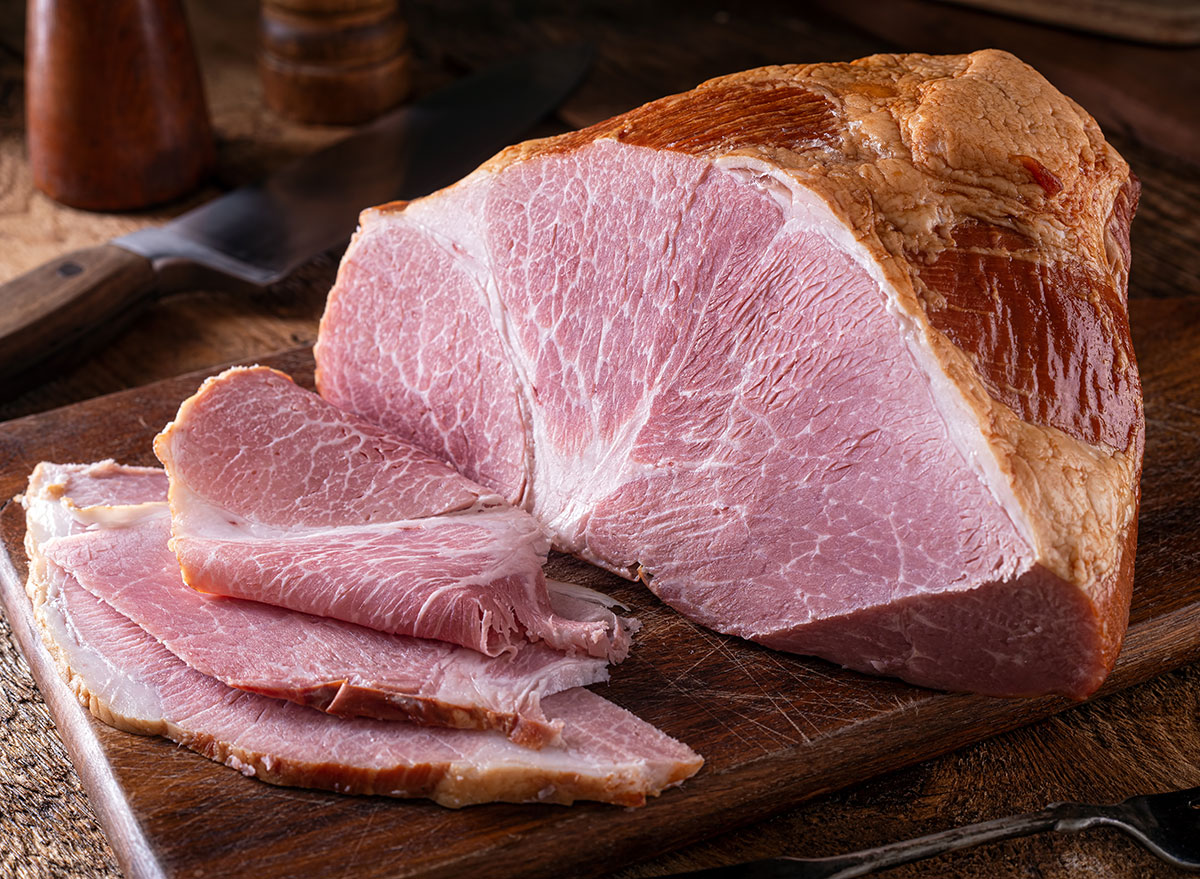 While a smoked ham might bring tons of flavor, it's also loaded up with sodium. If you really want to indulge while in Virginia, just keep your portion small.
Nebraska: Runza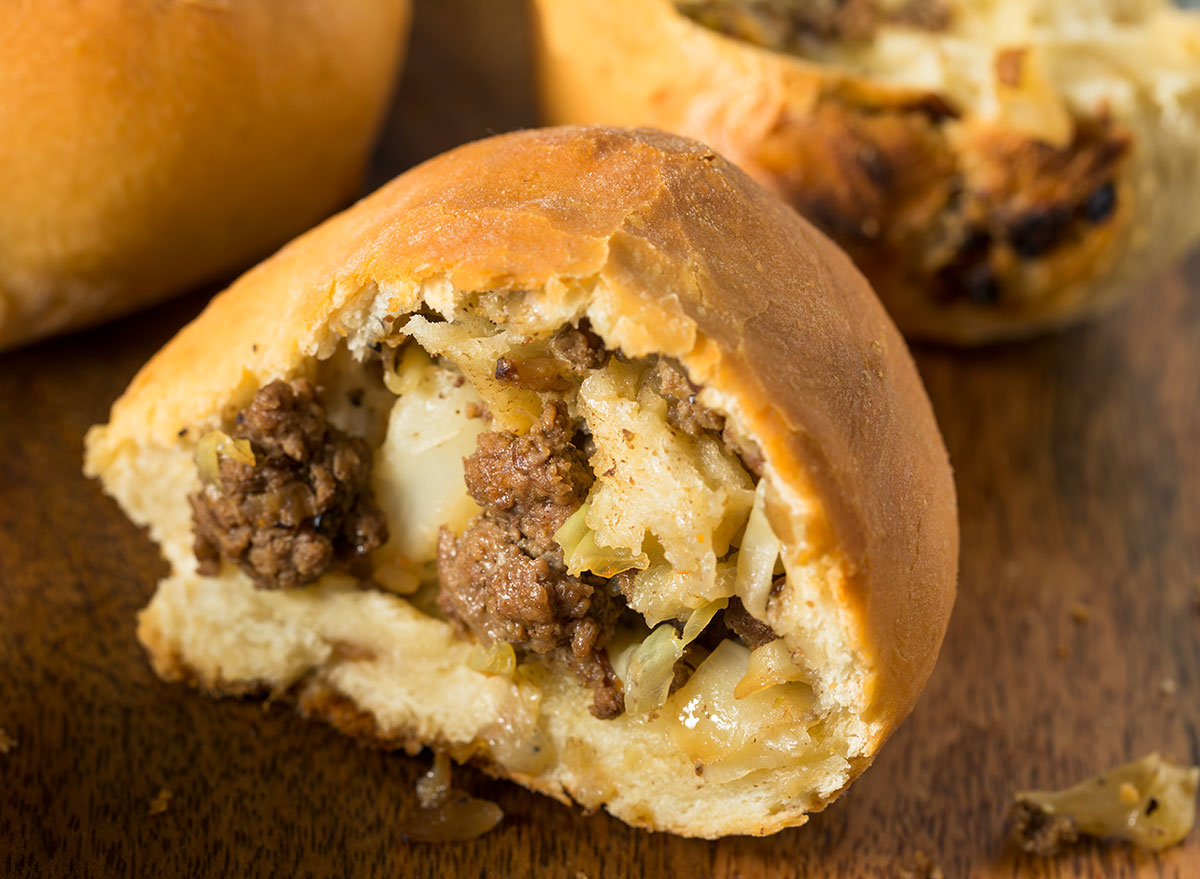 Not exactly sure what runza is? Well, it's a bun that happens to be stuffed with ground beef and cabbage. A true Nebraskan staple, but one you don't want to eat all the time.
Utah: Funeral Potatoes
We know, the name of this dish is a bit somber. However, it's meant to be a dish that brings on all the comfort. It's made up of frozen hash browns, cheese, sour cream, a can of cream of chicken soup, butter, and chopped onion that is sprinkled with buttered, and crushed cornflakes. In Utah, it's a casserole that is said to be made for post-funeral dinners. It's true that classic comfort food doesn't really tend to be healthy, and this dish is a prime example.
Michigan: Coney Dog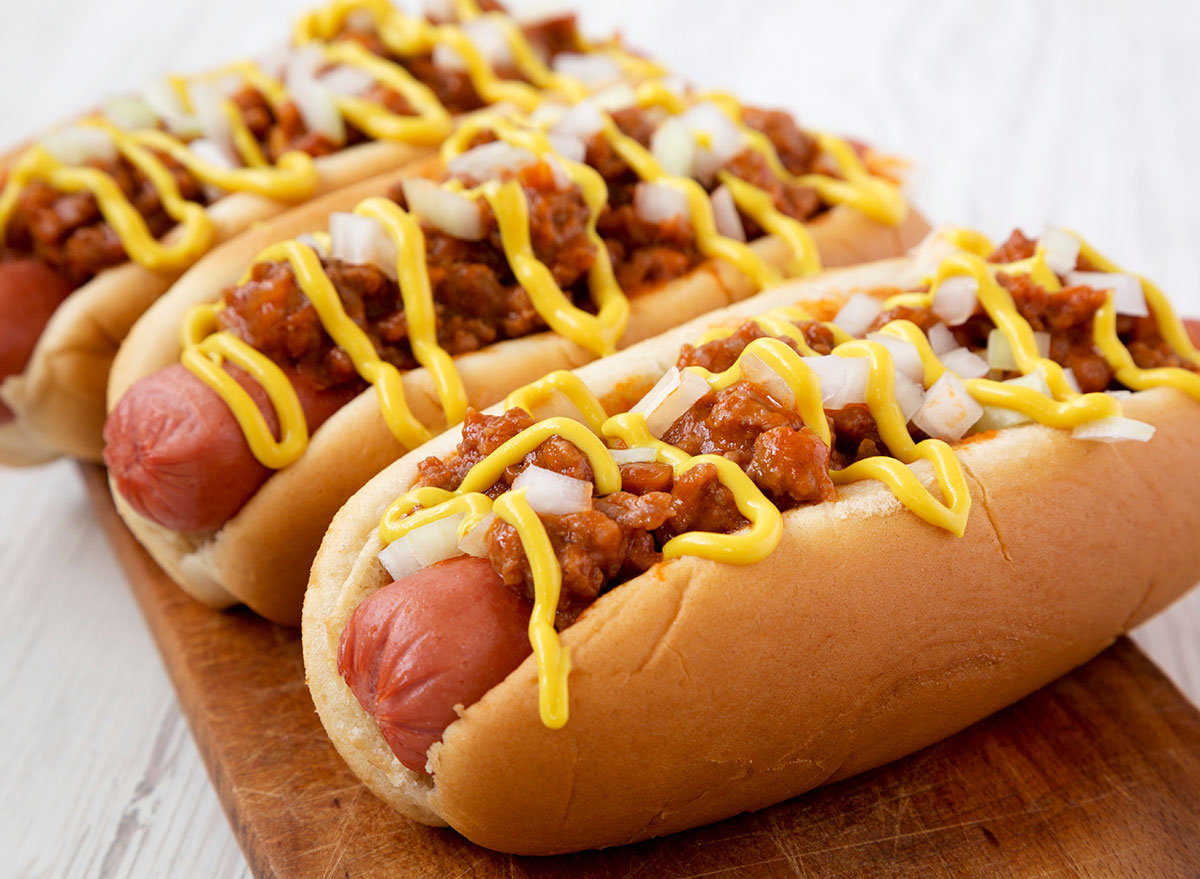 Oh, the hot dog. An American staple. In Michigan, a Coney Dog is the go-to order, which means the hot dog is loaded up with more chili, onions, and mustard. Adding more meat onto a meat-based meal can be a bit problematic for your health, though!
Oklahoma: Chicken Fried Steak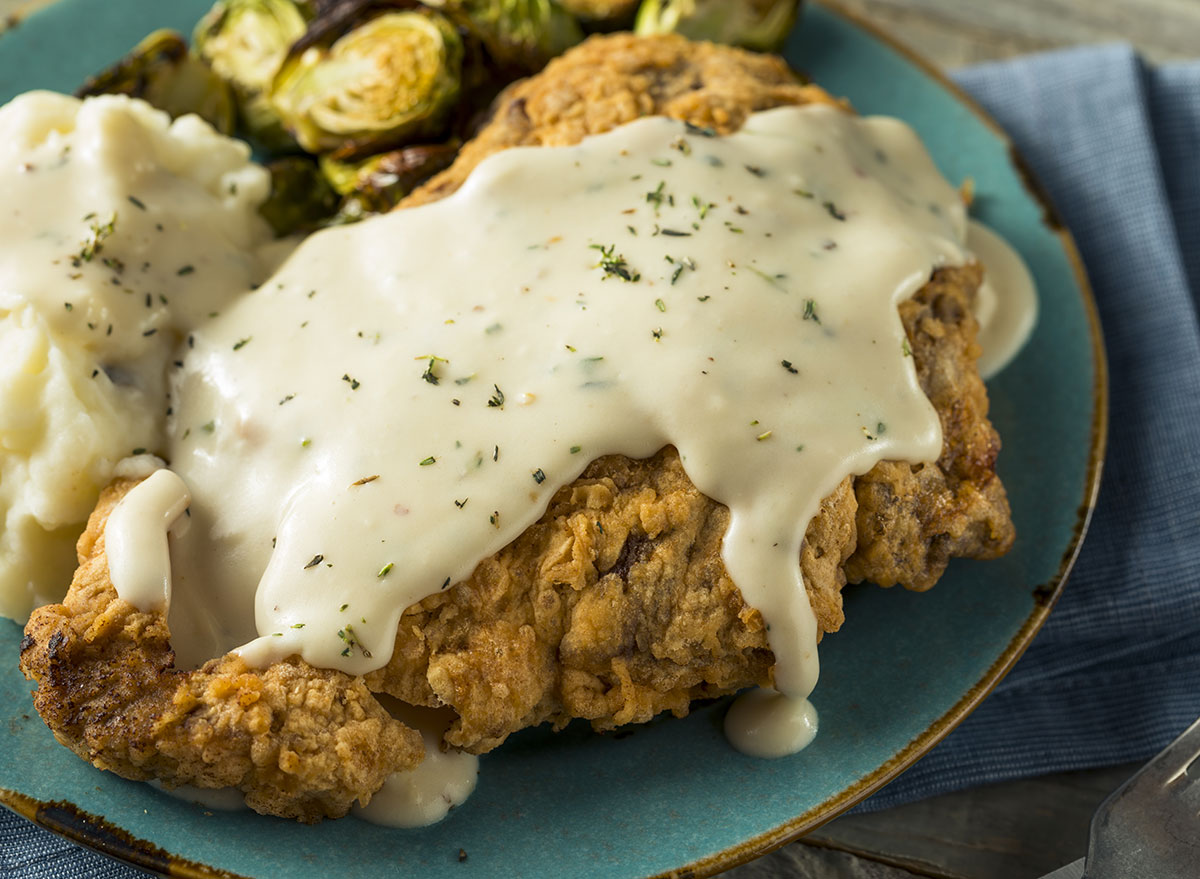 Steak is breaded like a chicken cutlet and fried to golden perfection? Delicious, yes. Good for your overall health? Not so much!
Mississippi: Catfish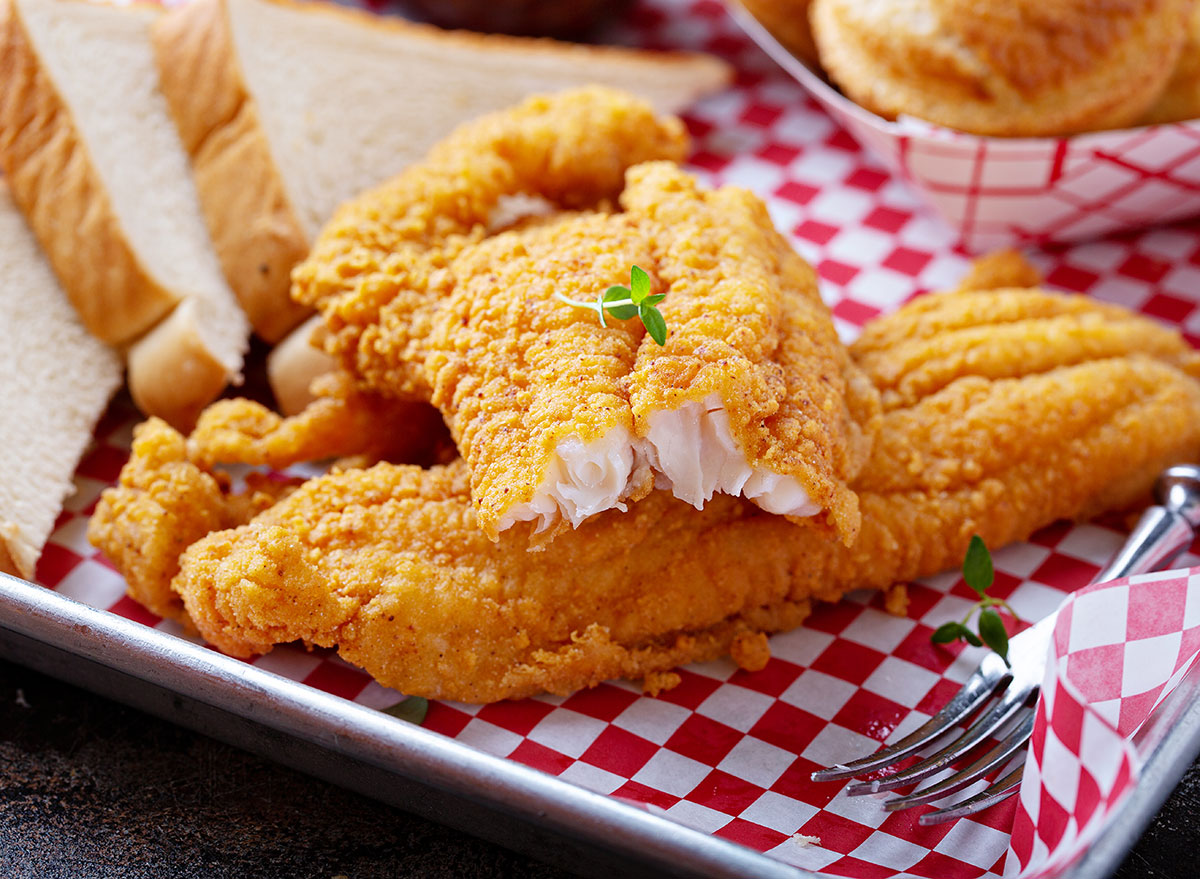 When in Mississippi and you're in the mood for some catfish, perhaps order a grilled version.
Tennessee Hot Chicken
In Tennessee, you're likely to find tons of Hot Chicken. That means you'll be feasting on fried chicken that is loaded up with spices, so you know it packs a kick. Fried-food dishes are ones you always want to eat in moderation, and with the added spices, you're looking at a sodium-heavy meal.
Alaska: Salmon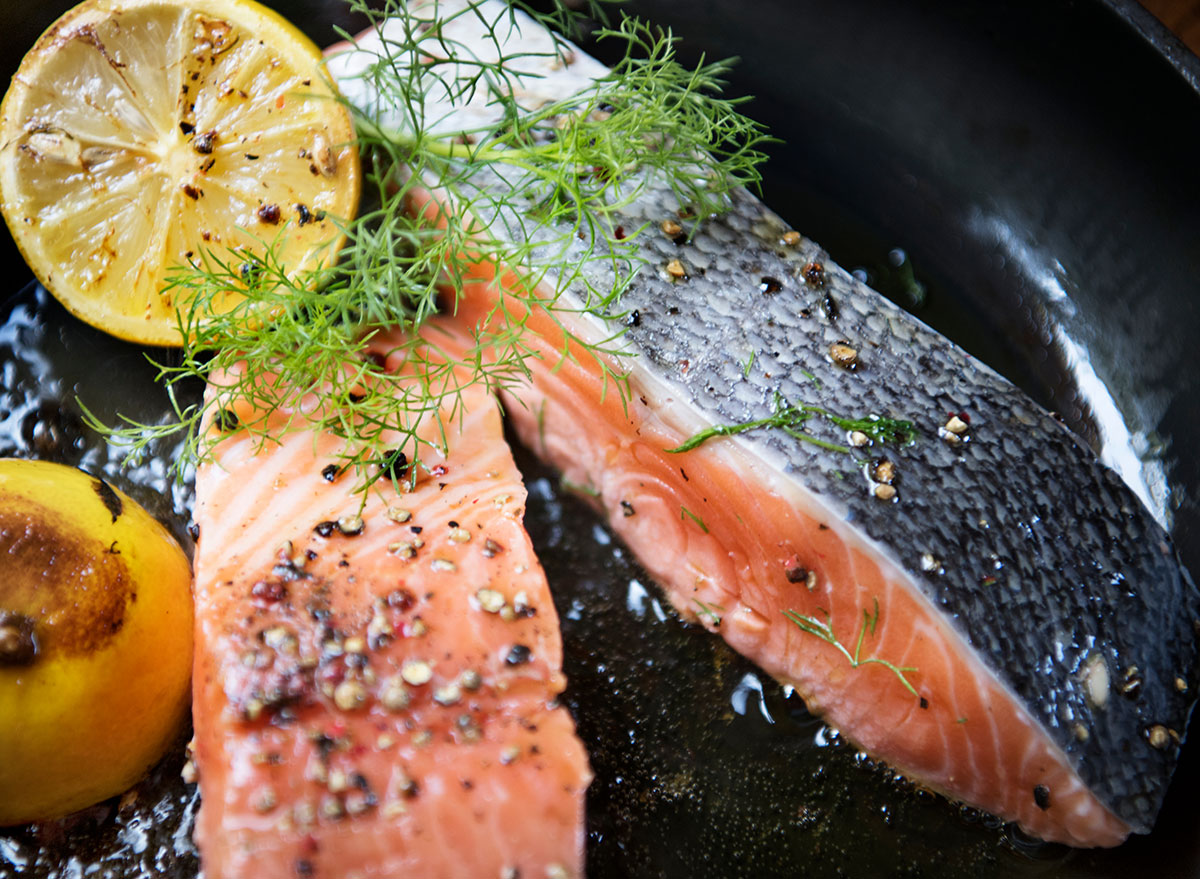 Salmon is often a good-for-you meal choice, so just be sure you're keeping an eye on how it's prepared to make sure you're getting the maximum health benefits.
Colorado: Lamb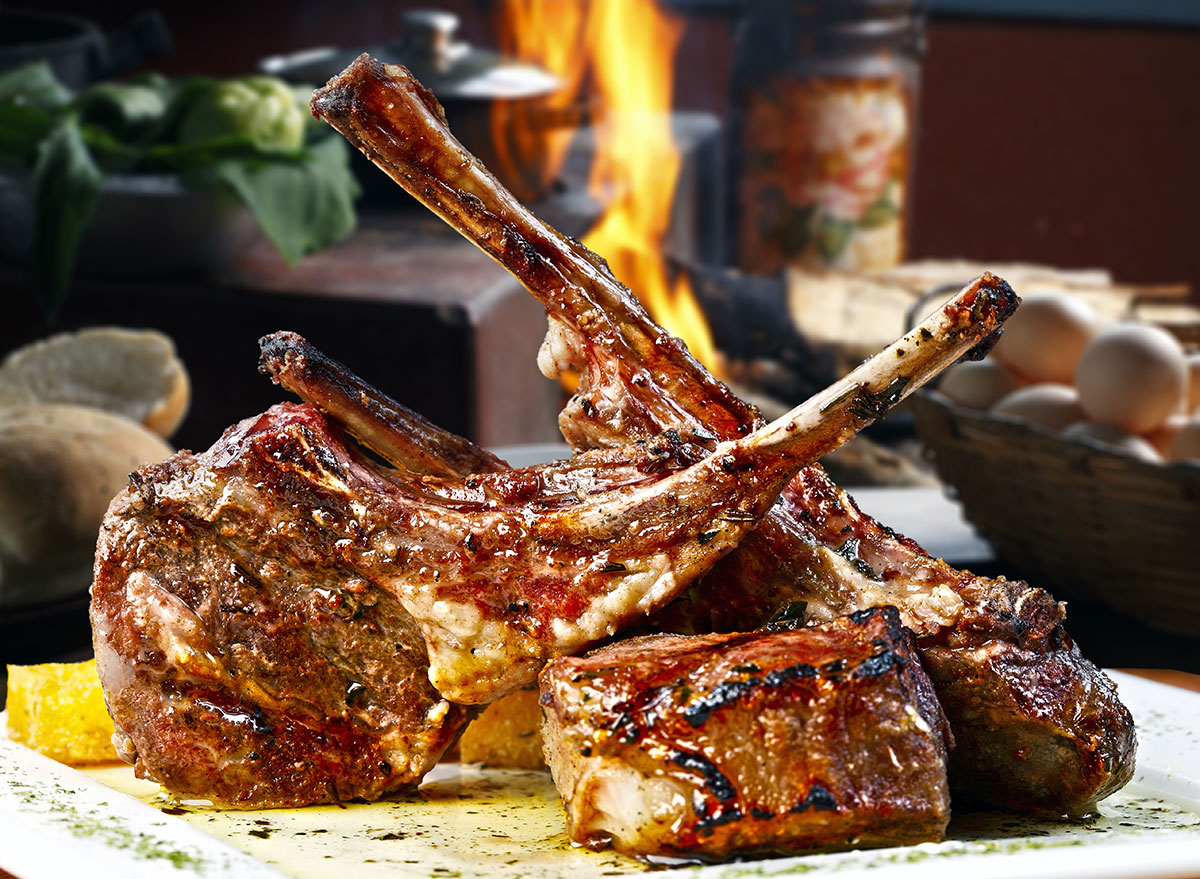 Again, it all comes down to how the lamb is prepared while you're dining out in Colorado!
Vermont: Maple Cream Pie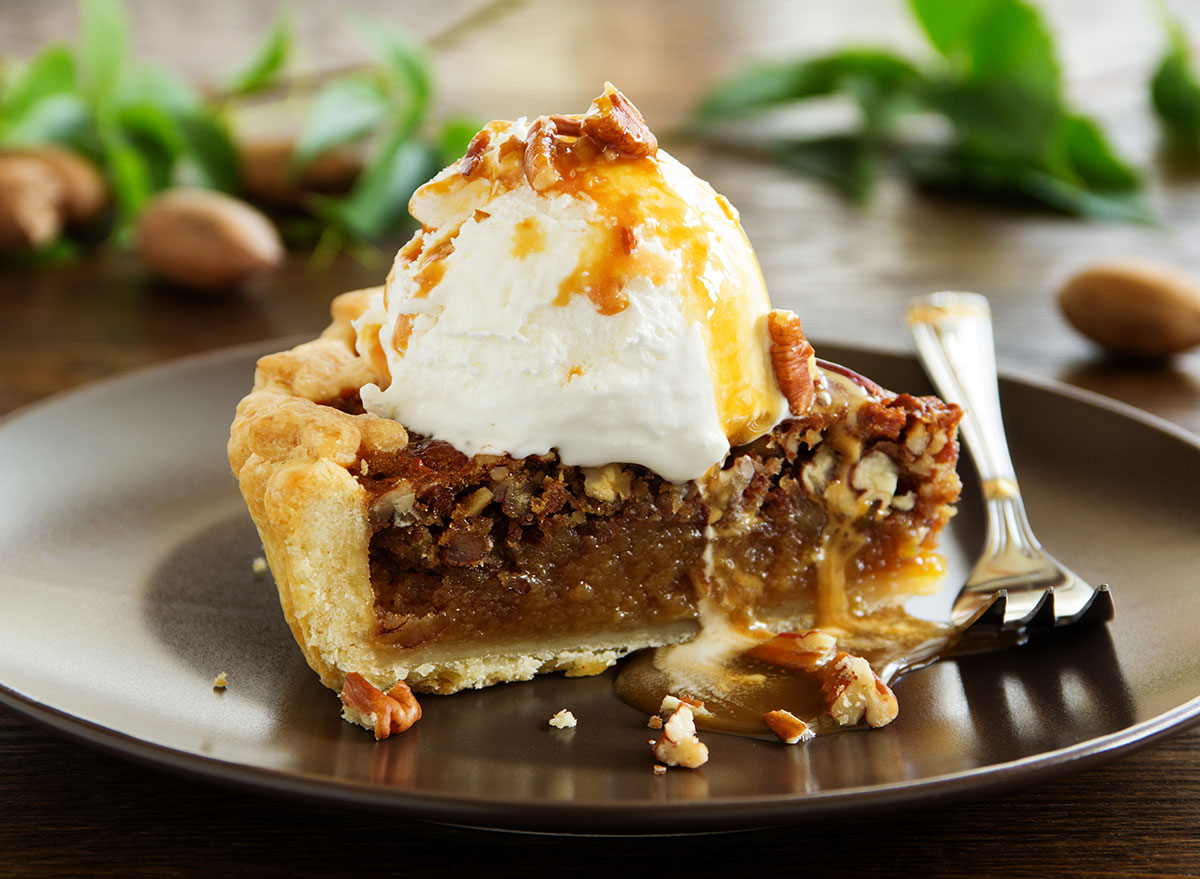 It doesn't really come as much of a surprise that Vermont's signature dish is centered around maple. A maple cream pie is, as you likely guessed, a sugar-filled treat.
Massachusetts: Clam Chowder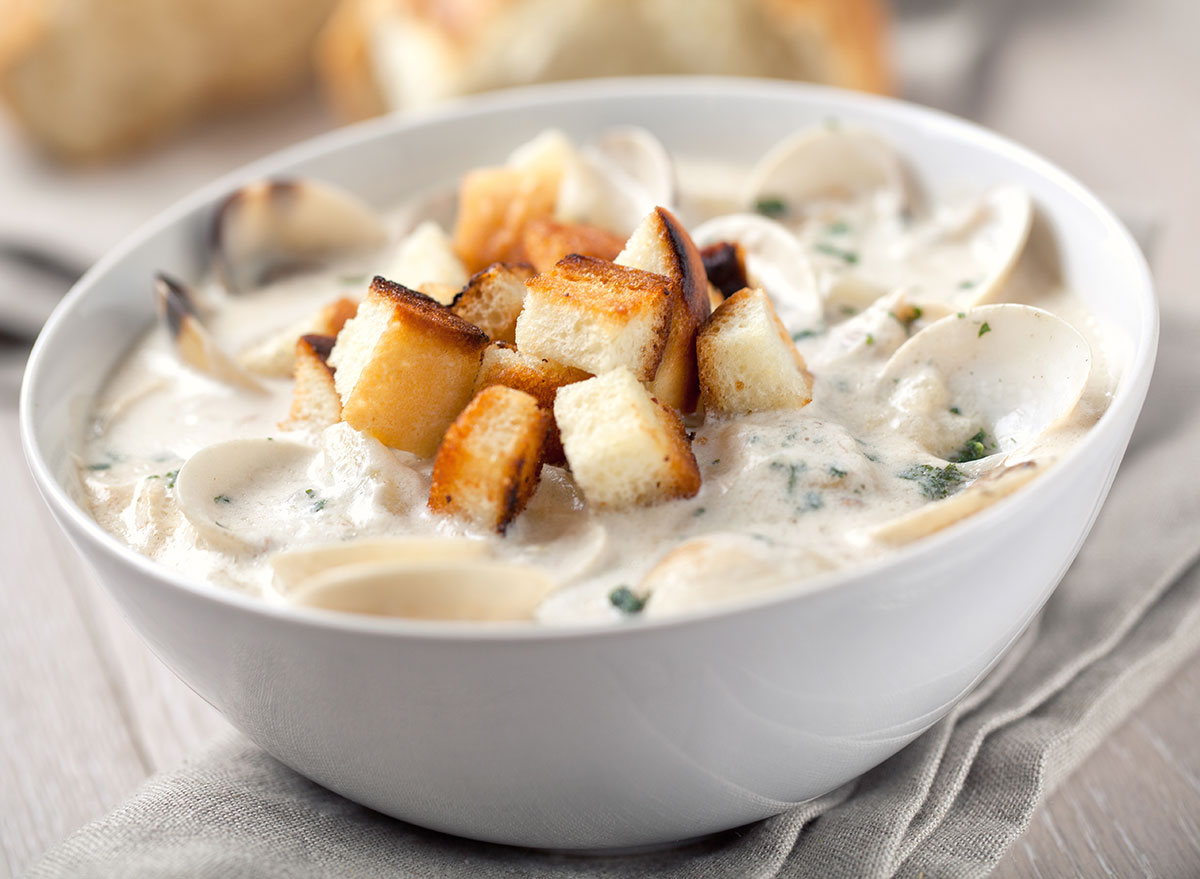 Massachusetts and clam chowder just go together, don't they? When you're visiting, trying some New England-style clam chowder is a must. But just keep in mind any cream-based soup automatically gets knocked down some demerits.
Idaho: Finger Steaks
In Idaho, it's not the chicken fingers that reign supreme, but the finger steaks. That's right, it's steak that is battered and deep fried, making up the state's signature dish. Try and few and call it a day after that!
Indiana: Sugar Cream Pie
If you've never had a sugar cream pie before, then you might not have made your way to Indiana yet! It's a regional favorite made of a buttery crust that is loaded with a rich vanilla custard filling. Sugar overload, yes, but something you should taste at least once in your life!
New Jersey: Pork Roll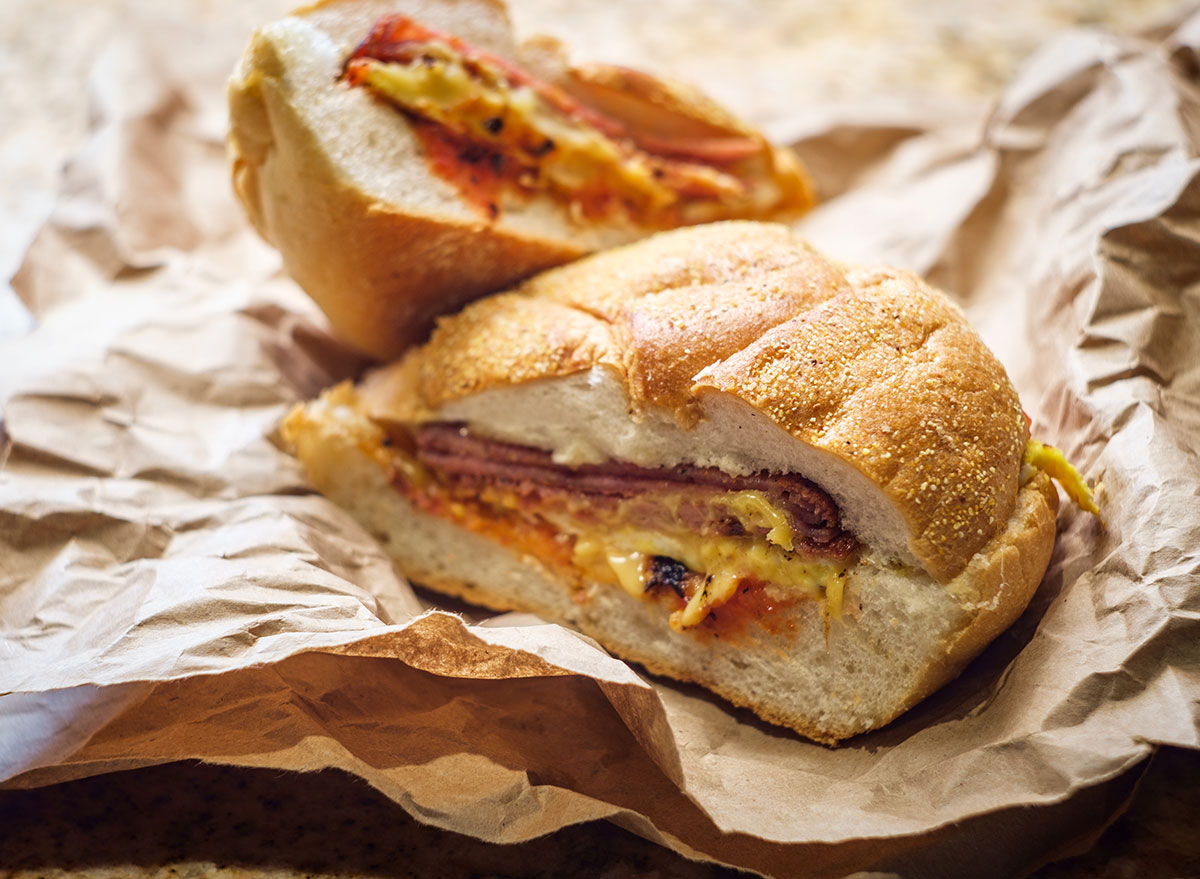 If you have ever eaten a bagel breakfast sandwich in New Jersey, then you know exactly what pork roll is. For those who are unfamiliar with the breakfast meat, it's essentially Jersey's version of ham. And paired with some eggs and cheese, it gives bacon a true run for its money. But, you know, it is a processed meat, so not the very best morning meal option out there.
North Dakota: Strawberry Rhubarb Pie
A fruit-based pie slightly edges out other pies on this list.
Ohio: Cincinnati Chili
Cincinnati Chili is one of those staple American dishes that will forever remain a thing. And yes, it's often eaten over a bowl of spaghetti or served alongside some oyster crackers.
South Carolina: Shrimp & Grits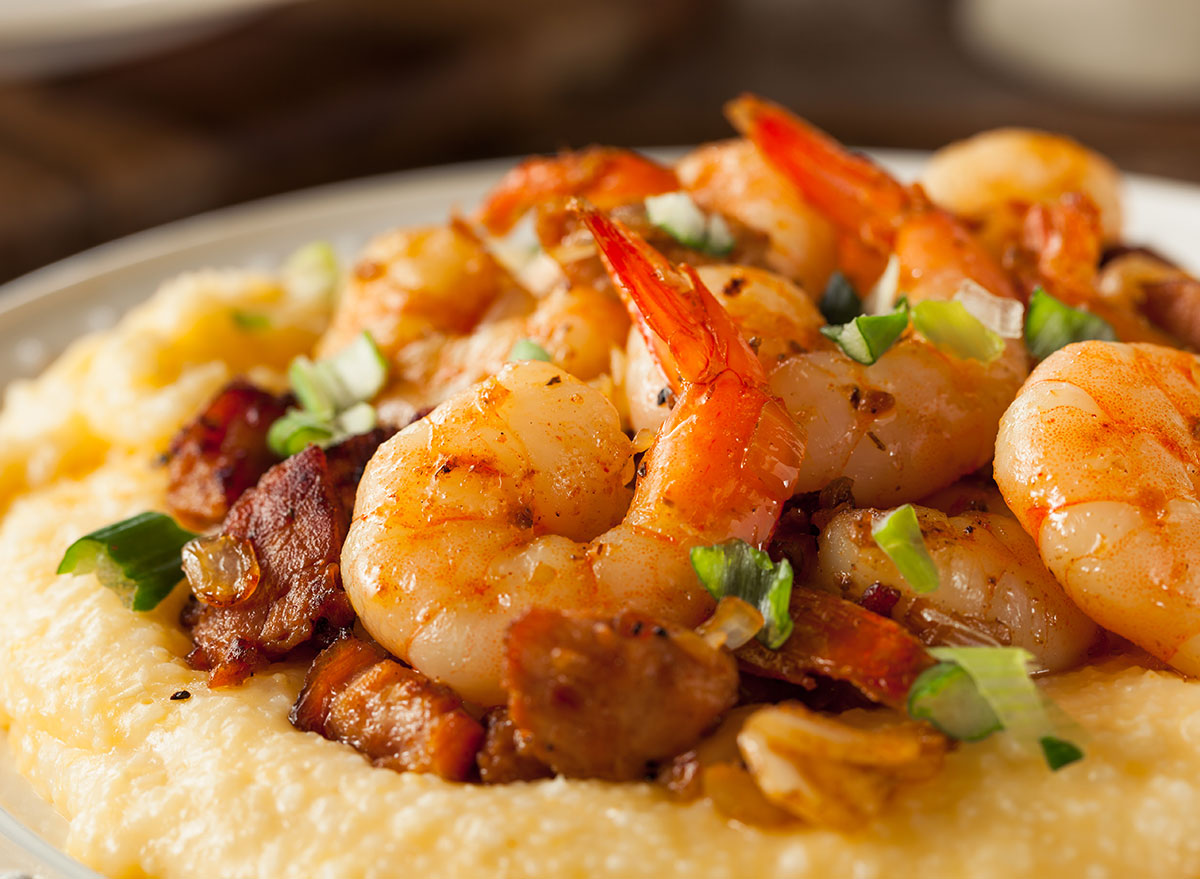 The combination of shrimp and grits is a true Southern staple. You'll definitely want to try some when you're in South Carolina, but just try not to eat this every single day.
North Carolina: Pulled Pork
Pulled pork is a tasty way to enjoy the meat, but the way it's prepared can factor in to the amount of sodium and even sugar you might be consuming.
West Virginia: Pepperoni Rolls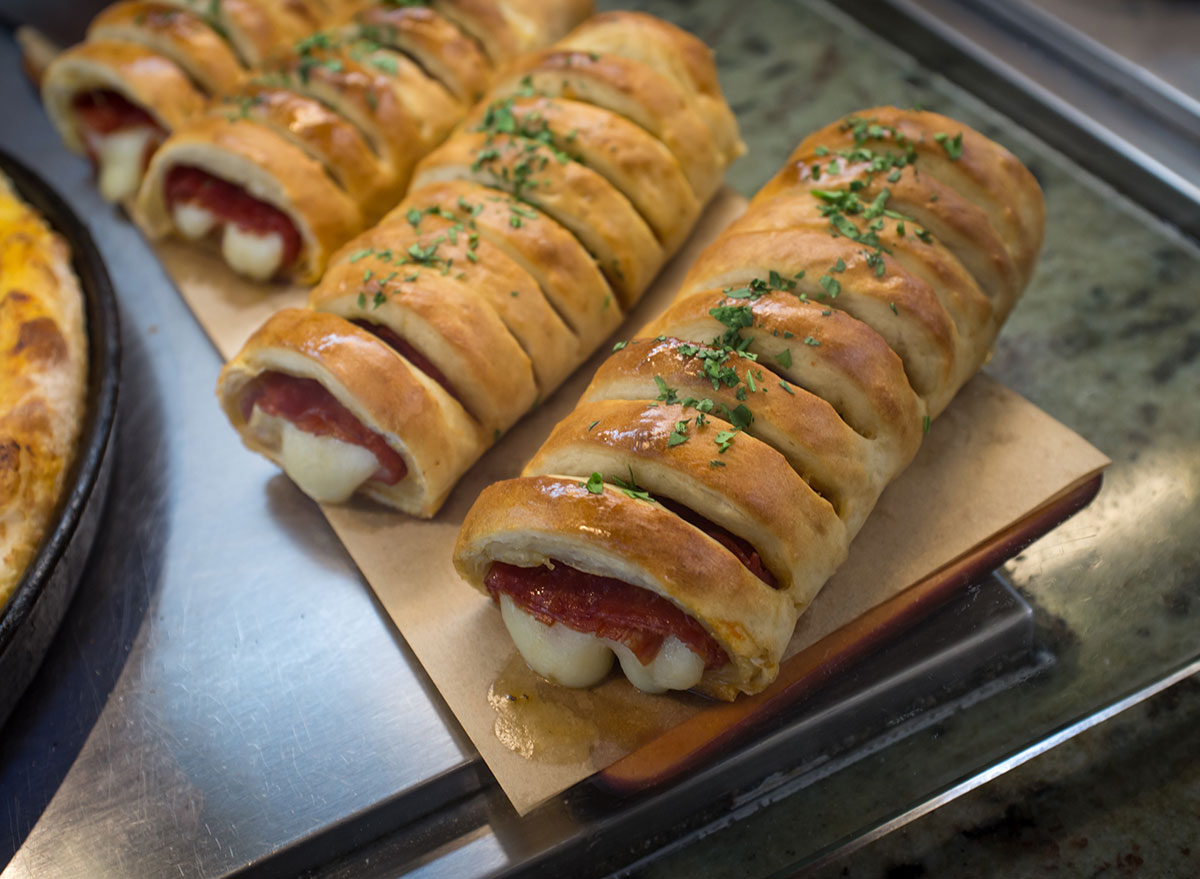 A bread roll that is stuffed with pepperoni and cheese? It's basically like a portable pizza! Pepperoni is yet another processed meat, so this isn't necessarily something you want to eat often. But when in West Virginia!
Wyoming: Bison Steak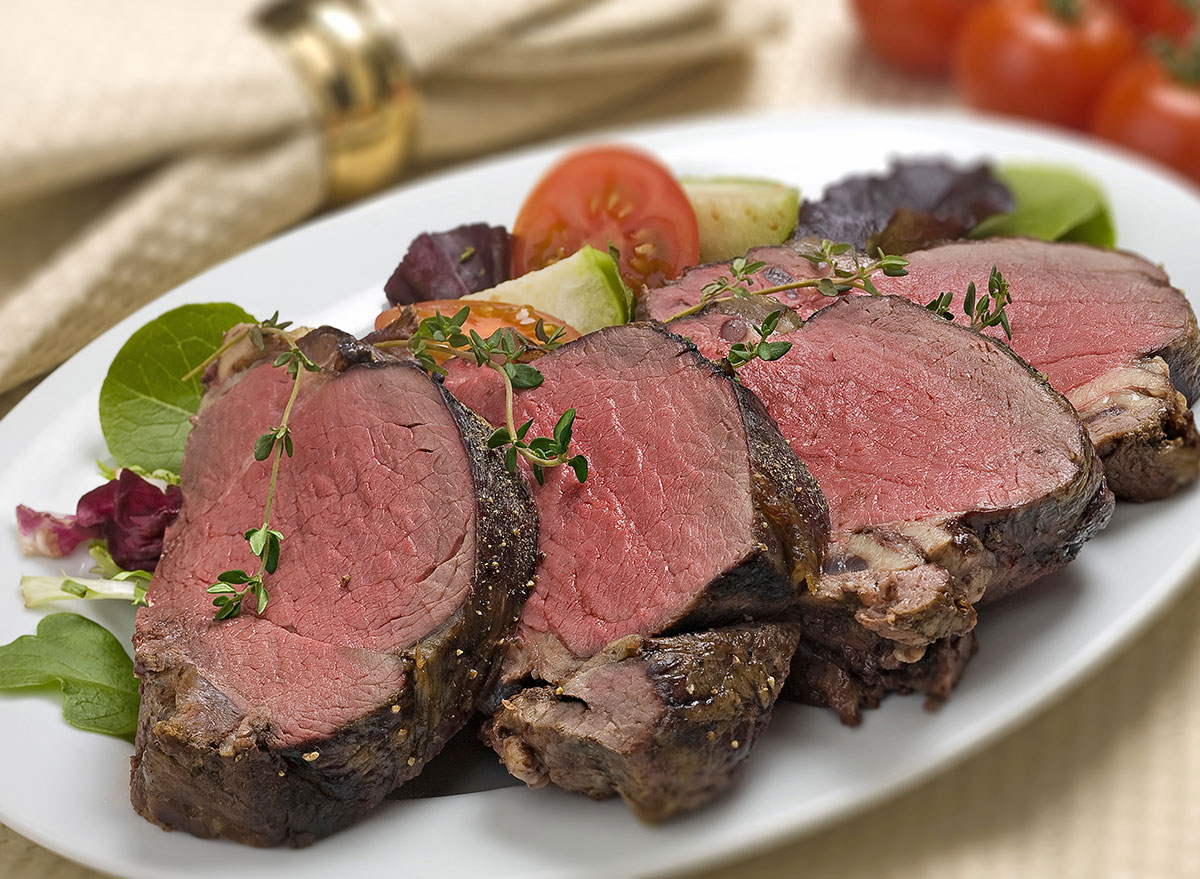 Bison meat isn't easily found in every part of the country, but Wyoming is one of those states where you can easily try this dish.
Texas: BBQ Brisket
This brisket will no doubt be filled with flavor, that's for sure!
Florida: Key Lime Pie
Key lime juice, egg yolks, and sweetened condensed milk come together to make the Florida sweet treat that is key lime pie.
Hawaii: Loco Moco
Loco Moco is a Hawaiian dish made up of white rice that is topped with a fried egg and a gravy sauce. A once in a lifetime meal if we say so ourselves, so go ahead and try it when you're visiting the state.
Louisiana: Gumbo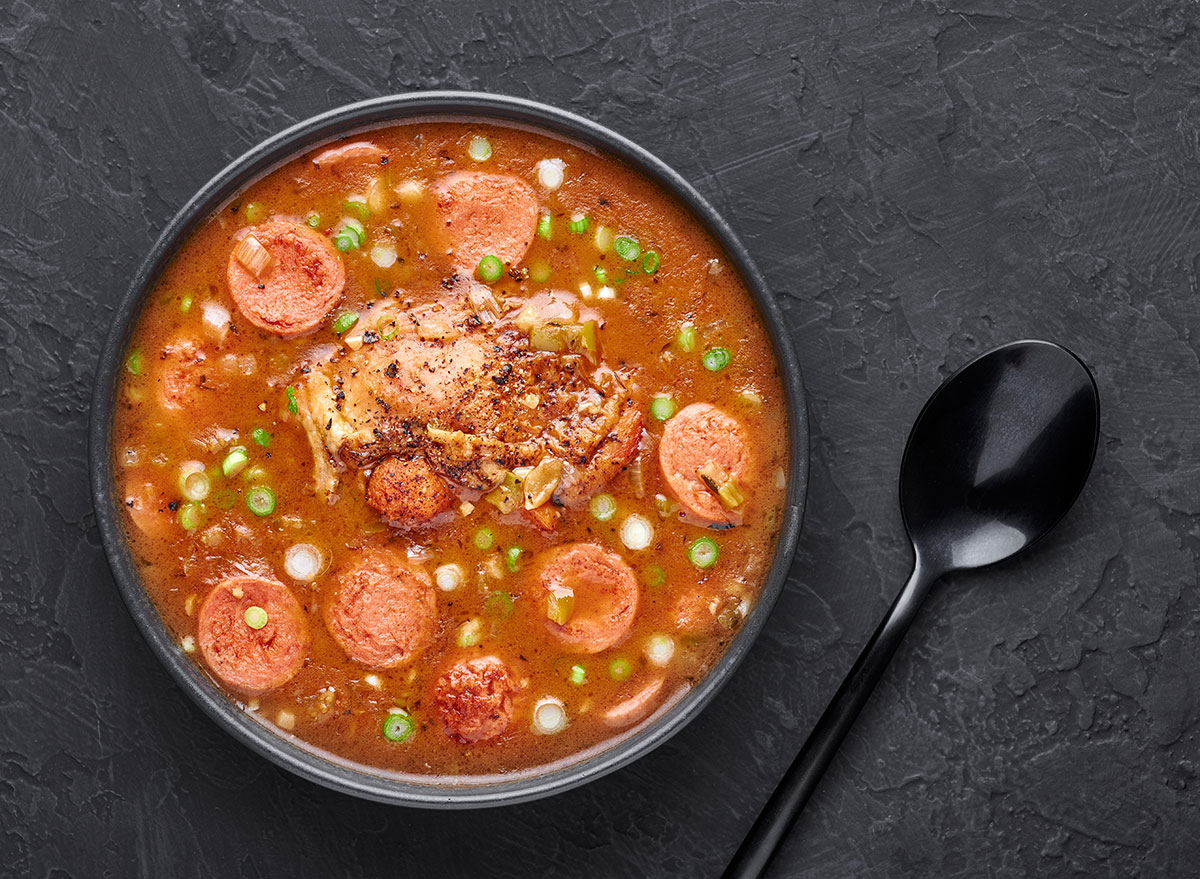 In Louisiana, gumbo is one meal no one can resist trying.
Nevada: Shrimp Cocktail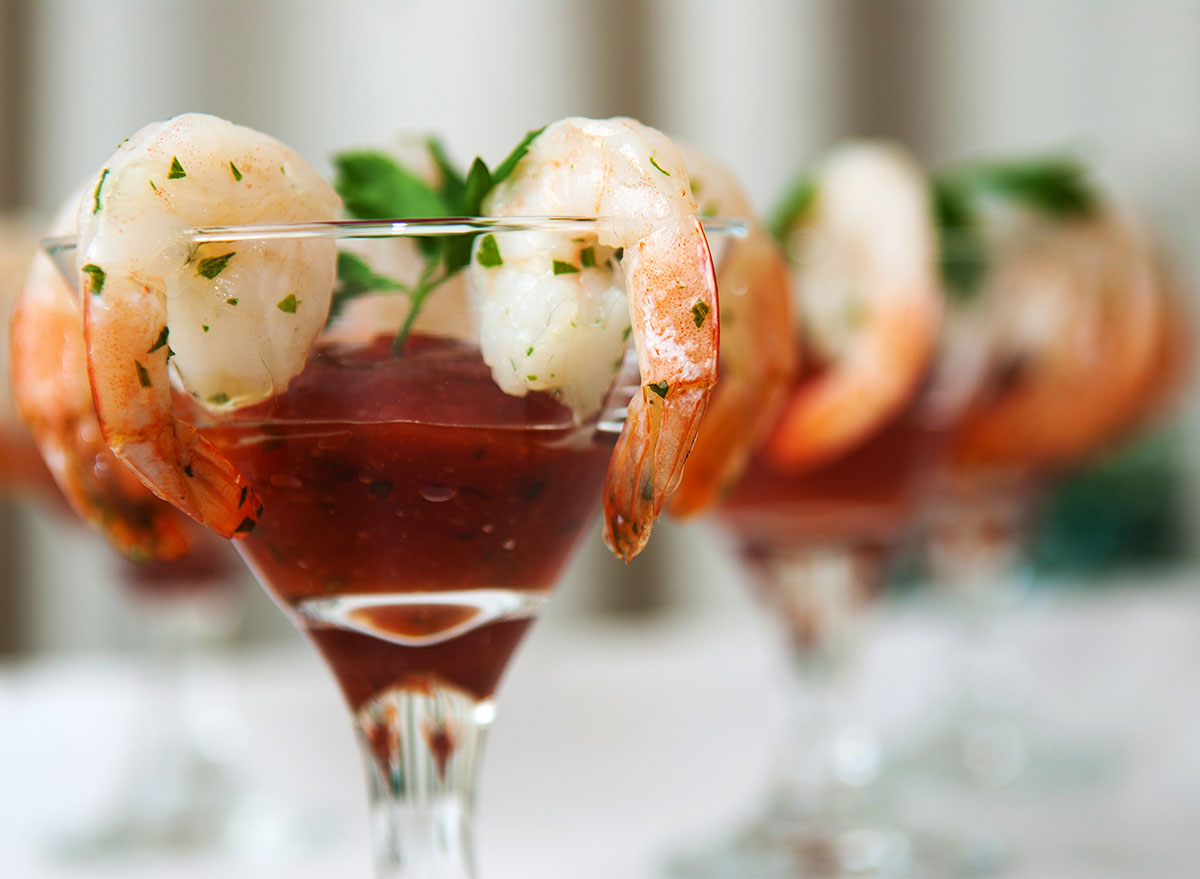 Shrimp is loaded up with protein, which is a plus. You'll want to be careful when it comes to the cocktail sauce, as restaurants can tend to load theirs up with sodium. A little goes a long way!
New Mexico: Tamales
This traditional dish is made up of masa that is steamed in a corn husk. An authentic dish you'll want to try!
New York: Bagels
You haven't had a real bagel until you've had one from New York. Plain and simple as that!
South Dakota: Pheasant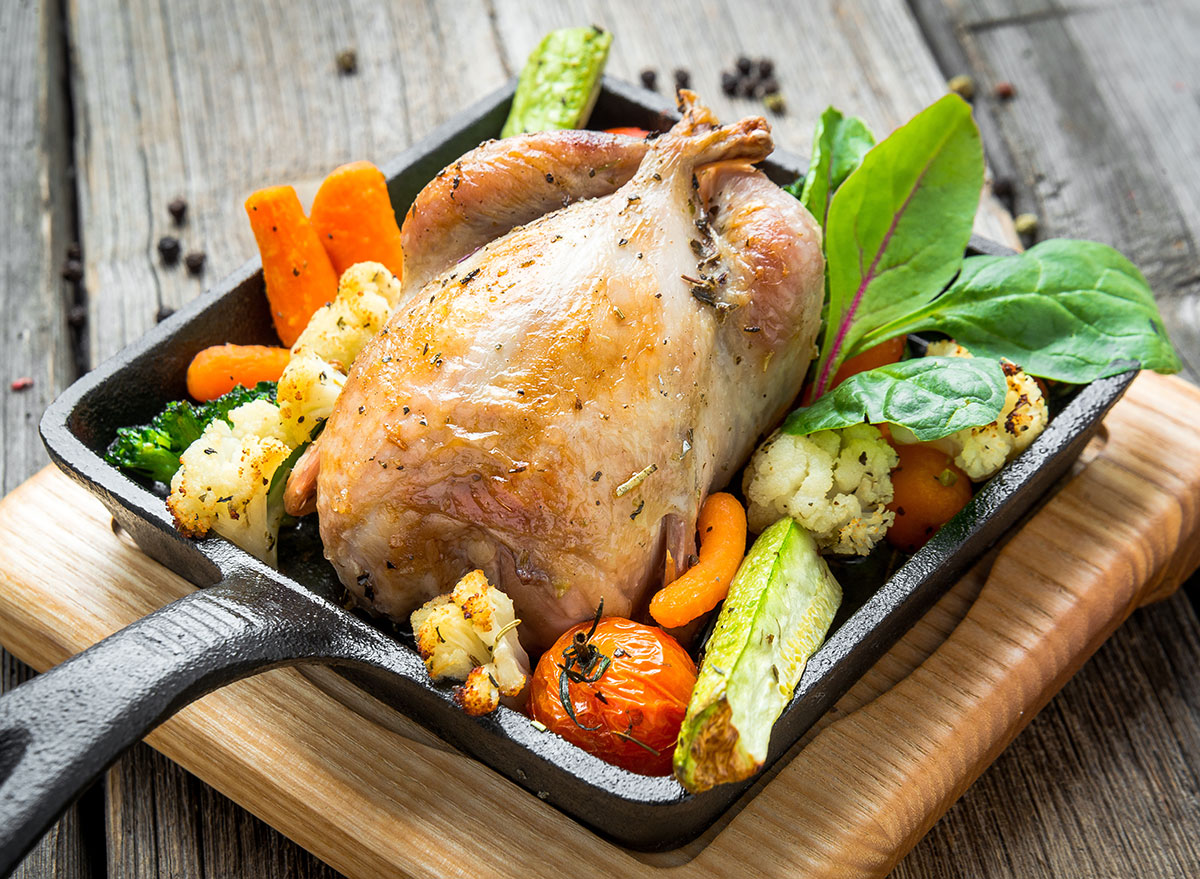 Pheasant is a meat commonly found in South Dakota and will get you a good serving of protein.
Illinois: Deep Dish Pizza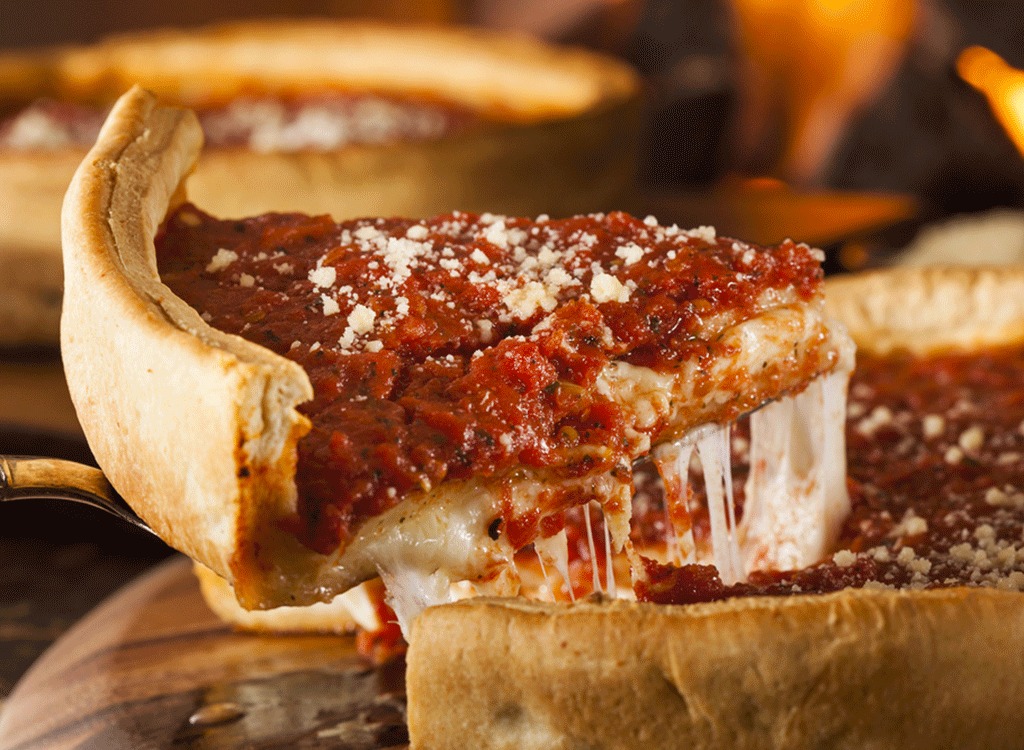 There is a long-standing battle between New York and Chicago-style pizzas. So it's no surprise that Illinois' state food is the deep dish pizza. Try to stick to just one slice!
Kentucky: Bourbon Balls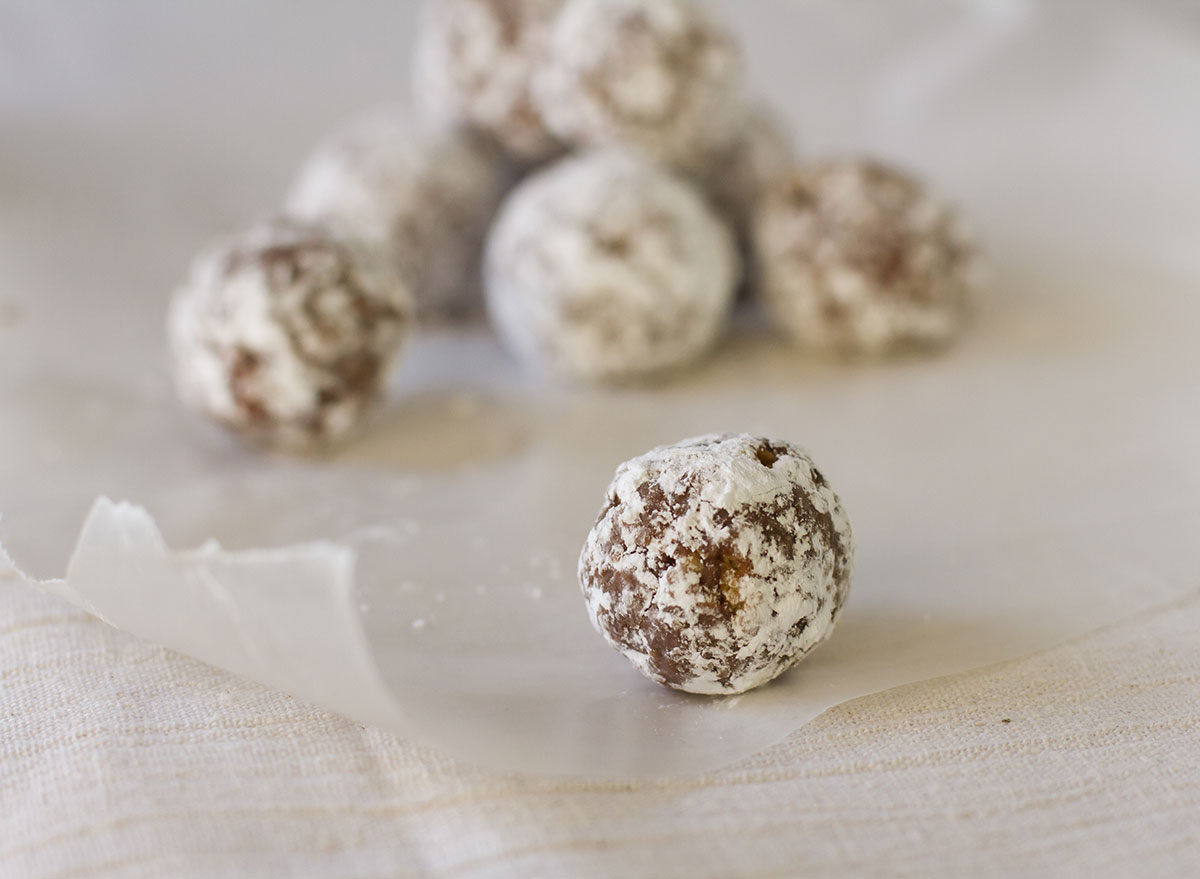 Bourbon balls are a true Southern treat. They're bite-sized desserts made with vanilla, pecans, confectioners' sugar, and bourbon.
Oregon: Marionberry Pie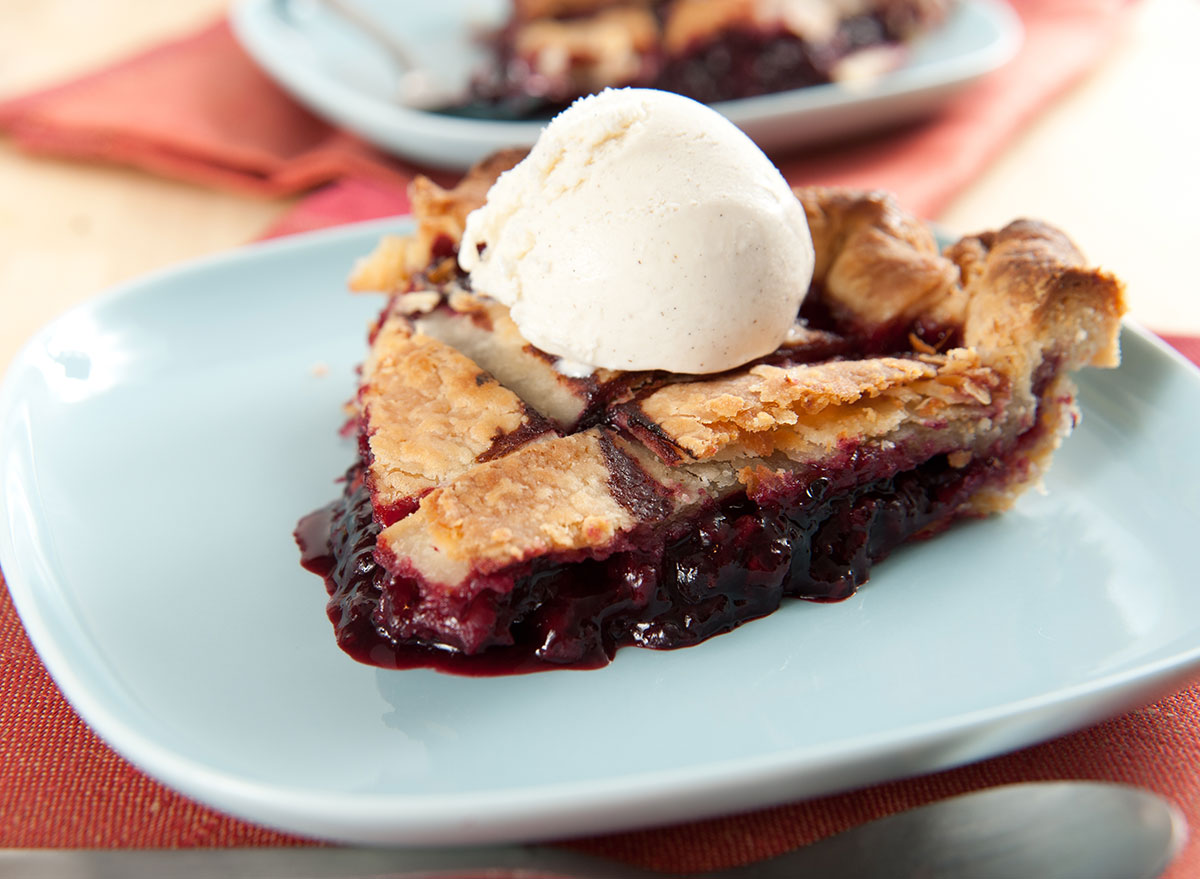 Marionberries are a variety of blackberries that turn a deep purple color, as seen in a slice of marionberry pie. A true Oregon staple.
Minnesota: Hot Dish
Hotdish is a rather unique take on a casserole that often features tater tots. Only in Minnesota!
Missouri: Toasted Ravioli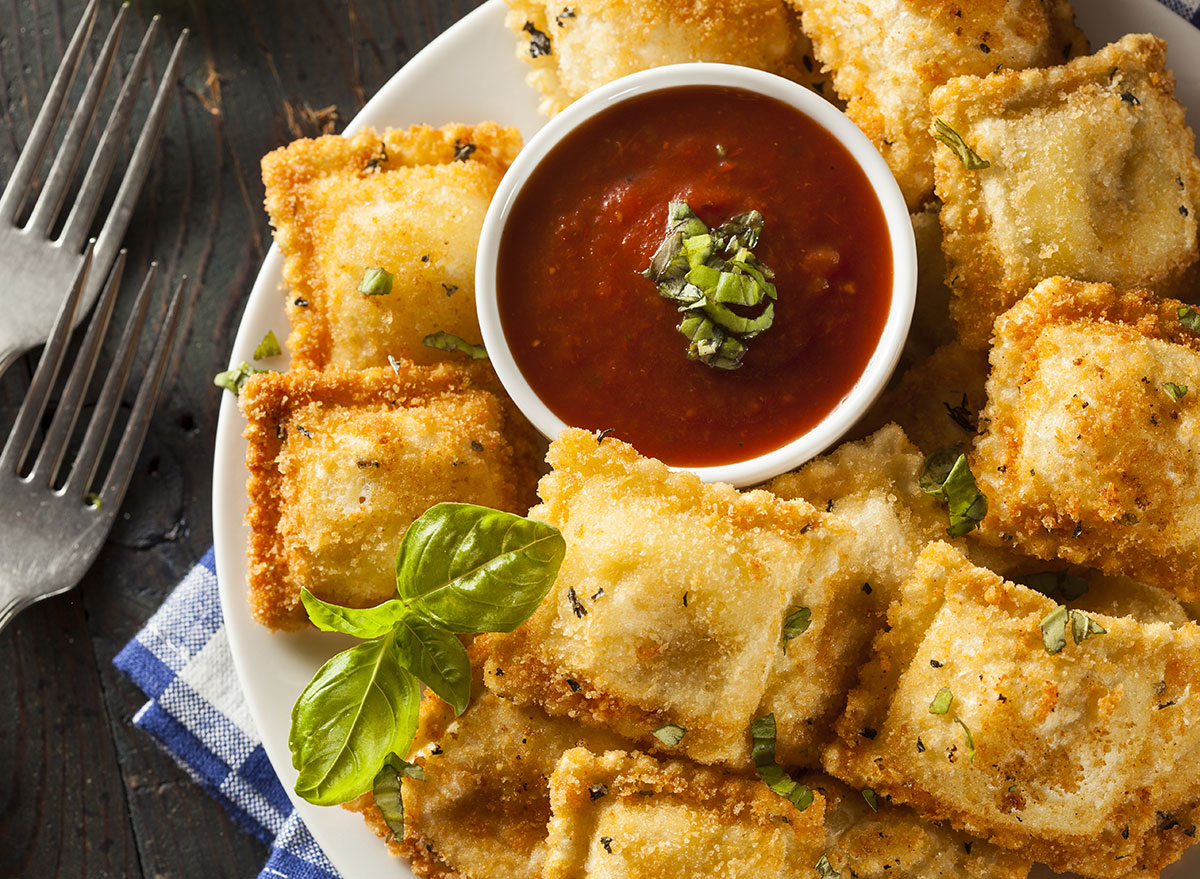 A baked, bread-crumbed ravioli—who could ever say no to that?
Maine: Lobster Rolls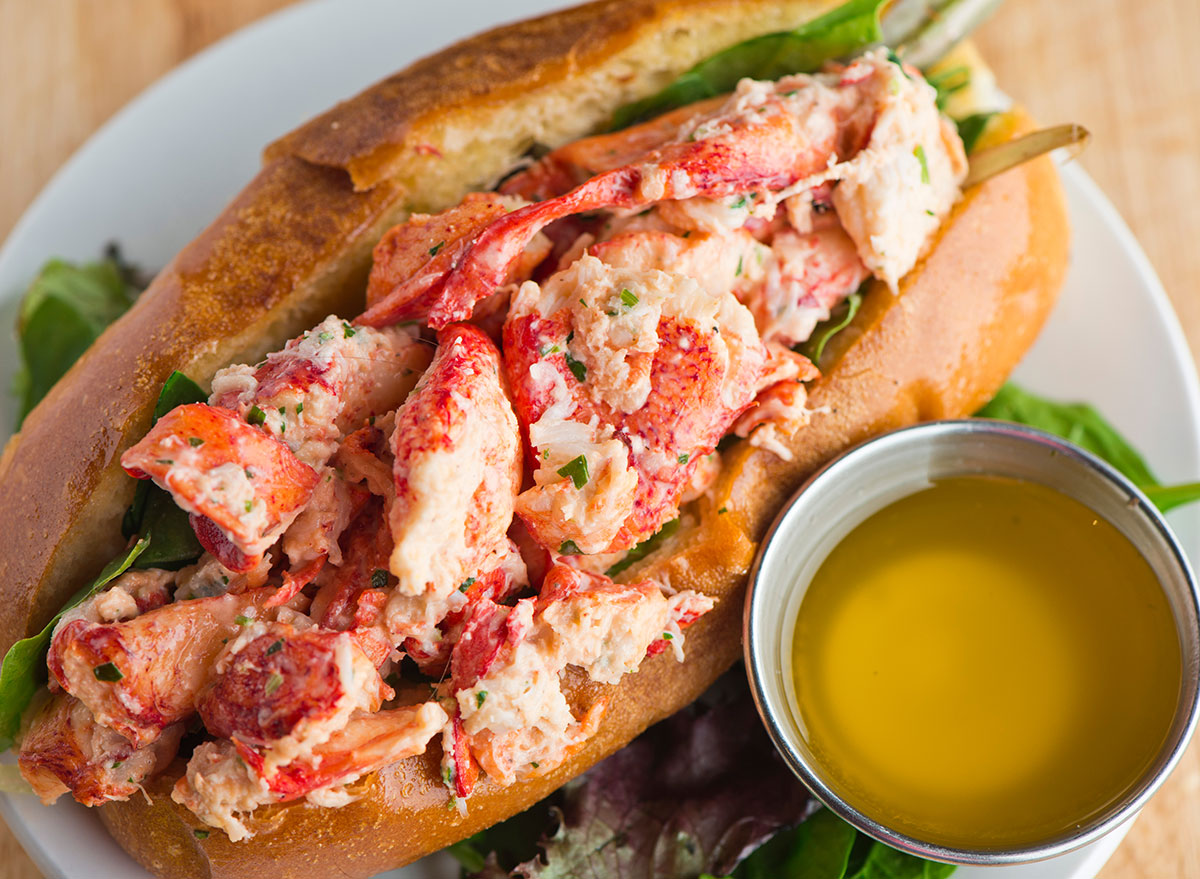 If you've never had a lobster roll before, it's something you simply need to try. You can typically find them two ways: In a split top roll that is packed with cold lobster meat tossed with mayonnaise, or a sandwich filled with warm meat that has been tossed with fresh drawn butter.
Alabama: Pecan Pie
Pecan pie can really satisfy that craving for something sweet, and yet still has a bit of a crunch to it. When you're in Alabama, go for a slice!
Arizona: Chimichangas
In the Southwest part of the U.S., you'll find plenty of Mexican-influenced dishes. Arizona is all about the chimichanga, which is a fried burrito.
Montana: Bison Meatballs
In Montana, you can enjoy some and it's a protein-packed and vitamin-packed alternative to regular beef.
Rhode Island: Stuffed Clams
When you're craving seafood in Rhode Island, stuffed clams are a delicious choice.6254a4d1642c605c54bf1cab17d50f1e
Georgia: Peach Cobbler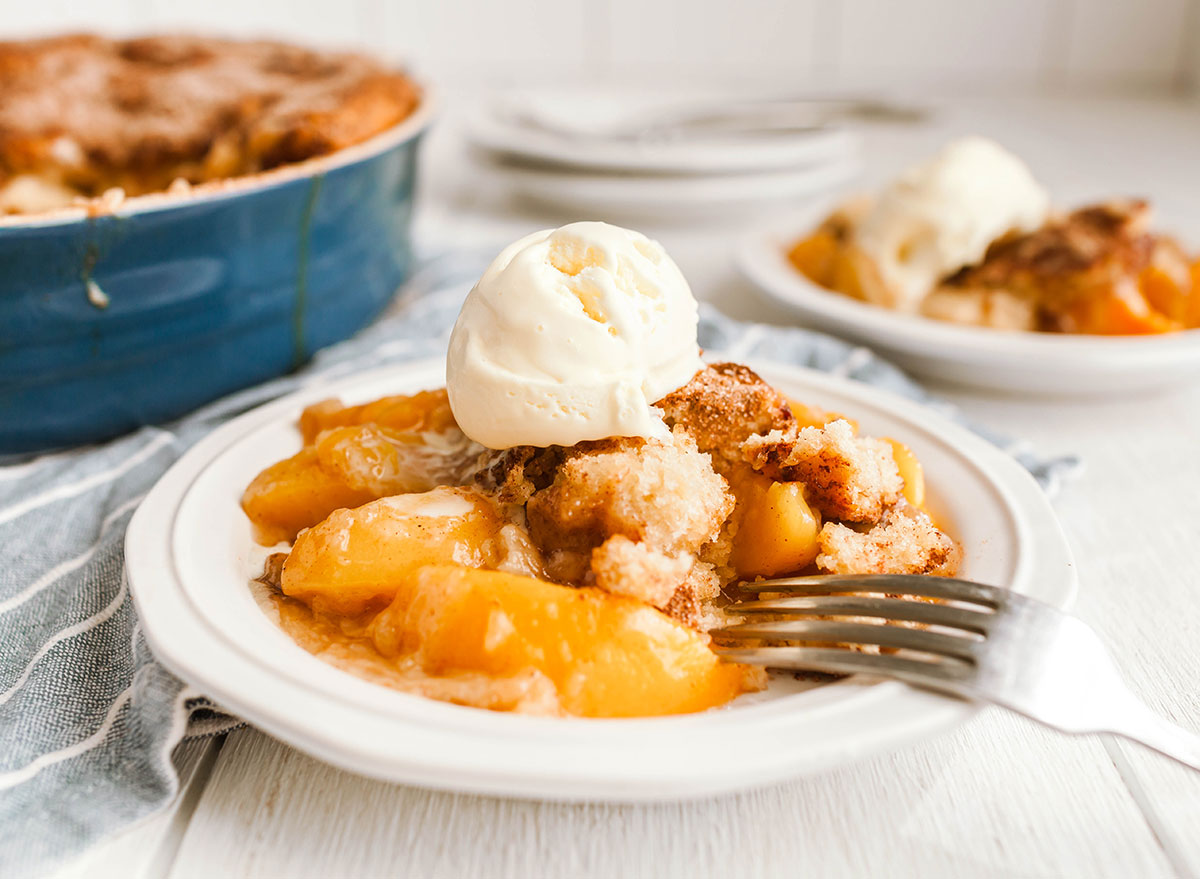 Georgia is a state known for its peaches, so, of course, peach cobbler is the go-to dish.
New Hampshire: Apple Cider Donuts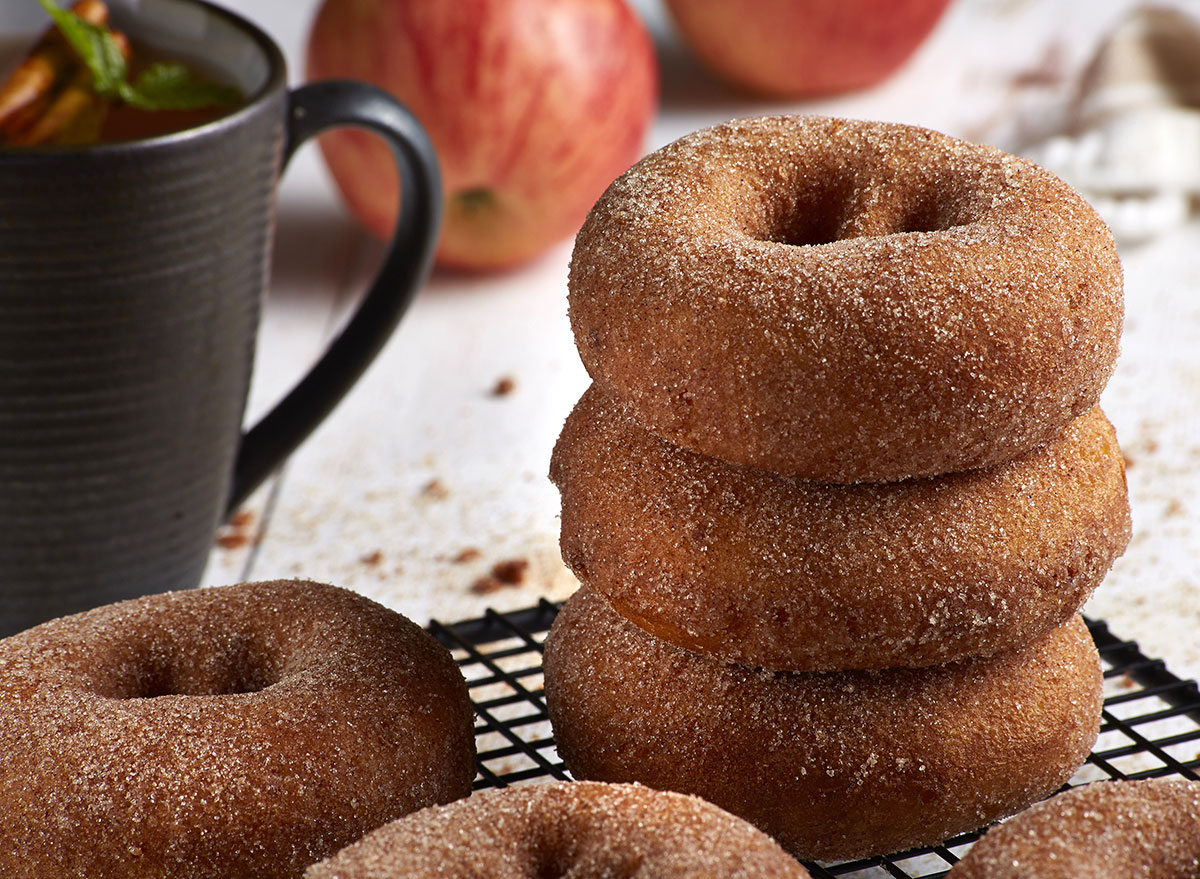 Surprised to see a sweet treat in the No. 9 spot? Well, these apple cider donuts are typically baked instead of deep-fried, so that gives them that slightly better-for-you edge, along with its core ingredients of apple cider vinegar and a seasoning made of cinnamon, cardamom, and nutmeg.
Wisconsin: Cheese Curds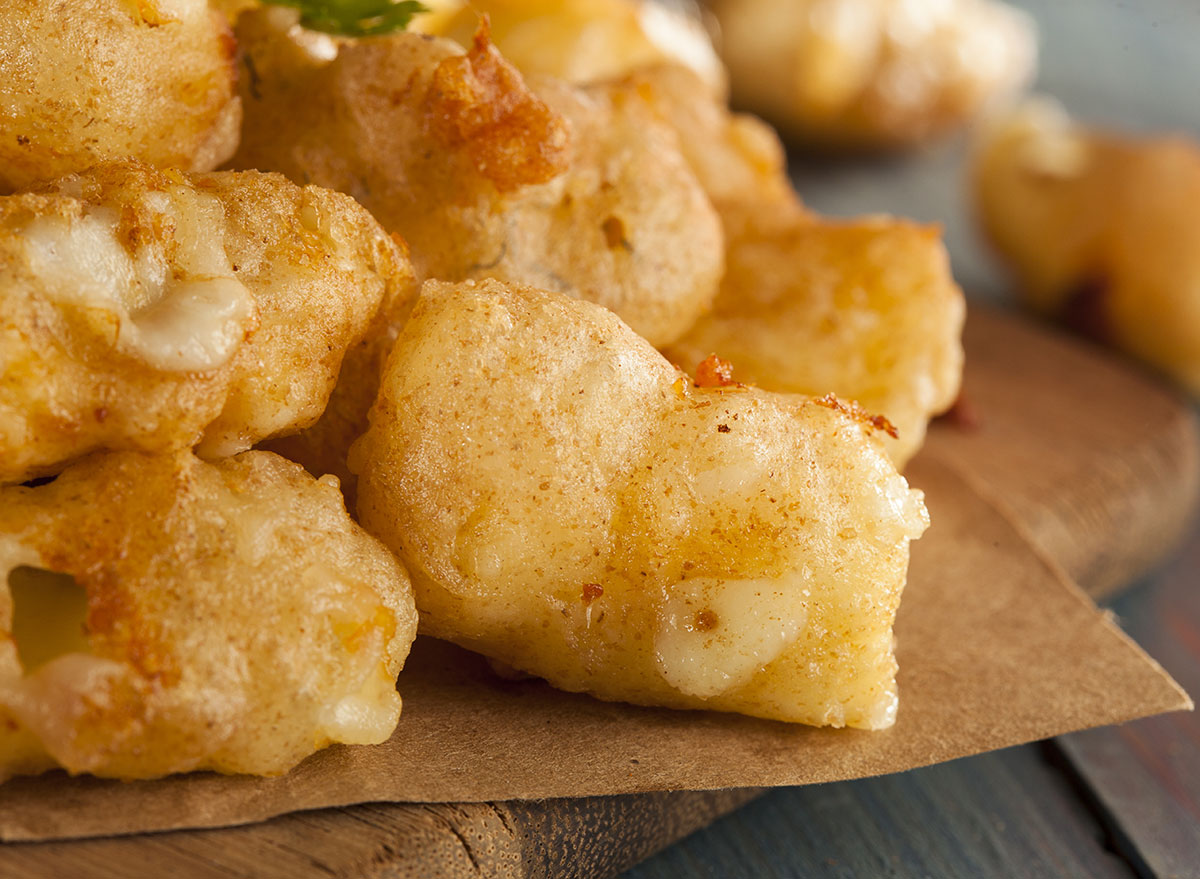 Cheese curds are one of those dishes that you if you get the chance, you need to experience it for yourself.
Pennsylvania: Philly Cheesesteak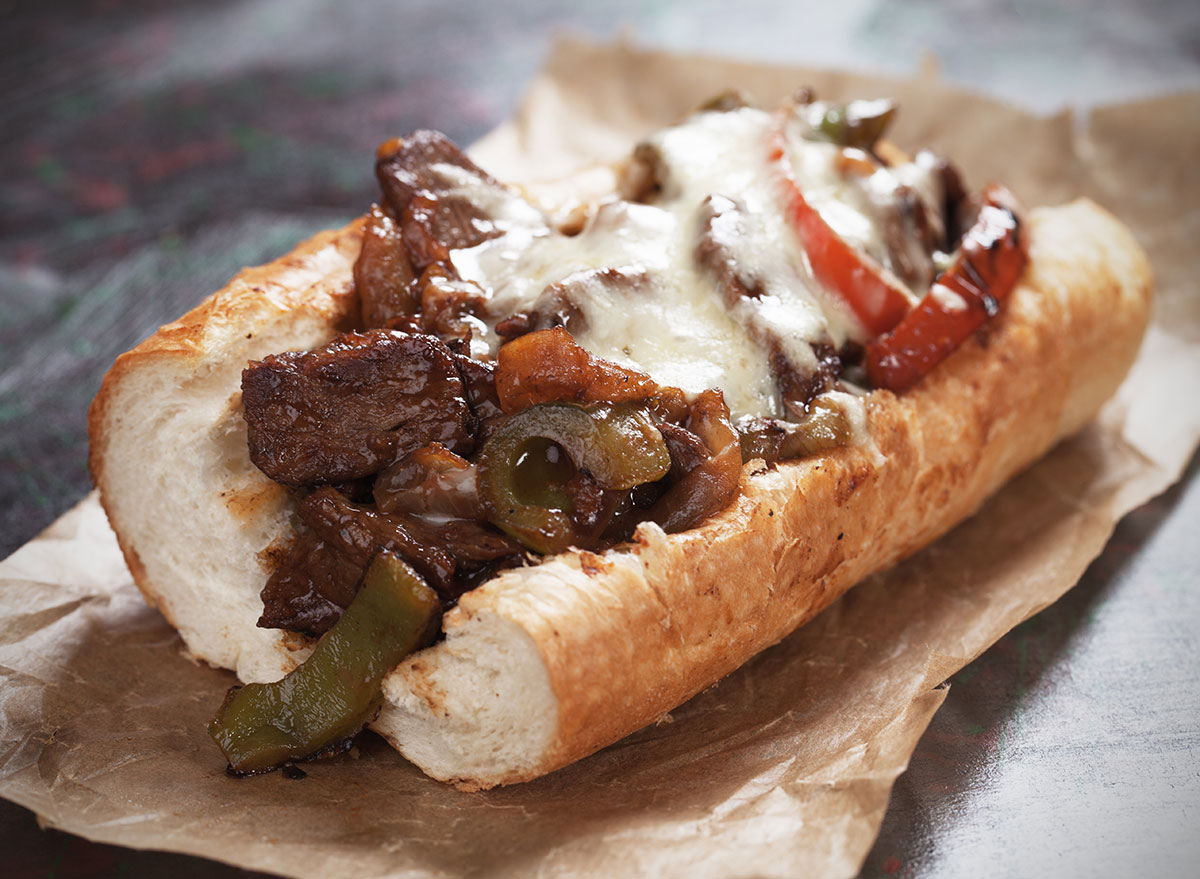 Take this as your sign to try a Philly cheesesteak! There really is just something about melted cheese, onion, peppers, and mushrooms coming together in one sandwich.  
Kansas: Bierocks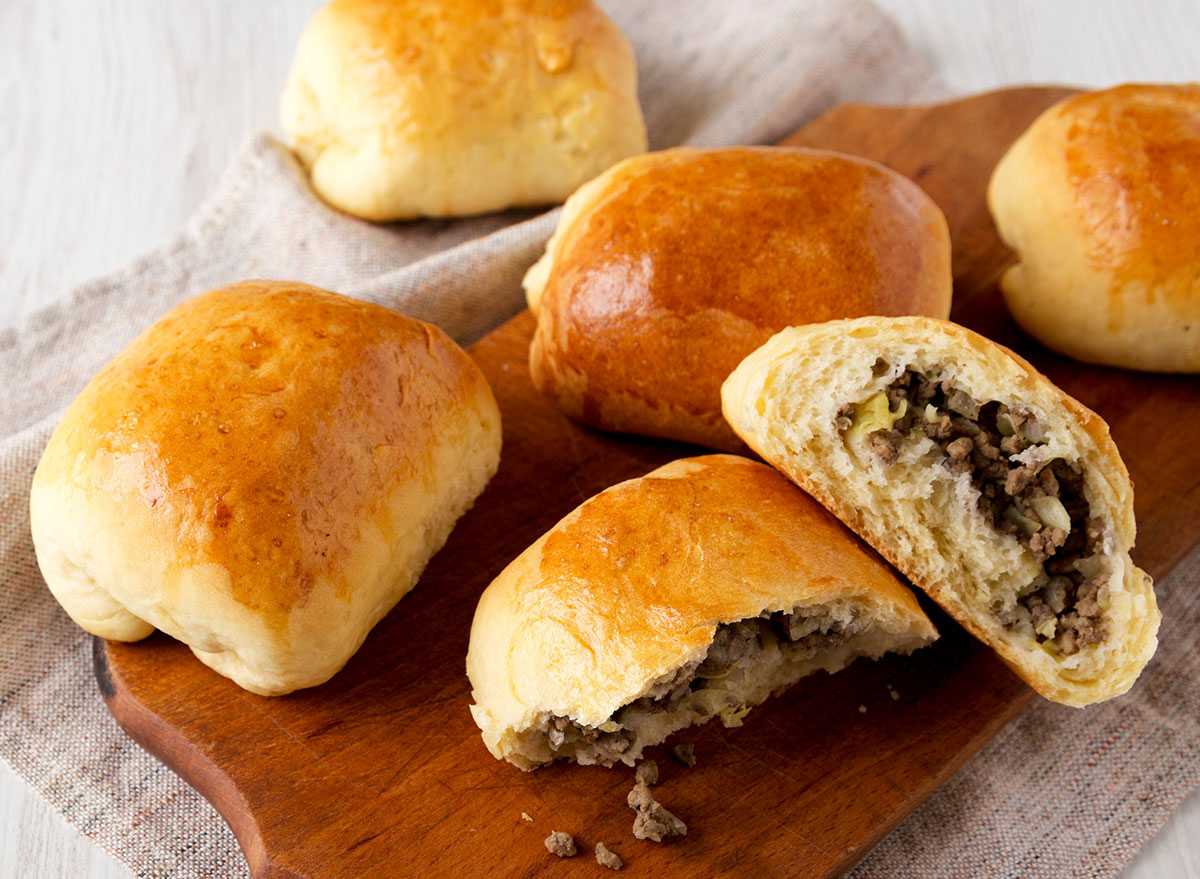 If you've never had bierocks before, you might just think you were picking up a standard roll of bread. One bite, and you'll notice quickly that you're actually feasting on cabbage, meat, and onion stuffed dough.
Connecticut: White Clam Pizza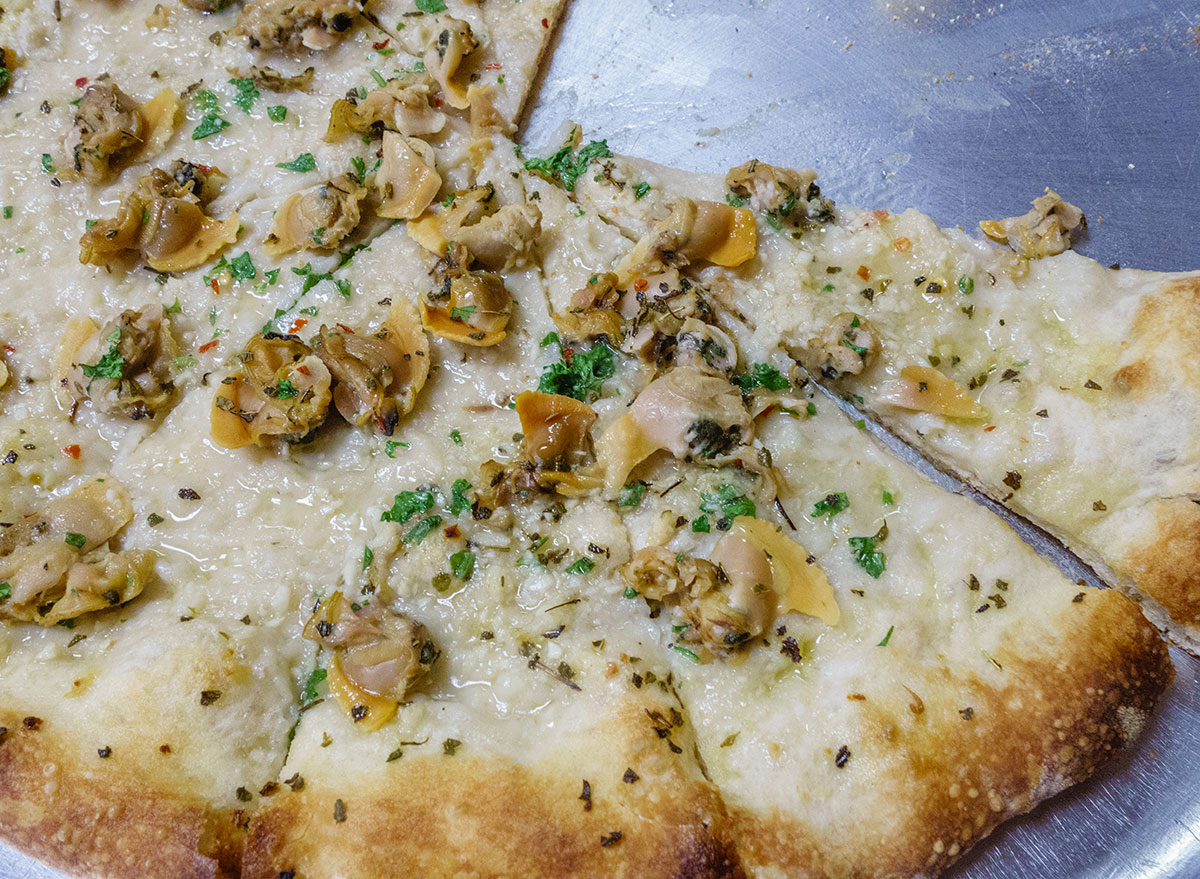 White clam pizza is a staple for foodies in Connecticut. That's all thanks to Frank Pepe, who founded Frank Pepe Pizzeria Napoletana. He put clams, mozzarella, garlic, oregano, and olive oil on a pizza, and it was this recipe that catapulted his business to success. A different take on a typical pizza slice, that's for sure.
Delaware: Scrapple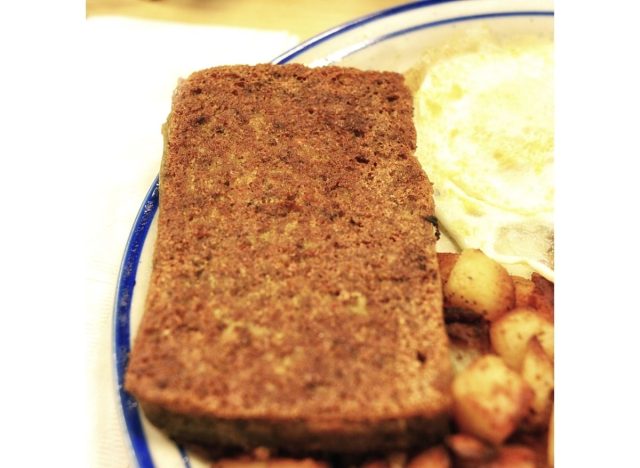 Not really sure what you're looking at here? Well, scrapple is made of pork meat that is boiled, finely minced, and then combined with cornmeal, flour, and spices into a slurry. From there, the semiliquid mixture is formed in loaves that cool and set. And there you go!
California: Avocado Toast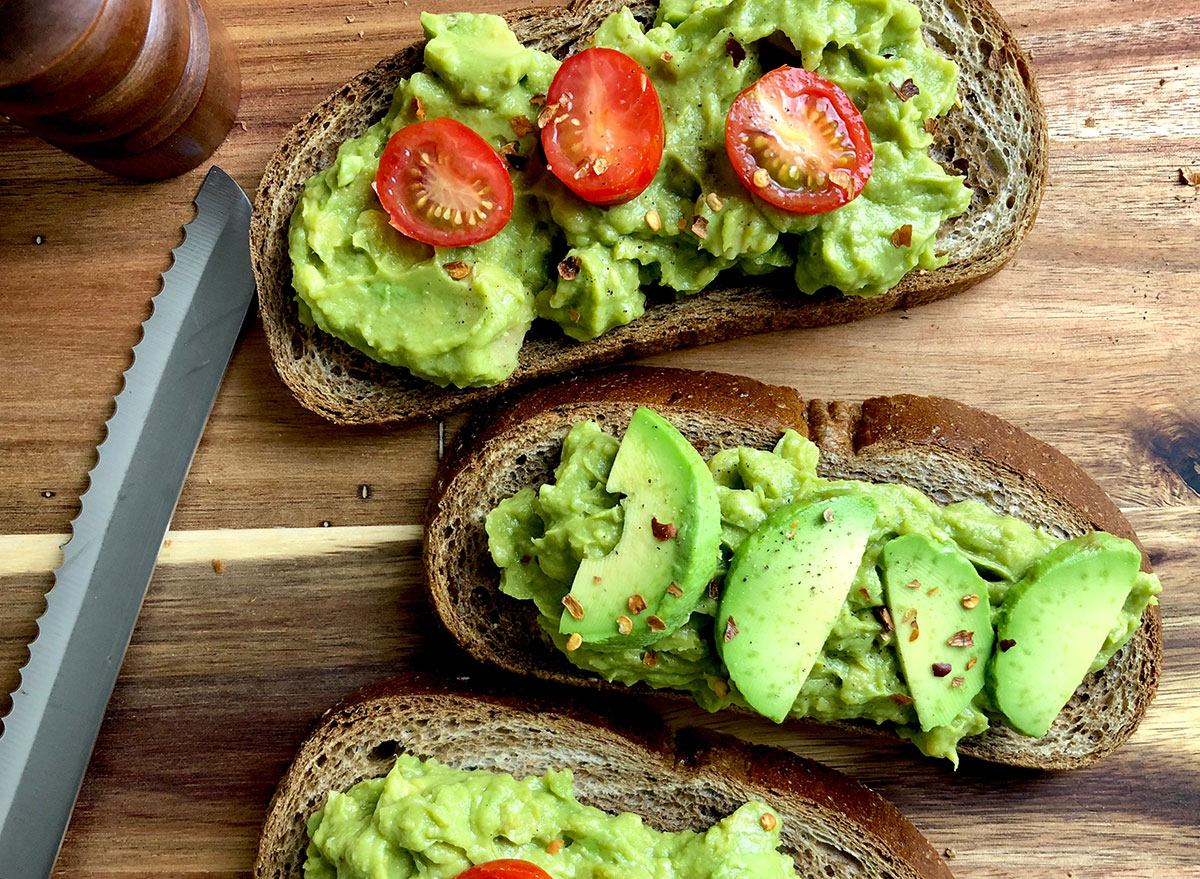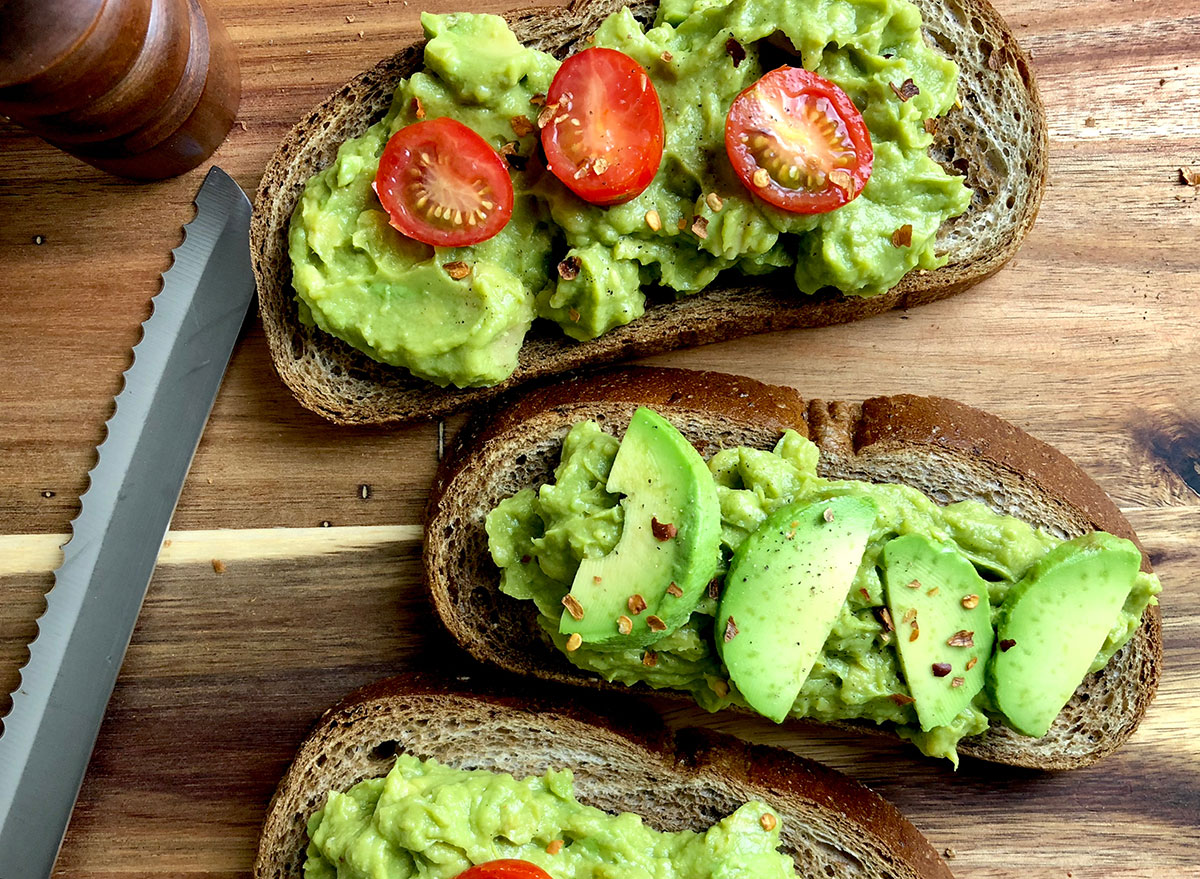 It's no secret that now, you can find avocado toast just about everywhere. It's a staple on brunch menus and has become synonymous as the health-conscious choice for those living in Cali. Avocadoes are loaded up with tons of health benefits, easily making them a food that should be a diet staple for all. Plus, avocado toast is very photogenic, if you're all about that Instagram life.
Maryland: Crab Cakes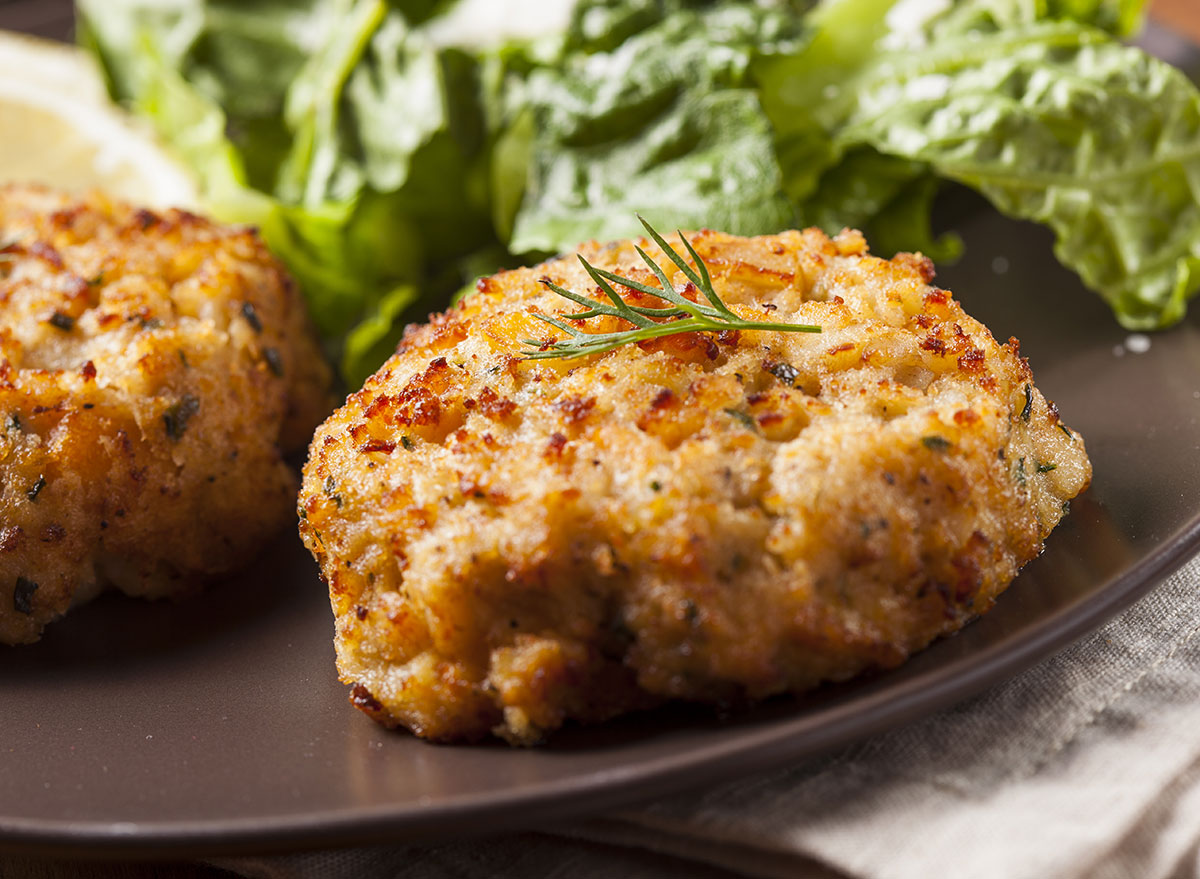 When in Maryland, crabs are a must-try. And why not go for the crab cakes?
Washington: Oysters
We've finally reached the most nutritious of all the state dishes. In Washington, oysters are the signature dish that happens to be one of the best foods you can enjoy. Oysters boast the highest number of micronutrients of all the state dishes, as they happen to be low in sodium, and yet relatively high in iron, vitamin A, and vitamin C.
Discover more popular things in your state:
The Most Popular Drink in Every State
The Best Spot to Get a Burrito in Every State
Jennifer Maldonado
Jennifer Maldonado is a senior editor at Eat This, Not That!, specializing in food and health content.
Read more about Jennifer