We Tried 6 Vanilla Cake Mixes and This Is the Best!
Not all boxed cake mixes are created equal.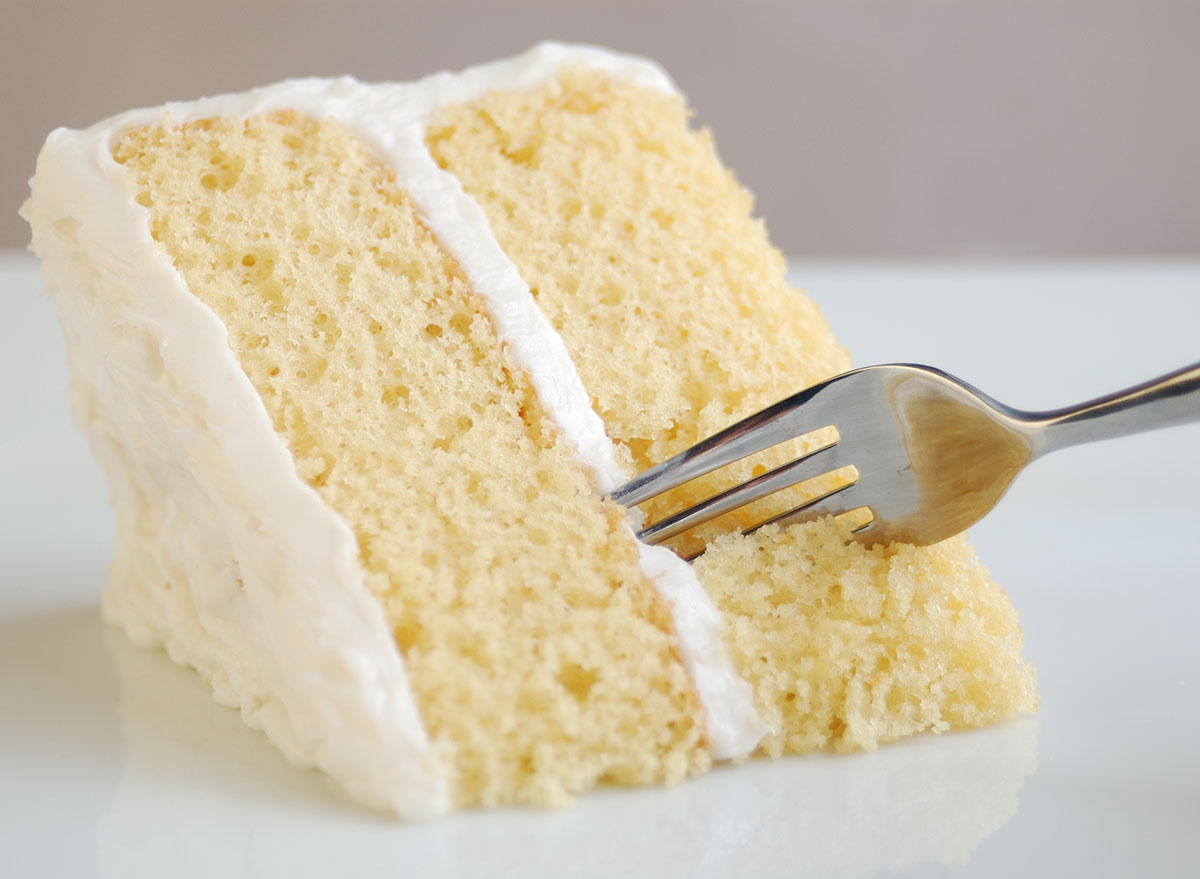 Cake mixes are perfect for when you simply don't have the time to make a cake. As much as you might want to, sometimes our busy lives can get in the way, leaving us no time or energy to make a cake from scratch. But whether it's for a birthday party or a special occasion, cake is a necessity. With the crack of a few eggs, some water, and oil, you can whip up a cake in less than an hour—seriously.
However, when it comes to vanilla cake mix, it can be tricky to find the right one. At the supermarket, there are usually several brands to pick from, with similar-looking boxes and ingredient lists. While this might sound intimidating, we've put our mixers to the test to find the cake mix right for you! I tried 6 vanilla cake mixes to find the very best one. During my taste test, I looked for a mix that created a lightweight, moist slice with the most satisfying vanilla flavor.
Here's how the vanilla cake mixes ranked in my taste test, listed from worst to best. And for more, don't miss these 15 Classic American Desserts That Deserve a Comeback.
Simple Mills Almond Flour Vanilla Cake Mix
6254a4d1642c605c54bf1cab17d50f1e
Made with almond and coconut flour, this vanilla cake mix from Simple Mills created one of the thinnest batters I've ever seen. Not only was it overly runny and thin, but the baking recommendation time also nearly burned my cake. Aside from that, the cake had a more grainy texture and an almond flavor as opposed to vanilla, so it was definitely a bummer. Maybe next time I'll bake for a shorter amount of time and add a hint of vanilla extract to see if that helps!
Foodstirs Organic Simply Sweet Vanilla Cake Mix
When I think of vanilla cake, the word "sweet" typically comes to mind. However, that was not the case with this cake mix from Foodstirs. The best way I can describe the taste and texture was that it was similar to pound cake minus the butter. While the flavor wasn't my favorite, the mix is made from organic ingredients and contains 25% less sugar than typical cake mix, making this treat more accessible to those with dietary restrictions.
XO Baking Co. Gluten-Free Vanilla Gourmet Cake Mix
If you like your cake to be super sweet, then this gluten-free vanilla gourmet cake mix from XO Baking Co. is for you. Personally, I think that whenever I have gluten-free products, they tend to taste like cardboard. However, this tasted nearly identical to its glutinous counterparts. Not only did it look like vanilla cake, but it was also light, fluffy, and extremely moist. (My family couldn't even tell the cake was gluten-free, so that speaks volumes.)
Duncan Hines Perfectly Moist French Vanilla Cake Mix
I've been using Duncan Hines boxed cake mixes for years, and once again, it did not disappoint. The cake was light and fluffy but also sturdy enough to eat without falling apart with each bite. The vanilla flavor was present but not overpowering, making this mix a top competitor in my book.
Miss Jones Baking Organic Vanilla Cake Mix
Sometimes with vanilla cake, it's easy to make things too sweet with both the cake and the frosting. However, this mix has just the perfect amount of sweetness, and it both tastes and looks homemade—bonus points for sure. I was blown away by the real vanilla taste as opposed to the artificial flavorings of other brands. This mix is even vegan-friendly with just a few simple ingredient swaps.
Betty Crocker Super Moist French Vanilla
There's a reason why Betty Crocker cake mixes can be found in nearly all grocery stores—the brand's offerings are delicious. Made with pudding, this vanilla cake mix creates the ultimate moist yet soft slice with the classic vanilla taste that makes it so irresistible. Spread some vanilla frosting on top, and you've got one show-stopping cake.
Casey Clark
Casey Clark is a current journalism student at Hofstra University with a passion for food, beauty, and entertainment.
Read more about Casey