17 Old-Fashioned American Desserts That Deserve a Comeback
When was the last time you had one of these desserts—if ever?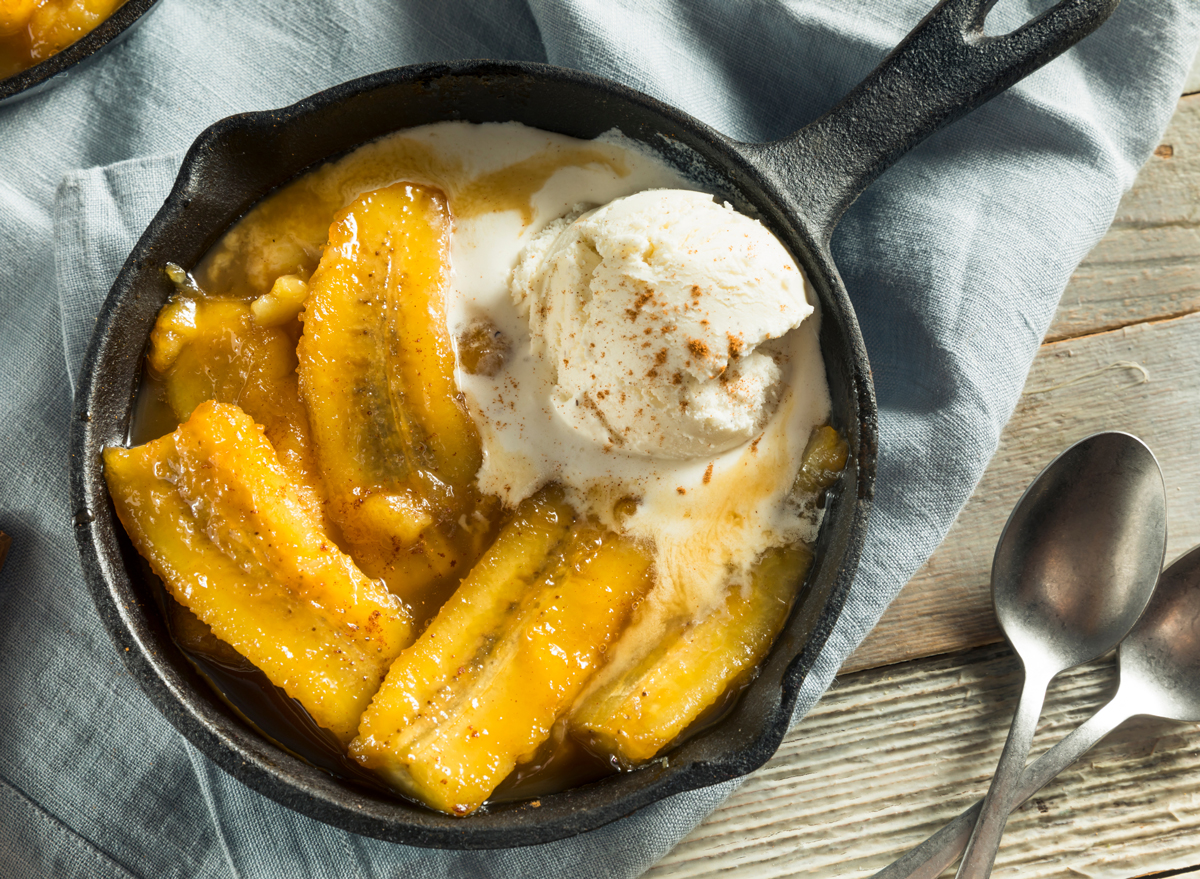 America loves its sweets, and this love affair with cakes, pies, and other desserts has been going on for quite some time. Here are 15 classic American desserts that have, for the most part, disappeared. And for more American food facts, don't miss these 40 Fast-Food Dishes That Defined America.
Whoopie Pies
You may remember this fluffy, subtly-chocolate dessert from when you were a kid. Originating from the Amish, the soft white filling sits perfectly between two cake-like cookies, and it's no secret that everyone makes a mess while eating one every time. These became an American staple dessert back in the early 1900s, but especially a huge hit in Maine and Pennsylvania. This recipe takes on a slightly less sweet twist by using a tasteful cream cheese filling, absolutely worth a try!
Get the recipe for Chocolate Biscoff Whoopie Pies from Gimme Some Oven.
Ambrosia Salad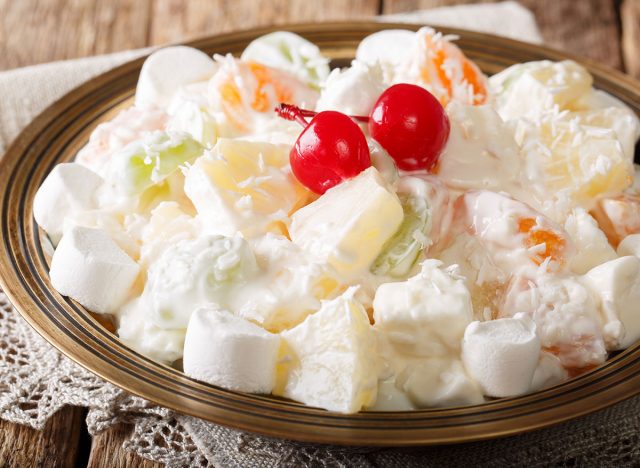 The Southern love for this classic dessert never runs thin, making it a traditional dish that's been served up since the 1800s. Typically, a mixture of fresh fruit and tons on tons of Cool Whip will be thrown together to make this light dessert. The first-ever recipe was published in 1860 in the North Carolina cookbook, "Dixie Cookery: or How I Managed My Table for Twelve Years." Ever since, Southerners have brought the dish to almost every single party, family function, and holiday you could possibly think of.
Get The Seasoned Mom's recipe for Ambrosia Salad.
Tomato soup spice cake
You say tomato, we say tomato soup cake. Campbell's is behind this cake, which first surfaced in the '20s and '30s and then ripened in 1940 with a recipe called Steamed Fruit & Nut Pudding, featuring steamed pudding with spices like cinnamon, nutmeg, cloves and Campbell's Condensed Tomato Soup. The cake went on to have many incarnations, including a Halloween Spice Cake in the '40s. And in the '60s, it was even featured on a Campbell's soup label, making it the first recipe ever to appear on a soup can.
Get Veggie Desserts' recipe for Tomato Soup Cake.
Lady Baltimore cake
This classic American beauty was created with white cake layers and a fruity and toasted nut filling (figs, raisins, pecans, walnuts) and was crowned with boiled marshmallow icing. It was a Southern belle cake and often had a leading role as a wedding cake in the early 20th century. The Lady Baltimore cake apparently had nothing to do with the city of Baltimore, or a lady, for that matter. From most accounts, the origin of the cake's name remains an enigma.
Get Martha Stewarts' recipe for Lady Baltimore Cake.
And for more iconic Southern delicacies, don't miss these 35 Southern Dishes Your Grandparents Used to Make.
Lemon chiffon cake
Light and airy thanks to the many beaten egg whites that are folded into the batter, this chiffon cake was one of the first to use vegetable oil instead of more traditional solid fats like butter. The tale of the cake goes something like this—a Los Angeles insurance agent named Harry Baker (seriously) invented the cake in 1927 and kept the recipe a guarded secret, making it exclusively for Hollywood movie stars, as well as for the Brown Derby in Los Angeles, believed to be the first restaurant to serve the chiffon cake. Fast forward to 1947, when General Mills bought the recipe and Betty Crocker shared it. The rest is history!
Get Cookies & Cups' Recipe for Lemon Chiffon Cake.
RELATED: Your ultimate restaurant and supermarket survival guide is here!6254a4d1642c605c54bf1cab17d50f1e
Brown Betty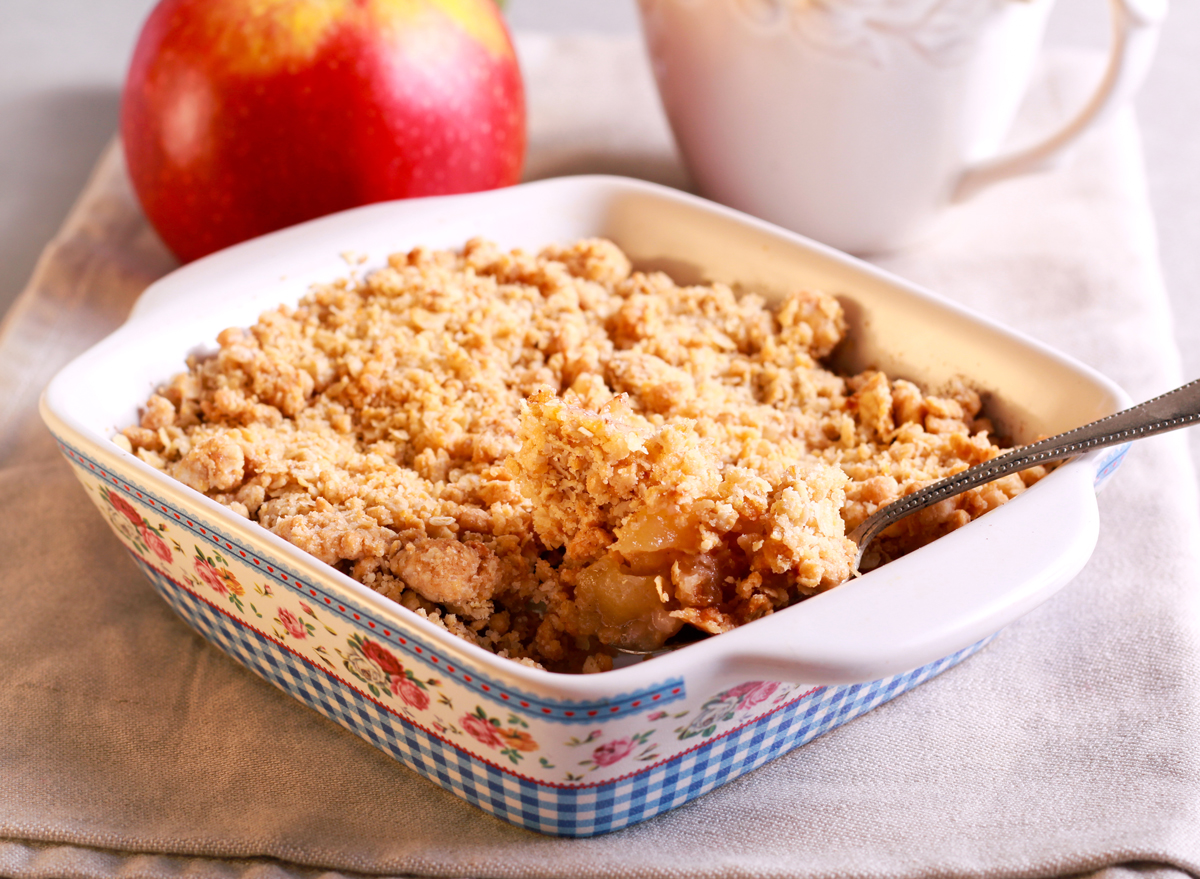 This classic American dessert, sometimes called Apple Brown Betty, is a fruit-centric dessert in the same gene pool as the cobbler and apple crisp, and it first surfaced in the late 1800s. Typically, apples, pears, or berries are baked, and the fruit is then layered with sweet buttered crumbs and kissed with a dollop of whipped cream. President Reagan and his wife, Nancy, were fans of the Apple Brown Betty when living in the White House. And, no, Betty is not Betty Crocker; the origin of the dessert's name is up for grabs.
Get Small Town Woman's recipe for Brown Betty.
Hermits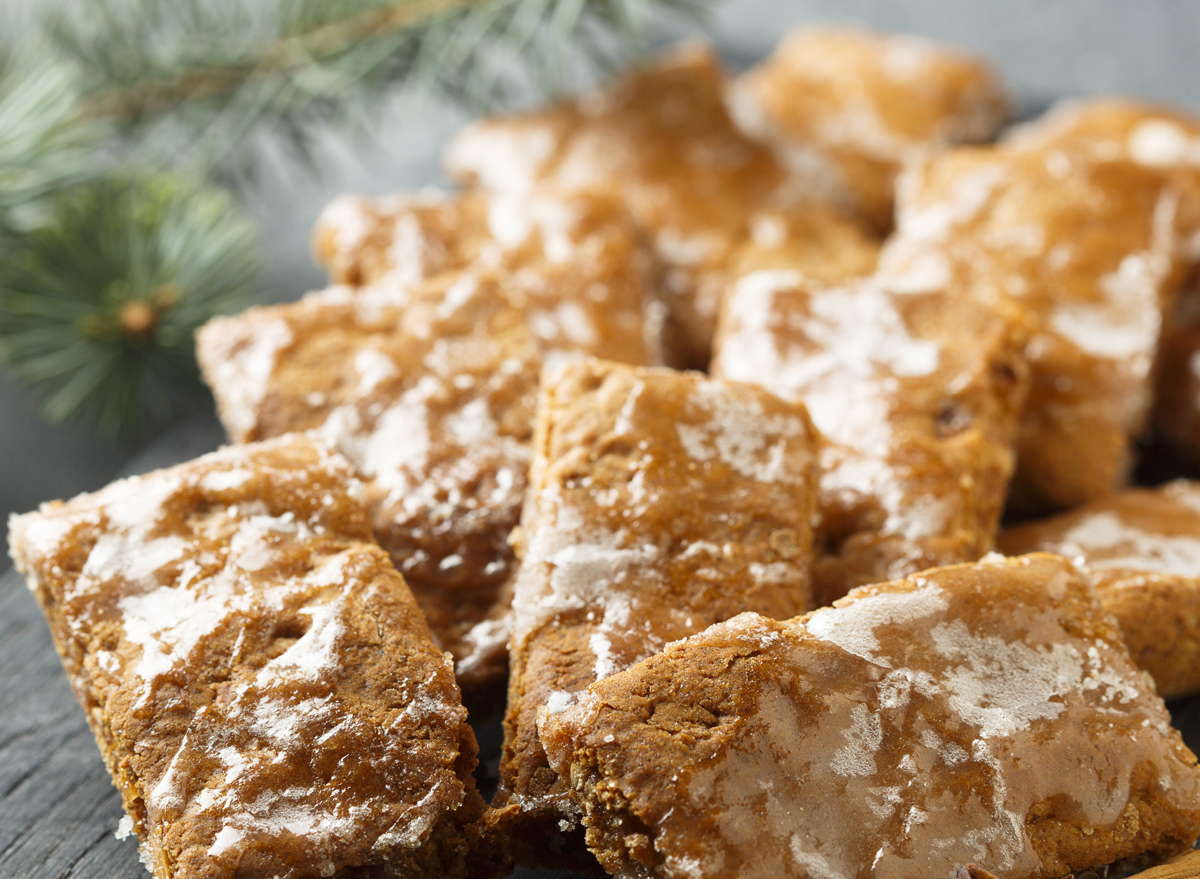 The hermit was wicked popular in New England in the early 20th century, thanks to Fannie Farmer, who had a recipe for the spicy cookie in her cookbooks, including the uber-popular Original Fannie Farmer Cookbook in 1896, which was my South Boston grandmother's Bible. The homely hermit disappeared for the most part, although the cookie comes out of reclusiveness occasionally.
Get the Lemon Bowl's Recipe for Hermits.
Junket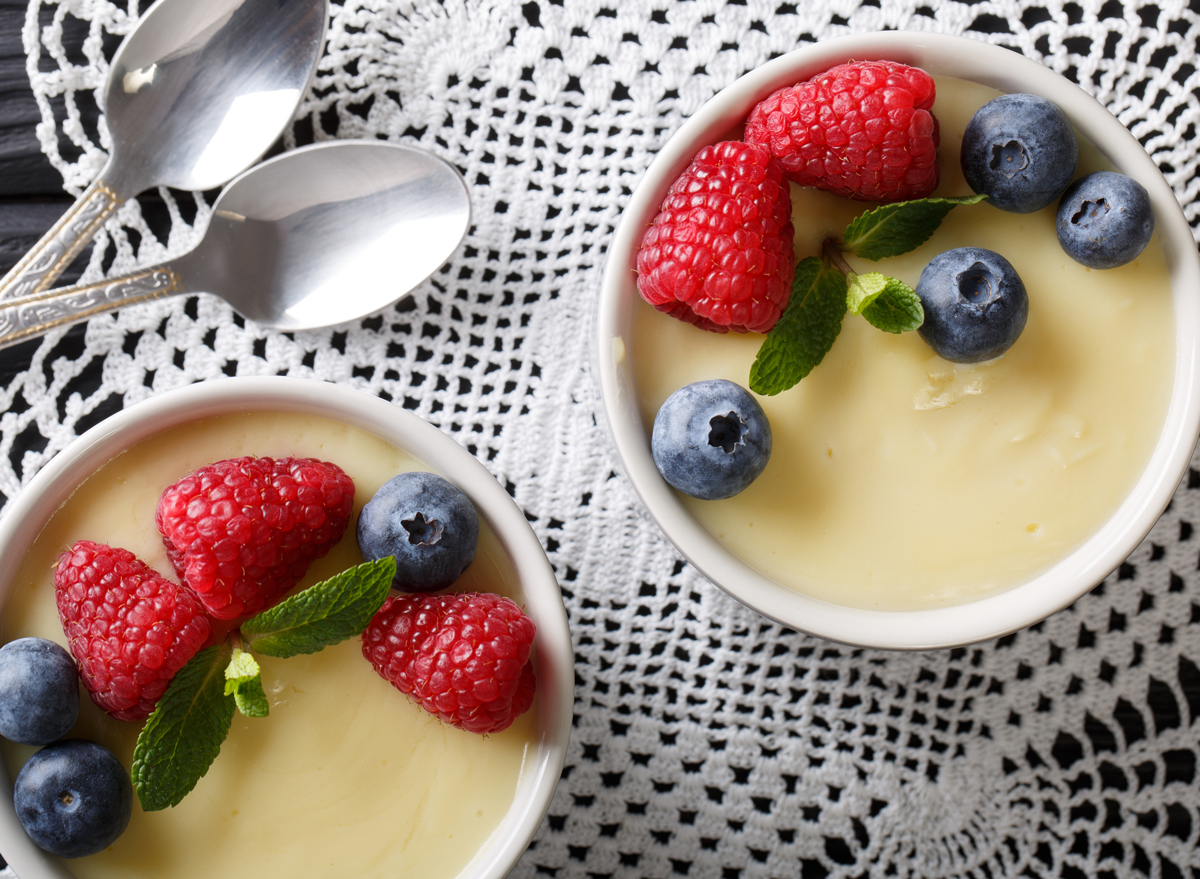 It may be hard to believe now, but junket was a popular dessert in the 20th century, especially in the northeast. It was made with rennet (a digestive enzyme that curdles the milk) and sweetened milk, and it was prepared for kids who were sick because it helped with digestion.
Get Jam and Clotted Cream's recipe for Junket.
Shoofly pie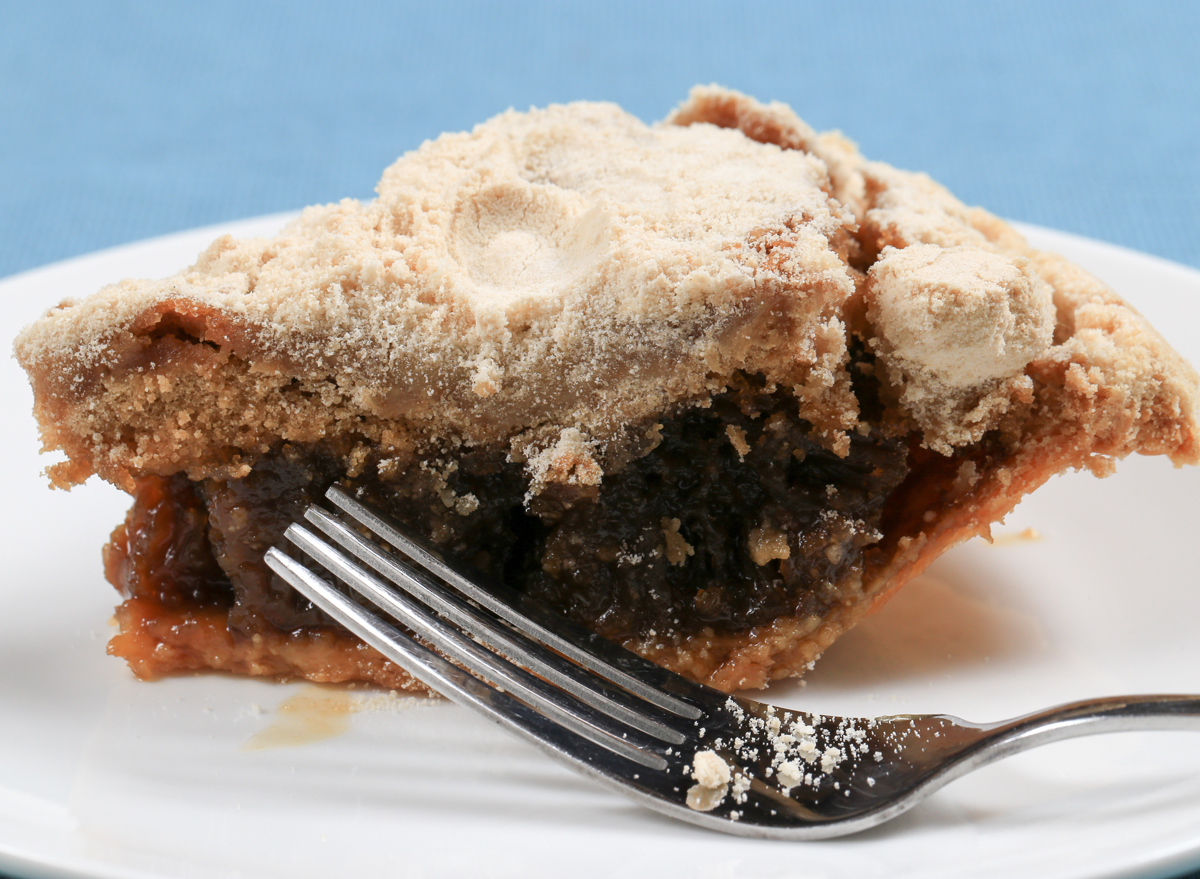 A pie so popular that it inspired a song (Shoo fly, don't bother me…."), this treat dates to the 1800s in Pennsylvania Dutch country. The dessert got its name because it was so appealing, both in looks and scent, that it attracted flies. It's made with rich buttery crumbs and molasses. Shoofly Pie is to the Pennsylvania Dutch what Boston cream pie is to New Englanders and pecan pie is to Southerners. And for more sweet ideas, don't miss these 15 Healthy Pie Recipes.
Get Southern Living's recipe for Old-Fashioned Shoofly Pie.
Baked Alaska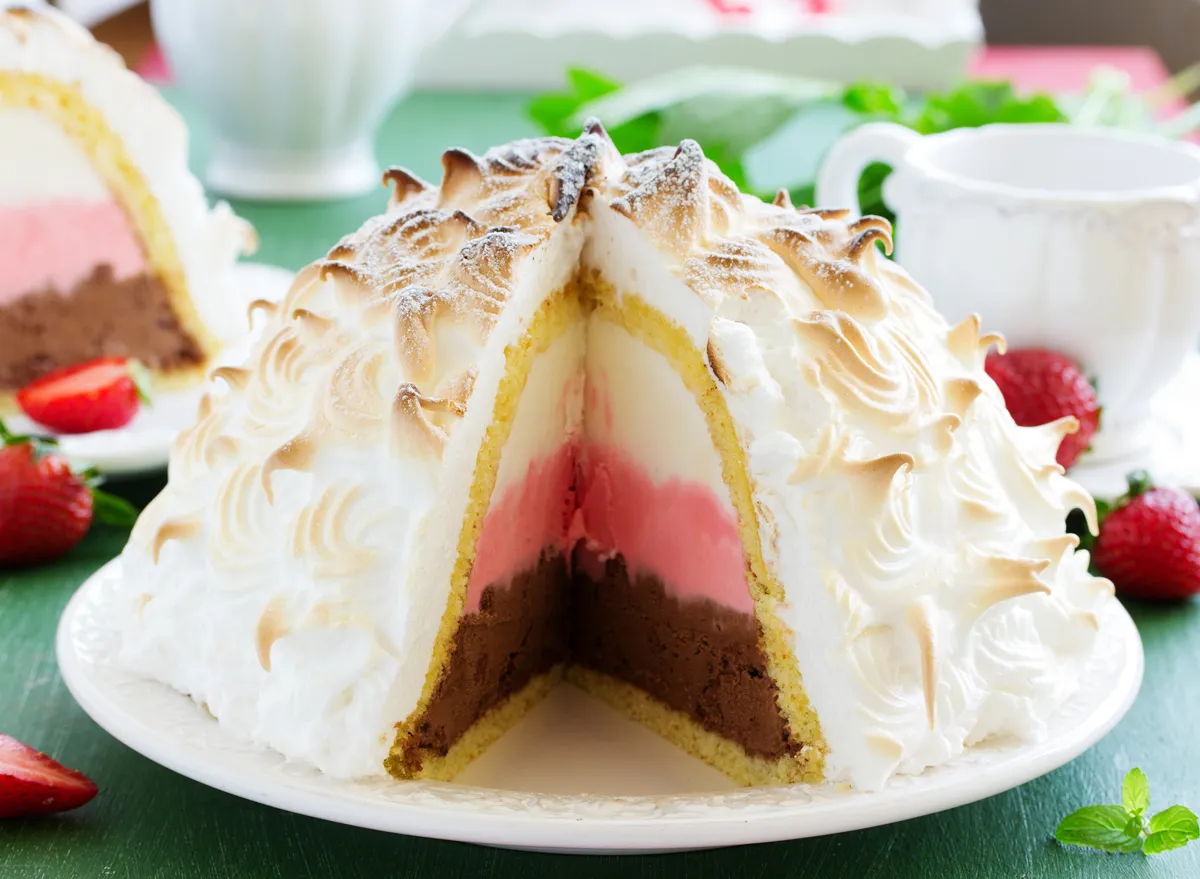 A dessert that would melt hearts and impress a mother-in-law or birthday celebrant, Baked Alaska used to show up on restaurant menus as a special shared dessert but not so much anymore—except for old-school restaurants like Delmonico's in NYC, which is said to have invented the dish to celebrate the US acquisition of Alaska in 1867. Baked Alaska is created with ice cream and cake and topped with meringue. Kirsch or liqueur is added, and the dessert is set ablaze.
Get Preppy Kitchen's recipe for Baked Alaska.
Bananas Foster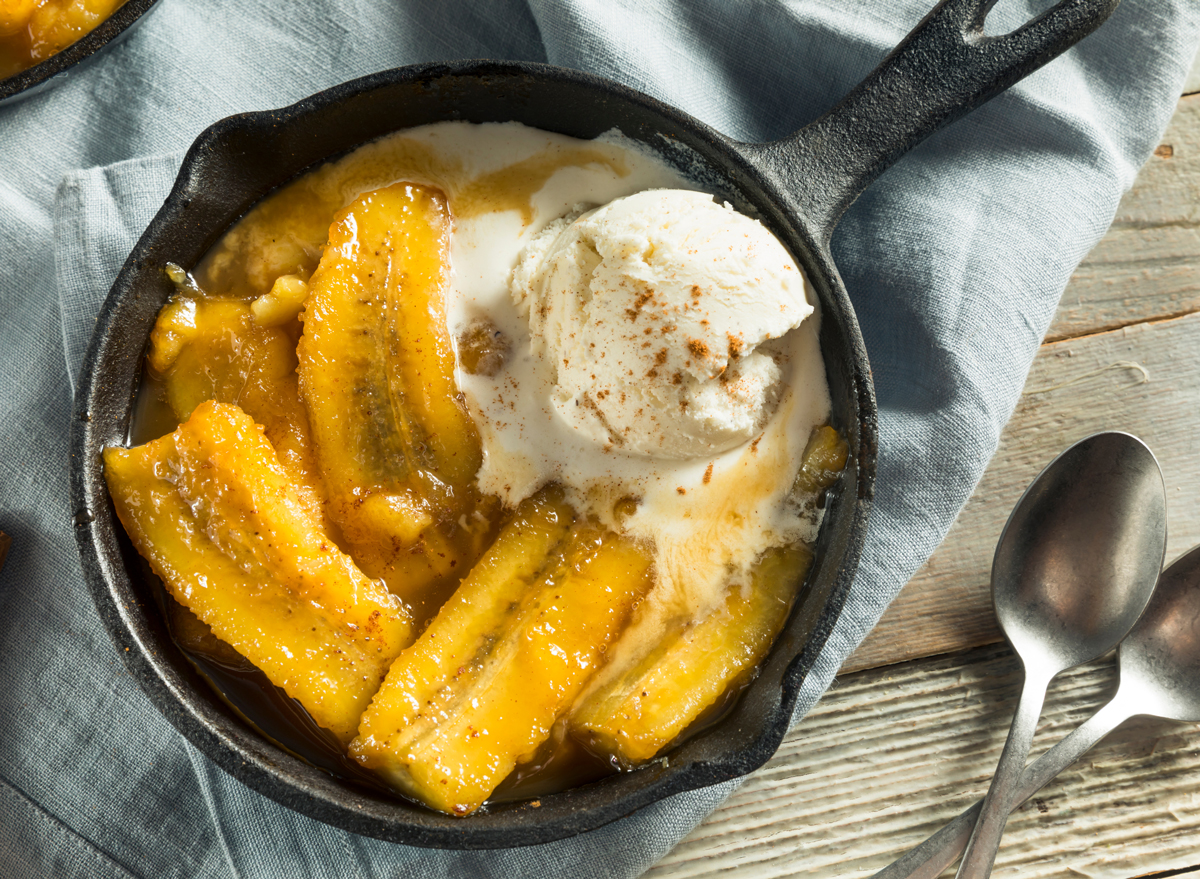 Another flamboyant dessert, boozy Bananas Foster was invented in the early '50s at Brennan's restaurant in jazzy New Orleans. It was an applaud-worthy dessert made with bananas, vanilla ice cream, butter, brown sugar, and cinnamon and dazzled with dark rum and banana liqueur and then set aglow.
Get Life, Love and Sugar's recipe for Bananas Foster.
Mock apple pie
There were no apples in this pie. Instead, buttery crackers mocked the apples in the recipe. The pie was popular during the Great Depression (some reports date it even before that). Nabisco even printed the recipe on its Ritz Crackers box.
Get The Spruce Eats' recipe for Mock Apple Pie.
Sex in a pan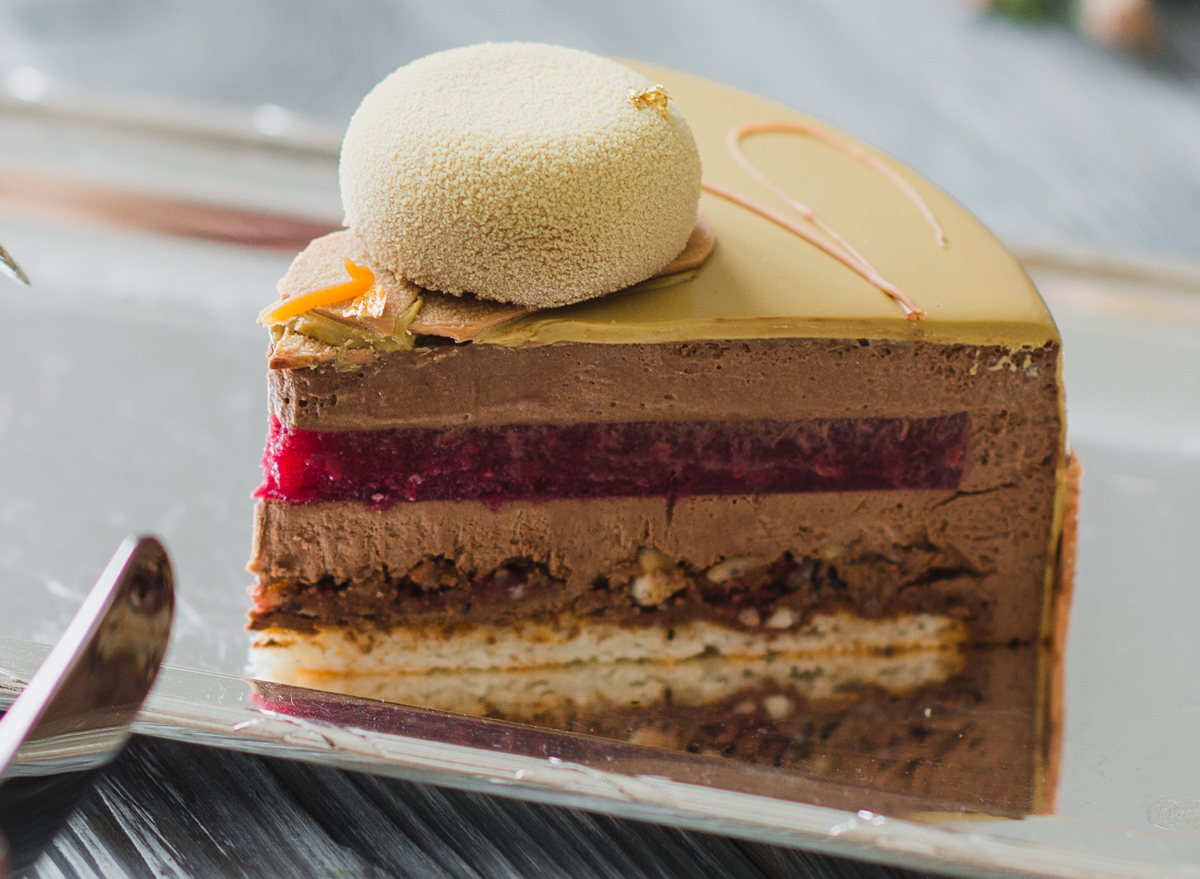 There's a story behind this multi-layered cake's name: Those layers amounted to six, and so the thinking is that the actual name is Six in a Pan that became the victim of an accidental game of telephone. The cake was loved for its crust made of nuts as well as for its rich layers of cream cheese, whipped cream, chocolate pudding mix, vanilla pudding mix, and chopped nuts. And, of course, it was loved for its suggestive name, too.
Get Amanda's Cookin's recipe for Sex in a Pan.
Tipsy cake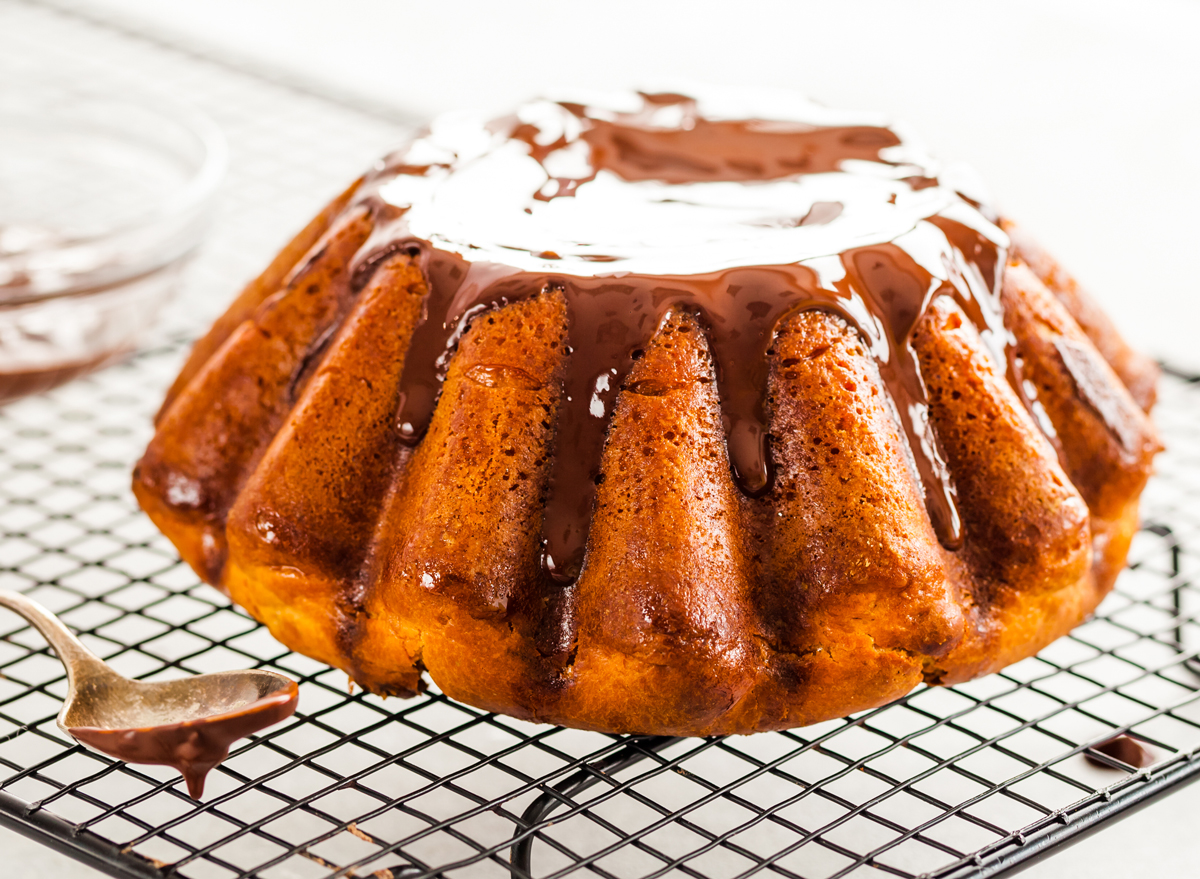 A boozy cake (hence "tipsy"), this decadent dessert is created with sponge cake (or sometimes stale pound cake) and soaked in sherry and brandy. It has English trifle roots and went on to become a popular Southern dessert.
Get I Am Baker's Bourbon Chocolate Tipsy Cake.
Election cake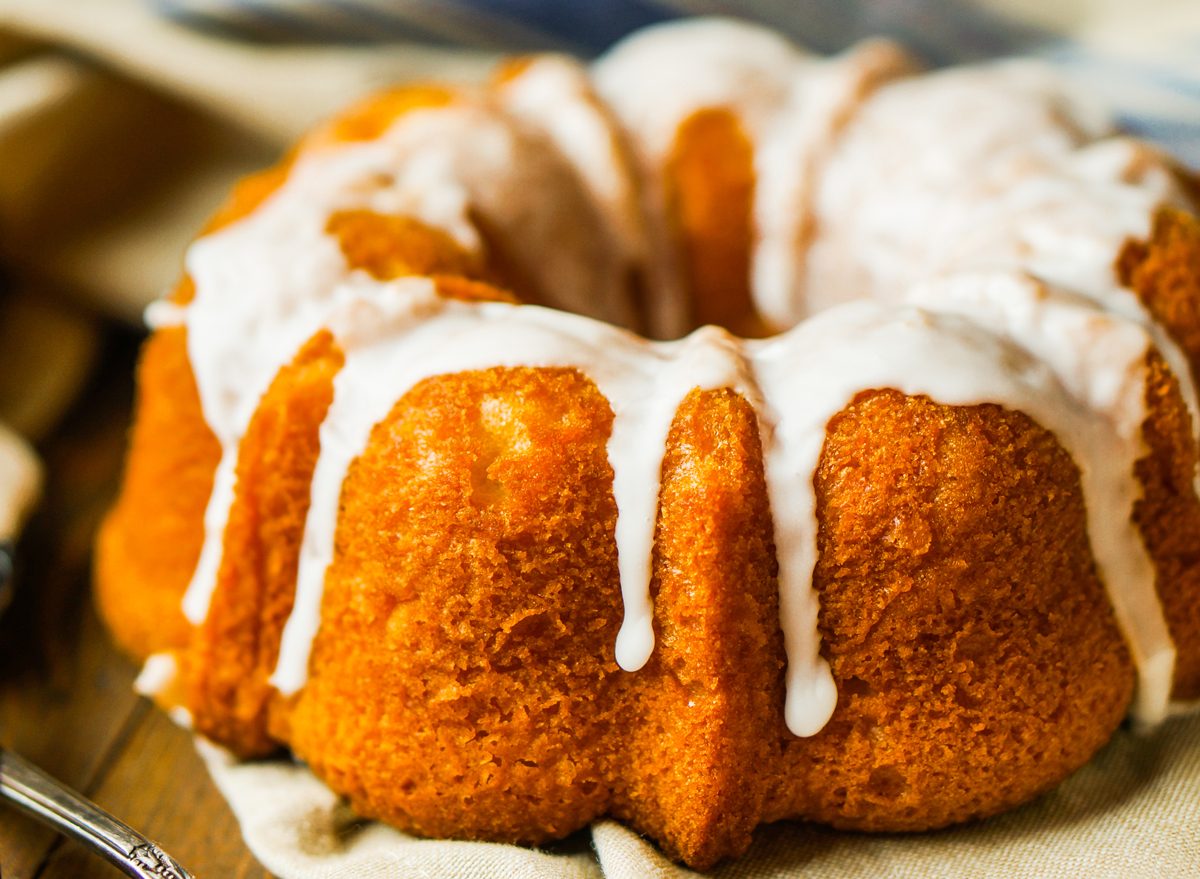 Turn the clock back to colonial America, when elections were a national holiday and celebrated with cake while the votes were being counted, which went on for weeks. Aptly titled Election Day cakes, these were alcohol-infused cakes made with yeast, whiskey, and lots of spices like nutmeg, cloves, and cinnamon.
Get Christina's Cucina's recipe for Election Cake.
Boston chocolate cream pie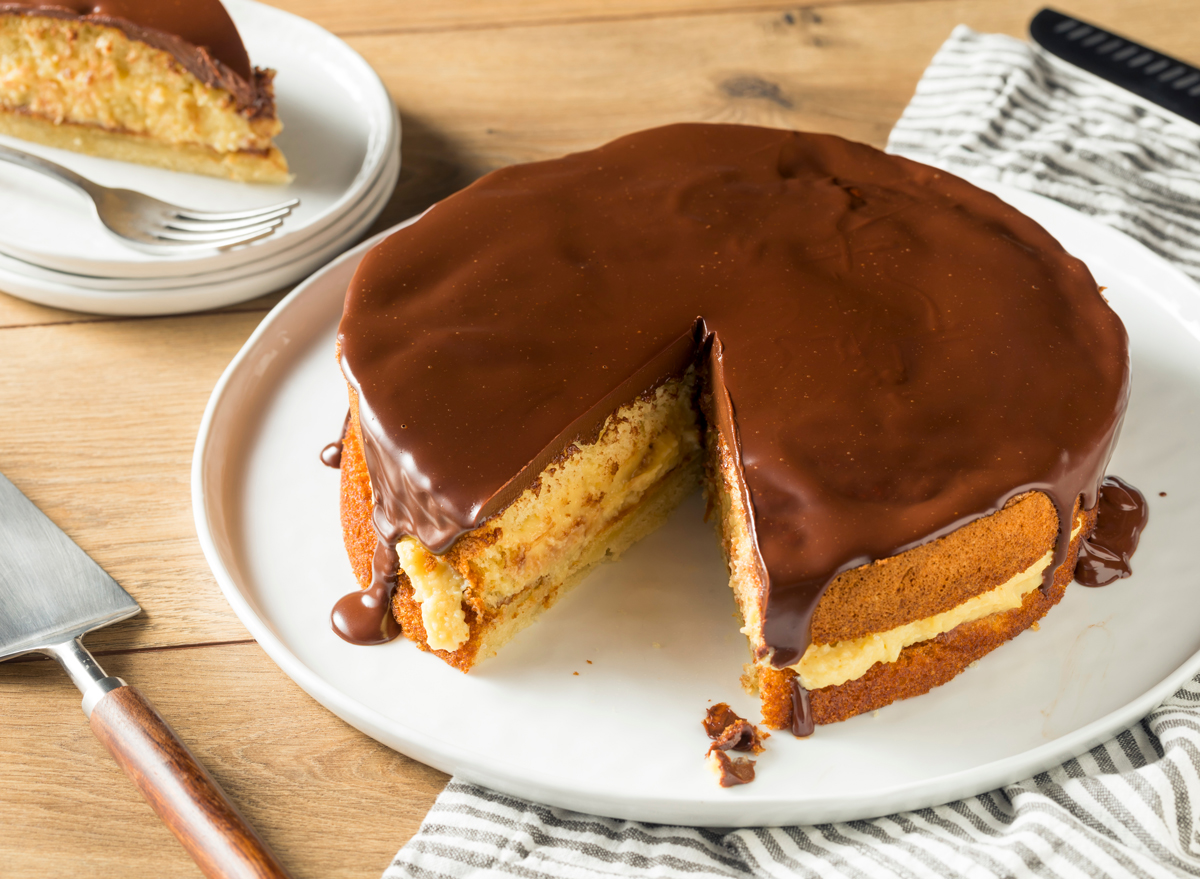 The Parker House Hotel in downtown Boston gets bragging rights as the place where the Boston cream pie was invented in the mid-1800s, although there are rumblings that it debuted elsewhere. It's a yellow butter cake or sponge cake (and it's not a pie at all) with a rich custard and a thick chocolate glaze. It was extremely popular in New England, and while you can still find it if you look, especially at tourist spots, it is nowhere as popular as back in the day, when Boston Brahmins baked it religiously.
Get Preppy Kitchen's recipe for Boston Cream Pie.
Chess pie
The name is an enigma—and this pie has nothing to do with the game of chess. And unlike the heady game of chess, the recipe for a classic chess pie is simple—butter, lots of sugar, flour, milk, cornmeal, eggs, and a dash of vinegar (there are also variations like lemon and chocolate). It is believed to have origins in the South, where it was worshipped as a beloved dessert that even a queen (or bishop or knight or rook) would love.
Get Cooking Classy's recipe for Chess Pie.
The beauty of classic, old-fashioned desserts is that they are usually easy to make with whatever is in your pantry. Don't be afraid to make substitutions and to make the flavors yours.
A previous version of this article was published on October 17 2020.