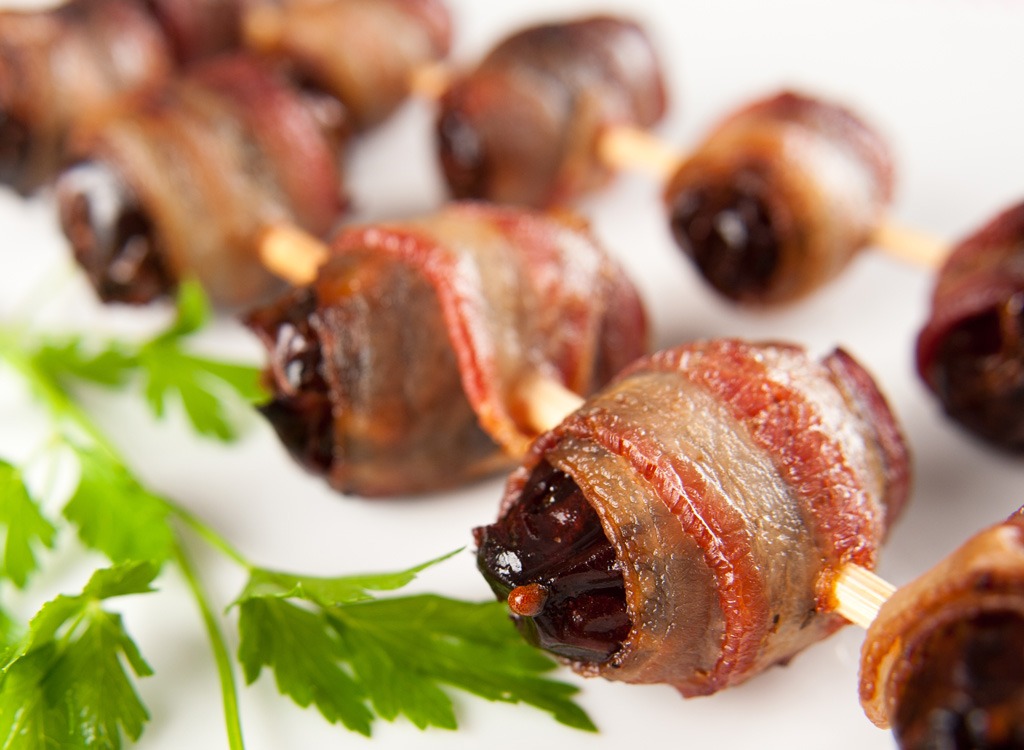 We know that Christmas dinner is one of those traditional meals where everyone would like to pretend that calories, like Santa, didn't exist—and how awesome would it be if that were actually the case?
But we all know the truth: As innocent as those supagplums look, dancing through our heads, if we consume too many of them, they can contribute to the collection of naughty, not-nice belly fat that's not only hard on the body, but rough on the resolutions.
The good news is, it's totally possible to enjoy all of your favorite holiday foods without growing a gut. To make it happen, you'll just need to familiarize yourself with each dishes' calorie count so you can prioritize how much of each one winds up on your plate. To help you out, we've looked at the nutritionals for every major player on the holiday table and ranked them from worst to best.
Some of the numbers are pretty encouraging; others will make you want to run the annual Snowflake 5K before you sit down to dinner. Read on to see how all of your favorite dishes stack up and after you see how easy it is to stay on track this holiday, check out these 30 Things to Do 30 Minutes Before Bed to Lose Weight!
COCKTAILS, FROM WORST TO BEST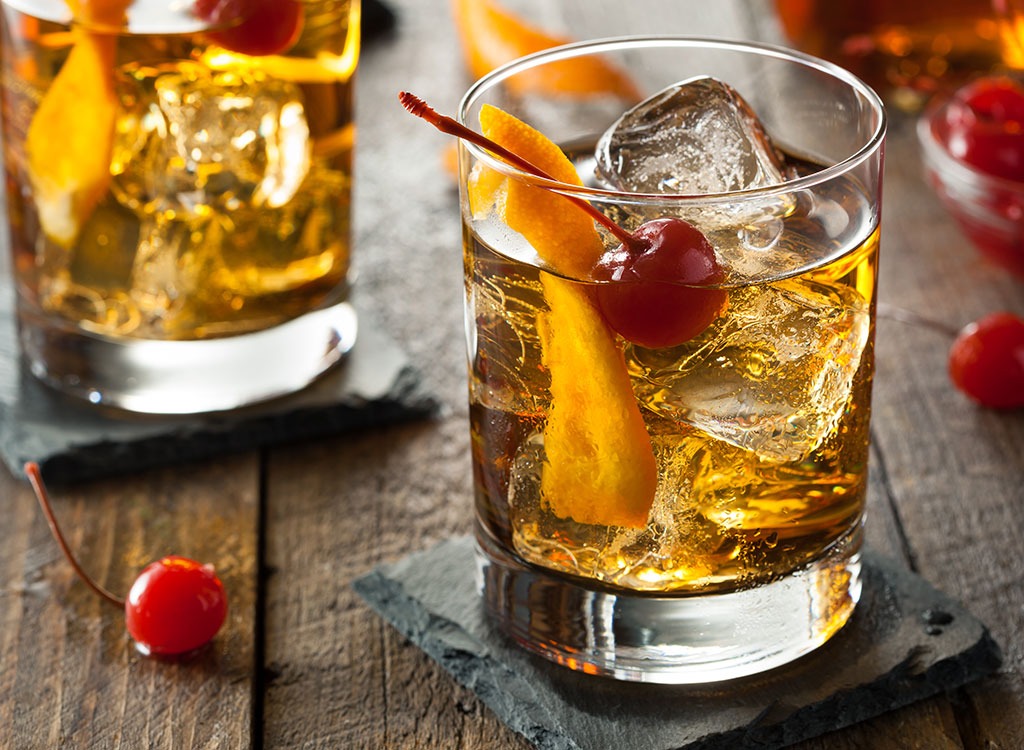 Can't survive Uncle Ned's judgemental one-liners without something hard in your cup? Totally understandable! Here are the best and worst cocktails for your rapid weight loss goal.
HOT COCOA WITH PEPPERMINT SCHNAPPS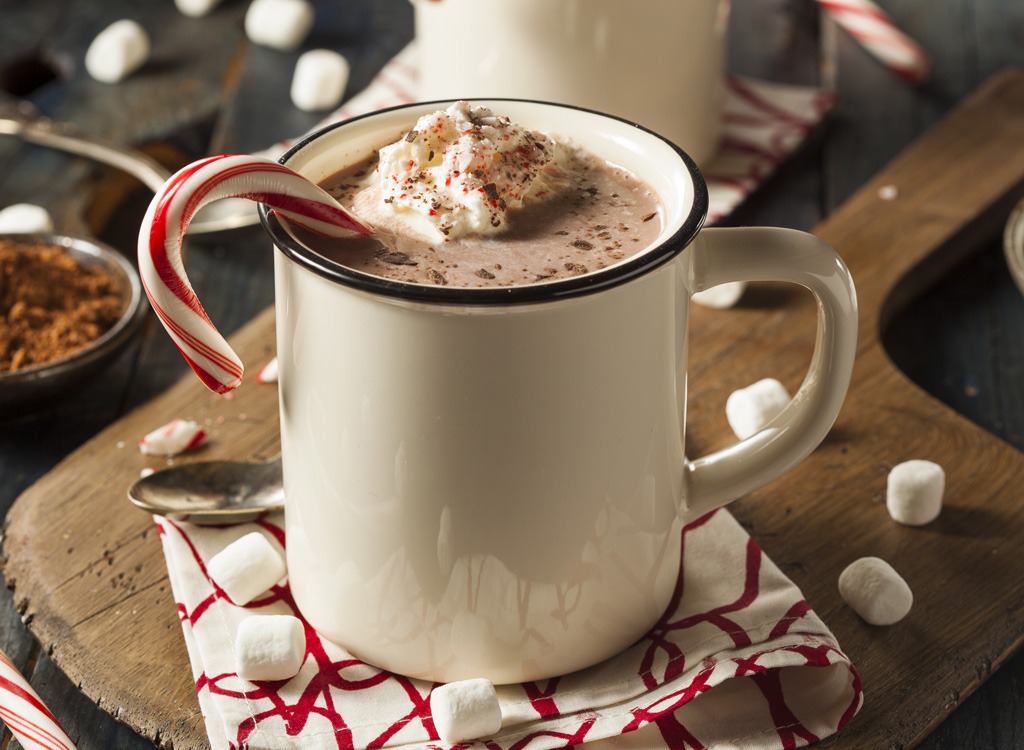 378 calories, 11 g fat
This drink may keep you warm, but it will also fill out your love handles.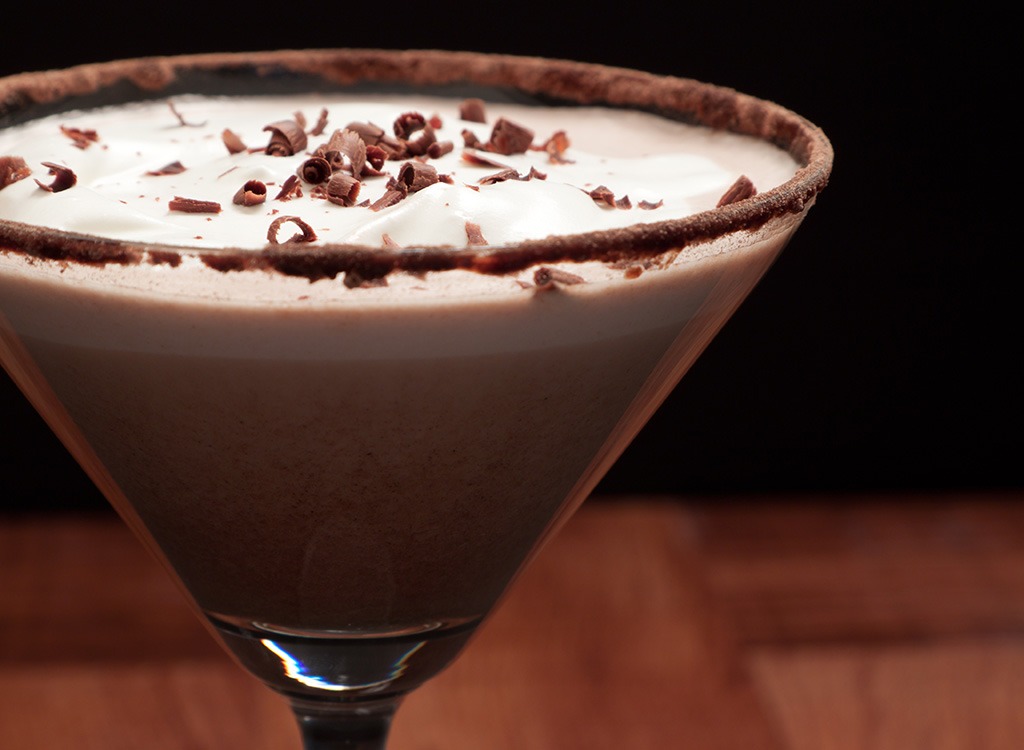 330 calories, 6 g fat
Drink this martini or have a slice of chocolate cake. The choice is yours, but avoid having both.
145 calories, 0 g fat
Mixing rum with a tea bag, water, honey and lemon is an obvious waist-friendly pick. If you're craving a second round, ditch the rum and brew up a cup of one of these weight loss teas.
AND THE #1 COCKTAIL IS… VODKA SODA WITH LIME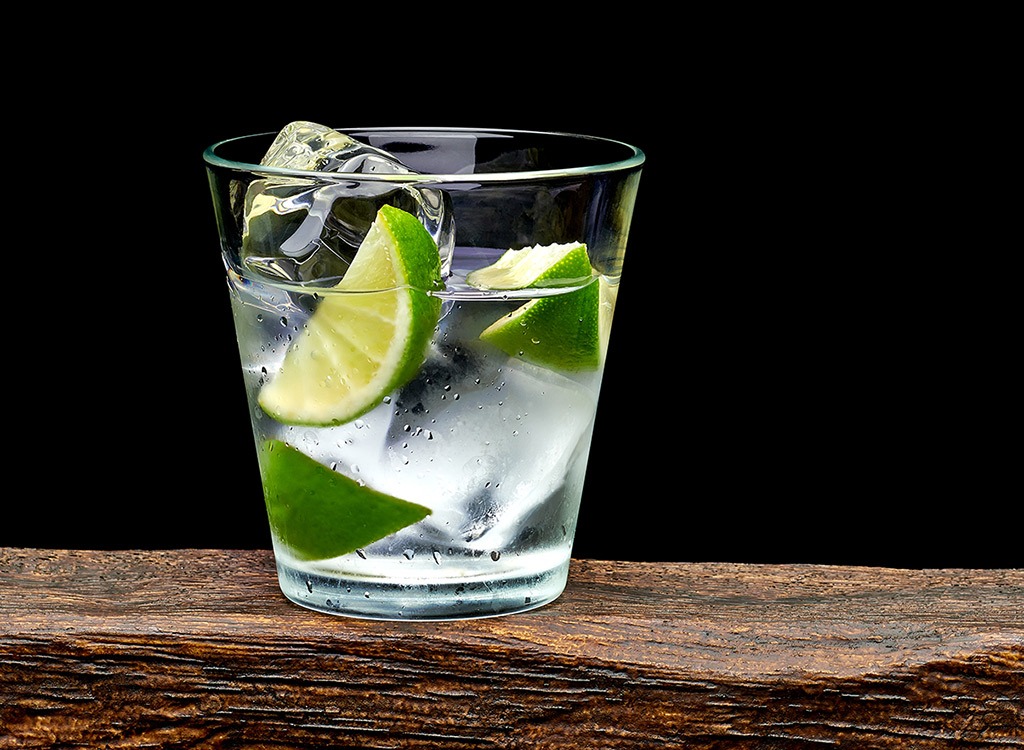 6254a4d1642c605c54bf1cab17d50f1e
120 calories, 0 g fat
Your holiday mantra: Club soda, yes. Tonic water, no. With just 120 calories a pop, this is one of the very best cocktails you'll find.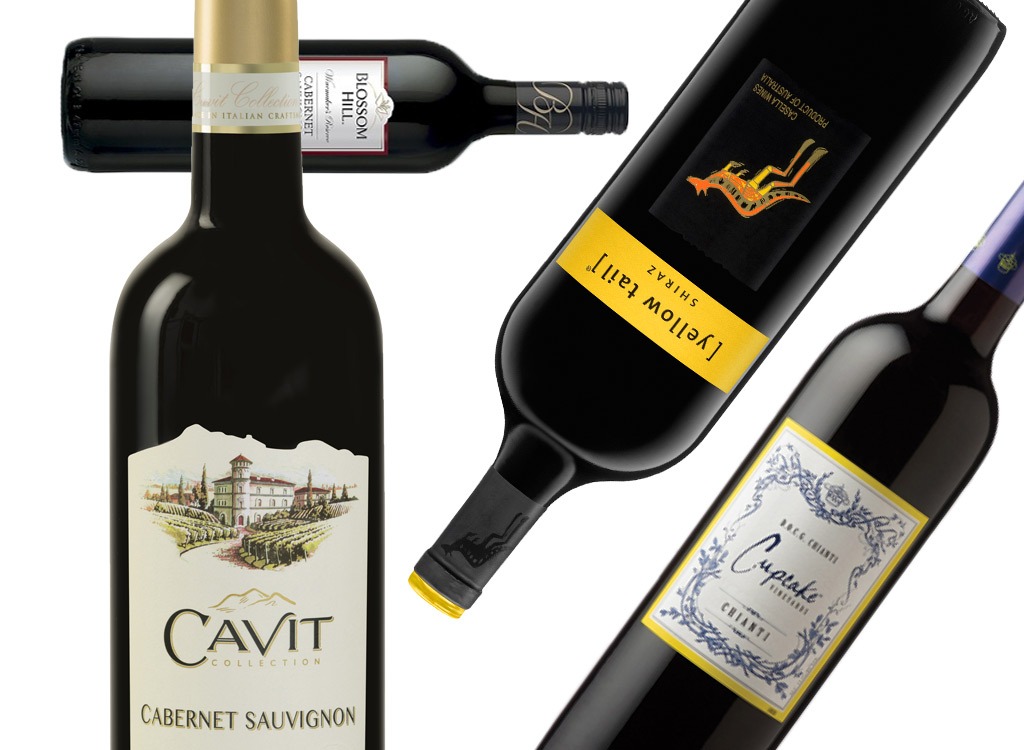 A holiday meal without wine is like winter without snow—it's not nearly as fun or festive as it could be.
5 fl. oz, 129 calories, 13.5% ABV
The grapes used to make this wine have a high sugar content which increases the calorie count.
5 fl. oz, 120 calories, 13.5% ABV
This red wine isn't as popular as Cabernet Sauvignon, but it offers the same heart-healthy benefits. For even more things that can benefit your ticker, check out these 10 Foods That Make Your Heart Younger.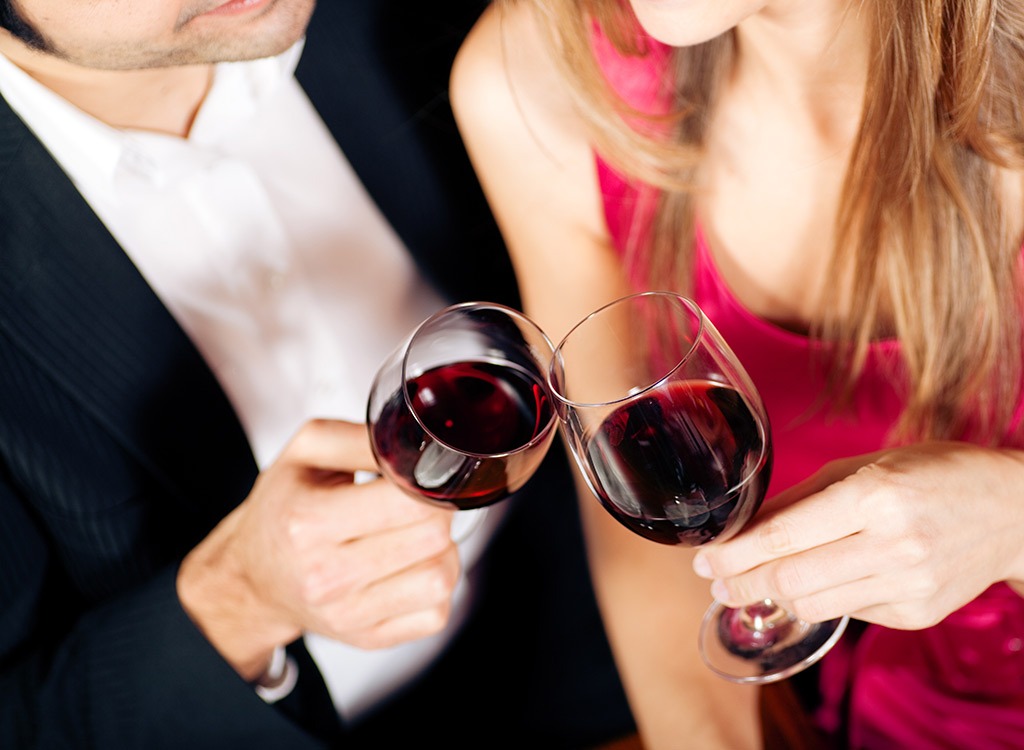 5 fl. oz, 111 calories, 12% ABV
When it comes to booze, keeping calories in check in everything. Chianti, which typically stays around 100 calories a glass, makes it easy to keep a mental calorie tally—as do these 50 Snacks With 50 Calories or Less.
AND THE #1 HOLIDAY WINE IS… SAUVIGNON BLANC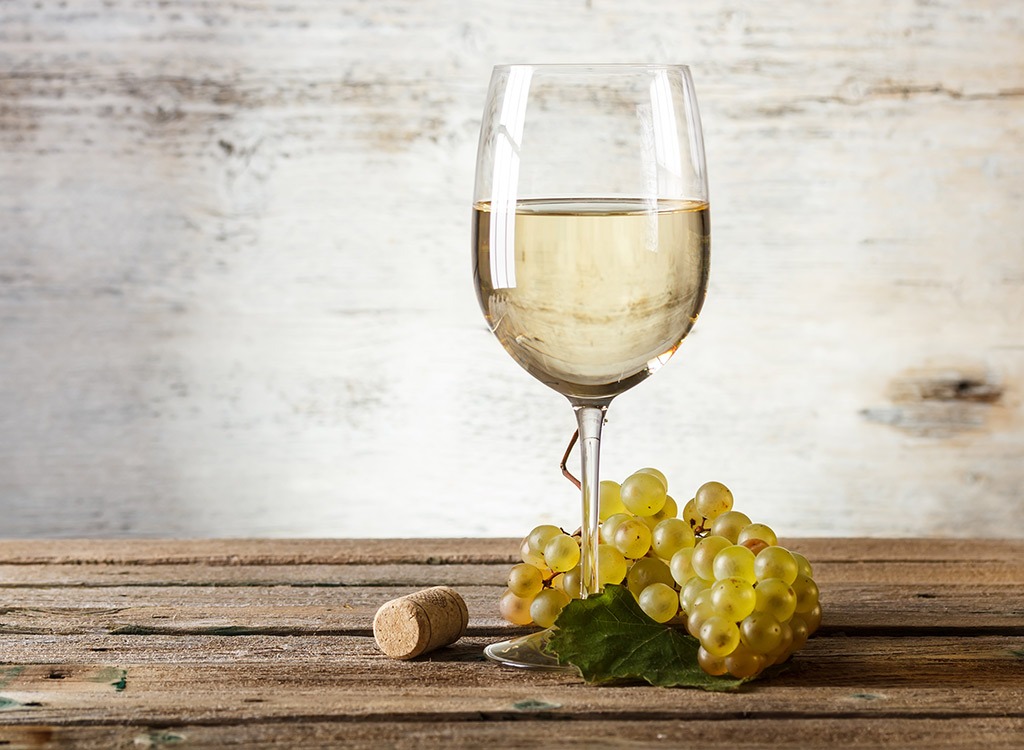 5 fl. oz, 88 calories, 9% ABV
This dry white is lower in calories and alcohol than the competition which is why we've crowned it the number one wine for your waistline.
APPETIZERS, FROM WORST TO BEST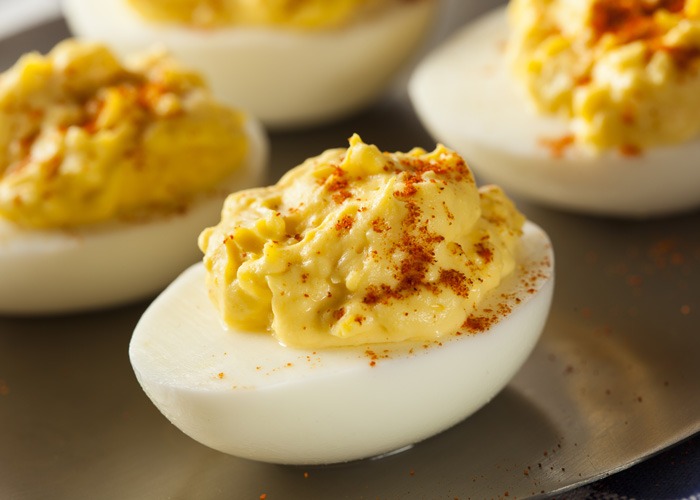 While some apps carry just enough calories to sate your appetite, others pack more than enough to be considered a meal.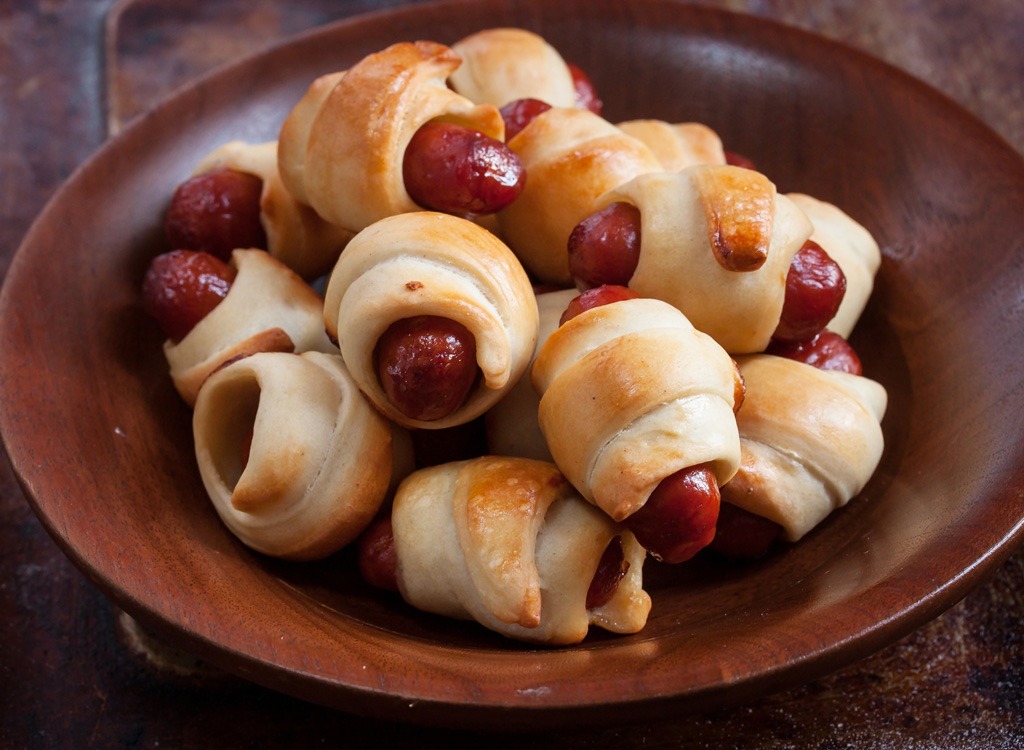 4 pieces, 533 calories, 33 g fat
The globs of butter, starchy puff pastry and fatty meat make this appetizer is a diet no.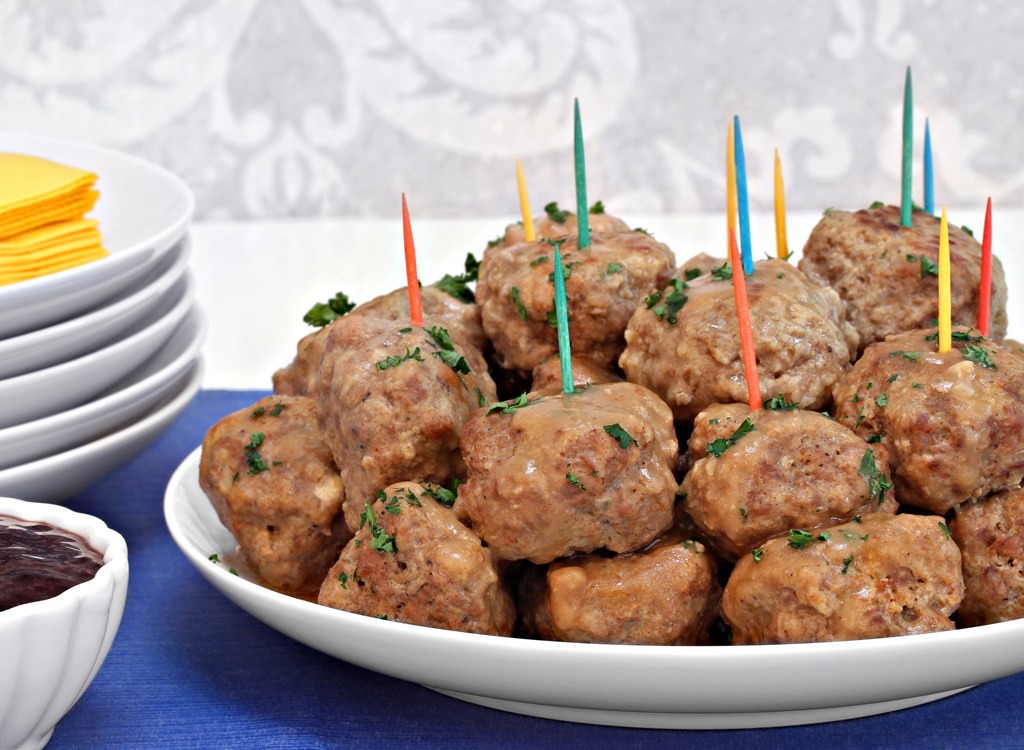 4 pieces, 320 calories, 16 g fat
Rich in satiating protein, this appetizer can help you stay on track during the main meal. And speaking of protein, be sure to check out these 29 Best-Ever Proteins for Weight Loss.
PROSCIUTTO-WRAPPED MELON BALLS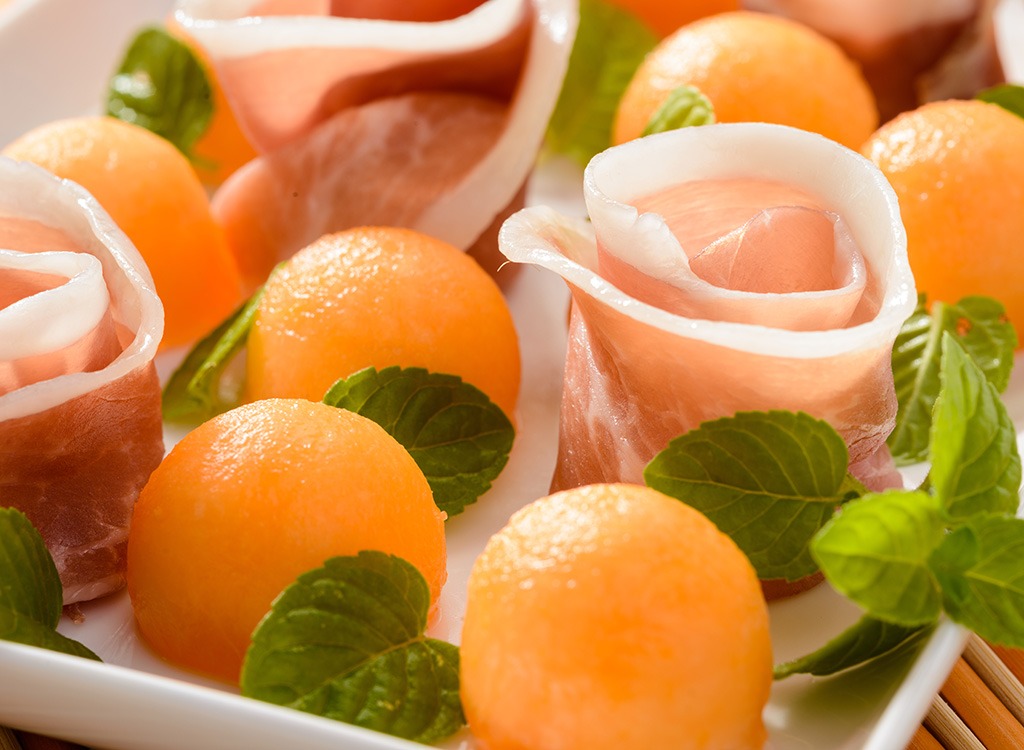 4 pieces, 100 calories, 4.77 g fat
This salty, sweet treat only tastes indulgent.
AND THE #1 HOLIDAY APPETIZER IS …HABANERO STUFFED OLIVES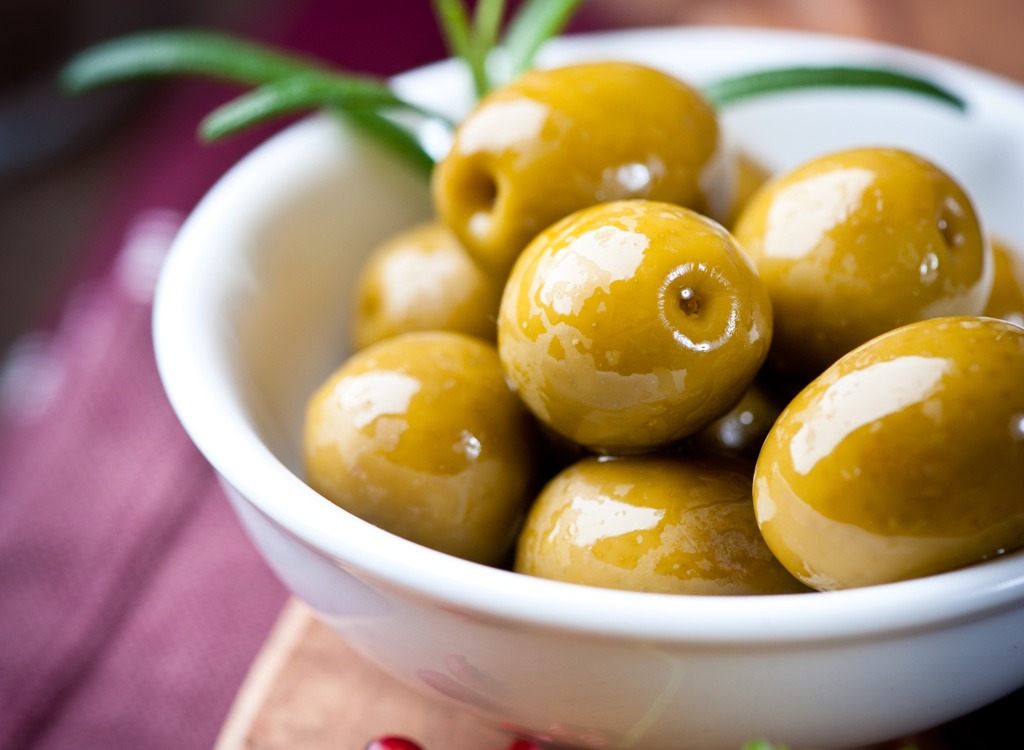 0.50 oz., 15 calories, 1.5 g fat
This is one of the lowest calorie appetizers you can eat—and bonus: it may just help you eat less once you sit down to dinner. A group of Canadian researchers found that men who ate spicy appetizers consumed 200 fewer calories at later meals than those that did not. Go figure!
DINNER PROTEINS, FROM WORST TO BEST
No holiday dinner is complete without a classic entree like ham or turkey. See how all of your favorites stack up.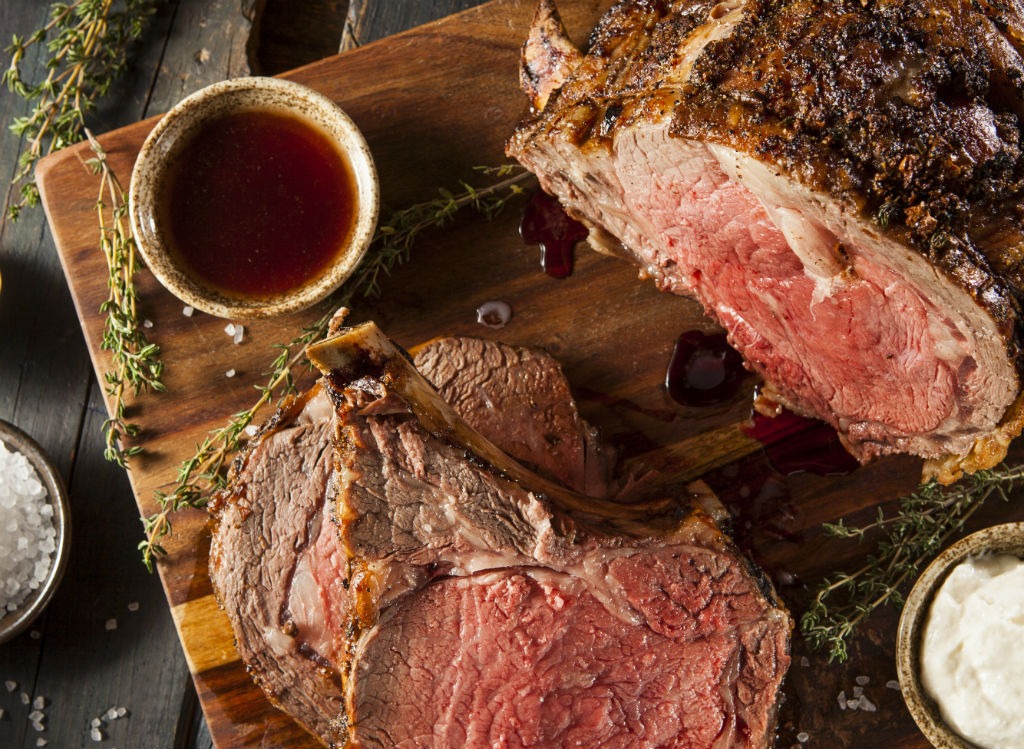 4 oz, 400 calories, 23 g fat (8 g saturated), 580 mg sodium
This cut of meat has loads of intramuscular fat. Steer clear if you're trying to boost your metabolism.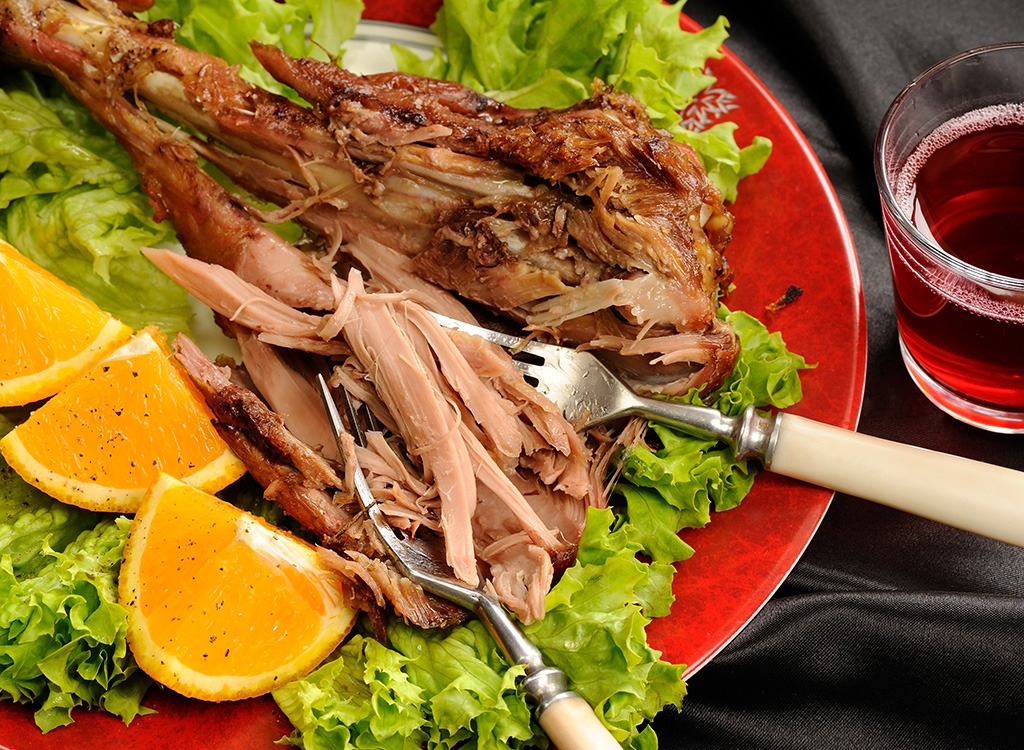 4 oz, 185 calories, 8.7 fat (2.7 g saturated), 200 mg sodium
The darker the meat, the more fat it harbors. Ditch the skin to save calories and fat. And better yet, get back on track with your diet tomorrow with the help of these 44 Ways to Lose 4 Inches of Body Fat.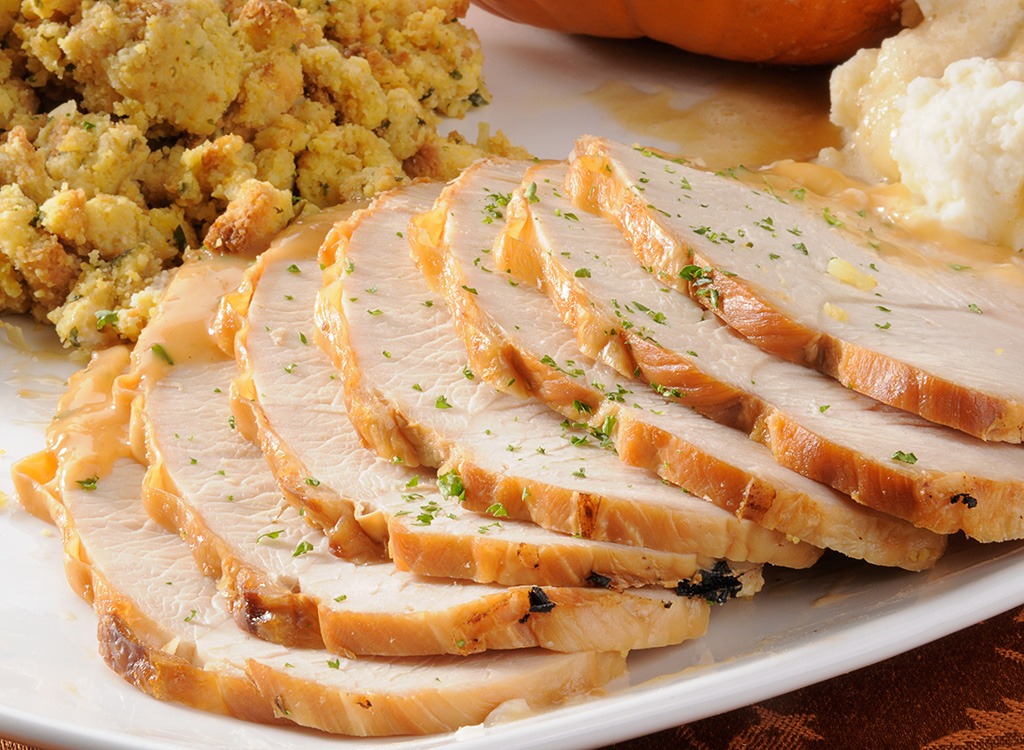 4 oz, 144 calories, 2.4 g fat (0.6 g saturated), 200 mg sodium
Lean, low-cal and packed with protein, it's hard to go wrong with a slice of white meat on your holiday plate. And speaking of healthy eats, be sure to check out these 30 Foods That Melt Love Handles.
AND THE #1 HOLIDAY PROTEIN IS… HAM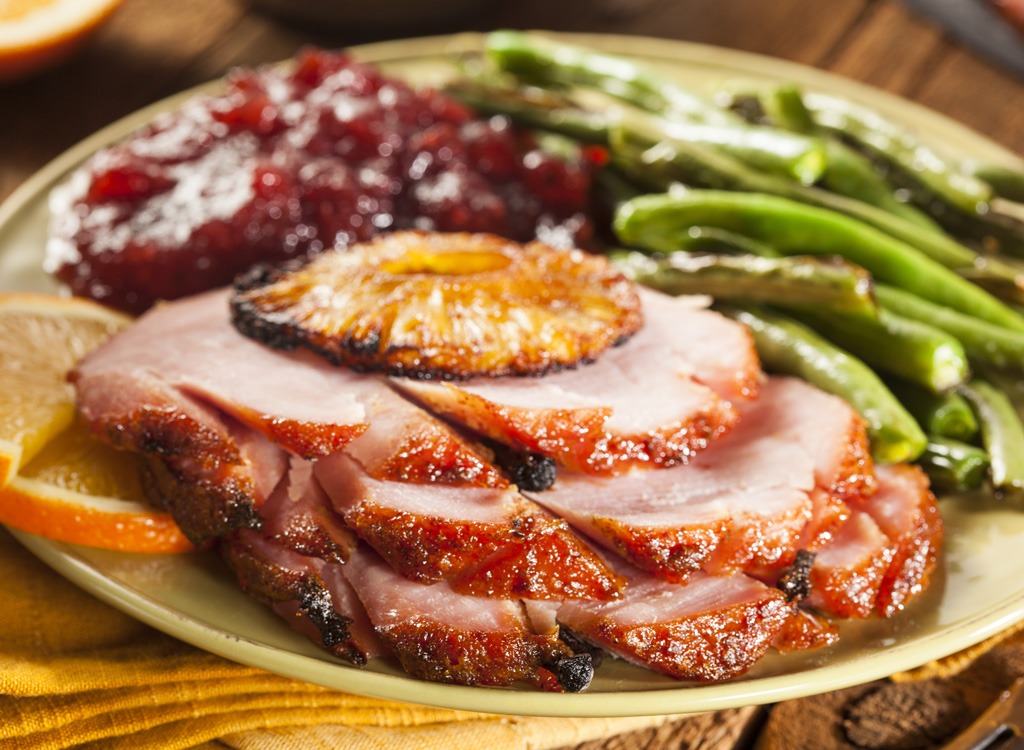 4 oz bone-in rump, 148 calories, 4 g fat (0 g saturated), 948 mg sodium
Ham is one of the leanest holiday meats, but also one of the saltiest. To help flush out the salt and counteract the bloat, enjoy your meal with one of these 50 Best Detox Waters for Fat Burning and Weight Loss.
STARCHY SIDES, FROM WORST TO BEST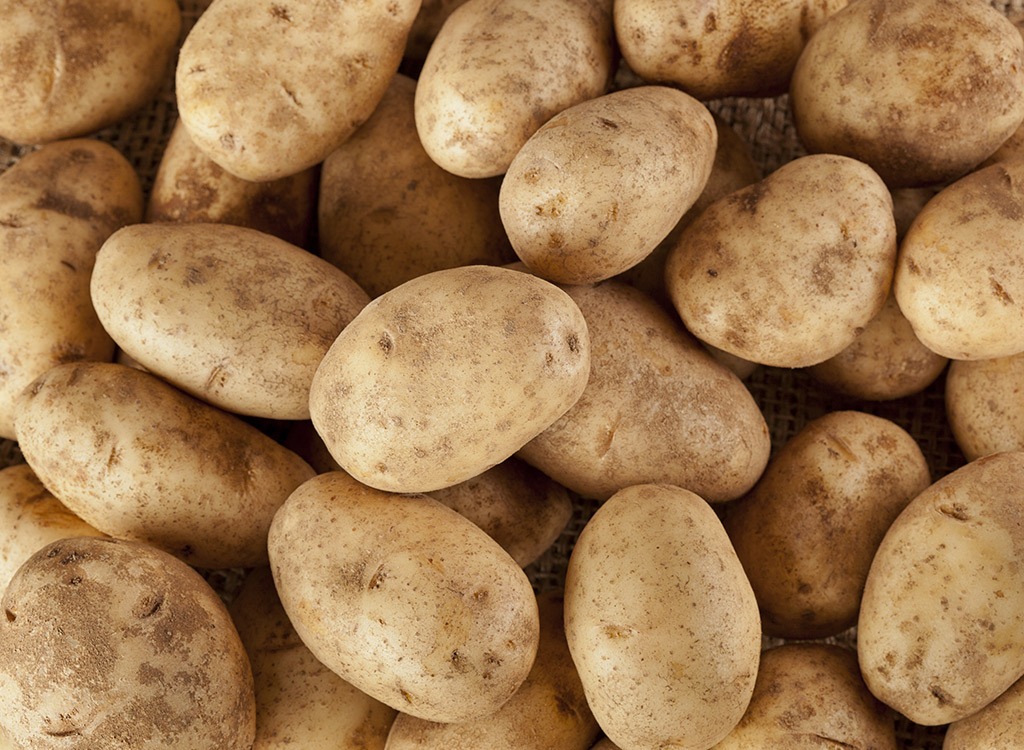 The gingerbread is the least of your concerns on Christmas. These side dishes will all give your six-pack a run for its money, but some are far worse than the rest.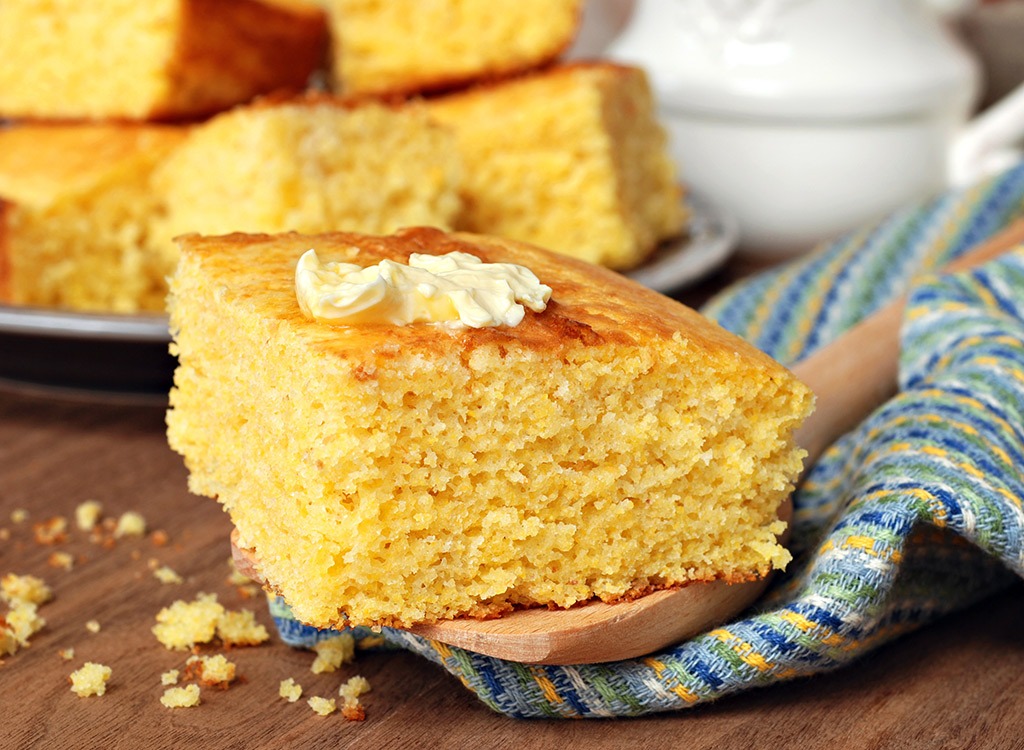 2 x 2 slice with butter, 190 calories, 9 g fat (4 g saturated), 450 mg sodium
More calories, fat, and sodium than a standard roll. Eat one if you must but go light on dessert.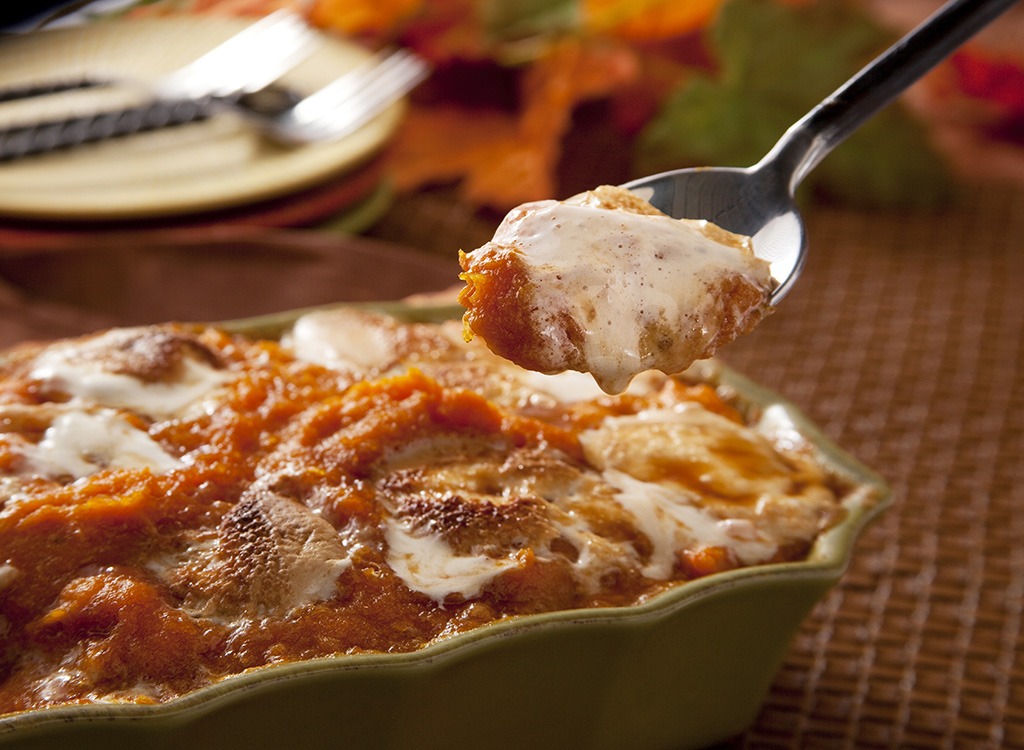 1⁄2 cup, 160 calories, 4 g fat (0 g saturated), 80 mg sodium
These spuds cede the nutritional high ground when they're covered in sugar. If you're the one making dinner, whip up one of these sweet potato recipes instead.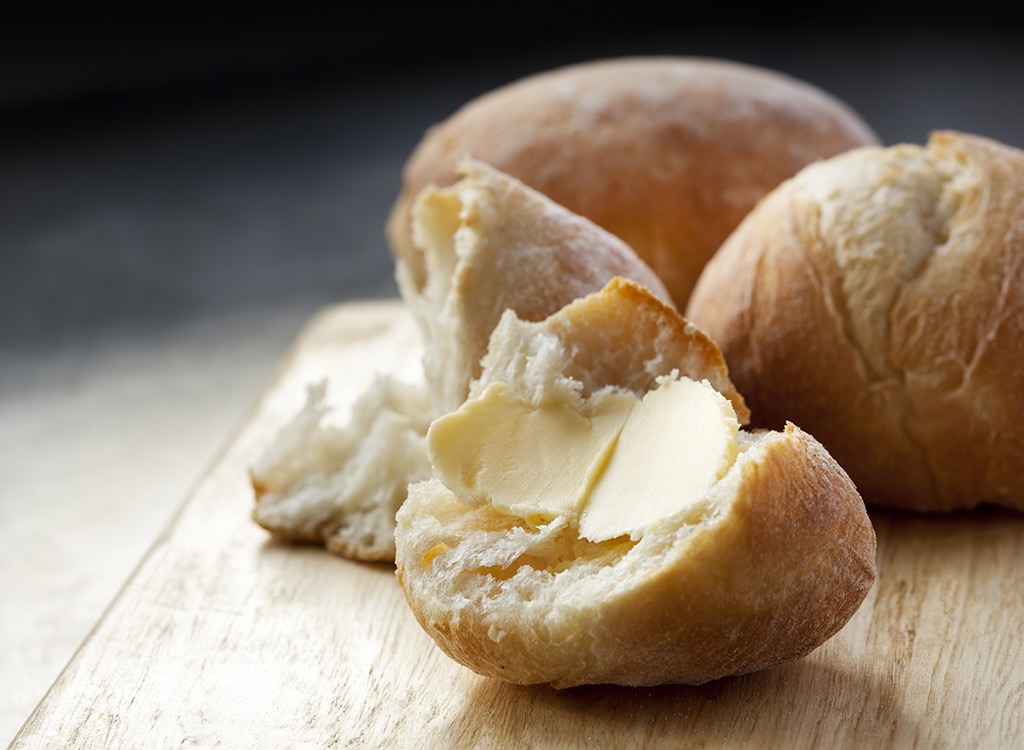 130 calories 5 g fat (2 g saturated) 210 mg sodium
Adding butter to your roll lowers the glycemic index, warding off blood sugar spikes. We like the grass-fed variety because it's an excellent source of vitamins, minerals and health-protective fatty acids. For more full-fat foods that can help you stay skinny check out these 20 Full-Fat Food for Weight Loss.
AND THE #1 STARCHY SIDE IS … MASHED POTATOES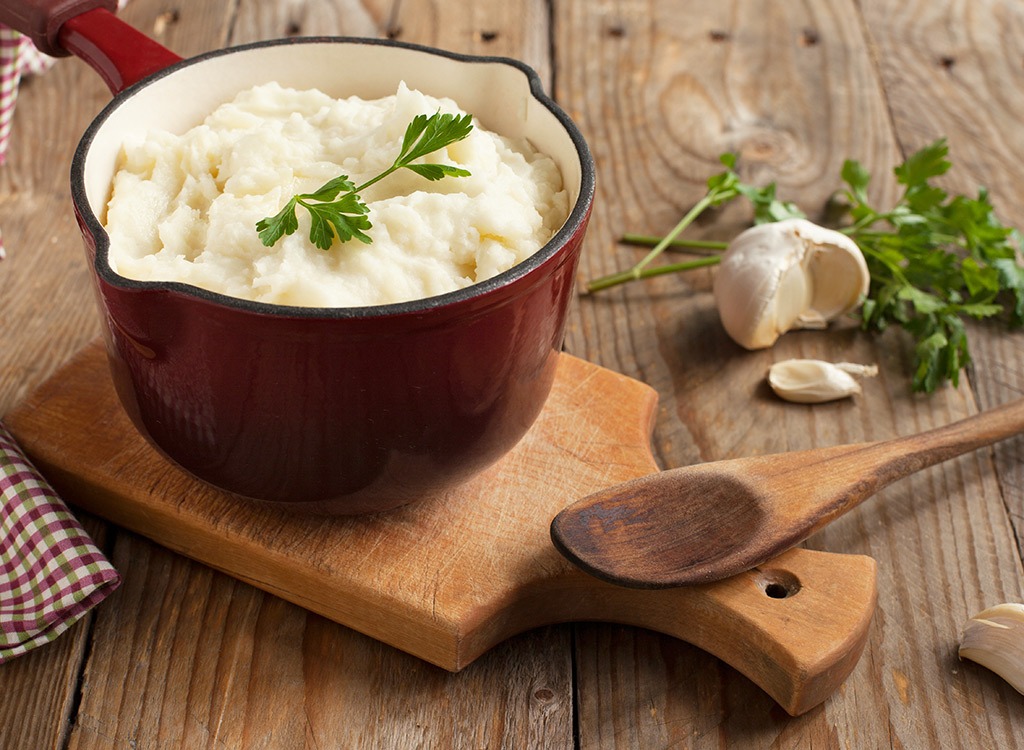 1⁄2 cup made with whole milk, 87 calories, 0.5 g fat (0.5 g saturated), 317 mg sodium
No matter how you slice it, these are your best bet, but if you want to cut calories and fat, prepare your batch with skim milk.
VEGETABLE SIDES, FROM WORST TO BEST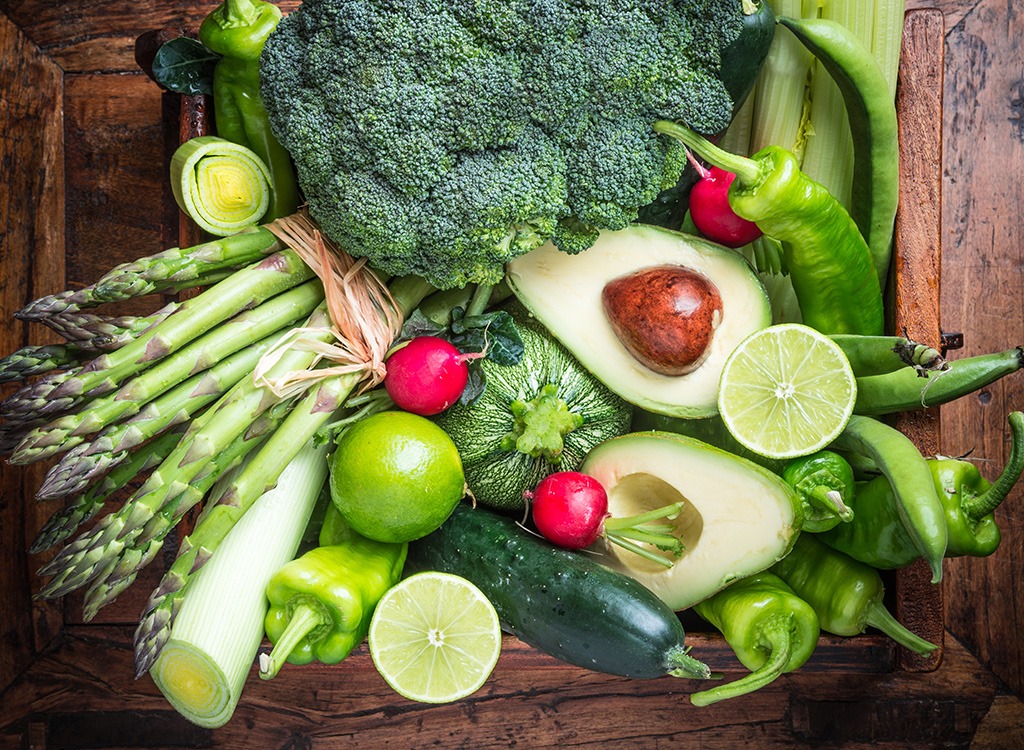 Although these are among the best Christmas dishes for your belly, some are still better picks than others.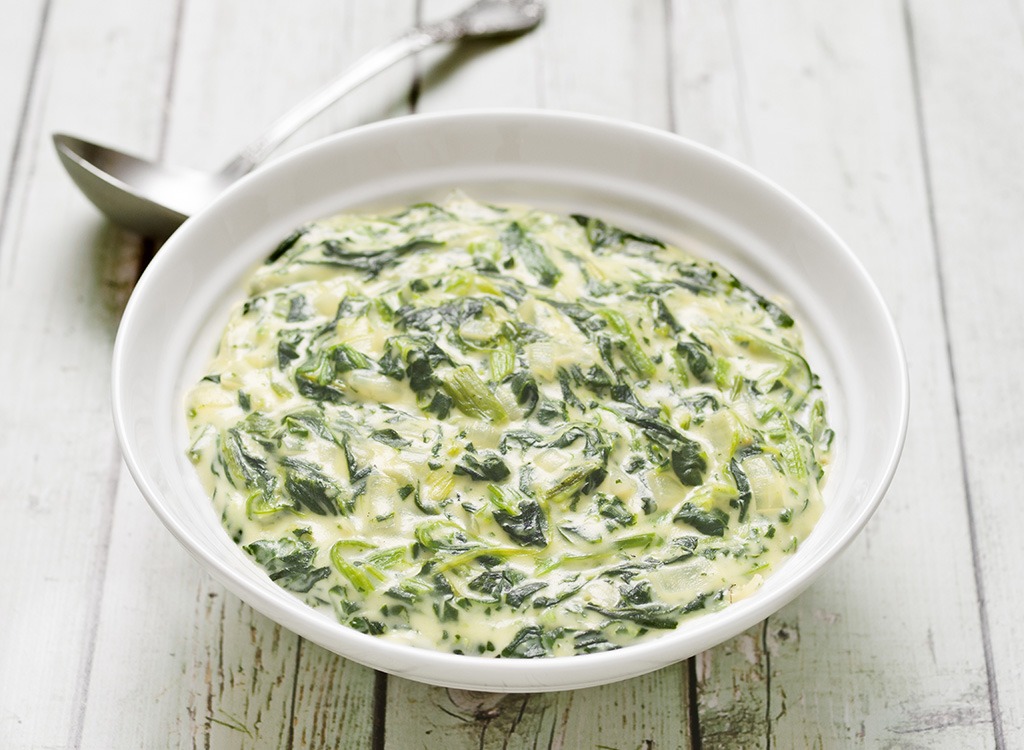 ½ cup, 220 calories, 14 g fat (7 g saturated), 440 mg sodium
Skip the cream cheese and butter. You're better off sauteing this nutritional powerhouse in olive oil and chopped garlic.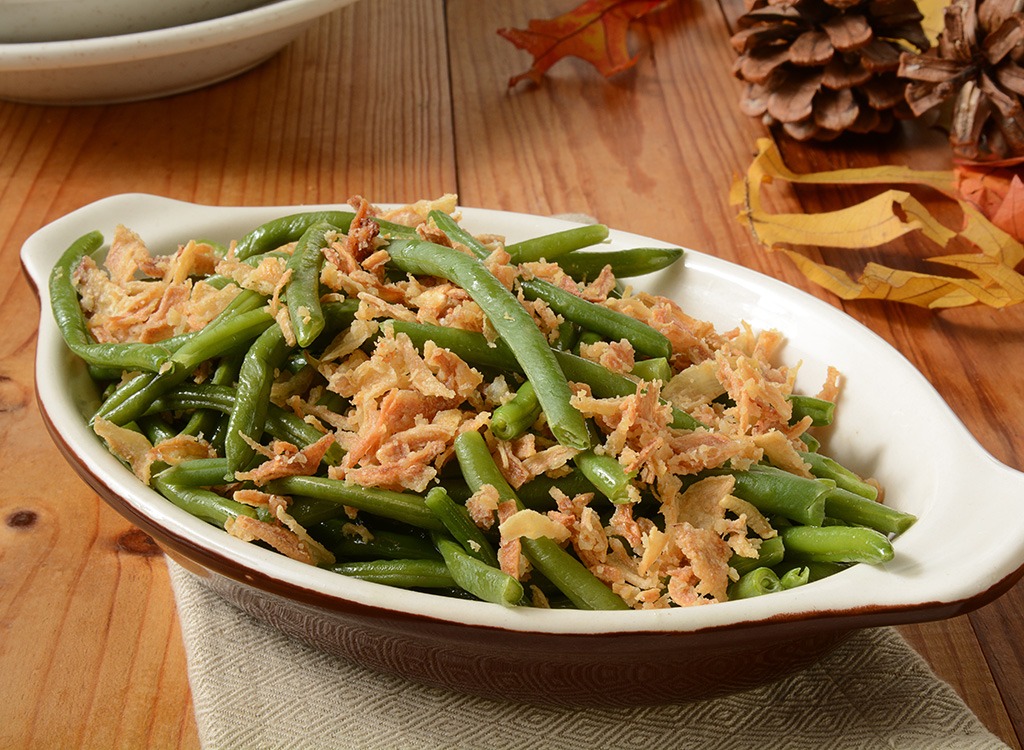 ½ cup, 100 calories, 6 g fat, 1 g saturated,300 mg sodium
In terms of taste and nutrition, topping veggies with a fat-filled mush isn't the greatest idea of all time, but it you stick to the standard serving size, it won't do much damage to your waistline. On casserole duty this year? Save calories and boost flavor by swapping fried onions for caramelized ones and use fresh green beans instead of canned.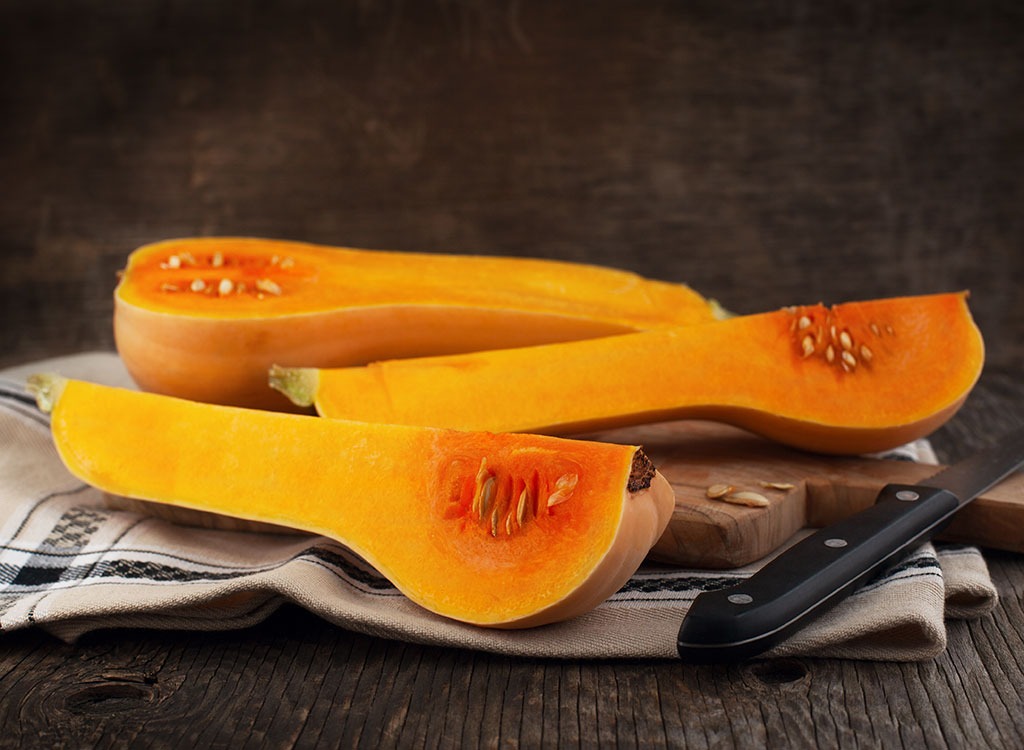 ½ cup, cubes, 40 calories 0 g fat 4 mg sodium
Not only is it a low-cal pick, but this squash's antioxidant carotenoid may help reduce the risk of lung cancer. For more weight loss-friendly foods, check out these 25 Best Foods for a Toned Body.
AND THE #1 VEGETABLE SIDE IS …ROASTED BRUSSELS SPROUTS
1⁄2 cup, 28 calories 0 g fat 16 mg sodium
This veggie is low in calories and rich in fiber. Enough said.
CONDIMENTS & TRIMMINGS, FROM WORST TO BEST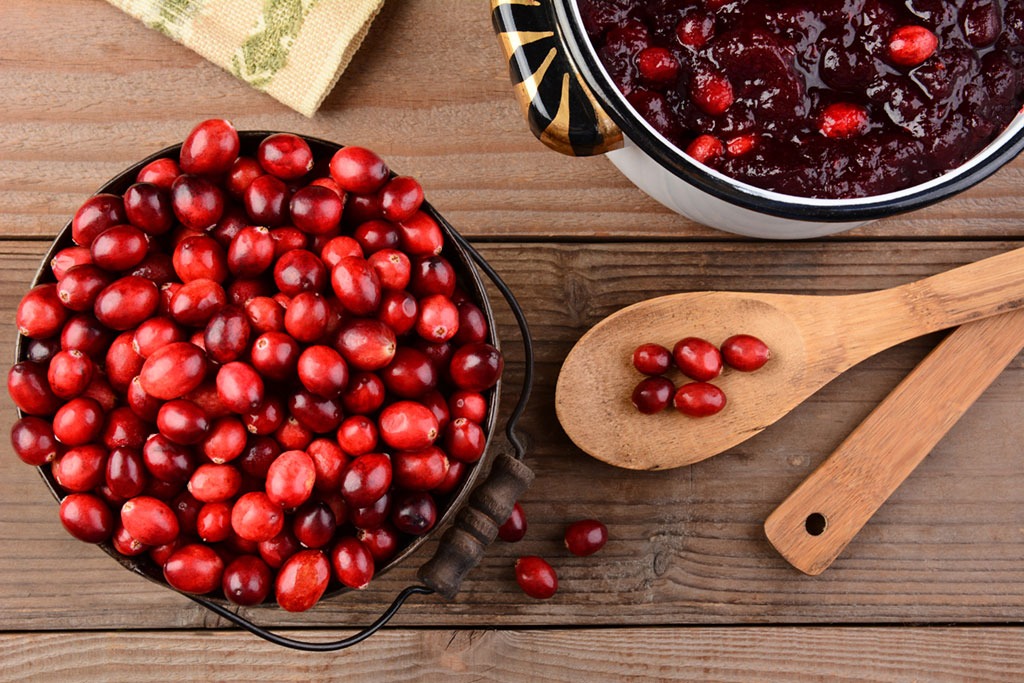 According to a very scientific study, the average American's ratio of trimmings to meat on Christmas is 20:1.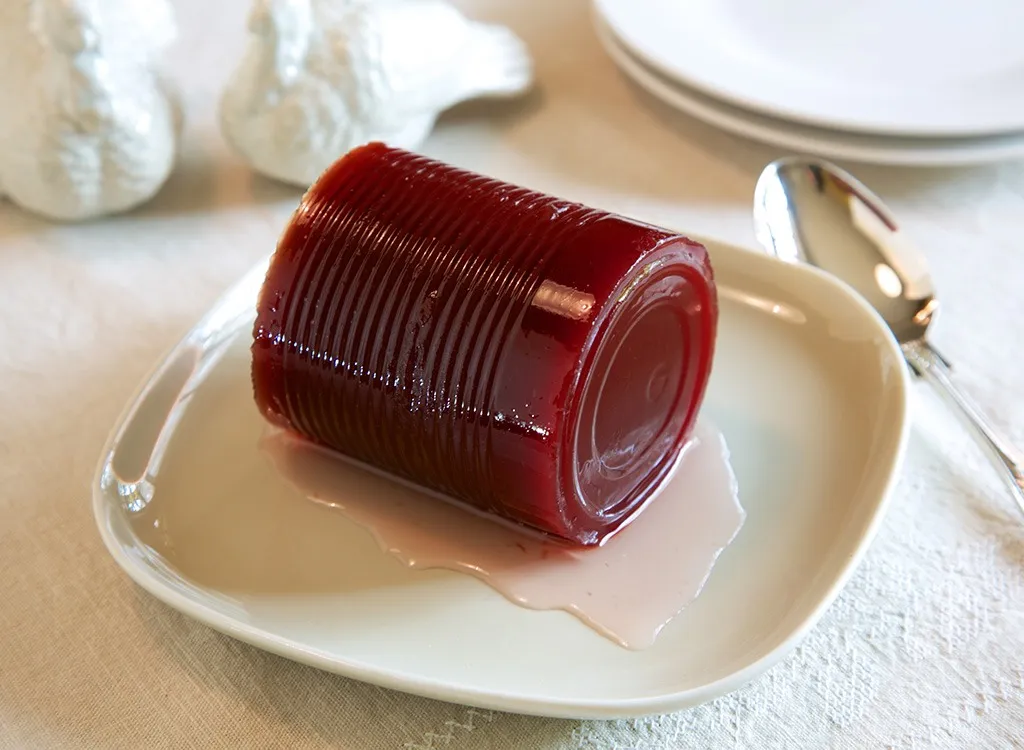 ½-inch slice, 85 calories, 0 g fat, 20 g sugars
Made with cranberries, high fructose corn syrup (an additive that amps up hunger), corn syrup and water, this jiggly canned sensation isn't something you should allow onto your holiday table. There are far healthier—and delicious—homemade options to set out instead.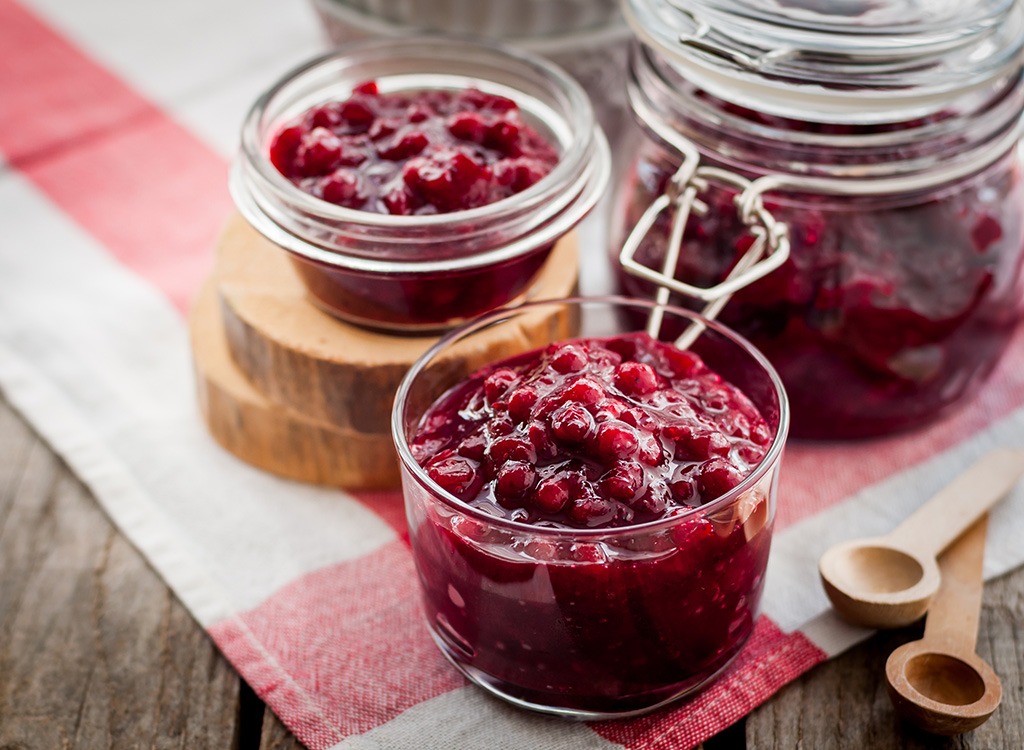 2 Tbsp, 50 calories 0 g fat 11 g sugars
Fresh whole cranberries are rich in antioxidants that ward off cancer.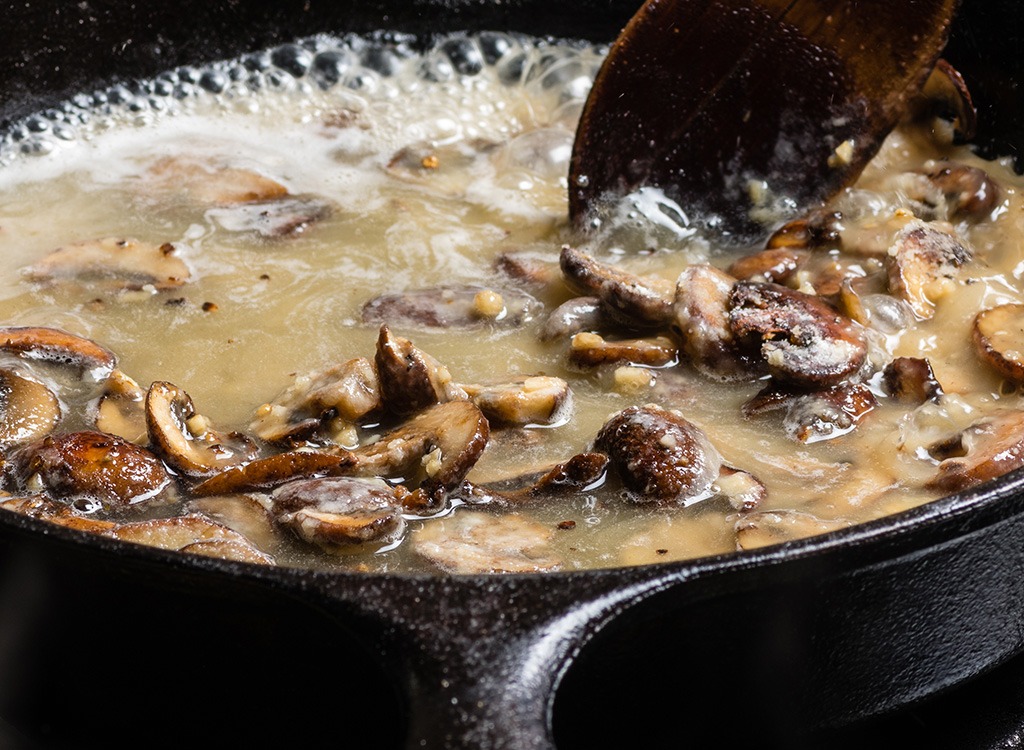 2 Tbsp, 33.5 calories 3 g fat 57 mg sodium
Not a bad way to top a lean cut of Christmas steak.
AND THE #1 CONDIMENT IS …TURKEY GRAVY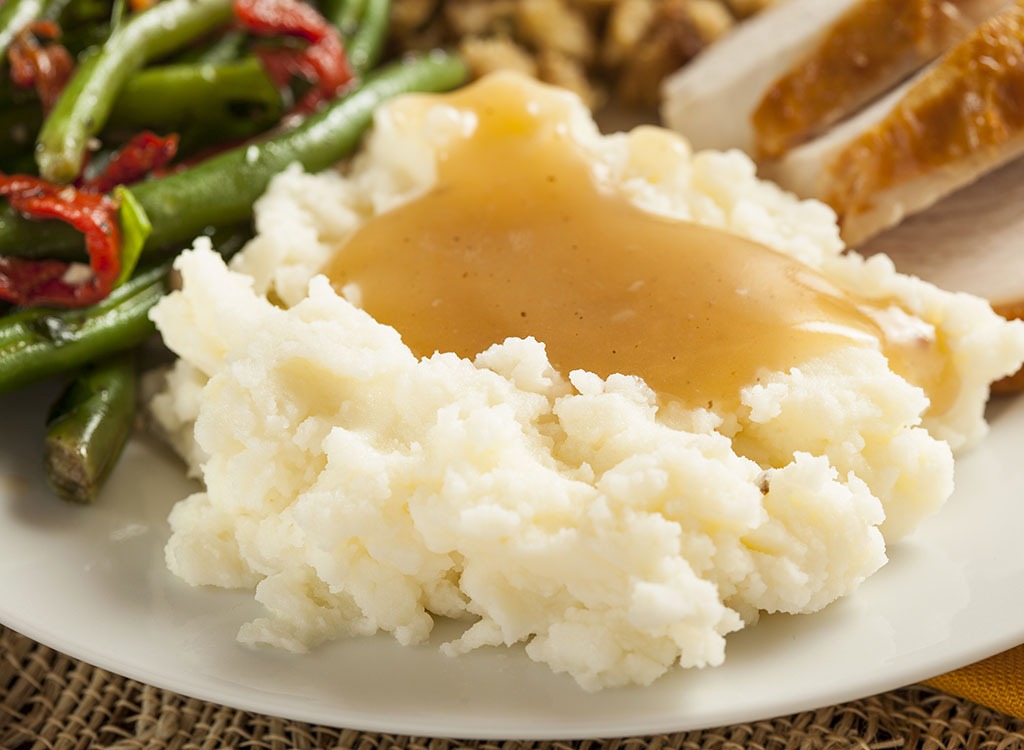 2 Tbsp, 16 calories, 0 g fat, 85 mg sodium
Gravy is super delicious and won't put a dent in your calorie bank. It's a win-win. Looking for more six-pack friendly eats? Check out these The 20 Best Full-Fat Foods for Weight Loss.
DESSERTS, FROM WORST TO BEST
No holiday meal would be complete without a display of indulgent desserts. Get ready to loosen those belts!
1/6th cake, 470 calories, 26 g fat
Yup, nearly 500 calories a slice! But what did you really expect from a dessert made entirely of cream cheese?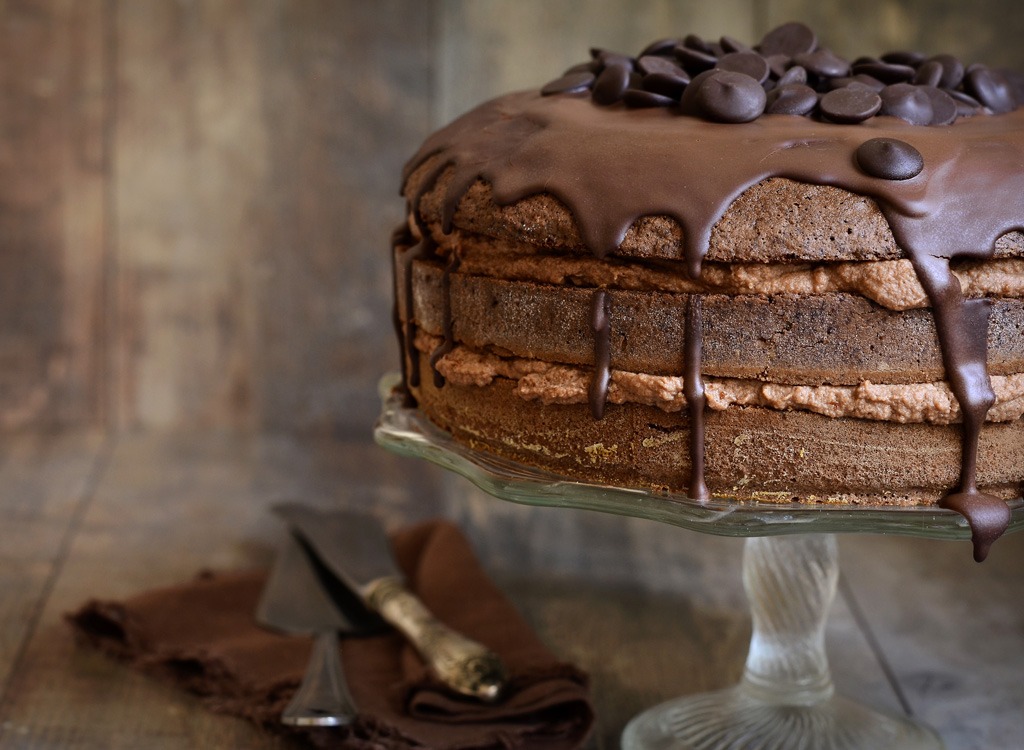 1/6th cake, 415 calories, 13 g fat
You'd be better of eating a few squares of chocolate and calling it a night.
CHOCOLATE COVERED STRAWBERRIES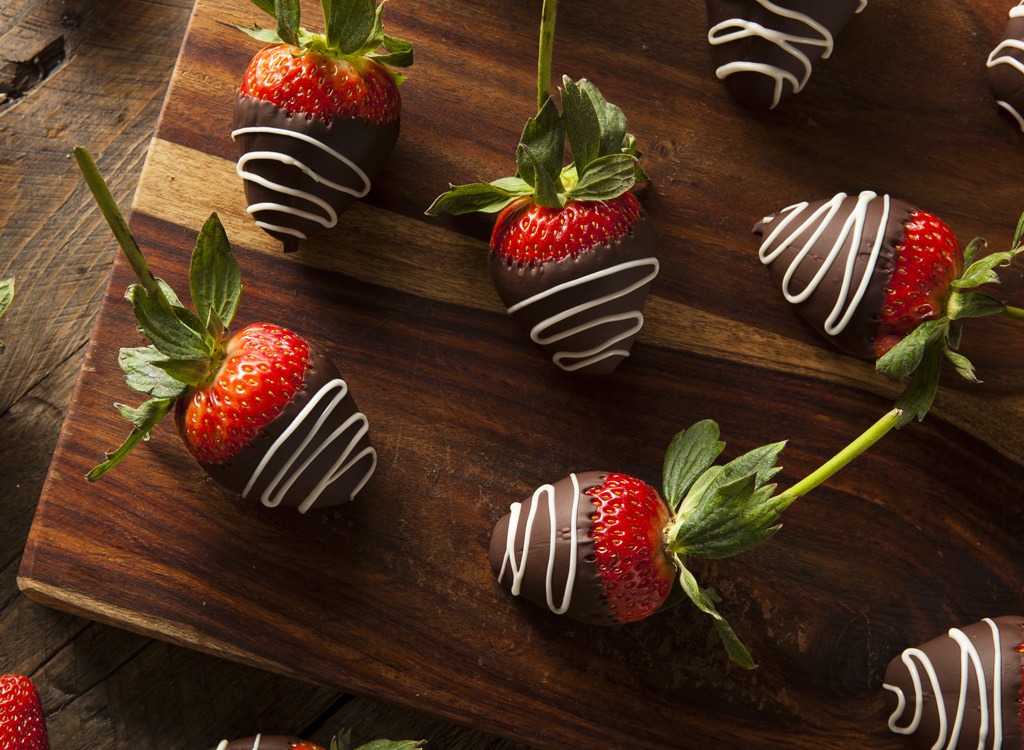 4 pieces, 164 calories, 8.5 g fat
Make this dessert with dark chocolate instead of milk to boost your antioxidant intake.
AND THE #1 HOLIDAY DESSERT IS …HOMEMADE CHOCOLATE CHIP COOKIES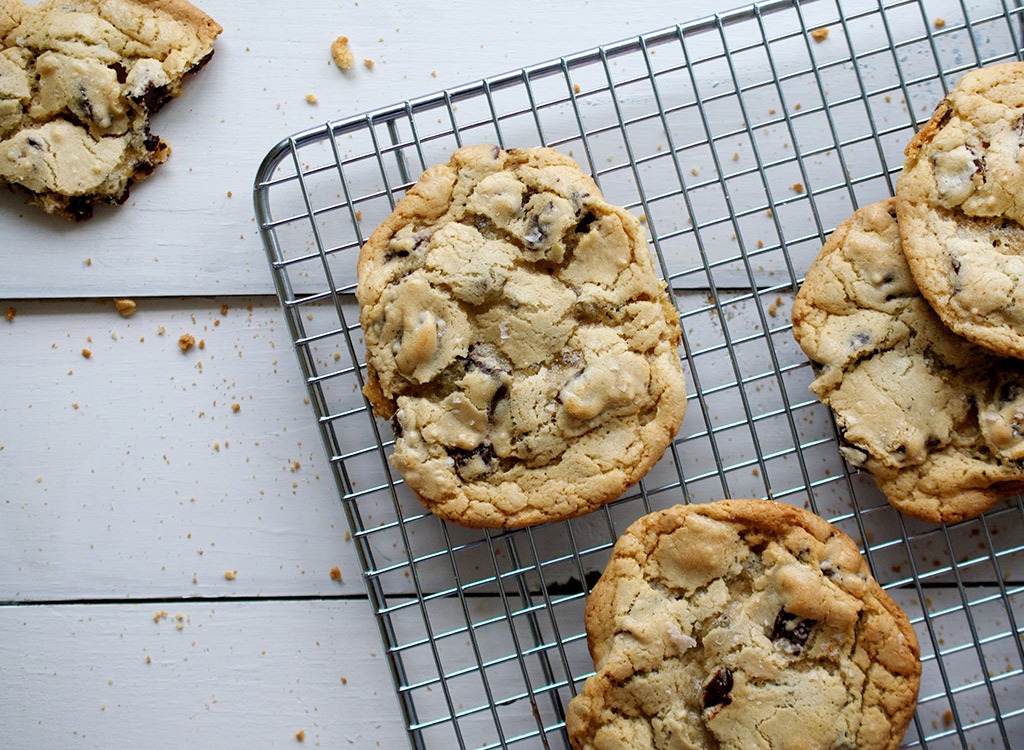 1 medium, 2-1/4" dia, 78 calories, 4.5 g fat
This classic cookie is easy on the waistline—no wonder it's Santa's favorite. Wondering how all of your other favorite cookies hail in comparison? Check out our exclusive report, 36 Most Popular Cookies in America—Ranked! to find out!