5 Big Changes You'll See at Subway This Year
The world's largest sandwich chain could look quite different in the future.
Consistently named America's #1 sandwich chain, both in terms of popularity and profitability, Subway is certainly no stranger to success. That being said, it's been a turbulent past few years for the Connecticut-based brand that invites customers to "Eat Fresh," and lots of changes are expected in 2023 and beyond.
The pandemic predictably took a toll on business, with over 2,000 Subway locations closing their doors in 2020 alone, and sales declining by nearly $2 billion year-over-year. Unlike many of its competitors, however, Subway has struggled to regain its footing post-pandemic. Another 1,000 or so locations shuttered in 2021, and the chain found itself marred in an unappetizing lawsuit over the authenticity of its tuna.
In pursuit of a positive change, Subway launched the ambitious "Eat Fresh Refresh" campaign in the summer of 2021, boasting "improvements to almost every core menu item and introducing important digital upgrades that elevate the guest experience." Fast forward to summer 2022, and the chain introduced the "Subway Series," a set of 12 sandwiches featuring pre-set ingredients intended to be ordered as is instead of customized.
The Subway Series was certainly a gamble, as it represented a major departure from Subway's usual create-your-own-sandwich business model, but early indicators suggest business is indeed beginning to turn around for the sandwich chain. Subway reported a 12.1% increase in global same-store sales year-over-year for Q1 2023, as well as an 11.4% jump in digital sales. In North America alone year-over-year same-store sales improved by 11.7% and digital sales increased by a considerable 21.2%.
"Our continued impressive performance demonstrates that our efforts to build a better Subway and win back the hearts and minds of sandwich lovers around the globe is working," commented John Chidsey, CEO of Subway. "With strong sales momentum across our restaurants and a refreshed focus on strategic brand growth, there has never been a more exciting time to be part of the Subway brand."
This mega-successful sandwich brand has no plans of slowing down in 2023. Let's take a look at five of the biggest changes you'll see this year at Subway in 2023.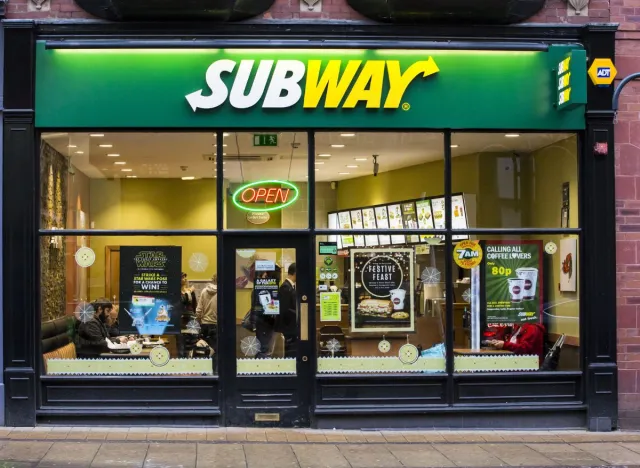 Subway may have closed thousands of stores in recent years (6,500+ since 2016), but make no mistake, the sandwich chain still enjoys an absolutely massive presence all over the world. Today, there are close to 37,000 Subway locations across 100 countries. In the USA, however, Subway's unit count currently sits at 20,576—its lowest since 2005!
Subway finally looks primed to turn this trend around. The chain opened nearly 750 new locations last year, as well as another 145 new units during Q1 2023. All in all, Subway says it aims to increase North American openings by 35% this year in comparison to 2022. Besides just new stores, major upgrades are planned as well. Subway intends to remodel 3,600 North American locations this year, increasing the number of units in the "current Subway image" to 10,000 by this summer.
Beyond just opening and closing locations, Subway is also in the midst of overhauling its entire franchising system. Traditionally reliant on single-unit, mom-and-pop operators, the chain has been working to bring more experienced, multi-unit owners into the fold. Just last month Subway announced five new multi-unit owner agreements across Texas, Florida, Arizona, and the mid-Atlantic that resulted in the consolidation and transfer of 230 restaurants so far. The chain is utilizing a similar strategy overseas, partnering with well-funded, long-established local operators.
"As part of Subway's transformation journey to improve across all aspects of the brand, we have spent the past two years optimizing our footprint by using a strategic, data-driven approach to ensure restaurants are in the right location, image, and format. This includes opening new locations, with quality remaining a top priority, relocating restaurants to maximize guest traffic and closing locations when needed," a Subway spokesperson said.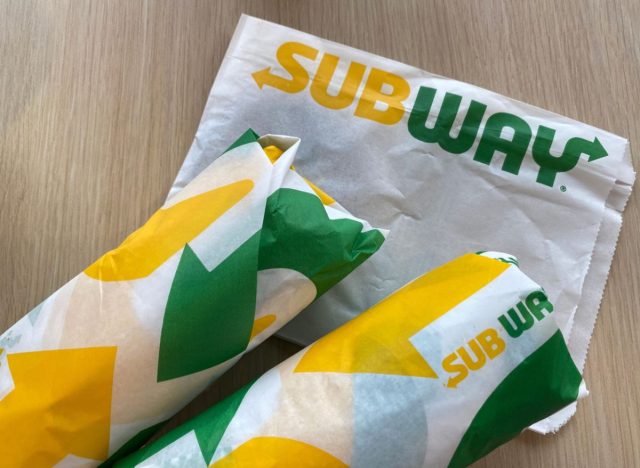 Despite being privately owned since 1965, reports have swirled all year long about an impending sale of the behemoth sandwich chain. CEO John Chidsey flat out said at a recent press conference that talks to sell the brand are "well underway" with top brass hoping a deal can be done by around late May or Early June.
Subway won't come cheap, with the company seeking a valuation somewhere in the neighborhood of $10 billion. The hefty price tag hasn't deterred more than 10 suitors (mostly private equity and investment firms), however, according to the Wall Street Journal. Per Reuters, Subway has already received multiple offers ranging from $8.5-10 billion for the company.
J.P. Morgan, Subway's financial advisor for the sale, has reportedly put together a $5 billion debt financing package, featuring loans and bonds, in an effort to help strike a deal during these financially tight times.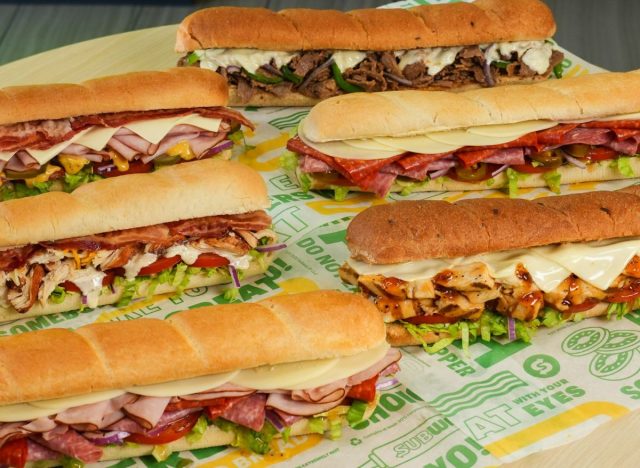 The Subway Series lineup of 12 ready-to-order pre-set sandwiches proved to be a massive success for Subway, driving record sales. So, the brand decided to expand the Subway Series lineup with six additional entries: two brand-new sandwiches and four twists on fan favorites.
"Four beloved Subway classics are joining the Subway Series menu—the Sweet Onion Teriyaki, Italian B.M.T., Chicken & Bacon Ranch and Spicy Italian," reads the press release. "But with some changes that will make these fan favorites even more craveable."
Each of those four Subway classics have been updated, or remixed, into the All-Pro Sweet Onion Teriyaki, Ultimate B.M.T., Elite Chicken & Bacon Ranch, and the Hotshot Italiano, respectively. Meanwhile, the Pickleball Club and the Teriyaki Blitz, two entirely new signature Subway sandwiches, are joining the Subway Series menu as well.
Perhaps most importantly for all the cheese lovers out there: All sandwiches on the Subway Series menu are now available with double cheese.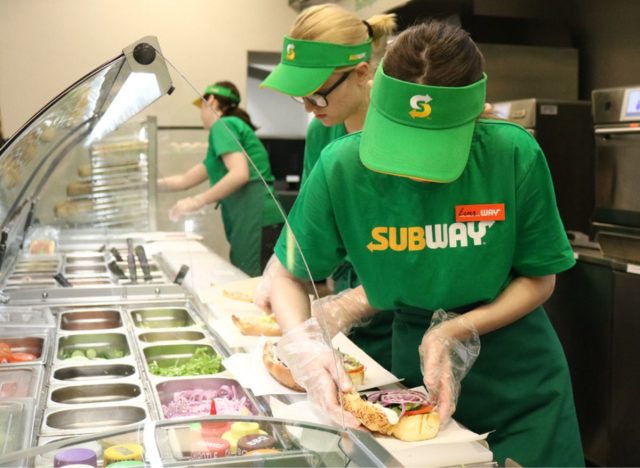 Subway had often been criticized over the years for shipping pre-sliced meats to its restaurants instead of slicing in-house like the majority of its competitors (Jimmy John's, Jersey Mike's). That's finally set to change in 2023, however, as CEO John Chidsey recently told CNN that each and every Subway location will be receiving its very own meat slicer this year.6254a4d1642c605c54bf1cab17d50f1e
"We were one of the few, if only, sub shop that didn't slice in-restaurant. Not only does it give the guest a better perception of seeing the nice, fluffy meat, but we save a lot of money since we were paying a lot of money to have it sliced upstream," Chidsey explained at the time.
While both Subway employees and patrons have expressed doubts over just how smoothly the transition to slicing will go, Restaurant Business reported last year that Subway plans to use automatic slicers and slice meats in the mornings and afternoons instead of according to each order.
"We had some reservations about how difficult this would be for restaurants," Trevor Haynes, president of Subway North America, said. "But it's been very smooth and very positive."
Electric vehicle charging stations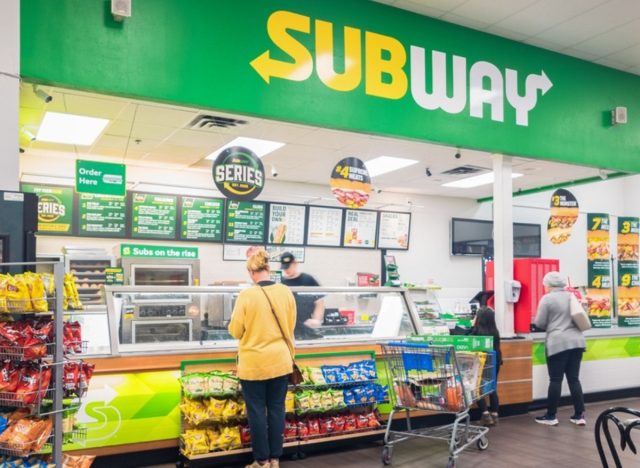 In February 2023, Subway announced an innovative new partnership with GenZ EV Solutions, a leading provider of electric vehicle (EV) charging solutions, to create "Subway Oasis" electric car charging parks complete with green spaces, Wi-Fi, bathrooms, and playgrounds.
The first part of Subway's multi-year rollout plan for these oases will be the development of smaller-format, fast EV charging stations to be piloted at select new or newly remodeled Subway locations across the U.S.—starting in 2023.
"We're constantly exploring new ways to innovate and exceed our guests' expectations for a high-quality, convenient experience," said Mike Kappitt, Chief Operating and Insights Officer of Subway. "Our partnership with GenZ EV Solutions is a win for our guests, our franchisees and our planet, creating a dedicated space for drivers to charge their vehicle while enjoying their favorite Subway sandwich."
John Anderer
John Anderer is a writer who specializes in science, health, and lifestyle topics.
Read more about John