Subway's Mass Restaurant Closures Have Now Brought the Chain To Its Smallest Size Since 2005
A trend of restaurant closures has followed the sandwich chain for years.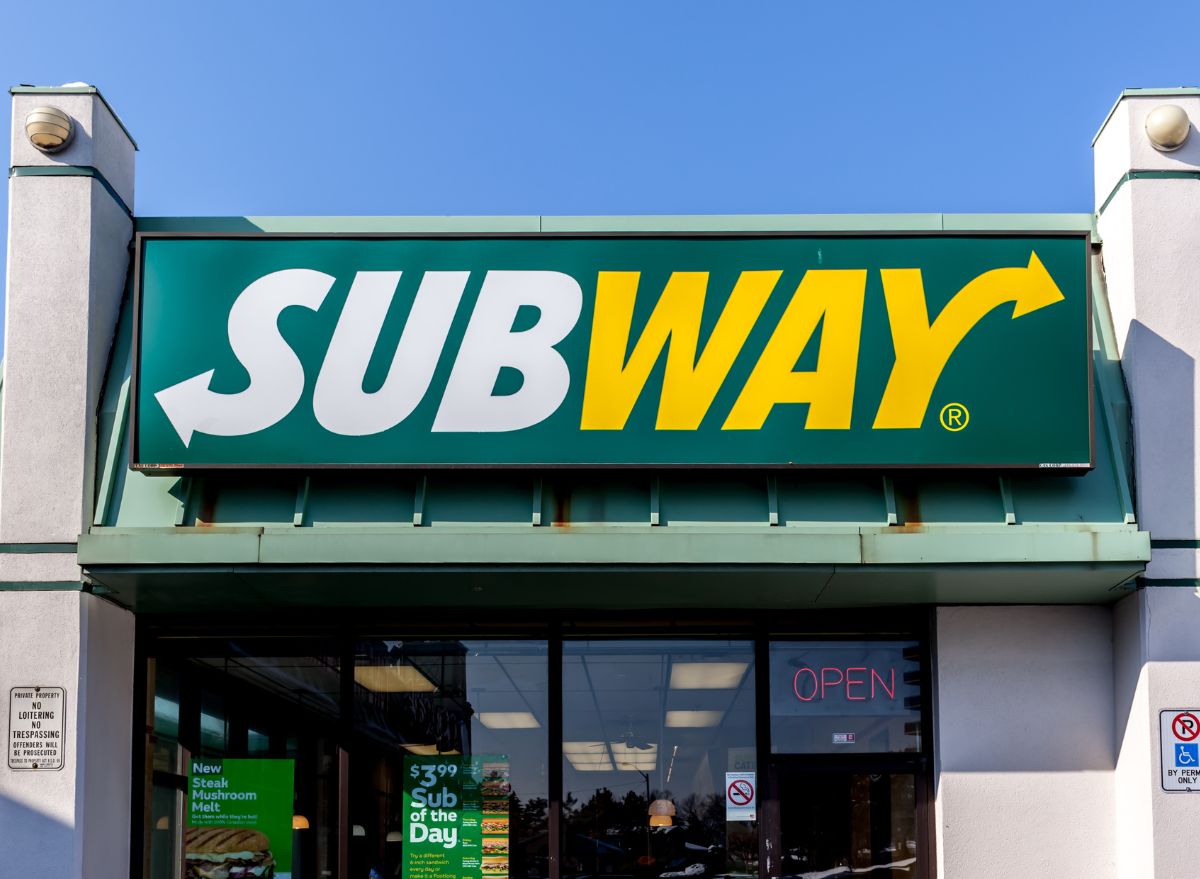 Subway is a massive fast-food chain, operating nearly 37,000 restaurants across 100 countries as of 2023. But it has become decidedly less massive in recent years.
The company shuttered 571 restaurants in the United States in 2022, Restaurant Business Magazine reported, citing data from the chain's franchise disclosure document. The loss of all these restaurants in 2022 wasn't exactly unprecedented for Subway. Struggling to recover sales after the COVID-19 pandemic, the company also shrank rapidly in 2021 as franchisees shuttered about 1,000 restaurants. Its current restaurant count of 20,576 is the smallest total since 2005, per the publication.
The disparity between Subway's past and present unit counts only grows larger when you look back even further. Per Reuters, Subway ended 2016 with 26,744 operating restaurants in the United States, a difference of more than 6,100 when compared to the company's current total of 20,576.
"As part of Subway's transformation journey to improve across all aspects of the brand, we have spent the past two years optimizing our footprint by using a strategic, data-driven approach to ensure restaurants are in the right location, image and format. This includes opening new locations, with quality remaining a top priority, relocating restaurants to maximize guest traffic and closing locations when needed," a Subway spokesperson said in a statement regarding the 2022 closures.
The spokesperson added that the slowdown in the rate of closures last year "is an expected result of the progress we have made to get back to smart growth, which will boost franchisee profitability and protect our position in the market."
Though the news of these closures may paint a somewhat shaky picture for Subway, not all recent takeaways from the company have been negative. The company reported its ninth consecutive quarter of positive sales last week–including a double-digit increase in global same-store sales. And though American restaurant closures did continue into 2022, Subway slowed closures to their lowest rate since 2016, Restaurant Business Magazine reported.
Additionally, the company has some ambitious plans for restaurant growth in 2023. Subway announced last month that it expects to increase new restaurant openings across North America by around 35% in 2023 and already opened 145 new restaurants in the first quarter of the year. The chain—which is exploring a possible sale—also plans to modernize thousands of established restaurants across North America this year, expecting to increase the number of restaurants in the "current Subway image" to 10,000 by this summer.
Subway is also expanding its sandwich options. The chain just added six new artisanal sandwiches to its Subway Series menu, including upgraded versions of four fan-favorite sandwiches and two brand-new options. This was the first time that Subway has updated the Subway Series menu since it launched in July 2022. The premium menu features sandwiches with pre-decided components instead of the traditional build-your-own sandwiches.
Zoe Strozewski
Zoe Strozewski is a News Writer for Eat This, Not That! A Chicago native who now lives in New Jersey, she graduated from Kean University in 2020 with a bachelor's degree in journalism.
Read more about Zoe