What's the Difference Between the Big Mac and the Whopper?
This is what really sets the classic fast food burgers apart from each other.
Everyone has an allegiance to their favorite fast food joint. Are you a McDonald's fan, or do you never stray away from Burger King? Chances are, you prefer one of their classic burgers over the other, creating one of the longest standing rivalries in fast food history: Big Mac vs. Whopper.
Both sandwiches are very similar, in that they're the icons of their respective fast food places. They're also both big! But when you break it down and look at the nitty gritty of each of these burgers, they each have their own unique aspects that make them stand out and demand you pick a side on which one you like best.
So, what are the differences between the Big Mac and the Whopper? Allow us to explain.6254a4d1642c605c54bf1cab17d50f1e
The Big Mac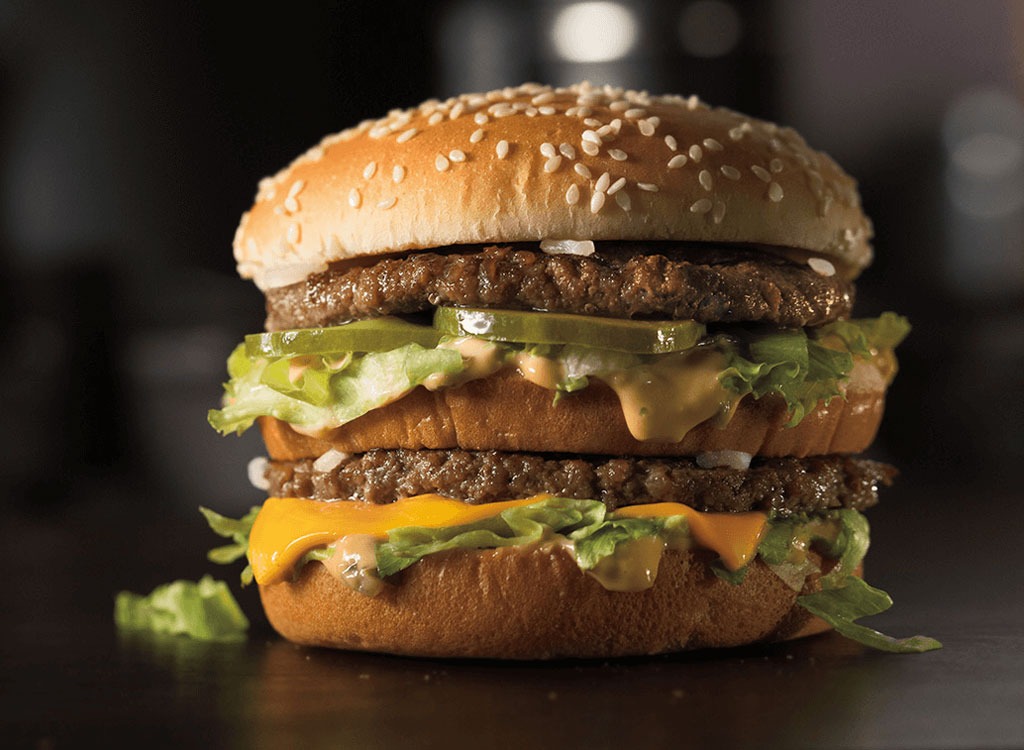 McDonald's classic Big Mac is their extra large burger with that famous sauce. The sandwich includes the sesame-seed-covered Big Mac bun, two hamburger patties, lettuce, cheese, onions, pickle slices, and the Big Mac sauce. The sauce is truly what makes the Big Mac so memorable and so popular, and for many years, it was an actual mystery of what was in the spread. In 2012, the executive chef revealed what actually goes into the sauce—and it's so simple. It's just mayonnaise, sweet pickle relish, yellow mustard, vinegar, garlic powder, onion powder, and paprika. Who knew that's all it took to make this iconic burger dressing? We bet you already have these ingredients in your kitchen now!
Another aspect of the Big Mac that sets it apart from other fast food burgers besides the tasty sauce is that third bun. There's a third piece of bread separating the two hamburger patties to give the sandwich that extra oomph in the middle. And it's apparently working, because as of 2015, McDonald's was selling about 550 million Big Macs each year.
The Whopper
BK's Whopper is more of a classic burger—just, well, bigger. Similar to the Big Mac, the sandwich starts with a sesame-seed-covered bun, and in it, you've got a ¼-pound hamburger patty, tomato, lettuce, mayonnaise, pickles, ketchup, and onions. What makes this burger unique is not just its size, but the fact that Burger King flame-grills their hamburger patties, which gives you that tasty grilled flavor.
Burger King introduced the Whopper back in 1957, which makes it older than the Big Mac, which was created in 1967. And unlike anything McDonald's has tried, Burger King is even testing an Impossible version of its signature sandwich. Yep, that means you can get a meat-free version of the Whopper at select locations, which makes it super approachable for vegetarians. The Big Mac has yet to make that type of change, though. You could say the (grill) heat is on!
The final verdict in the Big Mac vs. Whopper showdown
At their core, both the Big Mac and the Whopper are simply classic burgers. They might look and even taste a little different, as the Big Mac has those double patties and the not-so-secret secret sauce, while the Whopper keeps it standard with one piece of flame-grilled meat and is slathered in ketchup, but you really can't go wrong with either option when you're craving a fast food burger.
Hedy Phillips
Hedy is a freelance writer with years of experience covering buzzy food trends, wellness, and weight loss.
Read more about Hedy