Burger King Is Testing an Impossible Whopper—Here's Where You Can Get It
Calling all plant-based eaters: you can now order an Impossible Whopper at BK, but there's a catch.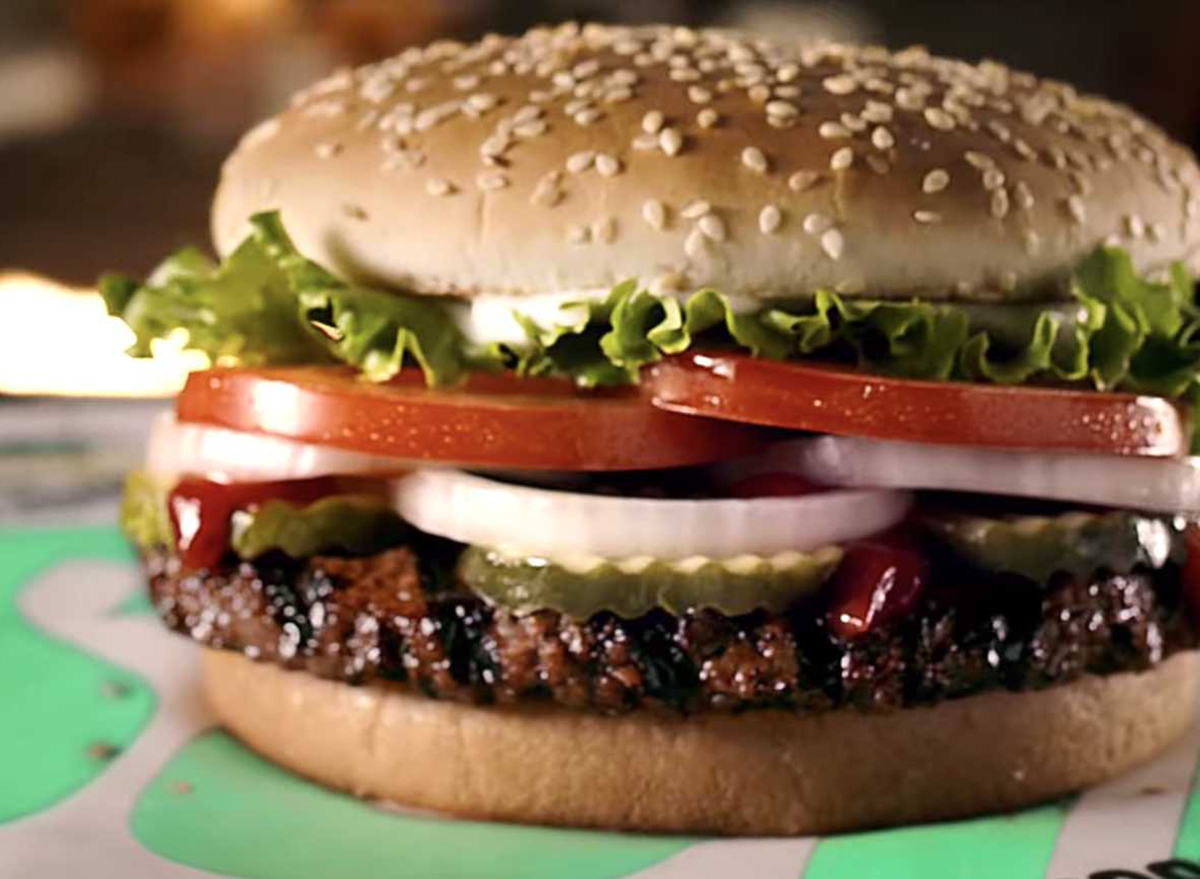 This just in: the Burger King you know and love is making a big, more inclusive change in one of the chain's staple menu items—yes, we're talking about the Whopper. BK announced that it will be testing out a meatless option called the Impossible Whopper—but there's a catch.
OK, but wait. What exactly is an Impossible Whopper?
It's possible that you have yet to hear about the Impossible Burger, which is a plant-based burger produced by Impossible Foods, based in Redwood City, California. Through genetic engineering, this meat alternative mocks the taste of meat and it even bleeds when you bite into it for a truly authentic meat-like experience, even though there isn't a trace of animal protein in it.
Chief Executive of Impossible Foods, Pat Brown, told Reuters in an article that the Impossible Burger is currently sold in over 6,000 restaurants. However, if this test with the Impossible Whopper proves to be a success, he predicts the Impossible Burger will be in well over 13,000 restaurants. As of right now though, the Impossible Whopper will only be available in 59 Burger King locations in and around St. Louis, Missouri.6254a4d1642c605c54bf1cab17d50f1e
Burger King isn't the only fast food restaurant that's integrating the plant-based burger into its menu. In fact, White Castle did it already; The Impossible Slider was introduced as a permanent menu item last fall. In addition, Red Robin will also begin serving the Impossible Burger this month in locations all across the country.
The Impossible Whopper, however, is a big deal. Why? The Whopper has been around since 1957. Any modification to a long-standing menu item like that is going to get some attention—especially now that it can be enjoyed by those who follow a vegetarian or vegan diet as well.
Burger King has high hopes for this new plant-based burger, too. Chris Finazzo, the president of Burger King North America, told CNN Business that, with this test, the restaurant chain hopes to "give somebody who wants to eat a burger every day, but doesn't necessarily want to eat beef every day, permission to come into the restaurants more frequently."
A more plant-friendly menu is currently a trend amid other major fast food restaurant chains, too. Taco Bell, for example, is in the midst of dabbling with a vegetarian menu.
Let's talk about nutrition. How will the Impossible Whopper differ, nutritionally, from the traditional Whopper?
All we know right now is that the burger will pack 12 grams of fat and 17 grams of protein. For comparison, the classic Whopper sandwich has a whopping 40 grams of fat and 28 grams of protein. Evidently, the two versions of the Whopper are nearly identical in taste, too, fooling even those who proclaim to be able to taste the difference in beef in a heartbeat.
We have a good feeling that this plant-based burger will continue to take the U.S. by storm and land a permanent spot on Burger King's menu, and we hope this meat-free alternative becomes available nationwide very soon for all to try for themselves!