9 Tasty Toppings to Boost Your Morning Oatmeal
Turn your morning oatmeal into the most exciting meal on the block.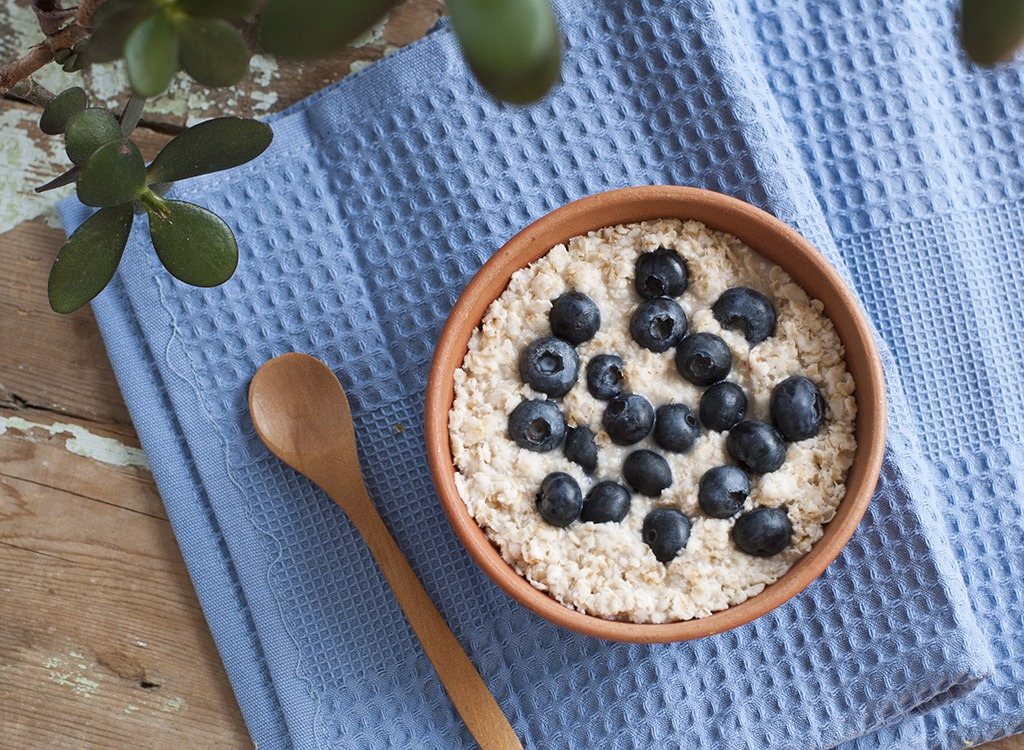 Oatmeal has long-since been one of our favorite breakfasts—and hopefully yours, too, considering its numerous health benefits–but it's not exactly the most exciting breakfast on the block, especially when you compare it to steaming plates of runny eggs. While oatmeal certainly has its benefits, like the fact that it's packed with fiber that keeps you full throughout the day, it can get a bit monotonous. If you're looking to take your oats up a notch, there are many toppings that boost the flavor and nutrition of your morning meal. Check out 9 of our favorite ingredients to up the ante (and the deliciousness) of your morning oats, all the while helping you slim down and stay healthy.
Plums, Berries & Red Apples
According to a variety of studies from universities around the country, red fruits boost fat loss, so it's only logical to kick-start your day with the belly-fat-fighting power. A 2012 Texas Women's University study found that blueberries in particular can fight adipogenesis (the formation of fat cells). But when it comes to berries, your options are anything but limited. Top your oatmeal with tart cherries, plums, chopped apples (make sure to leave the skin on) and other red fruits for optimal amounts of anthocyanins, which boast "zero belly" properties. In one study, subjects who consumed ruby red grapefruits with every meal, for example, lost as much as an entire inch off their waists. Researchers attributed such an effect to a powerful combination of phytochemicals and Vitamin C.
If you're feeling adventurous, track down some Scandinavian lingonberries. In a recent study published in the Journal of Nutrition and Metabolism, mice with a high-fat diet that was supplemented by berries gained less weight than the mice eating high-fat and no berries. Lingonberries in particular were shown to decrease body fat content and prevent, fully or partially, negative metabolic effects from the high-fat diet.
Cinnamon adds a sweet, warm twist to your otherwise boring oatmeal, making it a great go-to AM spice. But what you may not know is that cinnamon is also chock-full of antioxidants called polyphenols that improve insulin sensitivity to help alter body composition. According to a study printed in the Archives of Biochemistry and Biophysics, cinnamon can help you burn fat around that impossible belly area, while simultaneously stabilizing blood sugar and energy. Pretty great, right? Bonus: keep your breakfast festive with seasonal flavors from apple pie by dousing your oatmeal with apples and cinnamon. You'll double down on health benefits and start the day deliciously.6254a4d1642c605c54bf1cab17d50f1e
Almond Butter or Chopped Almonds
When better to give yourself a neurological edge than right before your big morning meeting or presentation? As explained in Science Direct, almond butter has been proven to boost brainpower thanks to high concentrations of Vitamin E, which is a powerful antioxidant for the mind; this vitamin actually helps protect the brain tissue from damaging free radicals, which can break down the brain membranes. Mix a rich, creamy tablespoon into to your morning bowl of oatmeal and you've got the ideal brain food.
If you're looking for a natural detox without going on a liquid diet, stirring in chopped almonds is the perfect oatmeal addition for you. According to a study in the Journal of the National Cancer Institute, Vitamin E as shown to decrease the incidence of liver cancer, even when consumed in small amounts. Almonds are a great source of the uber-powerful vitamin, and just a few handfuls could lower the risk of liver cancer by as much as 40%.
Chocolate for breakfast? Yes, please! Before you accuse us of contaminating your oatmeal with extra calories and sugar, you should know that chocolate has tons of health benefits as long as you're selective about which you choose. Natural cocoa is high in flavonoids that release endorphins (the happy chemical that keeps you smiling), as well as the good kind of saturated fat called stearic acid, which can boost your good HDL cholesterol. Just be sure you opt for the purer variety (generally, you should be looking for at least 85% unsweetened chocolate), rather than Dutch-processed milk chocolate.
If you like your oatmeal a little bit sweeter, forgo processed sugar and try honey. This natural sweetener is packed with a variety of anti-inflammatory compounds like quercetin and kaempferol. Resist the urge to reach for that artificial sweetener packet, too. While honey is relatively high in calories, it has less of a blood-sugar effect than table sugar, so it'll help keep your energy humming all day rather than causing an inevitable sugar crash.
Like its almond-based cousin, peanut butter promises lots of bang for your nutritional buck. While it's high in fat grams and calories, peanut butter has high amounts of vitamins and fiber and the FDA has approved claims that it reduces the risk of heart disease. Peanut butter also contains phytochemical resveratrol, which is what makes red wine such a healthy fan favorite. One study published in Science Direct has linked resveratrol to the prevention of cancer in colorectal cells.
As November changes over to December, you're likely to have a couple extra pumpkins on hand. Put some chunks of pumpkin or a spoonful of pureed pumpkin (the unsweetened kind, please) into your oatmeal for a hearty, fall treat. Even better, this low-calorie ingredient has a bounty of benefits, like slowing digestion, helping your skin look younger, sharpening your vision with lots of vitamin A and increasing your immune strength.
Not only will these gorgeous pink seeds brighten up your beige bowl, they also offer huge amounts of antioxidants. And as an added bonus, the high levels of fiber in pomegranate seeds may help keep your appetite down, leading to easy, stress-free weight loss. One study also shows they lower hypertension and act as an anti-inflammatory, making them heart healthy, too.
Not only will coconut flakes add a sweet taste of tropical flavor to your morning oats, giving you a small respite from the winter chill, they're also proven to help reduce belly fat. A study published in Lipids found that both groups of test subjects, women that consumed soybean oil and those that consumed coconut oil, experienced weight loss, but only the latter group saw a decrease in waist width. In other words, not only did they feel lighter, they lost inches, too!
Eat This, Not That!
Inspired by The New York Times best-selling book series, Eat This, Not That! is a brand that's comprised of an award-winning team of journalists and board-certified experts, doctors, nutritionists, chefs, personal trainers, and dietitians who work together to bring you accurate, timely, informative, and actionable content on food, nutrition, dieting, weight loss, health, wellness, and more.
Read more about Eat This