10 Cozy Coffee Shops in Boston
Get comfy at these wicked cozy coffee shops in Beantown.
This Northeastern city is home to some of the top colleges in the country, making it a mecca for the educationally elite. To maintain those top-tier grades, access to caffeine is mandatory. And even if you aren't exactly student-age anymore, Beantown has no lack of cozy and elevated coffee houses that serve up the best lattes, cappuccinos and cold brews. From Cambridge to the South End, here are the coziest Boston coffee shops to get your java fix.
1 Merrimac St
Boston, MA, 02114
When you're in the Land Down Under, it's common to ask your mates if they want a 'cuppacoffee'—and that's exactly where this coffee house got its name. Owned by an entrepreneur from Sydney, you have your choice of flat whites, long blacks or a good 'ole traditional brew. If you're hungry during your stroll, consider trying their authentic Aussie Pies, including mince and cheese, chicken portobello and mushrooms, and more.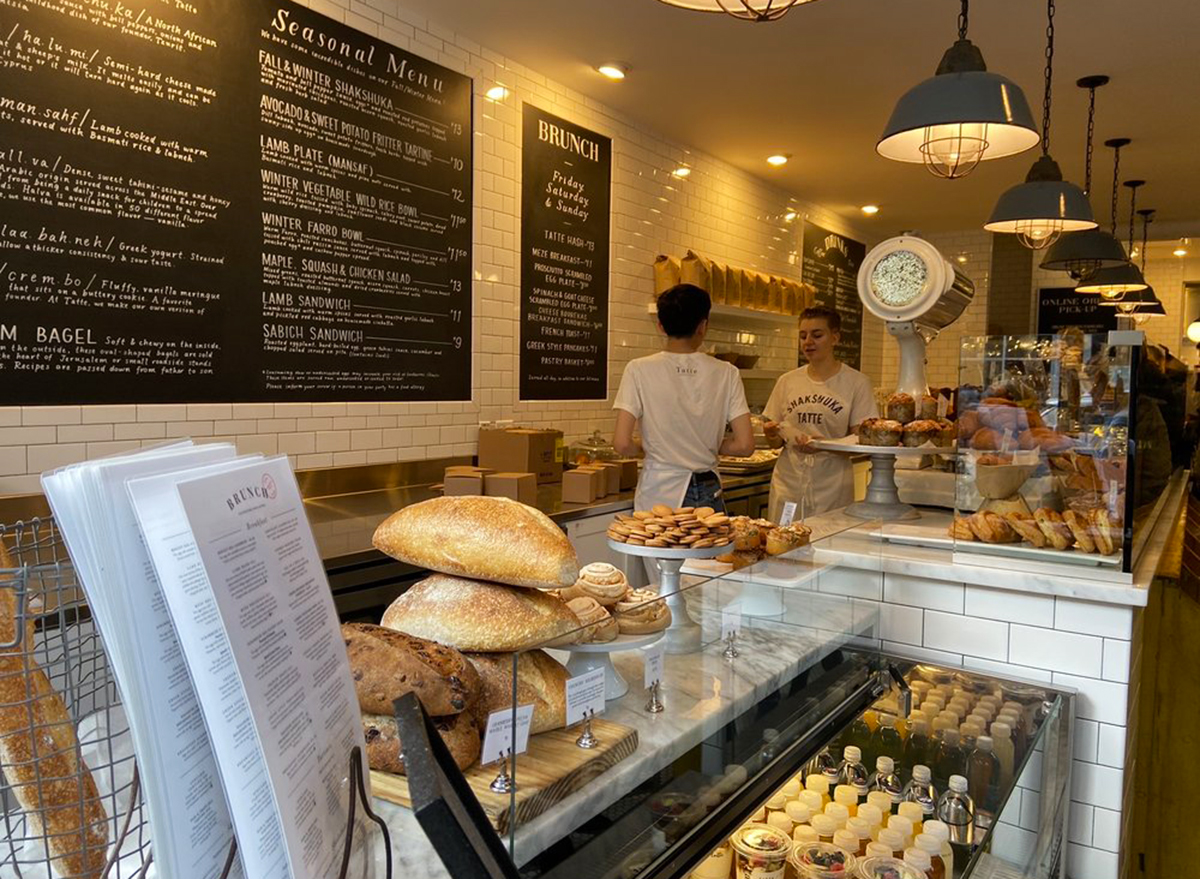 399 Boylston St
Boston, MA, 02116
If you're a true Bostonian, you probably know (and love) this local coffee and eatery hub. Pronounced like 'latte', there are a dozen or so locations dotted throughout the city, with more opening every year. Not only do they have a vast (and scrumptious) selection of freshly baked pastries, but the modern, white decor is majorly Instagrammable. Brunch fans can't miss the shakshuka with perfectly-crusty sourdough bread, and latte lovers should check out their house concoction that includes rose syrup and spices.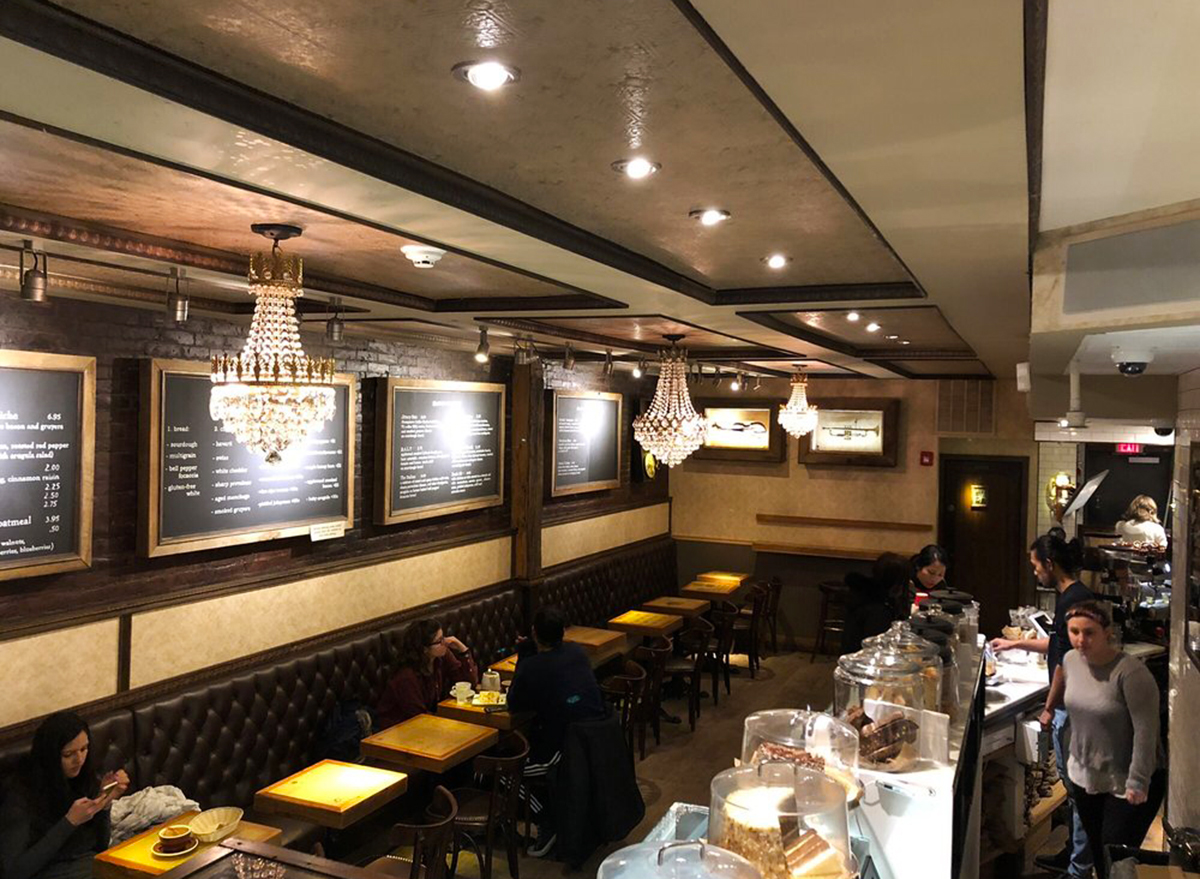 85 Newbury St
Boston, MA, 02116
You won't find WiFi at this coffee shop, because they want their customers to spend less time on Facebook and more time, well, thinking. The atmosphere is bright, warm, and antique-y, encouraging visitors and locals to curl up with a book or tune-in to a conversation with their pal. In addition to rich, robust aromas from their coffee selection, Thinking Cup also features an array of pastries, and an extensive breakfast and lunch menus. As a bonus for night owls, they are open until 10 p.m.!
10 Milk St
Boston, MA, 021086254a4d1642c605c54bf1cab17d50f1e
There are some folks who will grab any coffee and go, and others who think critically and carefully about their beans. If you're part of the latter crew, you'll soak up all of the vibes at Ogawa Coffee, since they dedicate themselves to the fine art of java. In addition to pastries and bites, they also specialize in a unique Japanese-style of coffee roasting, featuring beans from Kyoto. If you want to improve your own skills and have the time, they also offer cappuccino art classes, among others.
1096 Boylston St
Boston, MA, 02215
For those entrepreneurs or students who prefer to work the day away at a coffee shop, Pavement is a solid place to set up shop. Not only do they have strong WiFi and ample outlets, but the natural light makes it an energizing and inspiring way to meet deadlines and write papers. Though you won't have a big breakfast of lunch menu to pick from, customers rave about their bread, which is baked fresh daily. Don't miss out on their chai tea lattes, another fave from locals.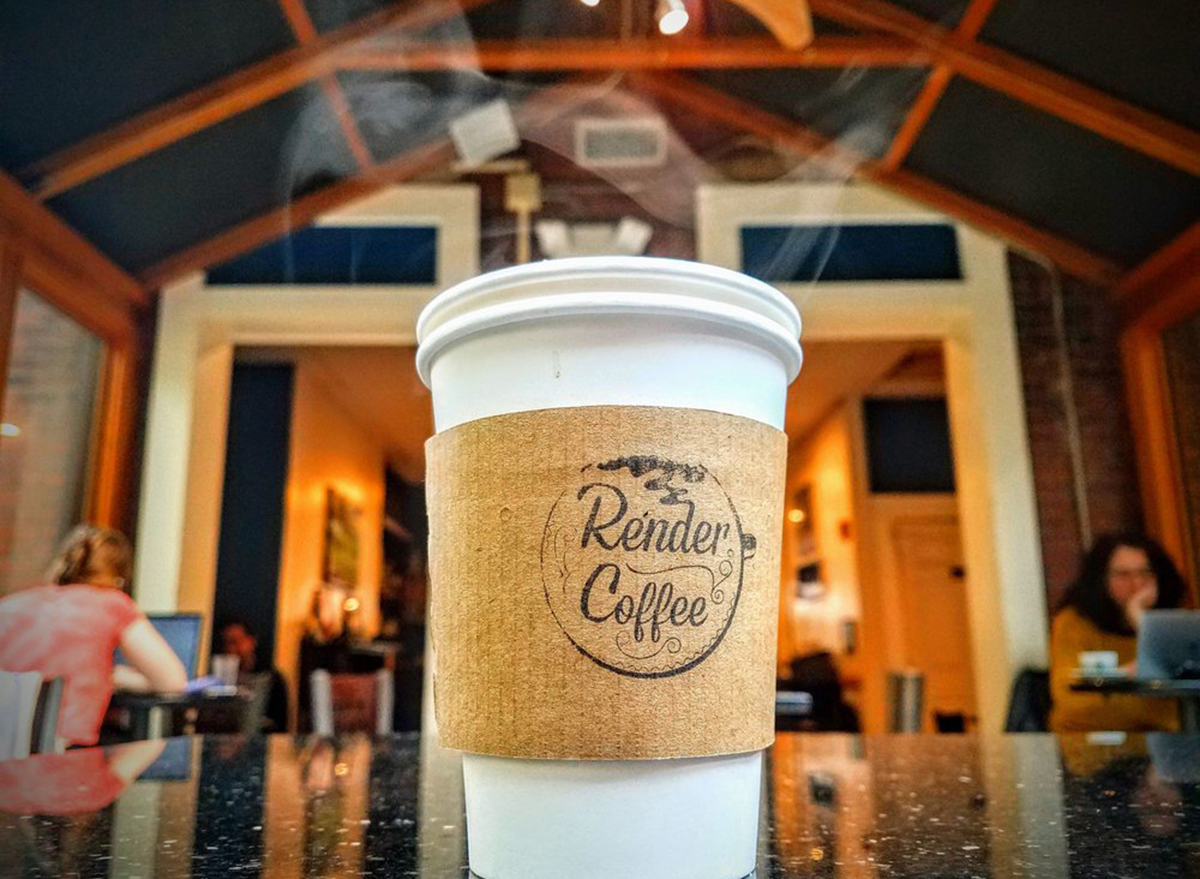 563 Columbus Ave
Boston, MA, 02118
It's true, Boston doesn't have too many months of sit-outside weather. But when the sun's out, locals flock to this coffee shop that has a covered patio, as well as outdoor tables. Think of a greenhouse-like setting, with natural light, cozy vibes and plenty of people typing away on their laptops. Render, like most coffee shops in the area, offer a limited food menu, and pay special attention to every drop of their coffees. They make homemade syrups for their lattes, including chocolate, hazelnut and more.
Tradesman Coffee Shop & Lounge
58 Batterymarch St
Boston, MA, 02110
The name puts it perfectly: this coffee destination doesn't just serve up lattes. At night, they turn into a cocktail bar, and even hosts jazz performances throughout the year. For those who are part of the daytime crowd, you can't miss their creative varieties of croissants (from red velvet to rainbow sprinkles) and beyond. For lunch, avocado toast is worth the hype, and a pot of earl grey is a solid choice, even for coffee drinkers. Located in Boston's growing financial district, it's a nice relief from the hustle and bustle of city life.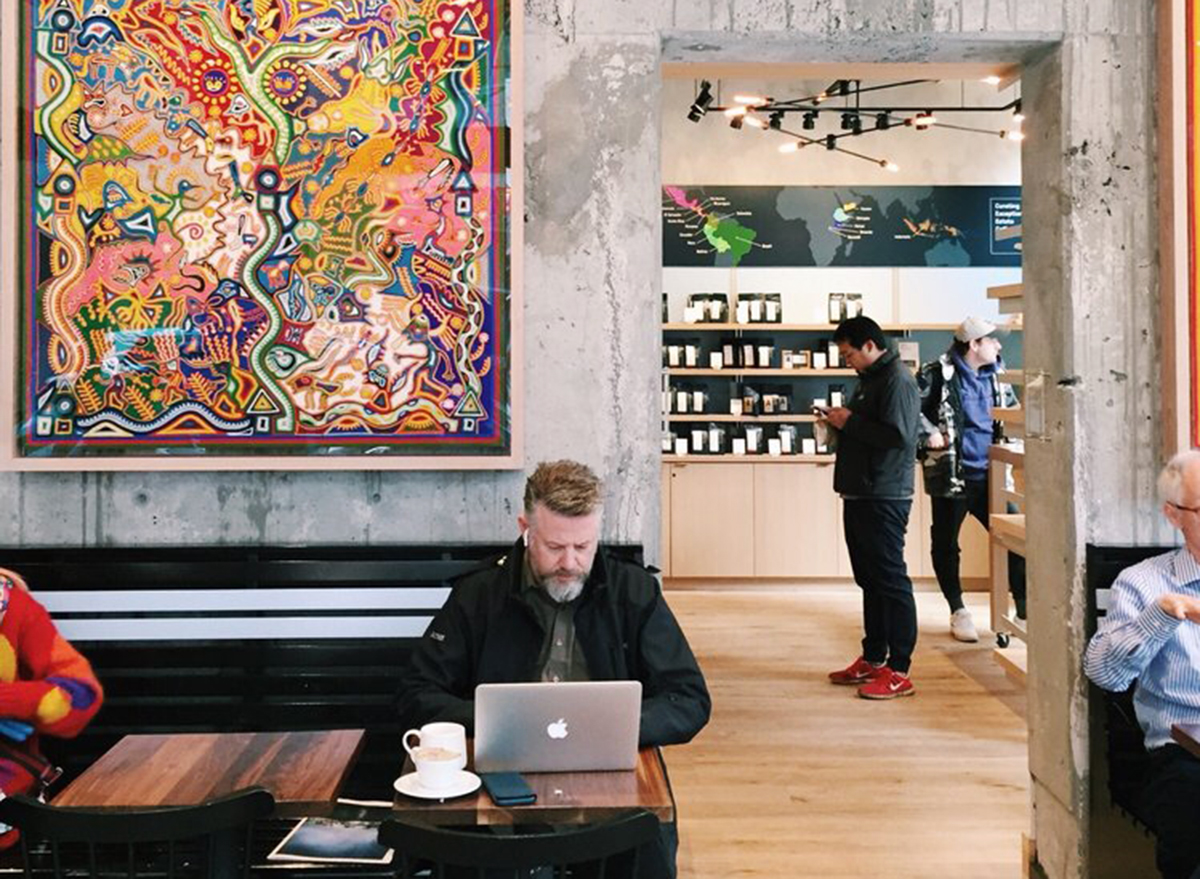 505 Washington St
Boston, MA, 02111
While you won't find much space to work in this coffee shop, you will be mega-impressed with every sip. As a national brand, George Howell only selects the finest of beans, coming from all over the world. You can expect everything from a shot of espresso to their infamous Coffee Sangria. And if you consider yourself somewhat of a coffee snob, you'll appreciate the attention to detail, the small (but perfect) servings, and a shopping section of elevated at-home products. Since it's technically part of the Godfrey Hotel, many folks will grab a coffee and sit in the lobby to enjoy.
665 Washington St
Boston, MA, 02116
Part wine bar, part coffee house, you can quite literally spend all day and night here. With tall, vaulted ceilings, spacious and oversized seating options, and plenty of Instagram-worthy decor, many people will spend an afternoon plowing through work and then celebrating their productivity with a brewski. In addition to—you guessed it—coffee, they also serve wine, beer, soft-serve ice cream, bubble tea, desserts, sandwiches and much, much more.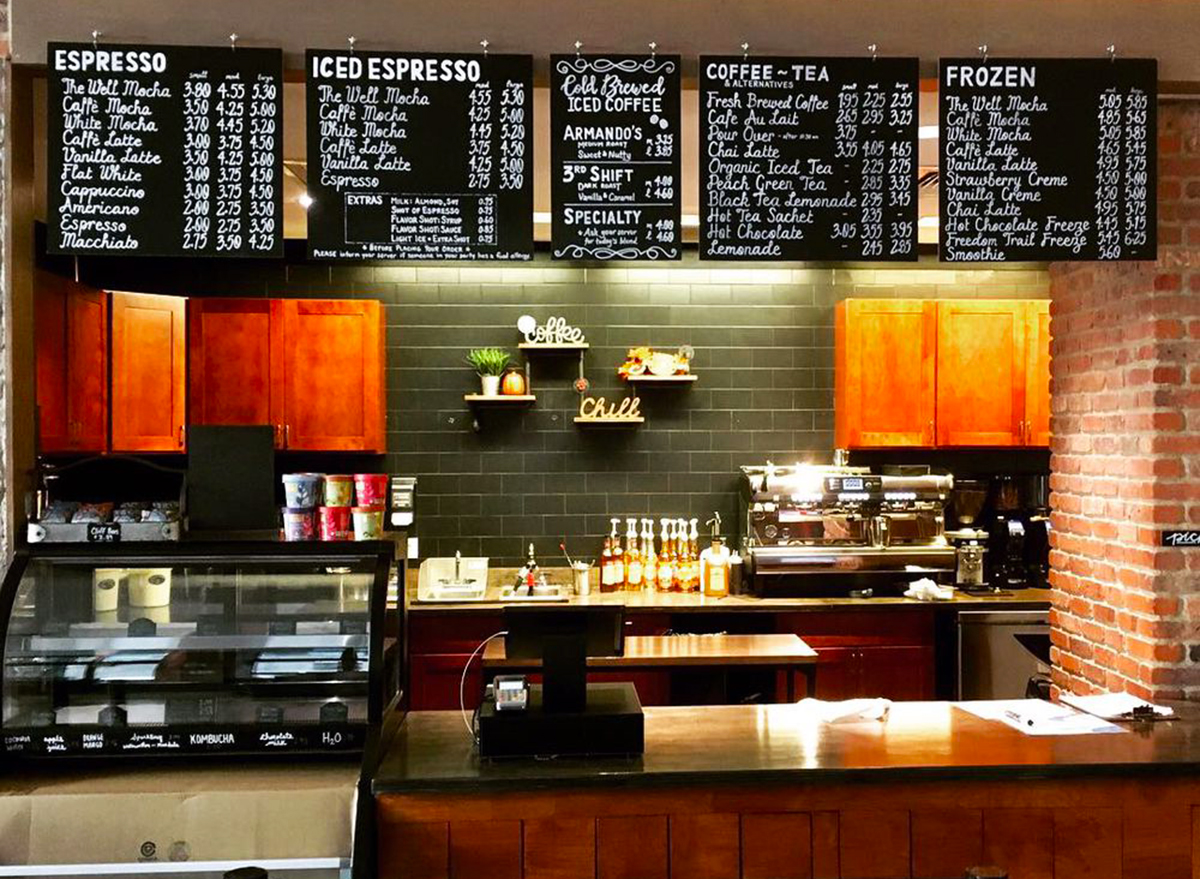 1 State St
Boston, MA, 02111
Get your caffeine fix and complete your good deed of the day by stopping by this Boston local hub. In addition to having a creative and unique menu that includes drinks like the Lavender Fog, customers rave about the friendliness of the staff and the cozy ambiance. What's even better is their dedication to giving back: every month, they choose a different charity to donate a percentage of their proceeds to—from animal shelters to cancer research and more.