17 Coziest Coffee Shops in Washington, D.C.
Looking for a place to cozy up while in the nation's capital? We have just the spots for you!
Whether you need your java fix to-go, or you're looking for a comfortable spot to work for an afternoon, all coffee fans know how important it is to find the right hang. From natural, bright lighting, to sustainable, bold beans, Washington D.C. is packed with countless highly-recommended coffee shops. No matter what part of the city you call home—or you're visiting—let this be your guide to the best-of-the-best out there.
1535 7th St NW
Washington, DC 20001
Though some coffee lovers turn their noses up to anything iced, cold brew fans won't be able to get enough of Compass Coffee's cold brew. Reviewers rave about the rich taste, refreshing temperatures, and the pretty swirls. Another perk of this little shop is their food menu, with a ham and cheese croissant a top breakfast option. For those bagel lovers out there, you'll be stoked to find Compass Coffee partners with well-known Poppy's—so get in early to ensure you snag one before it's gone! With ample seating and a large space, it's smart for coffee dates and working sessions alike.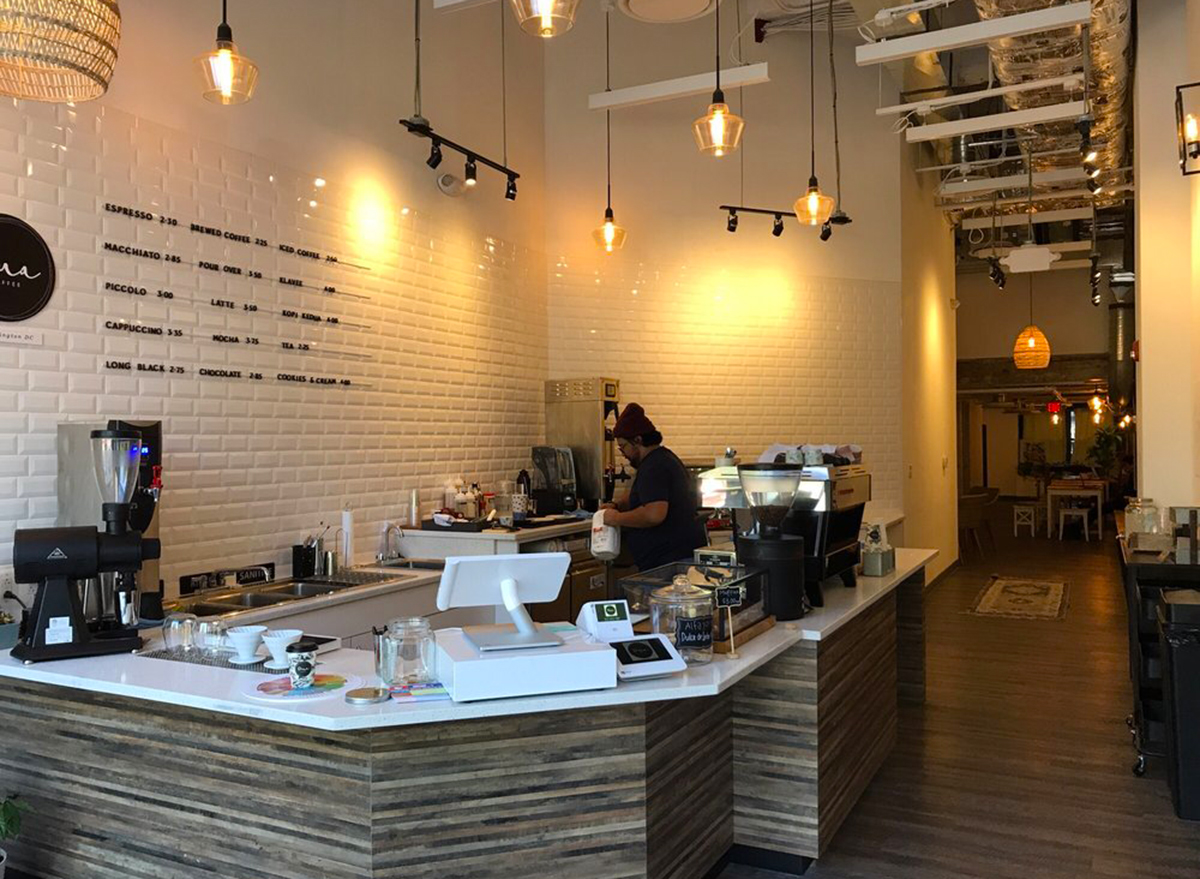 923 15th St NW
Washington, DC 20005
For those who enjoy sampling the flavors of beans from all around the world, a stop by Dua can't be missed. As an Indonesian-based coffee shop, you can try various unique blends—like their Kopa Kedua, which is a latte with condensed milk or Klavee, which features espresso, lemon and coconut water. Black coffee drinkers will enjoy the slightly-fruity, robust notes of their drip from Kintamani, Bali.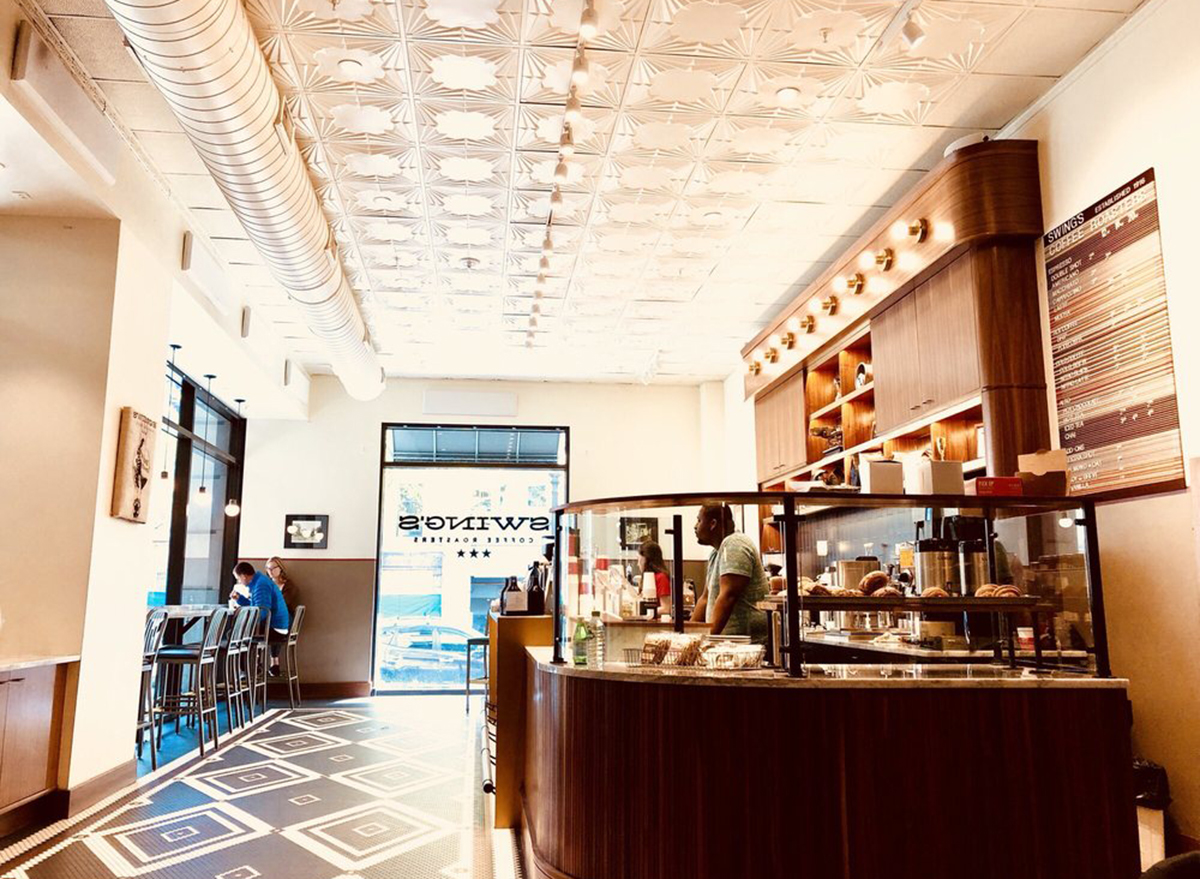 640 14th St NW
Washington, DC 20005
As the world continues to discuss effective ways to decrease their environmental footprint, many brands are looking for sustainable alternatives. With Mother Nature at the heart of this coffee shop's motto, you can expect reusable cups, paper straws and lots of inspiration to love the planet. Reviewers are fans of their draft lattes, which lean on the sweeter and creamier side. If you're in the market for a place to set up shop to study or work remotely, this cozy option near the White House is ideal.
2032 P St NW
Washington, DC 20036
Truth be told, this coffee shop is technically in the basement, so sundrenched isn't exactly the right adjective to describe it. What's surprising though, is how beloved this hole-in-the-wall is by locals, who appreciate the quiet, distraction-free space to log hours, catch-up with pals and grab a bite. In addition to a plethora of traditional coffee beverages, they also serve egg sandwiches, lentil bowls and more. For a fun, Sunday afternoon, take a class at the yoga studio upstairs and then pop down for a post-savasana reward.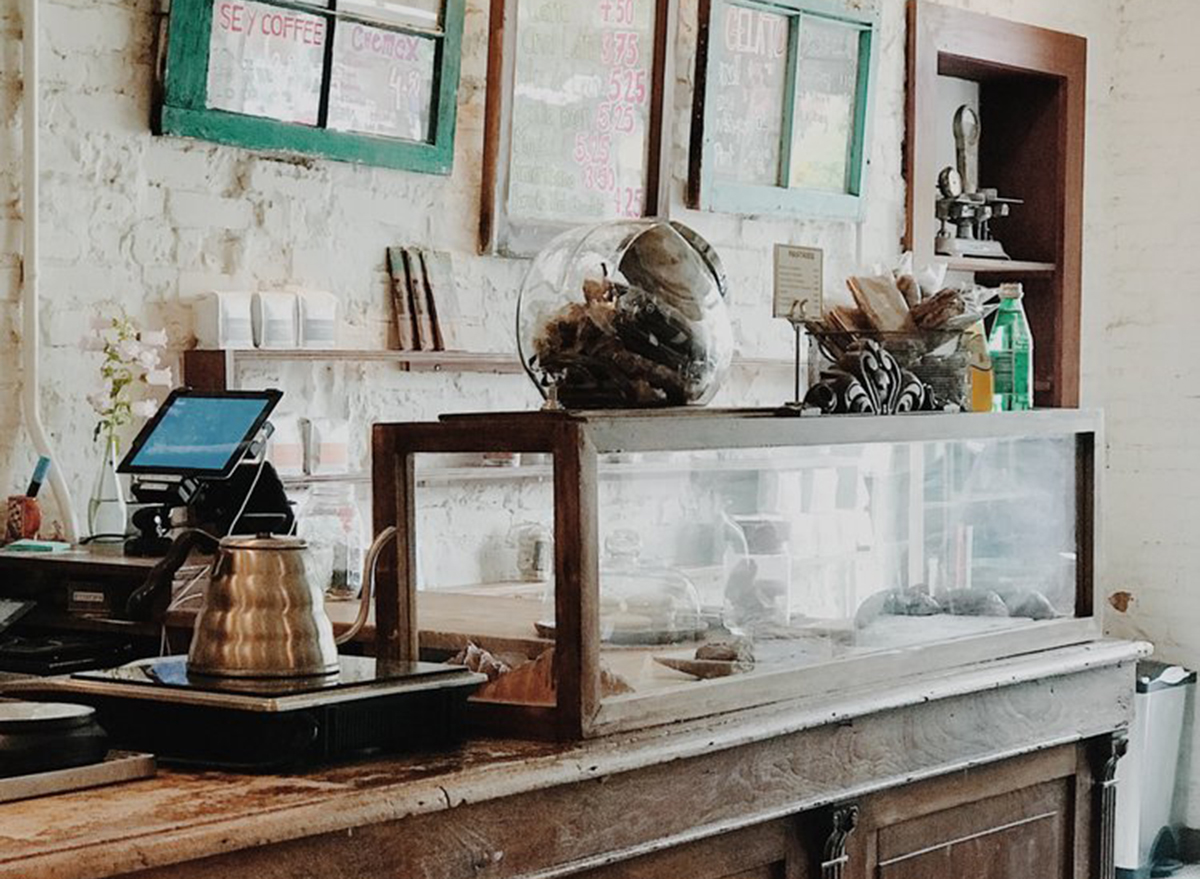 1704 Connecticut Ave NW
Washington, DC 20009
Some folks venture to South America for just-about-perfect beans, while others have a European preference. Others want coffee strong, dark, and solid, making Italian the only way to go. With ample window seating, highly-rated service and a menu of espresso that will leave you drooling, it's a conveniently located buzzing option. As a bonus for sweet tooth fans, this cafe also serves gelato from the time they open, so when the urge ticks, you can lick it.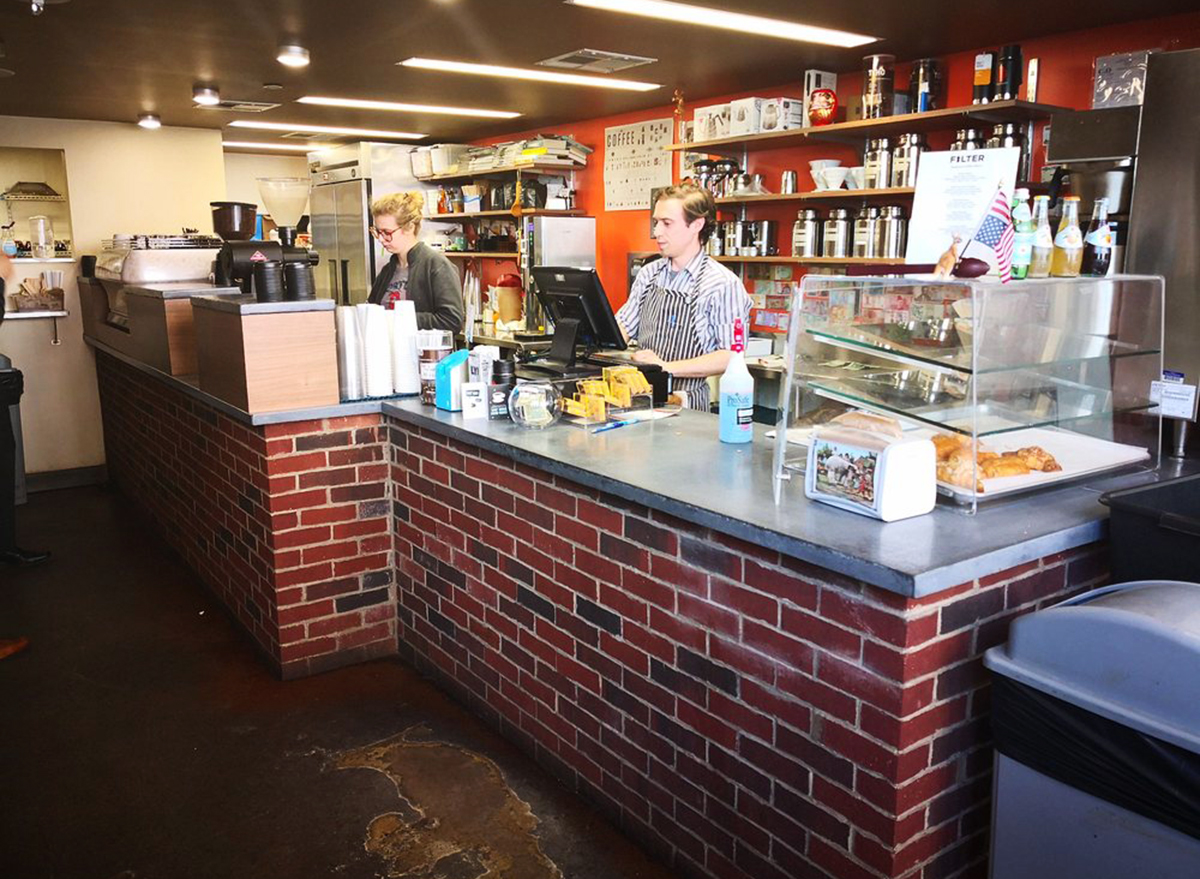 1916 I St NW
Washington, DC 20006
One of the biggest shifts to happen to coffeehouse culture over the last decade is remote work. With many, many professionals seeking the opportunity to work from anywhere, roasters have become a second office. For those who have a more renaissance perspective though, stop by Filter Coffeehouse, which offers no WiFi, whatsoever. Strong drips, helpful service, and a large upstairs make it great for friendly catch-ups, first dates or a spot to read, technology-free. If you like chai, consider ordering one, because it's one of the most reviewed on the menu.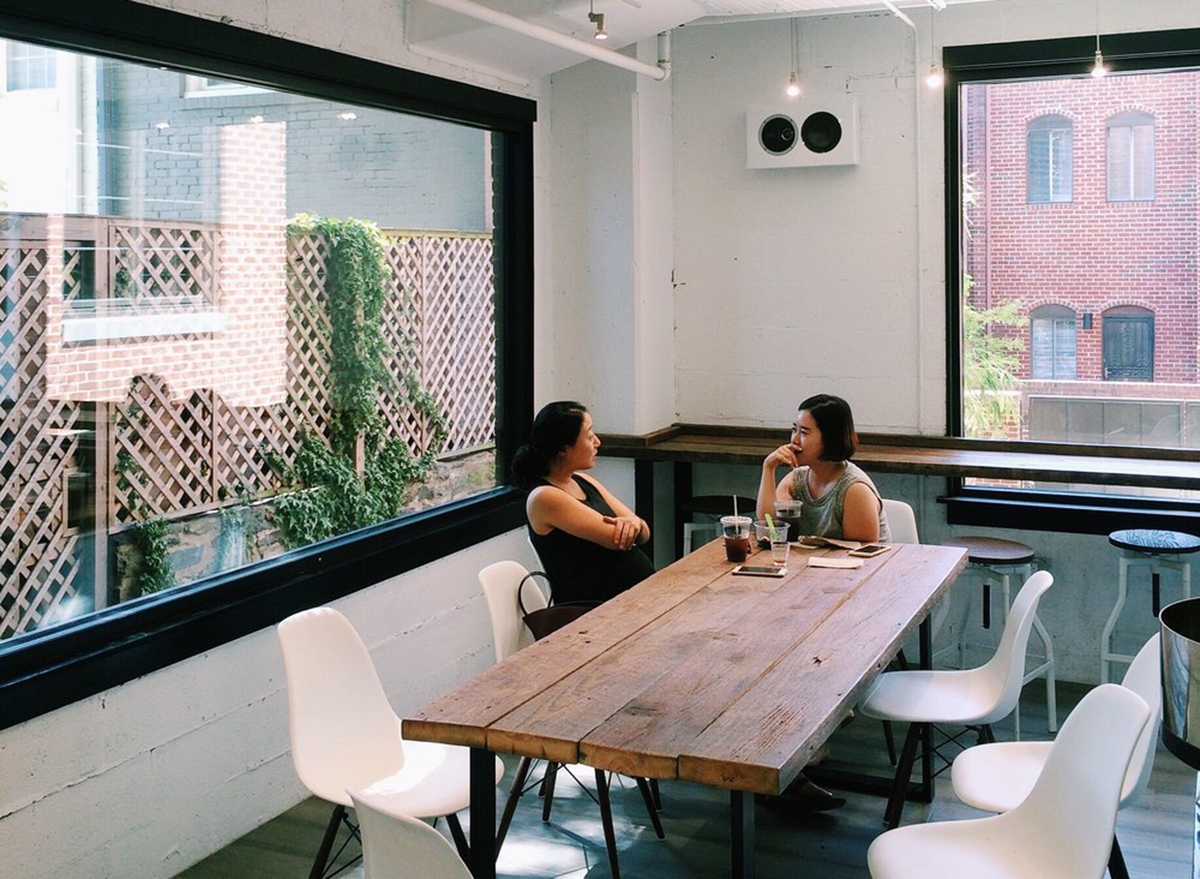 3210 Grace St NW Ste 106A
Georgetown, DC 20007
There are plenty of reasons to love this coffee shop including highly-rated service, ample space, and strong lighting. Not to mention their location in a food hall that's also home to popular D.C. eats like South Block, Sundevich, and Neopol Smokery. The best part? You can bring your four-legged bestie! This dog-friendly spot is a go-to hang for smoothies, bites and of course, killer coffee. While reviewers warn it can sometimes be a hectic area, for spring and summer adventures, it's ideal for dog owners who don't want to leave their little (or big) one at home.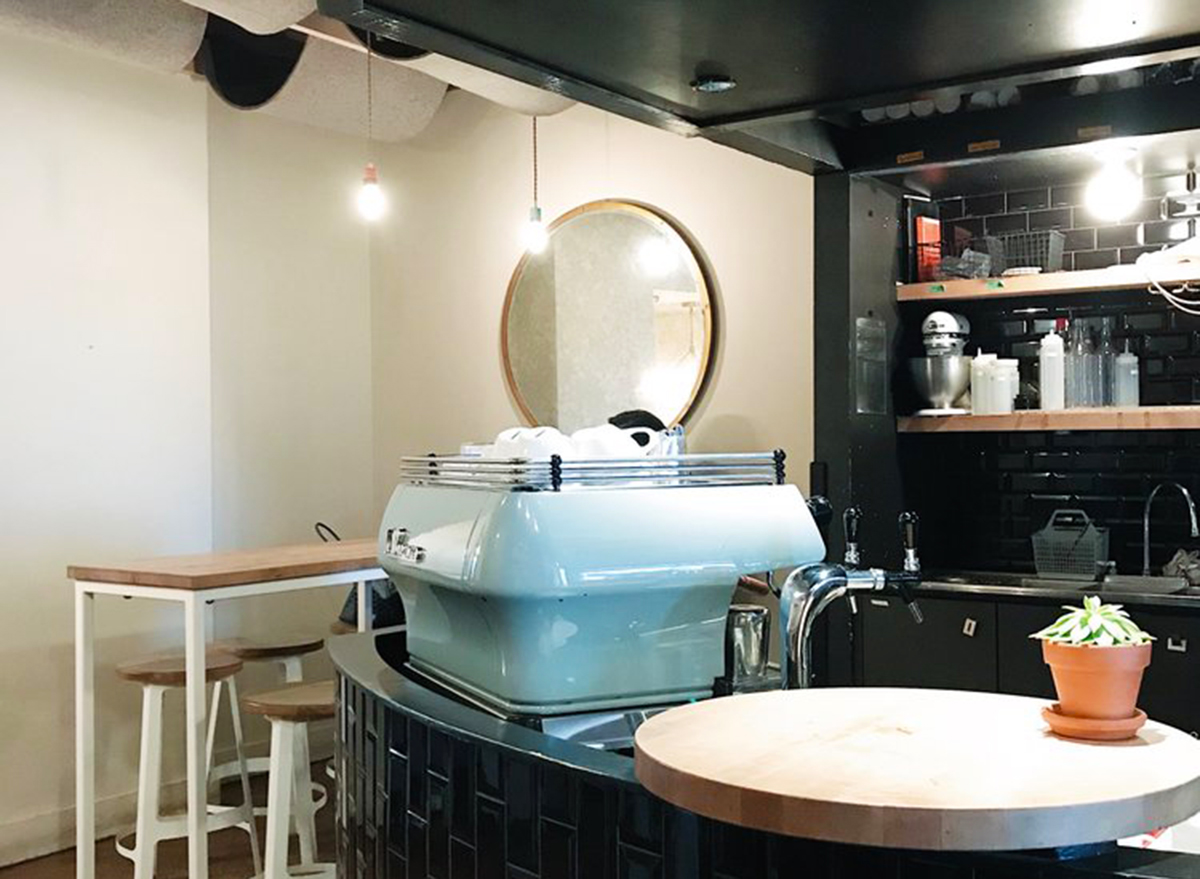 1924 14th St NW
Washington, DC 20009
When you imagine the most Instagrammable coffee shop ever, The Wyndown is what comes to mind. Picture this: a bright space with white marble countertops, succulents and vine plants scaling the walls and adding color to the tables. Minimalistic art that hangs effortlessly, and sunshine dripping through the windows. Reviewers love their iced lattes and matcha drinks, as well as the baked-in-house scones that fill the shop with mouth-watering aromas. Even if you're not usually a coffee person, with their unique blend that's delicious without being bitter, you may be converted.
1201 S St NW
Washington, DC 20009
The name is simple, and so is the experience that has everything you need for a productive study or work session. During the week, expect to see plenty of folks working steadfastly with their laptops without worry since ample outlets allow them to stay for hours (and many coffees). The prices are more reasonable than other competitors, and during the summer, a large outdoor patio expands their seating area. For the adventurous, try their signature blend, the Americola, which blends Mexican Coca-Cola with two shots of espresso.
3917 Georgia Ave NW
Washington, DC 20011
Sophisticated palettes need not look further than Qualia Coffee, which caters to the aficionados crowd. Though generally speaking, the vibe is laid back, their menu is specific and limited because they attune to high standards of beverage-making. A typical iced coffee or iced mocha isn't really a thing here, but if you ask a barista, they will make you an elevated option. Because it's smaller and more local, it's not a spot to work but one that's ideal for a quick drive-by before heading out to a day of errands. In the summer, outdoor seating in the back gives more room for those who want to stay put and savor every last sip.
Bird's Eye Coffee & Eatery
1800 14th St NW
Washington, DC 20009
What's not to love about this cozy, quaint and fun hang? In addition to everything you require out of a coffee shop—great natural light, comfortable seating and WiFi—this spot also offers chill music and a fun food menu. You wouldn't expect a coffee joint to serve sausages and sauerkraut, but they do, and even serve it on Vietnamese baguette bread. You don't need a reservation here but expect a bit of a wait if you go during peak lunch hours since many customers flock for the food as much as the beans.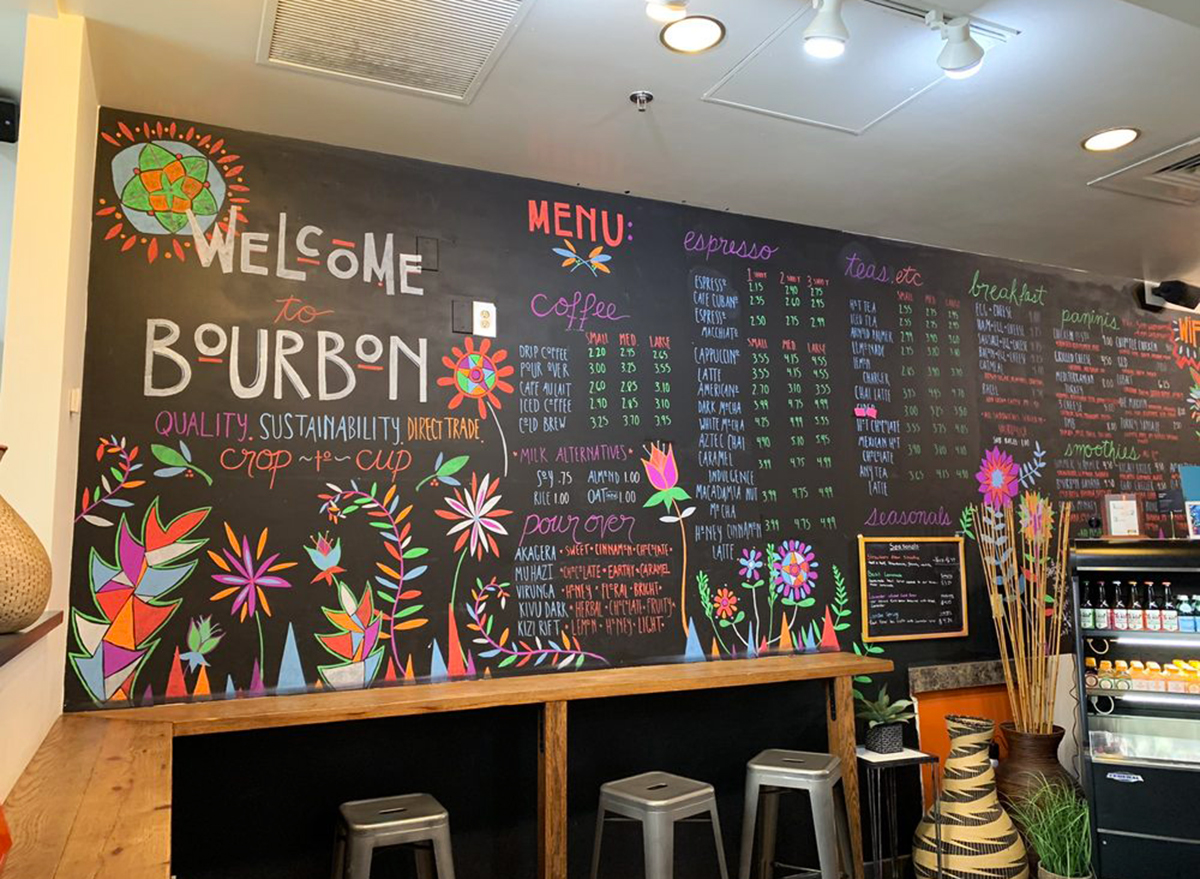 2101 L St NW
Washington, DC 20037
This coffee shop's decor is bright, colorful and vibrant—but the mood is more muted and calm, ideal for those who need to focus away from the home or office. Described as many reviewers as irresistibly cute, you'll spend the typical $5 on a beverage, but with carefully crafted ingredients, it'll be worth it. Whether you go traditional with a latte, mocha or drip, or you decide to try their changing seasonal menu, you won't be disappointed by the end product. Try not to sit on the plush couches too long, or chances are slim you'll ever get up!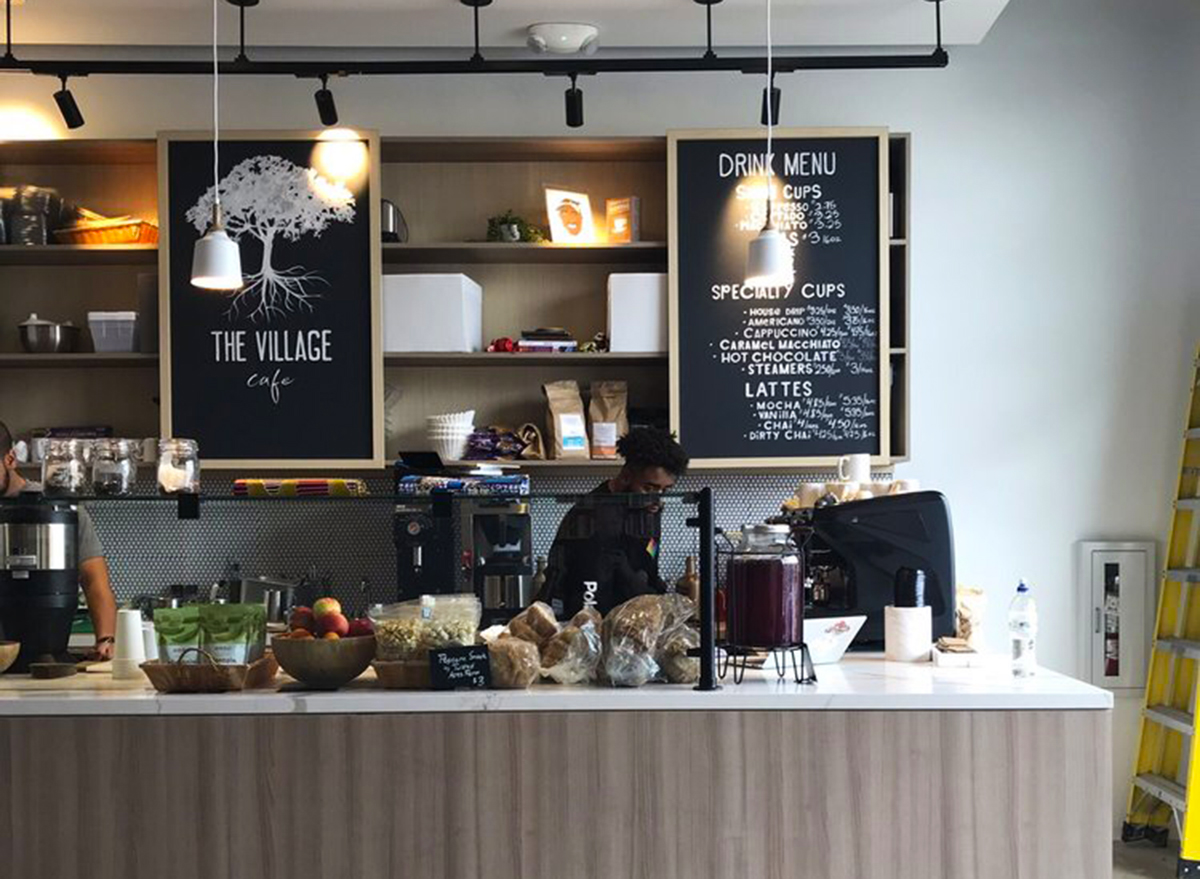 1272 5th St NE
Washington, DC 20002
Right outside of Union Market, this is a super-small, counter-and-go type of coffee shop. But what it lacks in size it makes up for in taste and value. Reviewers describe the flavor as smooth and drinkable, while the treats hit a sweet spot. It isn't large enough to house customers with laptops, but for locals running a quick errand or tourists looking for a good brew, it's a great place to find coffee on the run.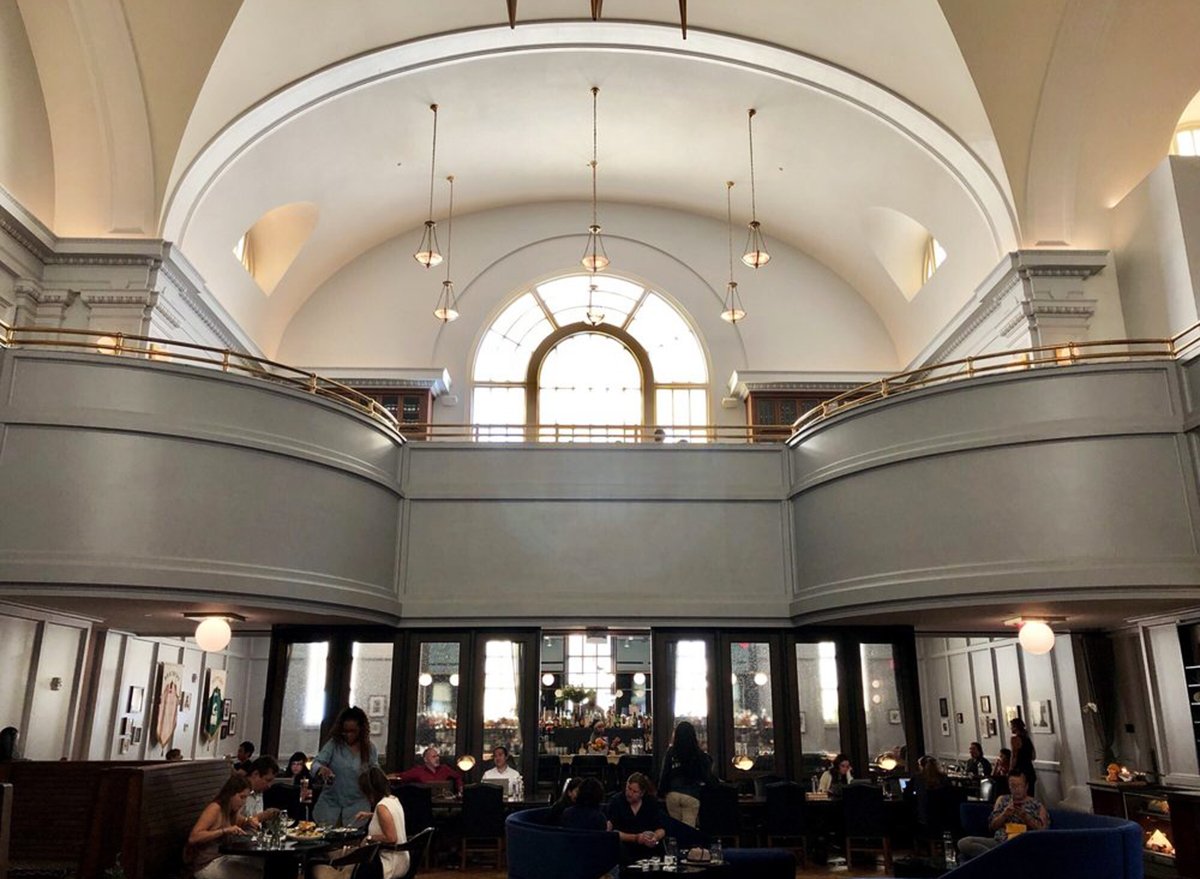 1770 Euclid St NW
Washington, DC 20009
Technically, this interestingly-named cafe is inside The Line Hotel, but that shouldn't prevent you from giving it a taste. The beauty is found in all of the—amazing—details. Their to-go coffees are served in a thick, corrugated paper cup in pastel colors, adorned with their logo in a type-writer font. The decor is modern and inviting, creating a backdrop for your next Instagram post of the day. They serve everything from golden lattes to iced mochas, and their dairy-alternative milk is an oat variety created in an hour. Every day, they also host a pastry happy hour, so you can have your carb fix on a budget.6254a4d1642c605c54bf1cab17d50f1e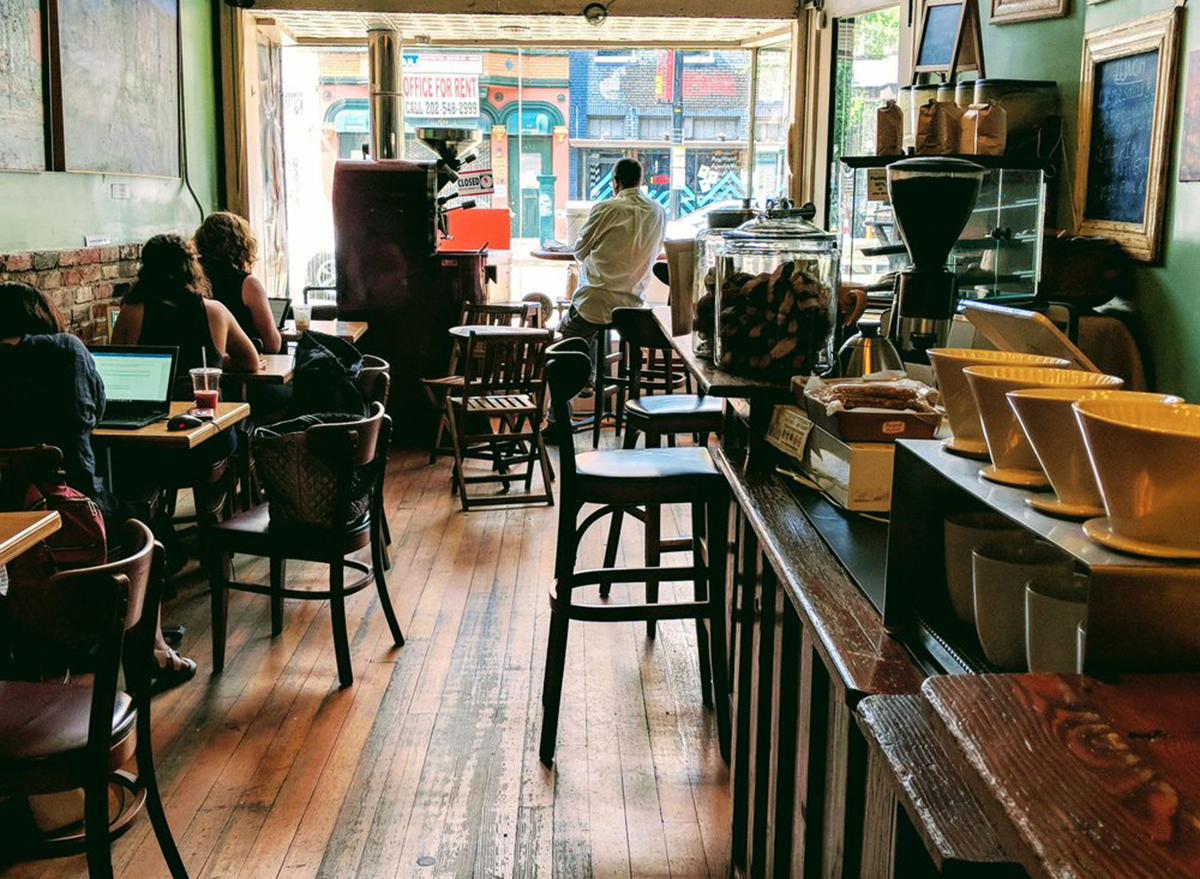 417 H St NE
Washington, DC 20002
When you're in the mood for a coffee experience and not just a cup-on-the-fly, make a reservation on a Sunday at this hip spot. Located on the infamous H Street, you can enjoy a traditional Ethiopian coffee ceremony, which includes a hefty pot, and plenty of time to spend with a pal or partner. Reviewers rave about the accessible prices, as well as the surprising mix of international flavors and blends. Though you probably wouldn't want to hole up for an afternoon on a Tuesday since the spot isn't that big, it is great for a unique, worldly take on Western coffee habits.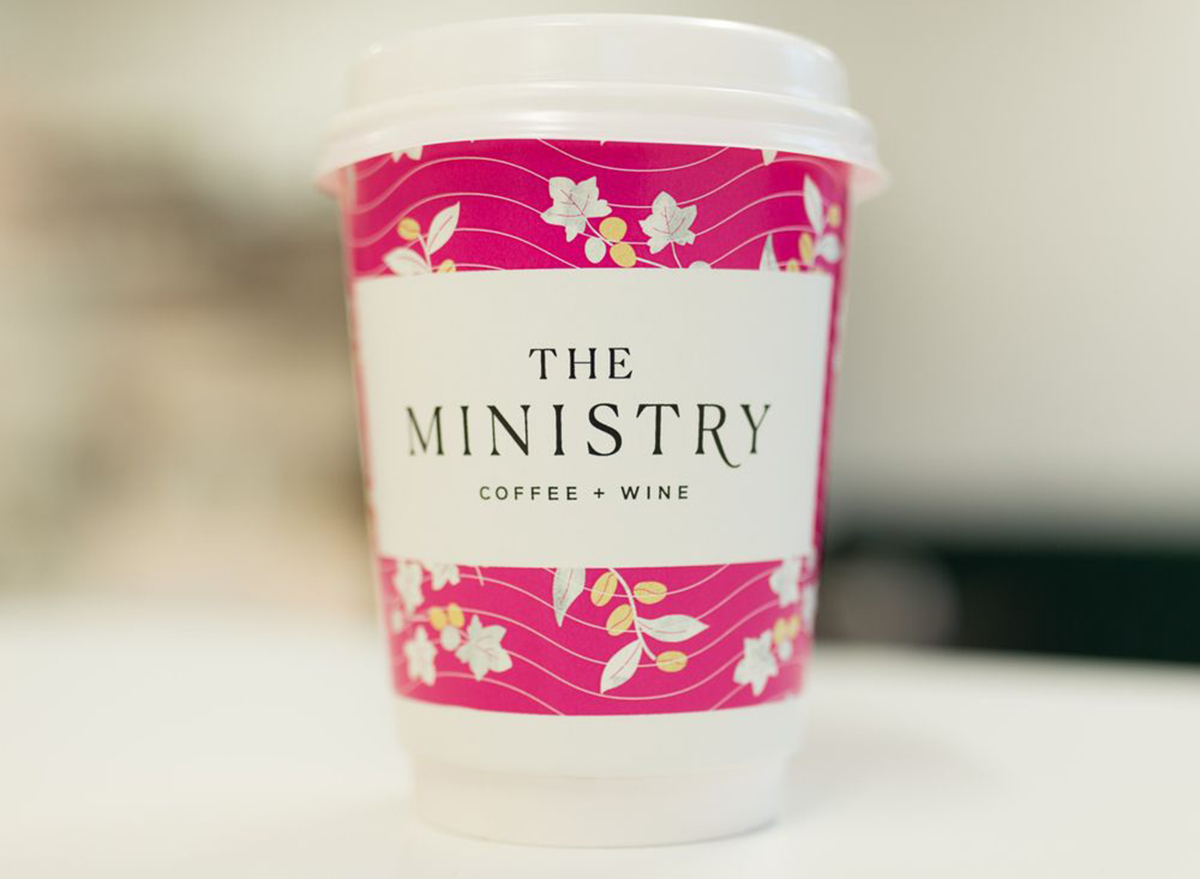 601 New Jersey Ave NW
Washington, DC 20001
Who runs the world? The ladies of course, and the coffee that fuels them. If you want to support the Latino female entrepreneur population in the nation's capital, grab a coffee at this spot. As a warm, vibrant, welcoming and interesting indie coffee house, it's equal parts inspiring and delicious. Reviewers enjoy the oat milk cappuccino, and the attention to detail every decor and menu item is given. You'll feel posh, and empowered to support local businesses with every sip. If you stay for sunset, you're in for a different type of treat, because the space transforms into a wine bar at night.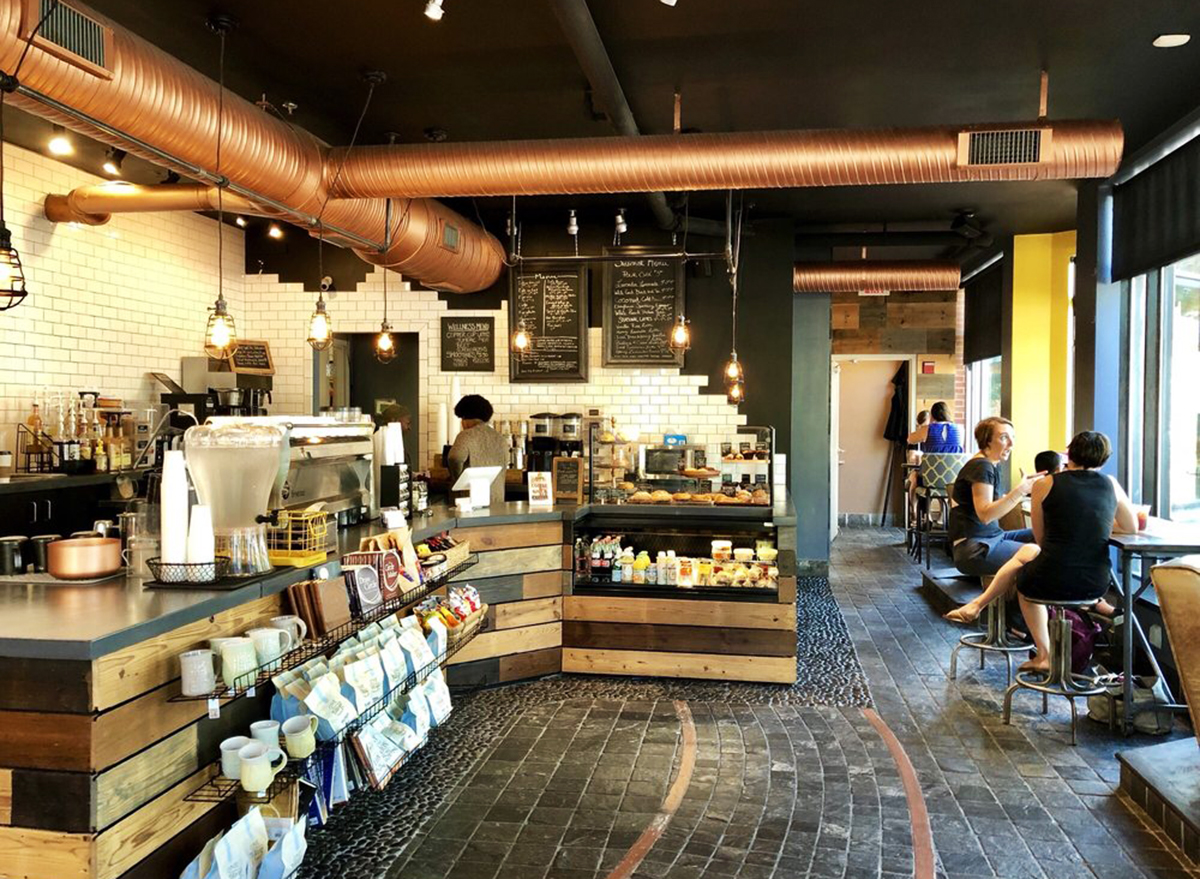 201 F St NE
Washington, DC 20002
In the heart of Capitol Hill, this creative shop offers interesting and java-quenching drinks. Not to mention, soul-enriching, because this coffeehouse donates to various charities around the world with every cup of coffee sold. You won't forget their mission, especially since every sleep says "Coffee with a cause." For a new take on a traditional coffee beverage, try the Honey Lavender Latte that can be served cold or hot. Yum, and yay for doing good for the people and the planet!