This Boursin Cheese Take on the Viral Feta Pasta Dish Made Me Stop Scrolling
Is Boursin cheese the new feta? Perhaps in the case of this viral TikTok baked pasta recipe.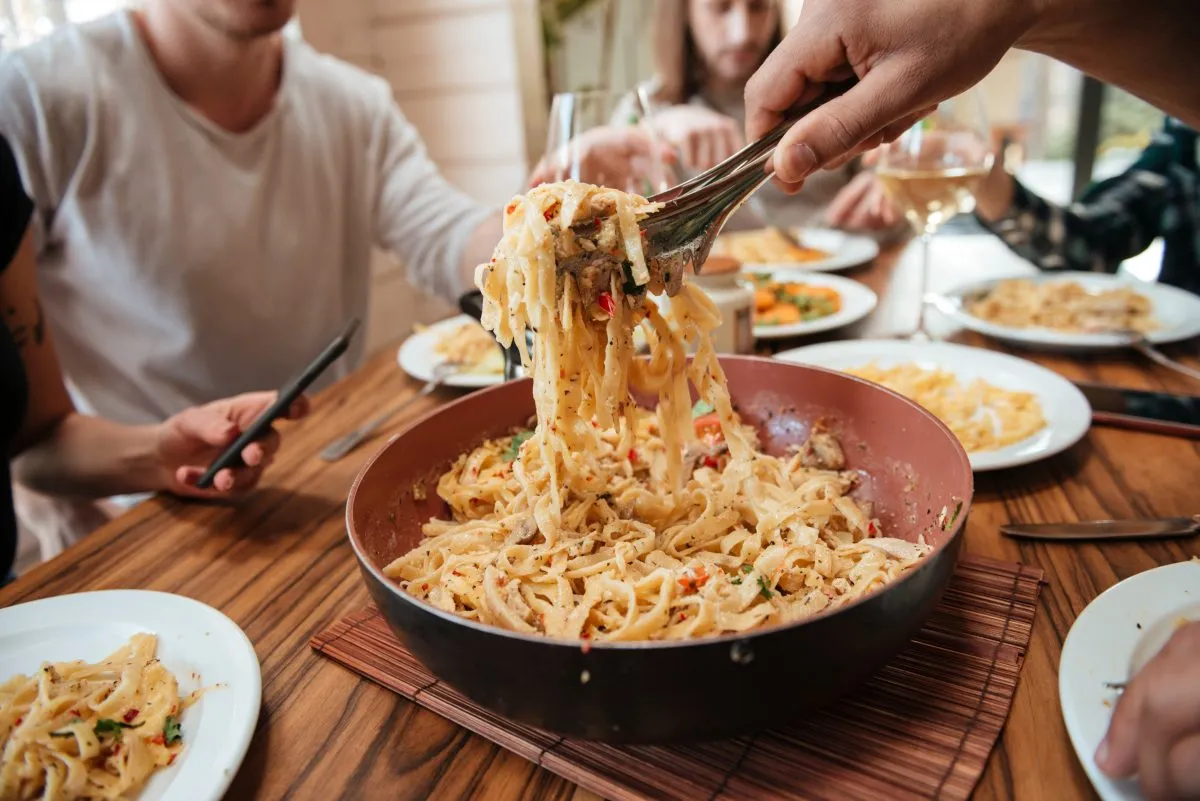 The product recommendations in this post are recommendations by the writer and/or expert(s) interviewed and do not contain affiliate links. Meaning: If you use these links to buy something, we will not earn a commission.
Have you ever had one of those nights where you can't decide what you want to cook for dinner? You know you want to taste something new and original, but as both the chef and cleanup crew of your kitchen, you also don't want to stray too far from the fundamental flavors and cooking techniques you're already familiar with. Recently, while having one of these uninspired cooking conundrums of my own, I took to Instagram for ideas. While aimlessly scrolling through the endless sea of memes and cute kitten videos, I stumbled across this incredibly hypnotic post, which literally stopped me in my scrolling tracks. Originally shared by digital creator Sheila Williams—also known as @shewillevolve on the 'gram—the post showcases a cooking demonstration for a baked pasta dish using Boursin cheese set to the swinging tunes of Artie Shaw & His Orchestra.
This recipe is a creative spin on the viral TikTok baked feta cheese pasta recipe that was so popular it was said to be responsible for triggering Finland's feta cheese shortage back in 2021. As Williams notes in her post, she too found it difficult to get her hands on a block of feta cheese when she wanted to attempt to recreate the viral TikTok baked feta pasta recipe. However, she reminded determined to find a way to enjoy this dish—feta or no feta. Proving that necessity really is the mother of invention, she weighed alternative cheese choices that could potentially provide a similar texture to baked feta, eventually opting for bold, creamy Garlic Herb Boursin cheese.
"I looked up what cheeses you could bake &  get the same creamy texture," Williams captions in her Instagram post. "The options were feta, brie, goat, & boursin. I chose Boursin because there was a garlic herb flavor. I am a GARLIC GIRL."
The fact that this recipe required minimal prep, very little cleanup, and could be prepared in about 30 minutes was highly appealing to me. But, if I can be honest—Williams had me at "GARLIC GIRL." As a fellow "garlic gal" who also knows her way around a cheese platter, I knew I had to try this recipe out for myself. I pulled out my baking dish and got to work!
Prepping the ingredients

Jordan Powers Willard
This recipe calls for a few simple ingredients—here's what I used:6254a4d1642c605c54bf1cab17d50f1e
1  box of Boursin cheese (5.2 oz.)
1 box of gluten-free fettuccini
2 tbsp. of pre-minced garlic
20 oz. of sweet cherry and grape tomatoes
6 oz. of fresh spinach, roughly chopped
1 oz. of fresh basil
A sprinkling of parsley and red pepper flakes
A dash of pink Himalayan salt and fresh ground pepper
A sprinkling of parsley and red pepper flakes
Some creative liberties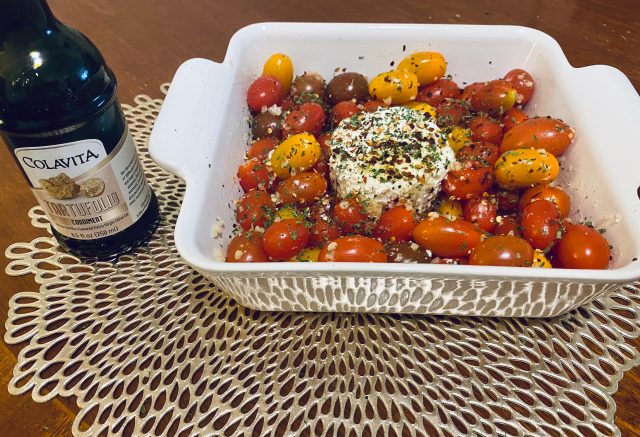 Although Williams' recipe was my primary inspiration, I should mention that I did take some creative liberties when recreating this cheesy Boursin pasta dish. For one thing, Williams' recipe did not specify the kind of pasta you should use, and the pasta choices of those who attempted to recreate the traditional viral TikTok feta baked version tended to vary. So, I opted for gluten-free fettuccine.
Instead of regular olive oil, I was able to get my hands on some white truffle-flavored extra virgin olive oil, which I figured would only further elevate the flavors of this dish. Also, the one thing that I love more than garlic is convenience. So instead of mincing fresh garlic from scratch, I used two tablespoons of pre-minced garlic.
Additionally, I borrowed one idea from the old-school baked feta pasta recipe, and that was incorporating fresh spinach and basil into the pasta. Fascinated by the prospect of using some of the leftover pasta water to enhance this dish's texture and taste, I figured the basil and spinach would add another flavorful pop of color while enhancing the nutritional value of this otherwise fairly fatty dish.
Making your Boursin baked pasta dish
Preheat you oven to 400°.
As you wait for your oven to heat up, fill the baking dish with the tomatoes and place your Boursin cheese round in the center.
Lightly drizzle the olive oil over the tomatoes and cheese, then season with salt, pepper, parsley, and red pepper flakes.
Bake this in the oven uncovered until you notice the cheese beginning to bubble and the tomatoes start to burst (about 20–25 minutes).


Jordan Powers Willard

As you wait for your Boursin cheese and tomato sauce to bake, boil water for the pasta—add a little salt and olive oil before it begins to really rumble.
Once the water comes to a boil, add your pasta—al dente is definitely recommended for this recipe, so cook for no more than about 11 minutes (or whatever is best recommended for al dente on your chosen pasta.)
When your pasta is done, do not drain all of the pasta water; conserve between 1/4 and 1/2 cup of pasta water in the pot. Add in your fresh spinach and basil, and gently mix this into your pasta noodles with a wooden spoon. Once your leafy greens appear evenly distributed throughout, pop a lid on, enabling the greens to continue to wilt.
When your Boursin cheese and tomato bake is ready to come out, gently use a spoon to mix the cheese in with the tomatoes.
Add the greens and pasta into the bubbly cheesy baking dish, and mix all the contents together using tongs or a wooden spoon.
Season to taste and sprinkle a little Parmesan cheese on top.