7 Times Brooklyn Beckham Got Roasted for His Questionable Cooking Skills
The social media chef faces criticism for every move he makes in the kitchen.
It's not exactly a new phenomenon for people to judge a celebrity for what they post online. But when you call yourself a chef, you better believe there will be some extra scrutiny on your recipe videos—and Brooklyn Beckham learned this the hard way.
The oldest son of entrepreneurial power couple David and Victoria Beckham seems to have a penchant for switching careers in the public eye; so far, his resume has included stints as a soccer player, a photographer, and a model. And while career hopping is certainly a function of Brooklyn's youth—he's only 23—it's the somewhat naive confidence (and blatant nepotism) that gets him in trouble.
And his latest tenure as a self-proclaimed chef has raised more than a few eyebrows. The young Beckham's social media cooking show "Cookin' with Brooklyn", where he demonstrated simple recipes, is a bottomless well of ridicule at the expense of his cooking skills. The fact that each episode of his show costs $100,000 to produce and requires 62 behind-the-scene professionals—as reported last year by The New York Post—didn't help the budding chef's public image.
"It's unheard of, It's the sort of crewing you would expect on a big TV show," a senior TV executive told the Post.
While Victoria Beckham fully supports her son's journey to becoming a "great chef," the general public tends to be much less coddling. We've rounded up the most notable times Brooklyn Beckham got totally roasted for his cooking skills, so that you can make the judgment for yourself.
The Butter-Laden "Raw Meat" Roast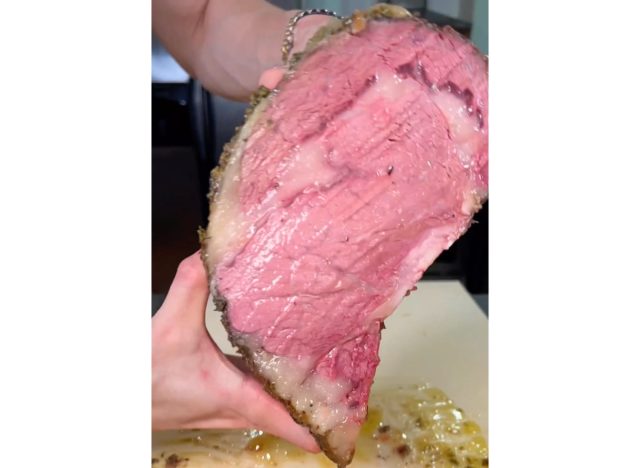 Chef Beckham recently received a lot of hate for his Sunday roast video—where he made a dry aged rib roast lathered in compound butter, potatoes, Yorkshire pudding, and carrots.
Beckham's followers did not take a liking to the roast, saying it was "raw" and "a good vet could bring that back to life." The internet also had a problem with the amount of butter used in the recipe as one user said, "recipe 'how to cook butter'" and another commented, "In conclusion: butter."
But Beckham's mother Victoria came to his defense. According to Business Insider, the former Spice Girl said in a deleted Instagram story, "I'll be attempting this for your dad and brothers and sisters." Victoria Beckham continued, "It's rare people not raw."
This is not the first time Brooklyn was judged for cooking 'raw' meat, as his tuna with cucumber salad received a slew of negative critiques on Instagram last December.
The Underwhelming Breakfast Sandwich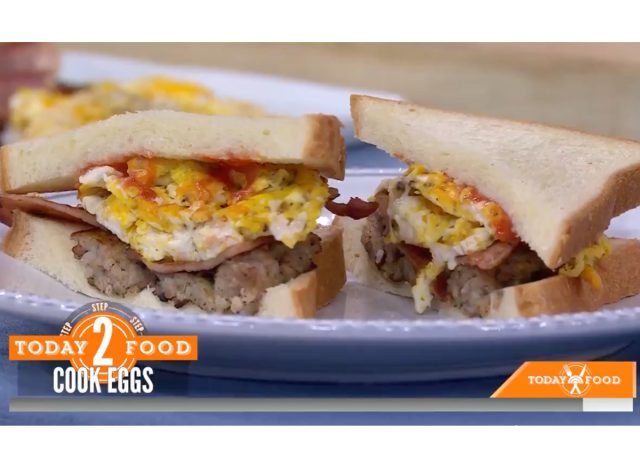 Ah, the English breakfast sandwich. How could we forget this one? Beckham took to the Today Show to create a traditional breakfast sandwich filled with English bacon, sausage patties, eggs, and ketchup in between two slices of white bread.
The YouTuber claimed that his great-grandma taught him how to make this dish, so it's "really special" to him. The Twitterverse had no mercy when commenting on the meal claiming that it is "embarrassing" and not the proper way to make an English sandwich.
"REALLY!!! Is this seriously the best you can do… Dear God!" one user wrote, while others commented on the lack of butter on the sandwich bread. The segment triggered the internet's accusation of nepotism, as Daily Mail reported on the incredibly high production cost of his 8-minute-per-episode cooking show, "Cookin' With Brooklyn."
Even journalist Lorraine Kelly was quick to comment on this Today Show segment as she joked Beckham would be coming to her show next to "make beans on toast."
The "Overdone" Beef Wellington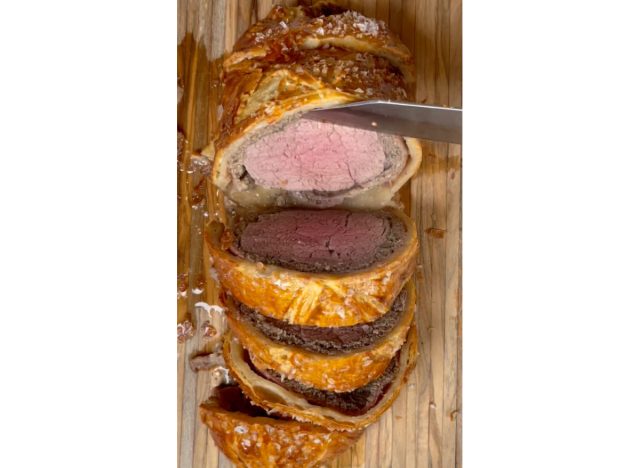 Calling Gordon Ramsay in for this one. Beckham posted an Instagram video of himself making a beef wellington that followers are claiming is way overdone with too much salt sprinkled into the pastry. The classic beef Wellington includes beef fillets, wild mushrooms, puff pastry, parma ham, egg yolks, and various seasonings occasionally topped with a red wine sauce.
Despite Instagram's total roasting (no pun intended) of Beckham's cooking skills, some users did come to the 23-year-olds defense. "To the people with the 'overdone' comments. Some people do not like bloody meat, okay? Get over it!" one person commented.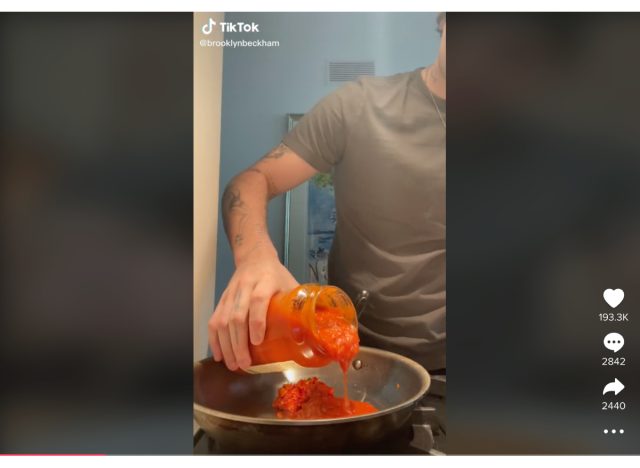 You can't go wrong with a pasta dish, but according to TikTok, Brooklyn Beckham did. When he posted his first TikTok back in 2021 featuring a spicy tomato pasta, folks weren't exactly impressed with the fact that the self-proclaimed chef doctored up jarred pasta sauce.6254a4d1642c605c54bf1cab17d50f1e
Most of the users commented on the fact that Beckham used jarred sauce and little seasoning with no onions or garlic to be found. One TikTok user came to his defense as they wrote, "Brooklyn appears on TikTok and ya'll just ROAST him for no reason. What did he do to you??" Beckham hasn't posted any other videos on his TikTok account since.
Fish & Chips with Nick DiGiovanni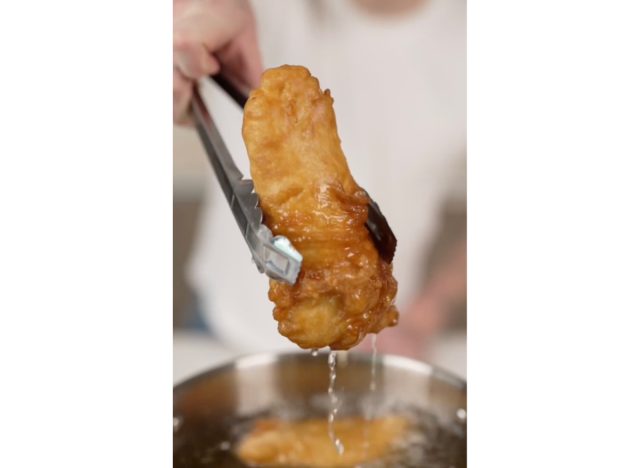 If you know food, then you probably know of Nick DiGiovanni. The former MasterChef contestant, also nicknamed the next Gordon Ramsay, is famous on TikTok for his over-the-top eats and famous guests. Brooklyn Beckham found his way into a video as they collaborated on a classic fish and chips.
In the Instagram post, commenters ridiculed Beckham for saying that cod is the best fish to use for that dish. Others suggested he use plaice, haddock, or trout instead. Another person said the duo should go to "jail for those chips!"
The comments of nepotism due to his father's soccer superstardom have been present in almost every video Beckham has posted, and this one was no exception. The internet never sleeps!
The "Experimental" Cocktail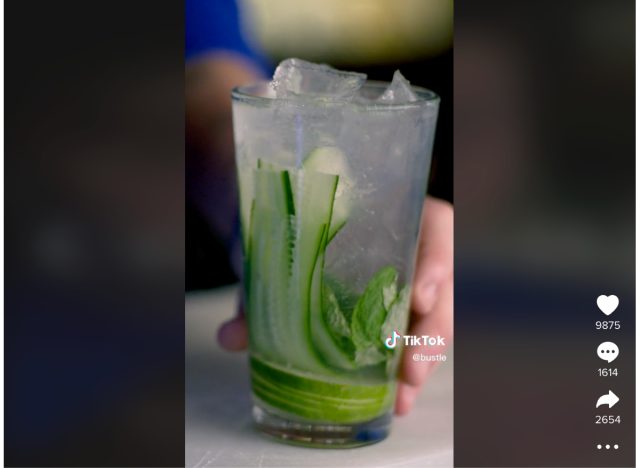 Cocktail, anyone? Beckham told Bustle that he is "very experimental" and a "nutter in the kitchen" while making a simple gin & tonic. The former model used gin, lime, cucumber, rosemary, mint, tonic water, and ice for his cocktail.
We immediately flew to the comments for this one, as TikTok users mocked Beckham's basic bartender skills. "Is there anything he can't do?" one social media user said, while another added, "Is there no beginning to this man's talent?" One person even joked by asking his advice on how to cook pasta saying "cold water isn't working."
A fourth TikToker took it upon himself to duet the video with sarcastic disbelief saying Beckham is "too experimental." Say what you will but that gin & tonic did look good!
The Steak Frites on the Late Late Show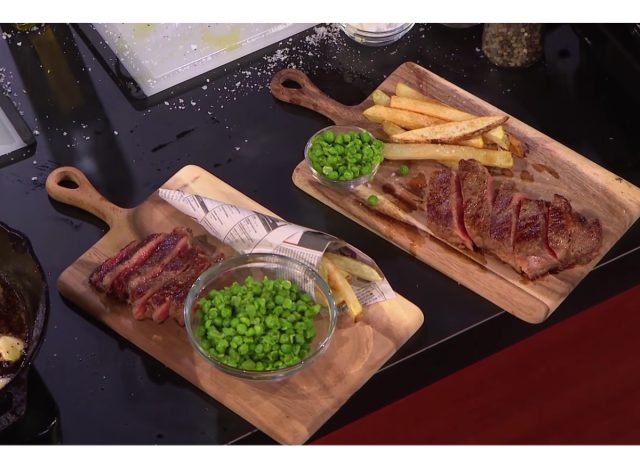 Last but certainly not least, Brooklyn Beckham was invited to the Late Late Show With James Corden to cook a steak frites with mushy peas. The popular talk show was criticized for not having someone more skilled on the show to demonstrate a cooking segment.
"Next time Brooklyn will be showing us how to make the perfect slice of toast," a YouTube user said. "There must be many talented young chefs who've undergone years at catering college and worked their way through the restaurant hierarchy that would be more worthy of a career as a TV Chef," another said.
Daily Mail reported that Beckham said his harshest food critic is his younger sister Harper, so maybe we should give her a call about his cooking skills.
Olivia Bria
Olivia has a bachelor's degree in communications and political science from the University of Connecticut. She is a foodie, traveler, journalist, and celebrity interviewer.
Read more about Olivia