Burger King's Maple Waffle Sandwiches Are Better Than the McGriddles
They come in three delicious flavors, too.
The fast-food breakfast game is a crowded one, but that doesn't mean there's no room for new contenders. And while it might not be the first chain that comes to mind, it turns out that the Burger King breakfast menu is actually pretty decent. That's thanks in large part to the maple waffle sandwiches that Burger King recently added to its menu.
Fast-food joints have been offering breakfast sandwiches for years, most notably the classic McMuffin, introduced in 1972, and the Croissan'wich, that French-ified, spelling-challenged '80s invention from Burger King that's somehow still on the menu.
Then in 2003, in a flash of fast food mash-up brilliance, McDonald's took the humble morning sandwich to higher and much-loved levels with the McGriddles. These brilliant little breakfast babies—simply sandwiches with the bread replaced with bookended pancakes—became hot commodities and generated a loyal following among Mickey D's devotees. They grew even more popular a few years ago when the fast-food giant started to serve its breakfast menu all day long.
Now, though, the McGriddles might finally have a worthy competitor. The maple waffle sandwiches at Burger King are worth the hype.
What are the Burger King waffle sandwiches?
The new Burger King breakfast option comes in three varieties: sausage, bacon, or ham, each served with egg and cheese. (It's probably possible to get a vegetarian one, too, if you just ask the BK employee to hold the meat.) Two small waffle buns house the meats, which sit next to a square of spongy egg and a slice of melted American cheese.
I picked up all three versions at my local BK spot in Raleigh, NC. Just keep in mind that you'll have to get these sandwiches before 10:30 a.m. at Burger King for breakfast—unlike McDonald's, BK doesn't have all-day breakfast offerings. Here's what I thought of the new Burger King breakfast sandwiches.
How do the Burger King waffle sandwiches taste?
On the first unwrapping, the waffle halves felt dense and seemed like they'd be too tough compared to the softness of a McGriddle. But they redeemed themselves once I bit into the sandwich. The solidity of the waffles made them feel great in the hand, and they didn't crumble or crack when going in for a few quick bites.
The flavor was on point, with a nice maple sweetness that paired well with the savory notes from the egg, meat, and cheese. The well-proportioned egg was firm yet yielding, not spongy, as it looks like at first glance. The meats all tasted like what they should, though I was partial to the ham version because it added a bit more saltiness and sweetness to the overall experience. And the cheese was, well, your standard delicious, gooey, and melty American cheese.
What's the nutritional breakdown of the Burger King waffle sandwiches?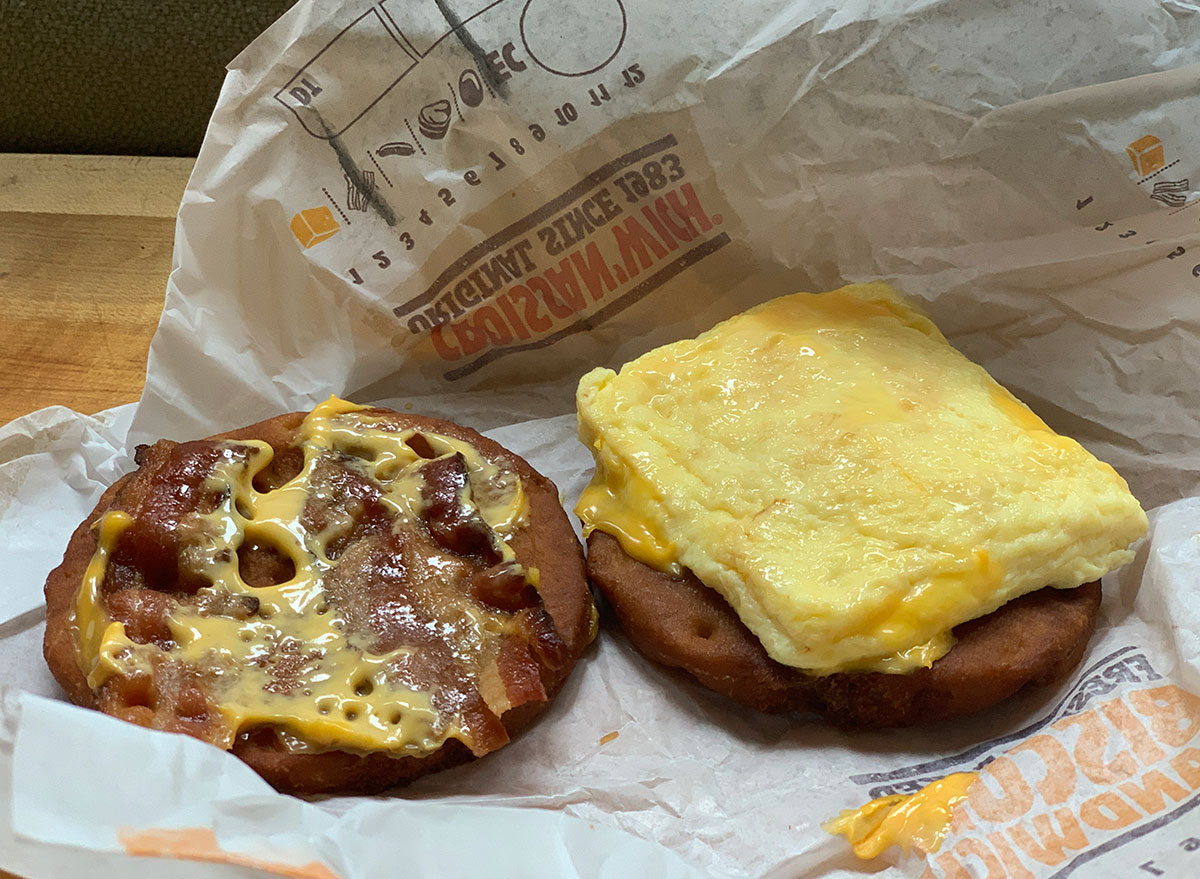 Bacon, Egg & Cheese Maple Waffle Sandwich
: 550 calories, 33 g fat (11 g saturated fat), 970 mg sodium, 46 g carbs (2 g fiber, 12 g sugar), 17 g protein
Ham, Egg & Cheese Maple Waffle Sandwich
: 550 calories, 31 g fat (11 g saturated fat), 1,250 mg sodium, 46 g carbs (2 g fiber, 13 g sugar), 21 g protein
Sausage, Egg & Cheese Maple Waffle Sandwich
: 680 calories, 45 g fat (15 g saturated fat), 1,140 mg sodium, 46 g carbs (2 g fiber, 12 g sugar), 23 g protein
Calories and carbs are the same for the Ham and Bacon options, coming in at 550 calories and 46 grams of carbs each. The Sausage bumps up the calories to 680 and the fat to 45 grams. All three sandwiches have similar protein content, ranging from 17 to 23 grams each.
Final verdict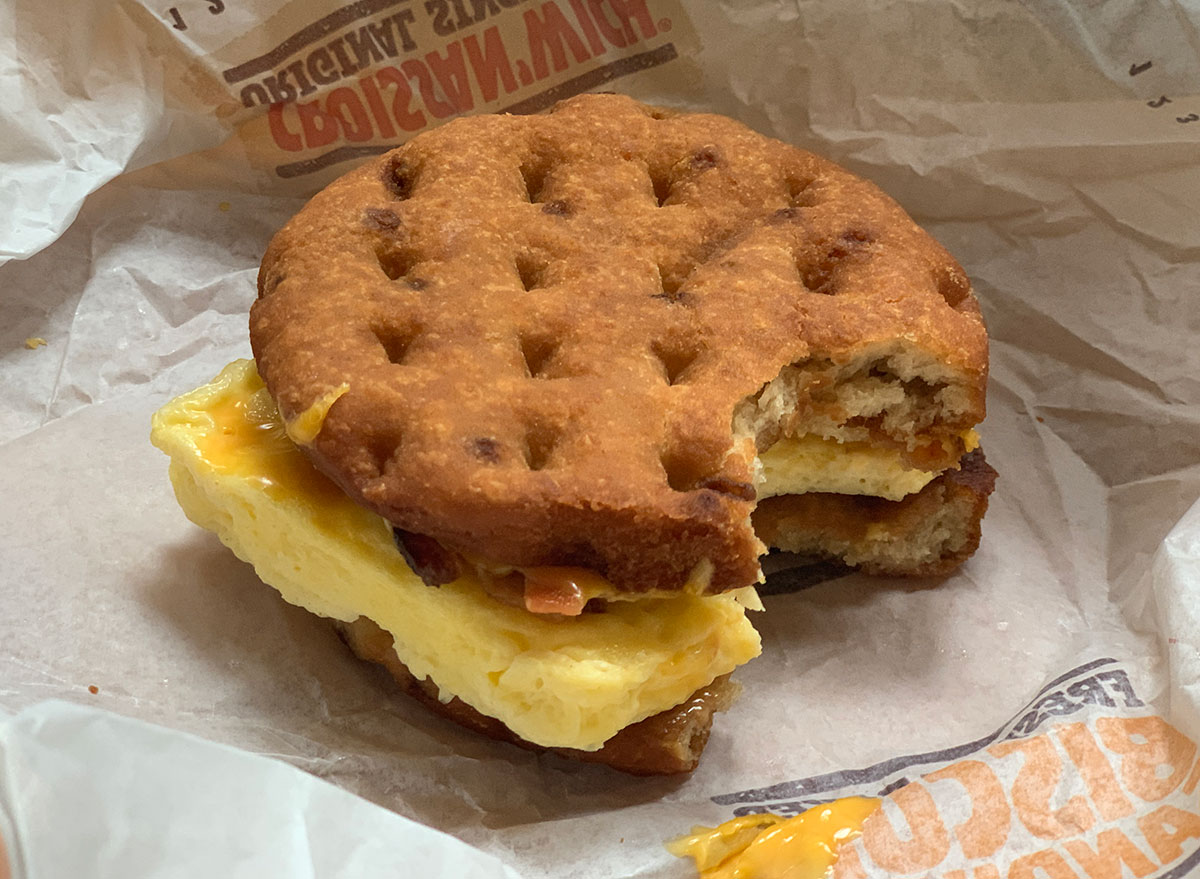 6254a4d1642c605c54bf1cab17d50f1e
These compact breakfast sandwiches are delicious, and I'll dare to state that the Maple Waffle Sandwiches can snatch the breakfast sandwich crown from the McGriddles. They definitively should bump the kind-of-lame, messy, and weirdly soft Croissan'wich off of any BK breakfast lover's radar—and Burger King's menu.
That's only if the sandwich can stick around on the menu, though. As of press time, these are another one of Burger King's raft of limited-time-only offerings. Which is a shame, as they could, à la the great 2019 Popeyes vs. Chick-fil-A chicken sandwich war, become the must-have breakfast sandwich, usurping McDonald's flapjack-themed champion.