7 Caffeinated Energy Snacks for Productivity and Athletic Performance
Boost your workout gains or increase focus without the effort of brewing a cuppa.
These new caffeinated snacks reinvent your regular energy bars and deliver long-lasting energy for people who:
Don't have time to brew a cup of Joe (you're working late or are camping)
Would rather bypass the jitters that follow a latte
Need a portable way to fuel up before a workout
Want a mid-afternoon lift
Rather not deal with another coffee spill or stain
Or just don't like the taste of coffee
All of our go-to snacks contain no less than 65 milligrams of caffeine, which is equivalent to a shot of espresso.
Better Than Coffee, French Roast
per bar (25 g)
: 100 calories, 4.5 g fat (1.5 g saturated fat), 5 mg sodium, 13 g carbs (4 g fiber, 4 g sugar), 5 g protein
100 mg of caffeine from guarana and maca
For sustained energy that will keep you pumped through that 3 p.m. meeting, try BTC's bite-sized bar. It's baked with superfoods such as pea protein, sunflower seeds, coconut, and maca—an energizing Peruvian veggie that's been linked to reducing anxiety, depression, and blood pressure, according to a 2015 study. Each bite packs in ribbons of French roast coffee and bittersweet 70 percent cacao, so you can skip your trip to Starbucks and fuel up on the fly.
Buy a 12-count pack for $23.99 on Amazon.
Verb Energy Bar, Maple Blueberry
per bar (22 g)
: 90 calories, 3.5 g fat (0 g saturated fat), 0 mg sodium, 13 g carbs (2 g fiber, 6 g sugar), 2 g protein
65 mg of caffeine from green tea extract
Rather than hitting up your local IHOP for a stack, tear open Verb's finger-licking Maple Blueberry bar. You'll get an espresso shot's worth of caffeine (65 milligrams) from green tea extract and a dose of healthy fats from almond butter. Biting into this bar before a HIIT class? Almonds, one of the main ingredients in these energy bars, have been shown to increase workout performance and endurance.
Eat Your Coffee, Caramel Macchiato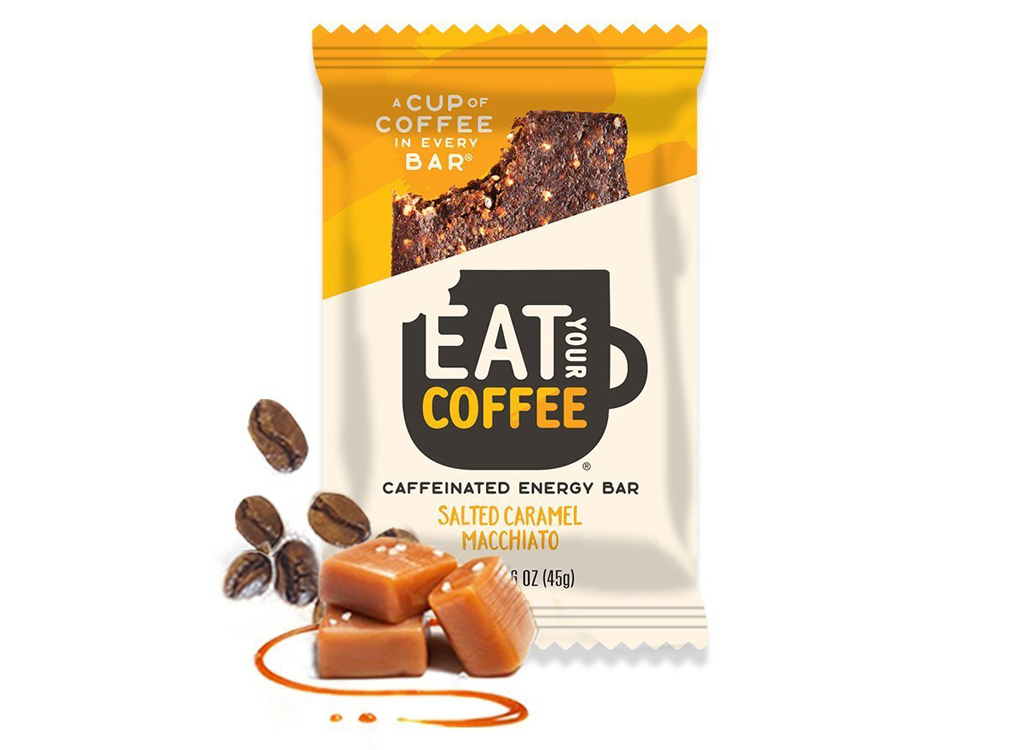 6254a4d1642c605c54bf1cab17d50f1e
per bar (45 g)
: 170 calories, 6 g fat (0 g saturated fat), 115 mg sodium, 25 g carbs (4 g fiber, 12 g sugar), 6 g protein
80 mg caffeine from Fair Trade Coffee
Odds are that you'd rather not stain your white tee with yet another java splatter. The next best thing to sipping on a toasty latte is eating your coffee instead. Eat Your Coffee bars come in three cafe-inspired flavors such as Salted Caramel Macchiato, Fudgy Mocha Latte, and Peanut Butter Mocha, which all contain 80 milligrams of caffeine from real coffee. Swap your daily Tall Caramel Macchiato from Starbucks with EYC's caramel bar and you'll get a bit more caffeine and save 13 grams of belly-bloating sugar.
Buy an 8-count pack for $18.99 on Amazon.
Paleo Thin Protein Bar, Espresso

per bar (60 g)
: 170 calories, 5 g fat (2.5 g saturated fat), 260 mg sodium, 28 g carbs (26 g fiber, 2 g sugar), 20 g protein
100 mg caffeine from ground Colombian coffee and green coffee extract
The first two ingredients in this green-coffee-infused snack are egg whites and prebiotic fiber, which explains how the paleo bar achieves such impressive protein and fiber contents. The list of functional ingredients also includes brain-boosting MCTs, gut-benefiting probiotics, and creamy organic sunflower seed butter, which lends the bar a velvety texture.
Buy a 12-count pack for $29.99 on Amazon.
Vibe Energy Bar, Dark Chocolate Peanut Butter
per bar (54 g)
: 210 calories, 12 g fat (2.5 g saturated fat), 200 mg sodium, 21 g carbs (13 g fiber, 6 g sugar), 15 g protein
100 mg caffeine from coffeeberry
The can't-go-wrong-with combo of peanut butter and dark chocolate just got way better thanks to Vibe's addition of jolting coffeeberry. While you'll definitely benefit from the pick-me-up, you'll also get 15 grams of plant-based protein coming from organic peanut butter and pea protein to hold you over past lunchtime.
Buy a 12-count pack for $39.99 on Amazon.
Awake Cinnamon Bun Granola Bar

per bar (40 g)
: 160 calories, 3.5 g fat (1 g saturated fat), 100 mg sodium, 26 g carbs (1 g fiber, 12 g sugar), 6 g protein
100 mg caffeine
Wake up to a comforting cinnamon bun without biting into hundreds of calories' worth of beltline-busting sugar with this spiced bar. In addition to nipping yawns in the bud with 100 milligrams of caffeine, this caffeinated snack packs in a slew of energizing B vitamins as well as blood-sugar-stabilizing cinnamon to prevent pesky energy dips.
Buy a 16-count pack for $33.36 on Amazon.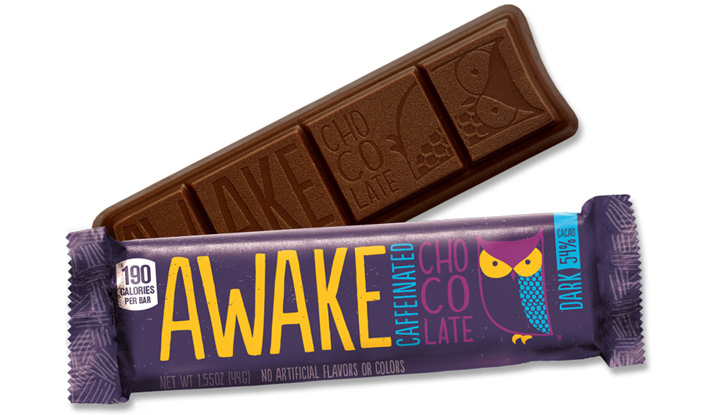 per bar (38 g)
: 190 calories, 13 g fat (8 g saturated fat), 22 g carbs (3 g fiber, 17 g sugar), 2 g protein
100 mg caffeine
A Snickers bar may give you an energy boost after the first few bites, but the empty carbs will only contribute to a sugar crash later on. Awake's jitter-free dark chocolate bar, on the other hand, will lend you 100 milligrams of caffeine, antioxidants, and 3 grams of fiber to help keep you satiated. Considering this is still a chocolate bar, keep munching to a minimum and choose one of our lower sugar options on the reg instead.
Buy a 12-count pack for $33.00 on Amazon.
April Benshosan
April is a born-and-raised Brooklynite who has a passion for all things health, wellness, and tastebud-related.
Read more about April