17 Genius Ideas for Cooking with Cauliflower
The perks of being a cauliflower...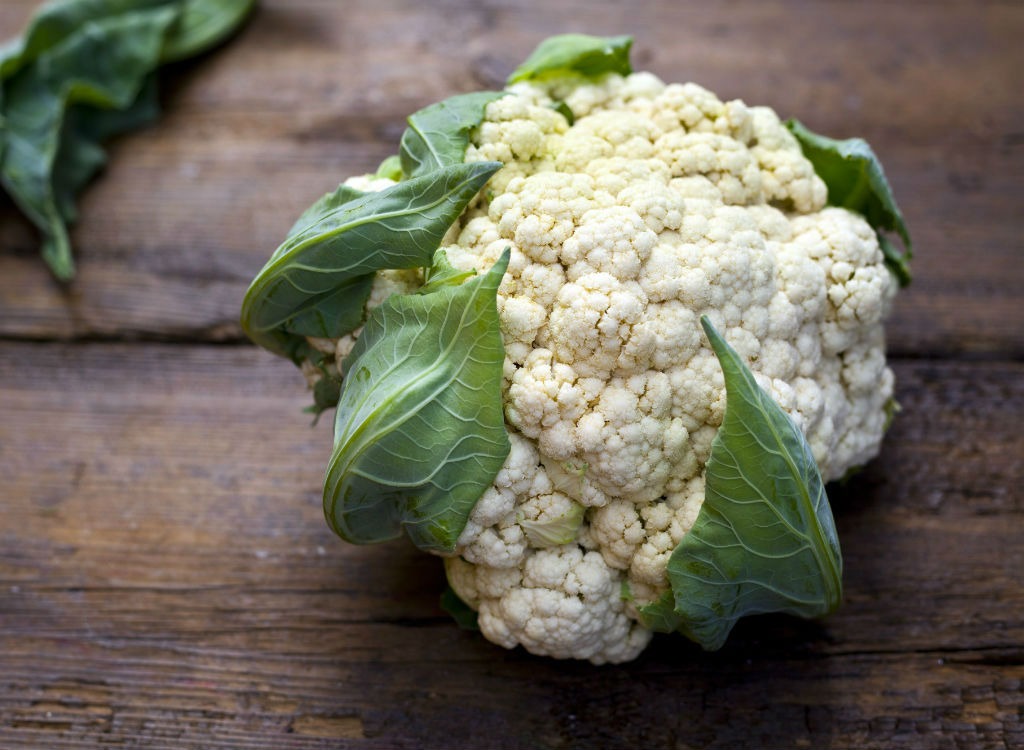 Despite what you might have heard about staying away from white food, cauliflower is one white food you should definitely not be avoiding. The taste may be a little boring to some people, but the versatility of this cruciferous veggie is pretty spectacular. Turns out this is one of the best foods to lose weight and there are some amazing ways to swap out unhealthy foods with this nutrient-dense veggie. With high amounts of vitamins C and B and about 3.5 grams of fiber in one cup of cooked cauliflower, it's a great detoxifier and body regulator. It also beautifully absorbs the flavors you send its way—cheese, spices, even chocolate—and can be transformed into a plethora of different textures. Who knew one plant could have so many personalities? Discover these unique and healthy ways to make use of cauliflower and then get more fun info from these 42 Food Qs From Millennials—Answered in 5 Words or Less!
MAKE A HEALTHIER PIZZA CRUST
Calling all pizza enthusiasts who just can't quit the carby addiction! If you're looking for a lighter option with the same great taste, here's your answer! By making a crust out of cauliflower, you're lowering your carb intake and cutting back on gluten and refined grains. This white veggie wonder is light and crispy with a similar bite to thin crust pizza. To make it, you'll just need 1 head of cauliflower finely processed, 1 cup of cheese (mozzarella and parmesan), 1 egg, and a mix of herbs! Expert tip: The key to making this without getting a soggy crust is to drain all the water from the cauliflower before mixing. Check out these 32 Kitchen Hacks for Healthy Eating for more helpful tips!
MASH 'EM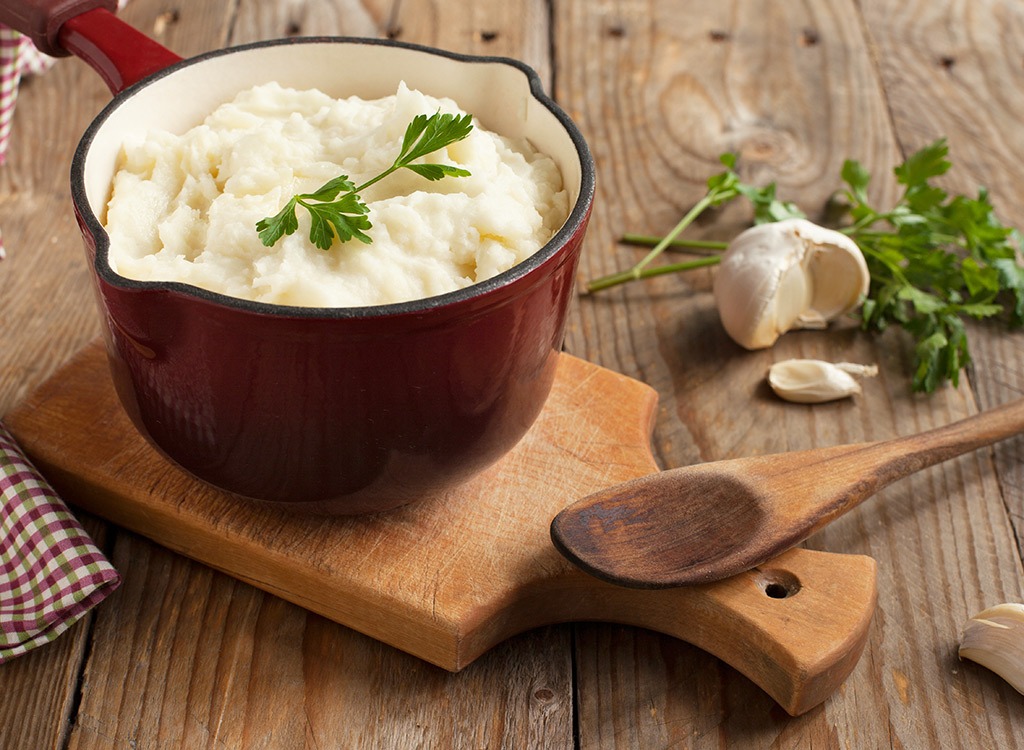 They look like mashed potatoes, feel like mashed potatoes, and taste like mashed potatoes, but these aren't your average buttery, high-carb mashed potatoes. Just combine 1 head of cooked cauliflower with ¼ cup of milk, 1 tablespoon oil, and your choice of additions and seasonings. This is the perfect low-carb, comforting side dish that you can make to your liking. Chunky or creamy, spicy, or tangy—there's no wrong way.
GO RAW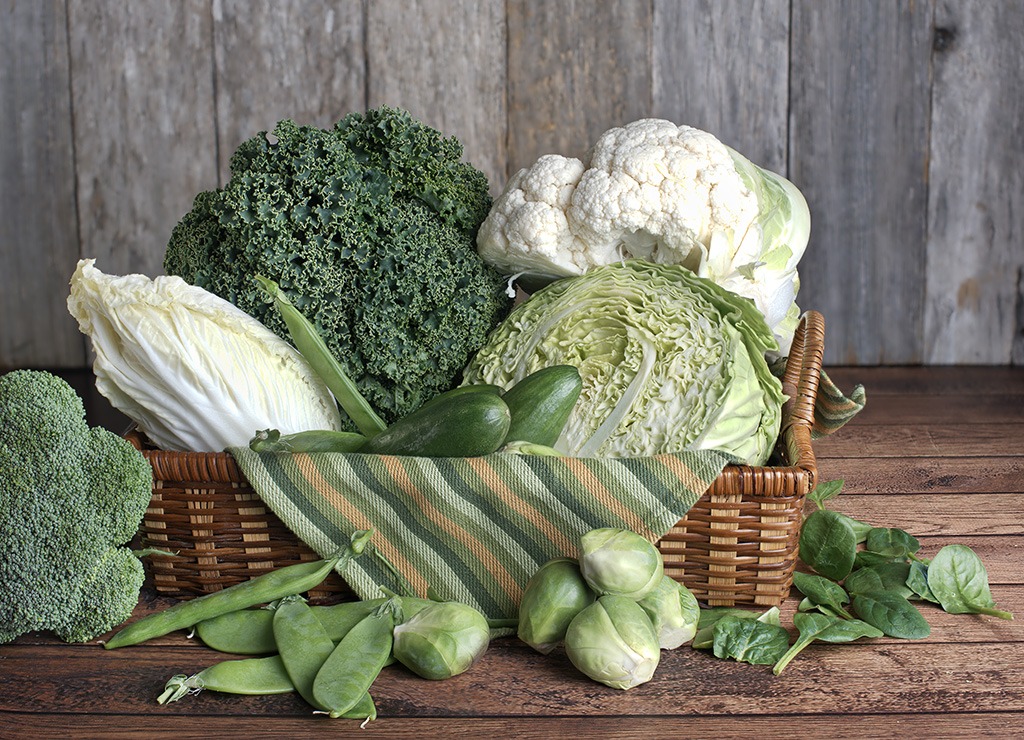 Skip the added oil and go for eating the cauliflower raw. You don't just have to eat raw by dipping plain old florets into ranch; chop it up to add to a salad. Cauliflower gives a nice bite that's sure to make you feel full. Here's detox salad idea: Combine finely chopped cauliflower with finely chopped broccoli, kale, spinach, carrot, celery, and pumpkin seeds; then dress with the juice of 1-2 lemons and pepper. It's fresh, easy, and super nutritious!
MAKE A LOW-CARB FRIED RICE…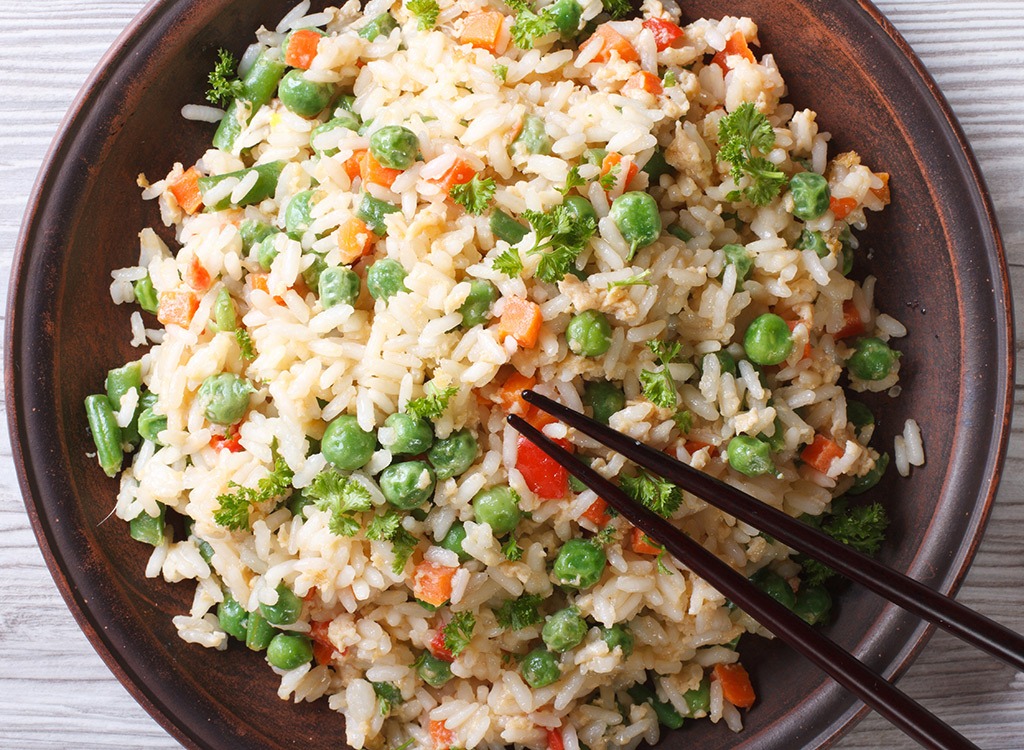 Here's a take-out fake-out that'll stop belly bloat and leave you much happier than after eating the greasy stuff. Fried rice from the local takeout spot is usually filled with sodium and high in saturated fat that will raise your chances of heart disease. Instead, make a fried rice at home by using cauliflower instead of the grains. Pulse the cauliflower in a food processor until it's at a rice-like consistency, and saute in Asian spices, sesame oil, and soy sauce with onions, carrots, and peas. This little swap so closely resembles the real thing that you won't even tell the difference!
…OR A RISOTTO!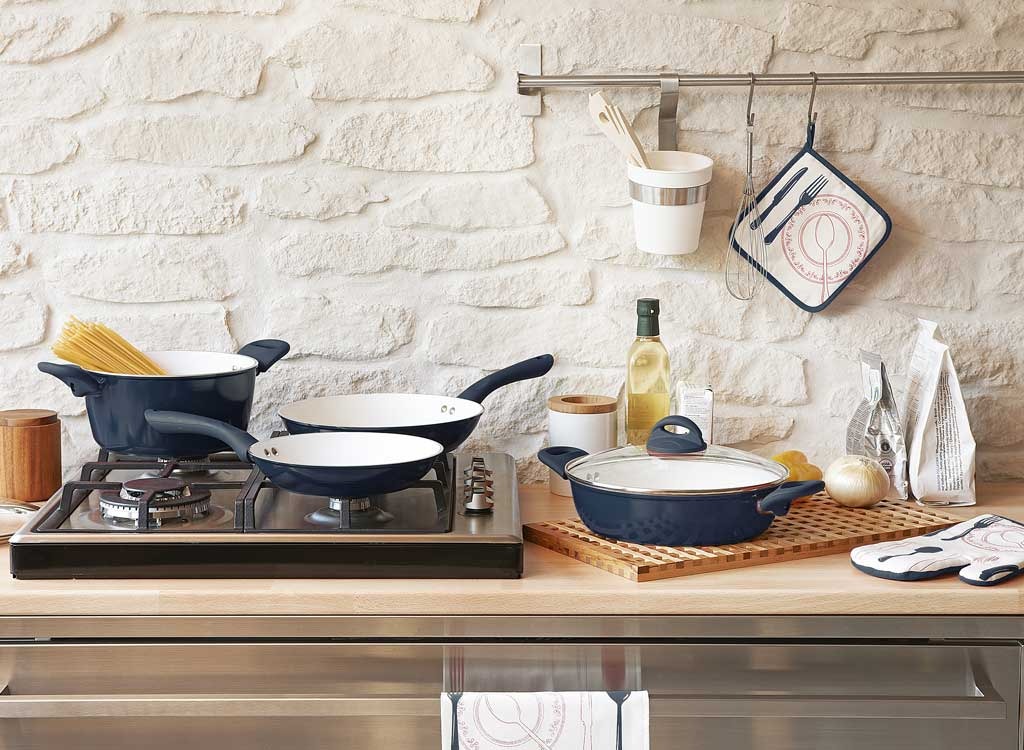 Risotto is a time-consuming dish that requires a lot of attention before it becomes overcooked. But by using cauliflower instead of rice, the cooking time is reduced, along with the carb intake. A favorite of ours is Half Baked Harvest's Quick Cauliflower "Risotto.
LIGHTEN UP MEXICAN NIGHT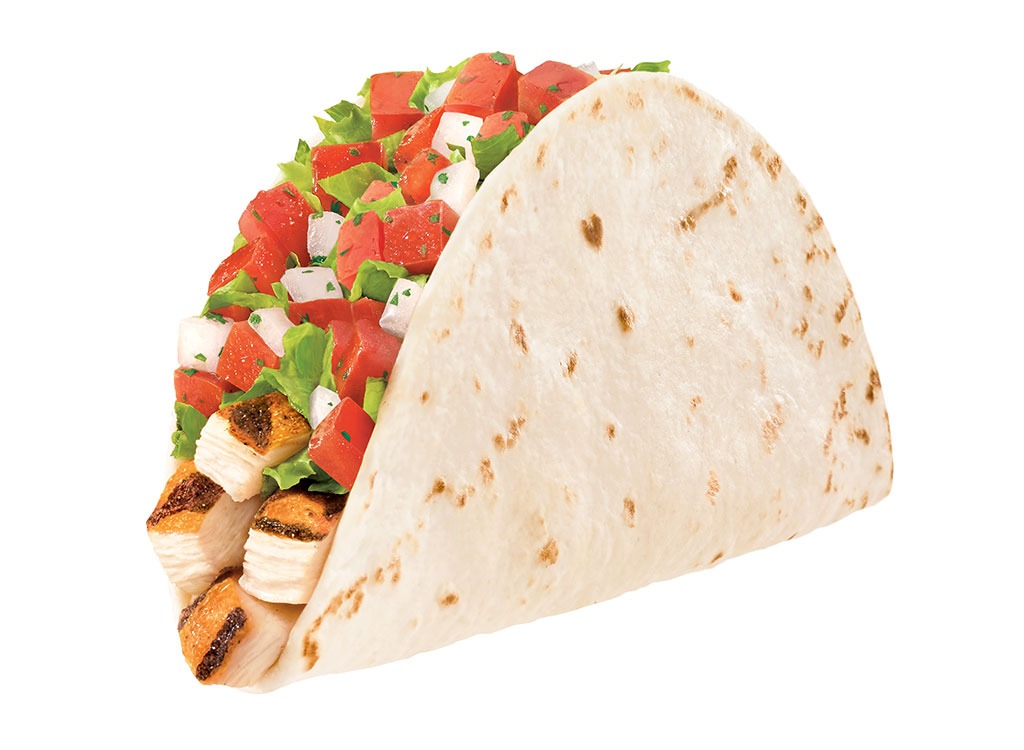 Store bought flour tortillas are made of bleached white flours and hydrogenated oils that are sure to lead to keep you from those body goals. Instead, make your own twist on tortillas by using two simple ingredients: cauliflower and eggs. In the same way you would make a pizza crust, you can make tortillas, too! Load 'em with ground turkey, salsa, and guacamole to get a perfectly healthy taco.
MAKE IT A STEAK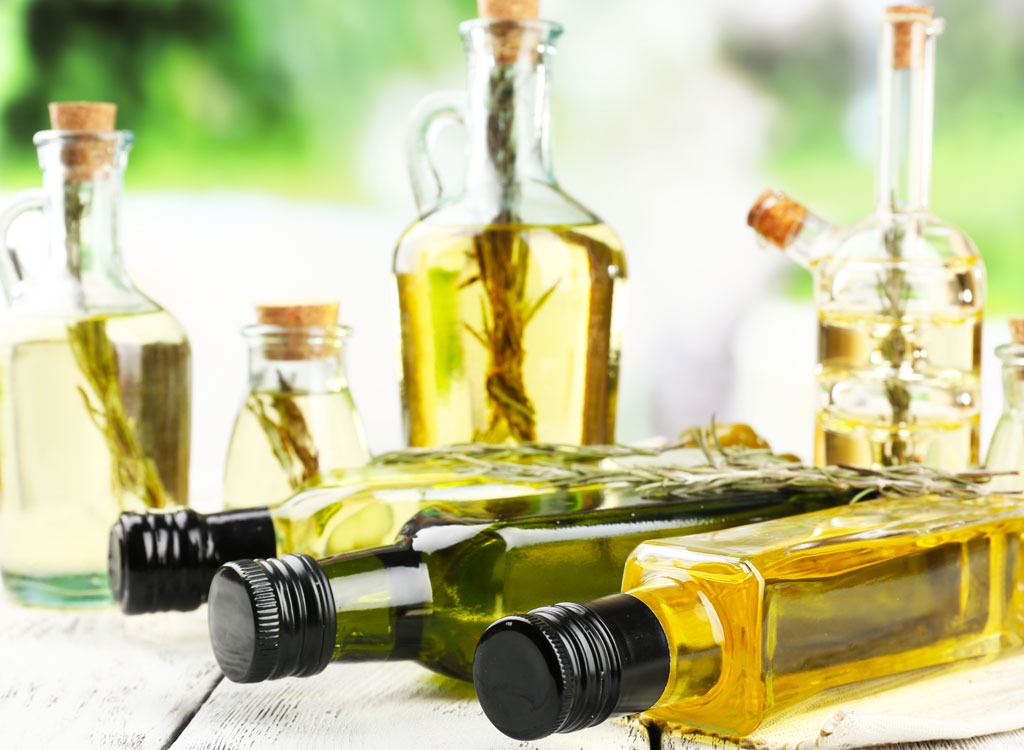 Just like a meaty steak, you can slice a whole cauliflower into two-inch slices and caramelize it for an intriguing, meatless Monday dinner. Consuming even 3.3 ounces of red meat each day (about the size of a computer mouse) can increase the chances of life-threatening strokes. But a cauliflower steak glazed with olive oil and spices (or your favorite low-sugar bbq sauce like the one on our list of Condiment Picks) is a safer dinner idea that's really low in calories.
TAKE ADVANTAGE OF SPICES AND SAUCES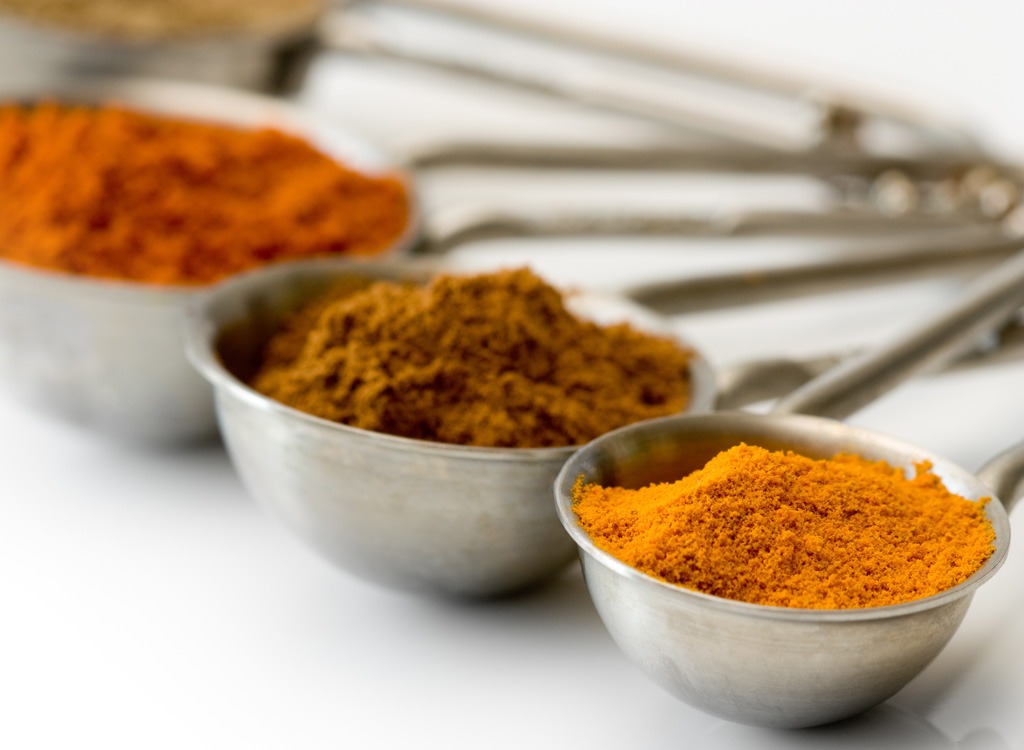 Buffalo cauliflower wings or curried cauliflower are some of the ways you can get a kick out of the barely-flavored veg. They're easy to make and perfect as a healthy appetizer or side dish. Add spices like cayenne pepper or turmeric to boost your metabolism!
THICKEN SOUPS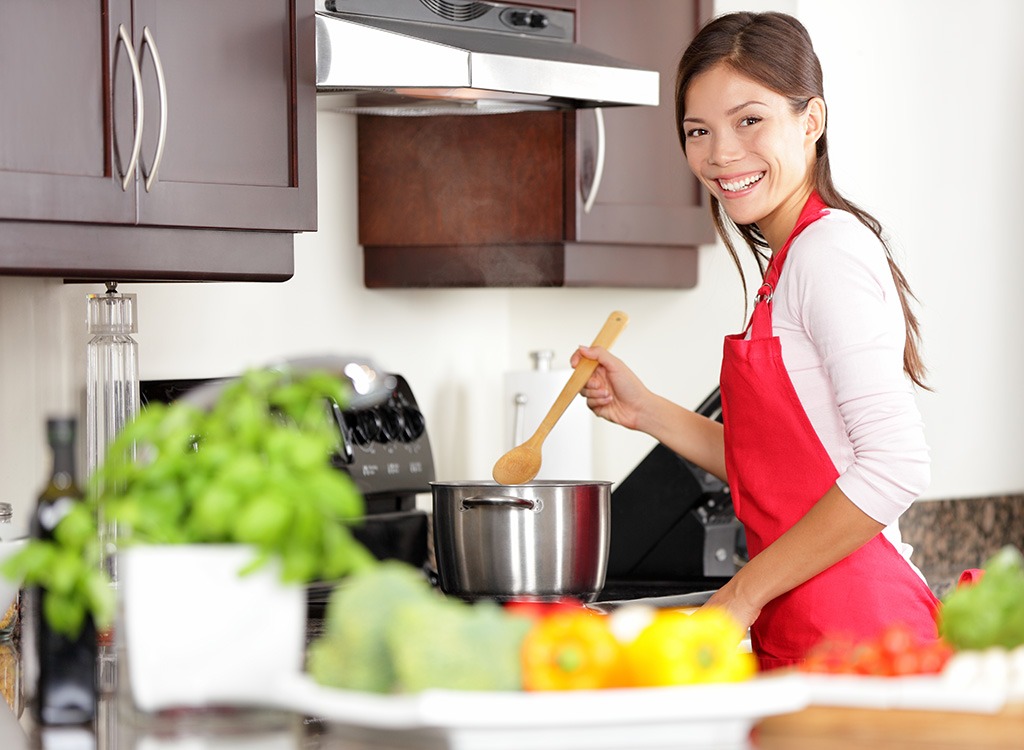 The food processor is your best friend when it comes to cooking with cauliflower. Depending on how well you process, you can make pretty much any texture out of this magical vegetable. Blend it with small amounts of almond milk or water until it becomes a velvety-smooth consistency and directly add it to some of your favorite, heavier cream-based soups, but minus the cream. This is the ideal way to get your soup thicker without the added calories.
SAY CHEESE, PLEASE
Cheesy dishes all too often rely on some not-so-healthy ingredients (cough, bread!). Cauliflower is your new way to make one that's actually good for you. Mac and cheese, grilled cheese, and mozzarella sticks can all be built with cauliflower instead of those heavy starchy carbs. Swap those fat-packing white breads and noodles for cauliflower to reap the amazing nutritional benefits—and stay away from any sketchy ingredients.
SKIP THE MEAT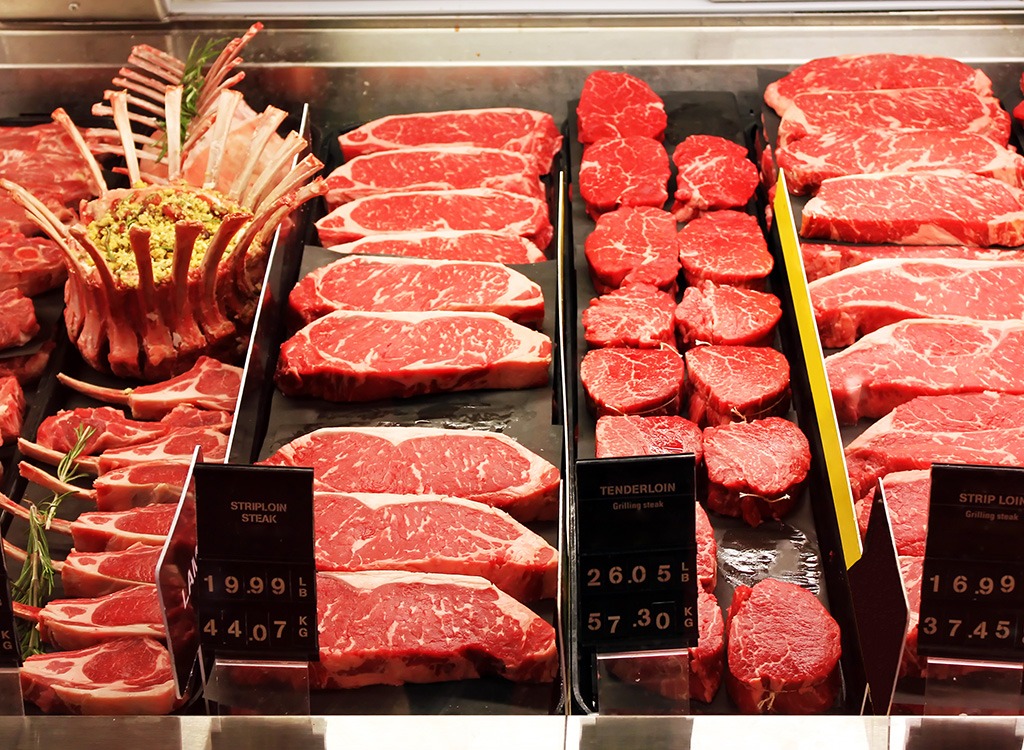 Chili bows, lettuce wraps, and spaghetti bolognese are just some of the ways you can switch out the meat for cauliflower. Incorporate things like high-protein beans, seeds, and grains into these meals to make sure you're still getting the right amount of protein into your diet. For optimal weight loss, the recommended amount for women is 46 grams per day and 56 grams for men.6254a4d1642c605c54bf1cab17d50f1e
STUFF THINGS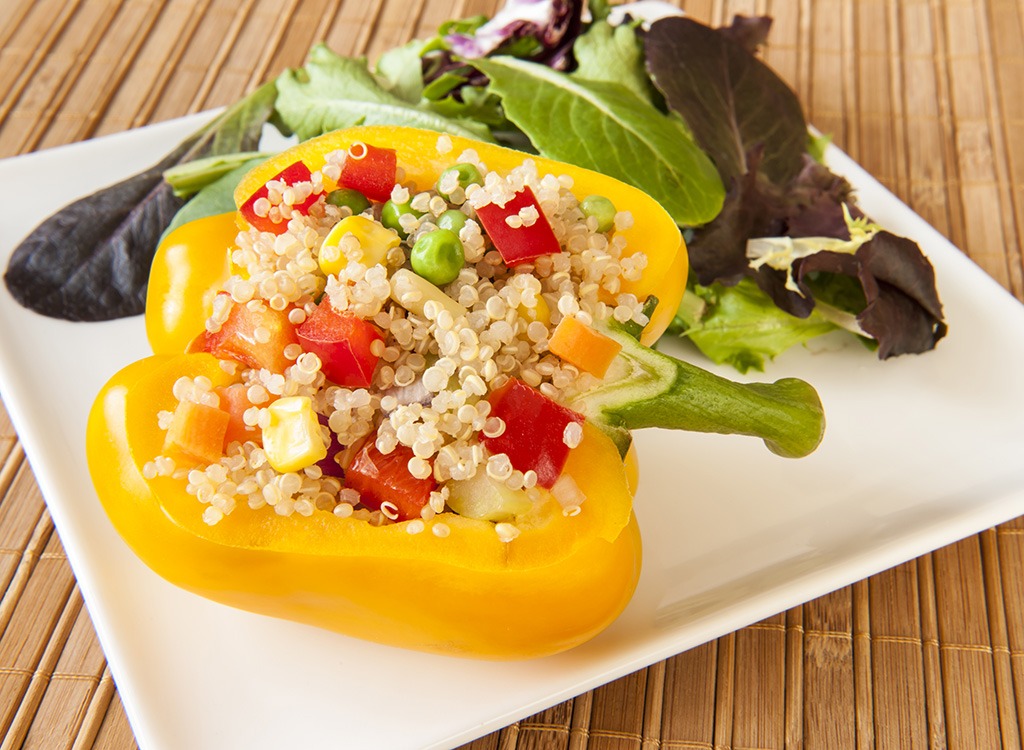 You can stuff peppers, mushrooms, or even pasta shells with cauliflower—and then sprinkle a touch of parmesan cheese on top—to get a flavorful and hearty meal or side dish. These kinds of dishes normally contain heavy rice, breadcrumbs, and too much cheese; but they can easily be lightened up by substituting in cauliflower. For more ways to drop the pounds, check out 20 Easy Ways to Lose Weight Like a Celebrity.
MAKE A DIP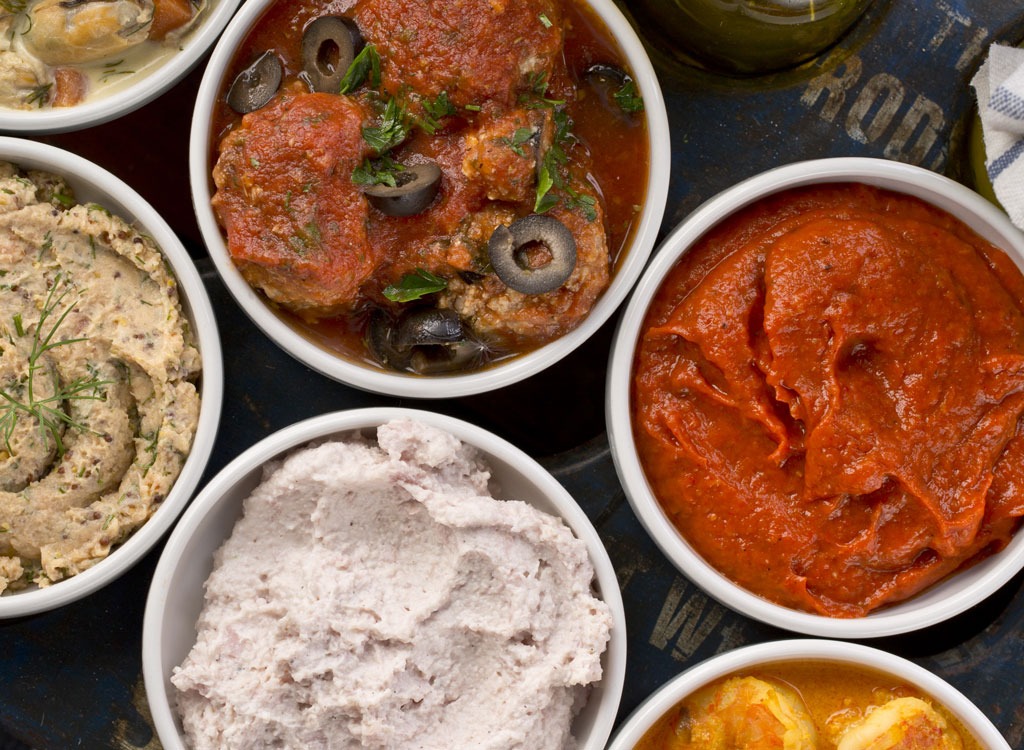 Ditch the fatty, store bought dips! Puree some cooked cauliflower with spices and olive oil to get a consistency just like classic hummus. Get your celery sticks and carrots out because you won't be ablt to keep your paw off of this easy app that is naturally fat-free.
LIGHTEN UP LASAGNA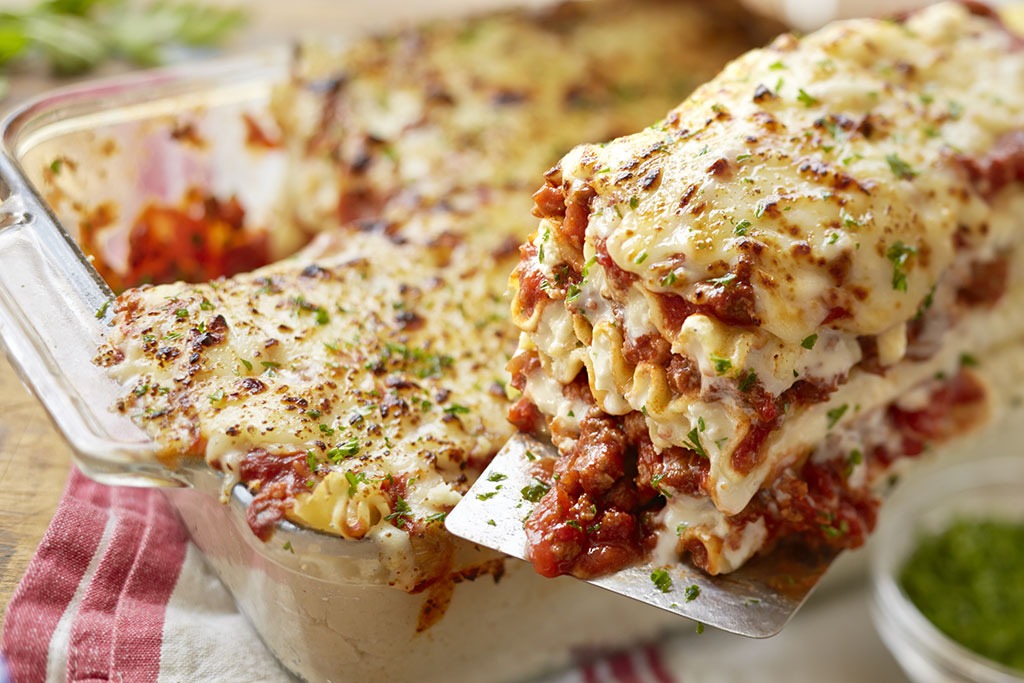 Instead of using boxed noodles for your lasagna dish, did you know you can make cauliflower noodles? By combining 1 head of cauliflower and 2 eggs with your desired choice of seasonings, you can make a noodle that surpasses the expectations of carb-less lasagna. Blend the cauliflower to a rice-like texture and then mash ingredients together with a potato masher. Next, drain excess water and lay thinly onto a baking sheet with parchment paper. Bake for 45 minutes on 350 degrees until the mixture is dried out. Use in place of regular lasagna noodles and enjoy! Adore pasta? Find out The #1 Best Pasta for Your Body!
SCORE A PASTA SAUCE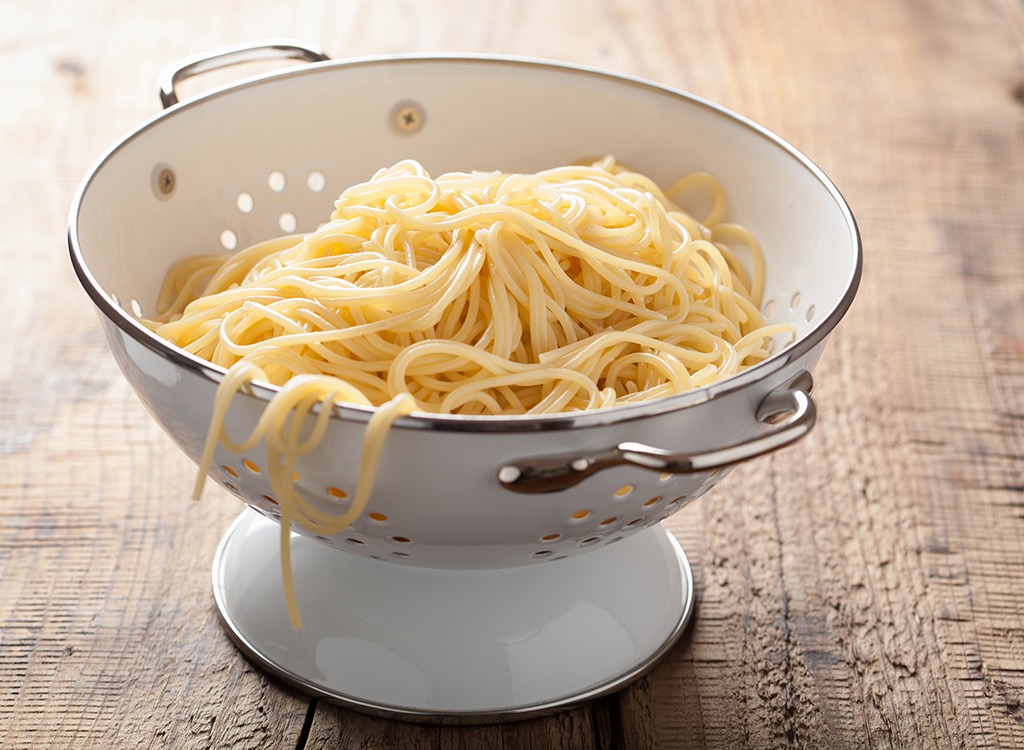 Alfredo sauce on a bed of chicken and pasta is a comfort food go-to choice—but it's usually ridiculously loaded with carb-heavy fats. Use cooked cauliflower, instead, by blending with sauteed garlic and onion, vegetable stock or almond milk, and cheese (optional). It lightens the dish and drops the calories.
SNACK ON IT
We're all guilty of wandering to the snack cabinet to get those oily chips and fat loaded cookies, but rather than that, premake a large batch of cauliflower popcorn! This is a low carb snack you can mindlessly munch on with feeling guilty once you realize you've reached the end. Just drizzle with a tablespoon of olive oil and a pinch of salt before putting in the oven at 425 degrees. Allow the cauliflower to brown as much as possible before burning to get the best savory crunch.
SCRAMBLE IT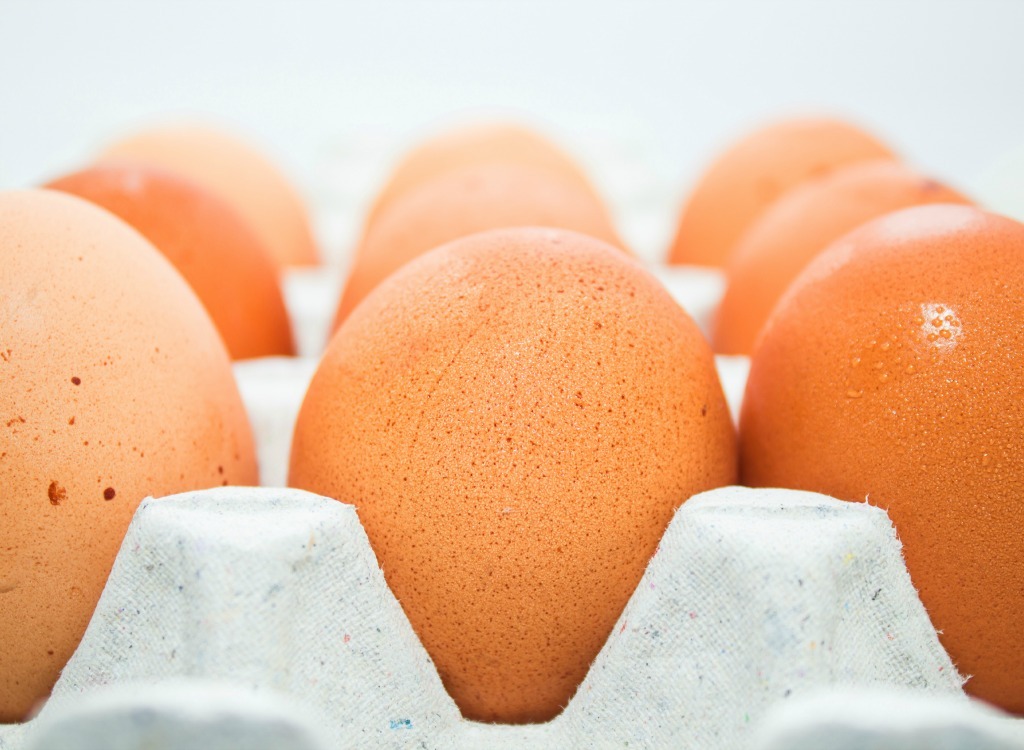 Scrambled eggs are a great source of protein, but scrambling your eggs with cauliflower can create an even more satisfying breakfast that has great texture for very few extra calories. Process the cauliflower down to a grain-like consistency and just combine it into your regular scramble mix. Get more healthy breakfast ideas from 50 Best Breakfast Foods for Weight Loss!