10 Coziest Coffee Shops in Charlotte
There are so many delicious options.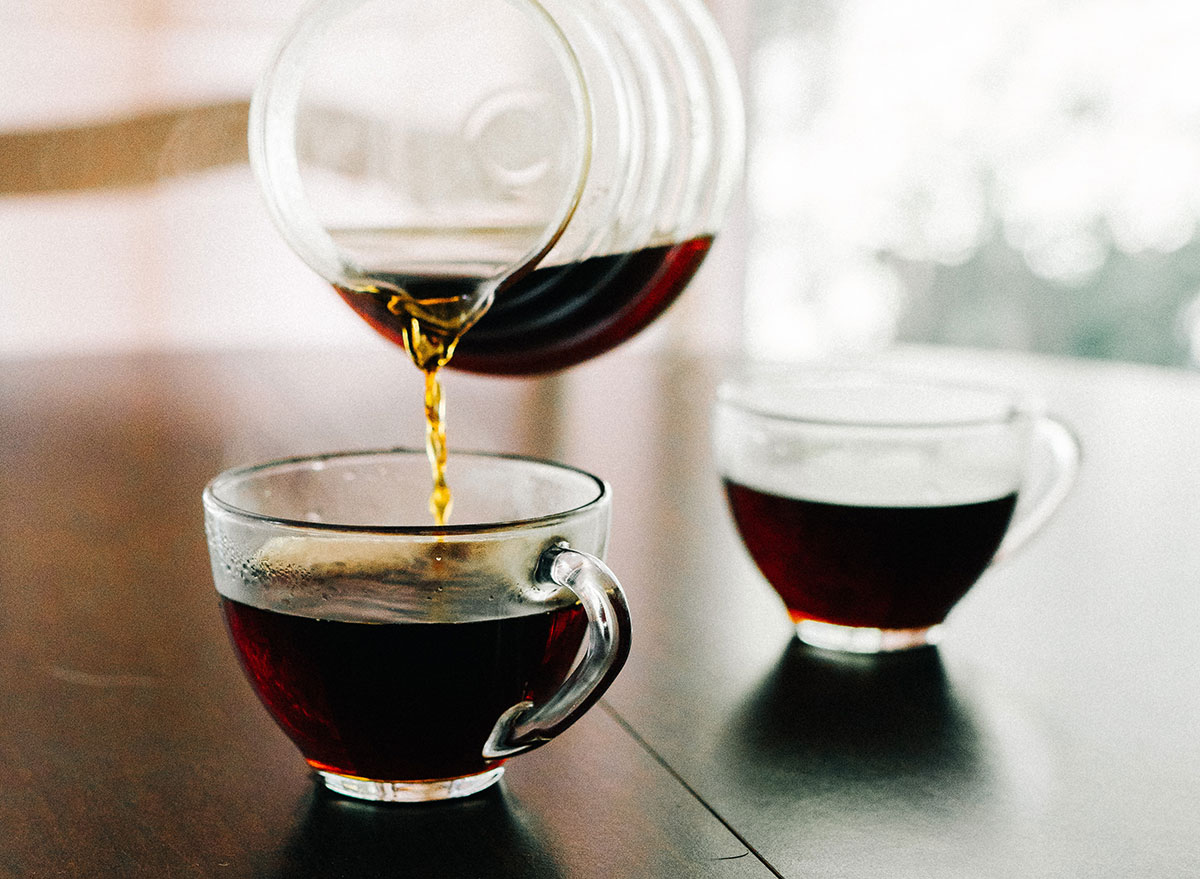 Charlotte, North Carolina is among the United States' most charming cities. It blends history with contemporary culture without ever losing that unique Southern flair locals and tourists alike have come to recognize and love. But let's face it—when you travel south, you're traveling for the food, and if you're making the trek to Charlotte, you're definitely looking for spots that are both highly rated on Yelp and worthy of a social media photo op. Duck into any of the coziest coffee shops in Charlotte and you're guaranteed to meet both criteria.
Even if you're lucky enough to live in this gorgeous city, you might not be aware of the homiest cafes scattered across its neighborhoods. The following list of cozy coffee shops are always serving up local roasts and decadent baked goods with a side of personality. The question is, which atmosphere is going to meet your preferences?
Below, we've categorized the coziest coffee shops in Charlotte by neighborhood. From Coco and the Director, which caters to entrepreneurs and creatives looking for a fix and plenty of wifi to enhance their productivity, to Smelly Cat Cafe, inspired by Phoebe Buffay's comedic diddy on Friends, there's a space for everyone.
Crema Espresso Bar & Cafe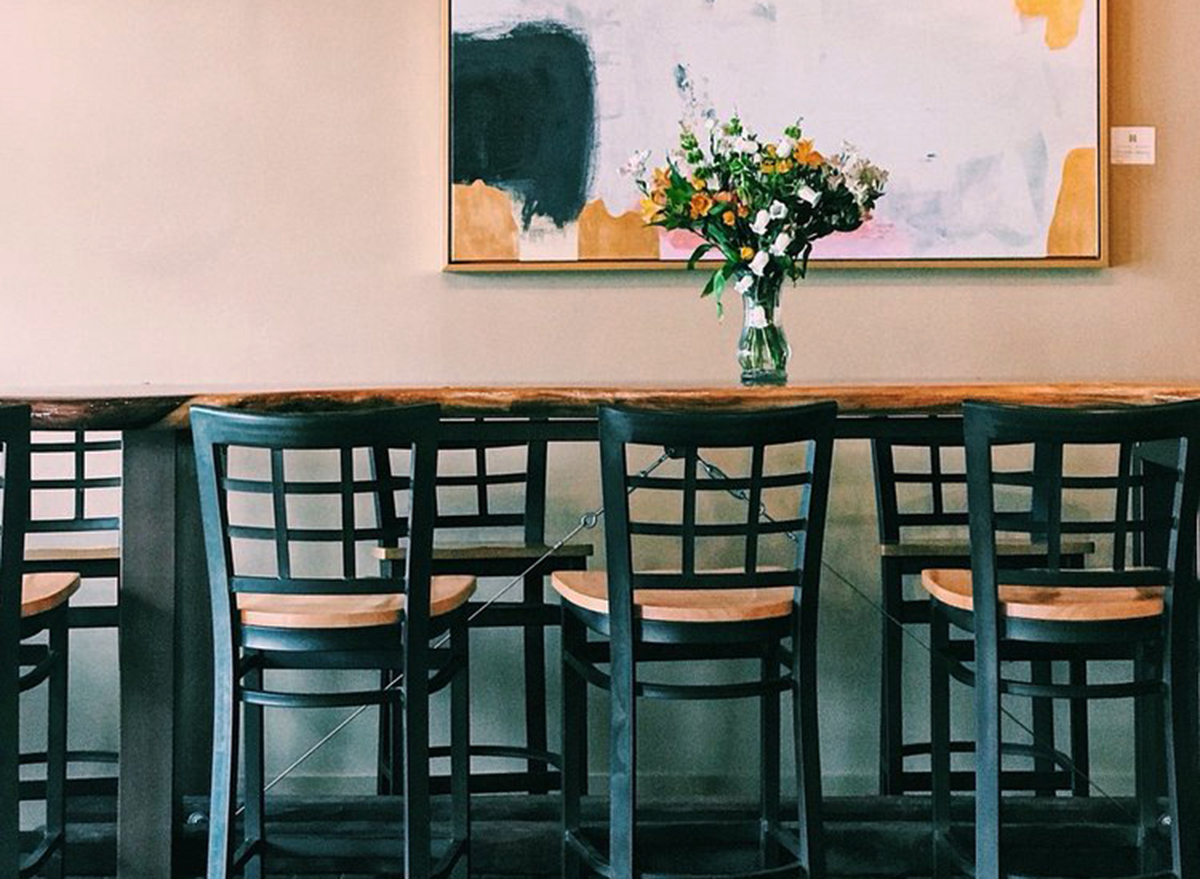 1235 East Blvd, Suite B, Charlotte, NC 28203
Crema Espresso Bar & Cafe is a quaint shop located in the suburban neighborhood of Dilworth, Charlotte, NC. Its atmosphere is warm and bright, with wooden tables donning vases of flowers scattered around the space. Pop in with a friend to catch up over a cup, or set up shop and get some work done—there are plenty of outlets to keep your devices up and running on a full battery.
The menu features locally sourced roasts, approximately 30 varieties of loose leaf teas for an alternative caffeine fix, and freshly made European pastries. Serving up the finest European-style cafe fair in the city, pair your favorite sip with mouth-watering treats like the spot's signature cakes or, better yet, one of its decadent crepes made from its sister café, Royal Café and Creperie in Matthews.
Cafe Moka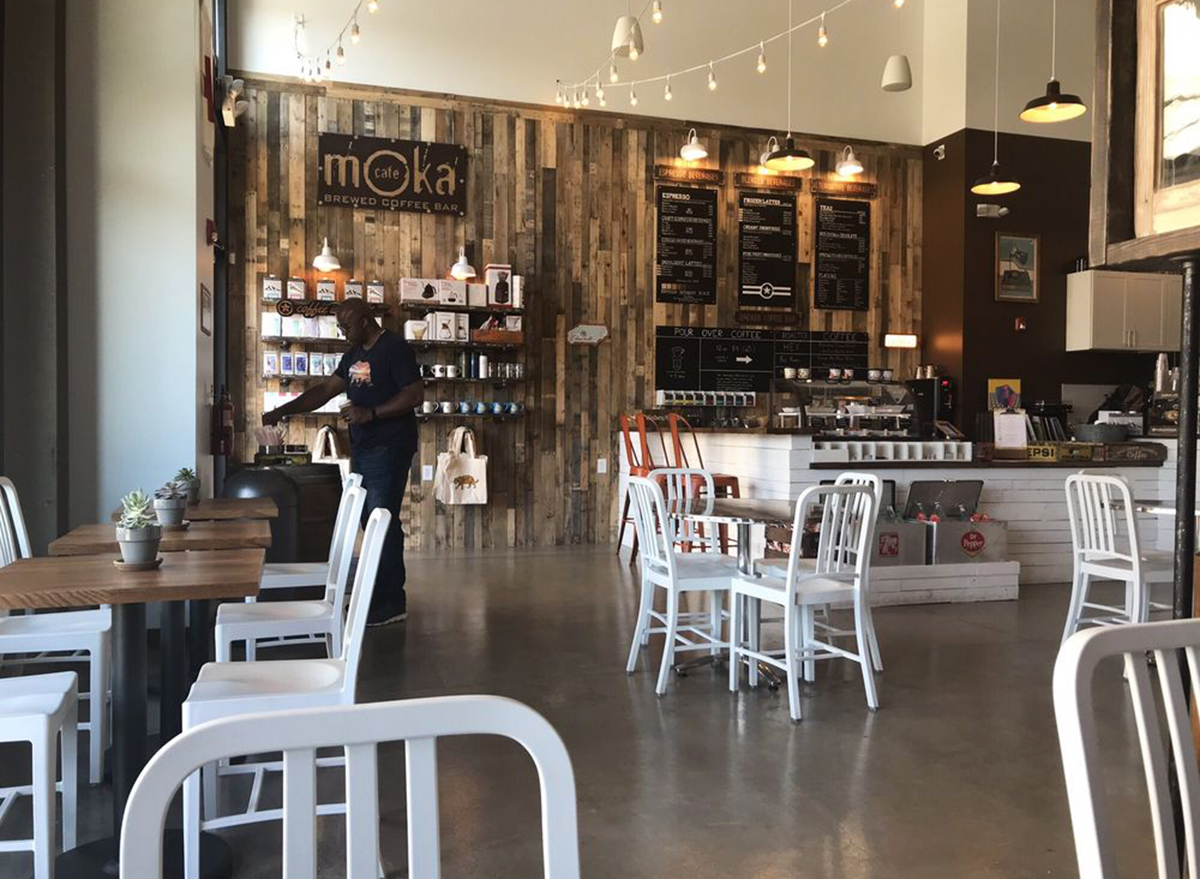 7416 Waverly Walk Avenue, Suite H3, Charlotte, NC 28277
Cafe Moka is for the coffee connoisseurs: anyone who doesn't drink coffee solely for the energy jolt, but for the appreciation for the beans themselves. The coffee menu is extensive, featuring beverages categorized as brewed coffee, espresso, craft espresso, espresso-based beverages, indulgent lattes, and frozen lattes, among other specialty sips like hot cocoa, smoothies, and tea.
Cafe Moka's cozy ambiance can be accredited to the spot's yellow-tinted light fixtures hanging above every table and countertop. The menus are written out on blackboard-style wall hangings and written in what looks like sidewalk chalk, adding to the old-fashioned vibe that blends nicely with the cafe's pinterest-worthy mason jars and bar stools. But rest assured, there's plenty of seating beyond the order counter. Think wooden booths and small, round tables surrounded by white chairs.
Coco and the Director
100 West Trade Street, Charlotte, NC 28202
Coco and the Director is the top spot for entrepreneurs looking for some free wifi and a whole lot of caffeine to keep them productive. It's a spot where artists and business folk can come together and co-exist with a nice, hot cup of Joe. But to be clear: This space is not a boardroom, but a collaborative sanctuary. Sign up for a customizable room for you and your crew—it comes fully wired for you to create without limitations like spotty wifi.
Cozy meshes with funk in this space uptown: It has windows that are lined with round tables that offer both bench and traditional pull-out chair seating, stadium seating (re: glamorized bleachers with cushions for added comfort), couches, and a top-level overlooking the entire shop. And if you're digging the work hard, play hard ambiance, there are board games available on loan, and an inviting bookshelf is yours for browsing.
We have no doubt you'll also dig the menu of single-origin coffees locally roasted a la Forte Lagato, which directly translates to "strong and smooth."
Mac Tabby Cat Cafe
3204 North Davidson Street, Charlotte, NC 28205
If you're a cat person, the Mac Tabby Cat Cafe, located in Charlotte's NoDa district. Is the purr-fect place to get your cat-feine fix and unwind with a friendly group of felines. $12 gets you a reservation for a full hour of chilling in the space's cat lounge, and $8 gets you a 30-minute walk-in experience. It's also worth noting that every one of the adorable fur babies you see is up for adoption, so you might just walk out with a to-go mug and crate.
But note: Kitties and caffeine are kept separate. The cafe is a full bar complete with lattes, cold brews, hot chocolate, and more, plus locally-sourced baked goods that include gluten-free and vegan options. The lounge area is super chill, clad with sofas, low-hanging light fixtures, beanbags, and a large glass window that allows you to take a break from your laptop, reading, etc. to check out the cats.
Mugs Coffee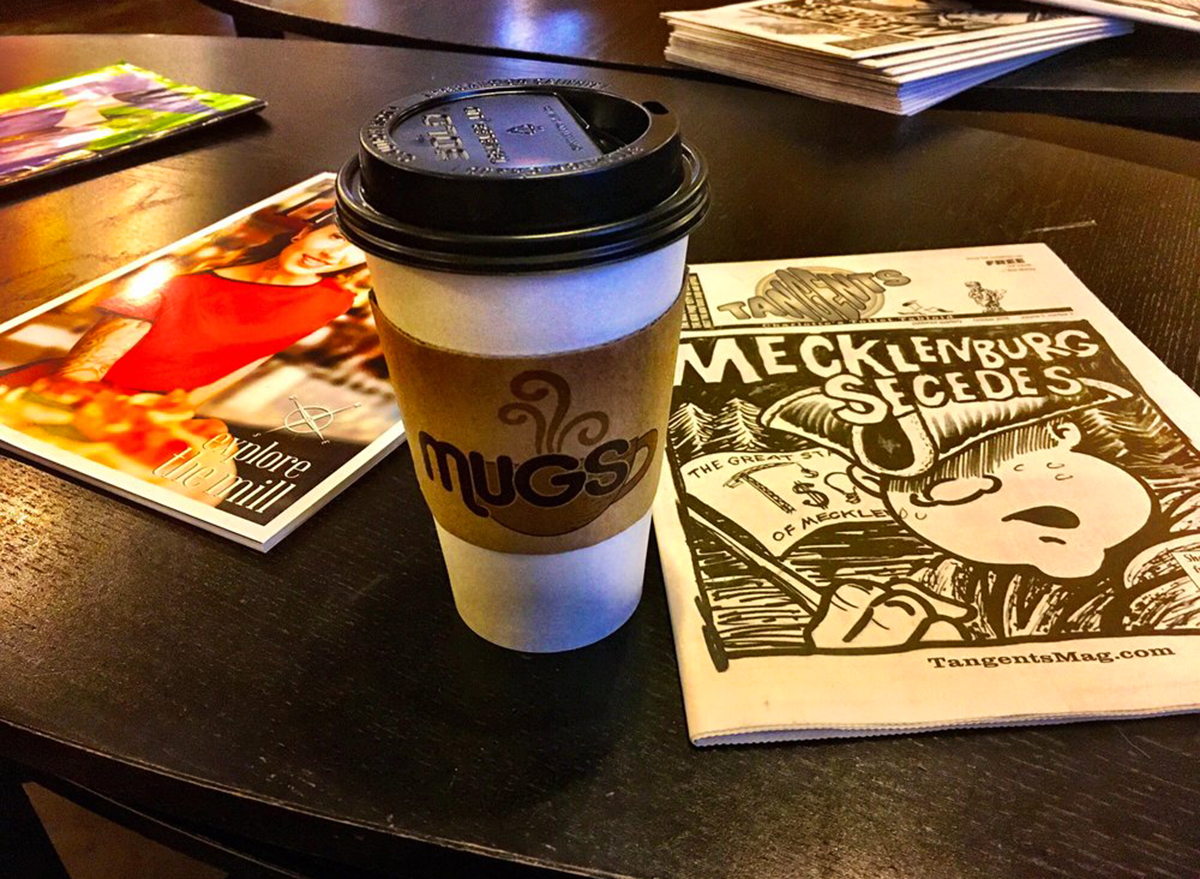 5126 Park Road, Suite 1D, Charlotte, NC 28209
No, we did not add Mugs to the list for its name, though that was definitely a selling point. The fact is, Mugs Coffee is everything you could ever want in a cozy shop: plenty of seating (from high tops to standard tables to comfy couches), walls lined with local artists' work, and handmade Van Dyke Pottery mugs for sale. The small-town feel was enough to sell us on the spot, but you should also know that everything on the menu—from the coffee beans to the decadent pastries—comes from local North Carolina vendors. It doesn't get much more neighborly than that.
Parliament Espresso & Coffee Bar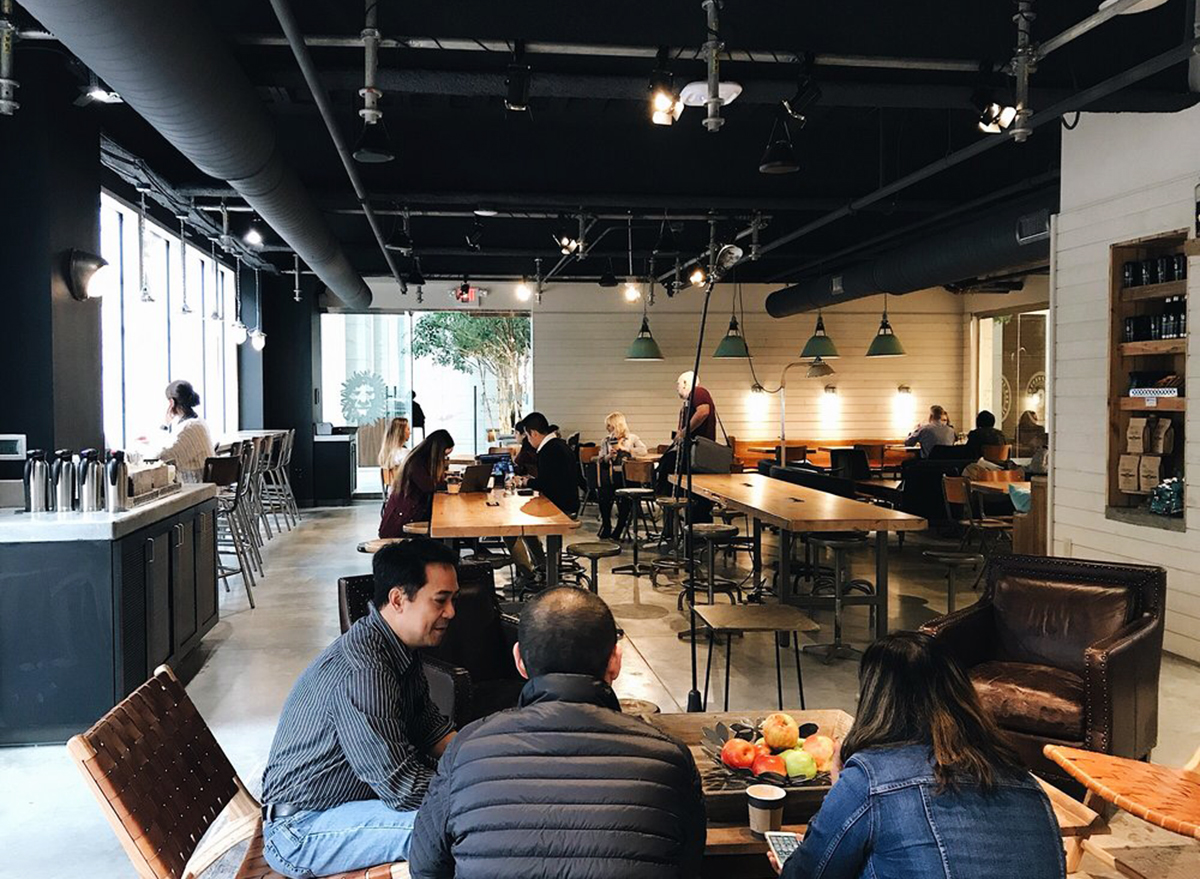 300 South Tryon St, Charlotte, NC 28202
Espresso lovers, meet your go-to spot from here on out. Parliament is definitely an espresso bar first and a coffee bar second, aiming to craft thoughtfully sourced sips that are always high quality. In order to guarantee this, Parliament uses La Marzocco machines from Italy that are high-end and hand-crafted to put pressure and just the right amount of temperature on the beans for an unparalleled taste.
And while the hub may not be exclusive to Charlotte, it's NC space is definitely more low-key and relaxing than NYC's grab-and-go flagship. Get cozy on the couch or opt for a table all your own. You'll come for the coffee, but you'll stay for the chillaxing atmosphere (and maybe a refill) for sure.
Waterbean Coffee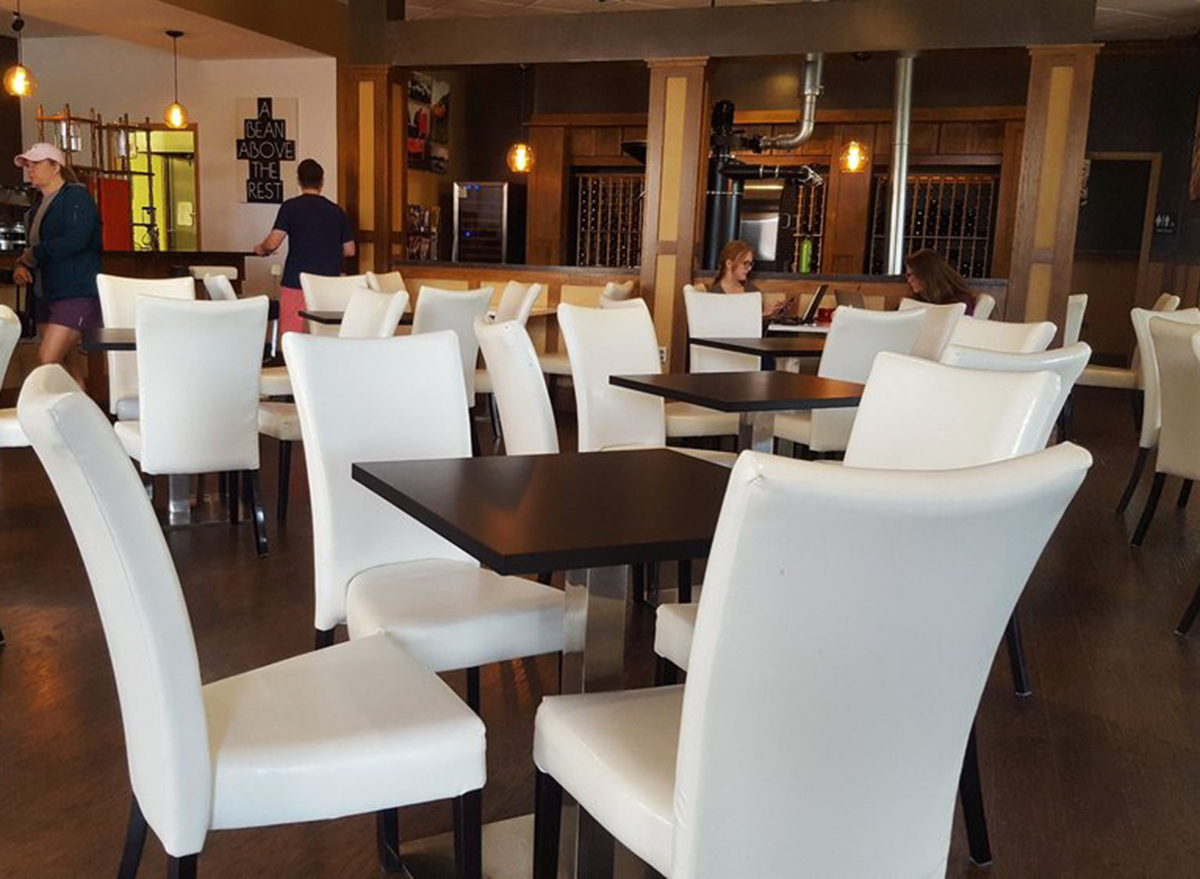 616 North Tryon St, Charlotte, NC 28202
Don't take Waterbean's name too literally—this cozy coffee shop isn't serving up watered-down beverages. What makes this space so relaxing is its subtle hints of personality that are simple, yet wholesome, like the table top mounted on carriage wheels, and big windows inviting in the warm, bright sunshine.
As far as the menu goes, there's a little something for everybody: French press and drip coffees, as well as all kinds of espresso and cold drinks. There's even a menu dedicated to non-caffeinated sips, too, like a Green Tea Frappe, specialty hot chocolate, or wine and beer if you're looking to lift your spirits another way. The place is also widely known for its selection of French macarons, so you don't want to miss out on tasting these delicious delicacies.
Smelly Cat Cafe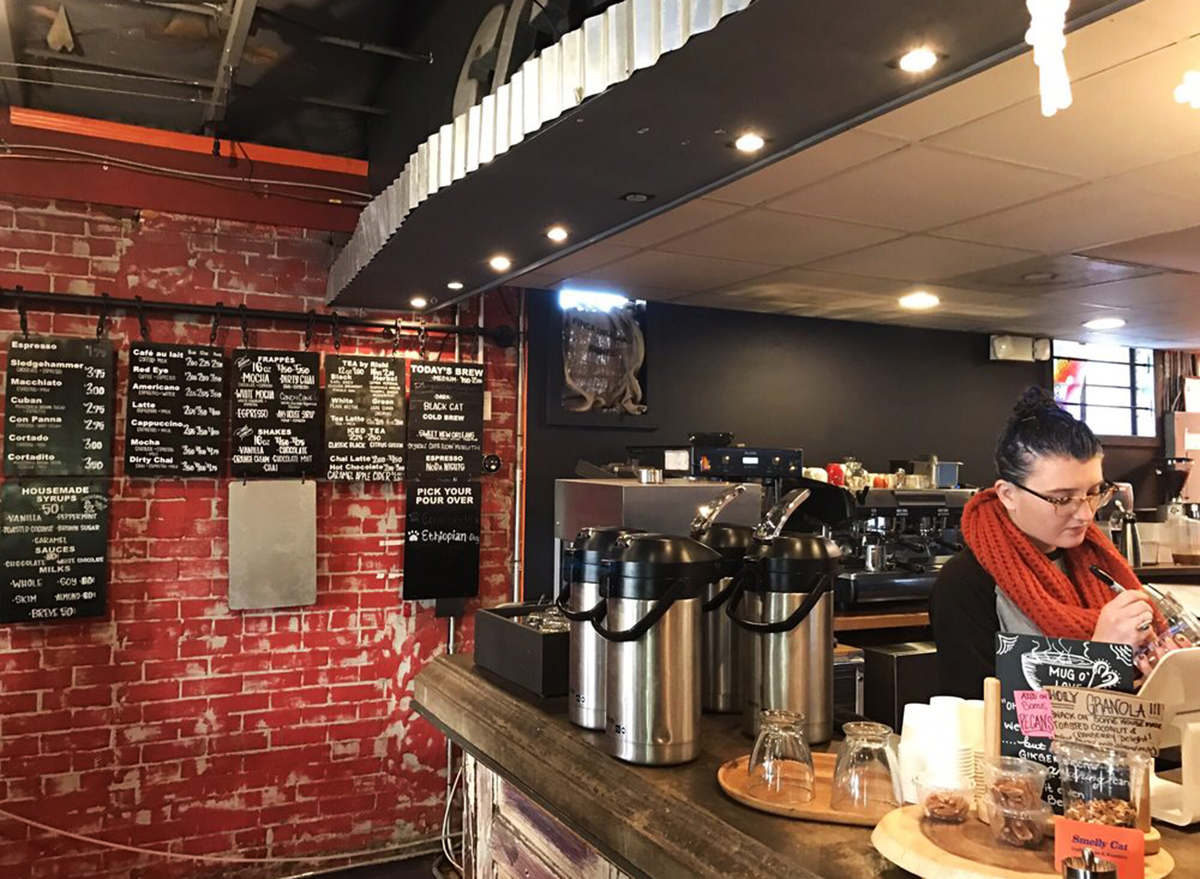 514 East 36th Street, Charlotte, NC 282056254a4d1642c605c54bf1cab17d50f1e
If you're constantly missing the Central Perk pop ups in NYC (or, let's be real, don't have the patience to stand in line to make it inside), Smelly Cat Cafe is the next best thing. The place is, indeed, named in reference to Friends, so lovers of the sitcom might get a kick out of this joint. The coffeehouse and roastery has a ton of personality: exposed brick, artwork hung every which way you turn, tables encapsulated with old wooden doors instead of traditional booths, and more bring out its funk.
The Smelly Cat Cafe's menu is also one-of-a-kind. Baristas roast the place's own ethically sourced coffee, all syrups are made in-house, and the nitro cold brew on tap is also exclusive to the cafe. Just dropping by? No worries! There's a walk-up window for passersby jonesing for a fix on the fly.
Central Coffee Company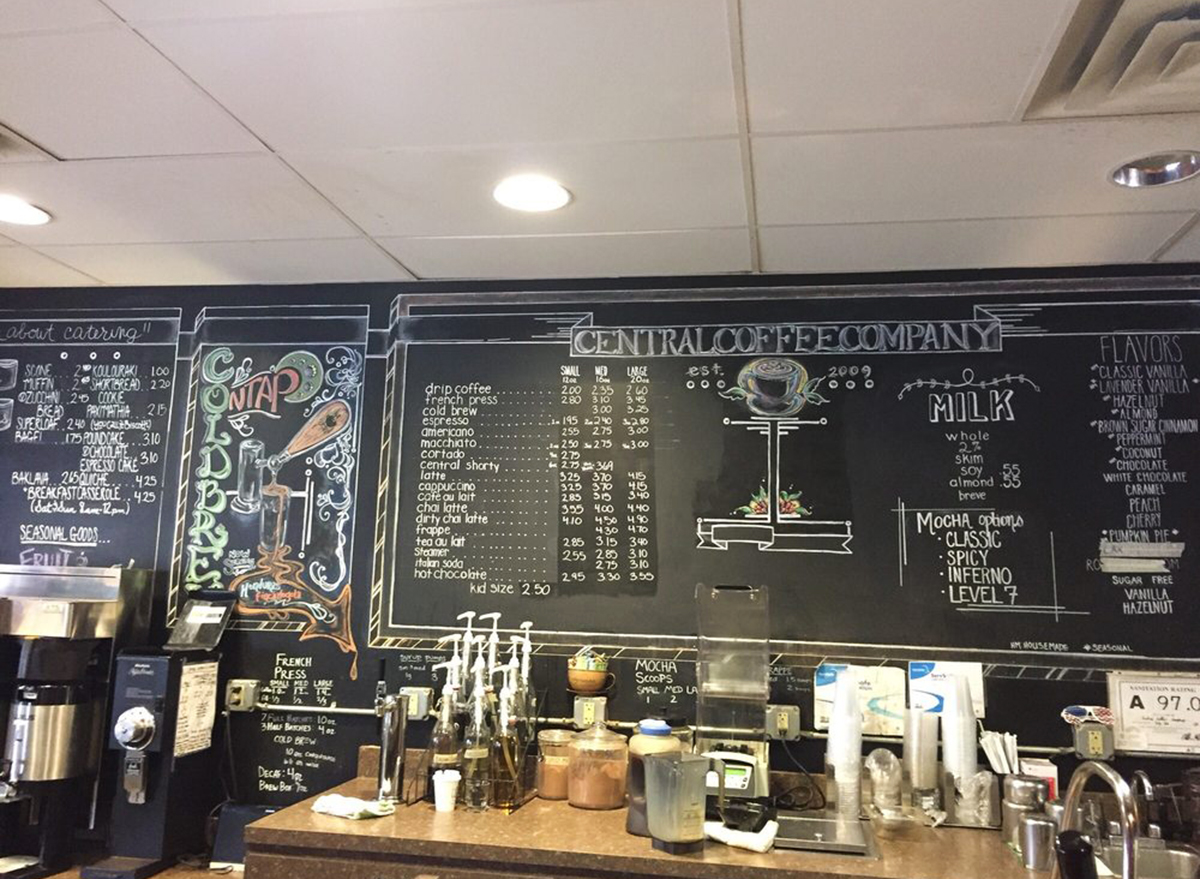 719 Louise Avenue, Charlotte, NC 28204
Central Coffee Company has been around since May 2019, and locals can't get enough of the place. When you walk into the space, you're greeted by a long wall of exposed brick parallel to the order counter. It's lined with tables for solo visitors or small groups meeting over coffee, and towards the back you'll find a seating area of armchair sofas circling a small table.
As for the menu, it's definitely one you'll want to check out. Central Coffee Company serves and brews Joe Van Gogh, an artisan coffee roaster in Hillsborough, NC, so you're supporting a local business with every cup. There's a basic menu baristas serve up daily, in addition to seasonal offerings exclusively available in-store.
Julia's Cafe & Books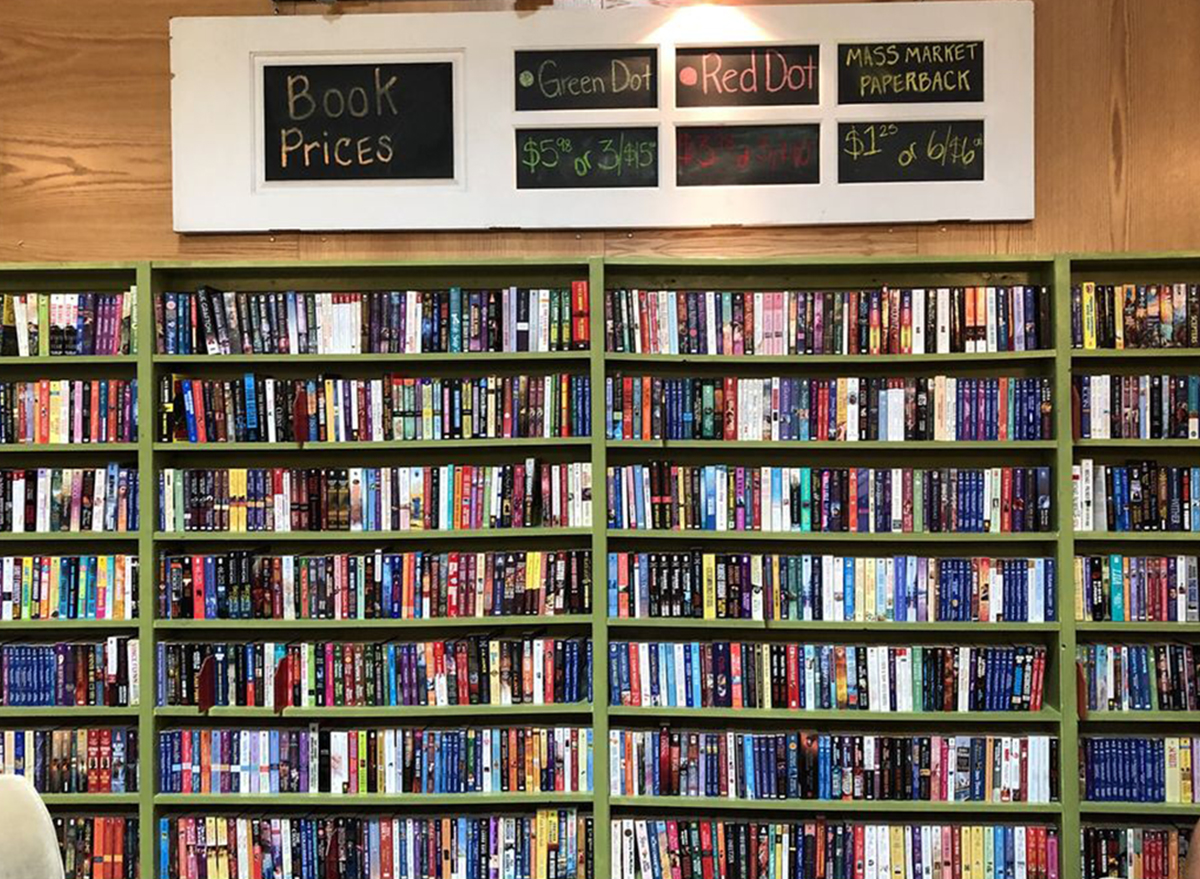 1133 North Wendover Road, Charlotte, NC 28211
Julia's Cafe & Books is a charming literary oasis tucked away in Charlotte's Cotswold neighborhood. But as much as this brick and mortar was built on love for caffeine and books, it was also created to help support the Habitat for Humanity of Charlotte. The space is named after Julia Maulden, who worked on the first Habitat Charlotte home and helped found the Habitat for Humanity of Charlotte way back when. It's also connected to a Habitat community store, where volunteer workers are more than welcome.
Julia's is a feel-good sanctuary that serves good coffee—really good coffee. The craft-roasted beans come from Magnolia Coffee Co., a local Charlotte roaster that's beloved by anyone who's taken a sip of their brew. The snacking options are also flawless and even include a few select gluten-free treats and gourmet popcorn.
As for the books, the thrifty deals are pretty solid. Plus, if you live in the area (or plan to pass through), you can donate books, VHS tapes, DVDs, vinyl records, video games, and more to the Habitat store.
Whether you're a local or just planning a trip to the Southern city, these spots are worth adding to your itinerary.