Authentic Chicken Mole Enchiladas Recipe
And no, we're not following the Americanized version of this classic Mexican dish!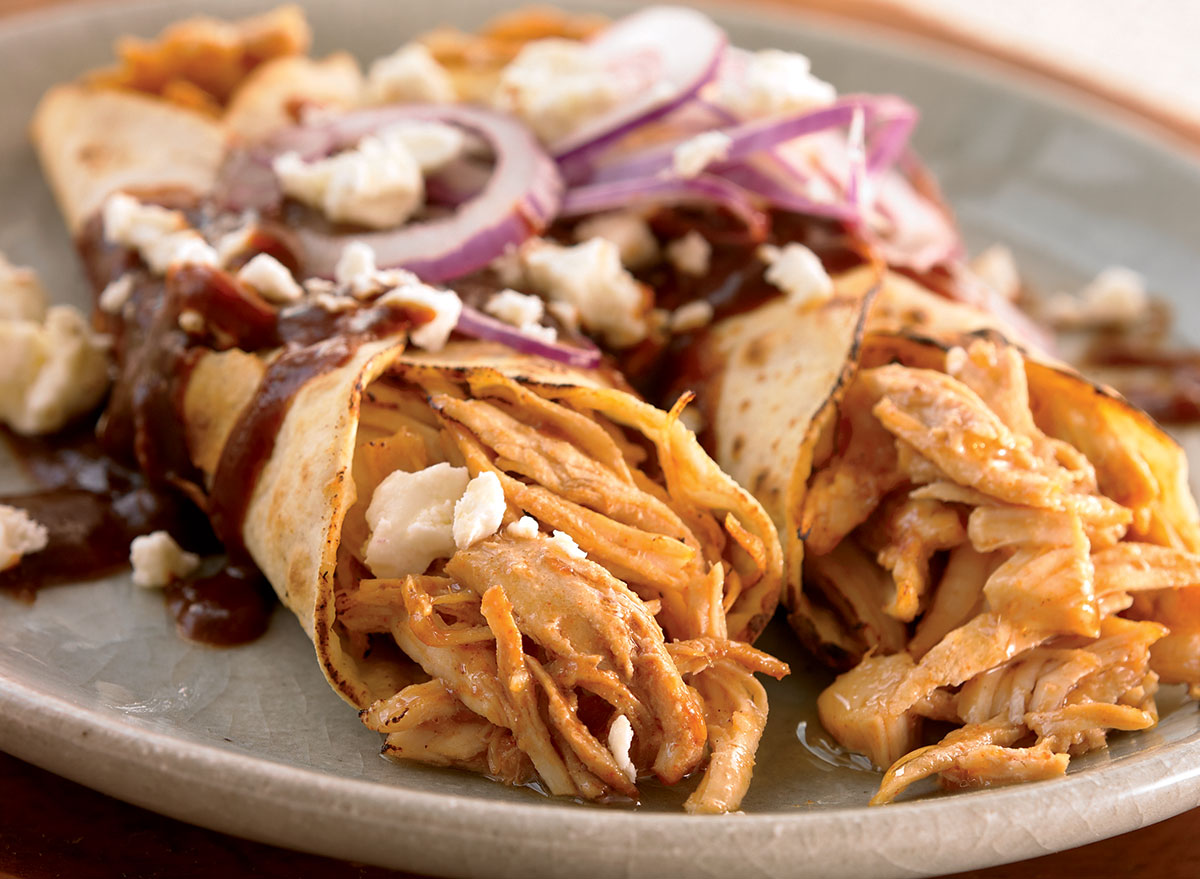 Real Mexican food—the way it's cooked in places like Puebla, Oaxaca, and Mexico City—can be incredibly healthy fare, reliant as it is on tons of fresh produce and lean proteins. Problem is, when Mexican food migrated north, it picked up thousands of calories' worth of cheese, sour cream, and oily sauces on the trip. These enchiladas are not only easier to make than the Americanized versions served in most restaurants, but they're also tastier and contain just 30 percent of the calories.
Nutrition: 410 calories, 15 g fat (3.5 g saturated), 430 mg sodium
Serves 4
You'll Need
1 bottle (8 oz) mole negro sauce
About 2 cups low-sodium chicken broth
4 cups shredded cooked chicken (store-bought rotisserie chicken works well)
8 corn tortillas
1⁄2 cup crumbled queso fresco or feta
1⁄2 red onion, sliced into thin rings6254a4d1642c605c54bf1cab17d50f1e
How to Make It
In a medium saucepan, combine the mole and enough broth to thin it out to the consistency of ranch dressing (bottled moles vary in concentration).
Simmer for 10 to 15 minutes, adding more broth as you need it.
Heat the chicken in the microwave on 50% power for about a minute.
Add a few tablespoons of the mole, and toss to evenly coat the chicken with a thin layer of the sauce.
Heat a large cast-iron skillet or sauté pan over medium heat.
When hot, toast the tortillas individually until pliable and lightly browned on the surface.
Immediately place a scoop of the chicken in the center of each tortilla and roll like a burrito (they should be well filled but not overflowing with chicken).
Serve topped with a few tablespoons of mole sauce, a sprinkle of cheese, and onion rings.
Eat This Tip
Mole Negro
Mexican mole is one of the world's most delicious and nuanced sauces, made from up to 35 ingredients, including chiles, nuts, spices, and chocolate. Making mole from scratch is a full-day endeavor reserved for special occasions in Mexico; luckily, great bottled mole is sold all over the country. Keep a few jars on hand for instant enchiladas, to punch up the flavor in your next batch of tacos, or to do as the Mexicans do and serve simply with roasted chicken or turkey. The most popular variety is made by Doña Maria and is available in the ethnic sections of major supermarkets or on Amazon.