Low-Calorie Chicken and Black Bean Nachos
Mouthwatering ingredients and chips that stay crispy? It's the perfect combination.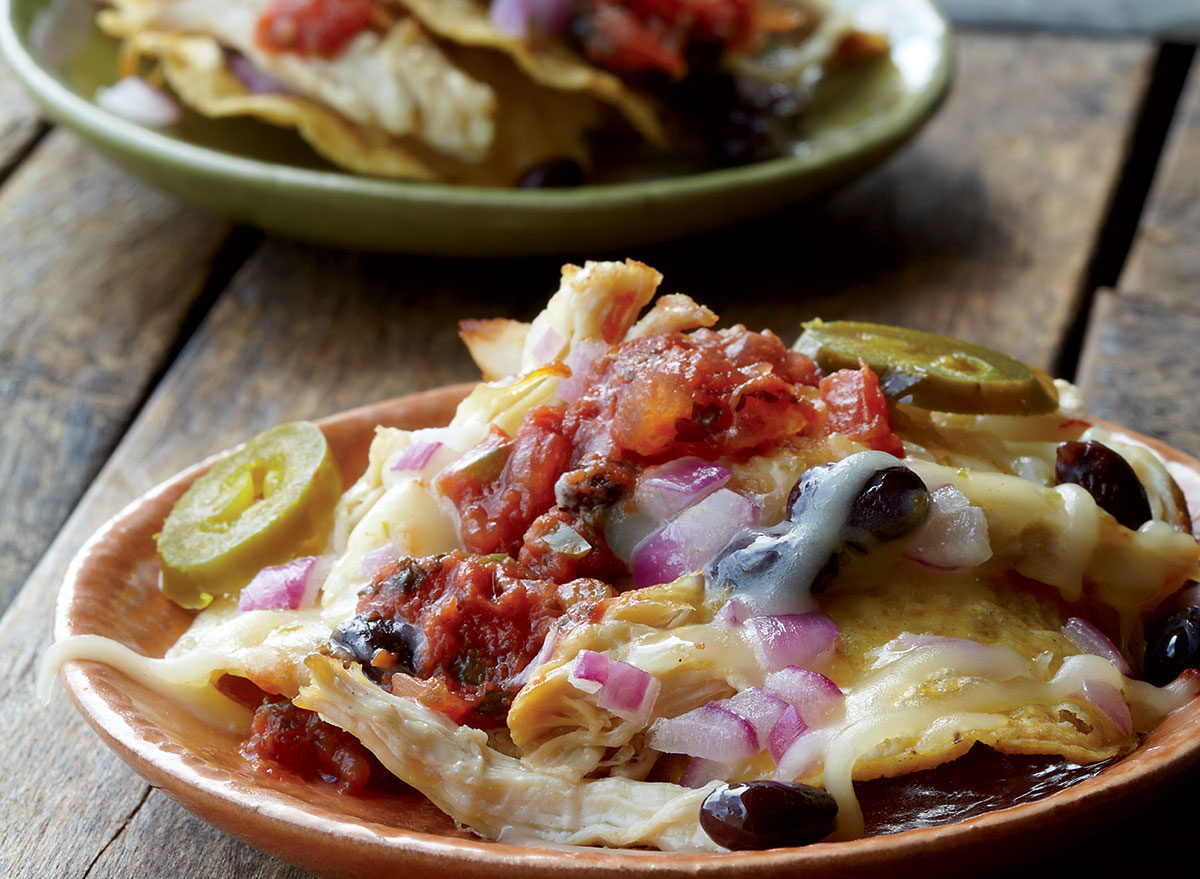 We've never found a nacho worth recommending in the restaurant world. The sad truth is that the tortilla chips are rendered a helpless vessel for thousands of calories of cheese, sour cream, and oily ground beef. And besides, who wants to dig through soggy nacho detritus in search of a chip crisp enough to bring from plate to mouth?
This version ensures that every chip is evenly covered with protein-packed chicken and fiber-rich beans, plus enough salsa and lime-spiked sour cream to keep your mouth watering. Don't worry, we've got plenty of shredded Monterey Jack cheese melted on top to keep you satisfied. A nacho is not a nacho without cheese, after all.
Nutrition: 330 calories, 12 g fat (6 g saturated), 500 mg sodium
Serves 6
You'll Need
6 oz tortilla chips
1 can (16 oz) black beans, rinsed and drained
1 1⁄2 cups shredded Monterey Jack cheese
1 cup shredded chicken (preferably from a store-bought rotisserie chicken)
1⁄2 red onion, diced
Juice of 2 limes
1⁄2 cup light sour cream
Chopped cilantro
Salsa (make your own, or pick up your favorite premade version)
Thinly sliced jalapeños (optional)
How to Make It
Preheat the oven to 425°F.
Arrange the chips in a single layer on a large baking sheet.
Spoon the beans evenly over the chips, then top with the cheese, chicken, and onion.
Bake for 15 to 20 minutes, until the cheese is fully melted and bubbling. Remove.
Combine the lime juice, sour cream, and cilantro. Spoon over the nachos.
Top with the salsa and jalapeños.
Eat This Tip
Don't you hate how your nachos arrive covered in copious amounts of cheese and greasy add-ons, only to find the toppings all but disappear as you work through the layers? The secret to a great nacho is all about balance. Put too much on, and that little chip grows soggy and overburdened. Add too little, and they're not really nachos, are they? To hit the sweet spot, spread a single layer of chips (the bigger, the better) on a baking sheet. Start with beans, followed by cheese, meats, and vegetables. Save all cold toppings (guac, salsa, etc.) for after the nachos emerge from the oven.6254a4d1642c605c54bf1cab17d50f1e