I Tried Chrissy Teigen's New Baking Mix—and Now I'm a More Confident Baker
Thanks to Chrissy Teigen's new baking mixes, anyone can make "the banana bread that broke the internet"
Chrissy Teigen is known for everything; from being a supermodel and TV personality to a highly active social media presence, a very proud mother of two, and the wife and muse of "All of Me" singer-songwriter John Legend. However, I actually became a superfan of Chrissy after I started collecting her Cravings cookbooks.
As each book entered my ever-expanding cookbook collection, I instantly found new go-to recipe favorites. So, when I found out her Cravings brand was going to expand to include a line of baking mixes, it's not an exaggeration to say that I wanted to be first in line to try them out.
About the Cravings by Chrissy Teigen baking mixes
Currently, the Cravings by Chrissy Teigen collection of baking mixes includes three different types of baked goods: Chrissy's Ultimate Banana Bread Mix, the Buttermilk Mochi Pancake & Waffle Mix, and Salted White Chocolate Macadamia Cookie Mix.
What's particularly unique about this line is that each one of these mixes has a fun story behind it. For example, the banana bread mix is actually based on a recipe from Teigen's book Cravings: Hungry for More. Meanwhile, the pancake and waffle mix was reportedly inspired by a weekly tradition from husband John Legend, which the Teigen-Legend household endearingly refers to as "Pancake Sundays." (How sweet is their family?)
Also, Teigen's Twitter fans may recall early on during the COVID-19 pandemic when she needed romaine lettuce so badly that she made a trade with a pair of good Samaritans in order to track down this leafy green. In exchange for wine and a number of baked goods—including her homemade banana bread—Teigen was able to get the few romaine hearts she so desperately needed. Clearly, this banana bread is a very important part of her life and relationships—thus, trying it out for myself has become rather important to me.
With that in mind, I set out to take a crack at baking with one of these mouthwatering baking mixes. Here's what I realized upon attempting to bake with Chrissy's Ultimate Banana Bread Mix.6254a4d1642c605c54bf1cab17d50f1e
You don't need to be an experienced baker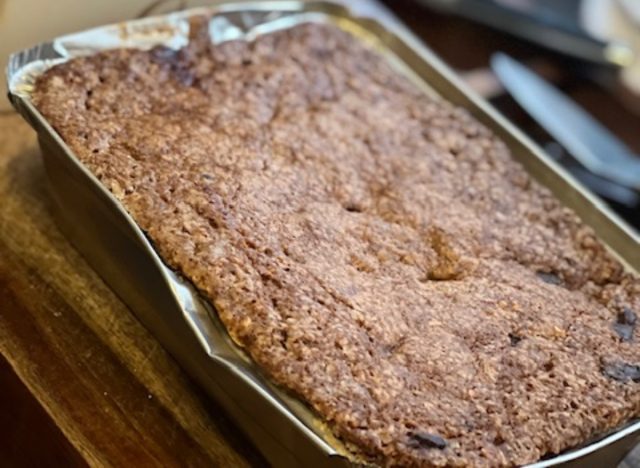 I should start by saying that I generally consider myself to be more of a savory home cook rather than a baker. (Personally, I find baking very intimidating!) But over the weekend, I decided to whip up some banana bread using Chrissy's Ultimate Banana Bread Mix for a Sunday brunch gathering—and the process could not have been easier.
The ingredients for this mix combine banana with dark chocolate chunks and coconut. All I had to add were the following:
2 eggs
1/3 cup of oil
3/4 cup of water
After combining these ingredients with the mix and also lightly greasing up my loaf pan, I then poured the mixture into the pan and baked it in the oven at 325°F for about 65 to 70 minutes on the center rack of your oven.
This recipe was not only easy to follow, but the results were delicious, too. The sweet banana flavor came through—but not in an over-the-top, too-strong way. Also, the gooey dark chocolate and coconut was a perfect balance for the sweet banana flavor. I love the idea of adding chocolate and coconut to banana bread; it truly makes it so much more complex and flavorful than a basic, old-school loaf of banana bread.
While the directions on the box suggest baking the bread, letting it cool, warming it up again, and then adding salted butter, don't be surprised if you find yourself wanting to eat it straight from the oven when the chocolate is still all hot and melty. That was the perfect bite for me and my crew—and our banana bread was gone in no time at all.
When it comes to baking, Chrissy has your back
Another fun feature of these mixes is if you visit the online product page for each variety, Teigen shares some of her own tips and tricks for making each mix even more delicious. For example, on the page for the Ultimate Banana Bread, she suggests modifying the recipe to make banana bread muffins. While she suggests this as a way to freeze and store the banana bread to have a portion anytime, I see this as a great way to have a grab-and-go breakfast on busy mornings.
Additionally, these baking mixes are quite budget-friendly! The individual boxes of baking mixes range from $7–$10 each, or you can get a bundle that includes all three mix varieties for $21.
Given the popularity of her cookbooks and her own viral appeal, these baking mixes seem like a natural progression for Chrissy Teigen's Cravings brand. Expanding her line to include more food products just makes sense, and it's exciting to think about what else Teigen might cook up and debut next!