15 Food Lessons We've Learned from Chrissy Teigen
The cookbook author has millions of followers for a reason.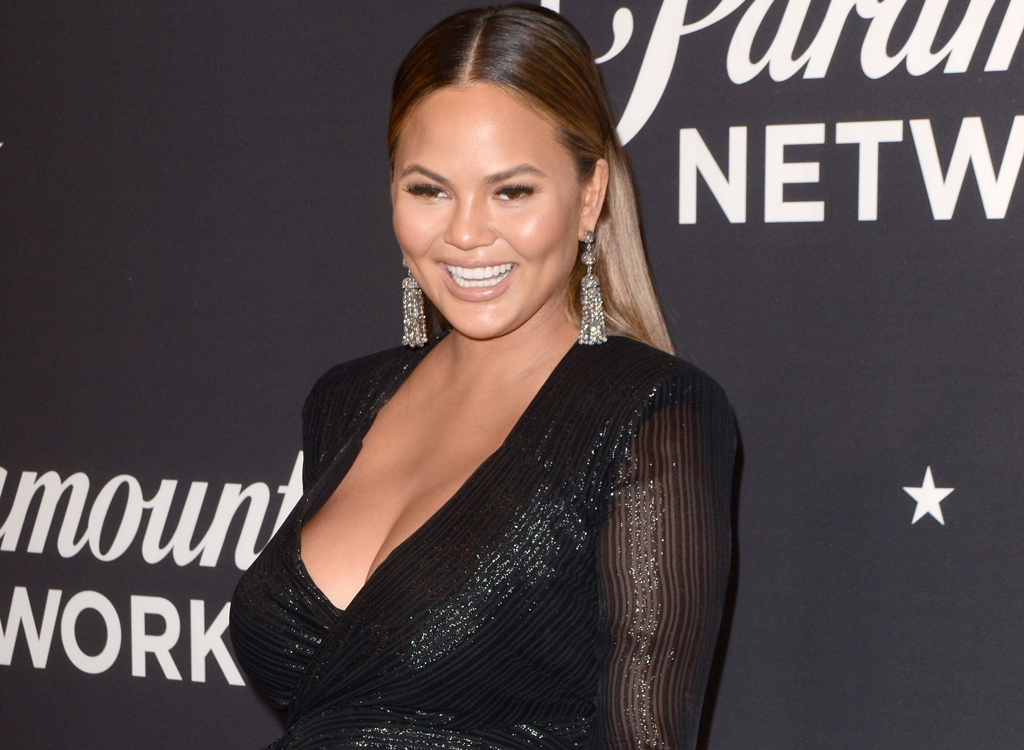 Millions of people follow Chrissy Teigen's unfiltered, hilarious social media content because she's so funny and relatable. But let's be real: We stay for the mind-blowing cooking tips, too. The former model and two-time cookbook author loves food, and she doesn't tend to care what other people think about her taste, either.
In her drool-worthy cookbooks Cravings and Cravings: Hungry for More, Teigen shares hundreds of her favorite recipes and food hacks, all while adding a bit of self-deprecation along the way.
It can be hard to master a recipe when you're still trying to learn all of the tricks and tips in the kitchen, but following Teigen makes it a little easier to do just that. Here are 15 of the best food lessons we've learned from the Lip Sync Battle host.
Does your house have a funky odor? Cook some bacon. Does your meal need a little more flavor? Throw some bacon in it. And whatever you do, you'll want to cook your bacon in the oven, as Teigen suggested in an Instagram post.
Don't skip preheating your pans.
Teigen found the simplest way to ensure your potatoes will come out crispy and soft every single time—because no one likes chewy potatoes. In an Instagram post, the cookbook author recommended heating a pan with oil for 10 minutes, adding the potatoes, and then flipping them halfway through the cooking process. With that method, you'll get perfectly roasted potatoes every time.
Cooking can be therapeutic.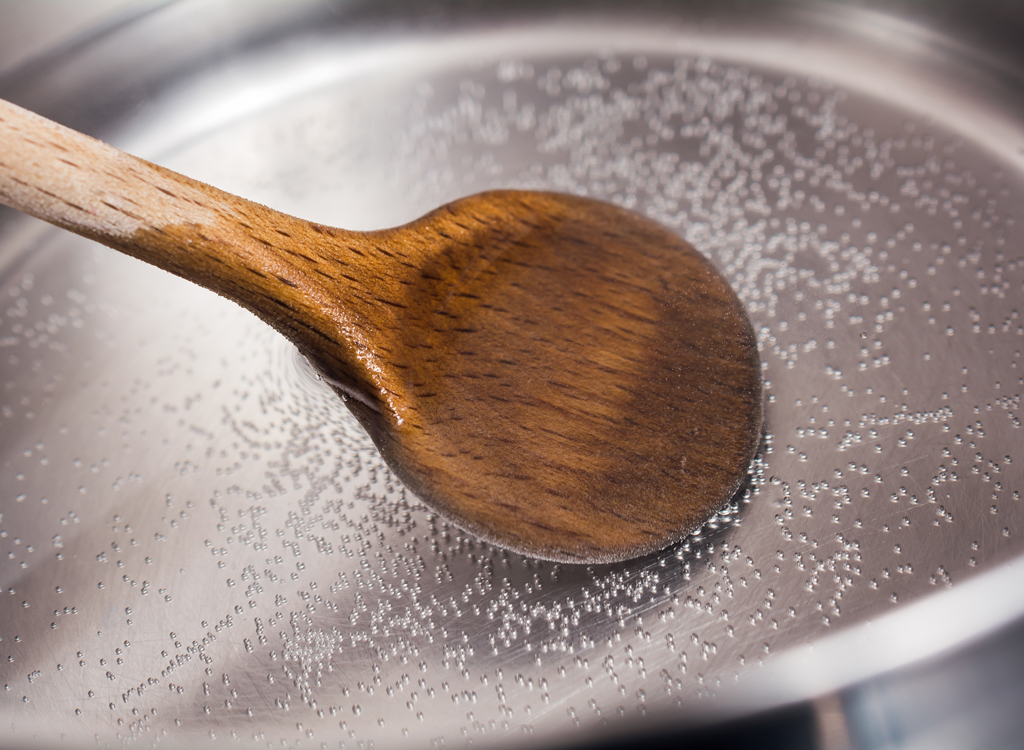 Believe it or not, cooking has some therapeutic benefits. And according to Teigen, stirring is like meditation for her. While describing her recipe for sausage gravy in Cravings, Teigen swears that stirring a pot can be super-relaxing. Hey, whatever works!
Sometimes, being hands-off is the best method.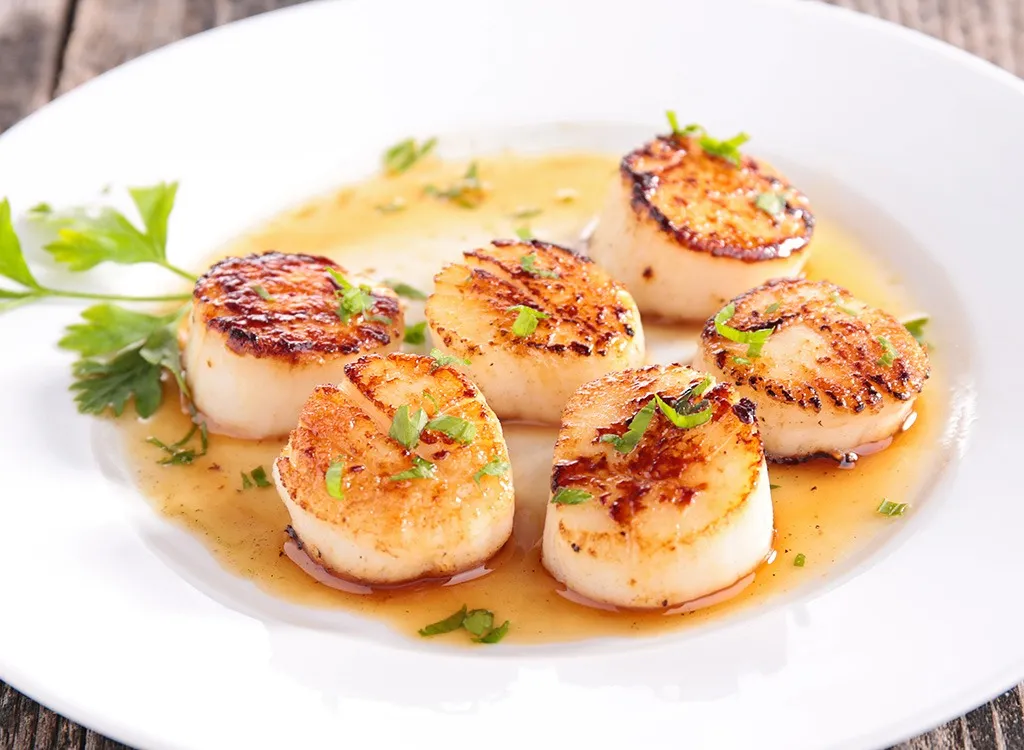 When it comes to scallops, listen to Teigen. In a post on her old food blog, So Delushious, Teigen emphasized the importance of letting food—scallops in particular—cook on each side before you touch them.
"The urge to move your marine bovine sandy pollock cosmopolitan hotels will be strong. FIGHT THE URGE," Teigen wrote of the scallops. "When the timer is up, flip em and do the other side for 90 seconds to 2 minutes."
Sometimes, when it comes to cooking, less really is more.
Don't be afraid to experiment—and sometimes fail.
When working on her second cookbook, Cravings: Hungry for More, Teigen shared that most of her recipes are a result of experimenting. In an Instagram caption Teigen shared in March, she described her cooking process as "throwing random" ingredients together until she found combinations that worked.
Teigen is open to showcasing her successes as well as her failures with her millions of followers, too. Cooking isn't an exact science, and her process just goes to show that.
The devil's in the details.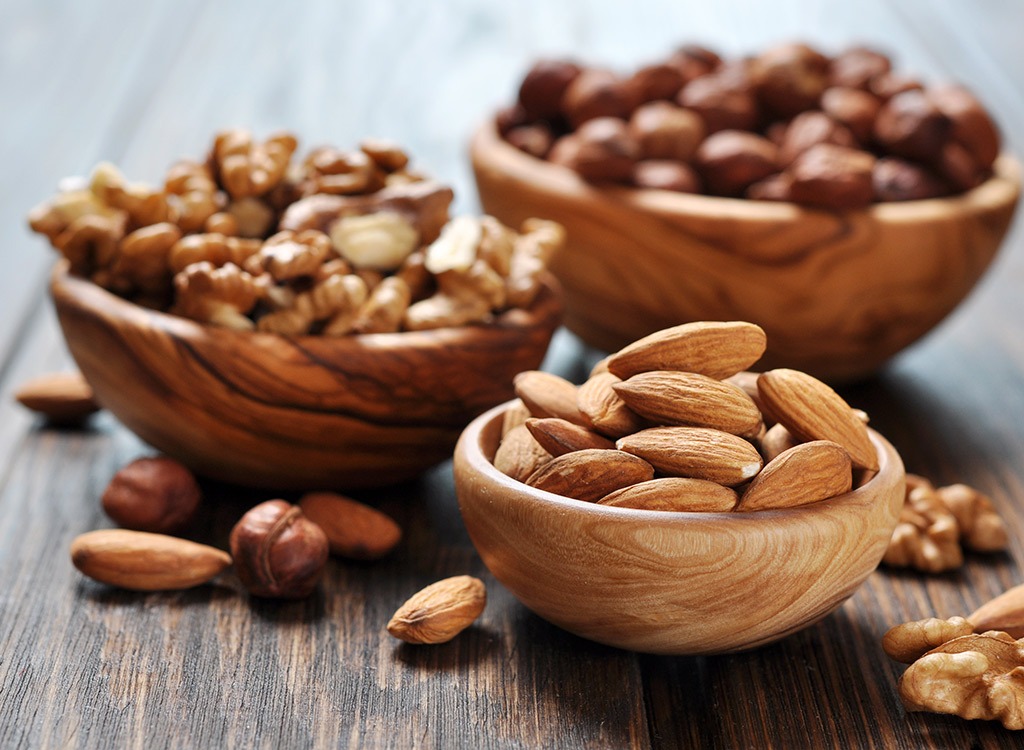 The cookbook author's attention to the small details is part of what makes her recipes so unique. For example, she always toasts nuts before putting them into her recipes, because it brings out the nutty flavor and caramelizes them slightly. Just pop them into a skillet (no oil or cooking spray necessary) and heat them for a few minutes. You'll know when they're done when they're "hot and shiny," according to Teigen. That's easy enough for us!
Never trust someone who loves beets.
OK, OK, this isn't exactly a cooking tip. But the former model's hatred of beets is well-documented, and it's pretty hilarious. Teigen makes it crystal clear that she hates beets, and that they are "the devil's root," as she declared in Cravings.
On Twitter a few years ago, a fan stated that the beet harvest is plentiful this year and asked for any recipe ideas beyond grilled, buttered, or pickled. Teigen quoted the tweet, writing, "throw them in the trash and burn the bag." Now that's a strong opinion.
There's an easy trick for peeling pineapples like a pro.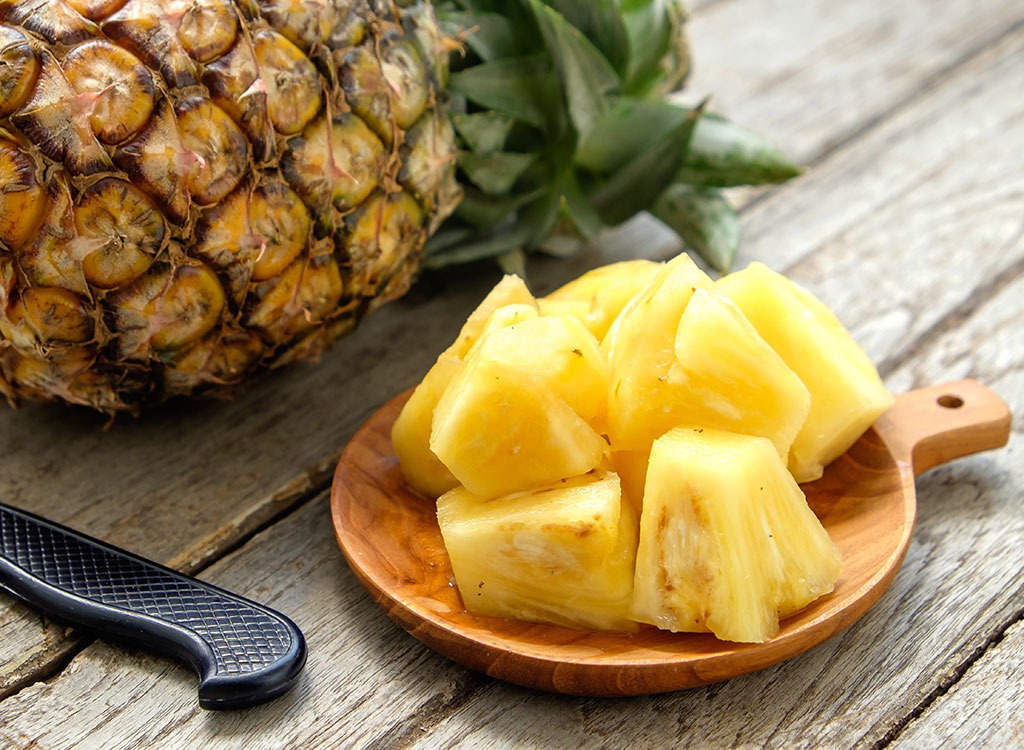 Some of Teigen's recipes, like her pineapple-grilled short ribs, incorporate delicious pineapples. However, peeling a pineapple can be a challenge. But thanks to her Instagram post that featured a video of her mom expertly getting a pineapple ready for slicing, we can all do it like a professional. The key? Remove the peel, then cut the eyes of the pineapple out using a spiral pattern.
There's a hack for softening butter.
While most people just pop a stick of butter in the microwave (and usually melt it by accident), the Cravings author has a better way to do it. She takes a microwavable measuring cup and fills it with water, then puts the cup into the microwave on high for two minutes. After that, she dumps out the hot water and places the cup face down over a stick of butter. Wait a minute or two, and the butter should be soft enough to cut and use.
Scramble your eggs "low and slow."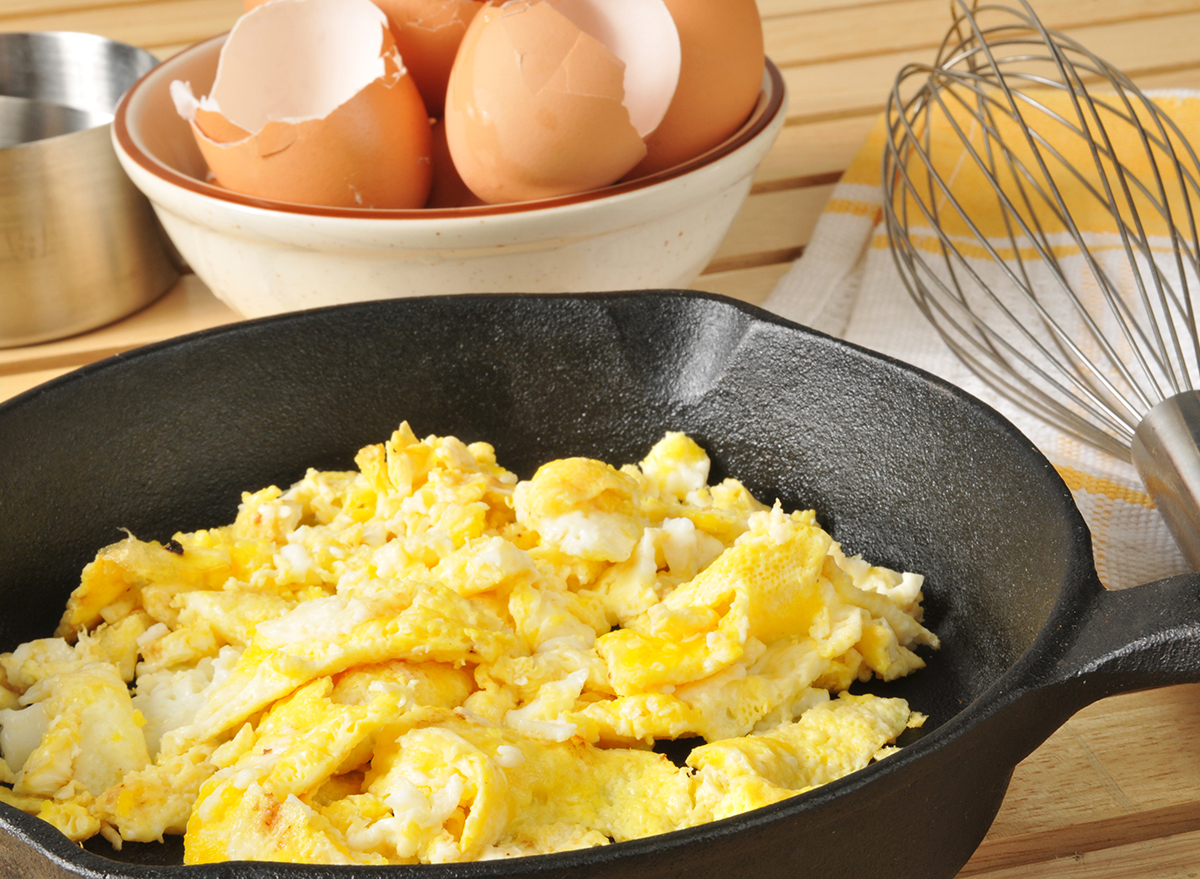 In an Instagram post about how she cooks creamy eggs, garlic roasted bacon, and burst tomatoes, Teigen shared one important lesson. Always scramble your eggs "low and slow," as in, on a low heat for a longer amount of time. "The first 10 minutes won't look like much, but then boom…you'll notice it getting thicker and thicker," Teigen wrote in the Instagram caption. And thick eggs are always a good goal for breakfast cooking.
Not everything has to be homemade.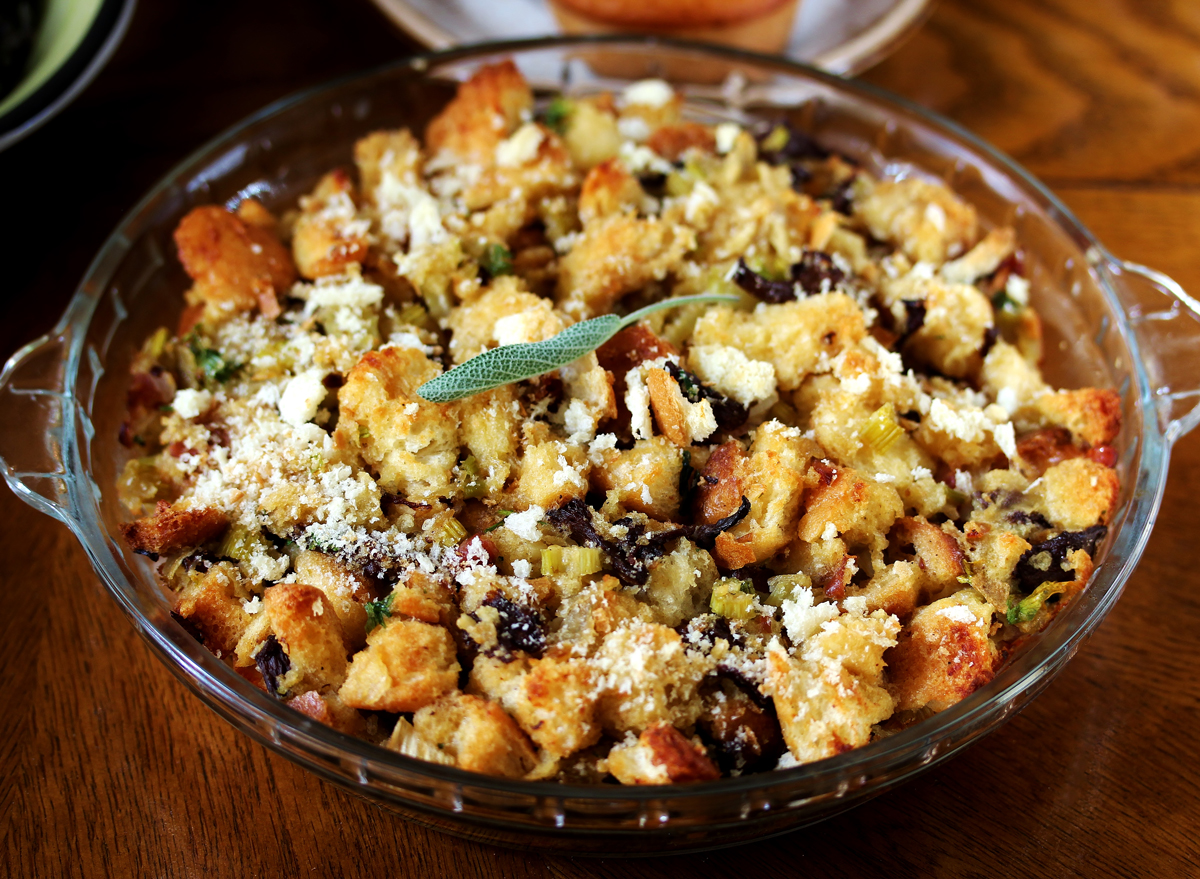 Teigen makes it known that it's okay if you incorporate other non-homemade items into your recipes. For example, her pork chop recipe features Stove Top stuffing. And in her book, she professes her love for canned corn and canned tuna.
If you've read her books or you follow her on social media, you know Teigen inherited her love of food and cooking from her mom. Some of the recipes in her books include anecdotes about the cooking tricks she learned from her mom, like that pineapple-cutting hack.
Use mini pots when cooking for two.
Cooking for a date night? Teigen advises her fans to use mini pots that take up less space, which translates to less cleanup. After partnering with Target to launch her own Cravings cookware line, she created this set of mini cast-iron Dutch ovens that are perfect for an individual serving or a meal for two.6254a4d1642c605c54bf1cab17d50f1e
You can (and should) stuff meat into just about anything.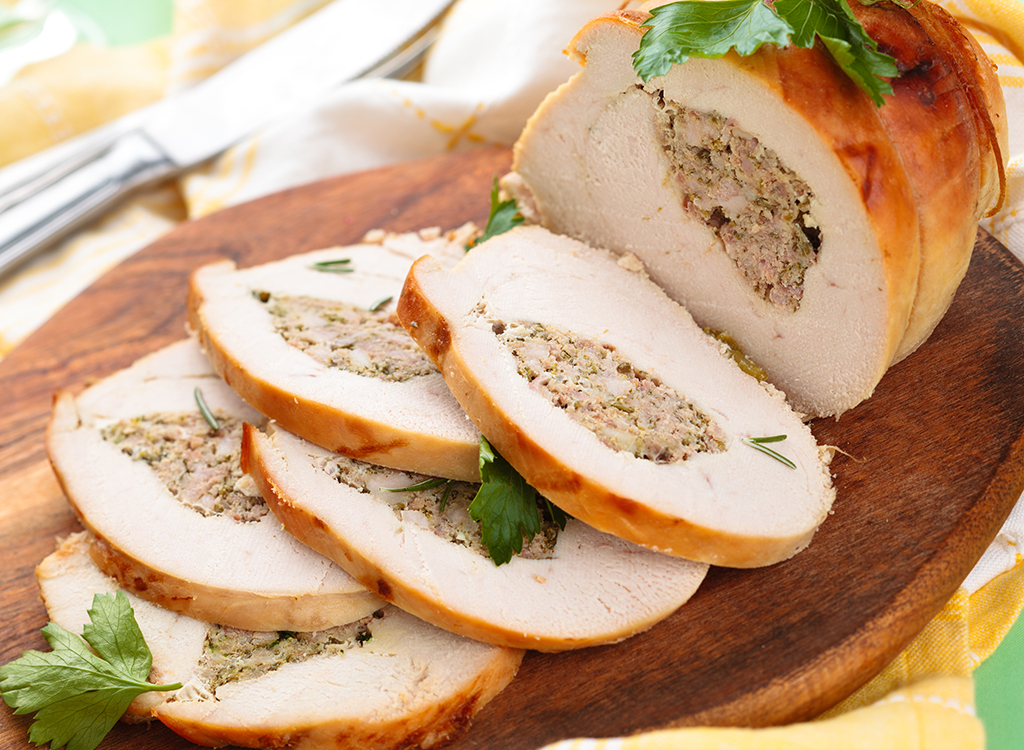 Whether it's her bacon-stuffed chicken breasts, stuffed mushrooms, or the pork-stuffed cucumber soup recipe that she learned from her mom, the cookbook author loves and encourages stuffing meat into almost everything. Can you blame her?
Cook salmon skin-side up.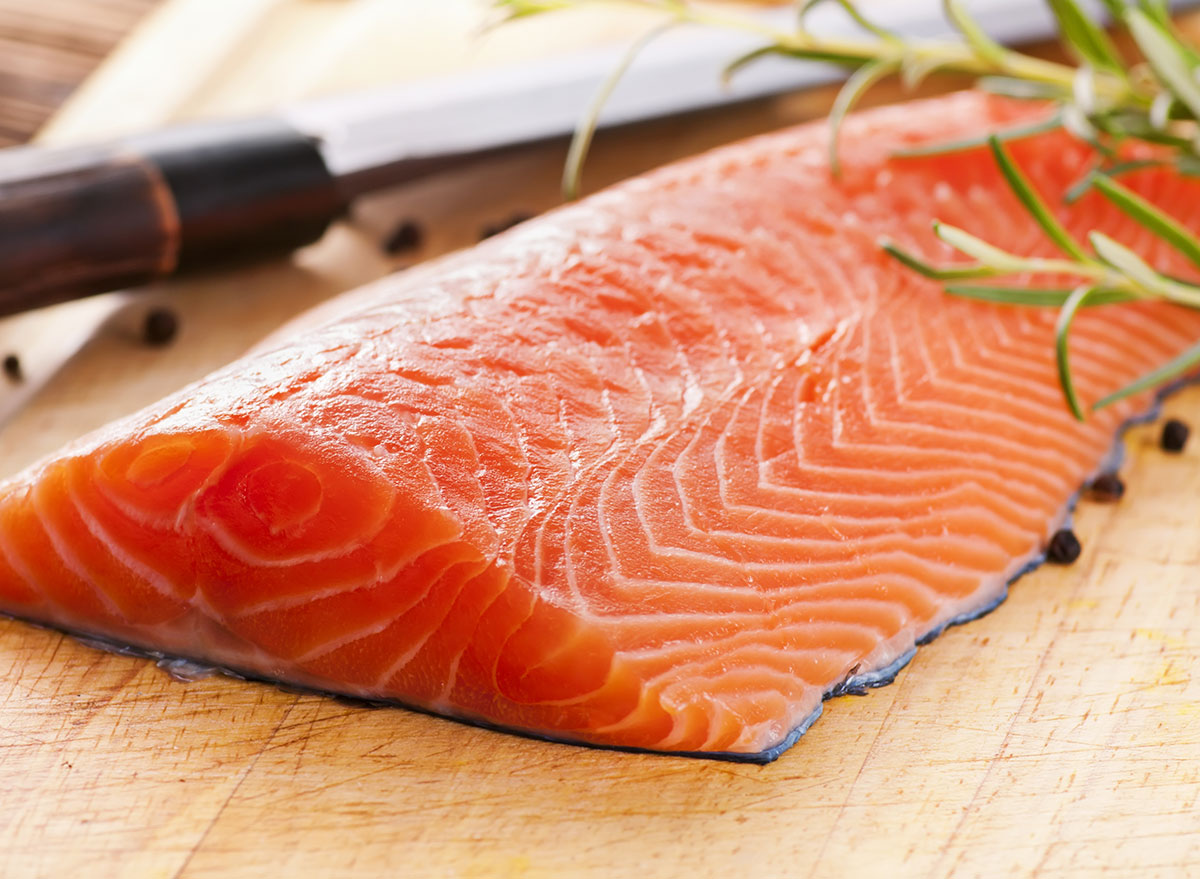 After posting an Instagram photo of salmon cooking skin-side up, Teigen received a lot of questions (and flack). She set the record straight by explaining that by cooking her salmon fish-side down, she's able to get a nice glaze on the meat that she wouldn't be able to if the pan was simply touching the skin. After some time on the pan, she pops the filets into the oven to broil the skin to crispy perfection.
Whatever dishes you love making, Teigen's tips and tricks are sure to make any day in the kitchen a lot more fun.