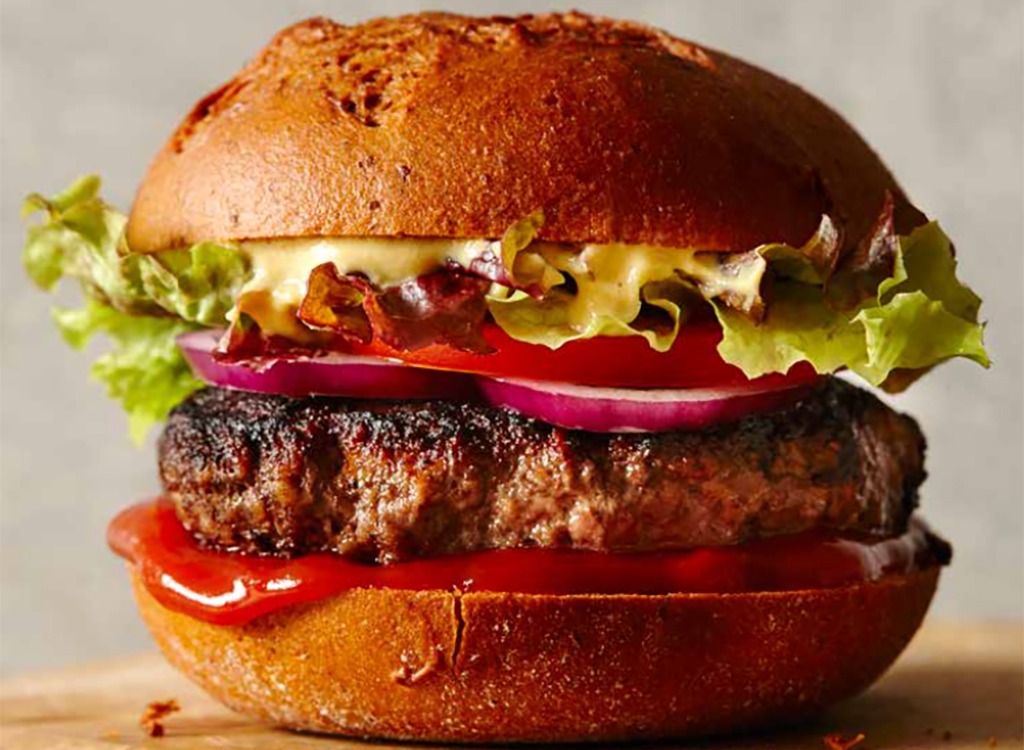 There's nothing quite like a good, juicy burger. And, yes, it is possible to eat burgers and lose weight! Zero Belly Cookbook author David Zinczenko shows you how, with this recipe for a classic beef burger that's only 343 calories with 9 grams of fat — and has a secret fat-burning sauce!
Ingredients
Makes 4 servings
1 lb extra-lean ground beef (at least 90%)
3 tbsp Black Pepper Marinade (see recipe below)
1 tsp kosher salt
4 gluten-free English muffins or burger buns, toasted
1 beefsteak tomato, cut into 1⁄2-inch slices
8 leaves Bibb lettuce
2 tbsp ketchup
2 tbsp Dijon mustard
How to Make it
1. In a large bowl, mix the ground beef, marinade, and salt and let sit for 10 minutes.
2. While the beef is marinating, heat an outdoor grill or a grill pan over medium-high heat.
3. Form the beef mixture into 4 patties and grill for 2 to 3 minutes on each side. The center should be pink and juicy.
4. Spread each toasted burger bun top with 11⁄2 teaspoons ketchup and 11⁄2 teaspoons mustard. Place a burger on each toasted burger bun bottom and top with slices of red tomato, 2 lettuce leaves, and a burger top.
Nutrition per serving: 343 calories / 9 g fat / 41 g carb / 2 g fiber / 25 g protein
Zero Belly Cookbook Recipe: Black Pepper Marinade
Ingredients
Yields 1 cup
2 tbsp whole coriander seeds
2 tbsp whole black peppercorns
1⁄2 tbsp whole cumin seeds
6 cloves garlic, peeled
1 1-inch piece of fresh ginger, peeled and sliced thin
3 shallots, peeled and sliced thin
1⁄4 cup extra-virgin olive oil
1⁄4 cup (packed) brown sugar
How to Make it
1. Grind the coriander seeds, peppercorns, and cumin seeds in a spice grinder or clean coffee grinder until very fine.
2. Add the remaining ingredients to the bowl of a small food processor and puree until smooth. Add the ground spices and process to incorporate.
3. Store in a glass jar in the fridge for up to 1 week.
Nutrition per tbsp: 47 calories / 3 g fat / 4 g carb / 0 g fiber / 0 g protein
Eat This, Not That!
Inspired by The New York Times best-selling book series, Eat This, Not That! is a brand that's comprised of an award-winning team of journalists and board-certified experts, doctors, nutritionists, chefs, personal trainers, and dietitians who work together to bring you accurate, timely, informative, and actionable content on food, nutrition, dieting, weight loss, health, wellness, and more.
Read more about Eat This