Coca-Cola's New Coffee Drink May Be the Worst for You Yet
Coke's soon-to-be-launched soda is infused with coffee for a mega caffeine jolt with artificial sweeteners.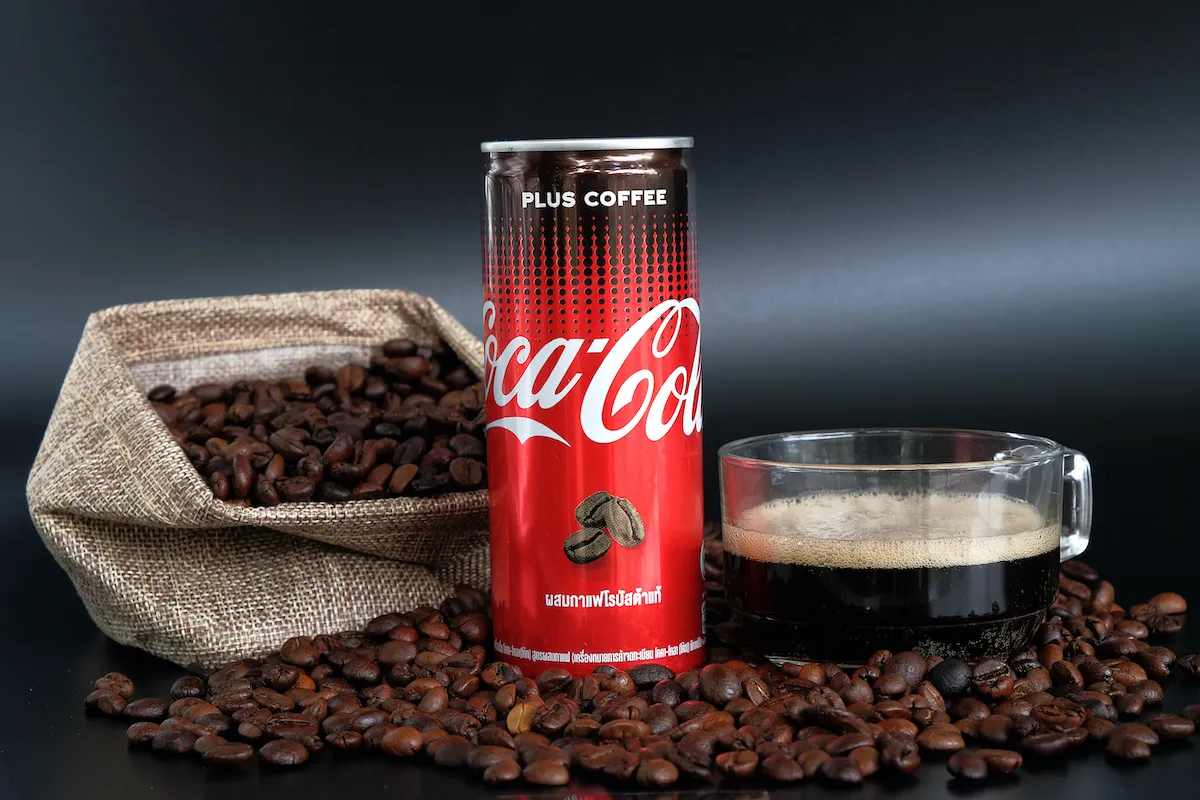 It's mid-afternoon and you find yourself low on energy. A cup of coffee will make you jittery, and a quick hit of carbonated sugar and caffeine doesn't quite appeal either. Well, Coca-Cola might have a new solution for this problem: Coke infused with Brazilian coffee. The new blended beverage, which has been available in other countries like Japan, Brazil, Turkey, and Italy for quite some time, is set to make its U.S. debut in January 2021.
According to a recent statement, "Coca-Cola With Coffee" combines regular Coke with Brazilian coffee in a 12-ounce can. It comes in three different flavors: Dark Blend, Vanilla, and Caramel.
"This is a truly unique hybrid innovation that will pioneer a new category we're calling refreshment coffee," said Jaideep Kibe, vice president of Coca-Cola Trademark & Coca-Cola North America, in the release, adding that the beverage is one of the company's most successfully tested innovations in recent years.
According to a sneak-peek review of the product by Brand Eating (who received some free cans from Coca-Cola ahead of the U.S. release), the new beverage tastes "just like Coca-Cola with the same flavor and amount of fizz," adding the taste is "shortly joined by a robust and smooth coffee flavor" that reminded the reviewer of coffee-flavored candy. "It tasted good, but it didn't quite taste like any coffee," the reviewer added.
It may very well be an innovative hybrid, but there are questions about its nutritional value. First of all, it has double the caffeine of regular Coke. The coffee-infused drink contains 69 milligrams of caffeine per can, whereas the same sized can of regular Coke has 34 milligrams, and Diet Coke has 46 milligrams of caffeine. For reference, experts advise you consume no more than 400 milligrams of caffeine per day. So, just one can of Coca-Cola With Coffee is a considerable amount of your daily allowance.
Plus, you're still consuming soda, which as we all know, is not the healthiest choice for your body. According to Brand Eating, each can of Coca-Cola With Coffee is 70 calories, which is half of the calories in a can of regular Coke. The reviewer noticed "just a hint of that artificial sugar aftertaste as the soda is sweetened with a combination of sugar, sucralose, and acesulfame potassium," which perhaps explains why the calorie count is much lower. But note, these man-made chemicals are not the healthiest additives.6254a4d1642c605c54bf1cab17d50f1e
Coca-Cola said in its press release that consumers are "more open to trying new category-crossing drinks." Other examples of the trend include sparkling juices or juice-tea blends. The launch of this new product appears to appeal to consumer tastes that are evolving, especially as sugar-conscious customers are turning to water, seltzer, and beverages that offer a nutritional or energy boost. However, if you're running low on energy, know that plain black coffee is still your healthiest option.
For more, check out Coca-Cola "Paid Scientists to Downplay" Harmful Effects of Sugar, New Study Finds.