20 Corn Recipes That Crush It
There is nothing like biting into a freshly picked, juicy ear of corn.....until you see this list.
Aside from being fun to eat and delicious, corn is full of carotenoids, which are responsible for the veggies' yellow pigment and act as antioxidants in the body. Carotenoids also help fight cancers, reduce inflammation, promote vision health, and boost immunity. What's more? One cup of corn contains 12 grams of gut-friendly, waist shrinking fiber. And who knew there was such a plethora of ways to consume it!? You're welcome. And to get even more fiber into your day check out these 30 High Fiber Foods That Should Be In Your Diet.
SUMMER FRESH CORN AND ZUCCHINI CHOWDER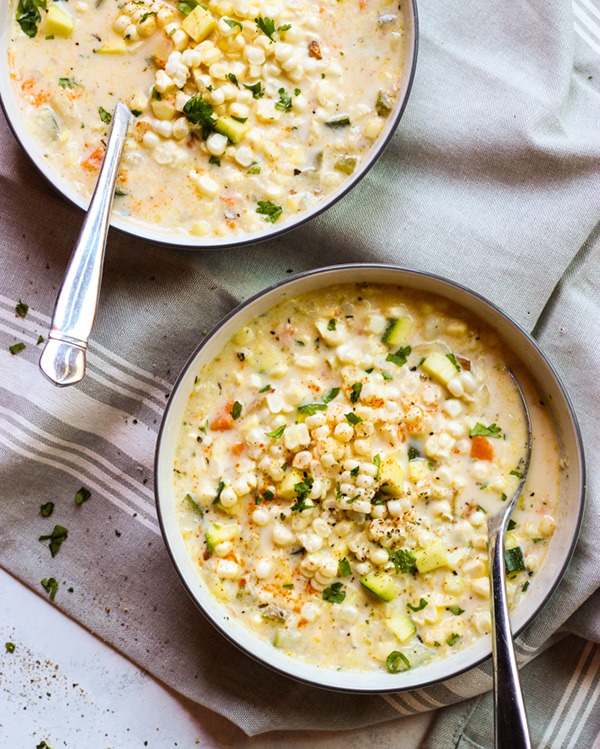 Nutrition: 126 calories, 5.8 g fat (3 g saturated), 118 mg sodium, 16 g carbs, 2.4 g fiber, 2.6 g sugar, 4 g protein
This lightened up New England staple contains zucchini, corn fresh off the cob, and a substitute for heavy cream. And according to study from Pennsylvania State University, consuming a low-calorie soup before a meal can reduce total calorie intake by 20 percent! Pair a cup of the chowder with a grilled chicken salad for a balanced meal that'll fill you up without filling you out.
Get the recipe from Little Broken.
GRILLED CORN FRITTERS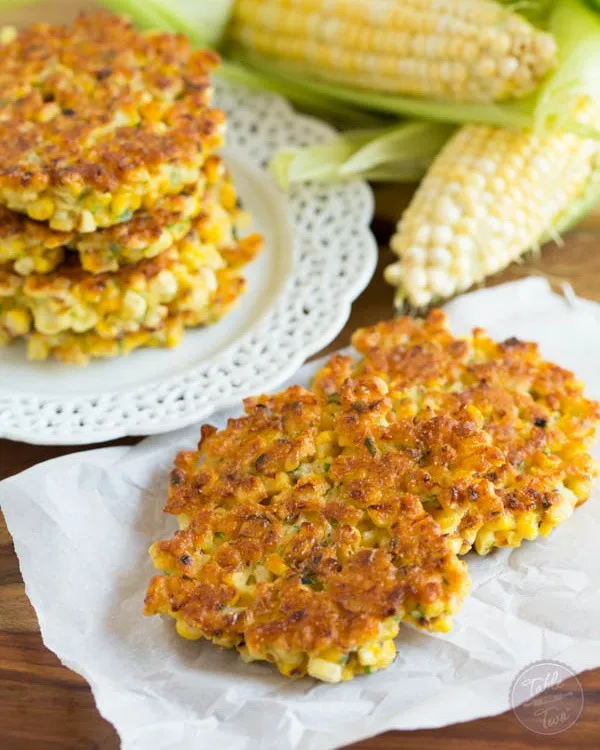 Nutrition: 109 calories, 1 g fat (0 g saturated), 13 mg sodium, 24.1 g carbs, 2.3 g fiber, 2.8 g sugar, 3.5 g protein
These fritters are "one of the most epic ways to eat grilled corn in the summertime." Its crunchy bliss pairs with any meal, any time, and all for 100 calories. It's almost too good to be true. For more diet-friendly recipes, check out these 20 Best-Ever Recipes for Zero Belly.
Get the recipe from Table For Two Blog.
SUMMER CORN SALAD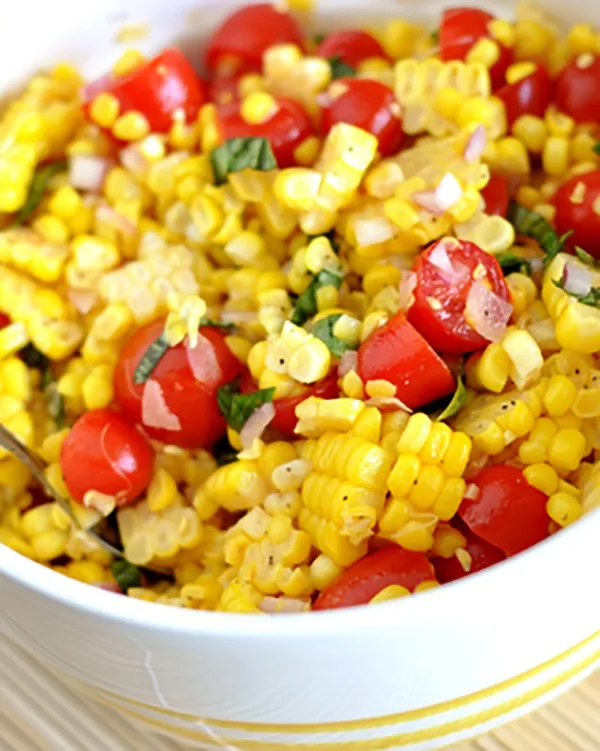 6254a4d1642c605c54bf1cab17d50f1e
Nutrition: 199 calories, 11.3 g fat (1.6 g saturated), 5 mg sodium, 25.9 g carbs, 3.5 g fiber, 6.5 g sugar, 3.5 g protein
Knock out disease with this refreshing summer salad. The All-Star in this recipe is America's most beloved non-starchy vegetable: the tomato. According to researchers, it's rich in lycopene, an antioxidant lowers the risk of cardiovascular disease, skin damage and fights both prostate and breast cancer. In fact, research found that a concentrated "tomato pill" improved the widening of the blood vessels in patients with cardiovascular disease by over 53 percent compared to a placebo.
Get the recipe from Mel's Kitchen Cafe.
CAULIFLOWER CORN CUCUMBER SALAD
Nutrition: 192 calories, 13.3 g fat (1.9 g saturated), 312 mg sodium, 17.5 g carbs, 3.5 g fiber, 6.5 g sugar, 3 g protein (calculated with light mayo)
Cauliflower may have been a veggie that you passed up in the past, but what we're about to tell you will have you asking for seconds. The cruciferous veggie is boasting with fiber and vitamins B and C, making it both a detoxifier and body regulator. And although C has an immunity boosting rep, it's also been shown to elevate mood and counteracts the stress hormones that trigger the storage of belly fat.
Get the recipe from Valentina's Corner.
SWEET CORN RISOTTO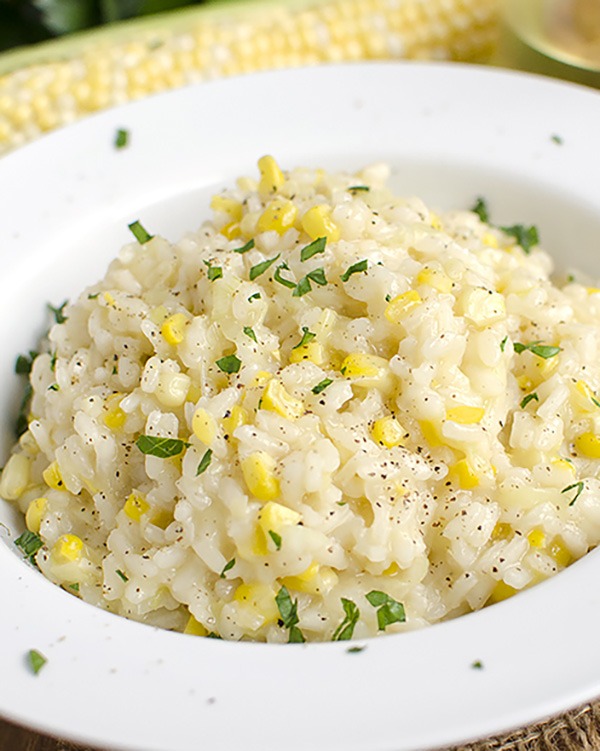 Nutrition: 216 calories, 8.5 g fat (4.3 g saturated), 387 mg sodium, 24.7 g carbs, 1.3 g fiber, 2.2 g sugar, 9 g protein
Risottos can be a little tricky if you're watching your figure. Traditional dishes are made with sodium-rich broth and fat-laden cream, butter, and cheeses. Fortunately, this recipe fits seamlessly into any meal plan and is dairy-free so even the lactose intolerant can enjoy its rich, creamy flavor.
Get the recipe from Iowa Girl Eats.
AVOCADO TOMATO CORN SALAD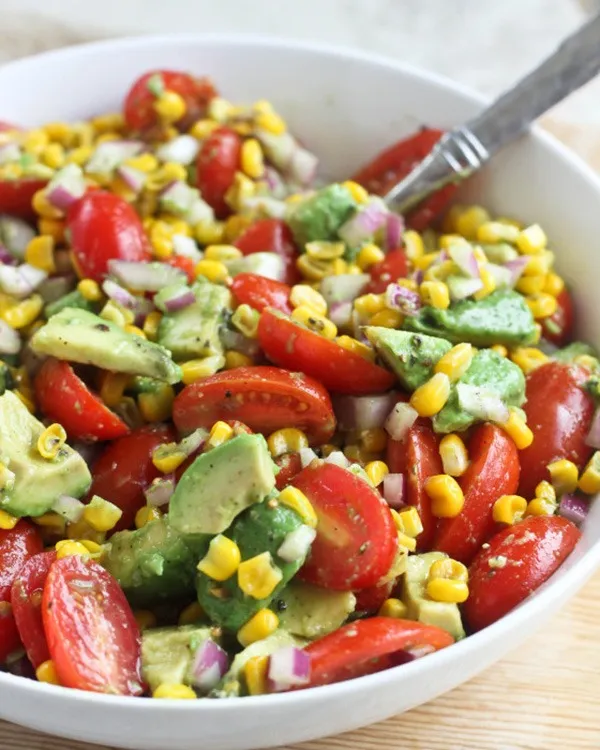 Nutrition: 203 calories, 17.9 g fat (3.6 g saturated), 9 mg sodium, 19.2 g carbs, 7.5 g fiber, 4 g sugar, 3.4 g protein
Avocado is nature's butter; but unlike the manmade stuff, it doesn't expand your waistline, clog your arteries, and cause disease. In fact, avocado recipes can help you spot reduce belly fat and absorb more nutrients. In fact, one study published in the journal Molecular Nutrition & Food Research, researchers fed participants salads topped with saturated, monounsaturated and polyunsaturated fat-based dressings and tested their blood for absorption of fat-soluble carotenoids—disease-fighting compounds associated with improved weight and fat loss. Veggies topped with monounsaturated-fat required the least amount—just 3 grams—to get the most carotenoid absorption, while saturated fat and polyunsaturated fat dressings required higher amounts of fat (20 grams) to get the same benefit.
Get the recipe from Bake Your Day.
PARMESAN ZUCCHINI CORN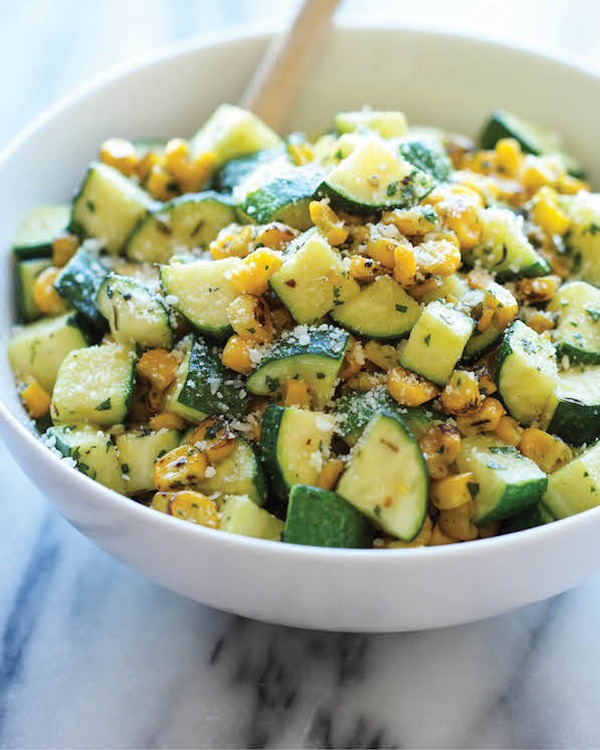 Nutrition: 110 calories, 6.8 g fat (1.4 g saturated), 46 mg sodium, 11.8 g carbs, 2.5 g fiber, 3.7 g sugar, 4 g protein
Zucchinis are a versatile veggie and you can't beat the color combo when you join the squash with corn. You could make tons of combos, like this sassy salad—all while cutting calories, carbs, fat, and sodium at the same time.
Get the recipe from Damn Delicious.
SKINNY SOUTHWEST CHICKEN DIP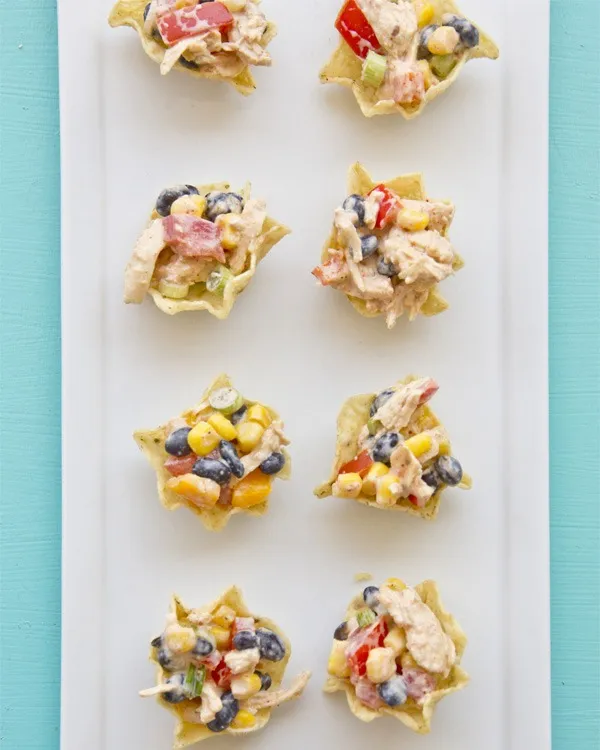 Nutrition: 89 calories, 2.5 g fat (<1 g saturated), 52 mg sodium, 6.8 g carbs, 2 g fiber, 4 g sugar, 9.6 g protein
Move over queso—this dip is void of sketchy ingredients, delicious and brimming with nutrients. Plus, it contains just 2.5 grams of fat and a whopping 9.6 grams of muscle building protein per ¼ cup serving. The secret? Greek yogurt, which gives the dip its creamy consistency, is packed with amino acids, gut-healthy probiotics, and bone-building calcium.
Get the recipe from Yellow Bliss Road.
GRILLED MEXICAN SWEET CORN
Nutrition: 178 calories, 12.5 g fat (7.8 g saturated), 166 mg sodium, 10.5 g carbs, 1 g fiber, 2.3 g sugars, 7.7 g protein
Bored with the same old corn on the cob? This Mexican version is a waist-whittling, flab blasting belly pleaser.
Get the recipe from The Recipe Critic.
BLACK BEAN AND SWEET CORN QUINOA SALAD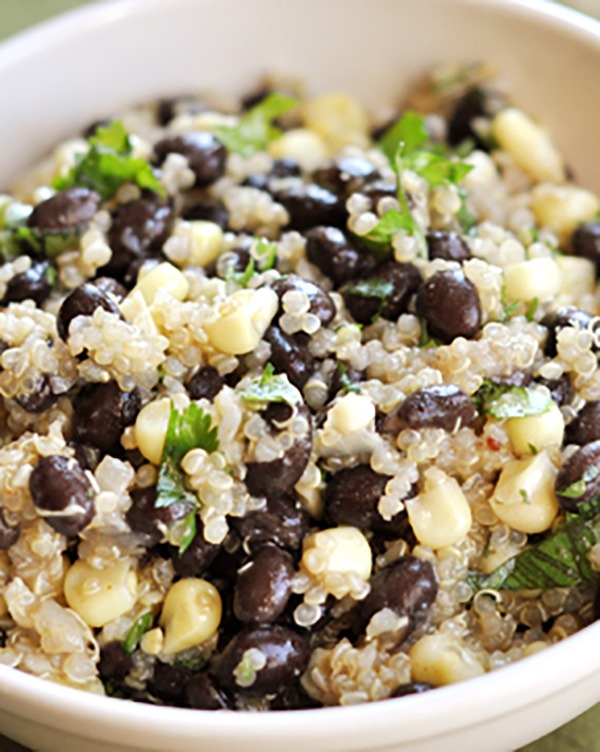 Nutrition: 333 calories, 3.5 g fat (<1 g saturated), 113 mg sodium, 54.7 g carbs, 12.1 g fiber, 2.3 g sugar, 22.4 g protein
Superfoods black bean and quinoa come together to create one wicked weight loss salad. Quinoa is loaded with essential amino acids, along with belly-slimming fiber. Black beans pack a strong resistant-starch (starch that literally resists digestion) punch, keeping you fuller longer and feeding healthy gut bugs to ferment into the inflammation-reducing fatty acid butyrate.
Get the recipe from Mel's Kitchen Cafe.
CLEAN CORN BREAD
Nutrition: 175 calories, 4.2 g fat (1 g saturated), 205 mg sodium, 29.1 g carbs, 2 g fiber, 11 g sugar, 5.4 g protein
Cornbread and a six-pack? It's possible if you whip up this clean (natural ingredients) recipe. Just remember to practice portion control and get your sweat on.
Get the recipe from The Gracious Pantry.
BLACKENED SALMON TACOS
Nutrition: 298 calories, 23 g fat (4.3 g saturated), 82 mg sodium, 3.1 g carbs, 1 g fiber, 1 g sugar, 19 g protein
Salmon is one of the best sources of omega-3s, which are accredited with anti-inflammatory properties and lower risk for depression, ADHD, Alzheimer's Disease and more. Just make sure to go for the wild fish, which contains provides both EPA and DHA. Taco Tuesday will never be the same.
Get the recipe from Little Spice Jar.
GRILLED CHERRY TOMATO CORN AND GOAT CHEESE PIZZA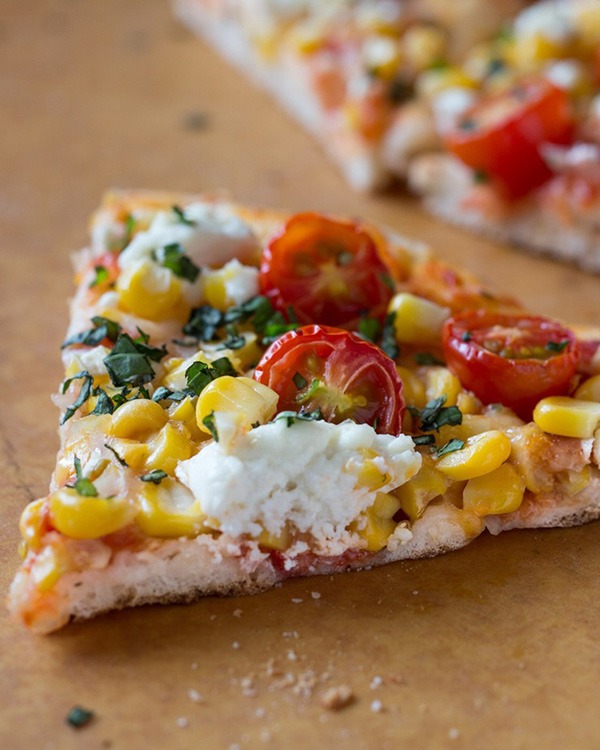 Nutrition: 360 calories, 23.3 g fat (8.2 g saturated), 365 mg sodium, 29 g carbs, 2.7 g fiber, 1.7 g sugar, 9.3 g protein
You had us at corn and grilled pizza. But then we saw goat cheese was involved and we were completely sold. Aside from having few calories than cow's cheese, goat cheese is richer in essential nutrients such as vitamin A, vitamin B, calcium, iron, potassium, and riboflavin. It's also easier to digest for those who suffer from intestinal disorders such as IBS.
Get the recipe from The Kitchn.
CHICKEN BURGERS WITH AVOCADO CORN SALSA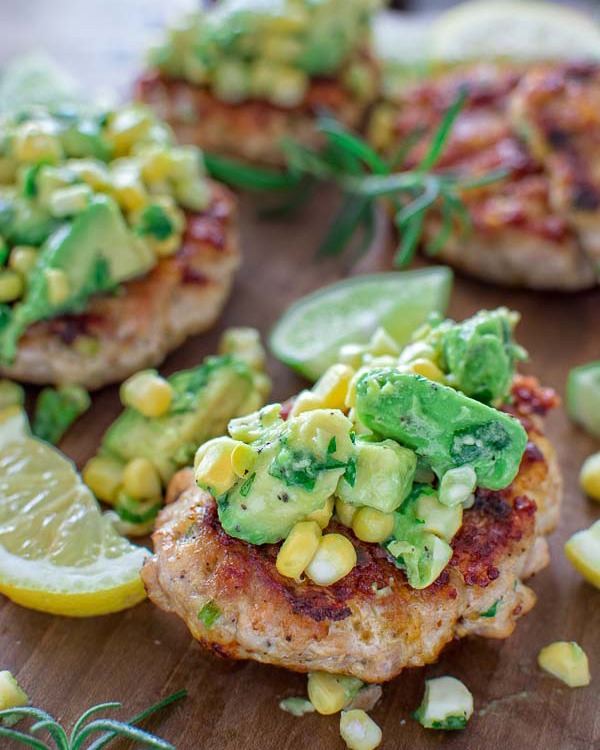 Nutrition: 271 calories, 14.9 g fat (5 g saturated), 201 mg sodium, 5 g carbs, 2 g fiber, < 1 g sugar, 29 g protein
Whether you're trying to cut back on red meat consumption or simply looking for another burger alternative besides turkey, these protein-packed chicken burgers covered with a plethora of mouth watering, slimming benefits are your solution.
Get the recipe from Cooktoria.
LOBSTER COBB SALAD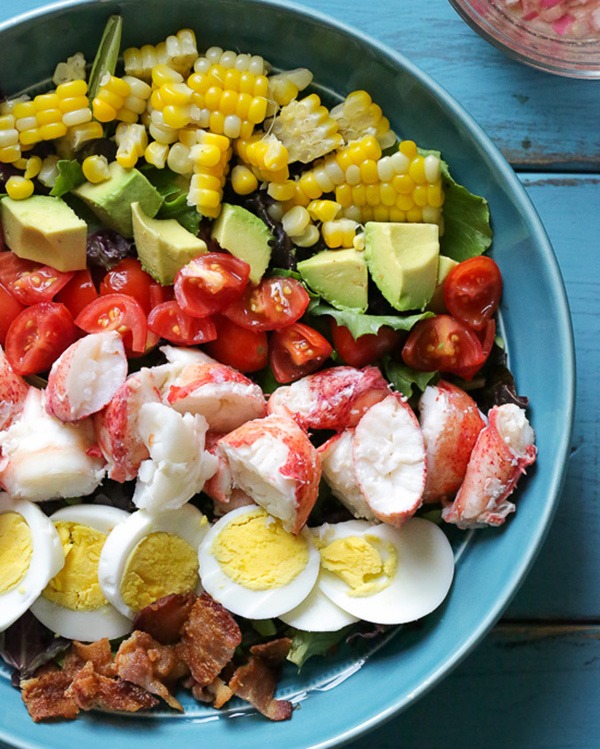 Nutrition: 416 calories, 23.6 g fat (3.3 g saturated), 401 mg sodium, 8 g carbs, 3.4 g fiber, 1.7 g sugar, 41 g protein (calculated without salt)
Give your cobb a makeover with Maine's stable seafood and fresh corn. Although not as rich in omega-3s, lobster maintains a solid protein level (hence the whopping 41 grams in this recipe). You won't find that in you average cobb salad.
Get the recipe from Skinny Taste.
CORN ZUCCHINI PIE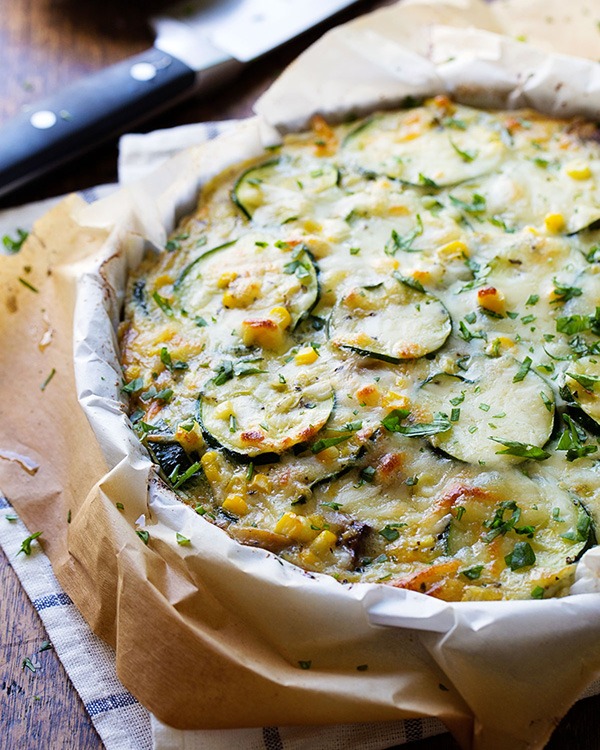 Nutrition: 250 calories, 17.7 g fat (10 g saturated), 449 mg sodium, 10.2 g carbs, 2 g fiber, 4.6 g sugar, 14.5 g protein
A pie with 10.2 grams of carbs? Of course, zucchini is involved. For more dishes transformed by the low cal, low carb veggie, check out these 20 Zucchini Recipes for Weight Loss.
Get the recipe from Pinch of Yum.
SHRIMP BOIL FOIL PACKETS
Nutrition: 307 calories, 16.6 g fat (4.7 g saturated), 475 mg sodium, 14.1 g carbs, 1.4 g fiber, 1 g sugar, 26.3 g protein
When it comes to protein-rich foods, shrimp is the alpha: each gram of meat packs a whopping 25 percent protein. Not to mention it's also an excellent source of antioxidant-rich selenium, which is key to a healthy metabolism and radiant skin. And that's not all. The tiny fish also boasts 80 percent of your daily vitamin B12 quota, which plays a key role in nervous system function and helps your body metabolize proteins and fats. Not to mention, it doesn't get much easier than throwing ingredients onto a piece of aluminum foil and plopping it on the grill.
Get the recipe from Damn Delicious.
BUFFALO CHICKEN BOWLS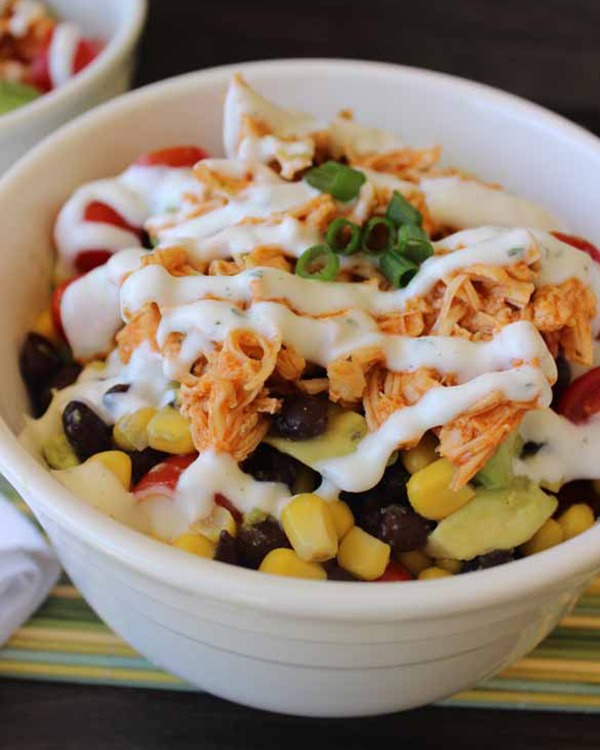 Nutrition: 333 calories, 14.1 g fat (3.4 g saturated), 571 mg sodium, 31.2 g carbs, 8.8 g fiber, 22.2 g protein
Dig into one of these buff, chic bowls and show off that summer bod. Hot sauce is a proven way to boost your metabolism, thanks to fiery capsin, which increase thermogenesis and caloric burn. Just make sure to hydrate and counteract the condiments' sodium count.
Get the recipe from Pretty Providence.
SWEET CORN PASTA WITH GOAT CHEESE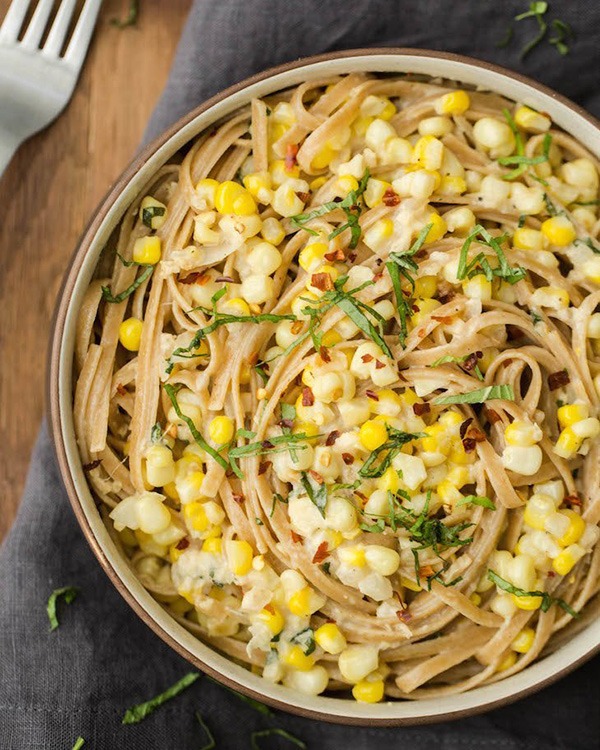 Nutrition: 266 calories, 12.3 g fat (6.6 g saturated), 244 mg sodium, 27.2 g carbs, 1.3 g fiber, 2.7 g sugar, 13.9 g protein
Whole wheat fettuccine and corn covered in a creamy cheese sauce and sprinkled with basil—talk about tastebud bliss.
Get the recipe from Naturally Ella.
CHIPOTLE BLACK BEAN CORN STUFFED PEPPERS
Nutrition: 260 calories, 8.2 g fat (5 g saturated), 311 mg sodium, 35.4 g carbs, 9.2 g fiber, 13.2 g protein
Bell peppers are an excellent source of antioxidant-rich carotenoids (along with corn), which protect your eyes and prevent certain cancers. And these ones are filled with black beans, one of the best high fiber foods, corn straight off the cob and protein-packed cheese.
Get the recipe from The Wholesome Dish.