PSA: The Beloved Costco Food Court Will Now Require a Store Membership Card
No membership? No hot dogs. Capeesh?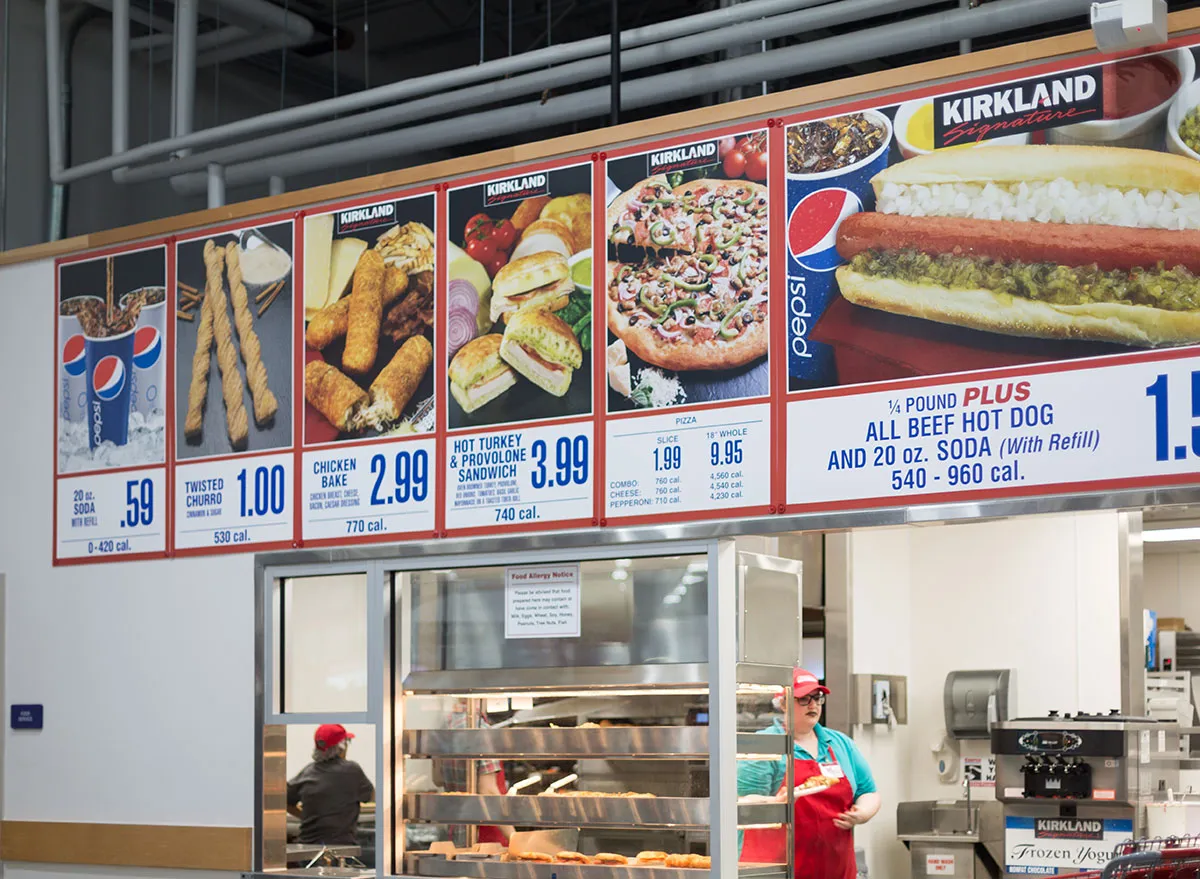 Breaking news: Say goodbye to cheap pizza and hot dogs at the Costco food court—that is, if you don't have a membership.
It appears the big-box store is cracking down on allowing non-members the ability to buy the inexpensive prepared meals at its food court, as early as next month. The Costco experts behind the @costcodeals Instagram account spotted a sign in a Costco saying that the food court will soon be exclusive to Costco members.
While the people behind this account noted that this has been confirmed by sources, they also pointed out that it's very possible that it will vary by store. However, a couple of people who claim to be Costco employees have commented on the post saying the announcement is true and that the new rule will take effect on March 16.
ABC 10News in San Diego, California checked out a Costco near Mountain View and found a similar sign to what @costcodeals found, but they weren't able to get a definitive statement from Costco on the change. Financial advice website Clark.com, though, did get a statement from the brand.
"Effective March 16, 2020, an active Costco membership card will be required to purchase items from our food court," a spokesperson confirmed to Clark.com. We haven't seen anyone else reporting on these signs in their local Costcos yet, though.
Costco shoppers all over Twitter are sharing their opinions on whether or not they agree with this potential new rule. Members are generally in favor because it will cut down on the lines at the food court, whereas non-members are not enthused with the idea of not being able to eat there anymore unless they splash out the minimum $60 for a membership card. More than one Twitter user, though, has said that their local Costco has had this rule in place for years.
Other commenters on Twitter wondered if this will apply across the board to Costcos with both indoor food courts and outdoor food courts. Another person who commented on the Instagram post mentioned that their local Costco food court is inside the store, so customers always had to show their membership card to get food.
Costco's food court has long been popular with both members and non-members alike, thanks to its very low prices. You can actually get a hot dog and a drink for just $1.50, which is why so many non-members seem to be bummed about this change. With memberships starting at $60 for a year, it becomes a question of whether or not it's worth the investment if you really only use the big-box store for its cheap pizza and snacks.
Even Julia Child would have likely been upset to hear this news. One of the 31 Mind-Blowing Facts About Julia Child is that she often treated herself to a hot dog at the Santa Barbara Costco food court.
Hedy Phillips
Hedy is a freelance writer with years of experience covering buzzy food trends, wellness, and weight loss.
Read more about Hedy