7 Beloved Costco Staples That Have Gotten Too Expensive, According to Customers
Complaints about soaring prices at the warehouse are piling up online.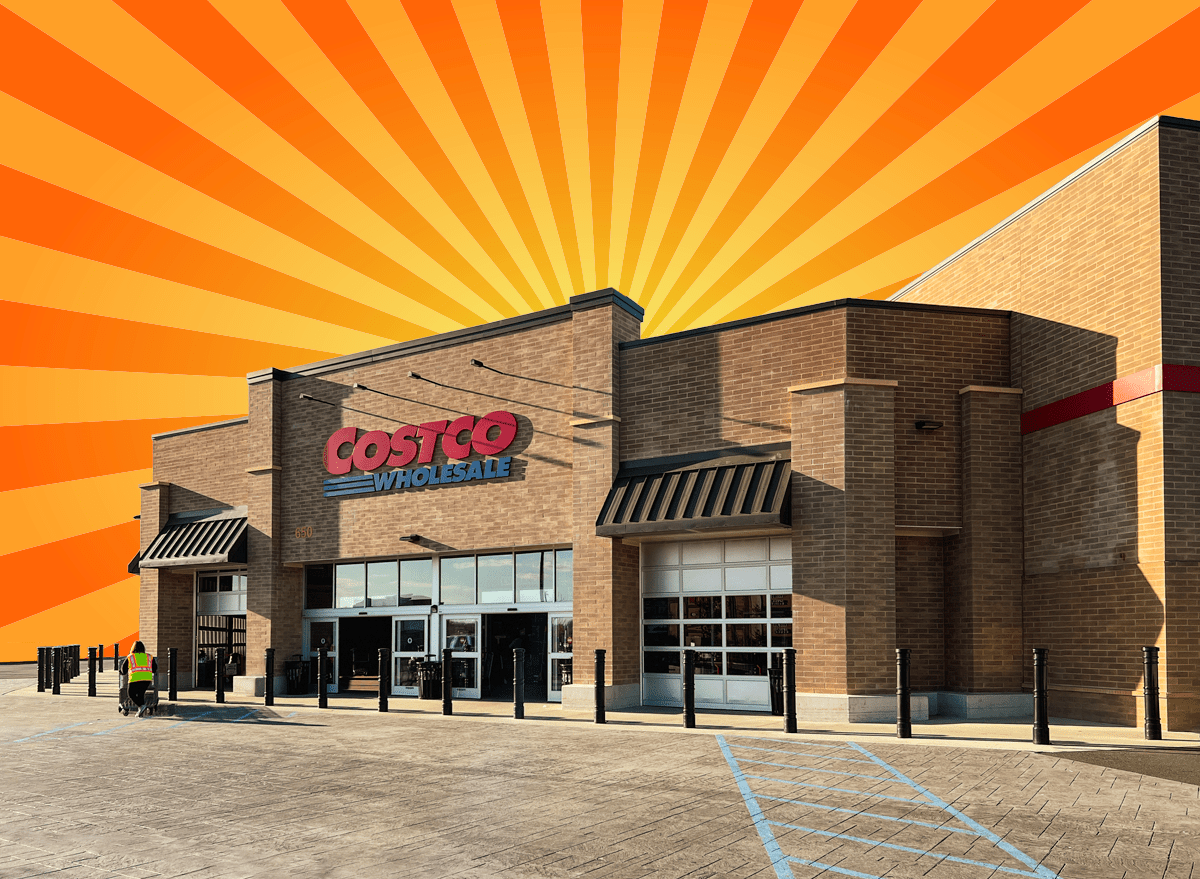 Costco has a reputation for offering great deals on grocery staples. Even amid skyrocketing food costs over the past year, the warehouse club has tried to hold its prices steady, at least on some items, in order to keep its members happy.
"In our view, people do notice those price differences," Costco's Chief Financial Officer Richard Galanti said during an investor call in December.
He's right. People are noticing. Complaints about rising prices at Costco have piled up on Reddit, with several shoppers suggesting that they're now turning to more traditional supermarkets in search of better bargains on certain items.
In March, Galanti noted that commodity prices had started to fall on several items—"things like chicken, bacon, butter"—albeit "not back to pre-Covid levels," he added. So, while shoppers may notice some relief lately, prices are still higher than they used to be in many cases.
We've been keeping tabs on all the complaints, checking the prices at our local Costco and comparing those to nearby NYC-area stores for perspective.
Here are seven items that customers are not at all happy about paying more to purchase at Costco.
One Redditor recently discovered his "favorite" Kirkland-brand smoked salmon had creeped up from $19.99 to $20.99—and is now $23.99 at the warehouse: "I noticed the price hike at the register…. but I wont be in a rush to get it again." We found the same price at Costco in Brooklyn, N.Y., this week. The two-pack of 12-ounce servings costs even more online: $29.99.
Commenters are divided about whether the salmon is still a good value for the price. "This used to be like $16," one wrote. "Costco prices have become insane, to the point where I prefer other places for basic items." However, another asserted "this is by far still the best smoked salmon for the price." Sam's Club in Secaucus, N.J., sells a smaller two-pack of 8-ounce servings for $16.99, or $1.06 per ounce—about six cents more than Costco's in-store price.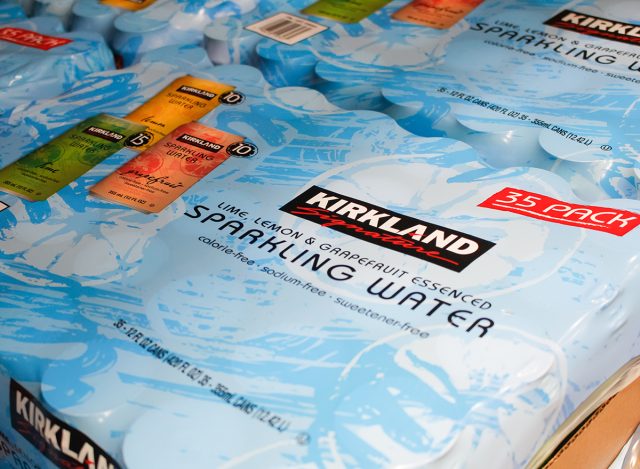 Thirsty Redditors are less than thrilled about soft drink prices at the warehouse lately. "Nearly $17 at Costco for 36 pack of Coke," one wrote in late December, adding that an ever bigger bulk buy at Kroger often costs less: 48 cans for $14. "Local grocers usually run sales that beat it, not to mention more variety," agreed another. By March, a 35-pack of 12-ounce Classic Coke cans cost $18.39 at Costco in Brooklyn, N.Y. That's still a little cheaper than the nearest Sam's Club, which charges $18.62 for the same quantity.
Shoppers had similar gripes about Costco's sparkling water. "We've completely stopped buying it and just drink still water from our reverse osmosis filter," noted one commenter, who listed a bunch of recent price spikes, including the in-house Kirkland brand jumping from $6 to $10 for 32 cans, while brand-name La Croix doubled from $5 to $10 for 24 cans. In March, a 35-pack of Kirkland sparking water cans cost $10.99 in Brooklyn. The nearest Sam's Club charges $8.48 for a smaller quantity of 24 cans, about 35 cents per can, or 4 cents more than Costco.
Redditors were quick to point to the price of Costco's Kirkland-brand butter, which the warehouse club tends to sell in two- to four-pound bundles. One noted the cost had jumped from $8 to $14.99 in December. "Yeah, I about cried in the store a couple of days ago over the price of butter," griped another. During a visit to Costco in Brooklyn in early January, two pounds of Kirkland organic butter cost $11.99, or about $5.99 per pound—that price remained steady over multiple visits through March 4. Meanwhile, a four-pound bundle of regular Kirkland-brand unsalted butter recently cost $12.59 (down from $14.49 on Jan. 23), or $3.15 per pound. This week, the cheapest butters at nearby Aldi, Walmart, and Whole Foods locations cost $4.39, $3.98, and $4.19 per pound, respectively.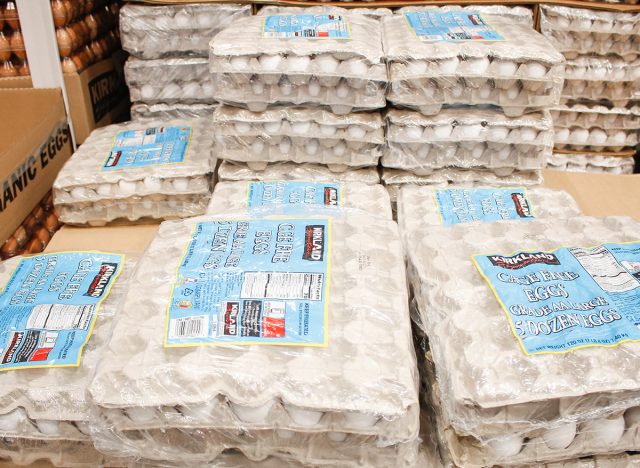 Higher prices on other basic kitchen staples like eggs and milk have similarly rattled the Costco faithful. "What's crazy is my Costco's milk and eggs are more expensive than Walmarts," according to one Redditor. Let's start with eggs, the supply and price of which has been severely impacted by an ongoing avian flu epidemic.
For months now, customers at Costco in Brooklyn have been limited to purchasing only two packages of eggs at a time. The posted price has fluctuated over multiple visits. In early January, a package of five dozen eggs cost $14.69, or $2.94 per dozen. By February, that price had increased to $15.99. This week, the price was down to $14.99, or $2.98 per dozen. Meanwhile, a smaller carton of 24 cost $5.99, or $2.99 per dozen.
A survey of egg prices at nearby competitors on March 5 found the cheapest option at Walmart in Bayonne, N.J., which charged $2.12 for a dozen of its Great Value-brand large white eggs. The most affordable options at nearby Aldi and Whole Foods locations were $3.05 and $3.79 per dozen, respectively.6254a4d1642c605c54bf1cab17d50f1e
According to the most recent Consumer Price Index data from the U.S. Bureau of Labor Statistics, the average retail price for a dozen eggs in U.S. cities is currently $4.82—up a whopping 150 percent since last year.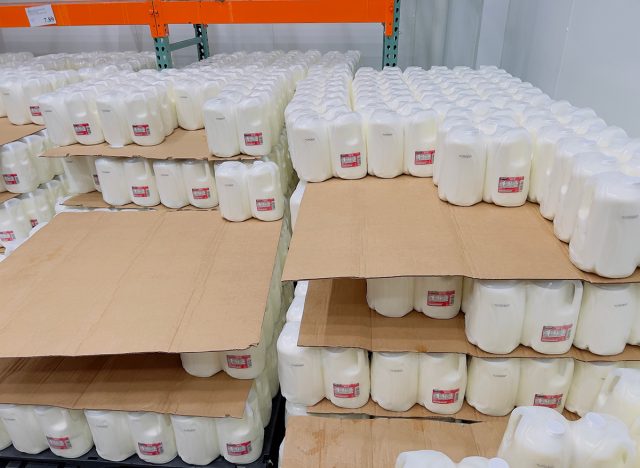 Costco's Kirkland-brand milk has its fans, but even they aren't immune to sticker shock. "Their super milk seems to last forever," noted one Redditor in late December, "but it costs much more than my local grocer." 
A gallon jug of Kirkland-brand whole milk cost $4.15 at Costco in Brooklyn in January. By March, that price had dropped to $3.67. The 2% milk cost even less: $3.36.
By comparison, the cheapest gallon of whole milk on March 5 cost $3.93 at Walmart, $4.09 at Aldi, and $6.99 at Whole Foods. The average retail price for whole milk in U.S. cities now stands at $4.20 per gallon, down 0.2% since January, but still up 11% over the last 12 months, per CPI.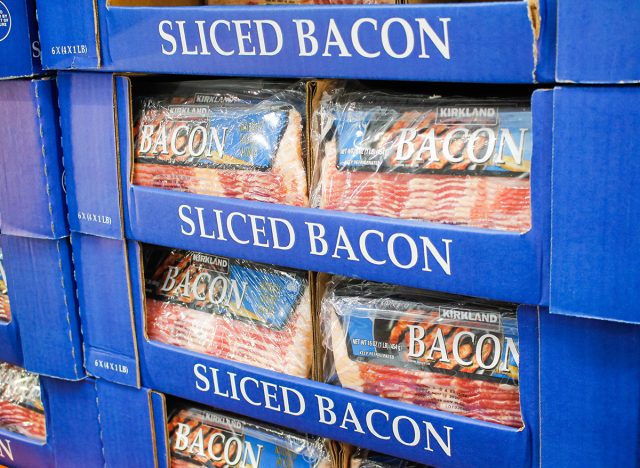 Four-pound packs of Costco's Kirkland Signature Sliced Bacon surged in price to $21.99 last year, according to one Redditor, before eventually dropping to a more reasonable $16.99. That's still too pricey for some critics. "I can find it on sale much cheaper," wrote one commenter. By March, the posted price at Costco in Brooklyn had dropped from $16.99 to $13.99, or about $3.50 per pound. The cheapest options at nearby Walmart and Aldi locations this week were $4.24 and $4.65 per pound, respectively. The average retail price in U.S. cities, though, is even higher: $6.80 per pound, per CPI.  
We're not talking about the famously low-priced rotisserie variety, of course. Costco's forever-$4.99 cooked bird remains an unbeatable bargain. No, we're talking about regular uncooked chicken. "Their prices for chicken thighs and drumsticks are now (and have been for a few months) higher than the grocery store," lamented one commenter.
We found bulk packs of Kirkland-brand organic boneless skinless chicken thighs for $5.99 per pound at Costco in Brooklyn in February. Comparable organic options cost $5.64 per pound at Walmart and $5.92 at Aldi. As for Whole Foods, eh, fuhgeddaboudit — $6.49 per pound.
Earlier versions of this story were published on Jan. 4 and Feb. 7, 2023. It has been updated to include new information.