A Spicy, Flavorful Crock-Pot Jambalaya Recipe
Spice up your usual crock-pot meals with this flavor-bursting slow cooker jambalaya recipe!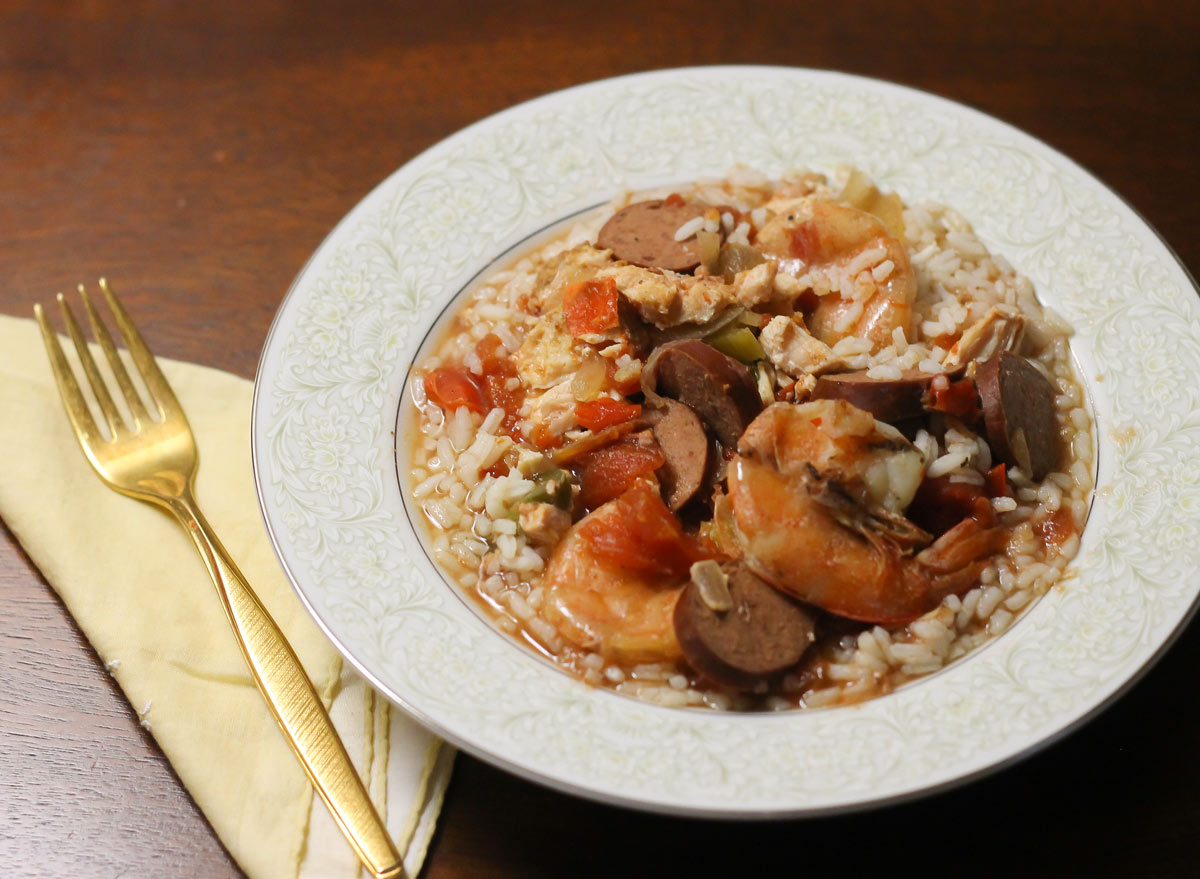 There's nothing like a steaming, spicy bowl of crock-pot jambalaya to warm you up! While you can make a faster jambalaya recipe, using a slow cooker helps to savor all of the flavors of the jambalaya. Between the sausage, tomatoes, and spicy cajun seasoning, this crock-pot jambalaya recipe is bursting with flavor.
This recipe calls for frozen deveined shrimp, but notice how I didn't say to buy shelled shrimp. I personally prefer to make this recipe with shrimp that hasn't been shelled yet. The shell of the shrimp holds in the flavor and keeps the fish moist, making the flavor absolutely unbelievable. This does require your guests to shell the shrimp themselves, but I think that's a key part of the whole jambalaya experience.
Between the diced tomatoes and the chicken stock, the recipe does come out soupy. Soak up those juices by serving plates of jambalaya on beds of white rice. I like to make large batches of Minute Rice right in the microwave, but if you prefer, you can also serve this with brown rice or quinoa instead.
Makes 8-10 servings
Ingredients
1 Andouille sausage, sliced
1 lb. frozen deveined shrimp, thawed
1 lb. boneless, skinless chicken breast, diced
1 red bell pepper, seeded and diced
1 onion, diced
2 celery ribs, diced
1 jalapeño, seeded and diced
1 garlic clove, minced
1 tablespoon cajun seasoning
1 28 oz. can diced tomatoes
1 teaspoon salt
1/2 teaspoon pepper
2 cups chicken stock
2 cups white rice, measured dry
How to Make It
Place the sausage, chicken breast, bell pepper, onion, celery, jalapeño, garlic, seasoning, and crushed tomatoes into the slow cooker. Sprinkle in the salt and pepper and stir to combine. Do not add the shrimp yet!
Pour in the chicken stock and cook on high for 3 to 4 hours, or low from 6 to 8.
Add shrimp to the slow cooker during the last 30 minutes. Don't bother removing the shells yet, you can do that after.
After throwing in the shrimp, prepare the rice. Two cups of rice will make eight 1/2 cup servings.
Serve jambalaya with servings of rice, removing the shells before eating.
Eat This! Tip
Freeze this meal and save it for later! Add the sausage, chicken, bell pepper, onion, celery, jalapeño, garlic, seasoning, salt, and pepper to a gallon-size freezer bag. Add shrimp to another smaller plastic bag before putting it in, to separate it from the other ingredients.
Make sure to defrost the meal in the refrigerator 24 hours before putting it into the slow cooker. Mix ingredients (besides shrimp) together so they are evenly distributed before turning on the slow cooker. Add the can of diced tomatoes and pour in the chicken stock and follow the normal instructions from there.
RELATED: Easy, healthy, 350-calorie recipe ideas you can make at home.6254a4d1642c605c54bf1cab17d50f1e