20 Recipes for Almost-Guilty Pleasures
When torn between guilt and pleasure, we often choose the latter and unravel our body goals in the process. But experts claim that indulgences—when small—can actually help you achieve a smaller waist.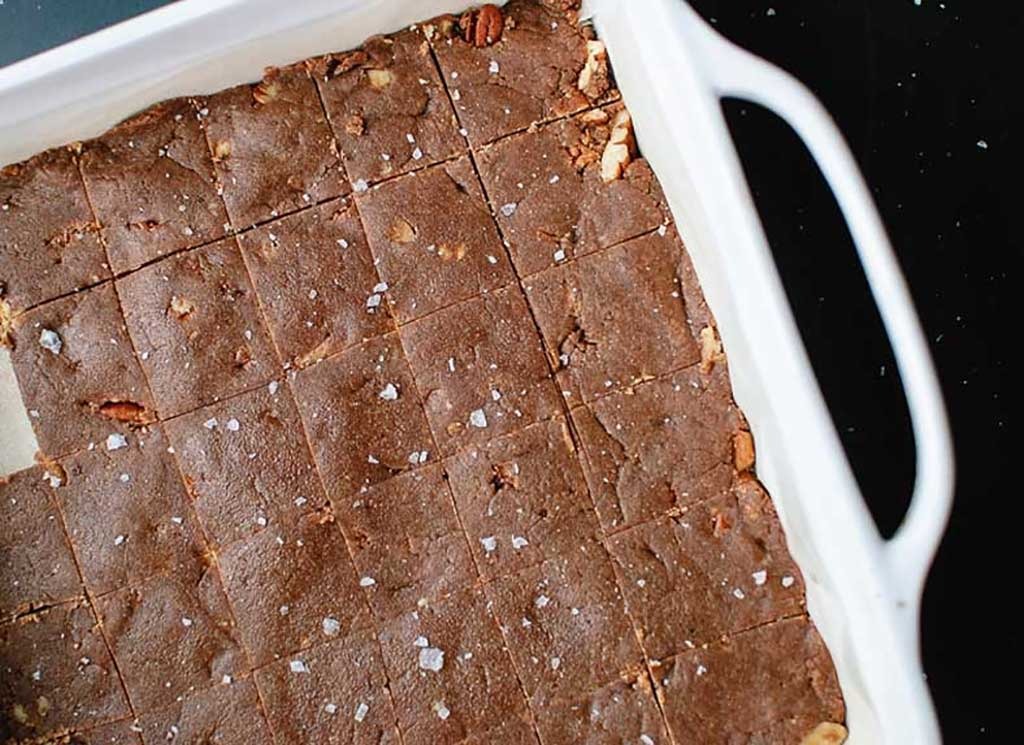 You know the drill: Depriving yourself too much can result in suddenly falling off the ledge into a hole of face-stuffing gluttony. Letting yourself have a treat here and there—particularly one that is homemade—can help keep your lose-10-pounds ambitions under control, though. "Occasionally including dessert can aid weight loss efforts by warding off feelings of deprivation and bouts of overeating," explains Cassie Bjork, RD, LD of Healthy Simple Life. That's why we've compiled 20 sinful-but-not-super-evil recipes that fit flawlessly into any diet. We have just two rules: Stick to the portion size listed and consume in moderation on a weekly basis. Being bad never felt so good. (While you're at it, go ahead and find out the 23 Surprising, Healthy Benefits of Alcohol!
COCONUT APRICOT TRUFFLES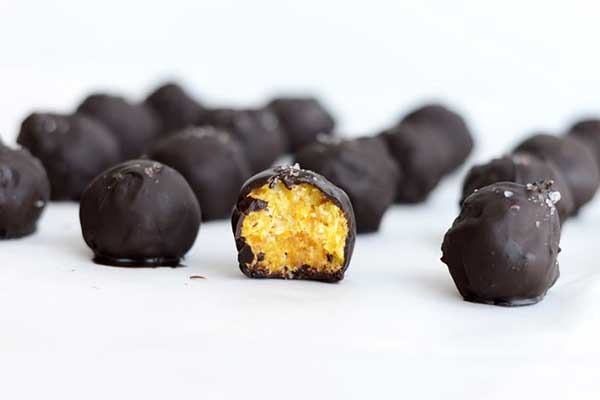 Nutrition: 177 calories, 6.7 g fat (3.6 g saturated), 24 mg sodium, 13 g carbs, 2 g fiber, 9.7 g sugar, 2.4 g protein
Chocolate and sea salt is a match made in taste bud heaven! Skip the store-bought, processed brands that lead to belly fat and make these homemade truffles instead. Six wholesome ingredients create a truffle that is pure, mouthwatering pleasure and won't tip the scale.
Get the recipe from Fit Foodie Finds.
THIN MINT CHEESECAKE BARS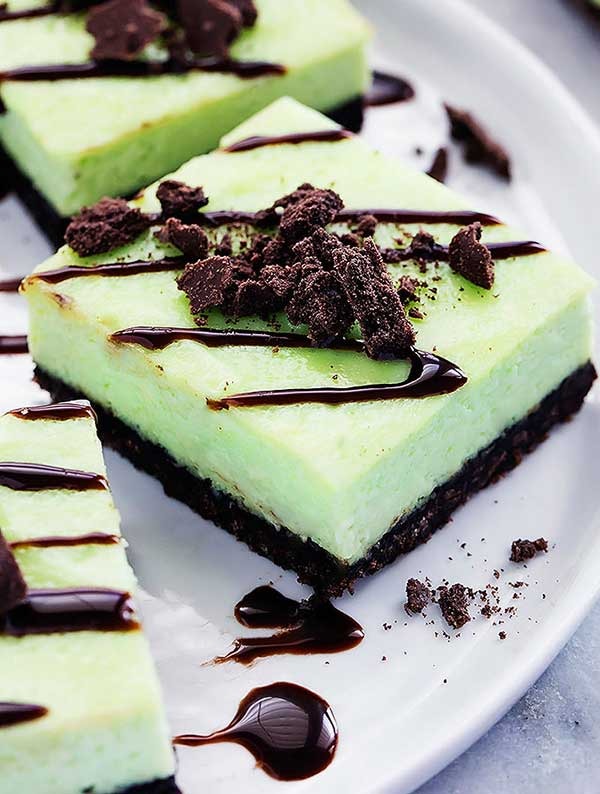 Nutrition: 154 calories, 7.6 g fat (4.4 g saturated), 99 mg sodium, 18.2 g carbs, 0 g fiber, 12.3 g sugar, 3.8 g protein (calculated with Stevia Bakeable blend substituted for 1/3 cup sugar)
Thin mints and cheesecake are not exactly flat belly friendly, but research suggests that adding mint to your diet aids in fat burn. Luckily for you, this recipe has under 200 calories per serving and just 12.3 grams of sugar if you opt to substitute stevia in for half of the sugar quota.
Get the recipe from Creme de la Crumb.
HEALTHY PEANUT BUTTER RICE CRISPY TREATS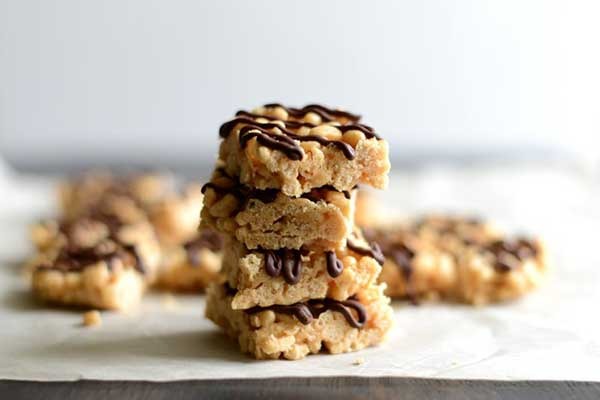 Nutrition: 79 calories, 6 g fat (3.6 g saturated), 32 mg sodium, 6 g carbs, 2.2 g sugar, 1.4 g protein
Save 11 grams of carbs, 6 grams of sugar and 73 milligrams of sodium when you make this homemade version over the store bought (and that's without the satiating peanut butter).
Get the recipe from Fit Foodie Finds.
STRAWBERRY BANANA NUTELLA BITES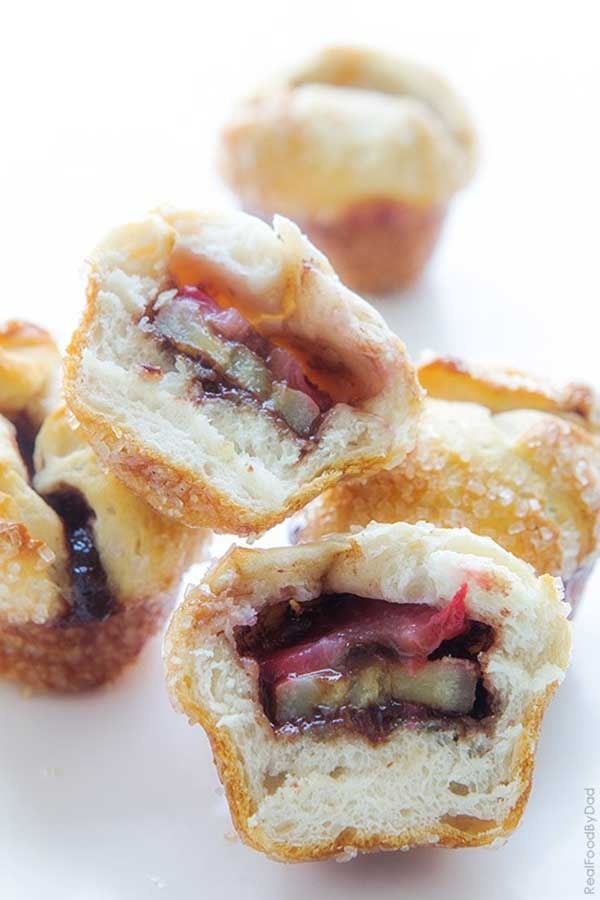 Nutrition: 170 calories, 8.1 g fat (1.6 g saturated), 377 mg sodium, 23.7 g carbs, 1.2 g fiber, 9 g sugar, 3.1 g protein (calculated with Justin's Hazelnut Butter)
Aside from being the perfect fitness fuel, bananas boost metabolic activity and nix hunger pains. Add a little hazelnut butter and stress relieving strawberries, and you've got yourself the perfect flat belly dessert.
Get the recipe from Real Food by Dad.
PEANUT BUTTER COOKIE DOUGH BITES
Nutrition: 68.9 calories, 4.1 g fat (<1 g saturated), 18.6 mg sodium, 6.9 g carbs, 1 g fiber, 3 g sugar, 2.3 g protein
According to a study in the International Journal of Obesity and Related Metabolic Disorders, peanuts increased metabolic activity by 11 percent when subjects consumed about 500 calories of peanuts daily for 19 weeks. While we don't suggest consuming 500 calories worth of these cookie dough bites, one or two servings won't diminish your body goals and just might even turn up your calorie burning oven!
Get the recipe from Pinch of Yum.
HOMEMADE CARAMEL CORN
Nutrition: 244 calories, 12.1 g fat (7.4 g saturated), 127 mg sodium, 33.8 g fat, 1.7 g fiber, 23,6 g sugar, 1.7 g protein (calculated with maple syrup and no salt)
Popcorn is low in fat, calories and sugar, and full of belly slimming fiber and wholesome grains. However, once you start dressing it up (hello, butter, syrup, chocolate…), the kernels aren't so diet-friendly. Fortunately, you can splurge on one serving of this recipe without unbuttoning your jeans. And to discover how to get a washboard stomach in just 5 weeks, don't miss this essential list of the 5 Best-Ever Foods for Abs—Guaranteed!
Get the recipe from Gimmie Some Oven.
BROWNIE POPS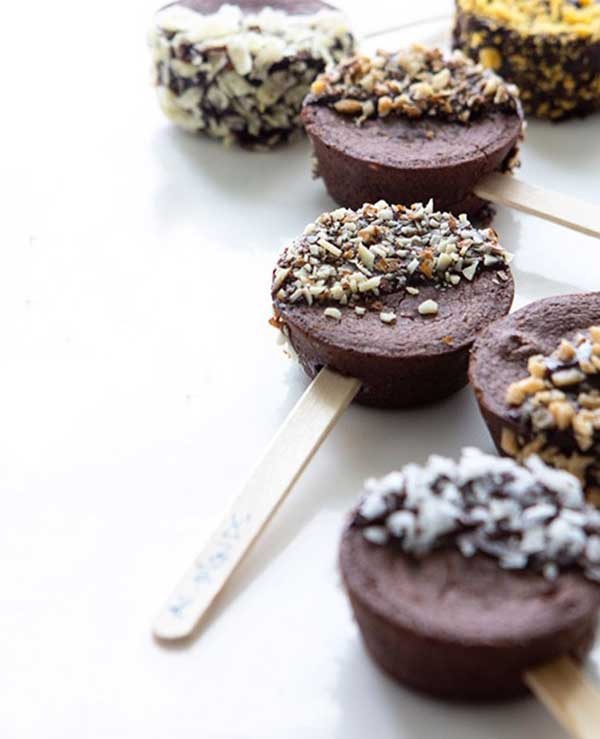 Nutrition: 114 calories, 6.7 g fat (2.4 g saturated), 61 mg sodium, 12.8 g carbs, 0 g fiber, 4.1 g sugar, 1.6 g protein (calculated with greek yogurt in place of cream)
Sub in muscle-building, protein boasting and gut-toughening greek yogurt in place of cream and you've got yourself one slimming brownie. Just 114 calories, 12.8 grams of carbs and 4.1 grams of sugar–need we say more?
Get the recipe from Real Food by Dad.
CASHEW DARK CHOCOLATE ENERGY BITES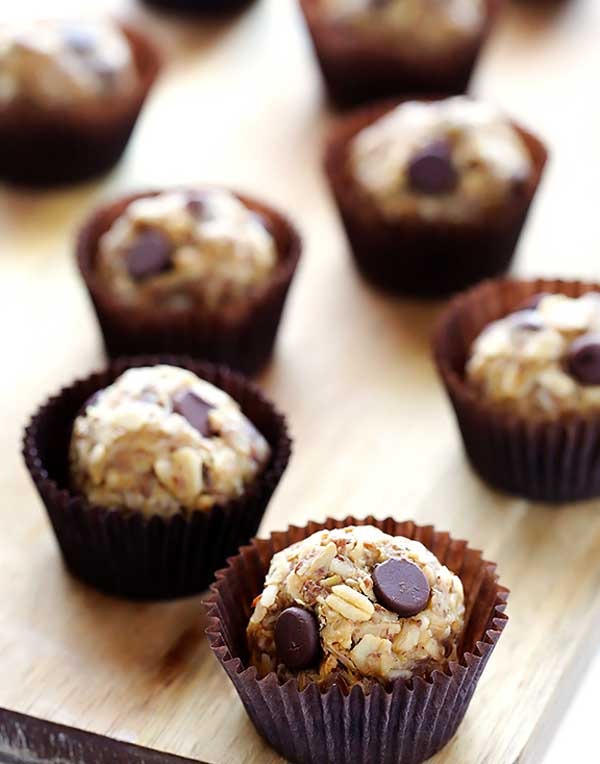 Nutrition: 159 calories, 9.8 g fat (3.4 g saturated), 4 mg sodium, 15.7 g carbs, 2.2 g fiber, 8.2 g sugar, 3.6 g protein
Seven wholesome ingredients comprise these gluten-free energy bites. Along with antioxidant-rich dark chocolate and omega-boasting flaxseed, cashew butter hosts a plethora of health benefits such as relieving headaches, muscle cramps, constipation, and insomnia.
Get the recipe from Gimme Some Oven.
BAKED BANANA AND CHOCOLATE CHIP DONUTS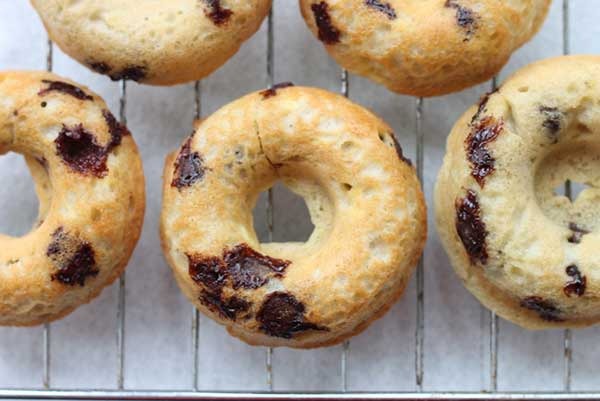 Nutrition: 189 calories, 8.6 g fat (6.2 g saturated), 141 mg sodium, 24 g carbs, 5.7 g fiber, 14.6 g sugar, 4.2 g protein (calculated with coconut flour)
When a chocolate chip cookie, banana and donut meet, the trio is nothing short of divine. Aside from sounding downright naughty, this recipe actually uses protein-rich nonfat greek yogurt and flab blasting banana. To avoid potential bloat, opt for coconut flour. It's void of gluten which can cause inflammation in the gut. For more belly bulge culprits, check out these 20 Things That Instantly Make You Bloated.
Get the recipe from That's so Michelle.
CINNAMON SUGAR PRETZEL BITES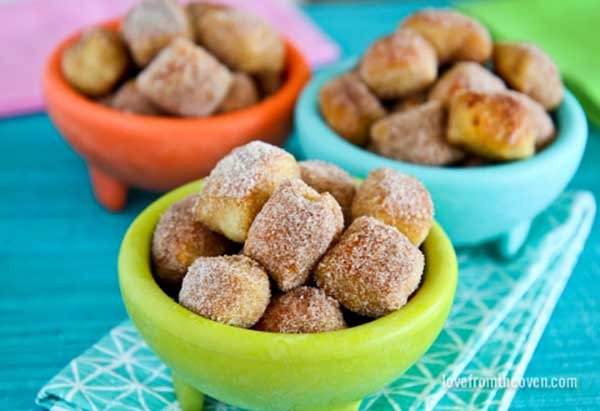 Nutrition: 258 calories, 11.4 g fat (5 g saturated), 445 mg sodium, 33.3 g carbs, 1 g fiber, 13.3 g sugar, 6.2 g protein
One order of cinnamon sugar pretzel nuggets from Auntie Annies has a whopping 99 grams of carbs—that's nearly half a day's worth! Whipping up this recipe saves you over 200 calories, 22 grams of sugar and 66 grams of carbs. Carbaholic? Check out The 20 Best Carbs for a Flat Belly.
Get the recipe from Love From the Oven.
HOMEMADE COOKIE DOUGH OREOS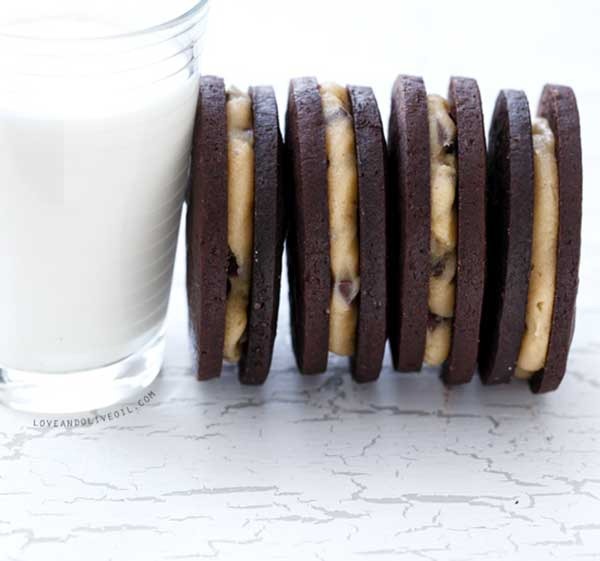 Nutrition: 234 calories, 15.4g fat (9.4 g saturated), 122 mg sodium, 21.5 g carbs, 1 g fiber, 9.6 g sugar 4 g protein (calculated without salt and organic dark chocolate chips)
Skip the processed stuff and bake these instead. Aside from being void of trans fats and sketchy ingredients, these Oreos are made with waist-whittling dark chocolate. According to studies, flavonoids (or antioxidants) in chocolate can lower blood pressure, shrink your waist, improve your cholesterol profile, and lower your risk of heart attack by up to 31 percent. Just make sure to opt for a kind that has at least 70% cacao (the flavonol-rich cocoa bean).
Get the recipe from Love and Olive Oil.
SWEET POTATO PIE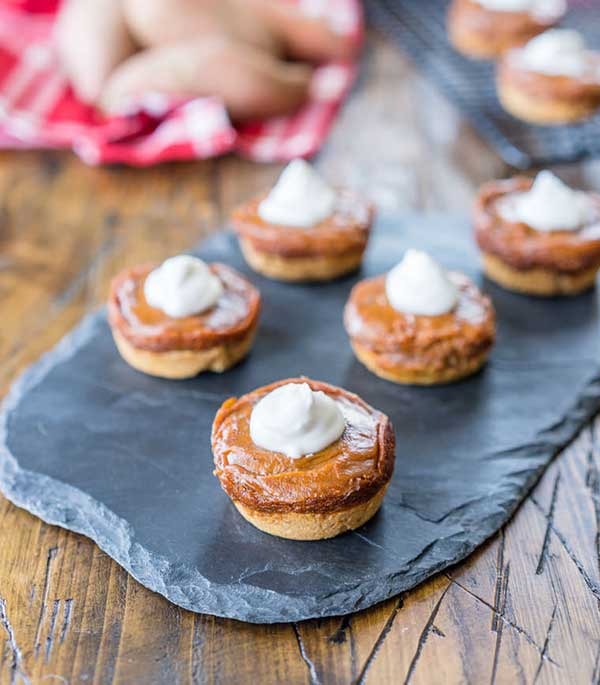 Nutrition: 217 calories, 10 g fat (8.4 g saturated), 10 mg sodium, 30 g carbs, 4 g fiber, 5.6 g sugar, 3 g protein
Not only are sweet potatoes one of the best weight loss superfoods, but these pies are topped with whipped cream made from full-fat coconut milk. Derived from fresh grated coconut meat, it's naturally creamy and loaded with vitamins, potassium and medium-chain triglycerides (a type of easily-digested healthy fat that helps fry flab).
Get the recipe from One Ingredient Chef.
CHOCOLATE DIPPED MARSHMALLOWS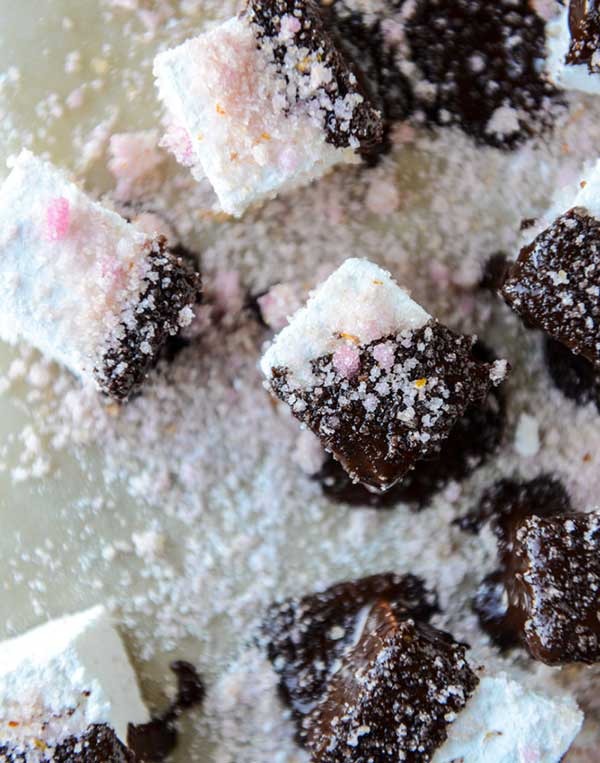 Nutrition: 64 calories, 1.4 g fat (1 g saturated), 18 mg sodium, 11.2 g carbs, 0 g fiber, 10.8 g sugar, 1.4 g protein
Summer is creeping up on us, but who says we have to wait till June to roast some marshmallows? These bite-sized treats so tasty, you won't even miss the nutrient void graham cracker. Did we mention they have just 1.4 grams of fat? To start losing weight today, check out these 10 Genius Tips to Lose 10 Pounds!
Get the recipe from How Sweet Eats.
SUGAR COOKIE CHEX MIX
Nutrition: 137 calories, 4.8 g fat (2.9 g saturated), 140 mg sodium, 23.5 g carbs, 0.5 g fiber, 10.6 g sugar, 1.2 g protein
Craving a sugar cookie (or two)? Whip up this instead! Rice Chex mix cereal is covered in white chocolate, vanilla and sprinkles to create a gluten free treat that will have your taste buds humming. What's more? It's just 137 calories and contains less than 5 grams of fat per serving.
Get the recipe from Love From the Oven.
RAW VEGAN SNICKERS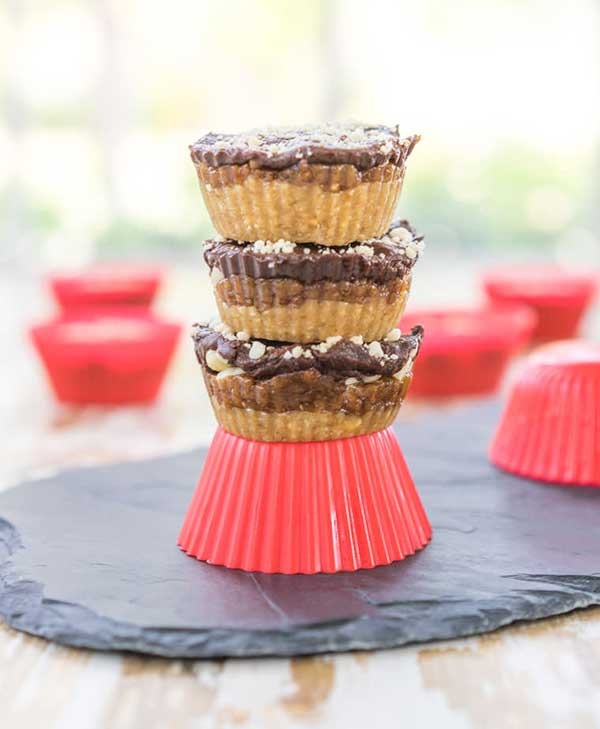 Nutrition: 142 calories, 13.1 g fat (4.5 g saturated), 36 mg sodium, 5.2 g carbs, 2 g fiber, 1 g sugar, 3 g protein
One Snicker's Bar contains 250 calories and 27 grams of sugar while this version contains just 142 calories and 1 gram of sugar. As if you needed any more convincing that this candy bar is worth the extra effort, the fat content comes from waist-shrinking almond butter. A recent study found that after 24 weeks overweight and obese adults who consumed almonds along with a reduced calorie diet experienced a 62 percent greater reduction in weight and BMI!
Get the recipe from One Ingredient Chef.
APPLE PIE ROLLUPS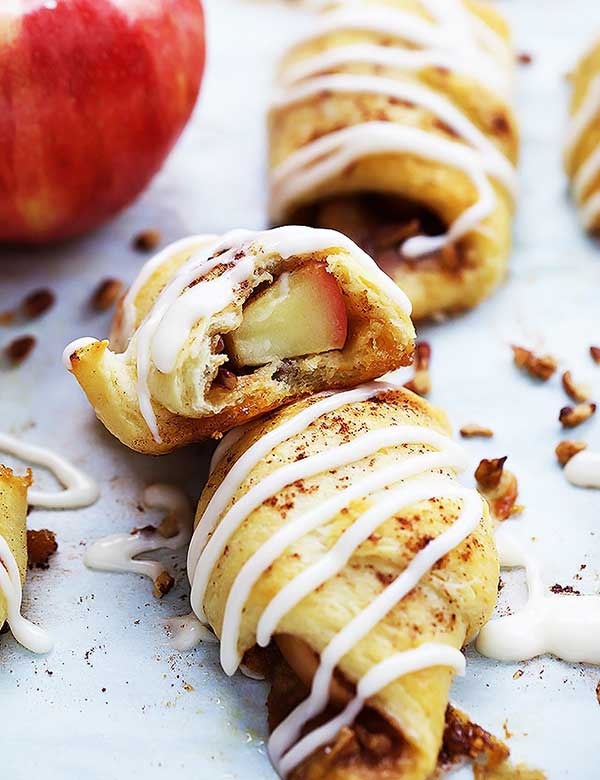 Nutrition: 137 calories, 9 g fat (3.4 g saturated), 66 mg sodium, 14.2 g carbs, 1.4 g fiber, 11 g sugar, 1.1 g protein (calculated without powdered sugar)
Take the hassle out of apple pie with this bite-size version. Flakey croissants envelope steaming apple, cinnamon and chopped pecans. With just 137 calories and 14 grams of carbs, dessert never tasted so good.
Get the recipe from Creme de la Crumb.6254a4d1642c605c54bf1cab17d50f1e
EASY SALTED FUDGE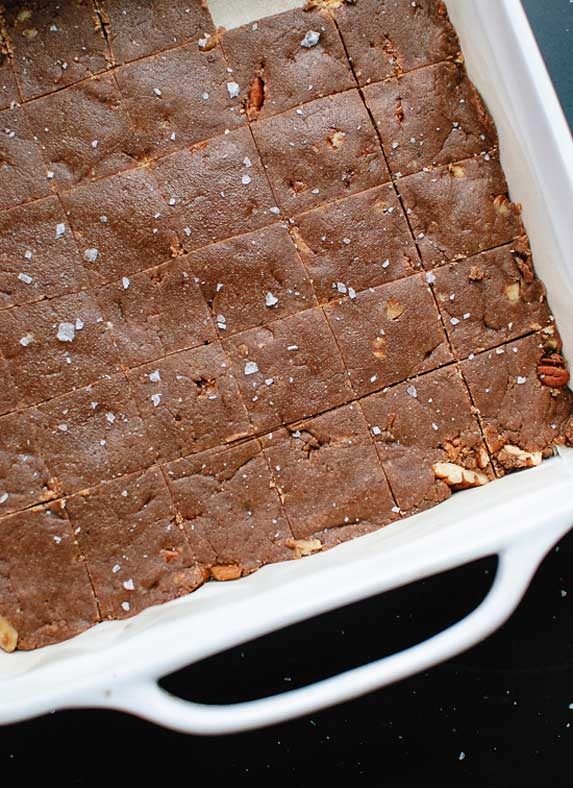 Nutrition: 235 calories, 18.1 g fat (3.3 g saturated), 45 mg sodium, 16.2 g carbs, 3.1 g fiber, 6.8 g sugar, 5 g protein (calculated with pecans)
When it comes to fudge, portion control is key. Calorically dense, it's easy to undo a week's worth of sweat sessions with just a few bites. However, that doesn't mean you have to forgo it altogether. Just keep it to one serving, eat slow and if you're tempted to have more, drink a tall glass of water first.
Get the recipe from Cookie and Kate.
MAPLE PECAN BACON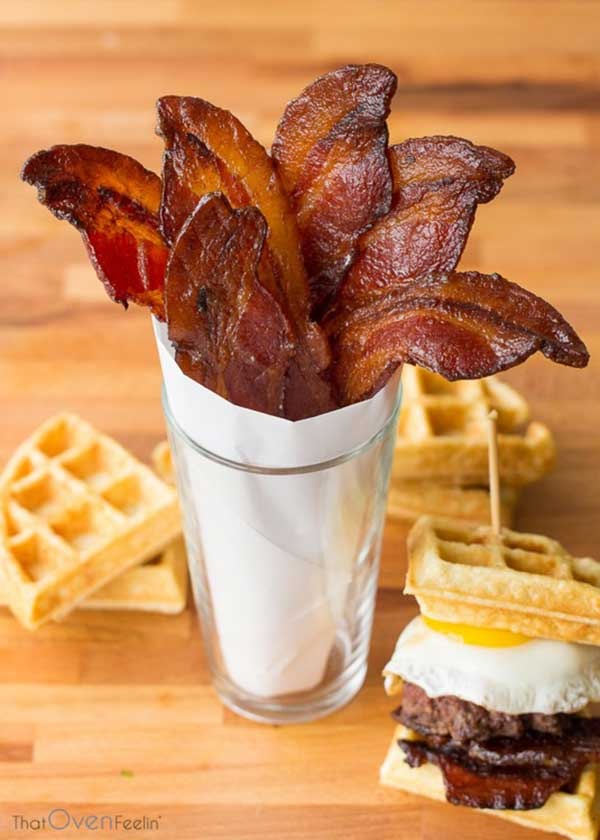 Nutrition: 111 calories, 6 g fat (2 g saturated), 333 mg sodium, 8.7 g carbs, 0 g fiber, 7.8 g sugar, 5.3 g protein
Sizzle your way skinny with a slice of this Maple Pecan Bacon when you throw a pinch of cayenne pepper in the mix. Capsaicin, a natural compound in chiles, has been shown to increase body heat, boost metabolic rate and decrease appetite. In fact, scientists are currently looking at turning capsaicin into an all-natural anti-obesity supplement for its ability to activate our "good," calorie-burning brown fat stores. Best part? You don't need much to reap the flab blasting benefits. And to blast even more fat—and shrink your belly in just 7 days—click here for The Best Tea to Melt Fat—Fast. Test panelists lost 10 pounds in one week!
Get the recipe from That Oven Feelin.
STRAWBERRY HAND PIES
Nutrition: 78 calories, 3.9 g fat (1.4 g saturated), 83 mg sodium, 10.3 g carbs, 0 g fiber, 5.4 g sugar, <1 g protein (calculated with raw sugar)
Don't let Valentine's Day be the only excuse you make heart shaped goodies for your loved ones. These strawberry pies contain five simple ingredients and are under 100 calories each–talk about a diet friendly date night dessert. Looking to tighten up before the big night, check out these 25 Best Foods for a Toned Body!
Get the recipe from Well Plated.
DARK CHOCOLATE BROWNIES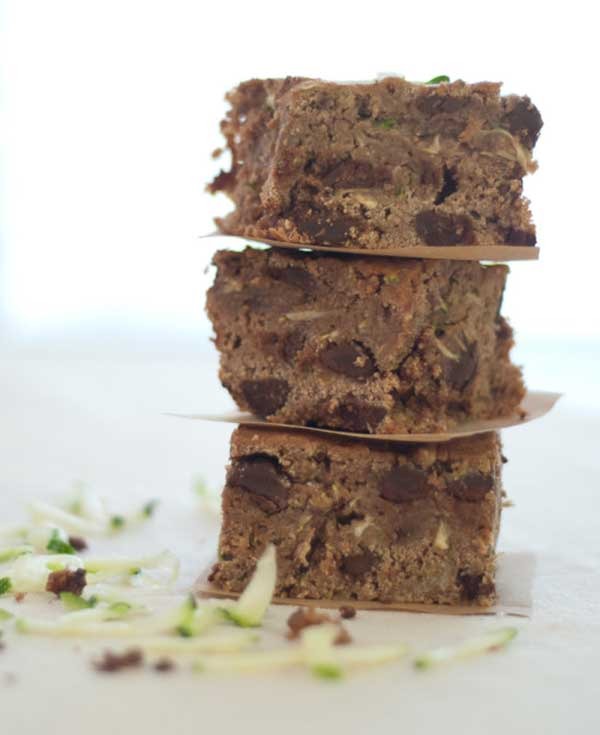 Nutrition: 241 calories, 13.6 g fat (9.8 g saturated), 84 mg sodium, 31.7 g carbs, 2.1 g fiber, 20.1 g sugar, 4 g protein
Looking for a way to sneak more veggies into your child's diet? Look no further. These dark chocolate brownies are made with zucchini, whole grain flour, coconut oil, dark chocolate chips and naturally sweetened with honey.
Get the recipe from Cookie and Kate.