19 Dinners That Make You Thinner
Eat these, and you'll wake up feeling slimmer by morning.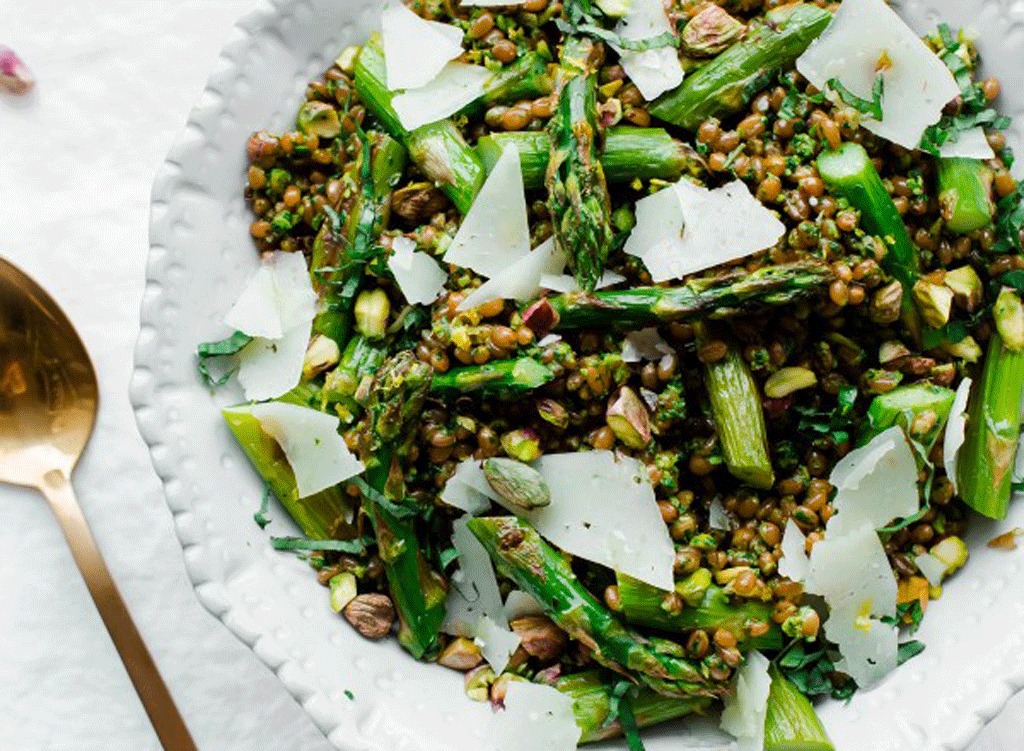 "I was up all night because of the baby," my friend Stacy told me yesterday.
"What baby?" I asked.
"My food baby," she said, rubbing her belly. Stacy had indulged in a bottomless pasta with breadsticks the night before. No wonder she felt pregnant. Besides being full from the food itself, she was retaining water and had gas in her intestines.
What she should have eaten to lose belly fat were hydrating foods that are easy to digest, filled with healthy fats, delicious fiber and lean proteins. Beat the bloat and whip up one of these tasty meals for dinner, hand-picked by our researchers at Cook This, Not That! And to burn fat even quicker, don't miss this essential list of 55 Ways to Boost Your Metabolism—Fast!
Blood Orange and Asparagus Salad with Ginger Miso Dressing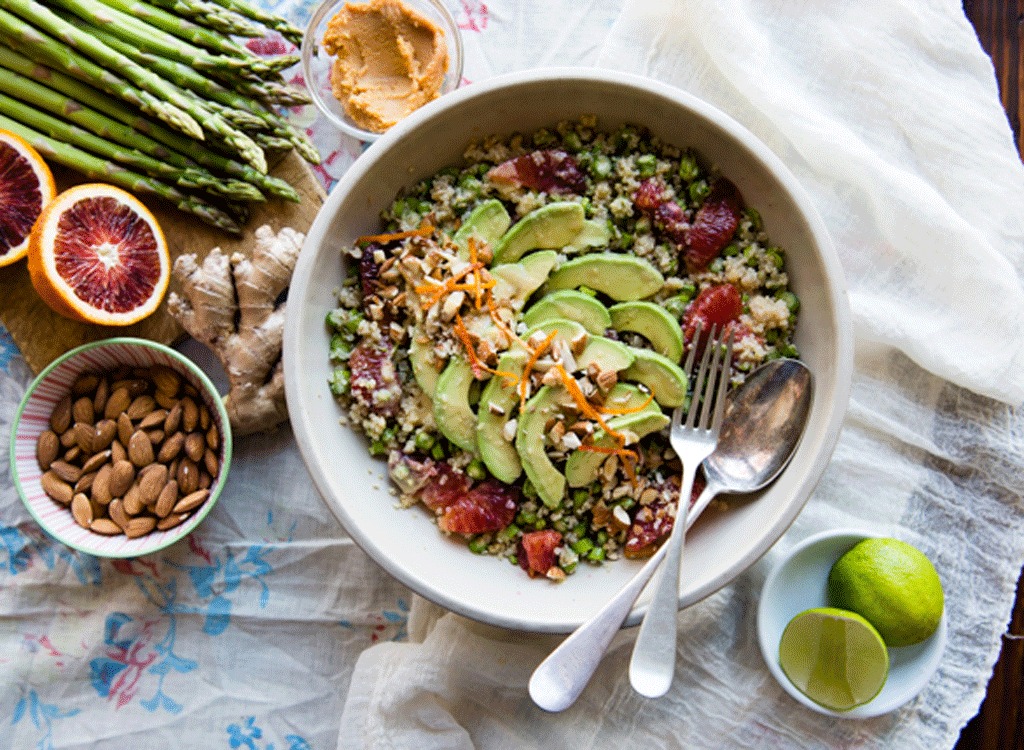 Serves: 5
Nutrition: 462 calories, 17.9 g fat (2.7 g saturated), 137 mg sodium, 64.3 g carbs, 12.6 g fiber, 10 g sugar, 15.5 g protein (calculated 5 servings)
Wow, this is one colorful combo! Asparagus is actually one of the 25 Foods That Beat Bloating because of its diuretic capabilities. Yep that's right, the green veggie contains high levels of an amino acid called asparagine that actually causes an increase in urination. Who knew? Don't skimp on the asparagus, because it will help eliminate that bloat!
Get the recipe from Cafe Johnsonia.
Honey Roasted Carrot and Ginger Soup with Chickpea Croutons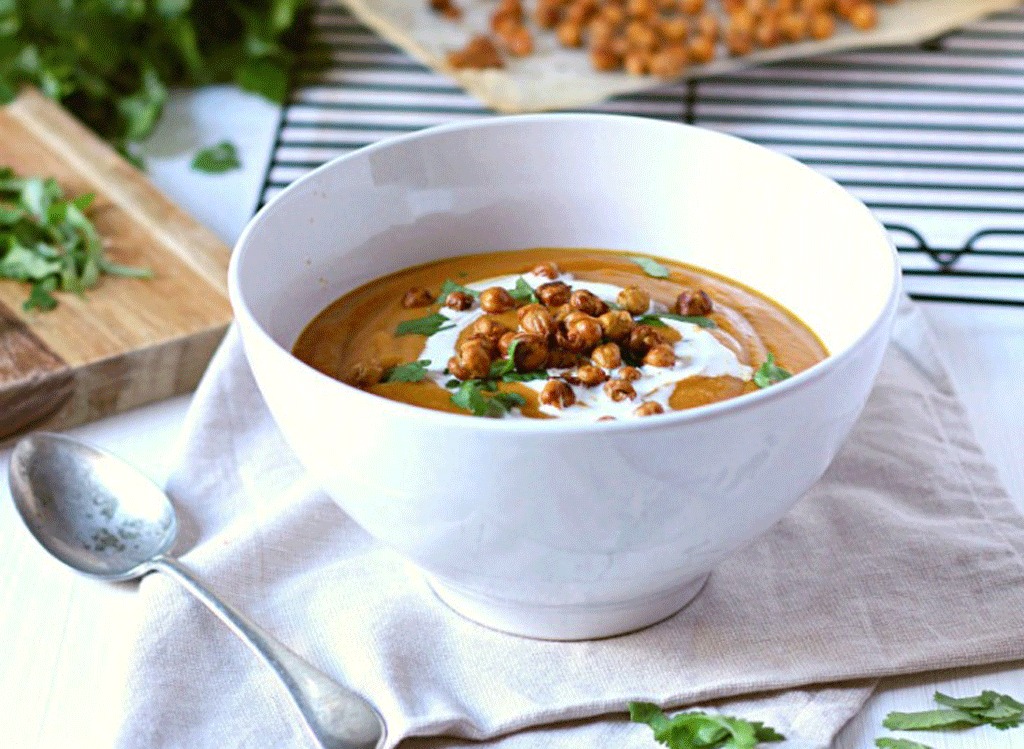 Serves: 4
Nutrition: 382 calories, 15.3 g fat (9.8 g saturated), 705 mg sodium, 52.4 g carbs, 13.7 g fiber, 17.1 g sugar, 12.6 g protein (calculated 4 servings with half a can of chickpeas, and 1 tsp salt and paprika)
This decadent soup is the key to a flat tummy. Why? Well the carrots are definitely a plus, which you'll find out later in this article, but the main ingredient we're interested in here is ginger. Ginger serves as a muscle relaxant in the digestive system and as a result, helps relieve gas. One serving of this soup is all you need to help alleviate your troublesome abdominal pain. Pair with a nice warm cup of detox tea to double the calming effect!
Get the recipe from To Her Core.
Garlicky Butternut Squash Noodles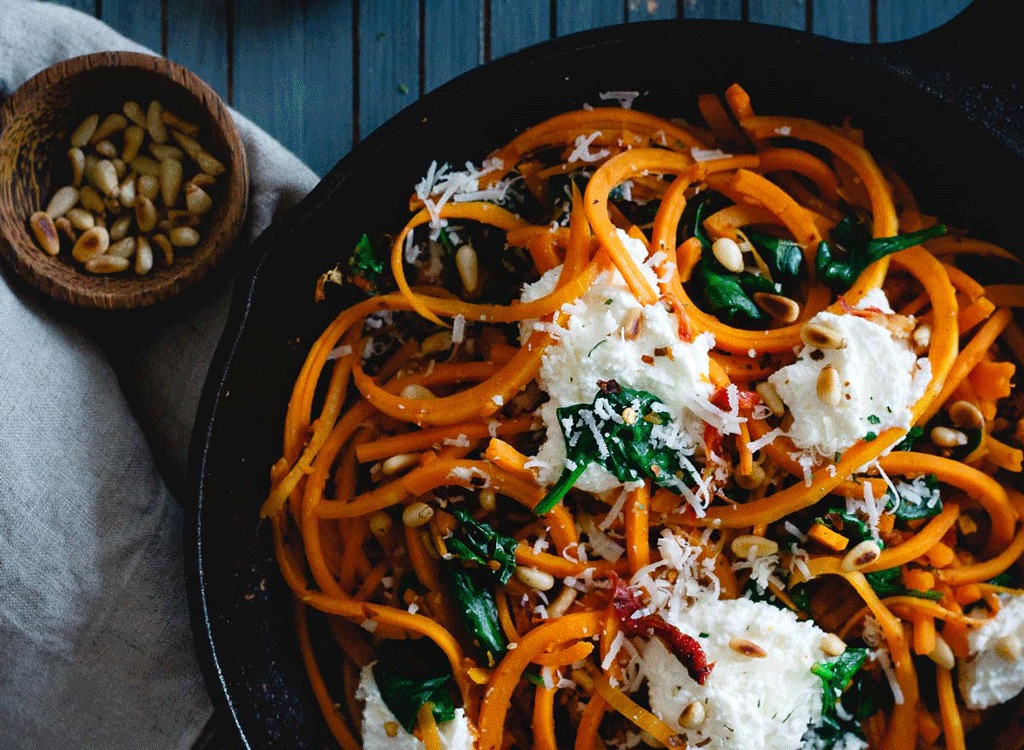 Serves: 2
Nutrition: 416 calories, 21.2 g fat (6.4 g saturated), 233 mg sodium, 48.7 g carbs, 8.6 g fiber, 9.1 g sugar, 17 g protein (calculated 2 servings with ½ medium butternut squash)
Garlic is pretty darn awesome. It helps ward off yeast infections caused by an overgrowth of candida in the stomach, and it even helps stimulate digestion. An enzyme called allicin in garlic is credible for activating the secretion of gastric juices via stimulating mucus membranes within the stomach. This process enables food to move right along and break down accordingly, so constipation and uncomfortable indigestion is not on your radar! Enjoy the garlic essence in these irresistible squash-noodles.
Get the recipe from Running to the Kitchen.
Pumpkin Soup With Curry Yogurt Sauce
Serves: 4
Nutrition: 410 calories, 20.7 g fat (4.2 g saturated), 539 mg sodium, 46.3 g carbs, 3.1 g fiber, 28.8 g sugar, 8.2 g protein (calculated with ½ cup of curry yogurt sauce)
We all know Greek yogurt is the bee's knees, but did you also know that it can help keep your gut clear of bad bacteria? Yogurt offers a considerable amount of probiotics per serving so if you make a habit to eat a 6 or 7 ounce cup of a low sugar variety a day, you're stomach will create a harmonious balance of good healthful bacteria. Kickstart your day with a cup of yogurt and then wind down with this delicious soup with a curry yogurt drizzle for an extra boost of probiotics!
Get the recipe from With Food and Love.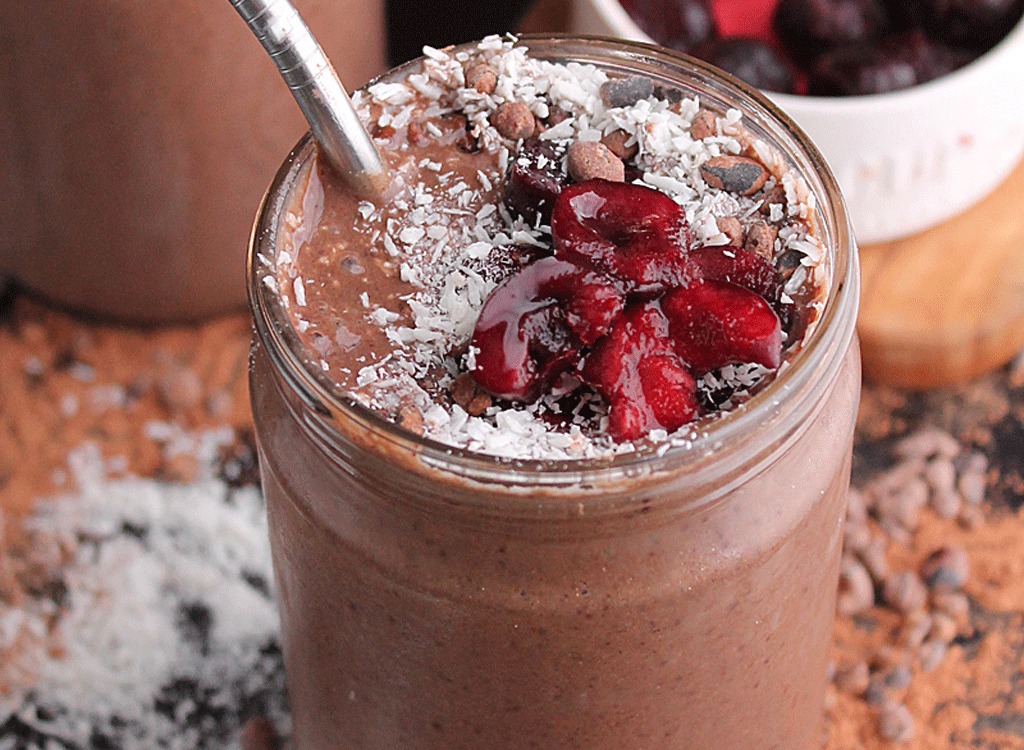 Serves: 2
Nutrition: 351 calories, 5.2 g fat (4.5 g saturated fat), 23 mg sodium, 77 g carbs, 10.3 g fiber, 38.8 g sugar, 3.7 protein (calculated with ½ cup frozen cherries, 4 dates, and unsweetened coconut milk)
Dessert anyone? This smoothie is packed with the good stuff like a plethora of vitamins and antioxidants. But the ingredient under the spotlight here is the banana. Bananas provide an excellent source of prebiotic fiber, which is the fuel for that good gut bacteria. According to a study in the journal Anaerobe, women who ate a banana twice a day before a meal for 60 days straight, experienced an increase in good gut bacteria and had a 50 percent reduction in bloating. Blend that banana stat so you can beat that bloat!
Get the recipe from My Darling Vegan.
Tomato Watermelon Gazpacho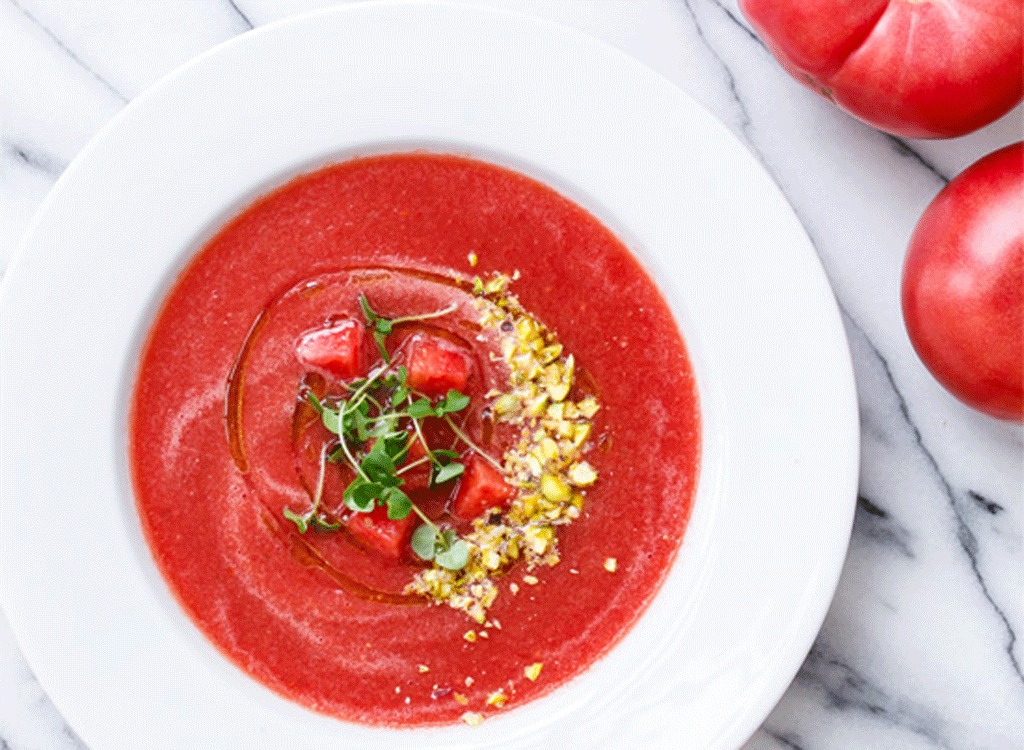 Serves: 2
Nutrition: 247 calories, 8.2 g fat (0.9 g saturated), 490 mg sodium, 41.7 g carbs, 7.2 g fiber, 28.1 g sugar, 8.3 g protein (calculated 2 servings)
Do we even have to explain why this water-based helps to flush out the bloat? I think you got the idea. Watermelon is comprised of roughly 93 percent of water alone, so it's definitely classified as a natural diuretic. Instead of chomping into a plump wedge, picnic-style shake things up and blend it into this refreshing, chilled soup!
Get the recipe from Love and Olive Oil.
Celery Root and Potato Soup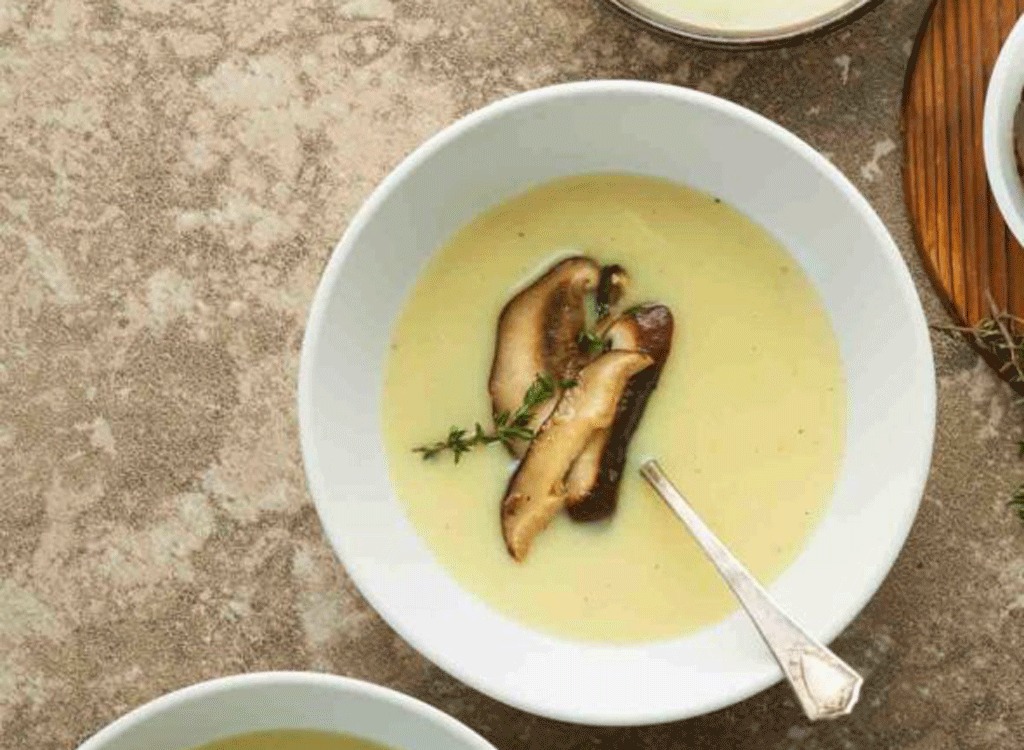 Serves: 4
Nutrition: 206 calories, 5.8 g fat (0.9 g saturated), 780 mg sodium, 38.4 g carbs, 6.3 g fiber, 6.7 g sugar, 4.4 g protein
Soup is definitely seems to be the meal of choice for relieving a bloated belly! Celery is also another go-to natural diuretic, so chop it up and integrate it into this blogger's delish recipe.
Get the recipe from Gourmande in the Kitchen.
Food: Celery Root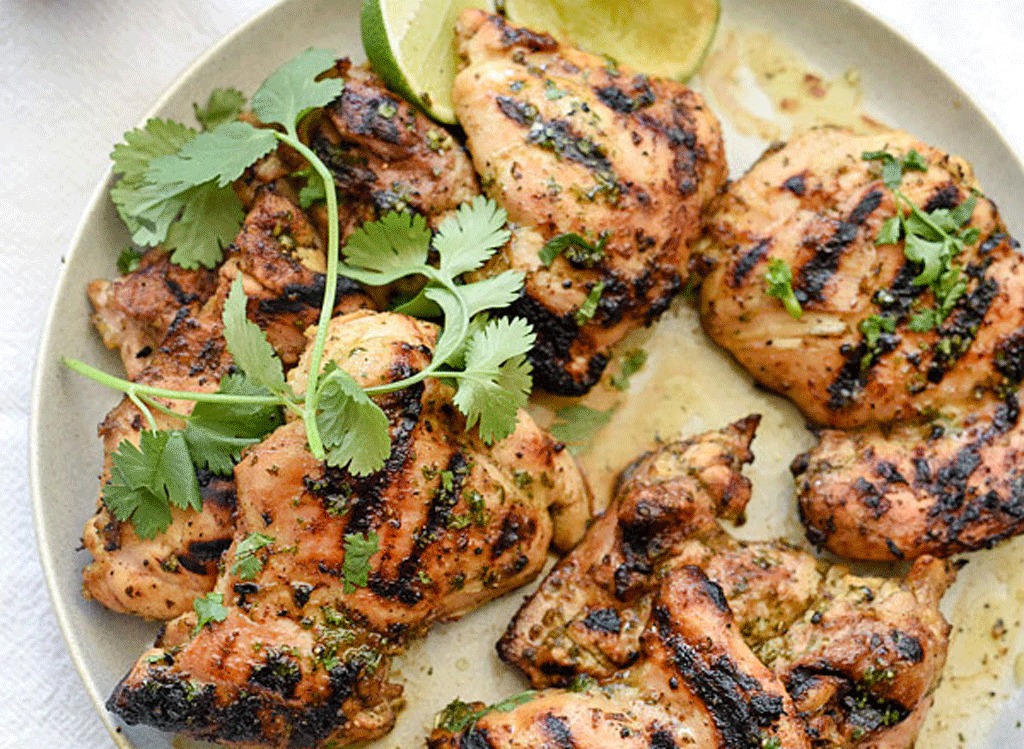 6254a4d1642c605c54bf1cab17d50f1e
Serves: 12
Nutrition: 307 calories, 17 g fat (3.5 g saturated), 293 mg sodium, 5.6 g carbs, 0.8 g fiber, 3.3 g sugar, 33.1 g protein (calculated 12 servings)
The cilantro may the be the star of the belly deflating dish, but can we just take a second and talk about that protein content? You're bound to be full for the rest of the night with 33 grams of protein in your tum, because that will take quite a bit of time to digest! Thankfully, cilantro has a peculiar mix of linalool and geranyl acetate oils that actually have a relaxing effect on the muscles in your digestive system.
Get the recipe from Foodie Crush.
Serves: 3
Nutrition: 93 calories, 5.2 g fat (0.9 g saturated), 12 mg sodium, 11.8 g carbs, 2.2 g fiber, 6.3 g sugar, 3.3 g protein (calculated 3 servings)
Looking for a low carb side salad? Believe it or not, 96 percent of a cucumber is water alone. Pair this with the lemon and you have a powerful detoxifying duo!
Get the recipe from Chelsea's Messy Apron.
Earl Grey Blueberry Oatmeal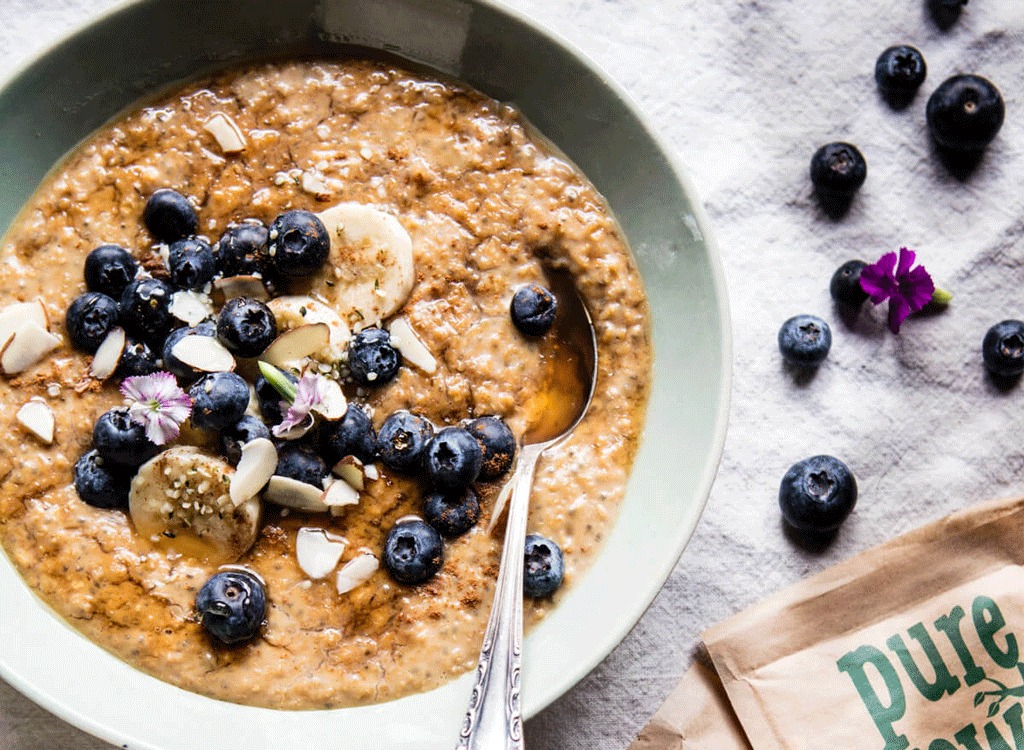 Serves: 1
Nutrition: 397 calories, 11.4 g fat (2.4 g saturated), 156 mg sodium, 64.6 g carbs, 9.3 g fiber, 25.6 g sugar, 14.3g protein (calculated with ½ a banana, ½ tbsp honey, 1 tbsp hemp seeds, and ⅛ tsp flaky sea salt)
Wait, earl grey tea in oatmeal? You bet! This blogger has taken an artsy spin on the classic bowl of oatmeal by actually infusing the herbs from the tea bag into the gooey oats. Not only do oats provide a decent amount of fiber per serving, they're also rich in B vitamins and potassium, both of which help flush out that excess water hanging out around the abdomen!
Get the recipe from Half Baked Harvest.
The Ultimate Cabbage Salad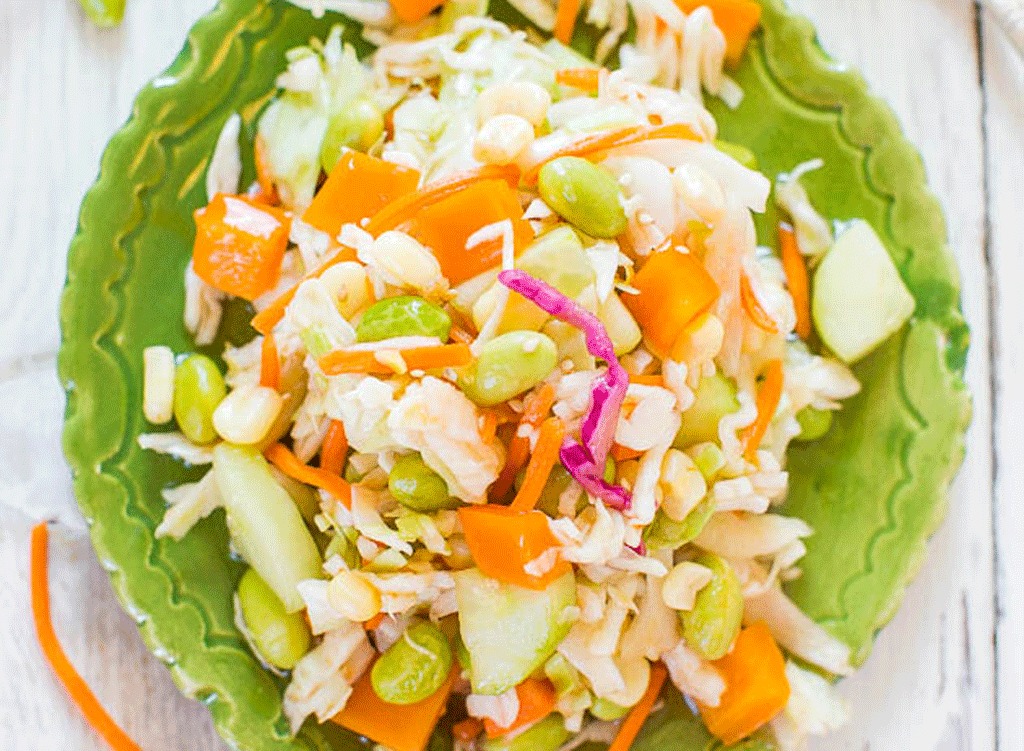 Serves: 6
Nutrition: 79 calories, 1.7 g fat (0g saturated), 168 mg sodium, 12.9 g carbs, 2.6 g fiber, 6.7 g sugar, 4 g protein (calculated with ¼ tsp salt)
Whether you opt for green or red, cabbage is 92-93 percent water so you'll won't feel the wrath of the bloat with this salad on your dinner menu! Pair this low-cal salad with one of these healthy chicken recipes for a boost in protein.
Get the recipe from Averie Cooks.
Mediterranean Orzo Pasta Salad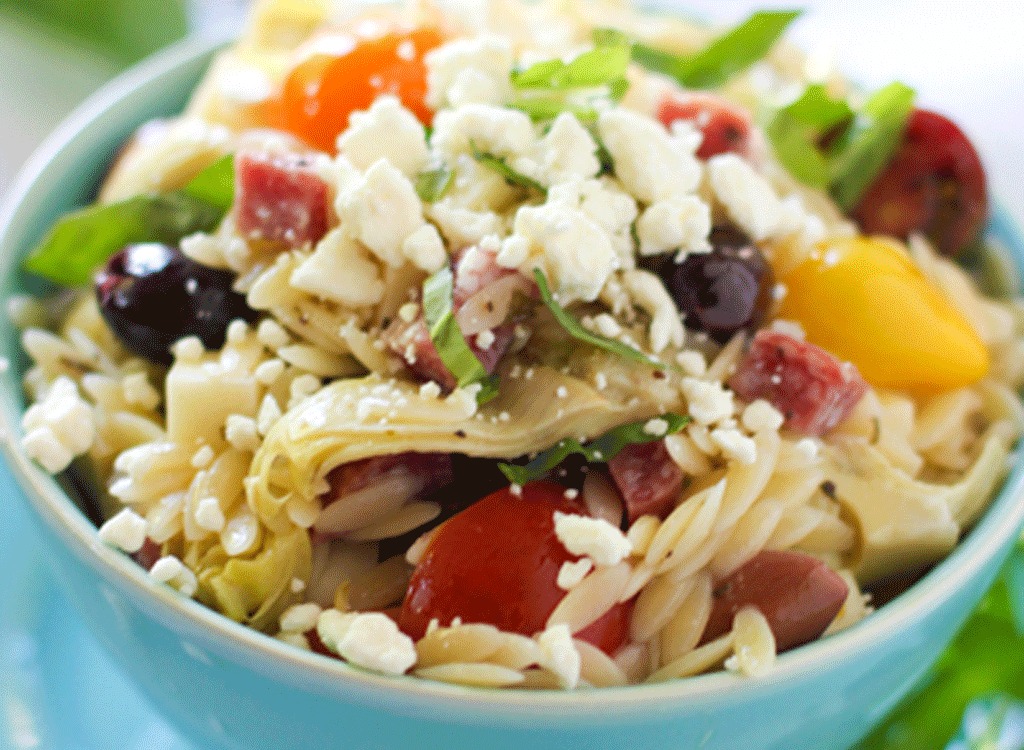 Serves: 10
Nutrition: 400 calories, 27.9 g fat (5.3 g saturated), 994 mg sodium, 31.5 g carbs, 3 g fiber, 4.7 g sugar, 8.5 g protein (calculated 10 servings)
Don't skimp on the artichokes in this orzo salad because its effect on your digestive system is something you'll want to welcome. First of all, artichokes stimulate the flow of bile from the liver, which may reduce the symptoms of heartburn. Secondly, it is a natural diuretic in the sense that it demolishes fluid retention in the abdomen. Just avoid that spinach artichoke dip because all that salt and dairy from the cheese will definitely give you a bloated tum!
Get the recipe from Laughing Spatula.
Coconut Curry Bowl with Carrots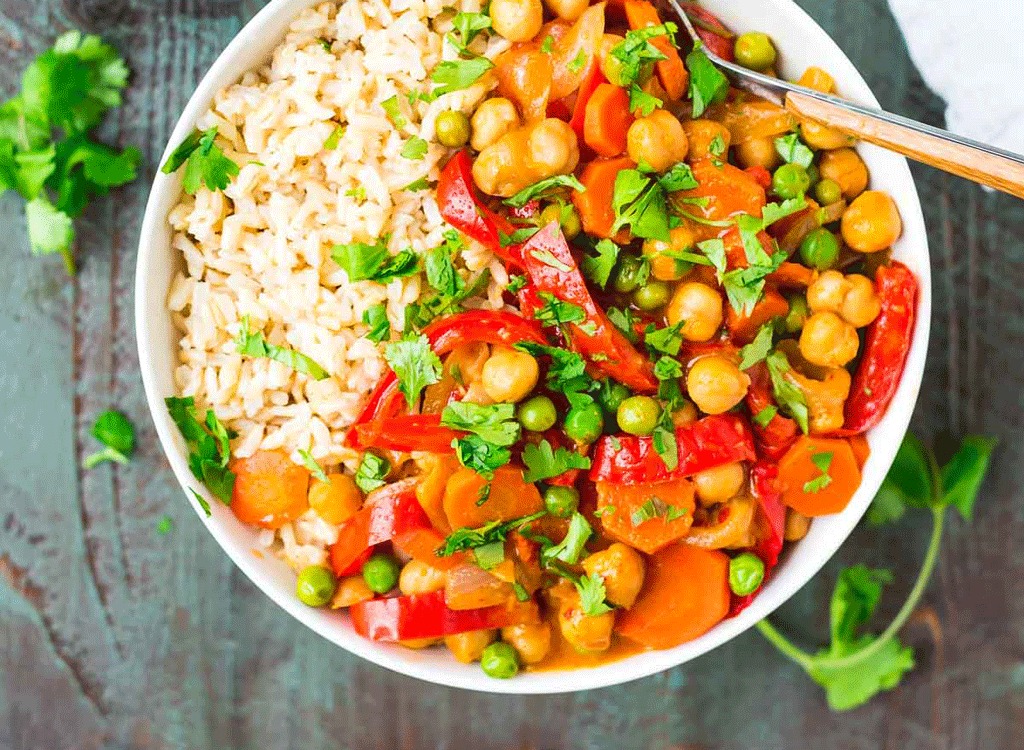 Serves: 4
Nutrition: 447 calories, 11 g fat (4.7 g saturated), 828 mg sodium, 71.8 g carbs, 13.4 g fiber, 12.3 g sugar, 15.4 g protein (calculated with 1 cup cooked quinoa, 1 tbsp soy sauce, 2 tsp brown sugar, and 2 tbsp Red Thai King paste)
Wow, talk about a high fiber dish! There are nearly 14 grams in just one serving, but beware, this dish is on the verge of being too high in sodium so make sure to limit yourself to just one bowl so your stomach doesn't balloon up with water come morning. Carrots are the stars of the recipe here because of their ability to rid the body of any excess water that is causing discomfort and preventing your jeans from buttoning. Give this savory recipe a whirl!
Get the recipe from Well Plated.
Roasted Fennel and Quinoa Salad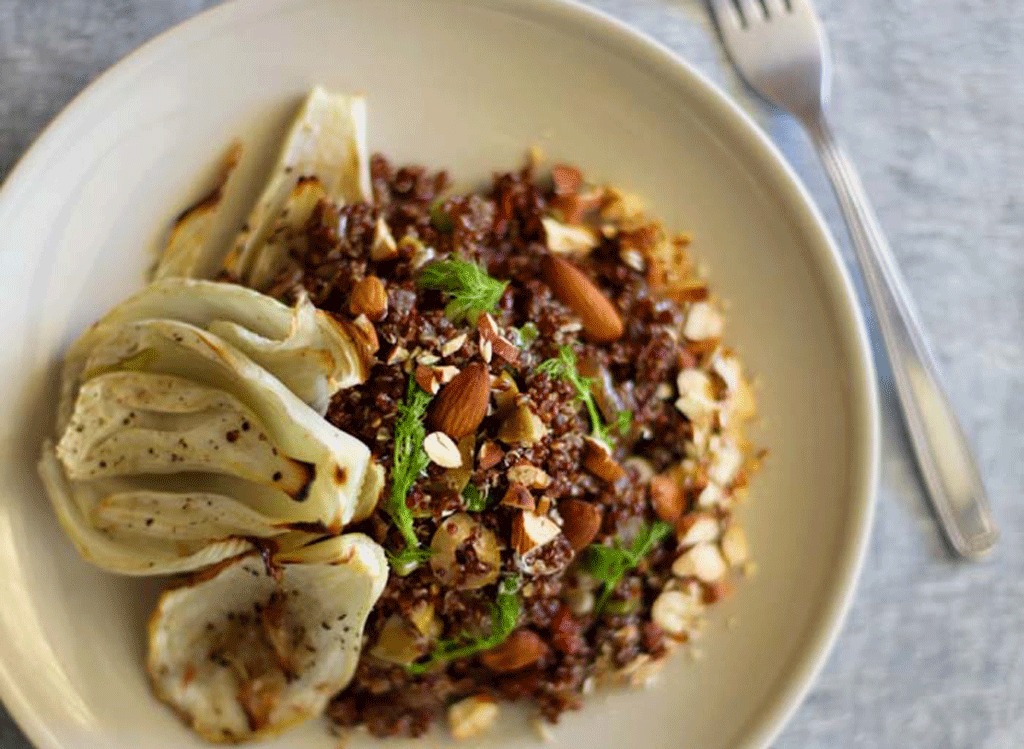 Serves: 4
Nutrition: 412 calories, 25.5 g fat (3.1 g saturated), 329 mg sodium, 39.5 g carbs, 8 g fiber, 2.1 g sugar, 10.4 g protein (calculated four servings with 2 ounces of almonds, 4 tbsp of olive oil in total, and ¼ tsp of sea salt flakes)
Um, yum this dish looks light and delish! Never had fennel before? Well now's the time to hop on board because seeds in fennel contain a compound that calms spasms in the GI tract, which enables gas and water to pass. Make sure to nosh on those seeds, too!
Get the recipe from Tales of a Kitchen.
Sweet and Sour Tempeh and Papaya Salad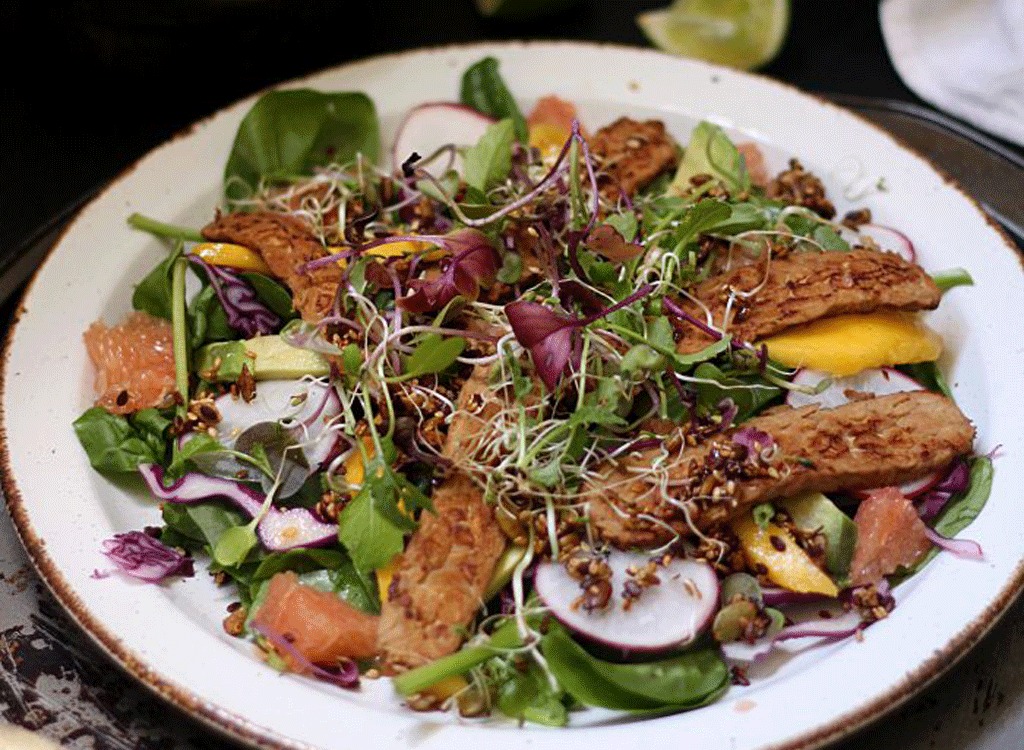 Serves: 4
Nutrition: 446 calories, 18.5 g fat (4.2 g saturated), 672 mg sodium, 55.5 g carbs, 16 g fiber, 22.6 g sugar, 21.7 g protein (calculated without savoury seed granola)
The enzyme papain is the ringleader of this anti-bloat dish. Found in papaya, this compound helps break down proteins in your GI tract which prompts digestion and makes you less susceptible to trapping gas. Not to mention, papaya is a tremendous natural remedy for acid reflux. Check out what other foods help (or worsen) acid reflux in 28 Best and Worst Foods for Acid Reflux.
Get the recipe from To Her core.
Brown Rice Bowl with Kimchi
Serves: 4
Nutrition: 430 calories, 18.5 g fat (2.6 g saturated), 246 mg sodium, 57.2 g carbs, 8.5 g fiber 2 g sugar, 11.1 g protein (calculated 4 servings with 1 tbsp pine nuts, 1 tbsp sesame seeds, and 4 tbsp olive oil)
Are you all about rice bowls? Well you're in luck because this one is low in sodium and rice itself is a great grain to indulge in simply because it's easier to digest than other starches like potatoes, corn, and even wheat. According to the American College of Gastroenterology, rice digests in the small intestines, which means it has less chances of causing your belly to bloat with uncomfortable gas. If you like how filling rice bowls are, check these quinoa bowls to broaden your palate!
Get the recipe from Tales of a Kitchen.
Roasted Pineapple and Pistachio Salad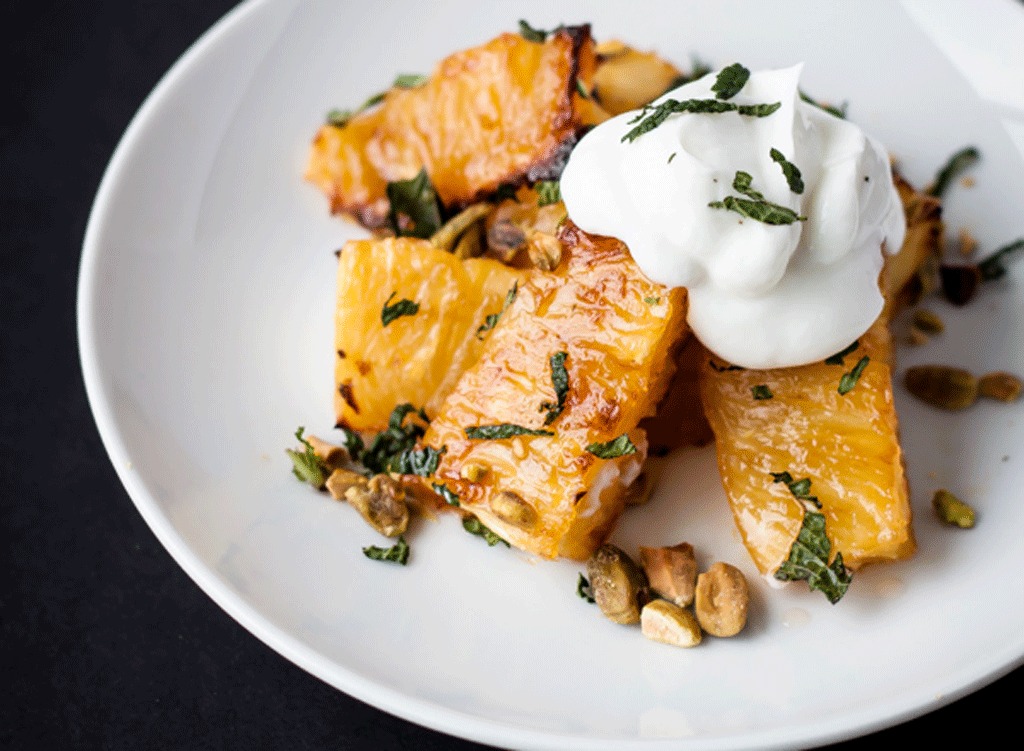 Serves: 4
Nutrition: 186 calories, 2.1 g fat (0 g saturated), 30 mg sodium, 42.5 g carbs, 3.3 g fiber, 37.1 g sugar, 2.9 g protein (calculated 4 servings with 2 cups of pineapple, ¼ cup 0% fat Greek yogurt, and ¼ cup pistachios)
Similar to papaya, pineapple also is fantastic anti-inflammatory that helps ease the effects of acid reflux! Why? The answer is bromelain, which is an enzyme that facilitates the digestion of proteins. Chow down on this salad as a side or as a tropical dessert!
Get the recipe from A Beautiful Plate.
Tomato, Basil and Balsamic Zucchini Noodles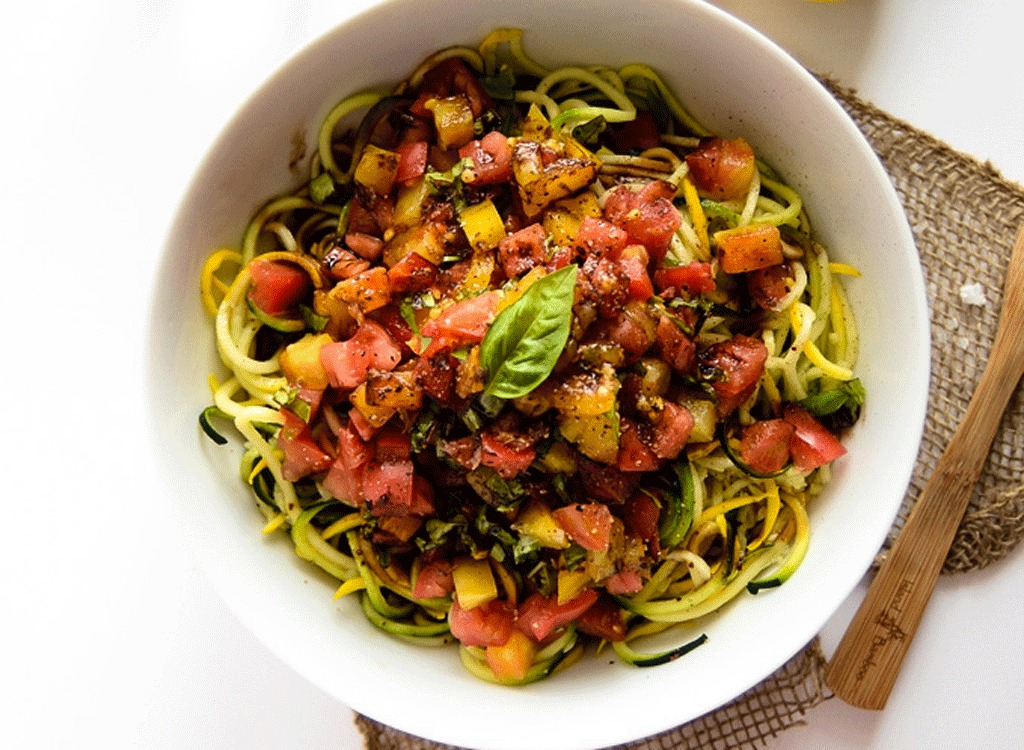 Serves: 1
Nutrition: 243 calories, 15.2 g fat (2.4 g saturated), 522 mg sodium, 20.8 g carbs, 6 g fiber, 11.6 g sugar, 6.1 g protein
Basil not only adds a distinctive minty flare to just about any dish, it also helps soothe the digestive tract and prevents bloating! Enjoy this veggie-inspired-faux-pasta dish and have no fear of the bloat because you won't endure it with this water and herb-filled recipe.
Get the recipe from Blissful Basil.
Roasted Asparagus and Wheat Berry Salad with Pistachio Pesto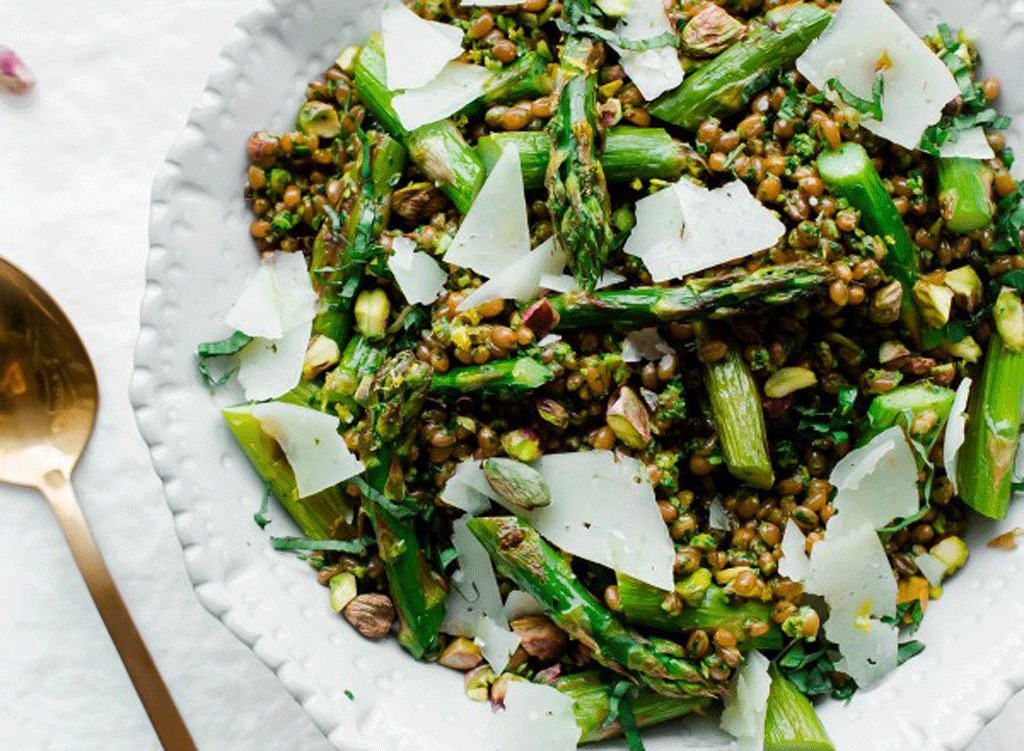 Serves: 4
Nutrition: 362 calories, 23.1 g fat (3.4 g saturated), 471 mg sodium, 35.3 g carbs, 7.3 g fiber, 2.2 g sugar, 2.4 g protein (calculated with 6 large spears of asparagus, 1 ounce of cheese, and without pistachios as garnish)
Last but not certainly not least, this dish's sauce (well, and the asparagus as discussed above) contains the key player in this bloat-free recipe! Pistachios are loaded in potassium, which help regulate your body's sodium levels and as you know, too much sodium can cause fluid retention. If you are a lover nuts, read up on 15 Nuts Better Than Supplements and Protein Powder to see all of the amazing abilities specific nuts have on your body and mind!
Get the recipe from A Beautiful Plate.