6 Foods Dolly Parton Eats for Weight Loss
At 77 years old Dolly Parton looks incredible. Here's how she does it.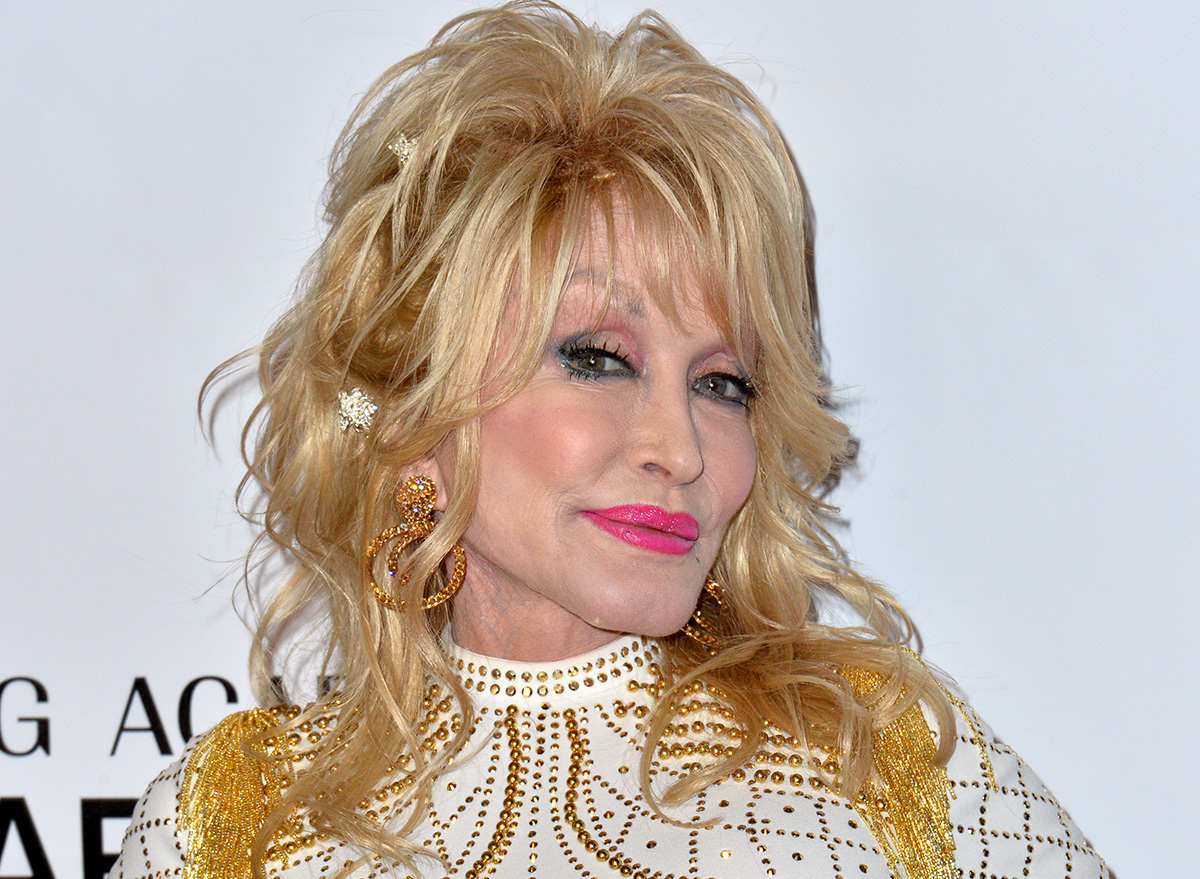 Throughout her 60-something-year career, Dolly Parton has influenced music, film, fashion, and beauty. With her distinctive voice, commanding stage presence, and versatile songwriting, the country singer has captivated audiences for decades and has become a cultural icon with her signature big blond hair, rhinestone-studded outfits, warm personality, and a style of her own. There's not much the beauty brand mogul hasn't done, but at 77 she's still hustling. So how does she do it all? Here are six ways the godmother of Miley Cyrus stays healthy and fit, and what nutrition experts think of what she eats. 
1
She Eats Homemade Egg Salad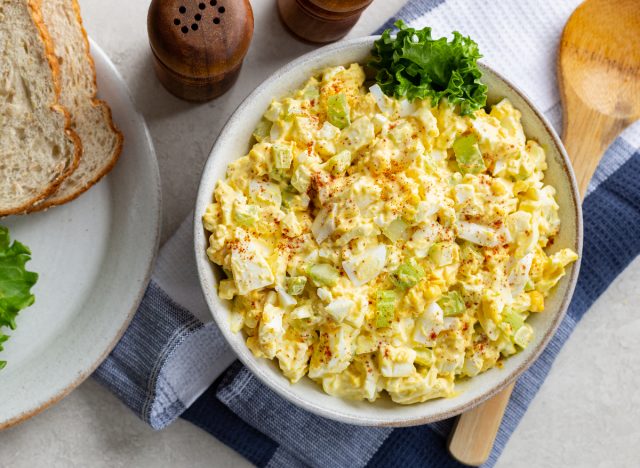 In an interview with The Wall Street Journal, Parton reveals she's an early riser and keeps homemade egg salad on hand for breakfast. I'm usually up around 3 in the morning. I just love the wee hours." She added, "I usually try to keep some homemade egg salad around because I like to have something quick and easy." 6254a4d1642c605c54bf1cab17d50f1e
What the Expert Says: Egg salad is a low-cost and convenient dish to keep on hand for a quick addition to a meal.," Lauren Manaker, MS, RDN, LDN, CLEC, CPT, and Nutrition Advisor for Eat This, Not That!, says. "According to the American Heart Association, healthy individuals can include up to a whole egg or equivalent daily as part of a heart-healthy dietary pattern. For older people with healthy cholesterol levels, given the nutritional benefits and convenience of eggs, consumption of up to two eggs per day is acceptable within the context of a heart-healthy dietary pattern." She adds, "Eggs are a natural source of muscle health-supporting protein, brain health-supporting choline, and eye health-supporting lutein, among many others. Some people may add an excessive amount of salt to their egg salad, which can make this dish not ideal for those focused on their heart health. And adding too much high-fat mayonnaise can make this dish high in calories and unhealthy macros, especially if the mayo chosen is high in saturated fat."
2
She Has a Balanced Diet
Parton is very in tune with her body type and told the WSJ that having a balanced diet is key for her. "I just watch moderation for the most part…. I have a tendency to gain weight because I'm so short and because I have a farmer's daughter's appetite," she said. 
What the Expert Says: "A balanced and healthy lifestyle is not complete with an indulgence every now and then," Sheri Berger, RDN, CDCES, tells us. "I encourage my clients to choose a plant-based whole foods diet 85-90% of the time, leaving a little wiggle room for something like the piece of cake or steak they are craving. Enjoying that treat allows you to fall back into your healthy lifestyle without feeling deprived."
3
Throughout the Week, Parton Follows a Low-Carb Diet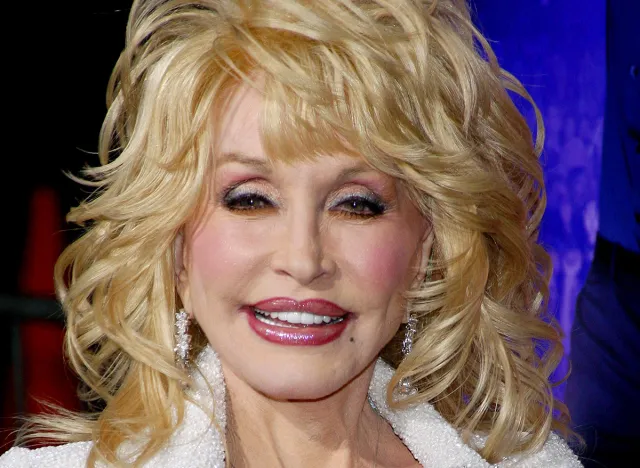 The 12-time Grammy winner is mindful of what she eats and said, "If I'm working I'll stay on a low-carb diet during the week and then eat anything I want on the weekends."
What the Expert Says: "When it comes to weight, calories are the bottom line, Sarah Williams, MS, RD, with Sweet Balance Nutrition, emphasizes. "Following a low-carb diet during the week and then eating anything on the weekends is not a great idea for someone who is wanting to lose weight. Eating whatever all weekend is likely going to undo any progress you've made during the week. This approach may allow some people to maintain their weight. However, many will find that restricting carbs during the week leads to overeating on the weekend."
4
She Eats Bagels with Cream Cheese and Cucumbers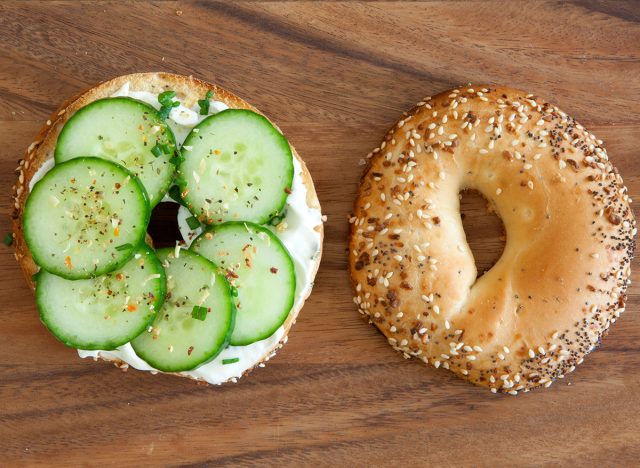 Parton doesn't skip breakfast and one thing she loves is a bagel. "Sometimes I'll have a bagel with cream cheese, cucumbers, and tomatoes," she shared.
What the Expert Says: "Cream cheese, and cucumbers, are all somewhat nutritious, while the bagel is not so much," Cesar Sauza, Registered Dietitian Nutritionist at Healthcanal.com, explains. "Bagels are refined carbs meaning that all the good stuff like the fiber has been taken out, try replacing the bagel with either a bagel thin or whole-grain toast."
5
Parton Doesn't Deprive Herself
Parton admits she's careful about what she eats, but she also indulges. A breakfast she enjoys making for her husband is biscuits and gravy. "I made some sausage patties, and I baked some biscuits, and I made some milk gravy," she told Marie Claire. "Now, I can't eat like that all the time, but I enjoy eating it when I do."
What the Expert Says: Sauza says, "Highly restrictive diets and food avoidance are not healthy behaviors and create an unhealthy relationship with food. I teach patients to indulge now and then and not feel guilty about it, a few unhealthy foods/drinks per week make it easier to avoid them for the most part."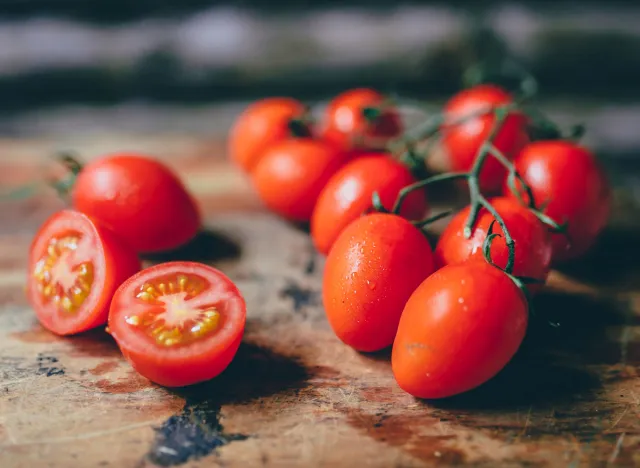 Parton adds tomatoes to her meals a few times a week like "egg salad on toast with tomato," she told the WSJ. She also adds tomatoes to her bagel. 
What the Expert Says: "Dolly's meal of egg salad on toast with sliced tomato is a-ok in my book," Manaker says. "Hopefully, she is choosing whole grain toast and she is enjoying her salad with some fruit or veggies. But considering the zest Dolly shows whenever we see her on camera, whatever she is doing is clearly working." Williams adds, "Tomatoes contain vitamin C and are a great source of potassium. In addition to the vitamins and minerals that tomatoes provide, tomatoes contain lycopene, which is a powerful antioxidant with several heart health benefits. A 2021 review article from Oxidative Medicine and Cellular Longevity examined the established benefits of lycopene, including positive effects on lipid levels, anti-inflammatory properties, and blood pressure regulation."
Heather Newgen
Heather Newgen has two decades of experience reporting and writing about health, fitness, entertainment and travel. Heather currently freelances for several publications.
Read more about Heather
Sources referenced in this article