The Quickest Duck Breast With Balsamic Recipe
Don't think this dish is too fancy to make at home–all you need is 7 ingredients and 15 minutes.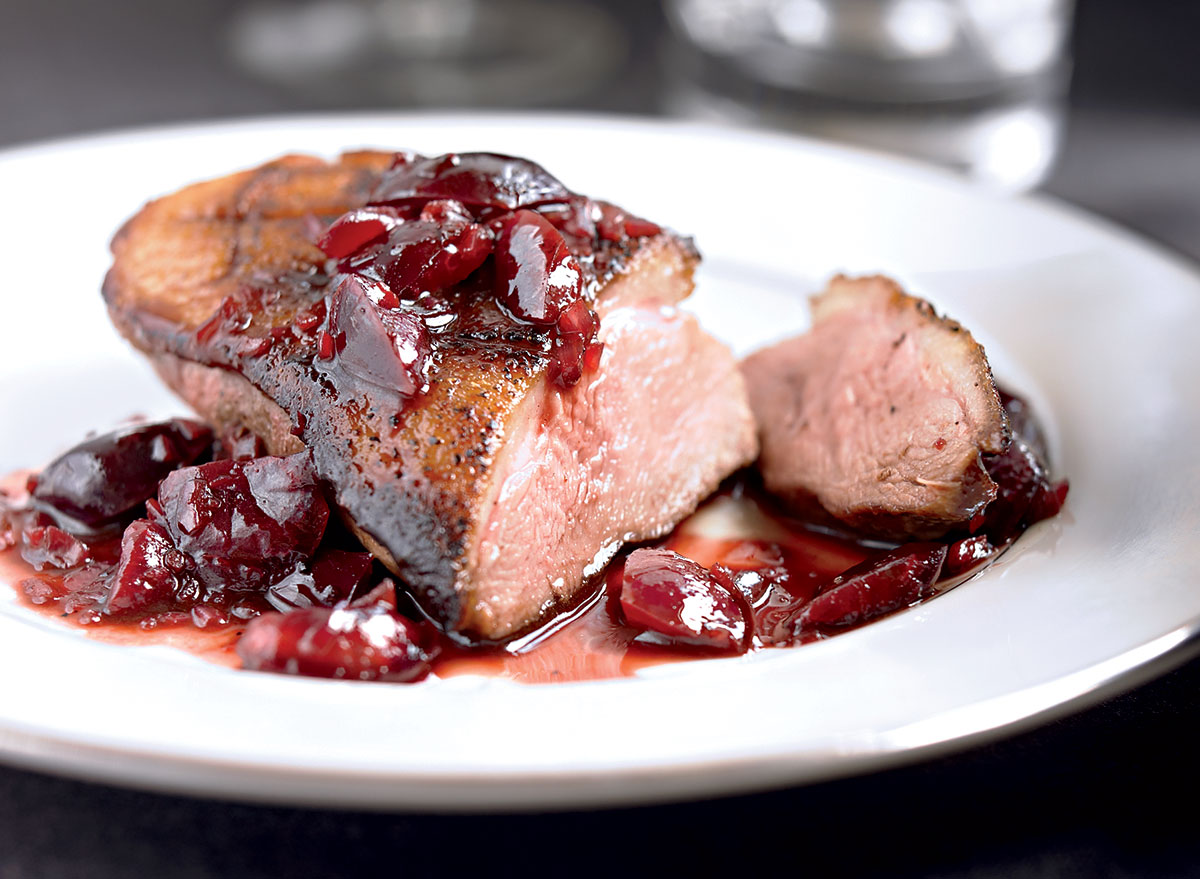 Like lamb, buffalo, and rabbit, duck gets no love from the home cook. Problem is, duck is viewed as restaurant food, a fancy ingredient that requires a towering toque's deft touch to prepare. Not even close. All it takes is a hot pan and a bit of salt and pepper to cook up a moist, juicy duck breast that will rival any supermarket steak you might have instead. Seven ingredients and 15 minutes yield a dish chefs train 2 years to learn to prepare.
Nutrition: 270 calories, 10 g fat (3 g saturated), 290 mg sodium
Serves 4
You'll Need
4 small duck breasts or
2 large breasts (about 1 pound total)
Salt and black pepper to taste
2 shallots, minced
16 cherries, pitted and roughly chopped
1⁄4  cup low-sodium chicken stock
1⁄4  cup balsamic vinegar
How to Make It
Heat a large skillet over medium heat.
Use a very sharp knife to score the skin on each duck breast, cutting 1⁄2" diamonds across the entire surface.
Season all over with salt and black pepper.
Add the duck breasts to the pan, skin side down, and cook for 5 to 6 minutes, until plenty of fat has rendered and the skin is a deep golden brown.
Flip and cook for another 3 to 4 minutes, until the duck is firm but yielding, like a Nerf ball.
Transfer to a cutting board and let rest for 5 minutes.
While the duck rests, discard all but a thin film of the duck fat. (If you really want to indulge, roast your breakfast —in some of the fat the next morning.)
Add the shallots to the pan and cook for 1 minute before adding the cherries.
Cook for 2 minutes, then pour in the stock and vinegar.
Simmer for about 3 minutes, until the liquid has reduced by half. Season with black pepper.
Thinly slice the duck and divide among four plates. Serve with the cherry-balsamic sauce spooned
Eat This Tip
Take comfort in the fact that most of the duck's fat is healthy fat. But healthy or not, every kind of fat, regardless of source, packs 9 calories per gram, more than twice what you'd take in from a gram of carbs or protein. If you're looking to take this dish as low as it goes, simply follow the recipe, but after the duck has rested on the cutting board, use a knife to cut away the top layer of crispy fat. Why not remove it before cooking? Because it will help insulate and baste the breast while it cooks, leaving you with juicier meat, even after the fat is gone.6254a4d1642c605c54bf1cab17d50f1e
Love this recipe? Subscribe to our Eat This, Not That! magazine for even more at-home cooking and healthy eating ideas.