Yes, Duncan Hines Was a Real Person
Find out how the traveling salesman became synonymous with the cake mix.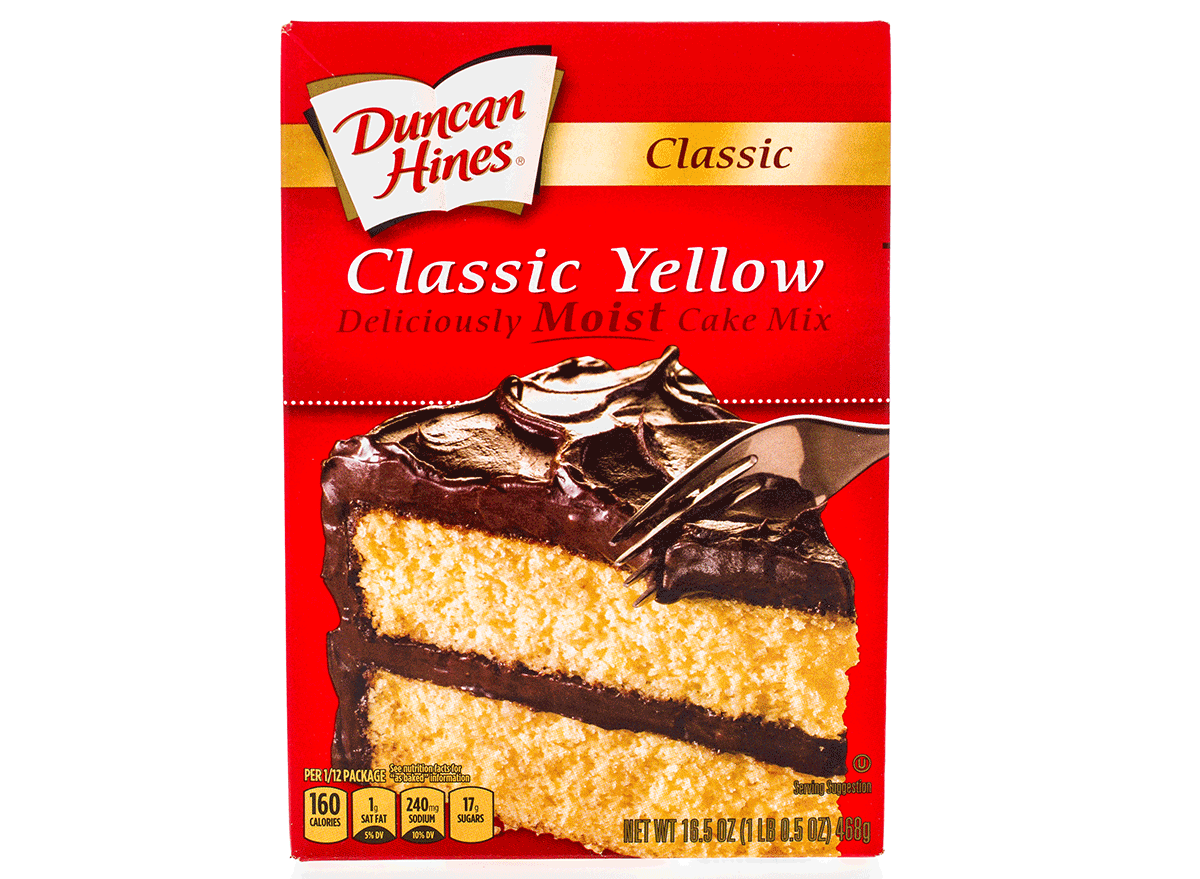 The name Duncan Hines is synonymous with cake mixes, frostings, brownies, and other baking products. But unlike Betty Crocker—a pseudonym created by General Mills executives to humanize their brand—Duncan Hines was, in fact, a living, breathing person. Read on to find out how this former traveling salesman who could barely cook came to have his name on some of the most popular cake mixes around.
Who was Duncan Hines?
Duncan Hines was born in Bowling Green, Kentucky, in 1880. After studying at Bowling Green Business University, Hines began working as a traveling salesman at the turn of the century. The job had him crisscrossing much of the country at the dawn of the automobile age.
How'd he pass his time? Well, Hines wasn't much of a cook, but he loved to eat. On his travels, he kept a journal detailing some of his favorite meals. By 1930, Hines had written a whopping 200 entries. And that journal wasn't just for kicks. It was a way of helping Hines remember the best places to eat while he was on the road. America's slowly burgeoning restaurant scene developed along country lanes in the days before the interstate highway system, so it wasn't easy to find a solid place to eat.
Hines' exhaustive journal entries detailed everything from what he ordered at a restaurant, to its patrons, its hours, its prices, and its cleanliness. Fastidious Hines was a stickler for the latter. "The kitchen is the first spot I inspect in an eating place," he wrote, according to NPR.
The original Yelp reviewer.
Because Hines spent so much time traveling, he became the go-to guy for dining recommendations in his social circle. To streamline his suggestions, Hines wrote a booklet in 1935 as a Christmas gift for family and friends that included 167 restaurant recommendations.
It wasn't long before Hines started receiving postcards from folks all over America looking for his top spots. So, in 1936, he self-published the first official Adventures in Good Eating guide, which included an impressive 475 restaurants. He sold the guides for $1—and people couldn't get enough.
Thanks to Adventures in Good Eating, Hines became the formidable authority on American cuisine. He even published several follow-up volumes on food and lodging. "Recommended by Duncan Hines" was the seal of approval every restaurant dreamed of having. It was basically America's version of a Michelin star. And Hines even reviewed one establishment that many Americans still love today.
In 1939, he wrote about a Corbin, Kentucky, restaurant called Sanders Court & Cafe.
"Open all year except Xmas. A very good place to stop en route to Cumberland Falls and the Great Smokies," Hines raved. "Continuous 24-hour service. Sizzling steaks, fried chicken, country ham, hot biscuits."
If Sanders Court & Cafe doesn't sound familiar, maybe you've heard of KFC, which was founded by Colonel Harland Sanders in Corbin in 1930!
The ice cream man cometh.
As a former salesman, Hines knew what he wanted to do with his Adventures in Good Eating fame and success: establish his own food products. He joined together with advertising executive Roy Park and formed Hines-Park Foods, Inc. in 1948.
One of the first products Hines married his name to was ice cream. He partnered with a Pennsylvania-based dairy cooperative to launch Duncan Hines Ice Cream in 1950. When Duncan Hines launched its slightly pricier butterfat-heavy ice cream, it flew off supermarket shelves.
Let them eat cake.
After his first dessert was a hit, Hines partnered with Nebraska Consolidated Mills on a line of cake mixes in 1951. According to Mashed, what distinguished the product from the competition was that the Duncan Hines iteration would use real eggs and milk, rather than the powdered eggs and milk that lent a strange flavor to other commercial cake mixes at that time. Again, people couldn't get enough.
The following year, Duncan Hines bread and pancake mixes hit stores, and blueberry muffin mix was the next venture in 1953. Soon, the company went far beyond baking products, selling everything from pickles to Worcestershire sauce to coffee makers. And if you look closely, the Duncan Hines logo appears to be an open book—which reminds us of his best-selling dining recommendation books.
According to Louis Hatchett's book Duncan Hines: How a Traveling Salesman Became the Most Trusted Name in Food, by 1955, Duncan Hines products were bringing in $50 million (about $471 million in today's dollars). And in 1956, Procter & Gamble bought the Duncan Hines franchise.6254a4d1642c605c54bf1cab17d50f1e
Bittersweet success.
Hines was already in his seventies when his products took off, so he didn't get to see much of their success. He died in 1959 at 79 years old, and his guidebooks were retired in 1962. But Hines' brand and legacy lives on. Today, Duncan Hines is part of ConAgra Brands and has expanded from the original cake mix line to more than 80 baking products.
Now, the next time you make a delicious Duncan Hines birthday cake or a batch of gooey brownies, you'll be all the more thankful for the man who revolutionized the food industry so that you didn't have to do it from scratch.