The Best and Worst Menu Foods at KFC
From the fried chicken mains to the delectable sides to the desserts, we ranked the entire KFC menu.
When you're hankering for crisp, salty fried chicken, there's honestly no denying it. And there's no better place to get your fix for a breaded drumstick and flaky buttermilk biscuit than KFC. But if you're not careful, you might be getting more than you bargained for (read: sodium overload!). To help you make healthier decisions at the drive-thru, stick to our top picks—and avoid these red flags on the menu—for a fast and delicious meal that won't totally ruin your diet.
First, The Best Chicken
Kentucky Grilled Chicken Breast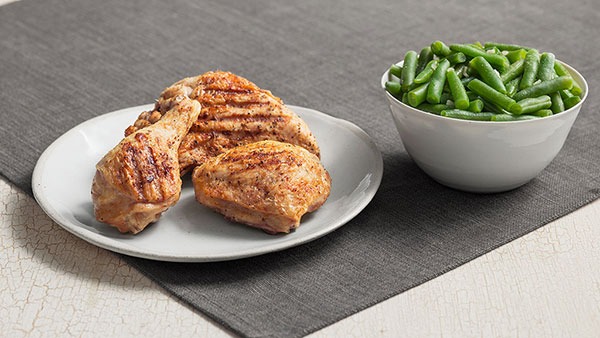 210 calories, 7 g fat (2 g saturated fat), 710 mg sodium, 0 g carbs, 38 g protein
It comes as no surprise that the grilled option is leagues better for your meal than its crispy fried counterpart, even when doused in finger-lickin' Smoky Mountain barbecue or the chain's Georgia Gold sauces. "Frying adds all those extra unnecessary things we don't need. It's one thing if the chicken was fried naked," says registered dietitian Jane Ujoatu. "But the breading adds not only extra calories but excess sodium and fat." Choose this for your next $5 Fill-Up.
Spicy Crispy Chicken Breast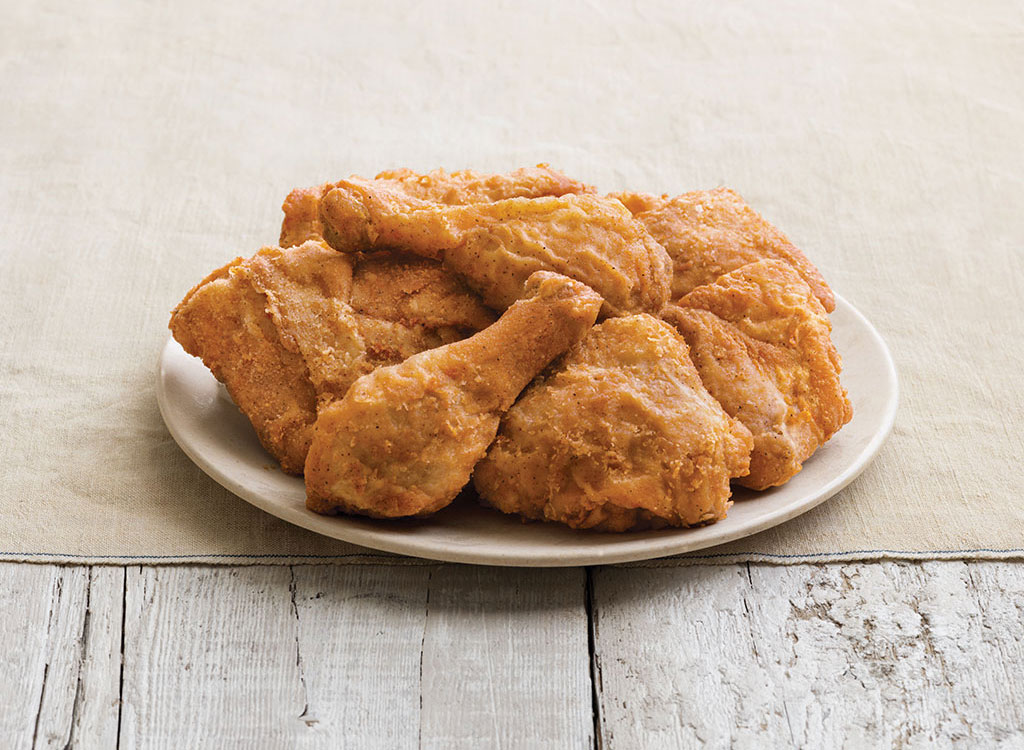 350 calories, 20 g fat (3.5 g saturated fat), 1,100 mg sodium, 11 g carbs (1 g fiber, 0g sugar), 30 g protein
If you absolutely must order the fried stuff, opt for a breast over any other cut and stick to the spicy version, which clocks in with 40 fewer calories and 90 milligrams less sodium than the brand's original recipe. "Drumsticks and wings are tempting because they're juicier and taste better, but that's all because of fat," Ujoatu says. "Breasts are all meat and virtually no fat, especially once when you remove the skin."
The Best Sandwich
340 calories, 4 g fat (0.5 g saturated fat), 1,350 mg sodium, 53g carbs (3 g fiber, 21 g sugar), 24 g protein
Compared to its fellow sandos, this salty-sweet number is not a bad option. However, Ojoatu points out, its high-sodium content should be taken seriously. "In terms of calories and fat, this looks like a pretty good option. The problem is that it contains more than half the sodium you should consume in a single day." The American Heart Association recommends no more than 2,300 milligrams of sodium daily, so you'll need to pair it with a tall glass of water and closely watch your salt intake for the rest of the day.
The Best Classics
KFC Famous Bowl Snack Size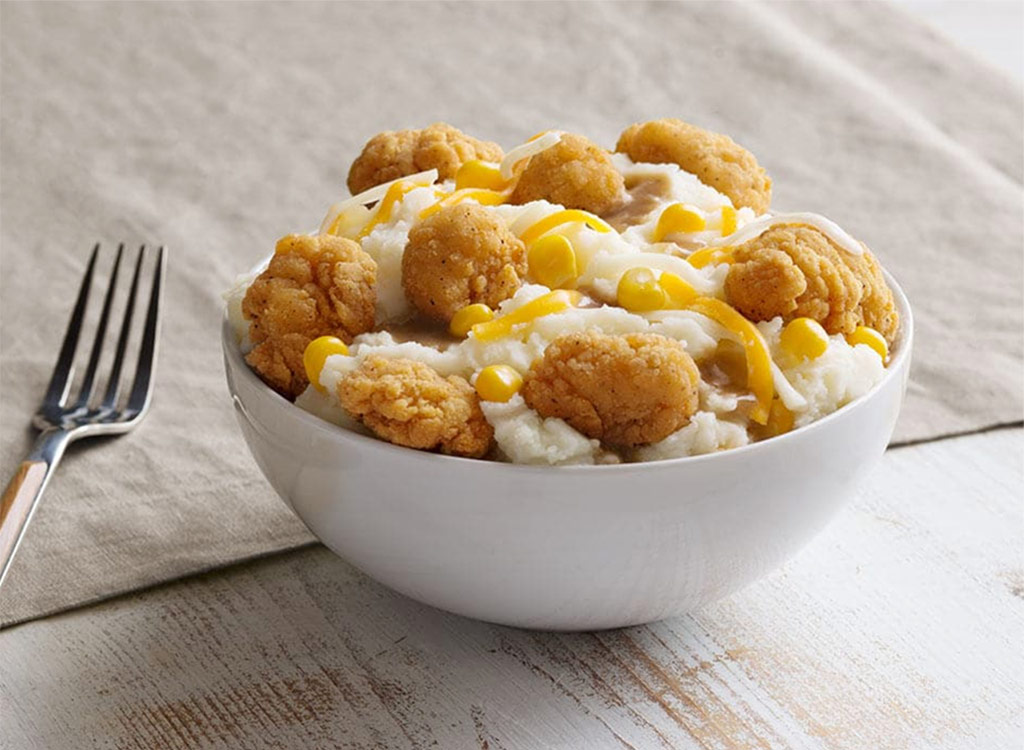 270 calories, 13 g fat (3.5 g saturated fat), 820 mg sodium, 27g carbs (2g fiber, 1g sugar), 11 g protein
Whatever you do, steer clear of full-size Famous Bowl. Loaded with more sodium than you should consume in an entire day, the uber indulgent meal is best consumed in snack size. That way you can get a taste for your favorite cheesy dish without spiking your sodium and fat intake. If you can, cherry-pick the chicken and don't polish off all of the gravy-drizzled potatoes.
The Best Sides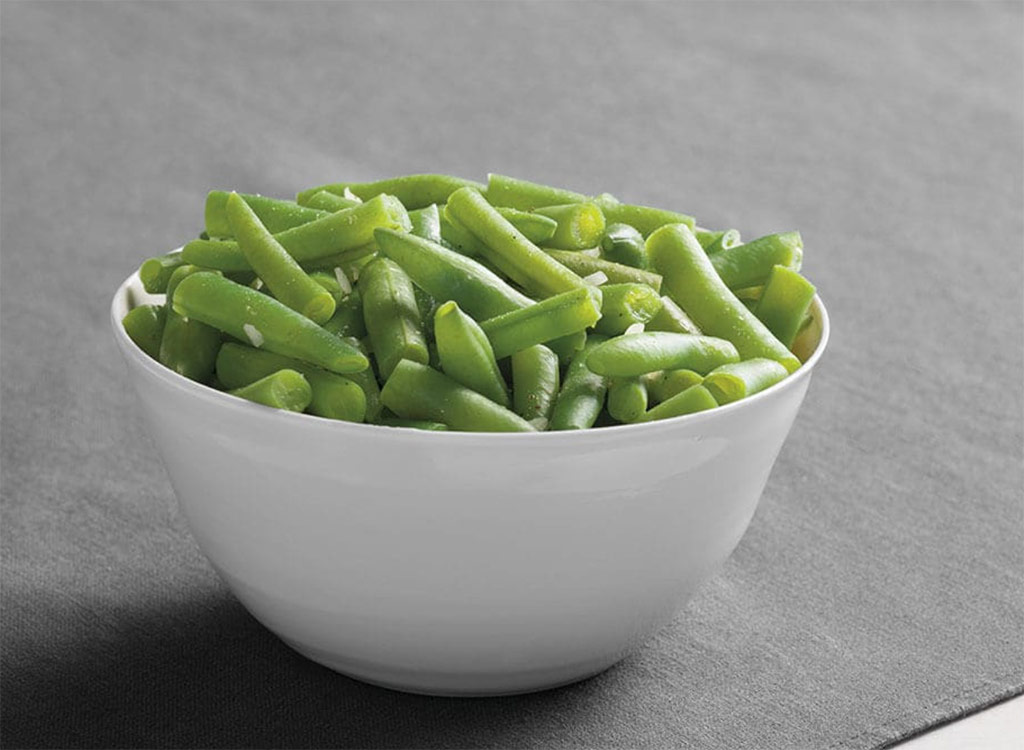 25 calories, 0 g fat, 260 mg sodium, 4 g carbs (2 g fiber), 1 g protein
Totally underrated at the fried chicken chain, veggies like green beans are available as sides instead of macaroni and cheese or mayo-doused potato salad. Though slightly heavy on the sodium front, these garlicky greens are your best bet for a healthy complement to your meal.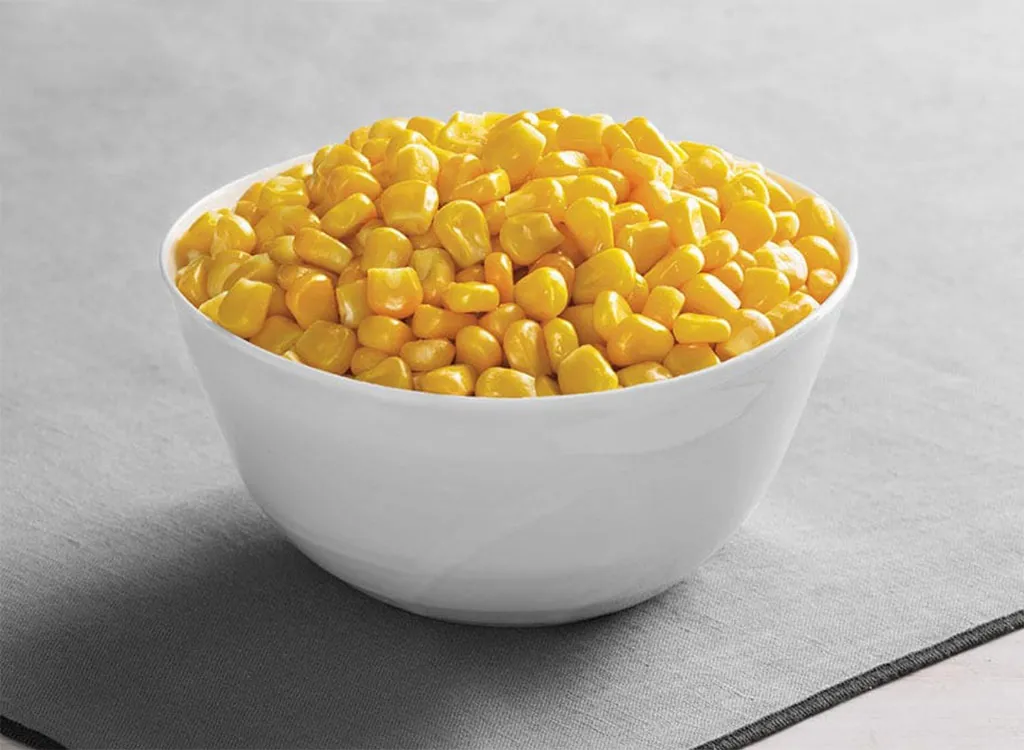 70 calories, 0.5 g fat, 17 g carbs (2g fiber, 3 g sugar), 2 g protein
Who doesn't love an ear of corn with their fried chicken? The classic Southern combo is actually a much smarter choice than heavy mashed potatoes or even coleslaw. Just be sure not to double down on your grains by ordering corn and another carb: This veggie does double duty and you'll be fully satiated with just that.
The Best Salad
15 calories, 0g fat, 10mg sodium, 3g carbs (2g fiber, 1g sugar), 1g protein
A light mix of romaine lettuce and cherry tomatoes makes this the obvious choice over a crouton- and cheese-showered Caesar salad. Adding a grilled chicken breast would add extra protein and make for one of the healthiest possible meals on the menu. Just be sure to choose your dressing wisely.
The Best Dressing at KFC
Heinz Buttermilk Dressing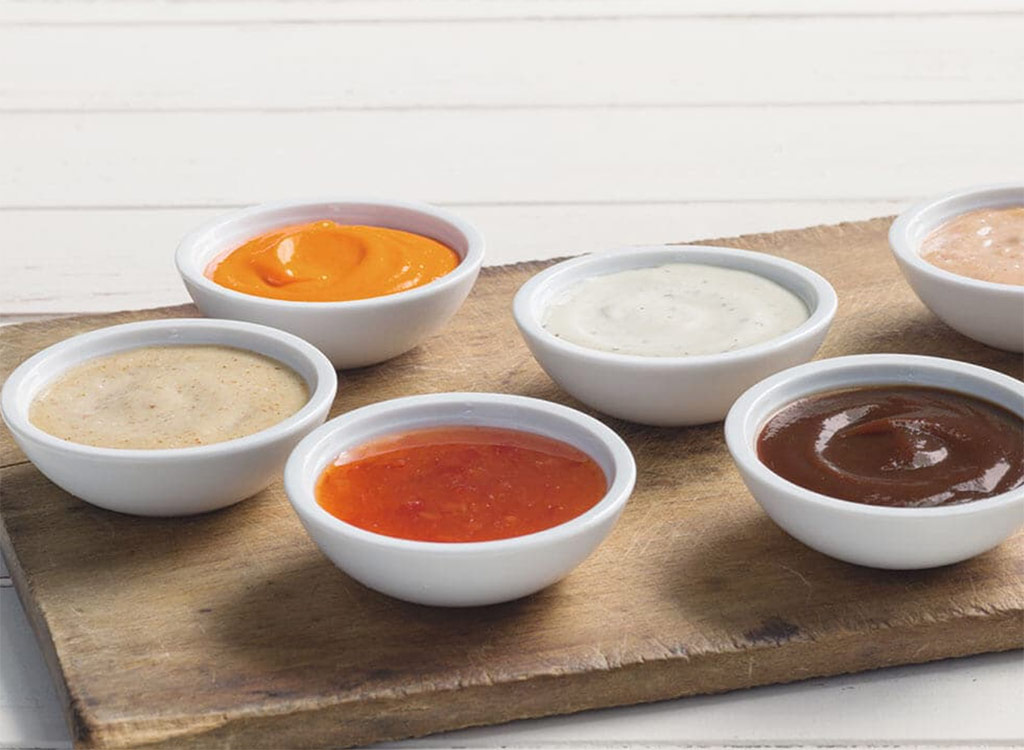 160 calories, 17 g fat (2 g saturated fat), 220 mg sodium, 1 g carbs (1g sugar)
Surprisingly, the heavy cream-based buttermilk dressing is a much smarter option than any of the fat-free dressings, which are packed with tons of sodium and sugar to compensate for their lack of fatty flavor. As Ojoatu points out, the fourth ingredient in each of the fat-free dressings is salt, listed well before other seasonings like garlic and onion. She also suggests using half of the packet of buttermilk dressing. "You're just looking for a little bit of the taste," she says. "You don't need to drown your salad in dressing."
The Best Sauces at KFC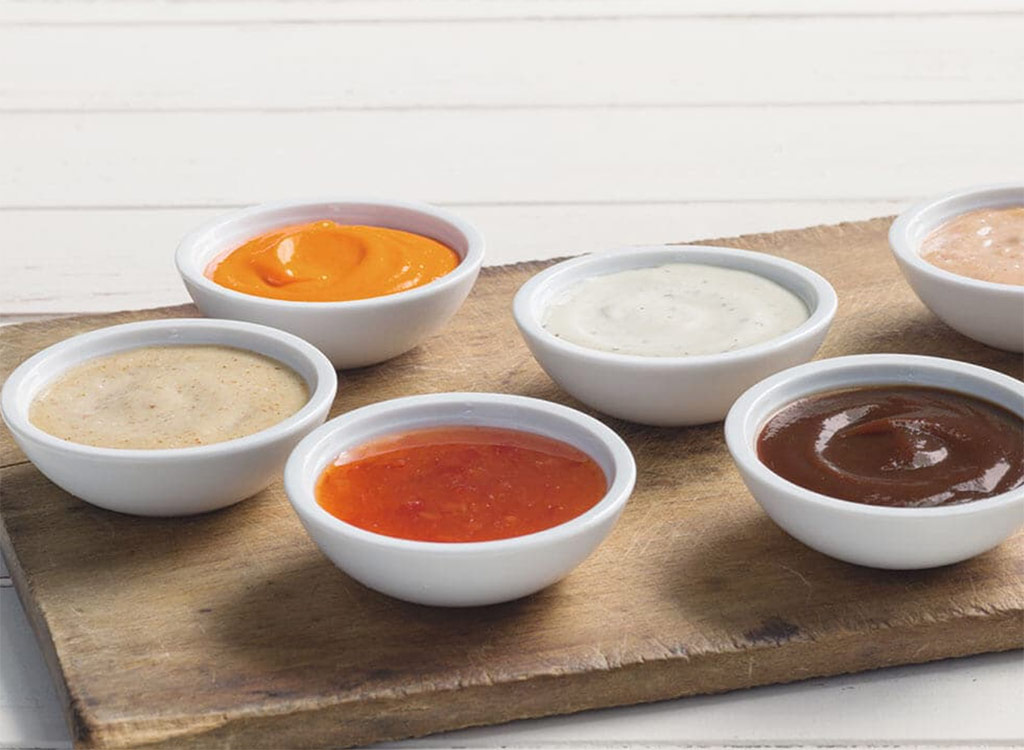 45 calories, 0 g fat, 105 mg sodium, 12 g carbs (10 g sugar)
If you can't go without dunking, this is the sauce for you. It's got nearly the same amount of calories as ketchup with less than half the sodium. Though, as Ojoatu notes, 105 milligrams for a dipping sauce is still alarming. "That's about the amount you want in a snack, not as a simple condiment to a sodium-rich meal." The key takeaway? Use any and all sauces sparingly.
The Best Desserts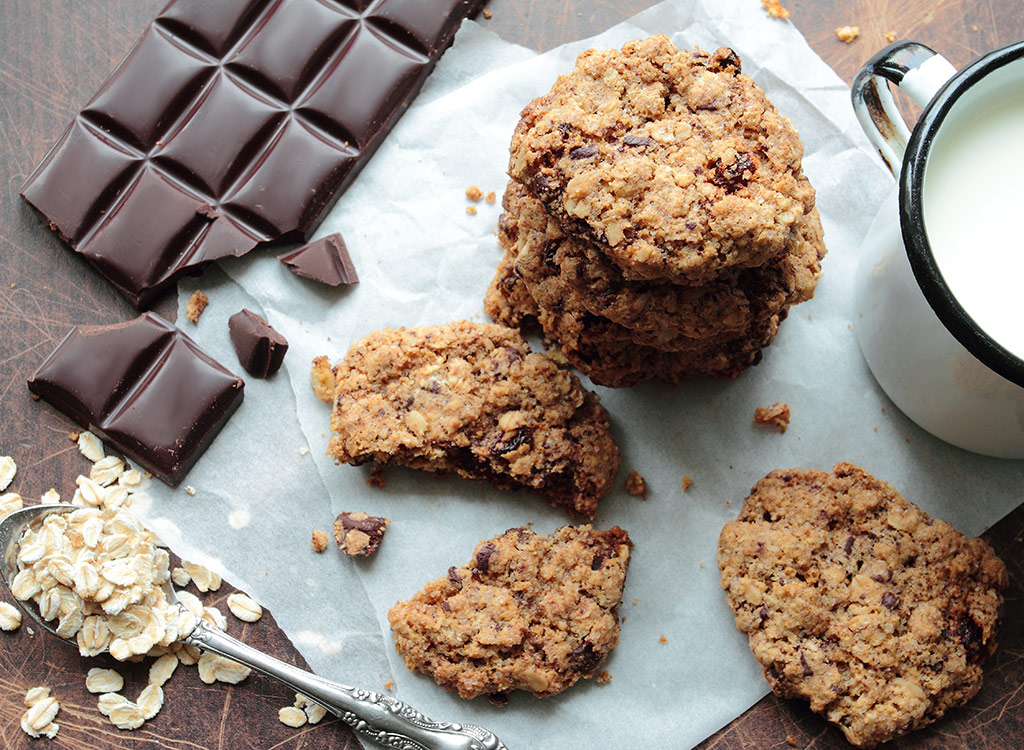 150 calories, 6 g fat (2.5 g saturated fat), 90 mg sodium, 22 g carbs (1 g fiber, 13 g sugar), 2 g protein
Not necessarily the darling of KFC's sweets docket, this oat-packed cookie contains the least amount of calories and fat than any other option. "My advice is if you crave something, go for it. But there has to be a trade-off," Ojoatu says. That means if you want dessert, don't get a combo to add on top of it. Swap out your carb-heavy side for a cookie instead.
160 calories, 8g fat (4g saturated), 85mg sodium, 22g carbs (1 g fiber, 15 g sugar), 1 g protein
Oatmeal Raisin remind you too much of your grandparents? Luckily classic chocolate chip is nearly the same nutritionally but with melty chocolate morsels studded throughout. Sure, it's not as decadent as a slice of cake, but you'll thank yourself later for that.
Now, the Worst Menu Items
The Worst Chicken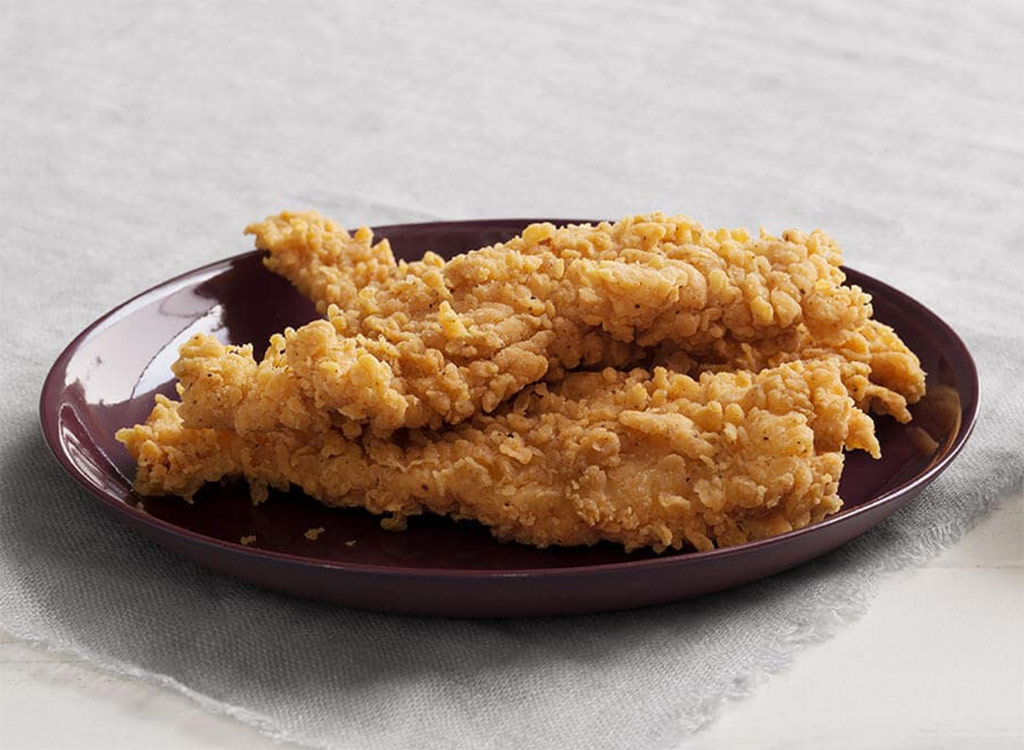 Per tender
: 260 calories, 14 g fat (2 g saturated fat), 610 mg sodium, 15 g carbs, 19 g protein
A single tender contains 260 calories and has nearly as much sodium as an entire grilled chicken breast at KFC. With a three-piece order clocking in at over 1,800 milligrams, it's best to stay far away from this menu item. It's likely it also has double the amount of breading surrounding the entire strip of white meat, making the tenders a surprisingly horrendous choice. "You'd be eating your whole day's sodium in that one meal just by ordering tenders without any sides," Ojoatu explains.
The Worst Sandwich at KFC
Smoky Mountain Barbecue Sandwich
540 calories, 31 g fat (4.5 g saturated fat), 1,200 mg sodium, 41 g carbs (2 g fiber, 7 g sugar), 24 g protein
Sorry, barbecue fanatics. Your favorite saucy fried chicken makes for the absolute worst sandwich option on the menu, jacked up with half a day's worth of sodium and 200 more calories than the leaner sandwiches. It's also packed with the most fat, along with the Nashville Hot variety (lo siento, heat seekers).
The Worst Classic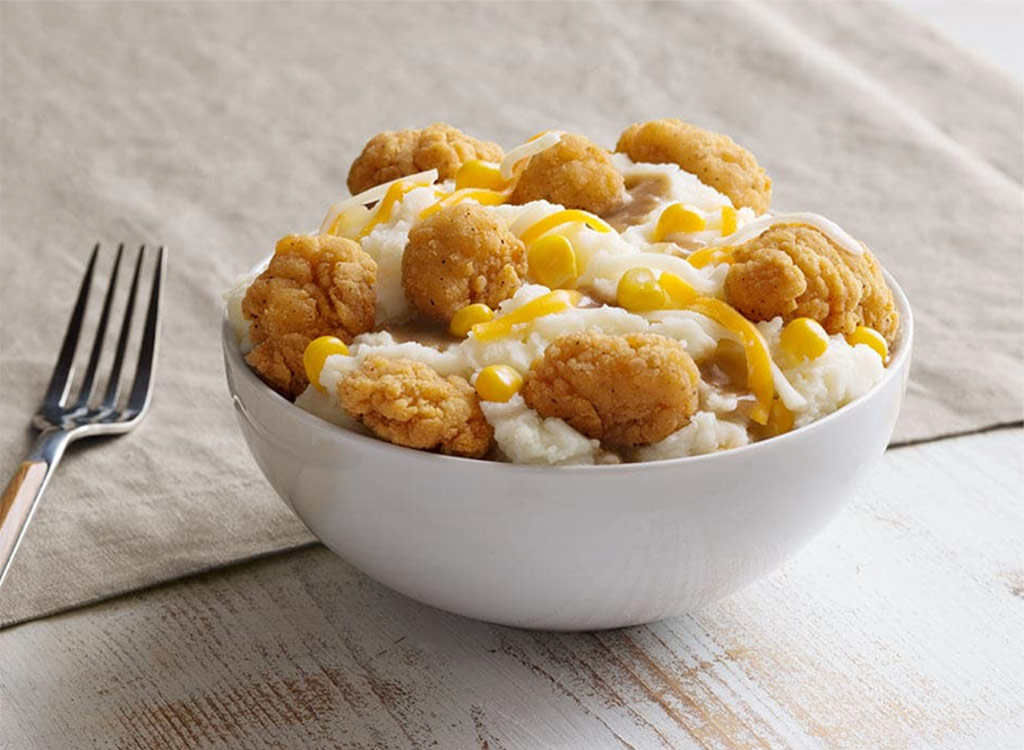 720 calories, 34 g fat (7 g saturated fat), 2370 mg sodium, 79 g carbs (6 g fiber, 3 g sugar), 26 g protein
Stacked with rich mashed potatoes, popcorn chicken bites, cheese, and gobs of gravy, this extremely heavy meal is without a question one to avoid. And it's no surprise here that salt is once again one of the top ingredients in this dish, which contains more than the amount of sodium you should have in an entire day.6254a4d1642c605c54bf1cab17d50f1e
The Worst Side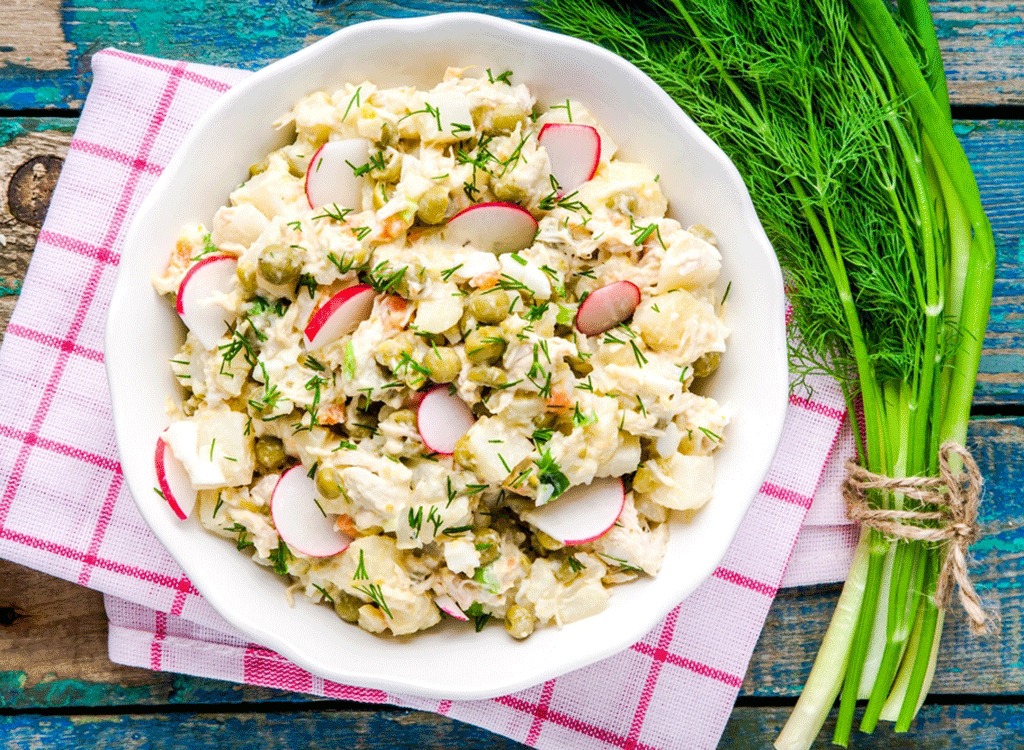 350 calories, 28 g fat (4.5 g saturated fat), 290 mg sodium, 19 g carbs (3 g fiber, 3 g sugar), 2 g protein
Undeniably the fattiest and caloric side on the menu, potato salad surpasses even mashed potatoes with gravy and crispy potato wedges for the worst side you can order at KFC. Though you should avoid those options as well due to their insanely high sodium levels (upwards of 700 milligrams!).
The Worst Sauces
Buttermilk Ranch Dipping Sauce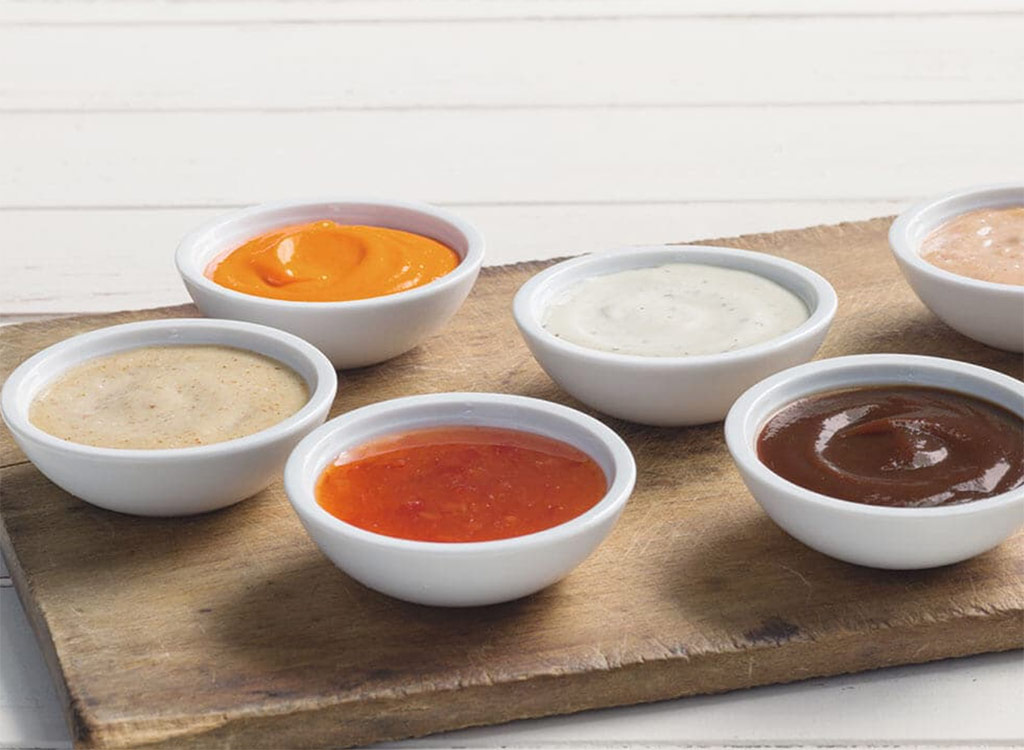 70 calories, 7 g fat (1 g saturated fat), 510 mg sodium, 2 g carbs
Though it contains only 70 calories, it's best to avoid the creamy buffalo dipping sauce at all costs. Souped up with a whopping 510 milligrams of sodium, it's the equivalent of eating an entire second order of fried chicken. Pass on this and opt for the healthy-ish Sweet N Tangy sauce or honey mustard.
The Worst Desserts at KFC
Reese's Peanut Butter Pie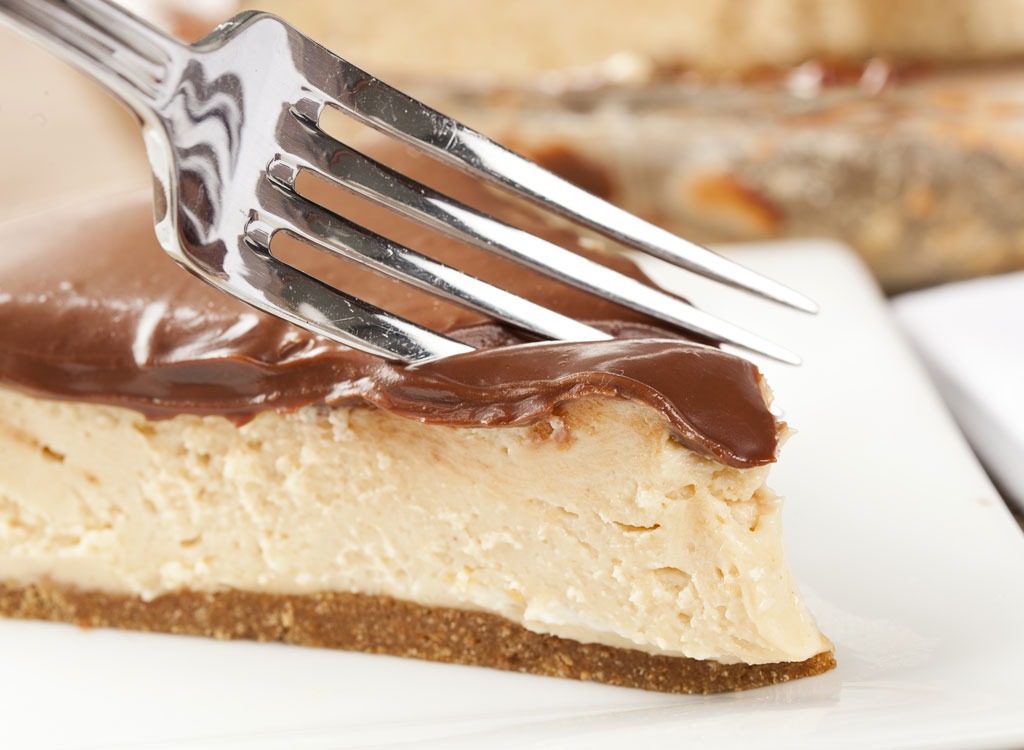 300 calories, 17 g fat (9 g saturated fat), 270 mg sodium, 33 g carbs (22 g sugar), 5 g protein
Sugar as the first ingredient is a recipe for disaster, especially when that's combined with 270 milligrams sodium and nine grams of saturated fat. Although it's extremely tempting with its promise of peanut-butter-laced fudge, this confection—and the Oreo Cookies and Creme pie along with it—gets a huge no from us.