The #1 Eating Habit Winona Ryder Swears by To Look Amazing in Her 50s
It's time to treat yourself.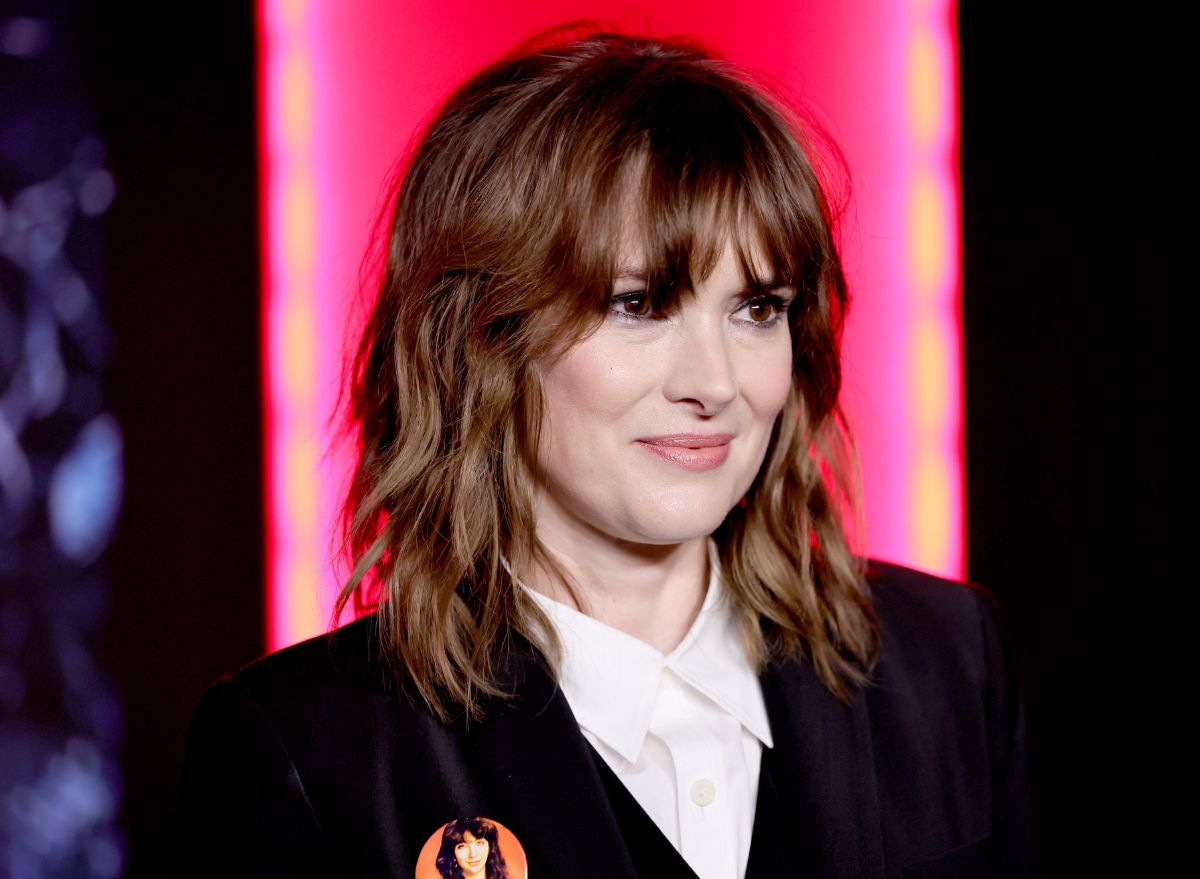 Winona Ryder has been a beloved star for decades. She's played countless significant roles like Lydia Deetz in the 1988 film Beetlejuice and Joyce Myers in the recent Netflix hit television show, Stranger Things. Whether you're a new fan of Ryder or have been a devoted one for years, you've most likely noticed that this talented actor seems to be aging backward.
Many people have been fascinated by Ryder's youthful glow over the years, which has them wondering how she does it at 50. The fascinating thing about Ryder is that despite how young she may look, she actually admits to giving very little effort toward slowing the aging process. In fact, in an interview with The Edit, Ryder says, "I love getting older…I've had people say to me, 'Oh, you should, you know…' and they point to my forehead. But I'm like, 'No! I've been waiting so long for that to happen!"
Ryder seems to embrace aging in every part of her life, including her professional career. She said in a 2013 interview with Radio Times that "I love getting older. And I was really excited to turn 40. I feel like the older you get, the more yourself you become, and I think the roles, even if they are smaller, are more interesting."6254a4d1642c605c54bf1cab17d50f1e
Because of her desire to embrace aging, Ryder has also told many sources that she most likely won't be getting botox anytime soon. "People almost say it like it's a hygiene thing, but I don't like how it looks. I'm a little too fearful that it could go wrong," says Ryder in a recent interview with The Times.
After reading about Ryder's positive attitude toward aging, it makes perfect sense that the celebrity would glow from the inside out. But in her Times interview, she revealed another habit that seems to have helped her age gracefully over the years: she has given up smoking and treats herself to a martini from time to time.
At first glance, this may not sound like much of a secret to aging well, but Ryder is certainly on to something. Researchers have discovered by studying the world's longest-living people that most of the oldest people across the globe treat themselves to their favorite foods and drinks on a consistent basis.
For example, the people of Sardinia, Italy (which has one of the highest concentrations of centenarians) drink red wine among friends on a daily basis. Kane Tanaka, who was the world's oldest person until she passed at 119 years old enjoyed cake and Coca-Cola regularly. And Sister Andre, who now holds the spot as the oldest person in the world drinks plenty of red wine as a part of her routine.
At the end of the day, maybe we can take a page from Winona Ryder's book, and instead of focusing so much on "not aging," we can sit back, embrace it, and enjoy our favorite treats from time to time.