You Can Make Everything Bagel Seasoning at Home With Just 6 Ingredients
Here's everything you need to know about the everything bagel and its seasoning blend.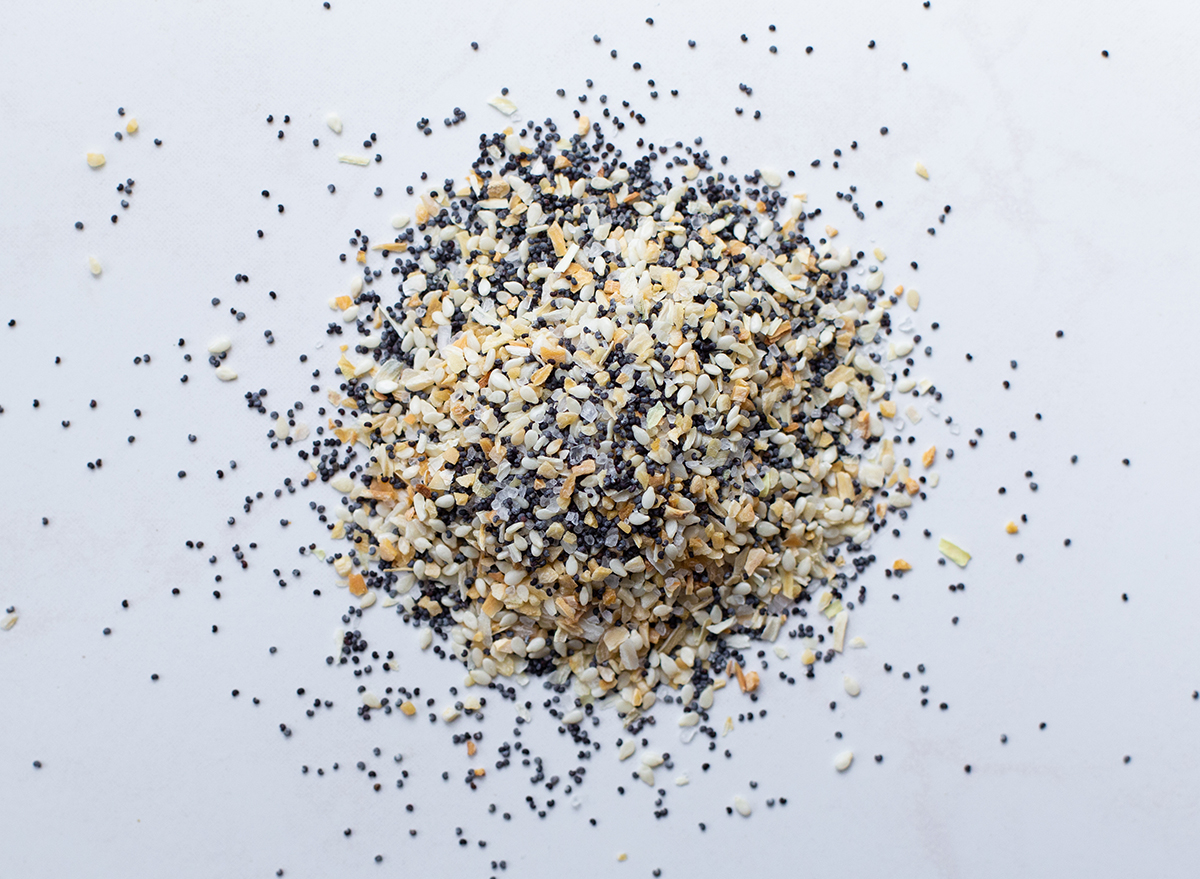 If you frequent Trader Joe's often, you've likely tried their iconic seasoning that mimics what's on the everything bagel. Before we reveal exactly what goes into making everything seasoning (it's famously known at TJ's as Everything But The Bagel seasoning, but you can use our recipe to make your own mix at home), we wanted to delve into the history of the everything bagel, because after all, that's what led to the seasoning's inception.
Who invented the everything bagel?
The origin of the everything bagel, like most famed foods and food products, remains disputed. In the spring of 2008, The New Yorker declared that David Gussin of Queens, New York, was the first person to invent the savory bagel around 1980 when he was just 15. Young Gussin was working part-time at a take-out place on Howard Beach when inspiration struck. While sweeping up burnt seeds that had been discarded from that day's batch of sesame and poppy seed bagels, Gussin thought it would be clever to make a blend of seasonings with these two seeds, as well as flavors from other popular bagels sold at the shop, including onion and garlic. See where this is heading?
The owner of the shop sold Gussin's creation for a nickel extra, coining it the everything bagel. Within a year, the everything bagel supposedly gained traction nationally. However, Gussin isn't the only one who claims to have created the everything bagel Americans flock to bagel shops everywhere for today. Another man, Seth Godin, who was formerly employed in a bagel factory, claims to have invented the everything bagel three years prior to Gussin's alleged discovery. Restaurateur Joe Bastianich muddies the origin of the bagel even more with his 2012 memoir Restaurant Man, where he discloses that he is the one who invented it: "There is no doubt that I invented the 'everything bagel.'"
Who knew a single bagel could cause such controversy? While we may never truly know who invented the popular bagel first, what we can confirm is that it's a favorite to many, and it's incredibly easy to make!
How to make everything bagel seasoning
This recipe for everything bagel seasoning is super easy to make, and you probably already have the ingredients in your pantry. After you make it at home, you'll want to put it on everything!
Ingredients
1 tablespoon sesame seeds
1 tablespoon sea salt flakes
1 tablespoon dried minced garlic
1 tablespoon dried minced onion
1 tablespoon black sesame seeds
1 tablespoon poppy seeds6254a4d1642c605c54bf1cab17d50f1e
How to Make It
Simply mix them in a jar and store for later!
Sprinkle the mixture on top of sautéed vegetables, buttered popcorn, or even in salad dressings to add a blast of flavor to your meal or snack.