How Much Exercise It'll Take to 'Undo' 17 Popular Fast Food Items
Few people realize just how long they'll need to exercise to burn off their favorite fast food burgers and fries.
"I totally earned this burger," my friend Kelly said to me as she bit into a huge, double-decker creation. "I went for a run this morning."
I managed to smile and chirp out, "Yeah, totally!" But I knew the truth: Unless she had run for a good two hours (she hadn't) there's absolutely no way she'd break even, in terms of calories. Since nothing kills a food buzz faster than the nutrition police, I decided to keep quiet and let her enjoy her meal. I did, however, let my burger-loving buddy know afterward that her comment had sparked a story idea.
Her comment was one of the hundreds that I've heard over my lifetime. Too many people assume that, if they hit the gym, they'll exercise off the food they consume—even when they're gobbling down thousands of calories at a time. However, unless you're Michael Phelps or Ryan Lochte, there's a really slim chance you'll manage to work out long enough or hard enough for that to be true. Since most people need to see the numbers to believe this to be true, I've gone ahead and calculated exactly how long a 150-pound person would need to exercise to burn off some of the most popular fast food dishes around. Read on to discover how much sweat you'll need to spill to work off your favorite dishes. And when you're done, check out our report, Your Survival Guide for 20 Fast Food Joints to find out which meals will be the kindest to your waistline.
Wendy's Quarter-Pound Single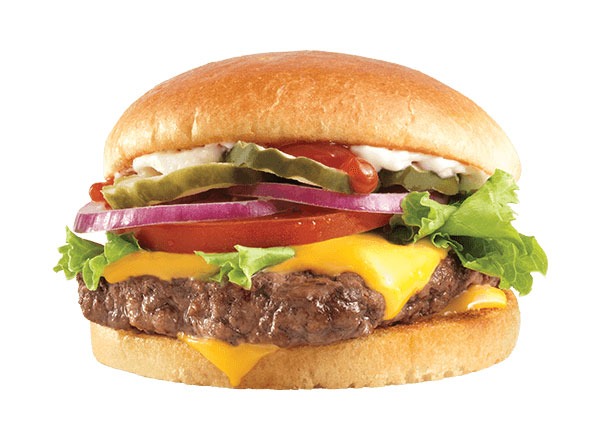 550 calories, 34 g fat, 13 g saturated fat, 1.5 g trans fat, 1,180 mg sodium, 35 g carbs, 2 g fiber, 8 g sugar, 28 g protein
You'd have to jump rope for exactly 61 minutes to work off Dave Thomas' fat and calorie-laden burger. It's doubtful that even the champion of your elementary school's double dutch team could go for that long. Opt for the Jr. Cheeseburger instead to slash 270 calories from your order—and shave a half-hour from your subsequent workout. For more smart swaps don't miss our special report 31 Healthy Swaps for Weight Loss.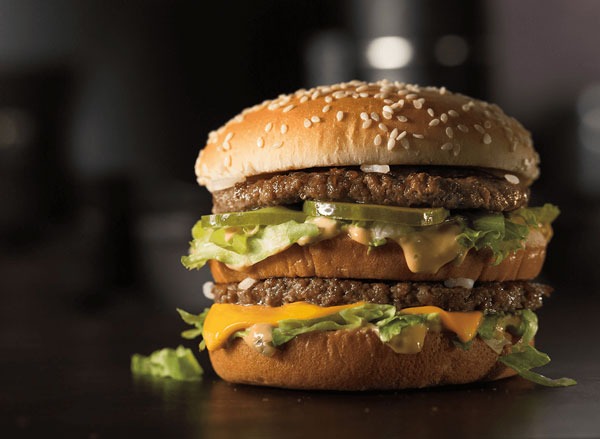 540 calories, 28 g fat, 10 g saturated fat, 1 g trans fat, 970 mg sodium, 47 g carbs, 3 g fiber, 9 g sugar, 25 g protein
You'd have to run for 50 minutes to burn off this bi-level burger—assuming you we're chugging along at about 6 miles per hour. If you typically take about 12 minutes to complete a mile, it will take you closer to 60 minutes to incinerate your lunch.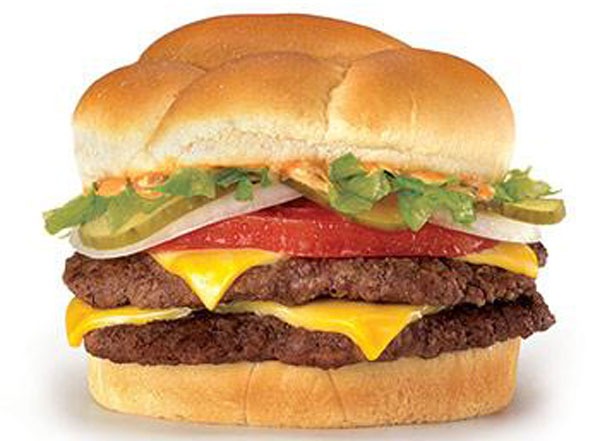 550 calories, 33 g fat, 13 g saturated fat, 0 g trans fat, 1,558 mg sodium, 43 g carbs, 2 g fiber, 12 g sugar, 25 g protein
To undo the damage from this burgers' two patties, cheese, toppings, and sauce-smothered bun, you'd have to hit the water and kayak for one hour and 37 minutes. If fitness isn't your thing, order the chain's hot dog (310 calories, 19 g fat) or grilled chicken sandwich (400 calories, 15 g fat) instead. They're two of the healthiest things on the A&W menu. If you're really craving a patty between two buns, craft one at home with the help of these 20 Tips for Making the Perfect Burger.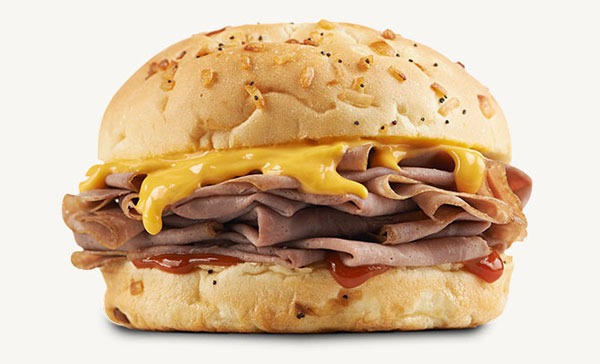 450 calories, 20 g fat, 6 g saturated fat, 1 g trans fat, 1,280n mg sodium, 45 g carbs, 2 g fiber, 9 g sugar, 23 g protein
What Arby's does best is roast beef and maybe it should just stick to that plan. The totally decadent-sounding Beef n' Cheddar Classic is a healthy serving of lean protein that won't blow your saturated-fat budget. Better yet, if you take a 50-minute bike ride around your neighborhood you'll be able to burn it right off. Considering how long it takes to burn off some other meals, that's not half bad.
Jack In The Box Sourdough Jack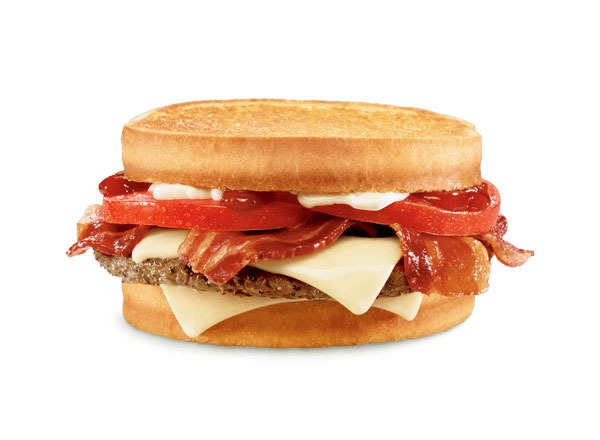 700 calories, 45 g fat, 15 g saturated fat, 1.5 g trans fat, 1,180 mg sodium, 39 g carbs, 3 g fiber, 7 g sugar, 35 g protein
Both the bread and the patty contribute to the trans fat content of this caloric calamity—which by the way, would require 3 hours and 25 minutes in the weight room to work off. Hate the gym? Check out these 19 Ways to Burn 100 Calories Without a Gym and work some into your daily routine so you can cut back on your formal fitness time.
Blimpie Philly Cheesesteak Sandwich
Large, 1,190 calories, 70 g fat, 24 g saturated fat, 0 g trans fat, 2,860 mg sodium, 89 g carbs, 3 g fiber, 15 g sugar, 53 g protein
When hot dog vendor, Pat Olivieri, first invented the cheesesteak in the 1930s, we don't think this 1,190 calorie monstrosity was what he had in mind. By stretching out the bun (and the overall portion size) and then topping their creation with both cheese and peppercorn dressing, Blimpie managed to create a sammy that requires over four hours of hatha yoga to negate. Just say no to this terrible lunch—and all of these 50 Unhealthiest Foods On the Planet, too.
Burger King Double Whopper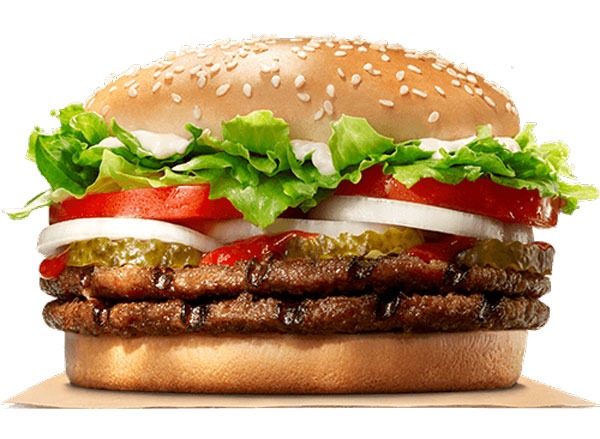 850 calories, 54 g fat, 18 g saturated fat, 2.5 g trans fat, 870 mg sodium, 49 g carbs, 11 g sugar, 43 g protein
When it first made its debut in 1957, the Whopper sold for 37 cents. Since then, the burger has increased in price—and size. With the addition of the second patty, the Double Whopper gains an additional 220 calories. To burn off this bad boy, you'd have to hit the elliptical machine for two hours and thirty minutes! We'd rather do anything other than stay put on a piece of workout equipment for that long.
Carl's Jr. Breakfast Burger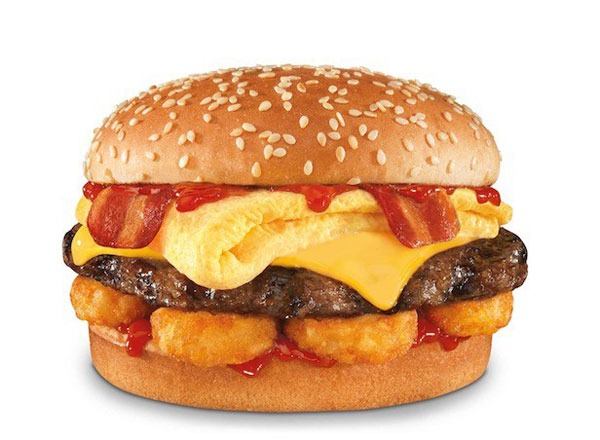 830 calories, 44 g fat, 19 g saturated fat, 1 g trans fat, 1,540 mg sodium, 68 g carbs, 4 g fiber, 13 g sugar, 39 g protein
Smash a plate of eggs, bacon, and hashbrowns between two buns, and you get a breakfast sandwich that's nearly three time the calories of an Egg McMuffin. Oh, and not to mention, one takes a grueling one hour and 45 minutes of bicycling to work off. Sound like hell on earth? Incorporate some of these 31 Sneaky Ways to Work Out—Without Hitting the Gym to discover less regimented ways to burn it off.
Chick-Fil-A Chicken Sandwich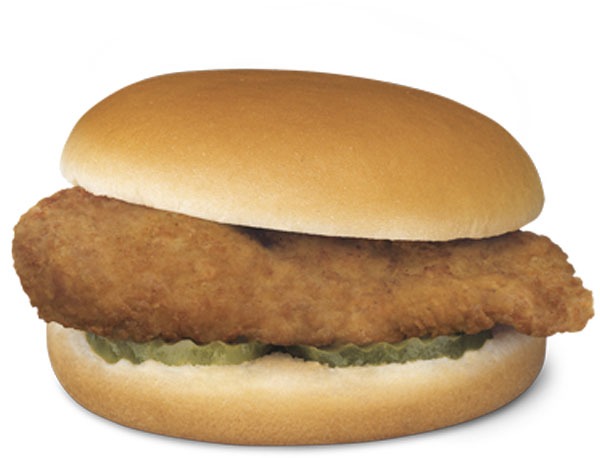 440 calories, 18 g fat, 4 g saturated fat, 0 g trans fat, 1,390 mg sodium, 41 g carbs, 2 g fiber, 5 g sugar, 28 g protein
Though we're not in the habit of giving deep-fried indulgences the Eat This stamp of approval, Chick-Fil-A's classic sammy is a surprisingly modest indulgence. So, as long as you steer clear of the fries and soda fountain, it'll only take 40 minutes of running (at a pace of 10 miles per hour) to undo the damage.
800 calories, 49 g fat, 7 g saturated fat, 0 g trans fat, 795 mg sodium, 81 g carbs, 14 g fiber, 5 g sugar, 10 g protein
Ah, chips and guac: a classic combo that no Tex-Mex lover can forgo. So crunchy, so creamy! If you decide to indulge, though, just be sure to do so with a friend or two. If you gobbled up Chipotle's version of the dish solo, you'd have to spend two hours hiking to negate all of its calories.
Dunkin Donuts Big N' Toasted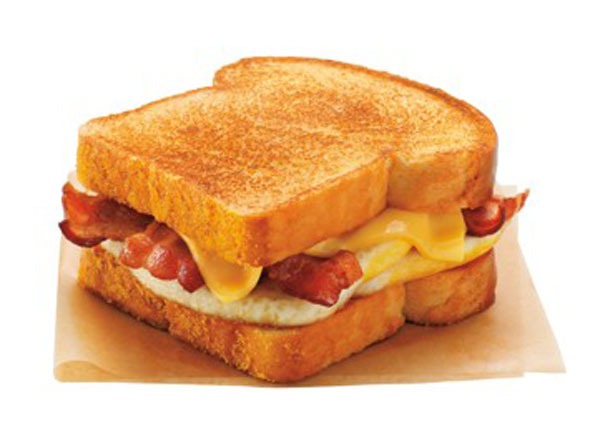 570 calories, 31 g fat, 11 g saturated fat, 0 g trans fat, 1,290 mg sodium, 44 g carbs, 1 g fiber, 4 g sugar, 27 g protein
Made with eggs, fatty bacon, sodium-filled cheese, and thick Texas toast, DD's monstrous a.m. sandwich will give your abs a real run for their money. If you decide to bite into one, plan to embark on a one hour-long cross-country skiing session to work it off.
Five Guys Five Guys Style Fries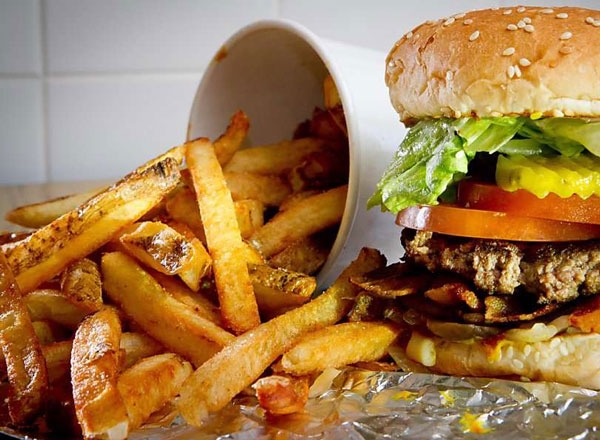 953 calories, 41 g fat, 7 g saturated fat, 1 g trans fat, 962 mg sodium, 131 g carbs, 15 g fiber, 4 g sugar, 15 g protein
In our report, Every Fast-Food French Fry Ranked, these spuds were among the worst of the lot. Not only do they carry an entire day's worth of fat, they also pack traces of dangerous trans fat, a type of heart-harming man-made fat you should always try to stay away from. If you don't want towalk for three hours and 30 minutes to burn off the calories, we suggest you make it a point steer clear of these crispy taters!
670 calories, 41 g fat, 18 g saturated fat, 1 g trans fat, 1,440 mg sodium, 39 g carbs, 3 g fiber, 10 g sugar, 37 g protein
If you ate this burger as is, you'd need to hit the stair climber at the gym for one hour and 40 minutes to get rid of the calories. However, if you ditch the mayo-based spread and extra cheese (a modification that nixes 170 calories and 6 grams of saturated fat) you could end your workout at the 75 minutes mark. We know which order we'd place! For even more calorie-saving tips, check out these 36 Easy Ways to Cut 50+ Calories.
KFC Go Cup with Extra Crispy Tenders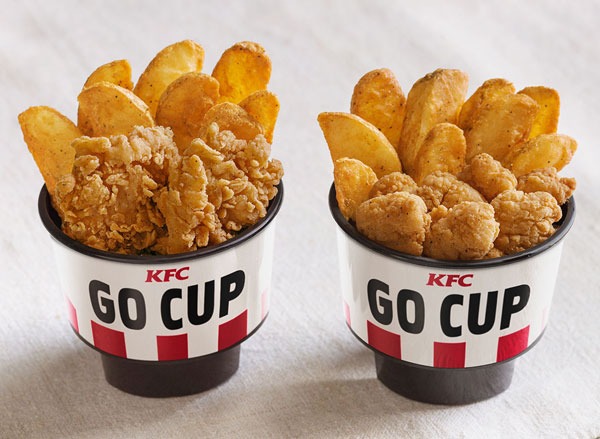 6254a4d1642c605c54bf1cab17d50f1e
540 calories, 27 g fat, 4 g saturated fat, 0 g trans fat, 1,330 mg sodium, 50 g carbs, 4 g fiber, 0 g sugar, 24 g protein
KFC's "Go Cups" which launched in 2013 and fit into car cup holders, may just be one of the most genius road trip creations of all time. The bad news? Colonel Sanders overload the cups with junk. Down just one of their extra crispy tender cups and you'll need to channel your inner Phelps and swim for one hour and 20 minutes to burn off the calories—and let's be honest unless there's a metal involved, no one wants to do that.
Long John Silver's Baja Fish Tacos
2 tacos: 720 calories, 46 g fat, 9 g fat, 7 g trans fat, 1,620 mg sodium 60 g carbs, 6 g fiber, 4 g sugar, 18 g protein
Fat in the breading, fat in the tortillas, fat in the sauce—and none of it the healthy kind. It all adds up to a full day's worth of the stuff, and nearly a full day's allotment of salt—and that's not even taking the sauces, sides, or drink the meal comes with into account. To work it off, you'd have to spend one hour and 20 minutes playing singles tennis.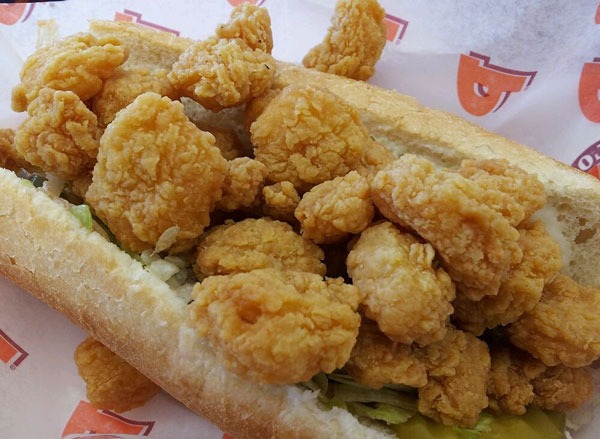 690 calories, 42 g fat, 13 g saturated fat, 1 g trans fat, 2,165 mg sodium, 66 g carbs, 5 g fiber, 3 g sugar, 42 g protein
This nutritionally poor Po' Boy, contains not one, not two, but six different artificial dyes, a few of which have been linked to learning and concentration disorders (like ADD) in children and thyroid tumors in rats. Aside from the scary ingredients, it contains more calories than 160 M&Ms and requires one hour and 42 minutes of pilates to work off. If you want to indulge in something fried and starchy, opt for the chain's loaded chicken wrap, which has half the calories and a fraction of the fat.
Panera Napa Almond Chicken Salad Sandwich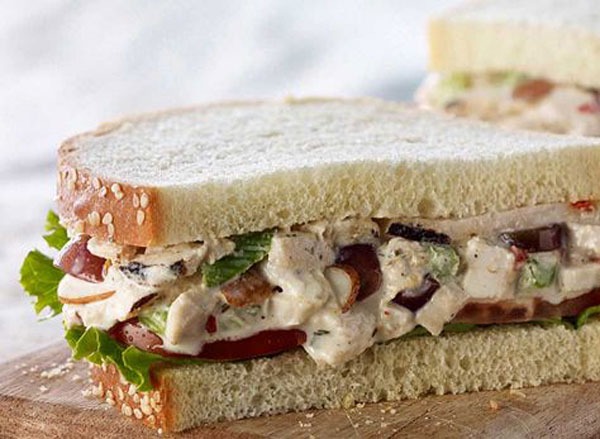 700 calories, 26 g fat, 4.5 g saturated fat, 0 g trans fat, 1,140 mg sodium, 90 g carbs, 6 g fiber, 13 g sugar, 17 g protein
Thanks in part to its mayo-free chicken salad, this sandwich is actually one of the chain's better-for-you bread and meat options. However, we can't deny that it's a bit high in calories. It would require one hour and 30 minutes of rowing to negate its wrath! We suggest getting the sandwich as part of the chain's "You-Pick-Two" deal and pairing it with a green salad. This simple swap shaves off 170 calories and adds some much-needed greens to an otherwise beige-colored meal. You can also scope out our exclusive report on Panera's Entire Soup, Sandwich, and Salad Menu—Ranked! before your next trip.