9 Fantastic Farro Recipes
We'll always love you, quinoa. But we really want to get to know this other ancient grain a little better!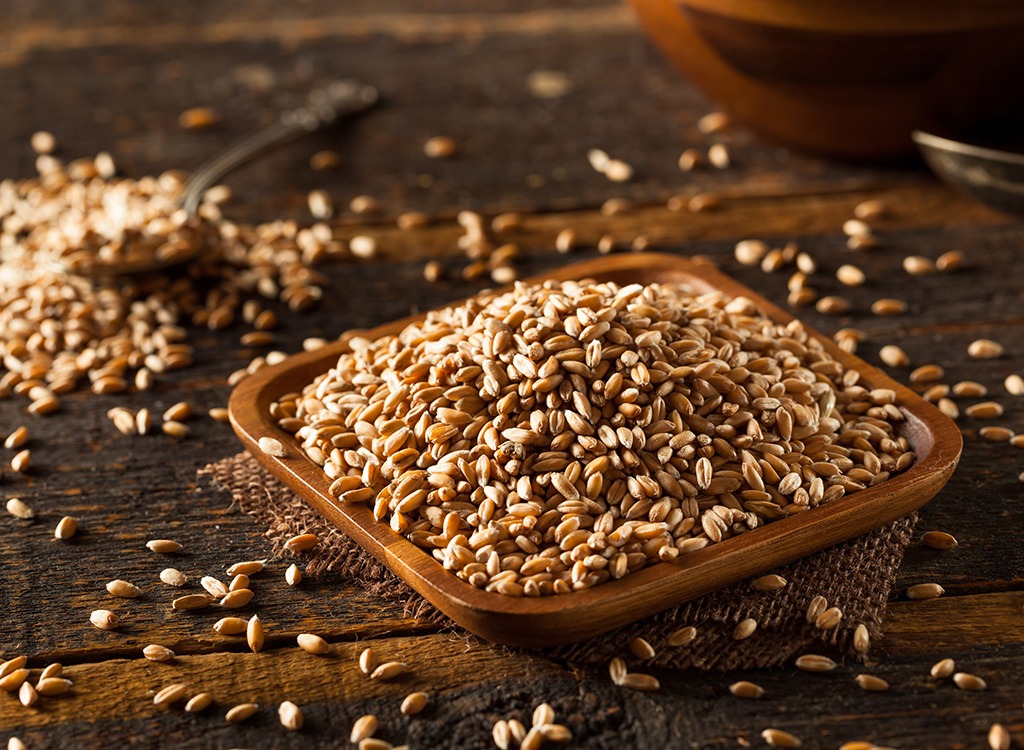 Although farro (less commonly referred to as emmer wheat) is a bit of a newbie to the mainstream, it's actually ancient. It dates back to 17,000 BC and was used as a form of currency in ancient Rome. Thankfully, nowadays, you can find it in most American supermarkets for quite the affordable price tag. And once word on the street spreads about its countless benefits, everyone's going to wanna add the stuff to their grocery list—pronto. So, let's channel our trendsetting ancestors and get to hopping on the farro bandwagon.
A few fun facts: One-fourth cup of cooked farro has 7 grams of protein, beating quinoa's 6 grams. Not only does the super grain pack in a whole lot of plant protein, a mere quarter cup also claims 7 grams of filling fiber as well as energy-producing magnesium, immunity-boosting zinc, and anemia-fighting iron. Along with boasting all these body-loving benefits, taste buds happen to love farro, too. The grain is plump and nutty and adds a delightful texture to dishes, whether they're sweet or savory. Think of it as a chewier, almost dough-like version of rice.
To incorporate this great grain into your diet, try out some of these deliciously satisfying recipes below. And for more grains that rival farro's mainstream sister, check out these Grains With As Many Health Benefits As Quinoa.
Farro Breakfast Bowl With Turmeric & Scallion Scrambled Chickpeas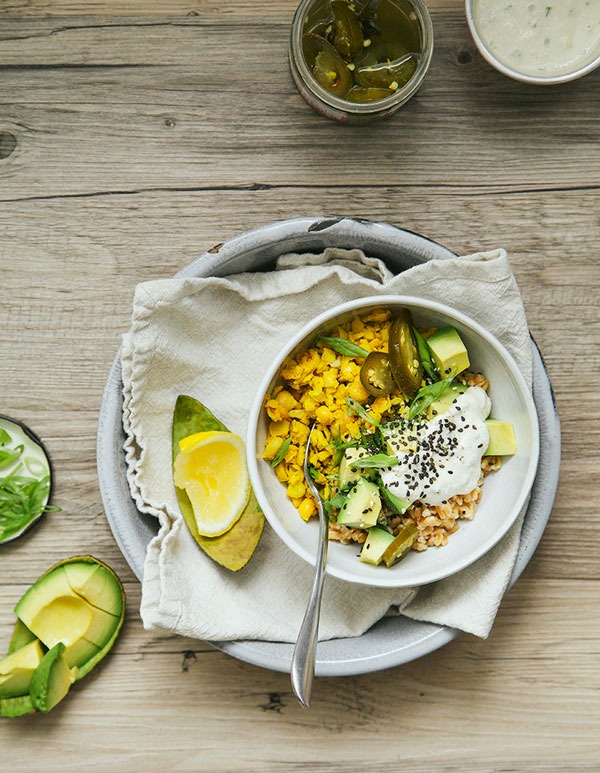 Serves: 2
Nutrition: 377 calories, 17.4 g fat (1.8 g saturated), 220 mg sodium, 53.2 g carbs, 14.4 g fiber, 5.6 g sugar, 13.9 g protein (calculated with 1 tsp grapeseed oil, 1 cup cooked chickpeas, 2 oz. avocado)
Nope, those aren't eggs you're looking at—those are actually scrambled chickpeas seasoned with the super spice turmeric, zesty scallions, and then tossed into a bowl of fibrous farro. The power bowl is then glazed with a creamy dressing made of blended sunflower seeds, Dijon, and lemon to add extra oomph. In other words: It's definitely a good replacement for your boring ol' omelets.
Get the recipe from The First Mess.
Farro, Butternut Squash, Sausage & Dried Cherry Stuffing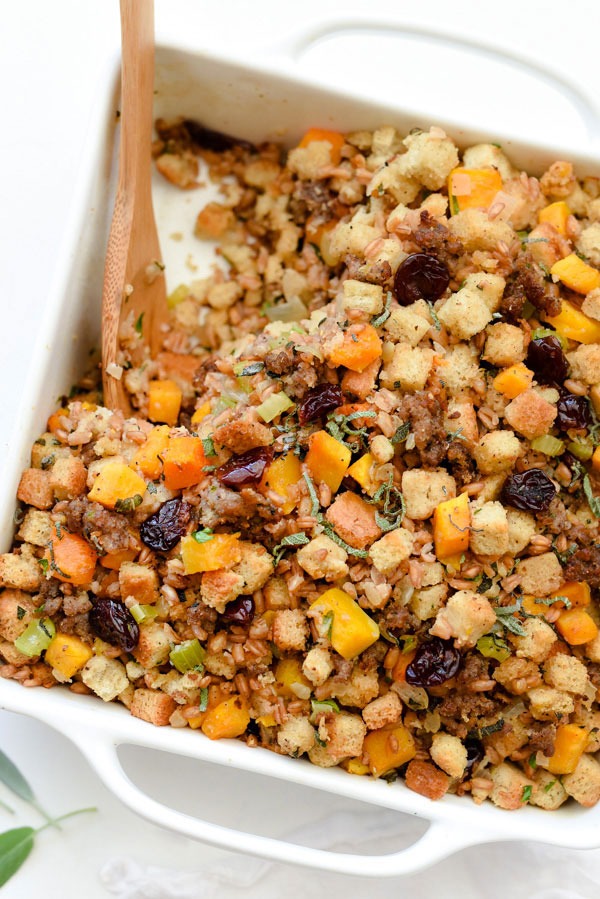 Serves: 11
Nutrition: 321 calories, 6.5 g fat (2.1 g saturated), 584 mg sodium, 43.2 g carbs, 3.1 g fiber, 4.5 g sugar, 10.6 g protein (calculated with turkey sausage, no added salt, 2 tbs unsalted butter, low sodium vegetable stock, and low sodium stuffing)
Totally losing your cool over what to stuff your bird with on Thanksgiving? Look no further than this sweet, squash-spiked stuffing with nutty farro, lean turkey sausage chunks, and tangy dried cherries. Its foundation consists of a quick sauté of celery, onions, and carrots drenched in veggie stock and butter. The textures and flavors lend the bird that decadent boost it craves.
Get the recipe from Foodie Crush.
Creamy Farro With White Beans & Kale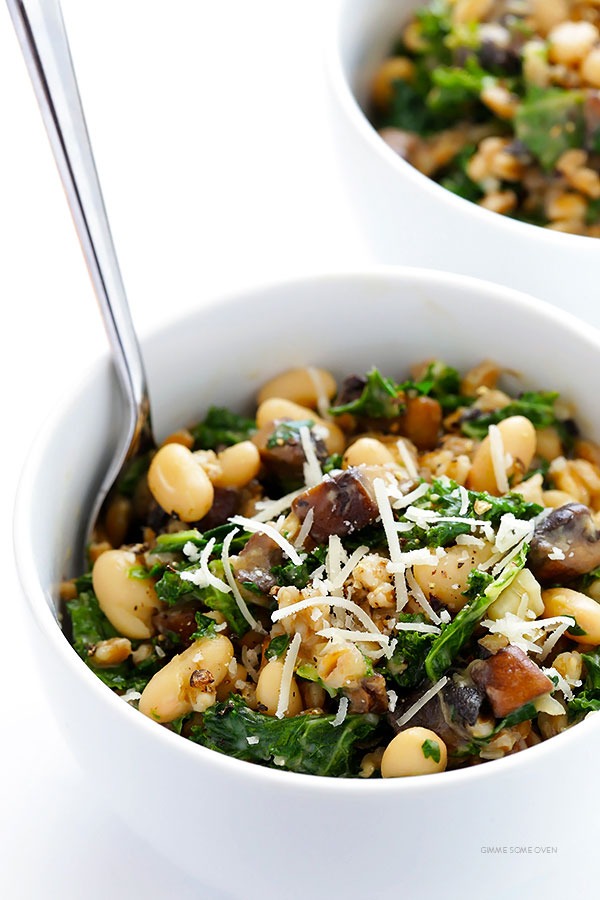 6254a4d1642c605c54bf1cab17d50f1e
Serves: 6
Nutrition: 323 calories, 7.2 g fat (2.4 g saturated), 353 mg sodium, 47.3 g carbs, 7.6 g fiber, 2.1 g sugar, 18 g protein (calculated without added salt, low sodium vegetable stock, 1 oz gruyere)
What exactly happens when you add fondue-worthy Gruyere, granular Parmesan, perfumed garlic and shallots, and browned kale and mushrooms to the hearty star of this list? Your taste buds celebrate this dreamy creamy creation, that's what! Not only will your tummy thank you, your entire body will, too. Every fiber of this dish is packed with skin-friendly vitamin A and immunity-boosting vitamin C.
Get the recipe from Gimme Some Oven.
Salmon & Heirloom Tomato Farro Bowl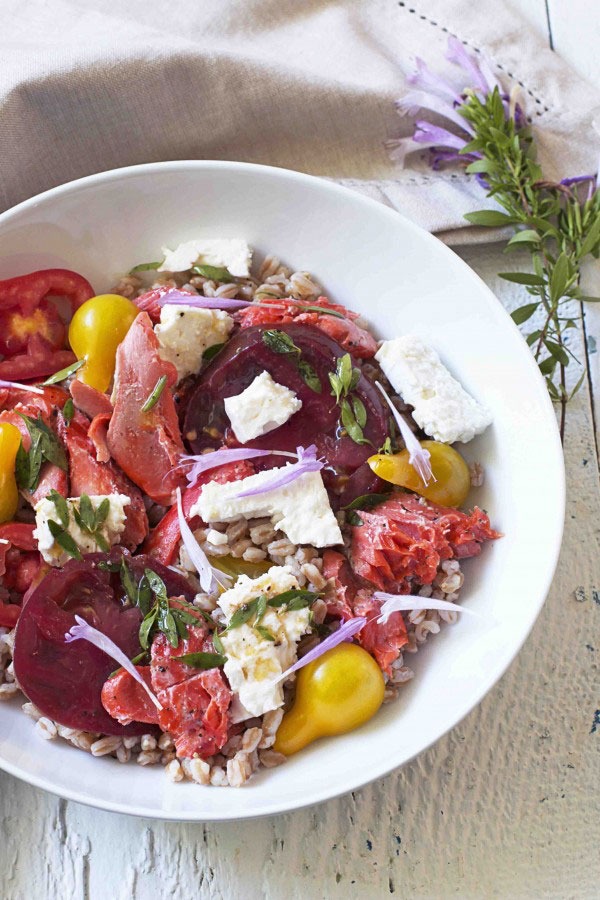 Serves: 6
Nutrition: 238 calories, 13.7 g fat (4.1 g saturated), 287 mg sodium, 13.1 g carbs, 2.4 g fiber, 2.5 g sugar, 19.4 g protein (calculated with 1 oz olive oil)
When you've got a garden full of heirloom tomatoes or just spot them on sale in the supermarket, opt for tossing this savory bowl together for a quick and delicious dinner. Briny feta and flaky, baked wild salmon join juicy tomatoes over a bed of farro, all kissed with oregano-wine vinaigrette. Pair this with a glass of Red Burgundy or some Belgian Golden beer for a protein-packed meal spiked with a bit of booze.
Get the recipe from Steele House Kitchen.
Farro Fried Rice With Brussels Sprouts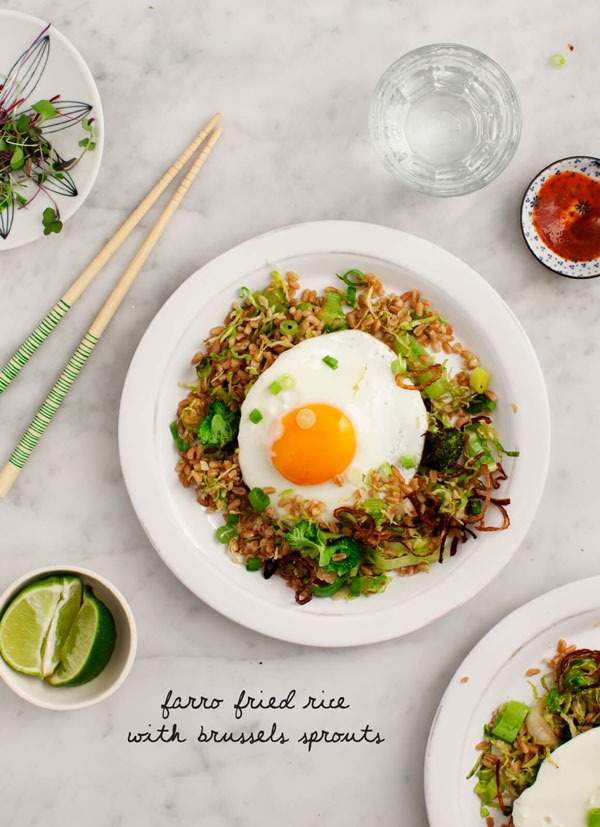 Serves: 2
Nutrition: 317 calories, 12.9 g fat (2.6 g saturated), 277 mg sodium, 45.1 g carbs, 8.9 g fiber, 6.5 g sugar, 14.5 g protein
Chinese takeout has met its match with this healthy, wholesome version of the fat-laden favorite. Tricked out with flavorsome fried shallots, leeks, and shredded Brussels sprouts, this pick also boasts high levels of vitamin C and collagen-producing, free radical-fighting manganese. Not to mention, you probably won't find the Chinese takeout staple with less than 300 mg of sodium anywhere else.
Get the recipe from Love And Lemons.
Warm Farro & Berry Yogurt Bowl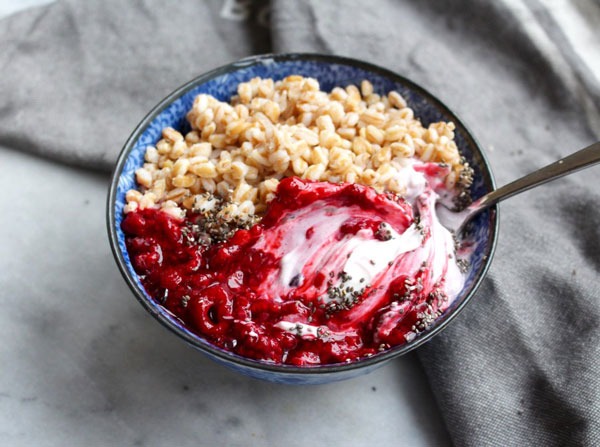 Serves: 1
Nutrition: 340 calories, 5.7 g fat (2.6 g saturated), 70 mg sodium, 47.2 g carbs, 7.8 g fiber, 10.6 g sugar, 25.4 g protein (calculated with 6 oz of 2 percent Greek yogurt and no added salt)
Replace those sugary yogurt flip cups with a bowl of warm farro dolloped with Greek yogurt, fresh raspberries, and heart-healthy chia seeds. This breakfast is perfect for fueling an early morning workout or even a long day. With almost 8 grams of fiber and about 25 grams of protein, rest assured that you won't doze off in front of the computer screen when 2 p.m. hits.
Get the recipe from The Whole Tara.
Serves: 5
Nutrition: 307 calories, 16.4 g fat (1.9 g saturated), 297 mg sodium, 25.4 g carbs, 4 g fiber, 8 g sugar, 20.6 g protein (calculated with 2 oz olive oil)
This salad is anything but basic. Nutty farro, cubed Honeycrisp apples, grapes, and crunchy almonds are nestled over a bed of leafy lettuce and then lightly drizzled with a simple honey mustard vinaigrette. This bowl is packed with energy-boosting vitamin B6 and provides a protein punch with diced rotisserie chicken. For more delightful poultry picks, check out some of these other healthy chicken recipes!
Get the recipe from Lemons For Lulu.
Kale, Farro, & Sweet Potato Salad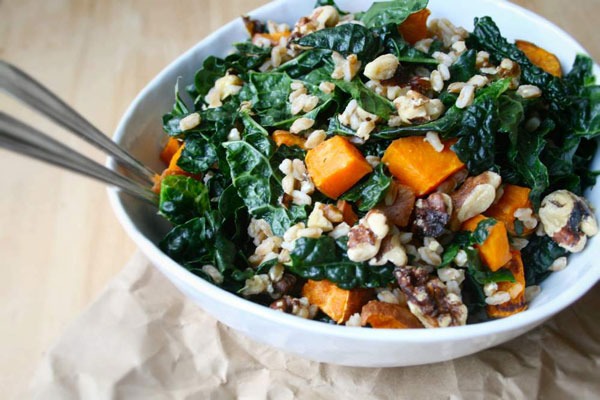 Serves: 3
Nutrition: 257 calories, 12.8 g fat (2.3 g saturated), 150 mg sodium, 33.4 g carbs, 5.7 g fiber, 3.1 g sugar, 8.8 g protein
Another salad that's a total go-to is this mouthwatering pick. Massaged kale, coconut oil-roasted sweet potato, and cooled farro are tossed together with walnuts, resulting in the perfect mouthful of flavors and texture. Walnuts (which are technically seeds!) are linked to preventing cancer, improving sleep quality, and even controlling diabetes. No wonder these little brain-resembling guys are one of the healthiest foods on the planet.
Get the recipe from Vegu Kate.
Slow-Cooker Chicken & Mushroom Farro Risotto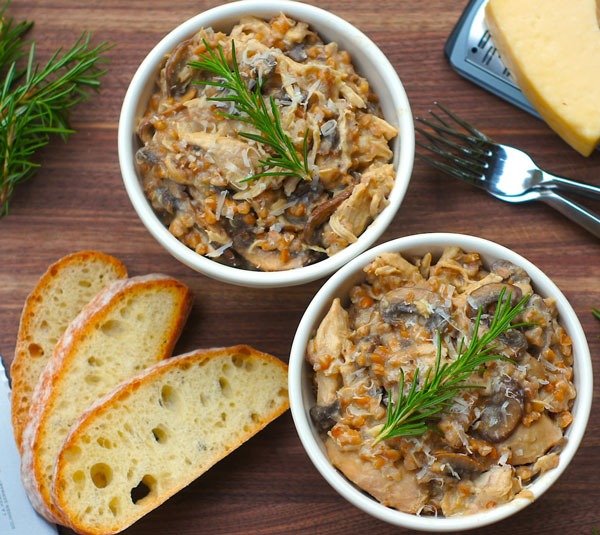 Serves: 6
Nutrition: 267 calories, 10.4 g fat (5.5 g saturated), 186 mg sodium, 26.6 g carbs, 3.2 g fiber, 2.8 g sugar, 17.4 g protein (calculated with 2 oz parmesan)
While traditional risotto is whipped up with airy Arborio rice, this fearless homemaker prepared the decadent recipe with chewy farro, tender chicken, and cheese-drunken 'shrooms. The best part? After a quick sauté of the preliminary ingredients, all you have to do is combine all the fixins and let 'em merge in the slow cooker on low for about 4-5 hours. Then, tuck into this velvety risotto for a hefty dose of phosphorous and vitamin B6. (Psst! This one definitely makes the healthy crock pot recipe list. Yum!)
Get the recipe from The Fearless Homemaker.
April Benshosan
April is a born-and-raised Brooklynite who has a passion for all things health, wellness, and tastebud-related.
Read more about April