I Tried the Tater Tots at 4 Fast-Food Chains & One Was the Absolute Crunchiest
Find out which chain achieves tot perfection.
Back in elementary school, the days that tater tots dropped onto one of the squares of your lunch tray were the best days ever. While quite possibly the perfect complement to any sandwich, when fried to a crispy golden brown, school lunch tater tots were often smushed, pale-looking blobs of potato. Today, it seems like everyone from celebrated chefs to fast-food chains are trying to redo childhood by offering a better, more flavorful, and crispier version of the iconic side.  
While most people go for french fries when they're in a fast food mood, tater tots are making a comeback as the side of choice. Domino's even threw caution to the wind right before the Super Bowl and launched its loaded tater tots for the big game. A few other fast-food spots are serving tots including Smashburger, Dunkin', and Sonic. A lifetime tots lover, I decided to put these four chains to test to see which has the crispiest, most delicious tater tot of all.
Here are the four different tater tots ranked from my least favorite to the one need to try ASAP.
Smashburger's menu is full of deluxe, gourmet burgers stacked with creative toppings. Alongside those burgers, the chain offers a pretty unique order of crispy tater tots called Smash Tots. These crispy tots are tossed with a blend of rosemary, garlic, and olive oil. These spuds only come in one size and cost $3.99.  6254a4d1642c605c54bf1cab17d50f1e
The look:  You can tell just by looking at these tots that they are well-seasoned and each one is cooked to a nice golden brown. They weren't small necessarily, but they weren't as big as some of the other tots. They didn't look too greasy and didn't seem to be falling apart.
The taste:  The first thing I tasted was a refreshing pop of rosemary. Even though I liked the light and leafy spice, the tots needed a bit more salt and pepper to round out the flavor. The Smash Tots didn't leave a lingering heaviness or greasy flavor, but there wasn't much else to like about them either. I felt the need to dip every tot into a sauce because they left me searching for more flavor. Smashburger has the crisp and crunch down, but overall they lacked flavor.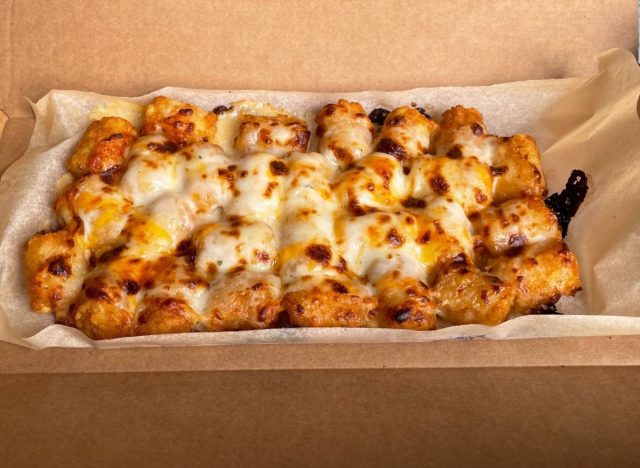 Even though Domino's is a pizza chain, the brand recently launched an exciting line of loaded tater tots. In comparison with the other competitors in this taste test, this is the only side dish that comes layered with cheese on top of even more cheese. Though Domino's offers three varieties, I chose the simplest one on the menu. The Melty 3-Cheese Loaded Tots  have a layer of tots cooked until golden brown, topped with a blend of mozzarella, cheddar, provolone, and creamy Alfredo sauce. Domino's tots are available for $6.99.
The look: From the second I saw (and smelt) these tater tots from Domino's, my mouth was watering. Seeing a rim of crispiness and bubbles of broiled cheese throughout was extremely inviting. The middle of this dish had all the cheeses in a nice sauce-like, melty masterpiece, but I was also happy I got to try a few plain tots from the outside of the dish. 
The taste:  There is a lot of cheese layered over these tater tots, but somehow it tasted like just the right amount. The cheese lent a wonderful creaminess to the very starchy base. However, due to the blend of cheeses and a whole lot of potato puffs, I was very full very fast. But, despite all the heaviness, the tots were somehow not greasy at all. 
Domino's puts a solid layer of seasoning on the tots underneath the toppings—this kicked them up a notch above the Smashburger tots. Domino's tots didn't have a lot of crunch, but none of them were too soggy or soft. Also, because of the way the chain bakes these tots, the cheese gets crispy which offsets the softer tots. However, these tots are more a meal than a side, so plan your meal accordingly.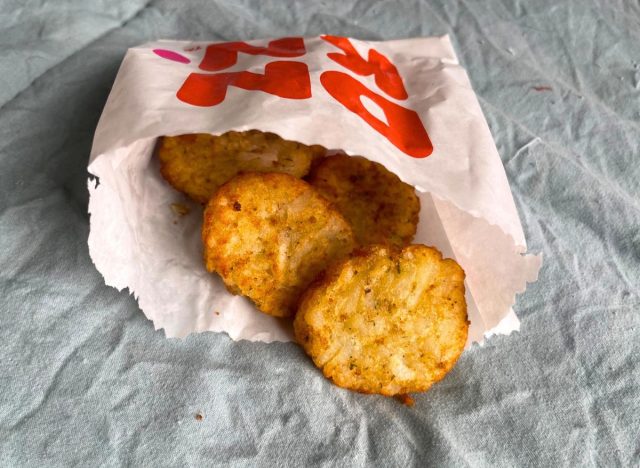 Dunkin' has more than donuts and egg sandwiches, the coffee chain also carries some pretty popular tots which double as hash browns in the morning. Since these circular breakfast potatoes are available all day long we're putting them into the tater tot category. They're $1.69 for a small serving. 
The look: Unlike the others, Dunkin's "tater tots" are flatter and rounder. Looking at each one, I noticed a considerable dust of seasoning and a golden brown ring around the corners. 
The taste:  The main reason Dunkin' is ranked second is that these tots packed such an amazing flavor. The seasoning blend has the perfect ratio of salt, pepper, parsley, onion powder, and garlic. I got the same flavor from every single spud, plus, the small bits of potatoes melted in my mouth after each bite.
However, Dunkin's tots had the least amount of crunch. Even though these tater tots were softer—to the point where some fell apart while I was eating them—they had a freshly-made feel and taste that most fast food chains can't replicate. If they were to be cooked well done, on a scale from 1-10, they'd go from an 8 to a solid 10.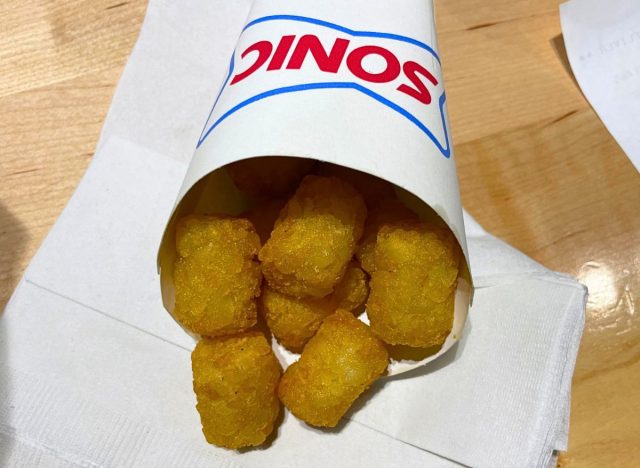 Out of all the sides and snacks Sonic Drive-In has to offer, Thrillists claims that the tater tots are the absolute best. The old-school chain makes classic tots—deep-fried and lightly coated with salt. There was also a new BBQ Chip Seasoned version, for sweet and savory lovers, but sadly, they were a limited-time offer that ended in March 2023. I chose to stick to the original side of tater tots, which came out to $3.39 for a medium size.
The look: I could immediately see these were freshly fried to a golden crisp. They were the perfect size too and could easily be eaten in one or two bites. They smelled unrelentingly delicious but looked a little more on the greasy side. 
The taste: Looks can be deceiving because these were not greasy at all. The crunch was undeniably amazing and exactly what I, a frequent tater tot eater, craved. Each bite had the perfect crispy outer crust to cover the warm, potatoey inside. These tater tots didn't even need a sauce to make them perfect. I couldn't help but eat every last one.
Sonic's tater tots flawless texture and effortlessly great taste rocketed them to first place. Plus, I seriously debated ordering another round (which didn't happen for the rest). If I had one note, it would be that they just needed a bit more salt, but these are as close to tot perfection as you can get.
Jordan Summers-Marcouillier
Jordan Summers-Marcouillier was born and raised in San Jose, California and now works as a writer in New York, NY.
Read more about Jordan