7 Fast-Food Chains That Serve The Best Onion Rings
With a little punch sweetness and a whole lot of crisp and crunch, these onion rings make for an unbeatable side.
When you reach for a snack from a fast-food spot, chances are you're craving foods that are salty, greasy, and crispy. And while the best french fries are a solid option, onion rings are another popular side that hits all the right notes. But not all fast-food spots are right for satisfying this particular craving, the best spots follow tried-and-true techniques.
The recipe for onion rings was reportedly first seen in 1802, in "The Art of Cookery Made Easy and Refined." It involved cutting onions into slices, dipping them into a batter, adding Parmesan cheese, and deep frying them in lard. The best fast-food onion rings don't deviate much from this recipe. The perfect onion rings have a delicate balance of tender sweet onion with a crunchy, well-seasoned coating, and take a bath in some sort of hot oil.
While you could make them at home, it's difficult to replicate a solid onion ring, which is why many people treat themselves to the fast-food version when the craving strikes—and it strikes often reports the National Onion Association. Americans consume around 20 pounds of onions per person each year and onion rings, onion blooms, and other fried onion dishes are popular ways to get that onion fix.
So when only a crispy onion snack will do, visit any one of these seven fast food chains that do the classic onion ring right.
Sonic Drive-In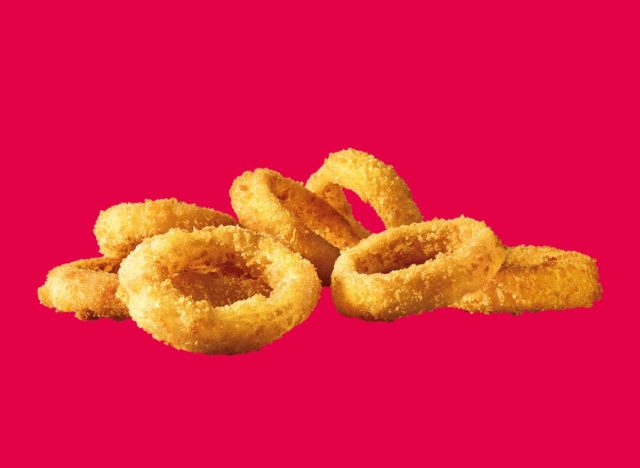 Each morning at Sonic, onion rings are handmade—onions are sliced, battered, fried, and never frozen. And apparently, the chain has one secret ingredient that sets it apart from the rest. Sonic's onion ring recipe calls for vanilla ice milk mix (but melted vanilla ice cream apparently works just as well), according to an ex-employee. This unique addition is what makes them much sweeter than your average fast-food chain's take. 
Fans and reviewers think that these onion rings are amazing. At the end of 2022, Sonic was ranked #1 in Thrillist Fasties Awards for best onion rings. The snackable side is also one of the most popular and most ordered items on Sonic's menu, Restaurant Clicks reports.
Whataburger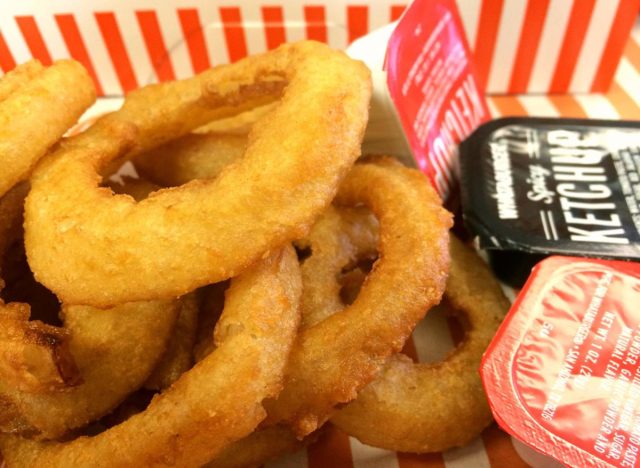 For those who enjoy a crisp and sturdy variation of onion rings, Whataburger needs to be on your radar. Reviews say that the burger chain shines in the batter-to-onion ratio, leaving plenty of room for hints of garlic and oniony notes, and shockingly, without an overload of saltiness. 
"I think Whataburger has great burgers for fast food, but their onion rings are of great quality and they give you a nice amount," one pleased customer wrote to Tripadvisor, while another added, "Get the large or you will be sorry. They go quick."
Burger King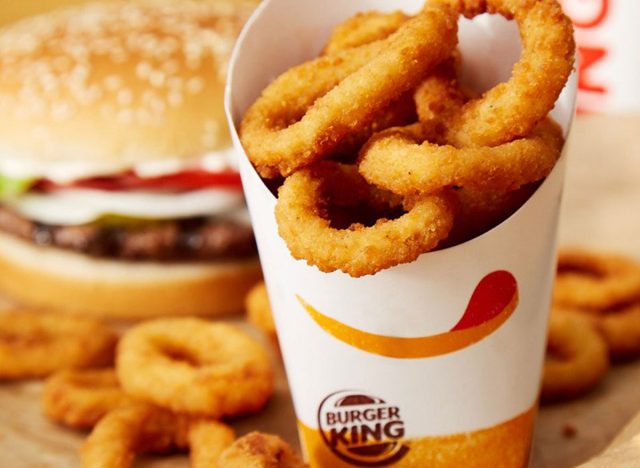 Burger King is not new to making onion rings, the chain has been serving up the oniony side since 1974. The "Have it Your Way" onion rings are made with chopped onions and a seasoned batter, and get fried to perfection for every order.
According to a recent poll on our Facebook page, many customers believe that Burger King is the ultimate underdog in the fast food race for amazing onion rings. Fans comment on how tasty BK's version is, because "they're crispy & not too salty" and come with a flavorful zesty sauce.
Dairy Queen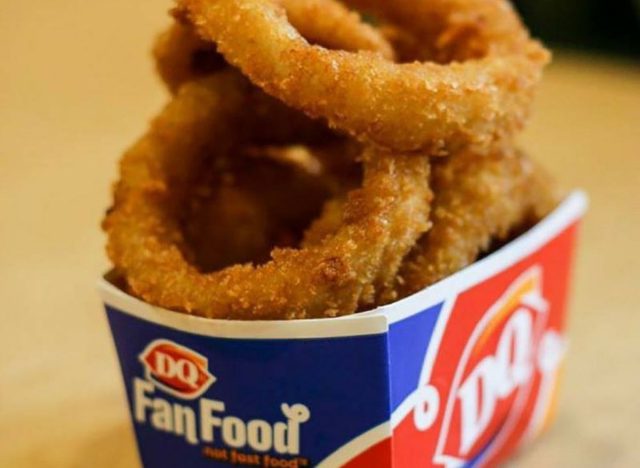 The onion rings at Dairy Queen are pre-made at a designated company location, packaged frozen, and shipped to DQs across the country. Let it be known, just because they're not made in-house daily, doesn't mean they aren't undeniably delicious. 
A regular order comes with six to eight onion rings, and as a viral TikTok shows, the process takes a few quick moments after a customer places their order (since they're ready to go) and they're served golden brown each time. "They aren't too breaded, and they have real onion rings that aren't too hard or thick," one Redditor wrote to a fast-food onion ring discussion, "I definitely get them instead of fries every time."
White Castle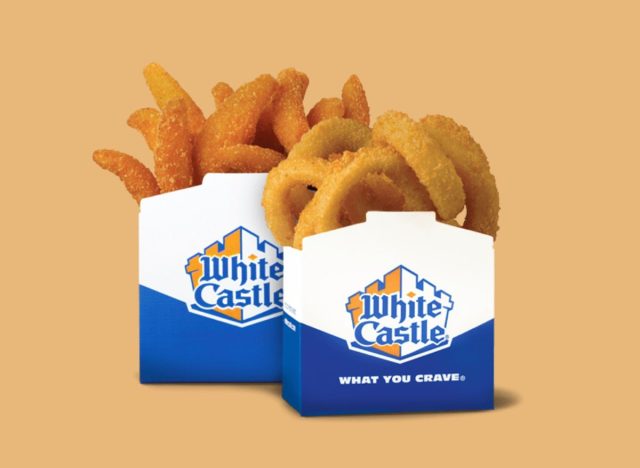 While the brand's main focus is mini sliders and crinkle-cut fries, White Castle can also satisfy onion ring lovers. The Midwest chain makes these bite-sized rings, using real onions, corn flour, and a touch of sugar that mixes nicely with the bold vegetable. 
Sometimes the onion rings at White Castle go unnoticed due to the similar and somewhat competing sides the chain offers. White Castle has attempted many onion and ring-centric menu items throughout its history—including onion chips and chicken rings—but a classic side of onion rings has always seemed to last the test of time and come out on top. 
Jack in the Box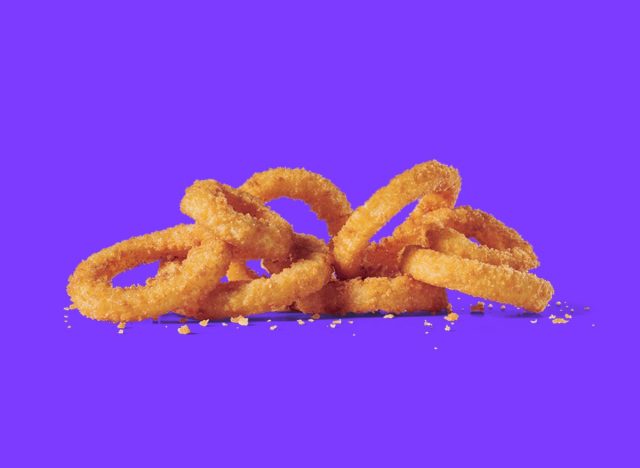 Onion rings got their debut at Jack in the Box in the 1950s, and while they were good, they got a major quality improvement just a few years ago to make them one of the best. Most fast food chains use a seasoned batter or breading mixture to coat their juicy onions, but Jack in the Box made the switch to a panko-crusted concoction. The panko crumbs allow for a much lighter, airier, and textured outer crisp to Jack's onion rings, especially compared to the breading of other chains, Brand Eating explains.6254a4d1642c605c54bf1cab17d50f1e
Fans jumped onto Reddit after trying the new version to say, "the panko onion rings are the best major fast food chain onion rings IMHO [in my humble opinion]."
Carl's Jr. / Hardee's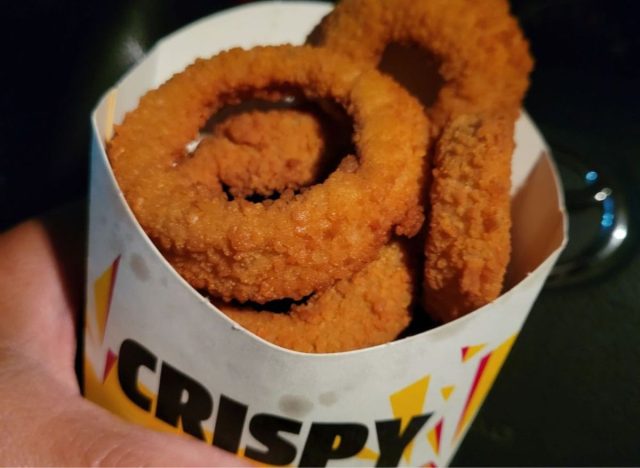 If you're a super onion ring fan, Carl's Jr./Hardees is the place for you, as you can get burgers topped with onion rings and onion rings as a side. Similarly to Jack in the Box, customers find that these onion rings have a top-tier crust, claiming they taste "buttery" and that "each bite is juicy."
Jordan Summers-Marcouillier
Jordan Summers-Marcouillier was born and raised in San Jose, California and now works as a writer in New York, NY.
Read more about Jordan