Fettuccine Alfredo's Namesake Used the Pasta Dish to Cheer Up His Wife
Before it took the U.S. by storm, one chef made the meal out of pure love for just one person.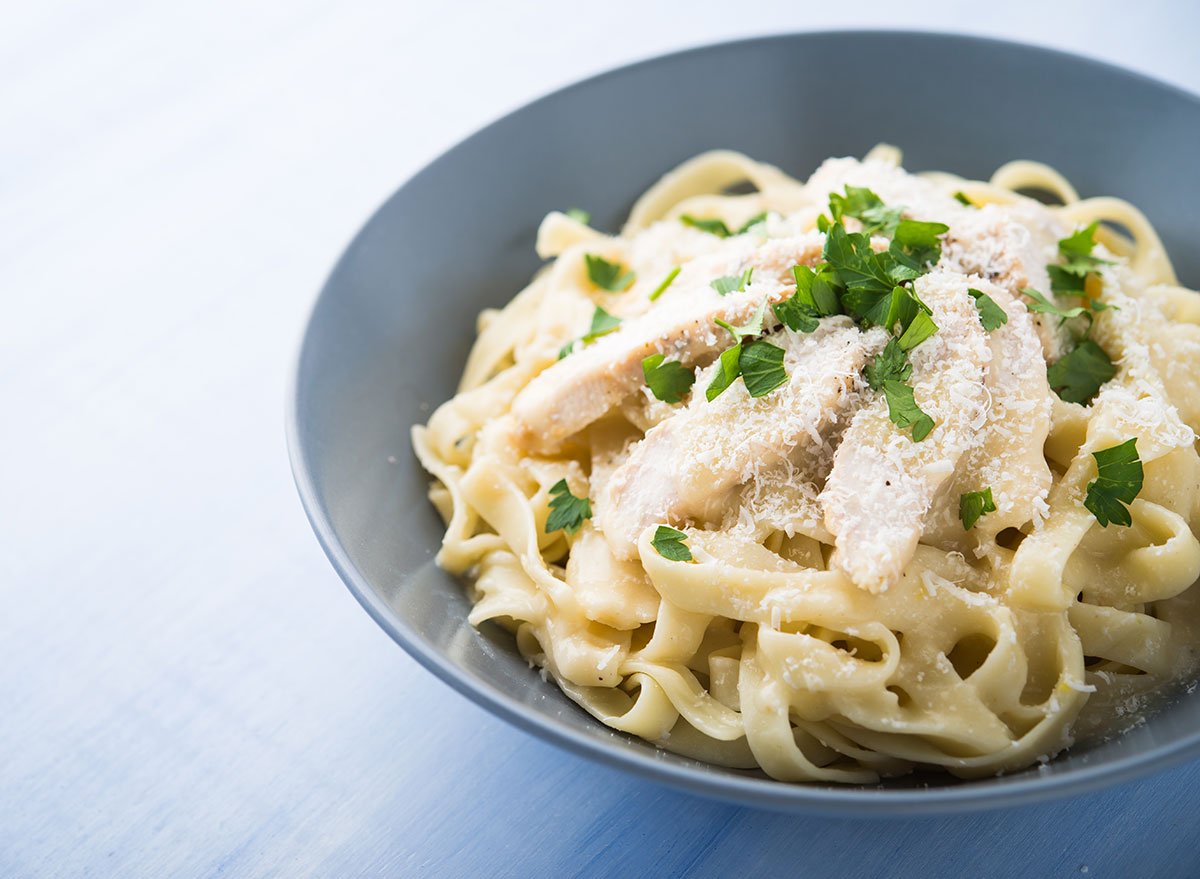 Buttery fettuccine Alfredo is a pasta dish that's rather well known, and often happily eaten by many. But how did it get its name? Was there even a real Alfredo? How did it become so popular? It turns out that this creamy, dreamy, sure-to-satisfy recipe has a history that's almost as rich as its distinctive flavor. And yes, there's one person to thank for creating this meal many of us carb lovers crave.
Although it originated in Rome, fettuccine Alfredo came into its own in America after a pair of honeymooning movie stars introduced the simple, yet hearty dish to their family and friends stateside. Generations later, the preparation of fettuccine Alfredo in the United States is quite different than the way it's made in Italy.
How did this classic dish get its name?
Legend has it that after the birth of his first child in 1908, Alfredo di Lelio cooked up a batch of fettuccine noodles, crumbly Parmigiano-Reggiano cheese, and plenty of butter to tempt his wife Ines, as she was suffering from loss of appetite. The resulting dish was so delicious that di Lelio's family put it on the menu at Alfredo alla Scrofa, the restaurant they opened in Rome several years later.
A legend is born.
Alfredo di Lelio didn't just lend his name to fettuccine Alfredo, he lent his spirit to the dish. When customers came into the restaurant, the mustachioed chef prepared his signature pasta tableside. After placing a platter heaped with fettuccine noodles and pats of butter in front of a diner, di Lelio would slowly add grated cheese to the dish as he used a fork and spoon to swirl the ingredients together. A true work of art, and a very nice personal touch, don't you think?
6254a4d1642c605c54bf1cab17d50f1e
A Hollywood love story.
When Hollywood lovebirds Douglas Fairbanks and Mary Pickford were honeymooning in Rome in 1927, they dined at Alfredo alla Scrofa and flipped over the restaurant's now-legendary meal. The couple not only happily ate there several more times during their vacation, but they even presented di Lelio with an engraved fork-and-spoon set. Talk about being some loyal fans! Back home, the newlyweds served fettuccine Alfredo at a dinner party, and it quickly caught on among their influential circle.
From Rome with love.
Douglas Fairbanks and Mary Pickford weren't the only Americans to go wild for Alfredo di Lelio's signature dish. In 1927, restaurateur and food critic George Rector raved about the fettuccine at Alfredo alla Scrofa in the Saturday Evening Post. He even later published di Lelio's recipe. The restaurant then became a touchstone for Americans vacationing in Italy, and before long, the dish caught on across the country.
In the 1960s, the Pennsylvania Dutch Noodle Company printed a version of di Lelio's recipe that called for heavy cream rather than butter on packages of their egg noodles, and this creamier version caught on with home cooks stateside.
Wait, do they even eat fettuccine Alfredo in Italy?
Ordering "Fettuccine Alfredo" in Italy isn't impossible—but it might raise some eyebrows. Rather than indulging in American-style fettuccine Alfredo that's made with a creamy sauce, Italians whip up pasta in bianco, a preparation of noodles swirled in butter and Parmigiano-Reggiano cheese. The dish is more of a classic, Italian comfort food that's commonly prepared at home rather than in a restaurant.