18 French Toast Dishes in America—Ranked!
Since there's no such thing as "healthy" French toast from a restaurant, we ranked them from least sinful to the most waist-widening.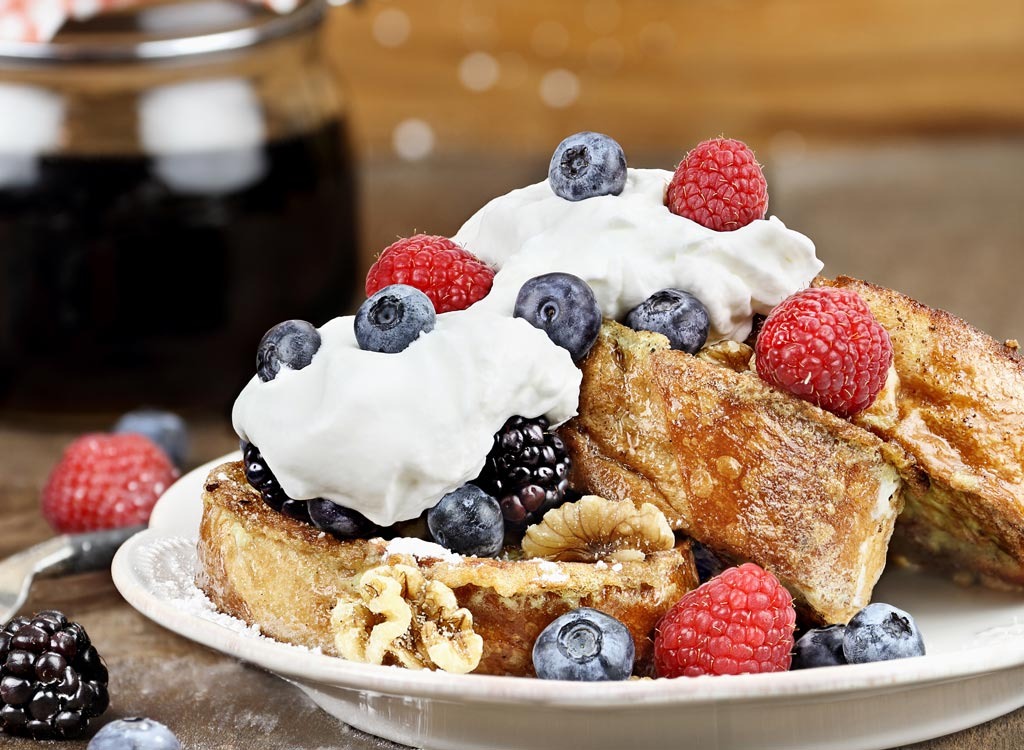 Although the Parisians are known for their trim physiques, every American-made restaurant dish with the word "French" in front of it seems to be bad news: French fries, French dip sandwiches, and yes, French toast. Among all of the sweet breakfast offerings in restaurant land, the egg-coated, sugar-injected dish is one of the very worst. On average, an order has more calories than an entire stack of flapjacks (as do all of these 17 Restaurant Breakfasts Worse Than a Stack of Pancakes)!
But despite the fact that most of us know that French toast is far from the picture of health, 25 percent of the American population regularly chows down on the dish. And it's not exactly an ideal breakfast to eat if you want to slim down, but it is possible to minimize the damage by sticking to a rendition of the dish that's on the slimmer side.
To help you identify these very options, we've ranked 18 of the most popular French toast dishes in America from least sinful to the most waist-widening. Stay away from the sinful stacks that fall at the bottom of this list and be sure to live by these 30 Best Breakfast Habits to Drop 5 Pounds when you're dining at home to stay on track with your health goals!
Burger King French Toast Sticks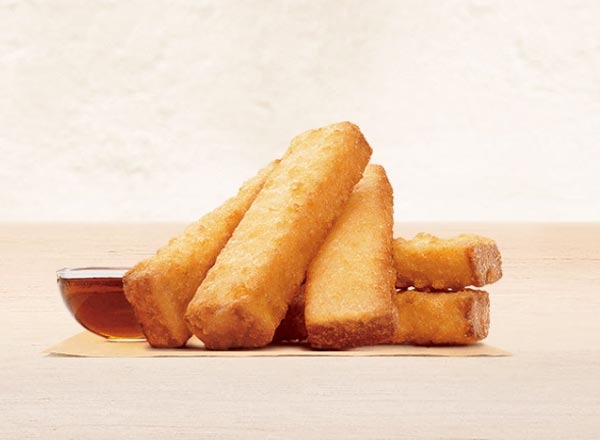 5 piece order, 380 calories, 18 g fat, 3 g saturated fat, 430 mg sodium, 49 g carbs, 2 g fiber, 13 g sugar, 5 g protein
Of all the dishes on this list, these BK French toast sticks are the lowest in calories. Sadly they don't offer much in terms of nutrition or satiety. Mostly because they don't carry very much fiber or protein. If you must indulge get the smaller three piece order (230 calories) and pair it with something that gives you a bit of both. Like a plain Greek yogurt with fresh berries, which just so happen to be one of the most fiber-packed fruits on the planet.
Sonic French Toast Sticks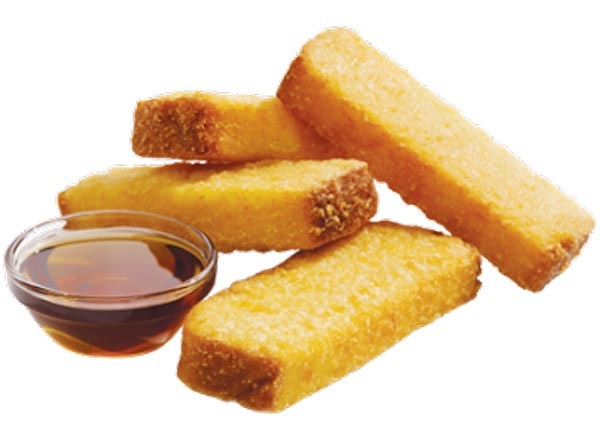 500 calories, 31 g fat, 5 g saturated fat, 0 g trans fat, 490 mg sodium, 49 g carbs, 2 g fiber, 7 g protein, 9 g sugar
You know what else has 31 grams of fat? Eight Oreo cookies! The only saving grace of this dish is it's low sugar count. But if you pour on the whole container of syrup, you're looking at an additional 90 calories and 15 grams of sugar on your plate. The bottom line? Proceed with caution and only drizzle on a small amount of syrup.
Eat N' Park Bananas Foster French Toast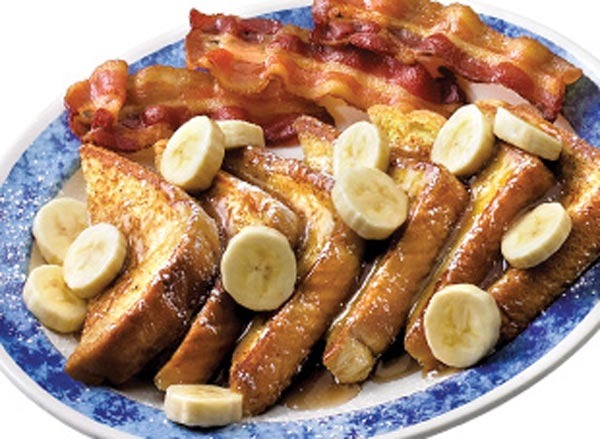 3 slices, 598 calories, 18 g fat, N/A g saturated fat, 748 mg sodium, 96 g carbs, 5 g fiber, N/A g sugar, 15 g protein
Everything's bigger in Texas—even the bread—which explains why this dish is so high in carbs. It's made with Texas-cut bread which is just a fancy way of saying that the starchy carb pillows are twice as thick as most other slices. We have a feeling that if Eat n' Park actually revealed this dish's sugar content it would be just as high—if not higher—than it's shockingly high fat count.
Bob Evans Brioche French Toast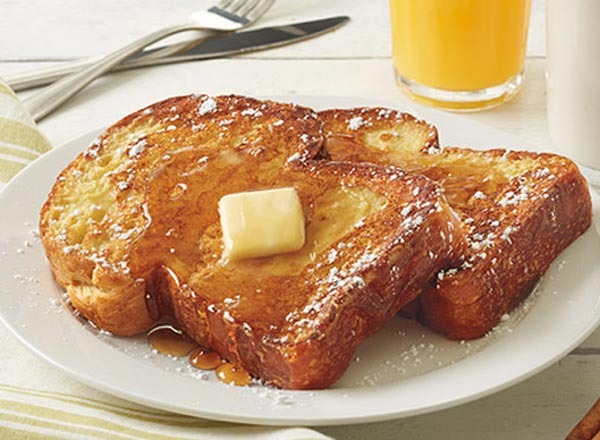 610 calories, 17 g fat, 4 g saturated fat, 730 mg sodium, 97 g carbs, 33 g sugar, 3 g fiber, 18 g protein
While this dish may fall lower on the calorie spectrum, eating it will still eat though and your entire day's sugar allotment. That said, if you're going to order it, consider splitting it with a dining companion.
Marie Callender's French Toast Platter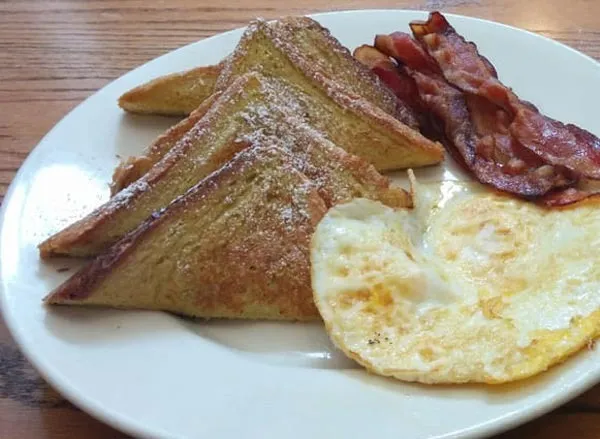 774 calories, 25 g fat, 8 g saturated fat, 1,153 mg sodium, 105 g carbs, 1 g fiber, 44 g sugar, 32 g protein (calculated with bacon and eggs)
Considering this platter comes complete with two eggs, French toast, and bacon, it's nutrition stats aren't half bad. But that doesn't mean you should make it your go-to. The fact that the dish packs a staggering 105 grams of carbs yet only one measly gram of satiating fiber is downright shameful. C'mon, Marie Callender! You can so do better than that!
Mimi's Cafe Brioche French Toast Platter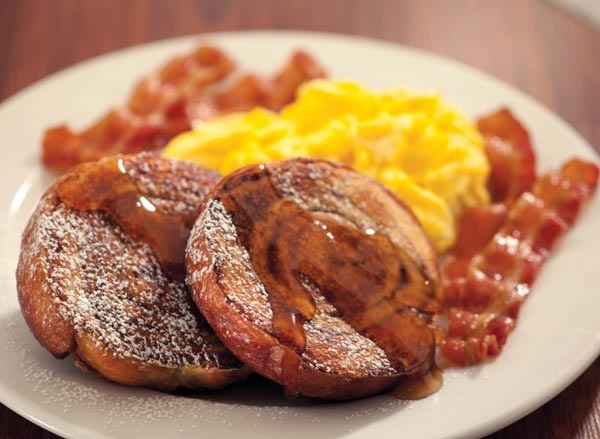 860 calories, 37 g fat, 16 g saturated fat, 1,997 mg sodium, 67 g carbs, 3 g fiber, 16 g sugar, 42 g protein (calculated with eggs and bacon)
While we give Mimi's Cafe props for keeping the sugar count in this dish somewhat reasonable, the salt content is sky high. Ditching the breakfast meat and replacing it with some fresh fruit could definitely help the cause.
O'Charley's Strawberries & Cream French Toast with Bacon
950 calories, 41 g fat, 17 g saturated fat, 1,420 mg sodium, 108 g carbs, 3 g fiber, 56 g sugar, 37 g protein
If you wouldn't eat three Snickers bars for breakfast, you might want to think twice about sitting down to a plate of this strawberry sludge-covered toast. Believe it or not, this breakfast platter has just as much sugar. Trying to dial back your intake of the sweet stuff and kick your craving for sweets? Pick up a copy of the Zero Sugar Diet today!
Bob Evans Chocolate Coconut Brioche French Toast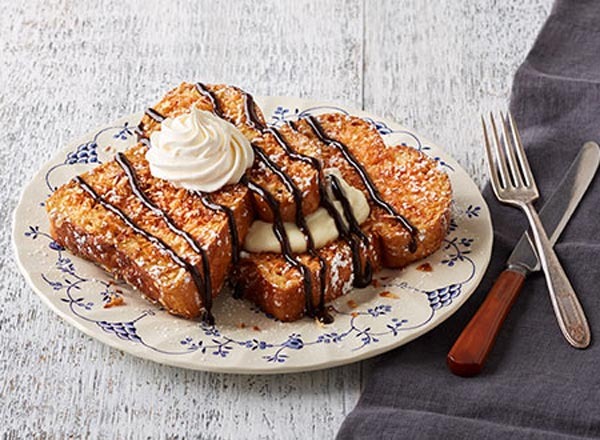 990 calories, 48 g fat, 33 g saturated fat, 700 mg sodium, 130 g carbs, N/A sugar 9 g fiber, 14 g protein
This chocolaty breakfast has more than three times the fat as a Big Mac and more calories than six Chips Ahoy cookies! That said, this dish is more likely to put you in a food coma than give you the energy you need to power through your busy day. There are far better ways to kick off your morning.
Perkins Ooh-La-La French Toast Platter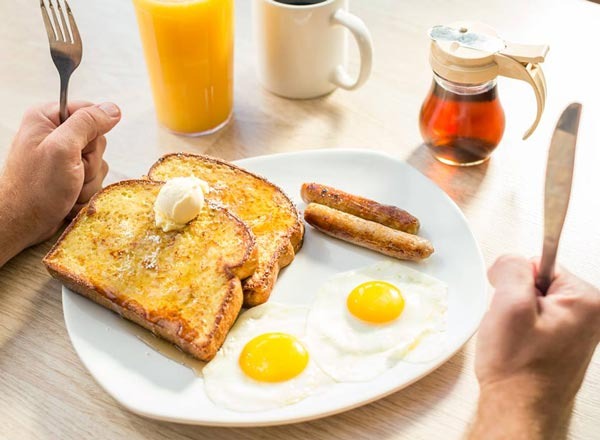 *1,055 calories, 69 g fat, 22 g saturated fat, 1,227 mg sodium, 57 g carbs, 2 g fiber, 8 g sugar, 51 g protein (calculated with 2 pork sausage links & 2 eggs)
Don't let the cutesy name distract you from the facts: this dish is crammed with calories, fat, and a laundry list of chemicals that make our skin crawl. Among the worst of the lot: hydrogenated soybean oil, a man-made fat that's been shown to diminish memory and up the risk of heart disease; BHT, an antioxidant derived from petroleum; and dimethylpolysiloxane, a chemical used to make aquarium sealant. To learn more about the unsettling chemicals in our food supply—so you can stay far, far away—don't miss our special report, 23 Worst Food Additives in America.
IHop Original French Toast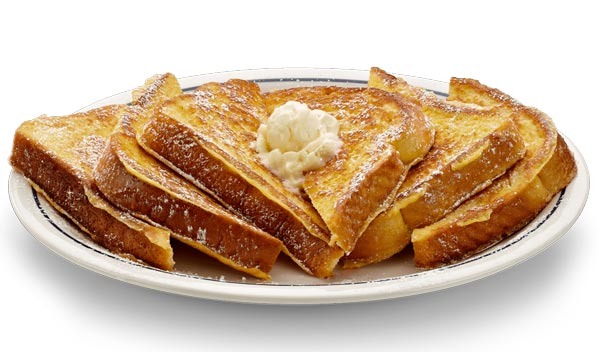 750 calories, 36 g fat, 14 g saturated fat, 0.5 g trans fat, 830 mg sodium, 85 g carbs, 4 g fiber, 29 g sugar, 20 g protein
Curious why this dish ranks so low despite its low-ish calorie count? It's because of the trans-fat, an additive so dangerous that America has made moves to ban it from our food supply altogether. Invented to make baked goods more shelf-stable (which isn't exactly a positive attribute in a "fresh" made meal), the artificial fat has been linked repeatedly to heart disease and diminished sexual function.
IHop Bananas Foster Brioche French Toast
1,010 calories, 49 g fat, 16 g saturated fat, 0.5 g trans fat, 1,150 mg sodium, 123 g carbs, 4 g fiber, 60 g sugar, 20 g protein
Classic brioche recipes use copious amounts of flour, eggs, and butter, so it shouldn't come as a surprise that this platter is so fatty and calorie-dense. And let's not overlook the crazy-high sugar content. The chain may describe the batter in which the bread is dipped as "lightly sweetened," but that couldn't be further from the truth. The powdered sugar, whipped topping, and the optional scoop of ice cream don't do the dish any favors, either.
Bonefish Grill Crème Brûlée French Toast
1,069 calories, 63 g fat, 33 g saturated fat, 1,150 mg sodium, 96 g carbs, 4 g fiber, 55 g sugar, 24 g protein (calculated with bacon)
The batter that hugs these slices of French toast are spiked with Grand Marnier and the entire platter of food is smeared with whipped cream—just two of the reasons why this dish is a no-go. Curious what other dishes are on our naughty list? Check out these #1 Worst Menu Option at 40 Popular Restaurants.
Bob Evans Blueberry Supreme Brioche French Toast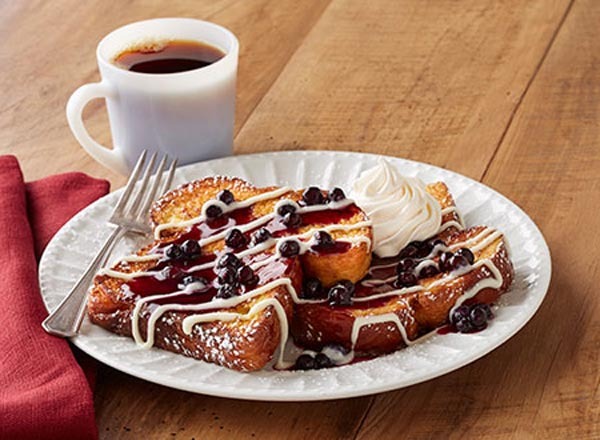 6254a4d1642c605c54bf1cab17d50f1e
1,090 calories, 43 g fat, N/A g saturated fat, 1,010 mg sodium, 161 g carbs, N/A sugar, 3 g fiber, 17 g protein
Any meal that has more than 100 grams of empty carbs is an automatic Not That!
Friendly's Brioche French Toast
1,090 calories, 32 g fat, 15 g saturated fat, 1,730 mg sodium, 170 g carbs, 66 g sugar, 3 g fiber, 21 g protein
Made with more egg and butter than your typical loaf, this Brioche bread French toast was doomed before it was even dipped into the batter and topped with butter and powdered sugar. Add sausage to the mix and you've got yourself an A.M. meal with more fat than you'd find in 18 slices of pan-fried bacon. To get the mix of sweet n' salty you crave—for a fraction of the calories and fat—order two pancakes with two slices of bacon instead. Or better yet, stay home and whip up one of these 19+ Best Pancake Recipes for Weight Loss.
O'Charley's Bananas Foster French Toast with Ham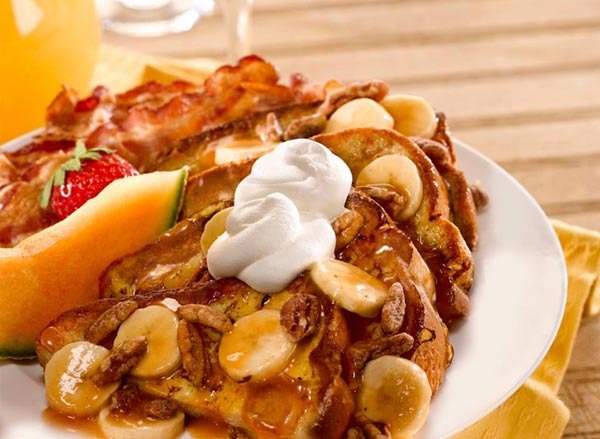 1,140 calories, 43 g fat, 13 g saturated fat, 2,580 mg sodium, 139 g carbs, 5 g fiber, 72 g sugar, 58 g protein
Any dish that provides over 1,000 calories, three day's worth of sugar, and more than a day's worth of salt should be automatic no-go—no matter what meal you're sitting down for.
Mimi's Cafe Orange Creme French Toast Platter
1,445 calories, 82 g fat, 31 g saturated fat, 2,826 mg sodium, 147 g carbs, 7 g fiber, 40 g sugar, 58 g protein (calculated with eggs and bacon)
Typically something with 32 grams of protein and 7 grams of fiber would be a dish we'd recommend, but not in this case. A breakfast with nearly a half day's calories and 14 salt packets worth of sodium? No, thank you!
Coco's Bakery Cinnamon Roll French Toast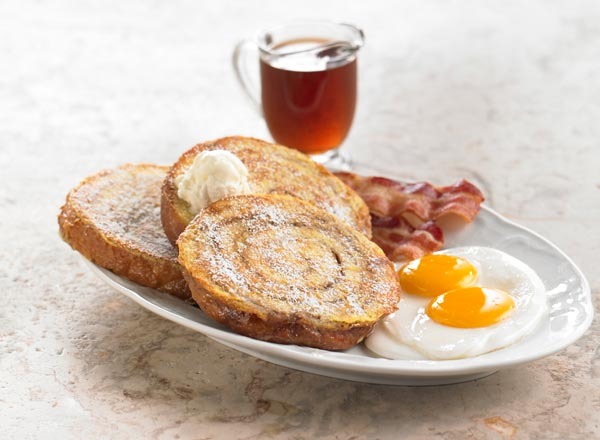 1,960 calories, 89 g fat, 30 g saturated fat, 2,040 mg sodium, 247 g carbs, 122 g sugar, 7 g fiber, 44 g protein (calculated with bacon)
This platter is overflowing with decadence. Instead of bread, the folks at Coco's Bakery use three slices of sweet cinnamon roll dipped in egg batter to create their unique—and uber sugary—twist on the classic a.m. dish. Even if you downed 45 Hershey Kisses you still wouldn't consume as much sugar than if you'd down this entire platter; and that's saying a lot!
And the #1 Worst French Toast Is…
Cheesecake Factory Bruleéd French Toast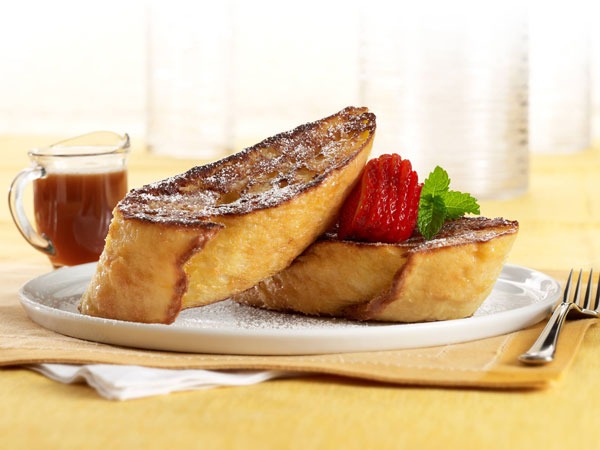 2,780 calories, N/A g fat, 93 g saturated fat, 2,230 mg sodium, N/A g carbs, N/A g fiber, 120 g sugar, N/A g protein
Not only is this the absolute worst French toast in America, it's The Worst Breakfast in America, too! This far-from-innocent breakfast platter packs as much fat as six Sonic cheeseburgers, and carried the calorie equivalent of 40 Dunkin Donuts' Munchkins! What's more, it has a full day's worth of sodium, more than a day's worth of calories, and a week's worth of saturated fat. (Are you gagging yet?) Calling this "dessert for breakfast" wouldn't even cut it, since an average slice of white cake with chocolate frosting only has 30 grams of sugar.