The Worst Restaurant Breakfasts in America in 2022
You're better off not starting out your morning with these caloric meals.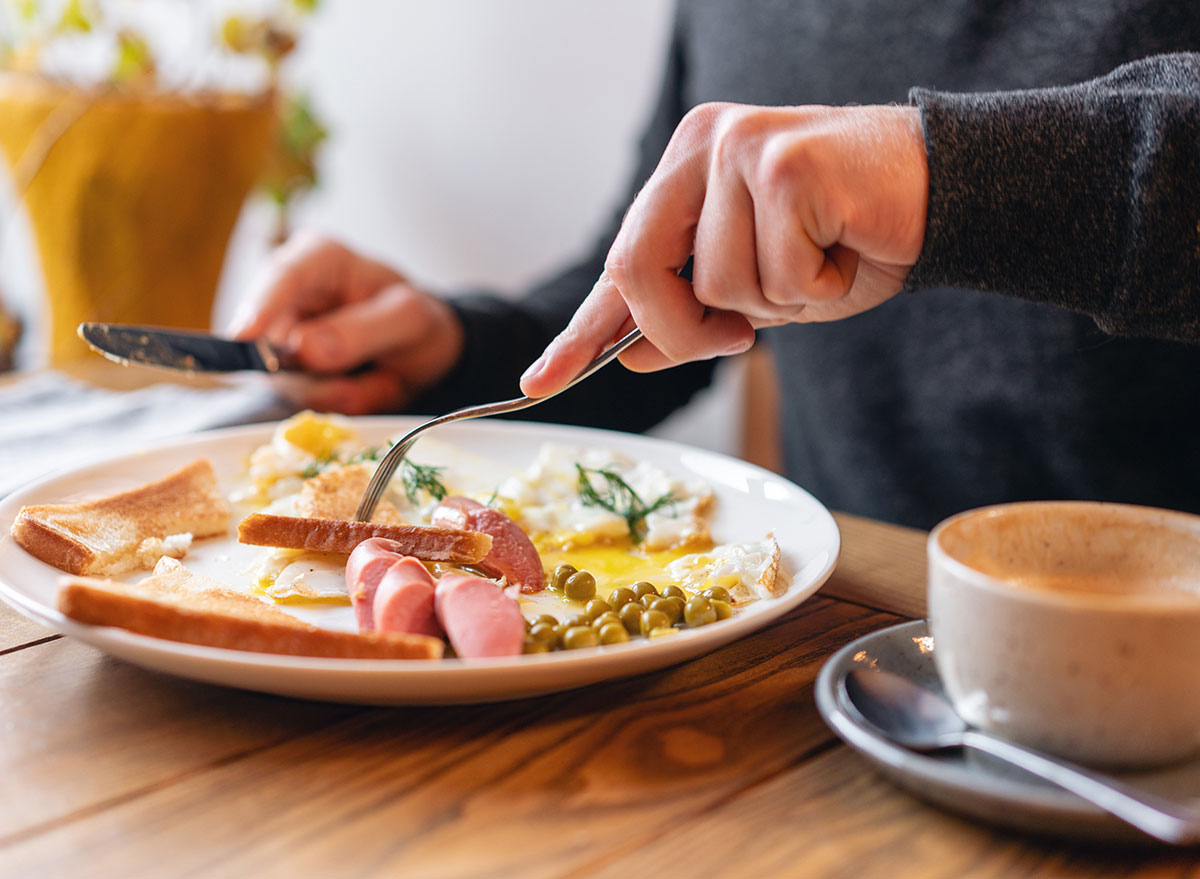 Making a hot breakfast at home isn't always practical. Luckily, there are loads of restaurants and fast-food chains serving up all sorts of breakfast offerings that can be yours for a reasonable price, whether you're on the go or dining in. So what's the problem? The short answer: in America, we're often known as the land of the overfed, indulging in oversized, over-fried, and just plain unhealthy food. Nowhere is this more true than breakfast.
It's no question that breakfast is a good thing. Studies have shown that people who make time for a morning meal consume fewer calories over the course of the day, have stronger cognitive skills, and are less likely to be overweight or obese.
However, many major restaurant chains seem to have confused a hearty breakfast with a heart-busting one. Much of what's offered at U.S. restaurants and fast-food joints includes a collection of salty egg scrambles, sugar-loaded muffins, and a too-high stack of pancakes.
In an effort to call out some of the worst restaurant breakfasts out there, we compiled a list of 16 examples of dishes that you may want to reconsider ordering—like, ever.
Denny's Cinnamon Roll Pancake Breakfast
Per meal with two pancakes with cream cheese icing, two bacon strips, scrambled eggs, and hash browns
: 1,490 calories, 56 g fat (20 g saturated fat, 0 g trans fat), 2,830 mg sodium, 211 g carbs (5 g fiber, 127 g sugar), 32 g protein
Dessert-driven pancakes can be found on many menus, but Denny's Cinnamon Roll Pancake Breakfast out-sweets them all. The restaurant has topped two buttermilk pancakes with a cinnamon crumb topping, whipped cream, and warm cream cheese icing drizzled (maybe doused is more accurate) on top.
The result is a dish with as much sugar as seven servings of Breyers' Natural Vanilla Ice Cream. (Throw in eggs, hash browns, and two bacon strips, and the sodium count soars, too.)
The Cheesecake Factory Bruléed French Toast with Bacon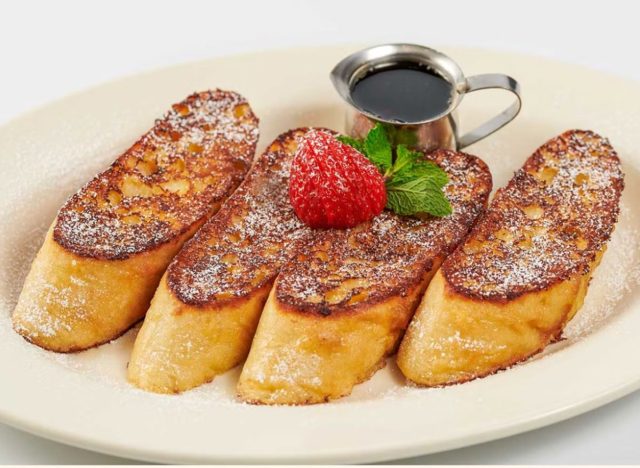 Per meal
: 2,180 calories, 131 g fat (70 g saturated fat, 4 g trans fat), 1,070 mg sodium, 208 g carbs (7 g fiber, 115 g sugar), 45 g protein
Say hello to one of the most caloric items on The Cheesecake Factory's menu—and, yes, that goes for the entire menu, not just breakfast. (By the way, don't swap your bacon for grilled ham, as this substitution will bring up your sodium count to over a whole day's worth at 2,620 milligrams.)
This "rustic" dish will likely rust your arteries, with half a day's worth of sodium, more than a day's worth of calories, over two days worth of added sugar, and three and a half days' worth of saturated fat. To quell your sweet tooth craving (and keep your breakfast under 1,000 calories and free of trans fats), place an order for a strawberry fruit smoothie and the make-your-own breakfast sammie with a side order of eggs and an English muffin.
Friendly's Meat Lovers Breakfast Bowl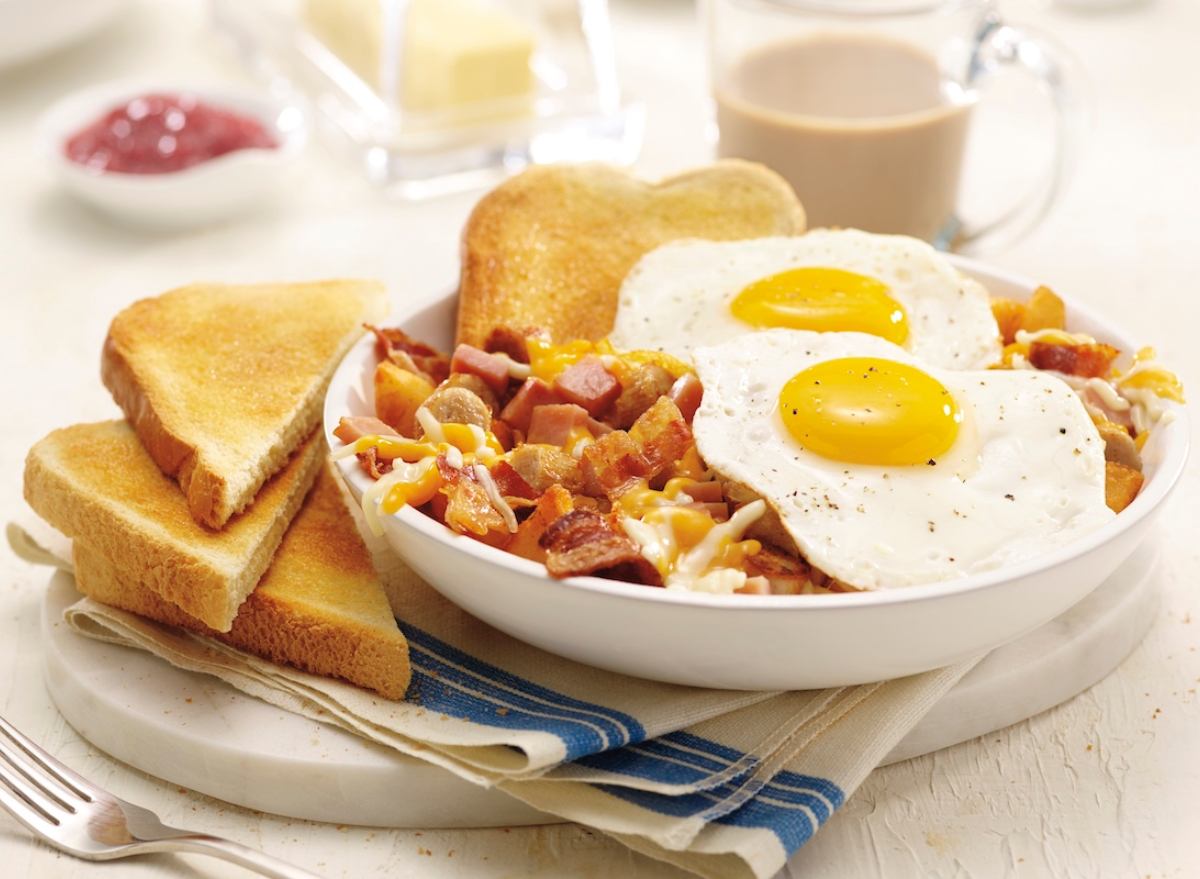 Per meal
: 1,579 calories, 101 g fat (35 g saturated fat, 0.1 g trans fat), 3,197 mg sodium, 104 g carbs (2.7 g fiber, 3 g sugar), 64 g protein
Indulging in this breakfast means you'll set yourself back more sodium than if you ate about 270 Lay's potato chips. Yikes! Consider ordering pancakes with two slices of bacon instead, which only clocks in at 563 calories. Or better yet, stay home and whip up one of these Best Healthy Pancake Recipes for Weight Loss.
Bob Evans Double Meat Farmer's Choice Breakfast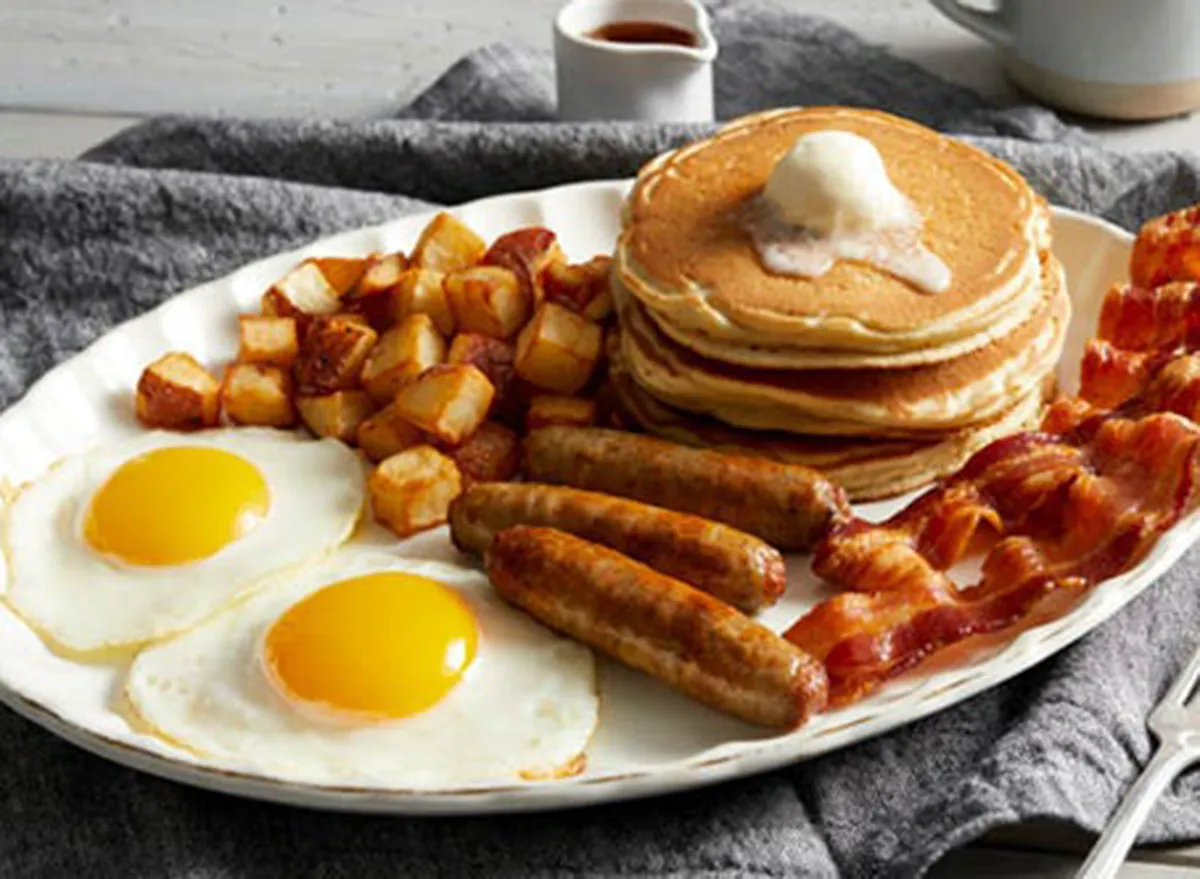 Per meal with hotcakes, two freshly cracked eggs, three sausage links, bacon, and a side of home fries
: 1,900 calories, 97 g fat (29 g saturated fat, 0 g trans fat), 3,660 mg sodium, 195 g carbs (5 g fiber, 31 g sugar), 57 g protein
With more than a day's worth of total fat, saturated fat, and well over one day's worth of sodium, this Bob Evans breakfast plate is a real doozy for your heart, waistline, and energy levels. Switch to the Rise and Shine platter for a tasty mix of cooked-to-order eggs, home fries, and breakfast meats. Skip the hickory-smoked ham to keep the sodium content low.
IHOP Country Fried Steak & Eggs with Sausage Gravy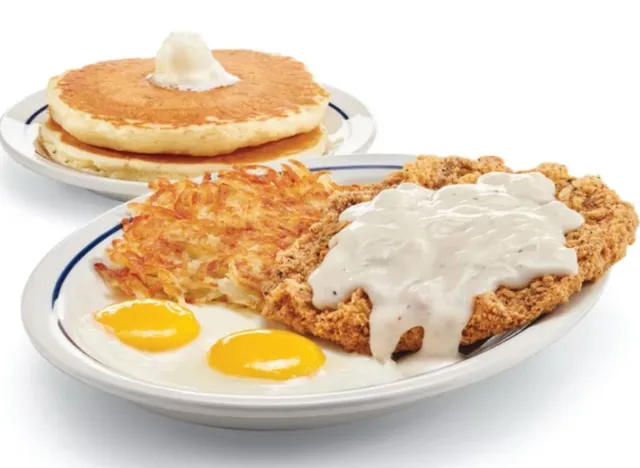 Per meal with steak, sausage gravy, hash browns, and two buttermilk pancakes (eggs not included)
: 1,400 calories, 87 g fat (27 g saturated fat, 2 g trans fat), 3,370 mg sodium, 108 g carbs (6 g fiber, 9 g sugar), 44 g protein
When you see the words "fried" and "steak" next to each other on your breakfast menu, just keep scanning the menu. No matter what it's served with, and no matter where you order it, there's virtually zero chance it will be good for your body.
If something hearty and meaty is what you crave, try IHOP's T-Bone steak with three poached eggs instead. Don't get it twisted, though; this swap is by no means healthy. But it will give you the flavors you're looking for while keeping hundreds of calories, as well as plenty of fat and sodium, off of your plate.
Taco Bell Breakfast Crunchwrap – Sausage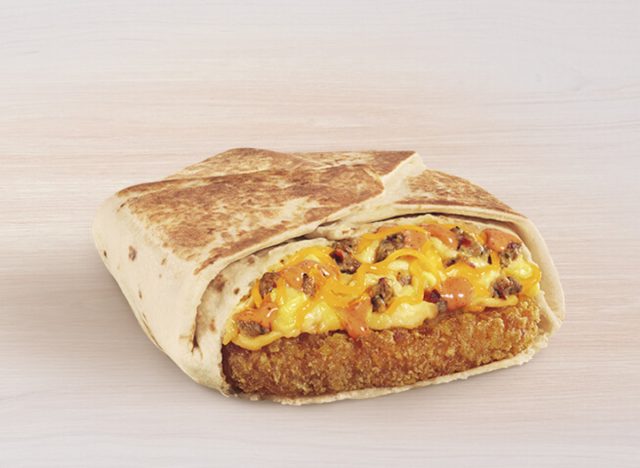 Per Sausage Crunchwrap
: 730 calories, 47 g fat (15 g saturated fat, 0 g trans fat), 1,290 mg sodium, 52 g carbs (4 g fiber, 3 g sugar), 20 g protein
Hash browns topped with creamy jalapeño sauce and cheddar cheese—it's no shock that the Crunchwrap is by far the worst breakfast option at Taco Bell. Consuming more than half a day's allowance of sodium and saturated fat at breakfast is not a great way to start your day.
Jamba Juice Island Pitaya Bowl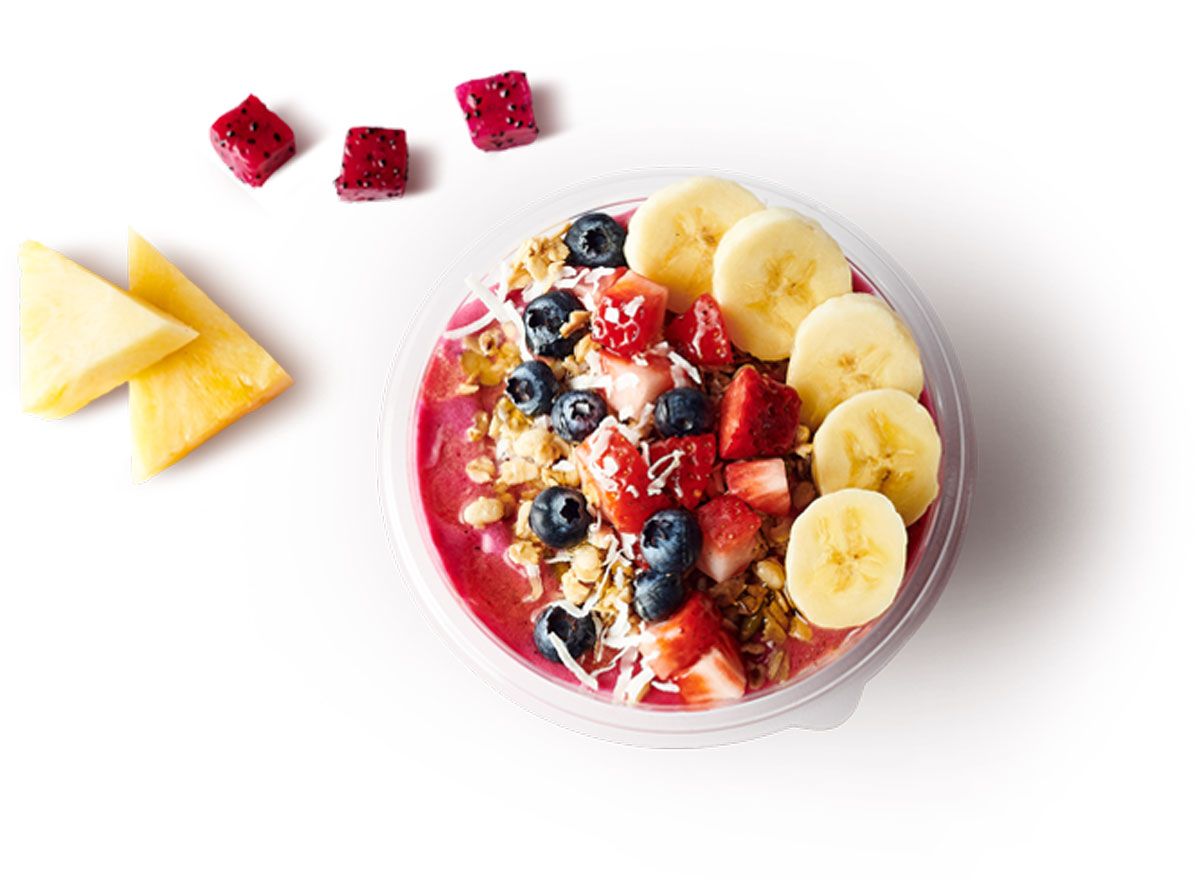 Per bowl
: 500 calories, 8 g fat (2.5 g saturated fat, 0 g trans fat), 15 mg sodium, 105 g carbs (13 g fiber, 70 g sugar), 7 g protein
"Energy bowls" might be the biggest trend at juice places, but remember that another word for "energy" is "calories." While some of the sugar comes from fruit, a lot of it comes from pineapple juice, which can boast a lot of added sugars. Instead, pick up a protein-rich bowl of Greek yogurt topped with berries to cut out 80 calories and 28 grams of sugar. For more calorie-saving swaps, check out these easy ways to cut calories.
Panera Bread Vanilla Cinnamon Roll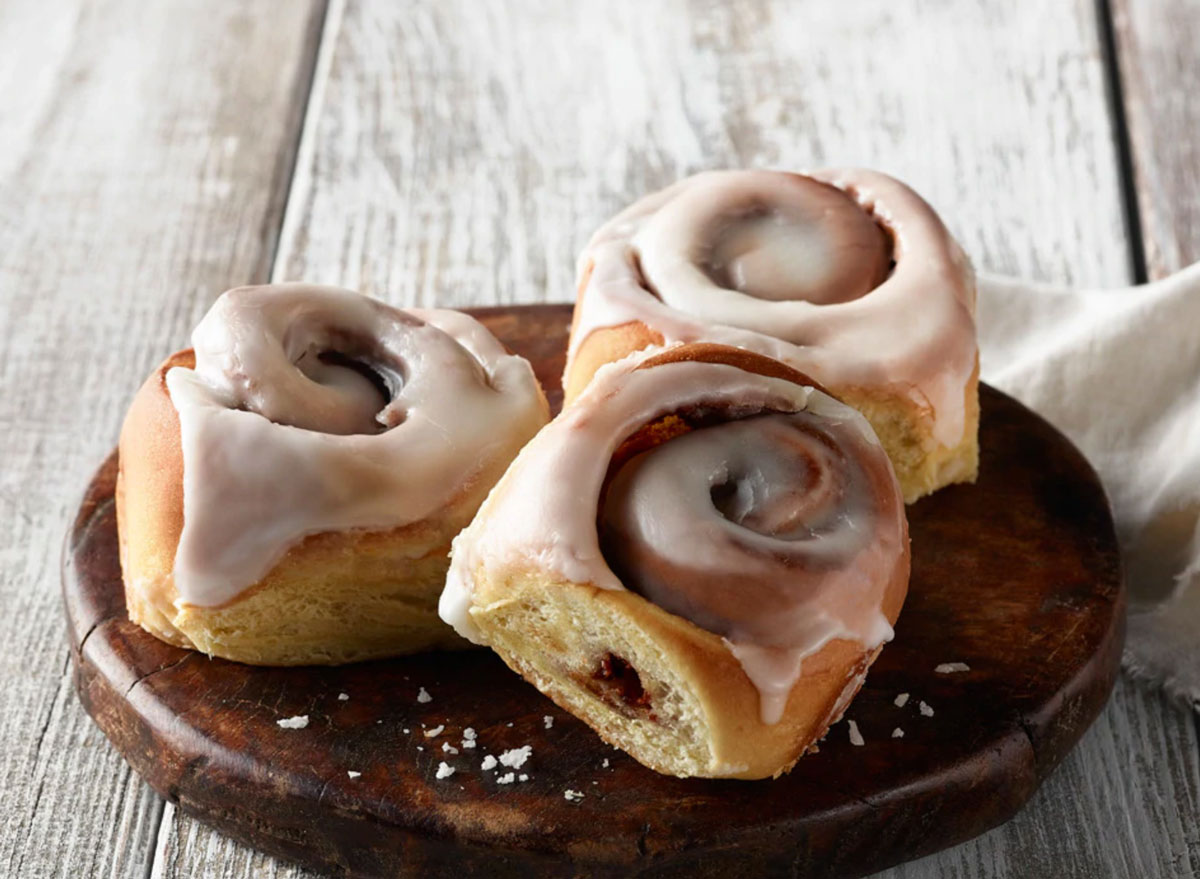 Per roll
: 620 calories, 18 g fat (8 g saturated fat, 0 g trans fat), 490 mg sodium, 109 g carbs (3 g fiber, 72 g sugar), 8 g protein
This sad excuse for a morning meal has more calories and fat than every single breakfast sandwich Panera offers. Not to mention, just one roll contains over 70 grams of added sugar. The American Heart Association recommends that men consume no more than 36 grams (or 9 teaspoons) of added sugar per day and that women cap consumption at just 25 grams (6 teaspoons).
Au Bon Pain Eggs, Sausage & Cheddar on Asiago Bagel
Per asiago bagel with two eggs, sausage, and cheddar
: 670 calories, 34 g fat (15 g saturated fat, 0 g trans fat), 1,160 mg sodium, 56 g carbs (4 g fiber, 6 g sugar), 36 g protein
Why order a nutrient-void bagel sandwich when you can order a healthier one that's just as flavorful? By moving your egg and sausage over to a smarter carb option such as the skinny wheat bagel, you save 160 calories and an impressive 30 grams of carbohydrates without altering the taste of your breakfast. And speaking of carbs done right, check out the 8 Best Carbs You Should Be Eating Every Day, Say Dietitians.
Sonic Ultimate Meat and Cheese Breakfast Burrito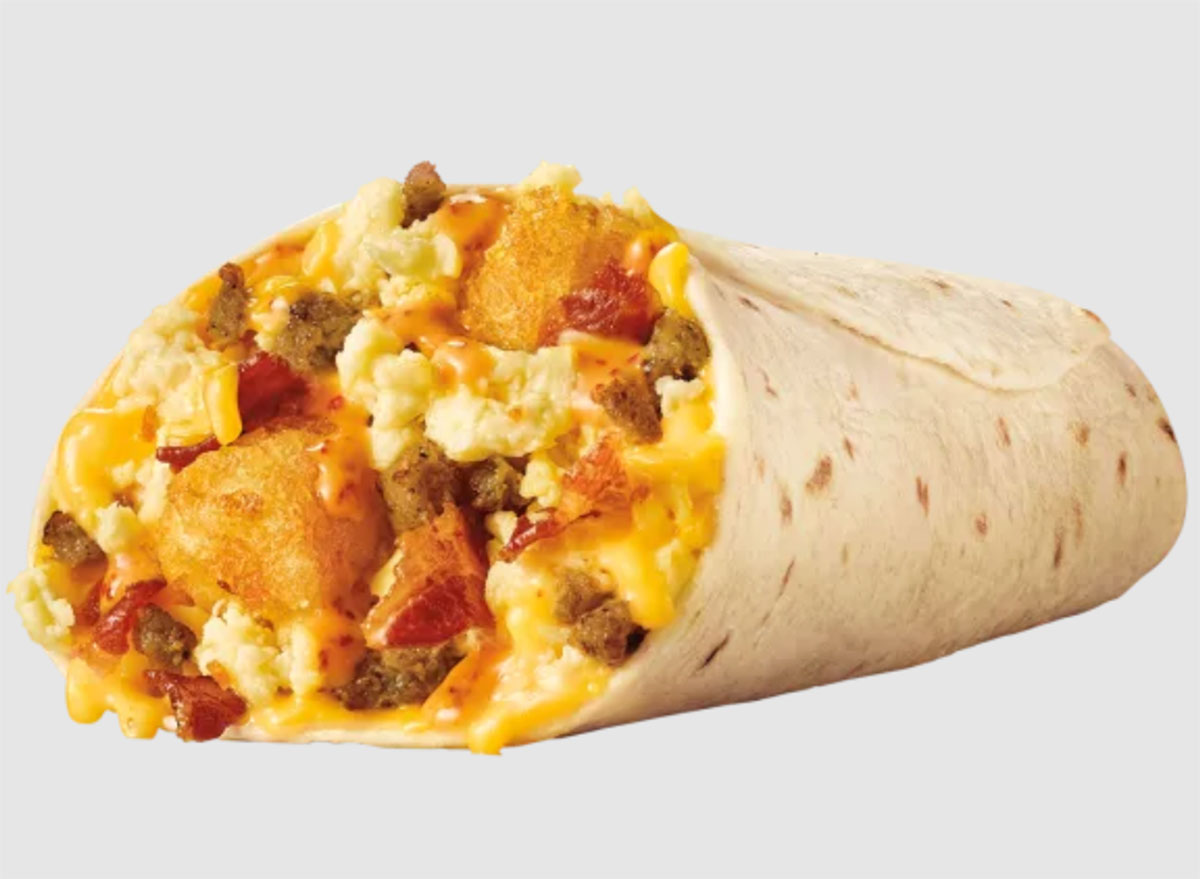 Per burrito
: 840 calories, 58 g fat (19 g saturated fat, 1 g trans fat), 2,020 mg sodium, 47 g carbs (2 g fiber, 1 g sugar), 30 g protein
What do bacon, sausage, tater tots, and cheddar all have in common? They're all filled with fat and salt, and they're all part of Sonic's breakfast burrito. Paired with eggs—arguably the only healthy part of the entire concoction—and shoved into a nutrition-void carb blanket, this 800-calorie burrito is better left unordered. Instead, stick with the SuperSonic breakfast burrito to shave 220 calories and 220 milligrams of sodium off your order.
Chick-Fil-A Hash Brown Sausage Scramble Burrito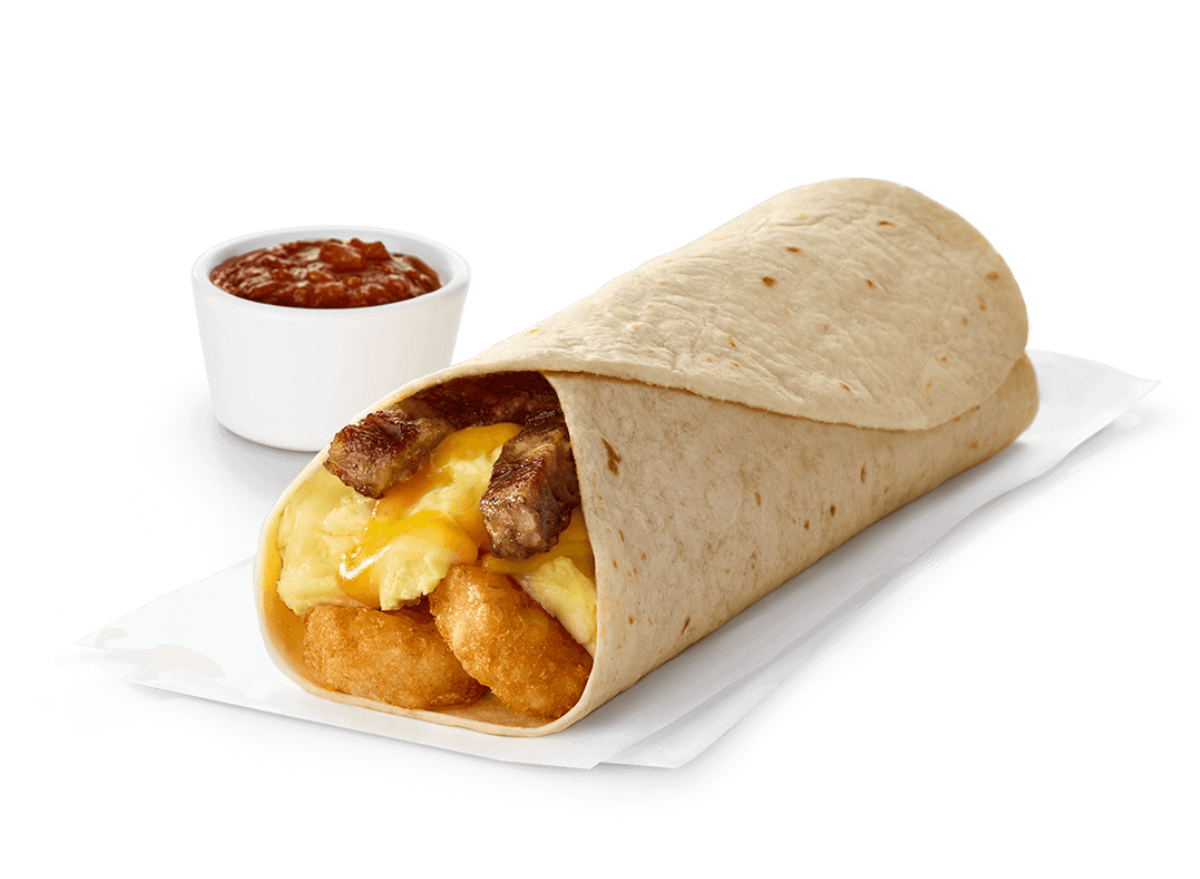 Per burrito
: 720 calories, 47 g fat (16 g saturated fat, 0.5 g trans fat), 1,450 mg sodium, 46 g carbs (3 g fiber, 1 g sugar), 28 g protein
This burrito has absolutely no business containing 700+ calories. Instead, go for the Scramble Bowl with Sausage and no hash browns for 320 calories and only 11 grams of saturated fat.
Carl's Jr. The Breakfast Burger
Per burger
: 830 calories, 44 g fat (16 g saturated fat, 1 g trans fat), 1,590 mg sodium, 67 g carbs (4 g fiber, 13 g sugar), 42 g protein
Smash a plate of eggs, bacon, and hash browns between two buns, and you get a breakfast sandwich that's got nearly three times the calories of an Egg McMuffin. It's safe to say that some dishes, such as burgers—are better off when they're left unaltered.
Hardee's Breakfast Platter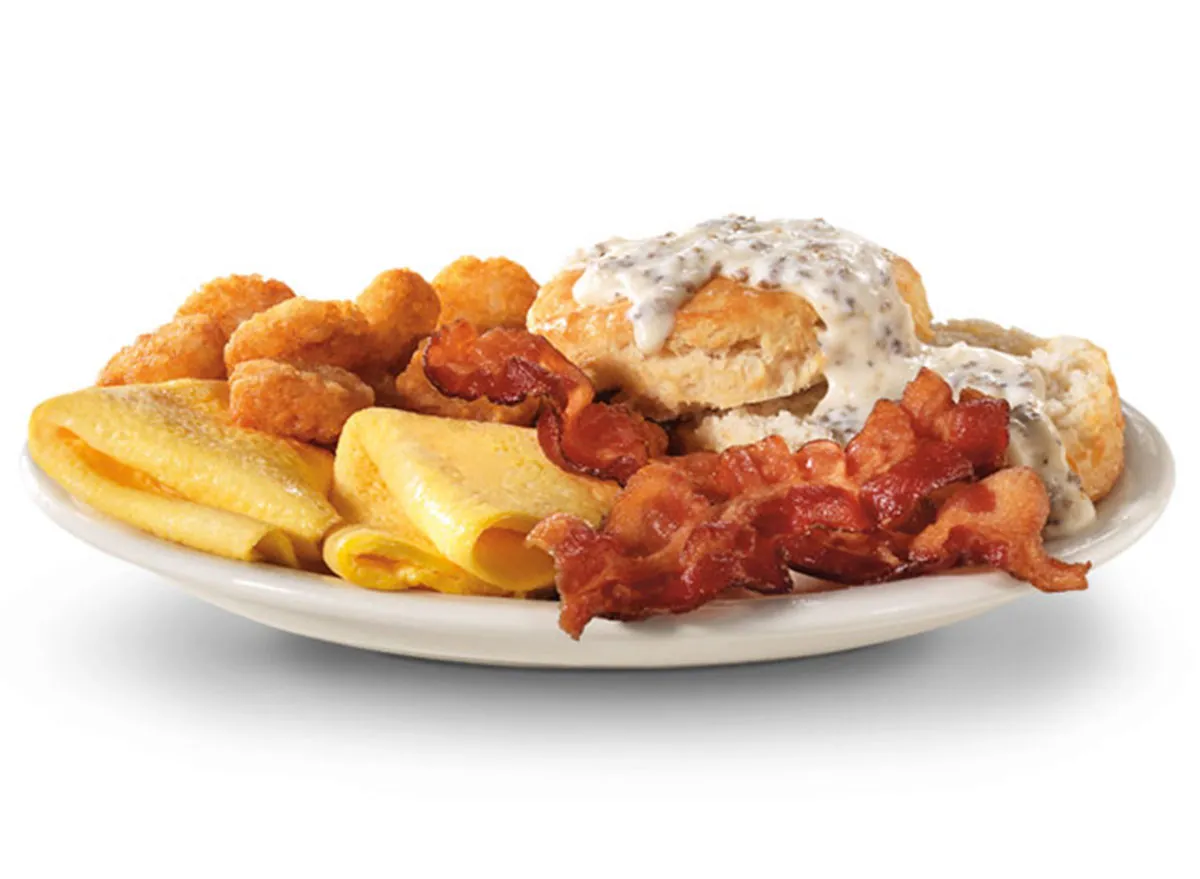 Per platter with biscuit and gravy, two eggs, two strips of bacon, and Hash Rounds
: 1,050 calories, 68 g fat (21 g saturated fat, 2 g trans fat), 2,420 mg sodium, 76 g carbs (12 g fiber, 5 g sugar), 31 g protein
Hardee's offers several caloric burgers, so the fact that they also offer up breakfast options as unhealthy as this one doesn't come as much of a surprise. The breakfast platter lives up to the chain's reputation, packing in over a day's worth of sodium into one little meal.
Smoothie King 'The Hulk' Strawberry Smoothie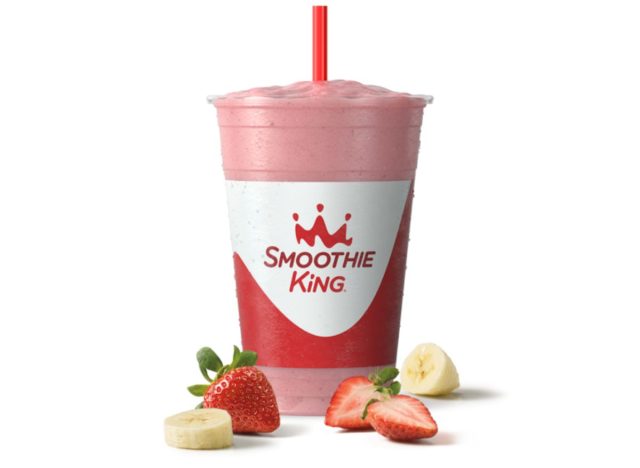 Per 40 oz smoothie
: 1,770 calories, 64 g fat (32 g saturated fat), 780 mg sodium, 295 g carbs (14 g fiber, 256 g sugar), 49 g protein
You'll see that there are 256 grams of sugar in this smoothie, and 183 of those grams are "added sugar." The USDA recommends consuming no more than 50 grams of added sugar a day, so this smoothie breaks through that barrier three times over! Plus, liquid calories are absorbed more quickly than solid calories, because the digestion process is quicker. That's a sugar rush that will send you flying!
Jack in the Box Grande Sausage Breakfast Burrito
.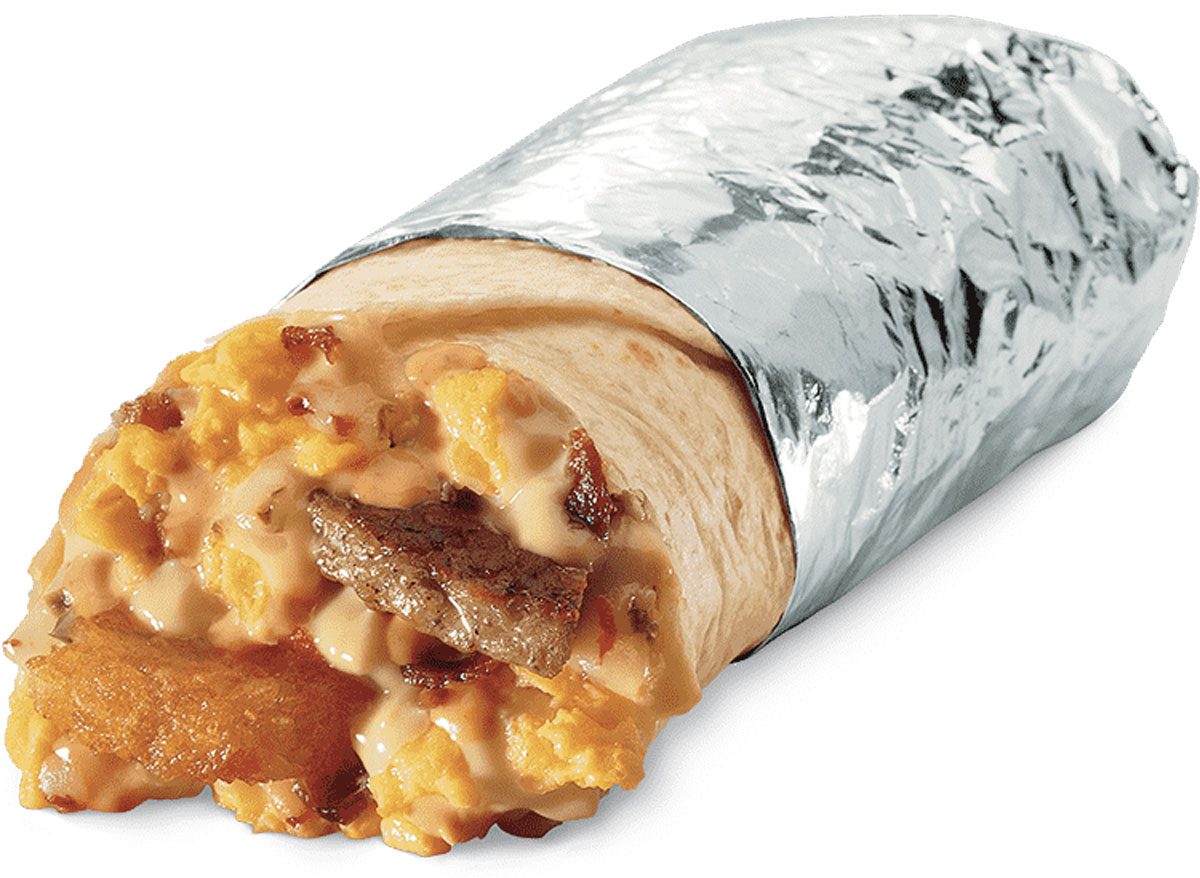 Per burrito
: 1,070 calories, 72 g fat (21 g saturated fat, 0.5 g trans fat), 2,210 mg sodium, 70 g carbs (5 g fiber, 5 g sugar), 36 g protein
Opt for the chain's Meat Lovers' Breakfast Burrito to save over 200 calories. Listen, it's still not great for you, but it's definitely an improvement if you're in desperate need of a breakfast burrito.6254a4d1642c605c54bf1cab17d50f1e
McDonald's Big Breakfast with Hotcakes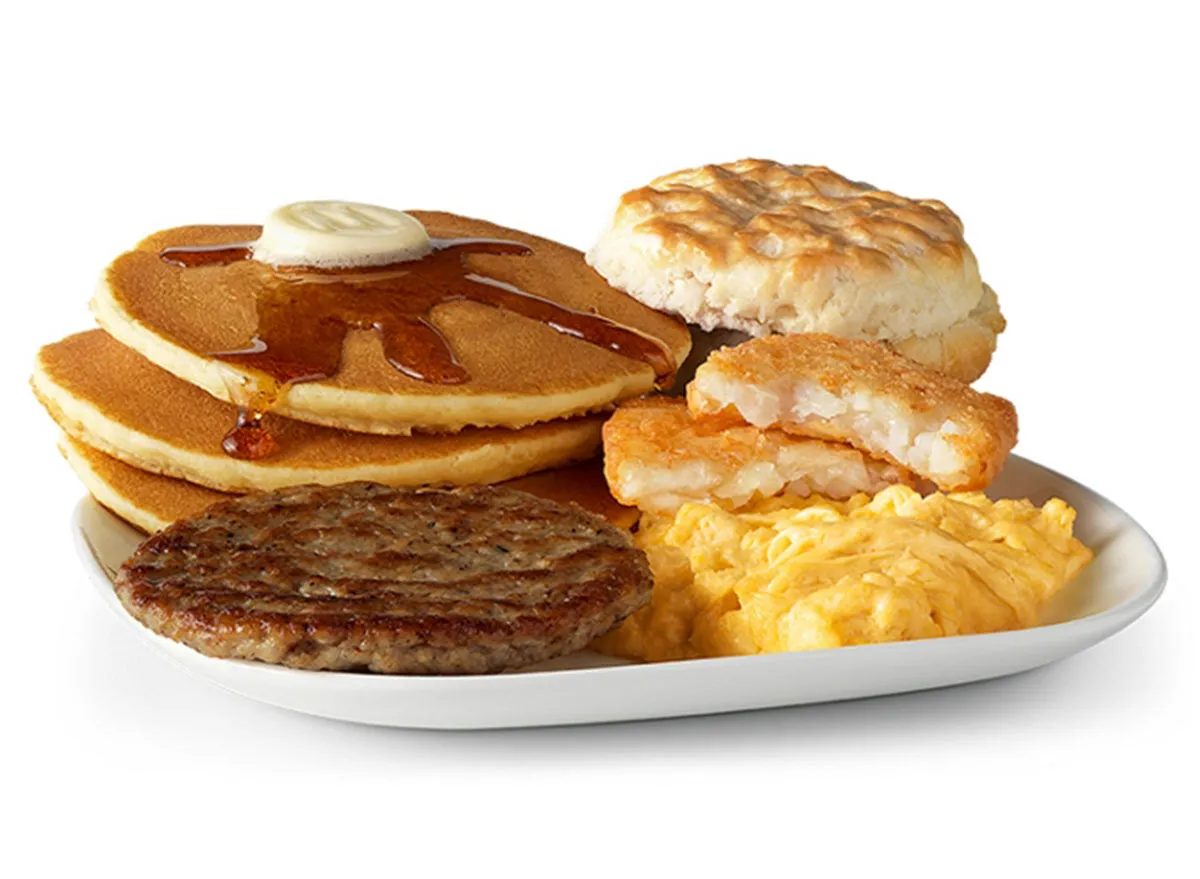 Per meal with three hotcakes, butter, one biscuit, two scrambled eggs, one sausage patty, and hash browns
: 1,340 calories, 63 g fat (25 g saturated fat, 0.5 g trans fat), 2,070 mg sodium, 158 g carbs (5 g fiber, 48 g sugar), 36 g protein
Buttermilk biscuits, savory hot sausage, scrambled eggs, hash browns, and hotcakes join together to create a meal that might just make it hard for your heart to pump. To learn more about the best and worst options at the Golden Arches, check out our official report on McDonald's menu rankings. We'll never recommend eating anything at McDonald's as part of a healthy lifestyle, but sometimes you've got limited options. At least you can make the best possible choices to do right by your body.